Easy red velvet cake recipe
Want to impress guests with a homemade red velvet cake? It's easy! We have several very simple recipes of this delicious cake for you and you will never be disappointed. Just check them out and you will see how easy it is to make such a cake and impress everyone around you.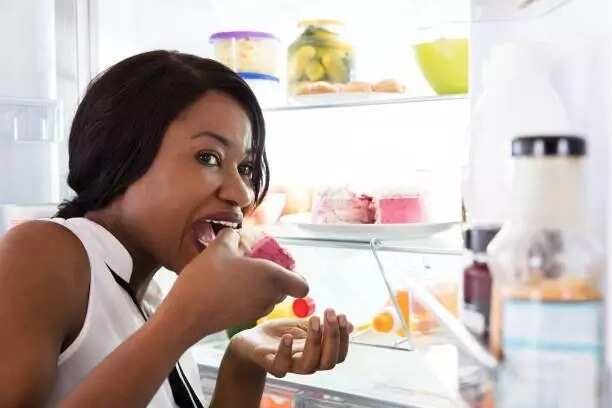 The best red velvet cake recipe ever
Perfect things are perfect from all sides. The dough for this cake is so perfectly simple that there's not even a precise order when to add certain ingredients. As a rule, you will need to turn on your mixer only when all the ingredients are put into a bowl.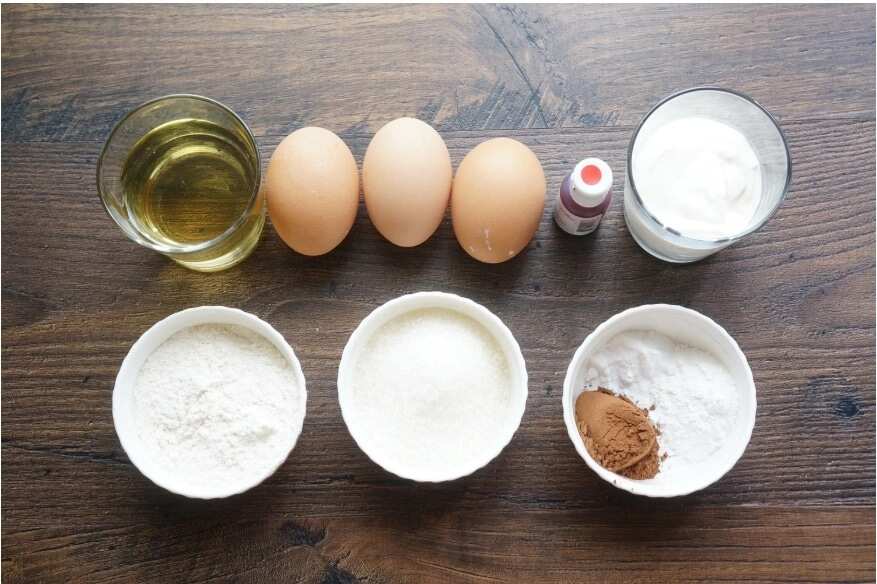 READ ALSO: Birthday cake for men with name: top 10 ideas
Well, you will need the following (add the ingredients to a big bowl in any order but make sure you put everything in):
340g of wheat flour
300g of sugar
1 tablespoon of cocoa powder
¼ teaspoons of salt
1 teaspoon of baking soda
2 teaspoons of baking powder
Easily stir the dry ingredients to mix them and keep on adding the following:
3 whole eggs
300g of deodorized vegetable oil (no aroma is crucial)
280g of buttermilk OR 150g of cream + 130g of sour cream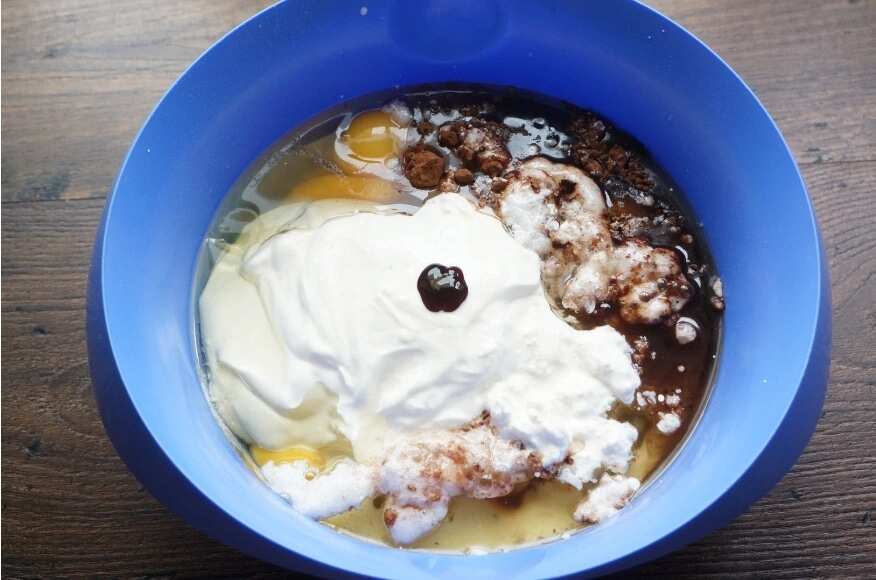 Finally, add a good gel food color (make sure the color you are adding is really edible!). The abovementioned amount of other ingredients will demand about 2 teaspoons of the gel color but you should not worry about overdoing. The dough should be flaming red.
The dough will be rather liquid but it's normal. Leave it for 10 to 20 minutes because soda needs some time to react to the presence of dairy products. In the meanwhile, butter the inside of a cake pan and line it with baking paper. Pour a part of the dough into it depending on the size of the pan. You can have, for example, two layers with the help of a 7-inch pan or three with the help of a 6-6 ½-inch one.
If you want more preciseness, weigh the dough, decide how many layers you want and you'll know how much dough should be poured into the pan for one layer. If you have several pans of different sizes, try making several layers of different sizes and gathering them into a cake in the shape of a pyramid.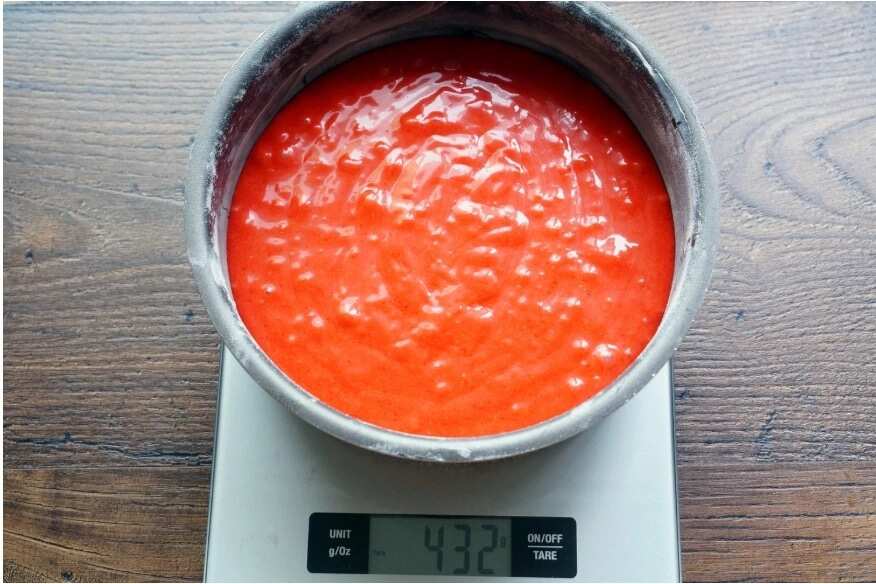 READ ALSO: Wedding anniversary cakes with names in Nigeria
Bake each layer separately for about 20 minutes at 170°C. After about 15 minutes try the readiness with the help of a wooden toothpick. When it comes out dry, the layer is done. Let the dough cool down for about 2 minutes after the baking and then carefully remove it from the pan.
Cool down the pan (rinse with cold water, wipe dry, butter again, line with baking paper) and bake the next layer. When all the layers are done, wrap them into sealing film separately and put into a fridge for 2 hours. In 2 hours, take them out, unwrap and carefully, with a very sharp knife, cut the slightly raised center of each layer so that the surface is perfectly flat.
Now, you need to decide whether your cake will be coated with cream or not. If not, you will need to cut the sides of each layer (they are slightly brownish and uneven due to the baking process and you need the inner redness for an impressive look. You can either cut the crust off with the help of a sharp knife or use a metal ring. It will help you receive perfectly even circles of exactly the same size.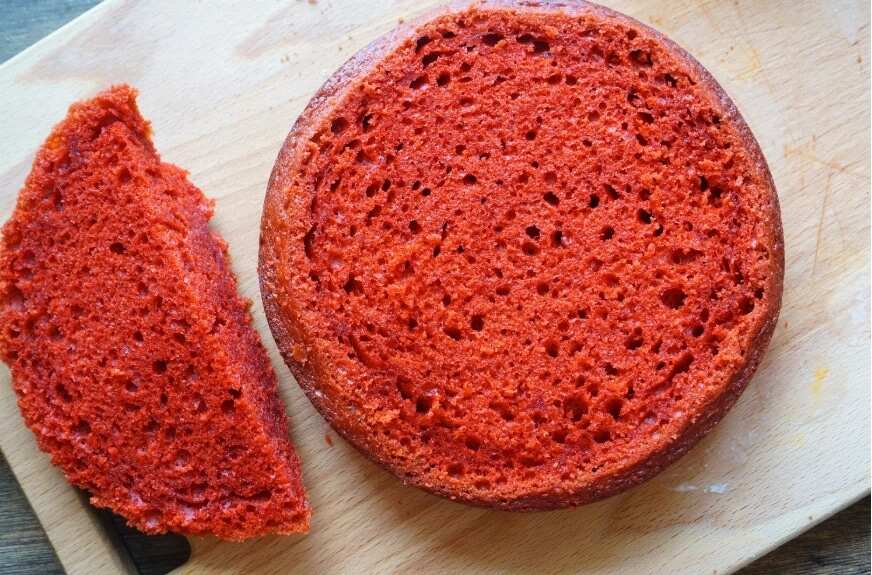 In case you are going to coat the cake with cream, leave the sides as they are because they will not be visible. After you have made a decision, you will need to choose the most suitable cream. It's better to use the one that's made out of cream cheese because it's simple and delicious (described below). Yet, you are free to make any cream you like. The only condition here is the white color.
How to make red velvet cake complete and beautiful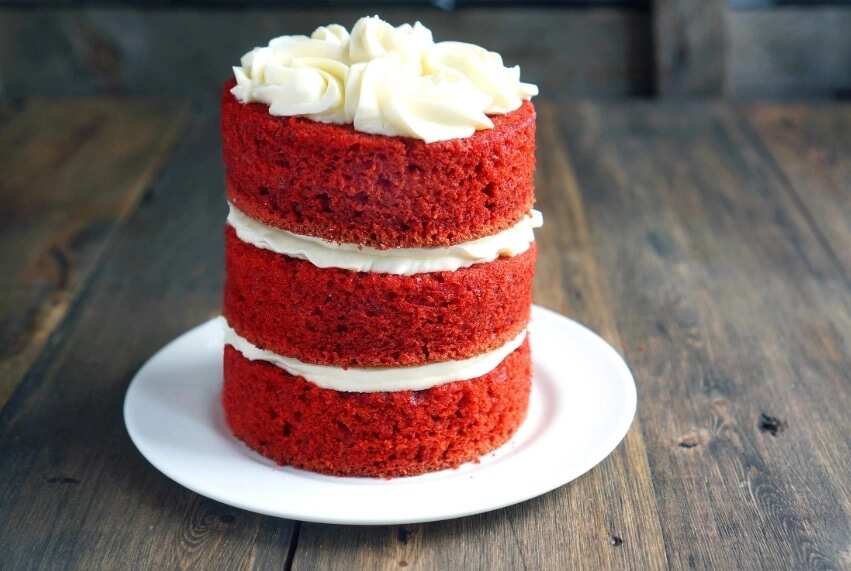 If you have decided to coat the whole cake with cream, you will need a lot. Don't be afraid to make too much: you have the cut off tops of the layers, which can be torn into small pieces, put into separate glasses and mixed with cream leftovers. You will have two delicious desserts of different types.
To create the tender and delicious cheese cream, you will need:
Soft cream cheese (about 340g0
High-quality butter (made of pure cream and no other ingredients) (about 115g)
Powdered sugar (about 100g)
Vanilla extract (about 2 teaspoons)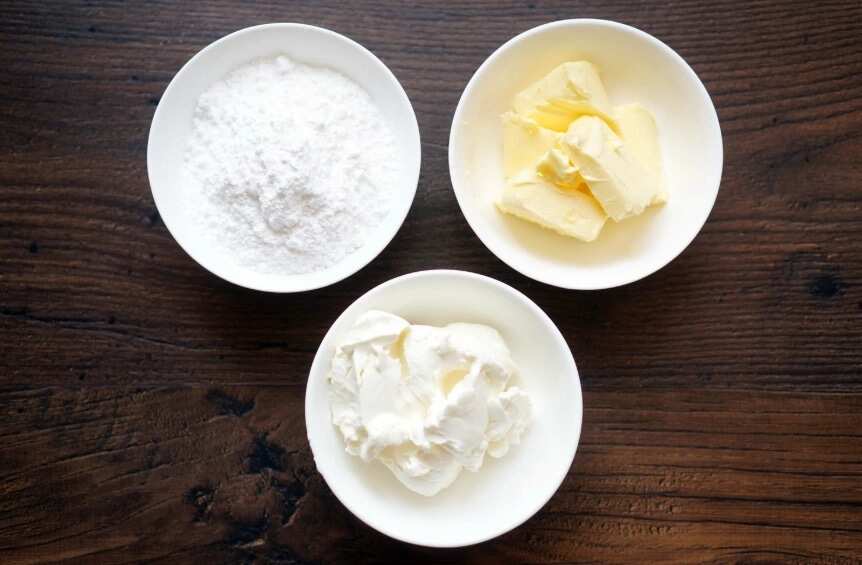 This is a thing, which can be done without measuring the amount of ingredients. The key thing is perfectly cooled down cream cheese, very soft butter, and very finely powdered sugar. It's better if the cheese spends a night in the fridge before you start making the cream and if the butter spends a night on your kitchen table to become perfectly soft. Then, gather the ingredients into a bowl and whip with a mixer. It will take 5 to 7 minutes.
The cream will be tender to taste but quite firm. It will keep the shape and hold the layers on it. Spread some cream between each two layers and leave a sufficient amount to cover the sides of the cake. Use a knife with a wide flat blade or a special cooking spatula to make the surface even and as smooth as possible. If you have enough skills, use a piping bag to create floral decorations on the top surface or any other ornaments.
Why red velvet?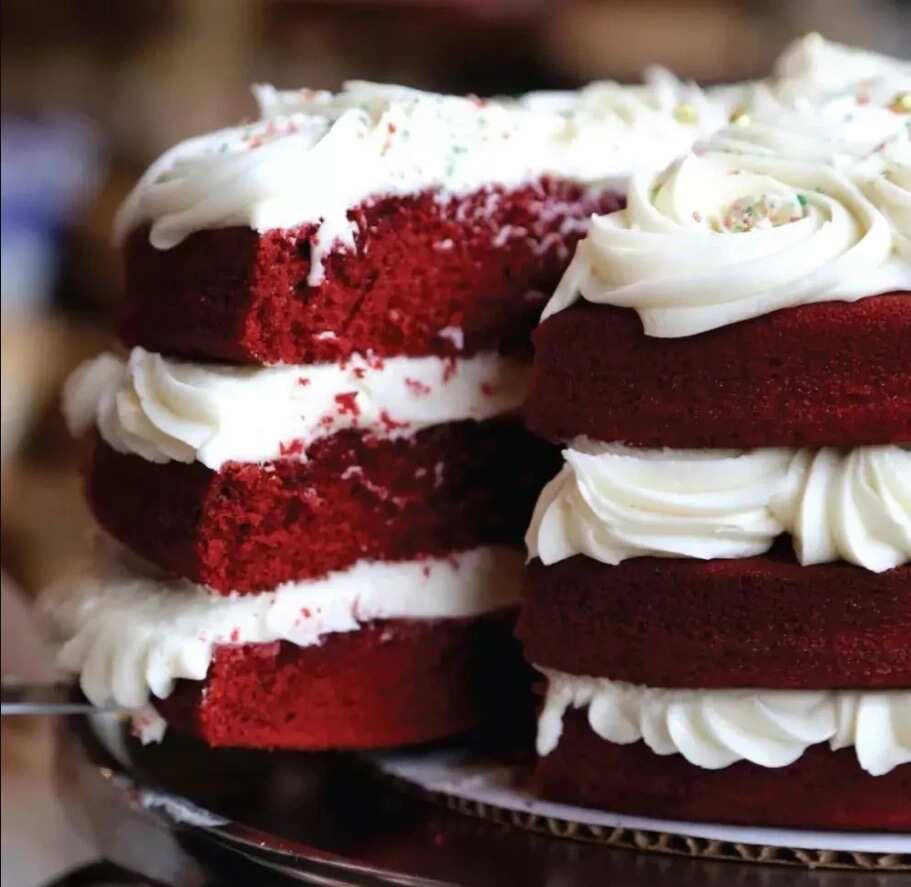 This amazing cake was invented in the United States. Some stories say that its homeland is somewhere in the southern states, others claim that it was created in the northern ones for the first time. Yet, all this doesn't matter at all. The only thing that's important about this cake is the fact that it has become a favorite American dessert for many years.
The cake looks extremely attractive with its bright red flesh and pure white cream. Sometimes, such cakes are coated with cream wholly but sometimes they are left without any dressing or icing, just as they are to impress with this contrast of colors.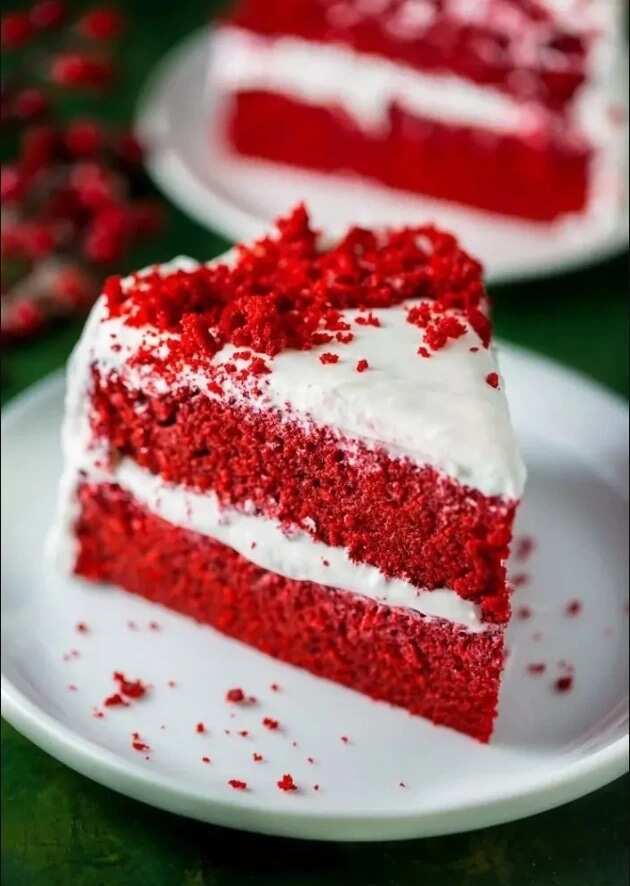 One of the key features of this cake is in its spongy and moist dough, which melts in your mouth but the main trick is in the small amount of cocoa powder that's added to the dough and masked with the red color. When you bite in it you expect anything but not this chocolate taste. This is a cake that deceives your tongue and leaves you totally impressed.
There are many red velvet cake recipes and they differ in many things. Now, let's try one of the simplest recipes that will make you fall in love with it forever. The ingredients are quite simple and now you will see how easy it is to create such a delicious cake.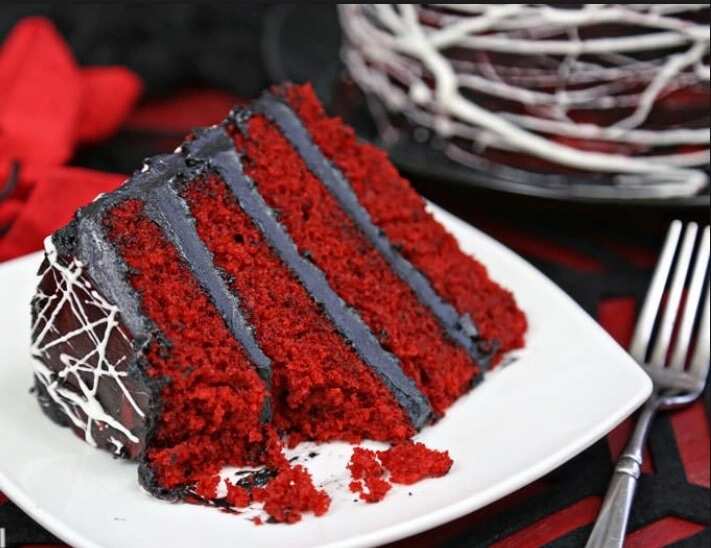 As a variant, you can try making the cream totally dark. This unique cake will not look less impressive; instead, you will create something new. To make such a cream, you will need to add either melted black chocolate, a sufficient amount of cocoa powder, or a black food color. Make sure that the cream is not too bitter in the end. As you can see, with such a cream this is really a super easy red velvet cake!
You can decorate the ready and assembled cake with crumbles over the cream coating. Press them to the sides of the cake and leave the top untouched or vice versa. Everything depends on your imagination. Don't be afraid!
READ ALSO: 10 different types of cakes to bake at home
Source: Legit.ng