- Thousands of supporters, mostly youths of Edo state have welcome Comrade Adams Oshiomhole at the Benin Airport after many hours of awaiting his arrival
- A former youth leader of the APC, Osakpamwan Eriyo said the crowd at the airport showed the depth of love they have for the immediate past governor of the state
- Oshiomhole urged the people to support President Buhari and the APC to remove all the looters in the government
The people of Edo state came out in their thousands on Saturday, August 4, to welcome the national chairman of the All Progressives Congress (APC), Comrade Adams Oshiomhole at the Benin airport to the city centre.
Vanguard reports that Oshiomhole was received by some members of the APC in the state, including the state chairman, Anselm Ojezua, Edo north senatorial leader Sunny Okomayin, state youth leader, Valentine Asuen and other party leaders from Delta who had arrived Benin to escort him to their state.
A former youth leader of the party, Osakpamwan Eriyo said the crowd at the airport showed the depth of love they have for the immediate past Governor of the state.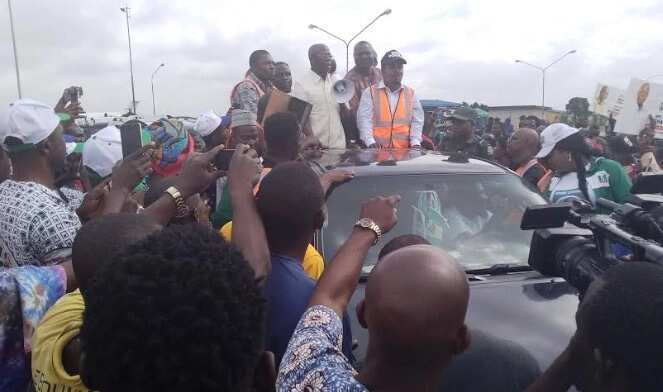 READ ALSO: APC does not have my permission to use stadium for rally - Umahi
Eriyo said: "I heard about it and I can tell you without mincing words that I have not such plan; I am with APC body and soul, PDP is not a party for me or any right thinking person."
The national chairman of the party promised to ensure that the tradition of carrying everybody along is sustained in the state.
Oshiomhole said: "And to our people here I want to assure you that I will work together with our governor and ensure that any error, any concern that you have that they are addressed satisfactorily.
"And I want to assure you that the tradition of carry our people along will be sustained; you represent what I call our infantry division, you are the ones on election day who ensure that our voters come out, you are the ones who ensure that the PDP rigging machine was defeated.
"We must keep you as a standing force; together we will match on and we will ensure that everyone who works is looked after. I know there are people with all kinds of stories but let me assure you that after the storm the weather will settle.
"Trust me, as you have not abandoned me, I will never abandon you and to our youths, I want to particularly appeal to you; don't lose faith. "There will be work, there will be participation; there will be involvement, there will be inclusivity we will not throw away anybody. Nobody will be used and dumped.
"If yesterday has come beautiful, tomorrow will be better, I am back home as they say; then to our market women, you know you are my wives and I am your child; together we must sustain that oneness.To our APC women, you know my position; together we will work to sustain this tempo."
"I will represent the feelings, the aspirations and I will meet your expectations as far as the running of the Al Progressives Congress (APC) is concerned and at this point I am very clear, we will have to fight on the basis of our conviction and we will adopt our style, we will not borrow other people's style and we will bring those values into the leadership and management of the APC.
PAY ATTENTION: Read the news on Nigeria's #1 news app
"Working together with President Buhari that government will focus on the people, that government will not focus on the welfare of the few at the expense of the majority, that government must do everything possible to ensure that those who work have something to show for their labour.
"We must support the president and the APC to remove all those thieves, all those looters who believe it is their birthright to continue to loot.
"Those who say that their purpose in government is for juicy positions and not for the welfare of the people.' Oshiomhole later rode in an open vehicle in long convoy through airport road to the City center otherwise known as Kings Square as people and admirers cheered him up amid fanfare.
Meanwhile, Legit.ng had reported that the PDP said former Edo state governor, Adams Oshiomhole, would bury the APC if he emerges as the party's national chairman of the party.
The opposition also called on Oshiomhole to submit himself to the Economic and Financial Crimes Commission and clear himself of charges of alleged corruption before aspiring to become the APC national chairman.
Kola Ologbondiyan, PDP's publicity secretary in an interview on Thursday, June 21, insisted that the former governor would cause harm to the APC.
PDP's Magnificent 7 For 2019 Election | Legit.ng TV: