What are off shoulder ankara styles to choose in 2018? We offer a review of cold shoulder outfits for all occasions. If you want to create a gentle and feminine image, read our article and see bright pictures for inspiration and new ideas.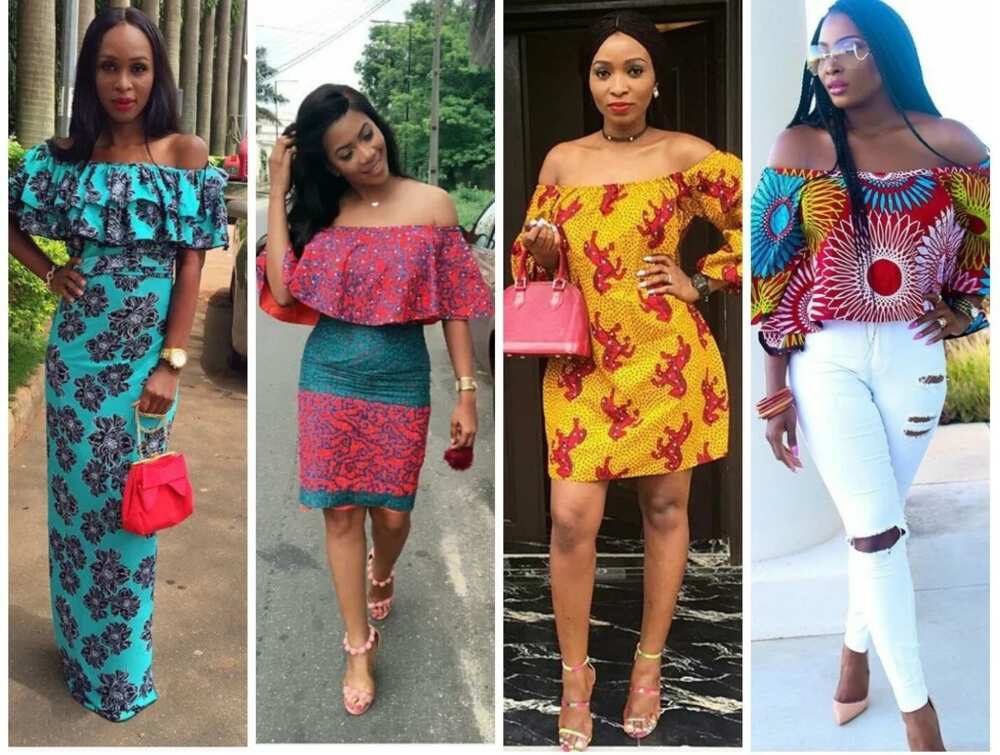 Off-shoulder ankara styles
Femininity, and lightness are the main features of the women's wardrobe in 2018. And one of the bright trends in this season is outfits with open shoulders: blouses, tops, dresses and even jumpsuits made with ankara.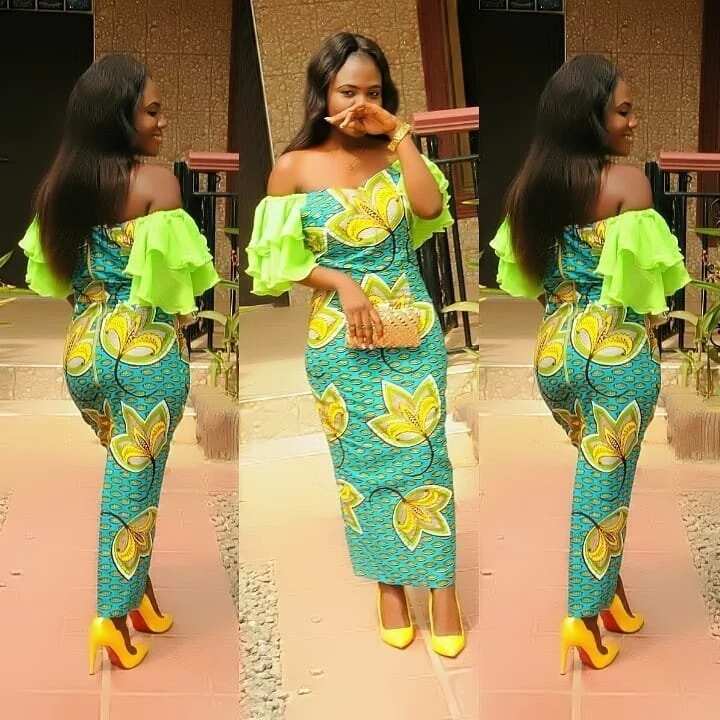 Off-shoulder ankara gowns
Delicate and stylish cold shoulder dresses are perfect for the romantic evening as well as for a pastime on the beach, at a solemn event and even at work. Dresses with open shoulders perfectly emphasize the beauty of the neck and shoulders and underline refinement and elegance.
READ ALSO: Cold shoulder ankara tops: best designs in 2018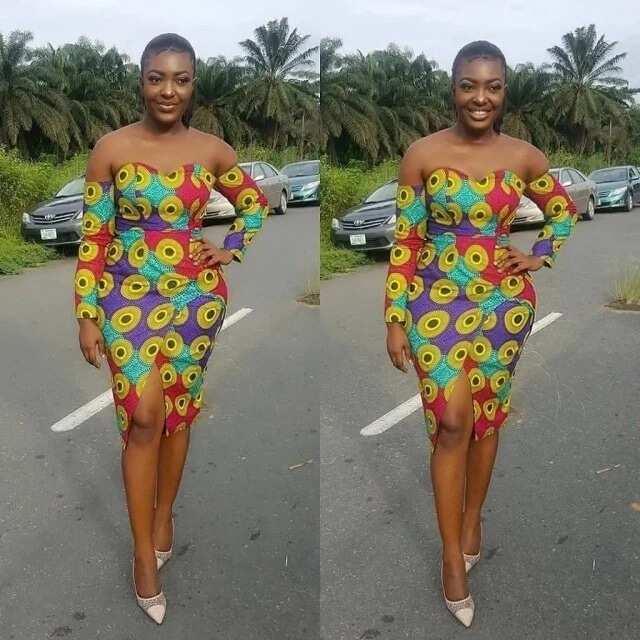 There are many models of dresses with open shoulders. It's difficult to give you only general recommendations. The right choice depends on the dress style, its length, length of sleeves, the frills' presence or absence, etc. As a rule, off shoulder ankara dress is a self-sufficient item. It should not be hidden under jackets or cardigans. Add an interesting bijouterie, suitable footwear, and handbag - and your look is perfect! Evening and cocktail dresses with open shoulders is an eternal and beautiful classic.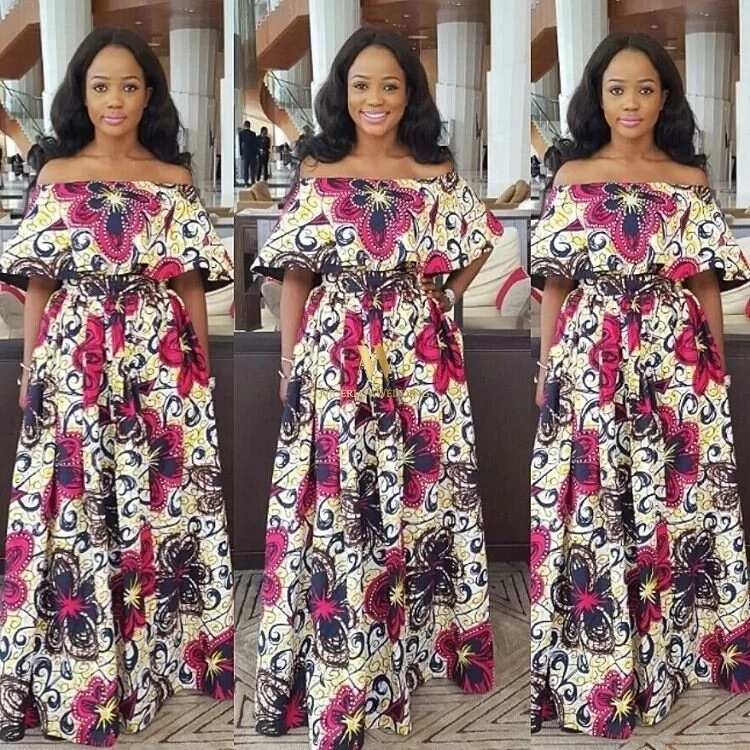 But don't follow the trend blindly, if you are not sure that your figure is appropriate. If you have wide and muscular shoulders and a heavy chest, it's better to avoid dresses with open shoulders. Instead of hiding your shortcomings, off shoulder outfit can emphasize them, on the contrary. Study the item attentively. Look closely at one-shoulder options. The attire's model and design should distract attention from your upper part of the body.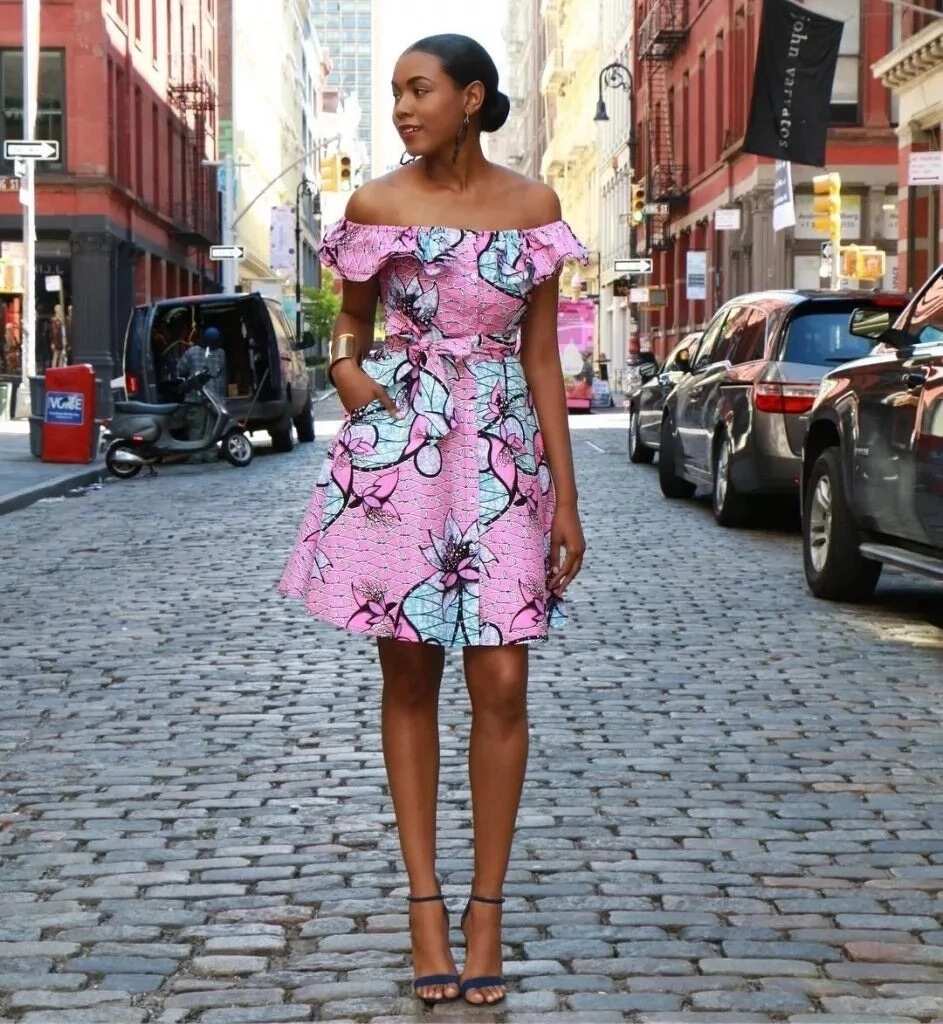 You can add a belt at the waist to shift the focus to the lower part of the chest. Besides, a scarf or necklace adds the elegance and completeness to your look. When you wear a cold shoulder dress, you should keep in mind that your outfit is your best accessory. So don't try to overdo and cover your gorgeous outfit with too many different decorations and accessories.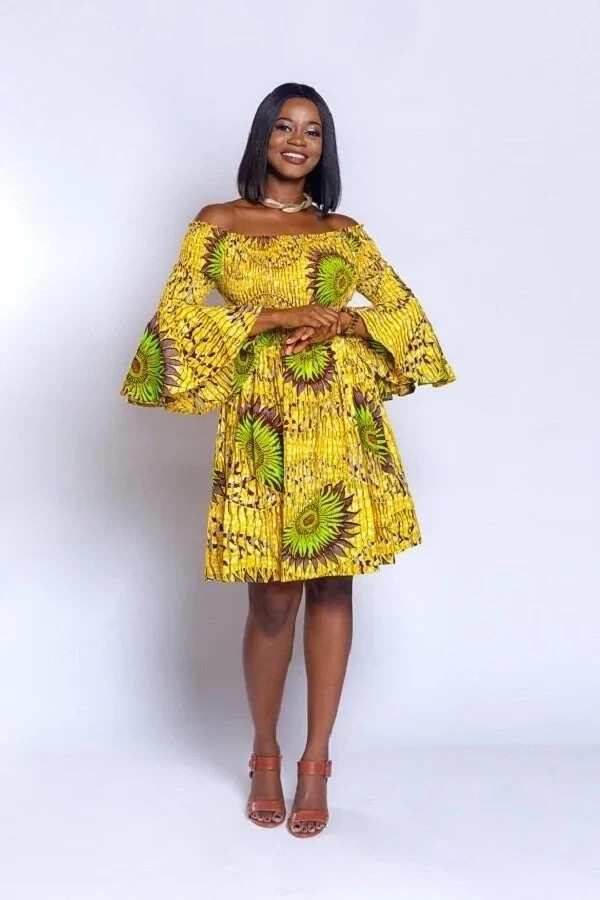 Cold shoulder ankara short dress
The undisputed leader of the season is a short cold shoulder dress. Light colored dress-shirt, classically fitted gown, bright freestyle dress or a sundress with open shoulders - in any model your figure looks incredibly attractive. It's ideal for walking around the city, beach parties or traveling. For a perfect outfit, add accessories, braided sandals with a square heel, sunglasses, a handbag on a long strap, and your image is ready!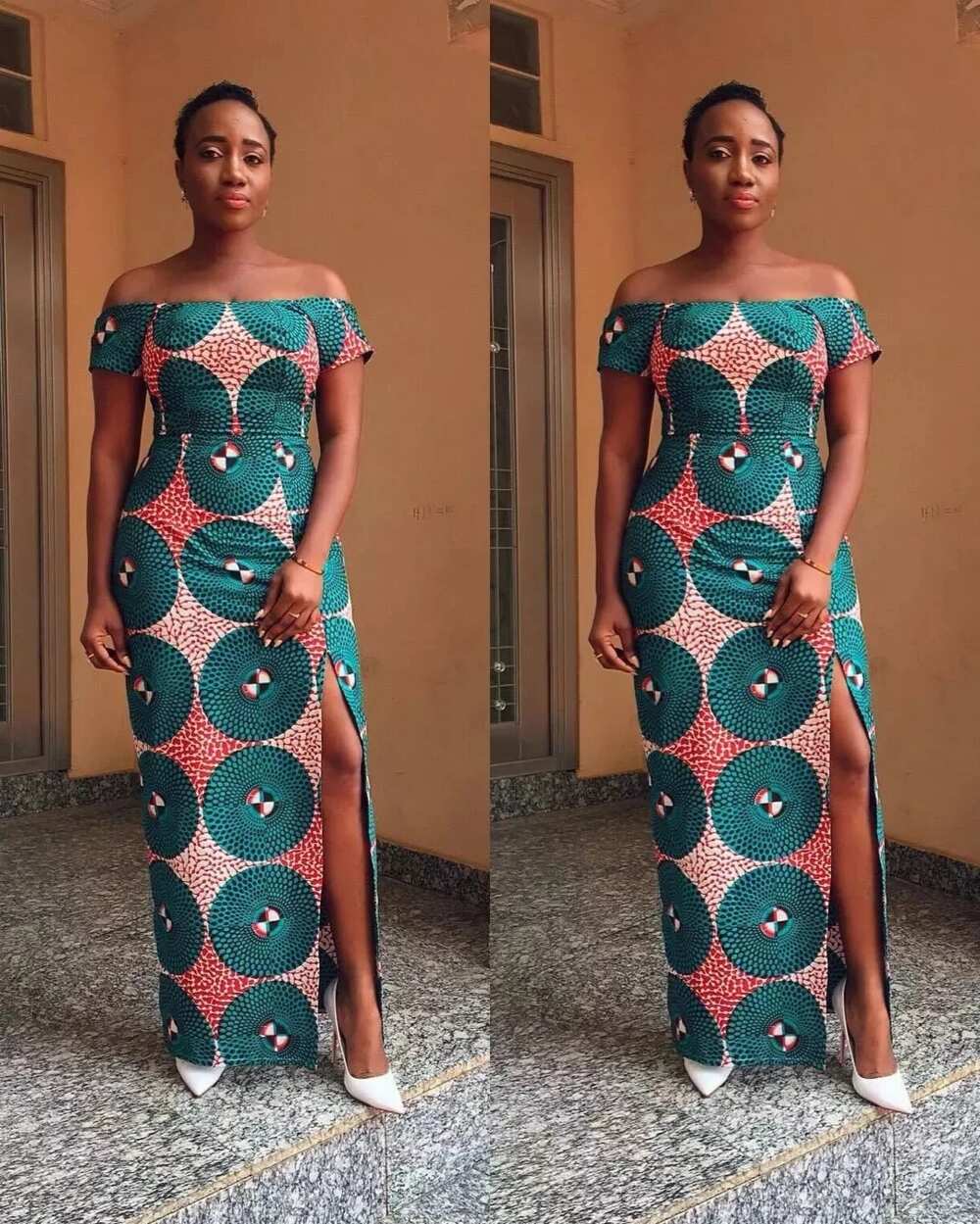 Off-shoulder ankara maxi gown
A long dress with bright prints gives a special refinement to your image. The most popular style among maxi dresses with off shoulder top is a long gown in the "Boho" style. Making your choice on a flowing summer dress with open shoulders, you can safely go on a date with your beloved, a festive occasion or an evening walk. This style looks great with shoes: sandals on a wedge or ballets.
READ ALSO: Ankara evening gowns for special ladies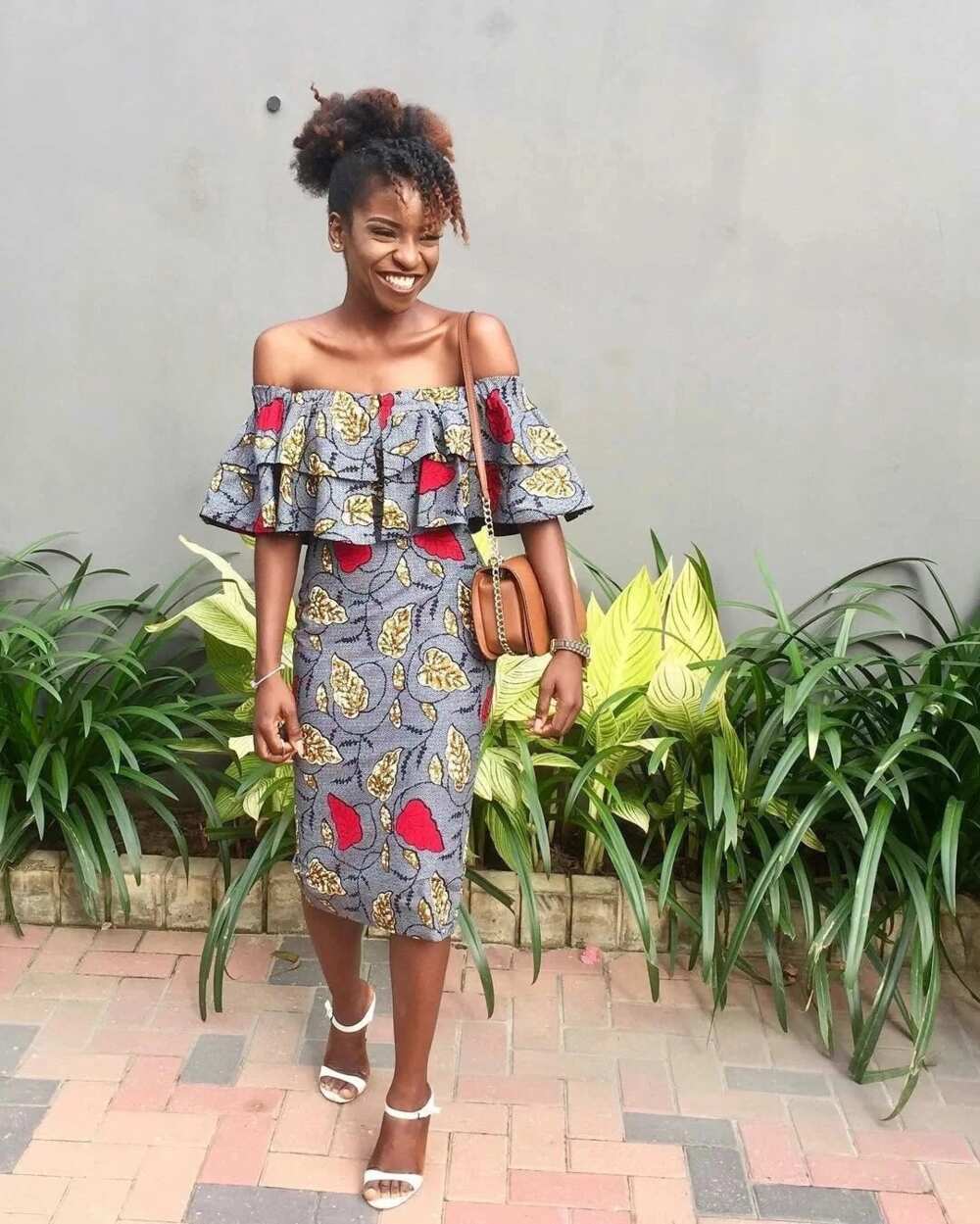 Ankara evening dress with open shoulders
Fashionistas all over the world always adore a cold shoulder or one shoulder dress. It can make you look chic, and at the same time, it's sharp and cold. However, if you are going to wear an evening dress with open shoulders, you should know some basic rules that allow you to look always emphatically feminine.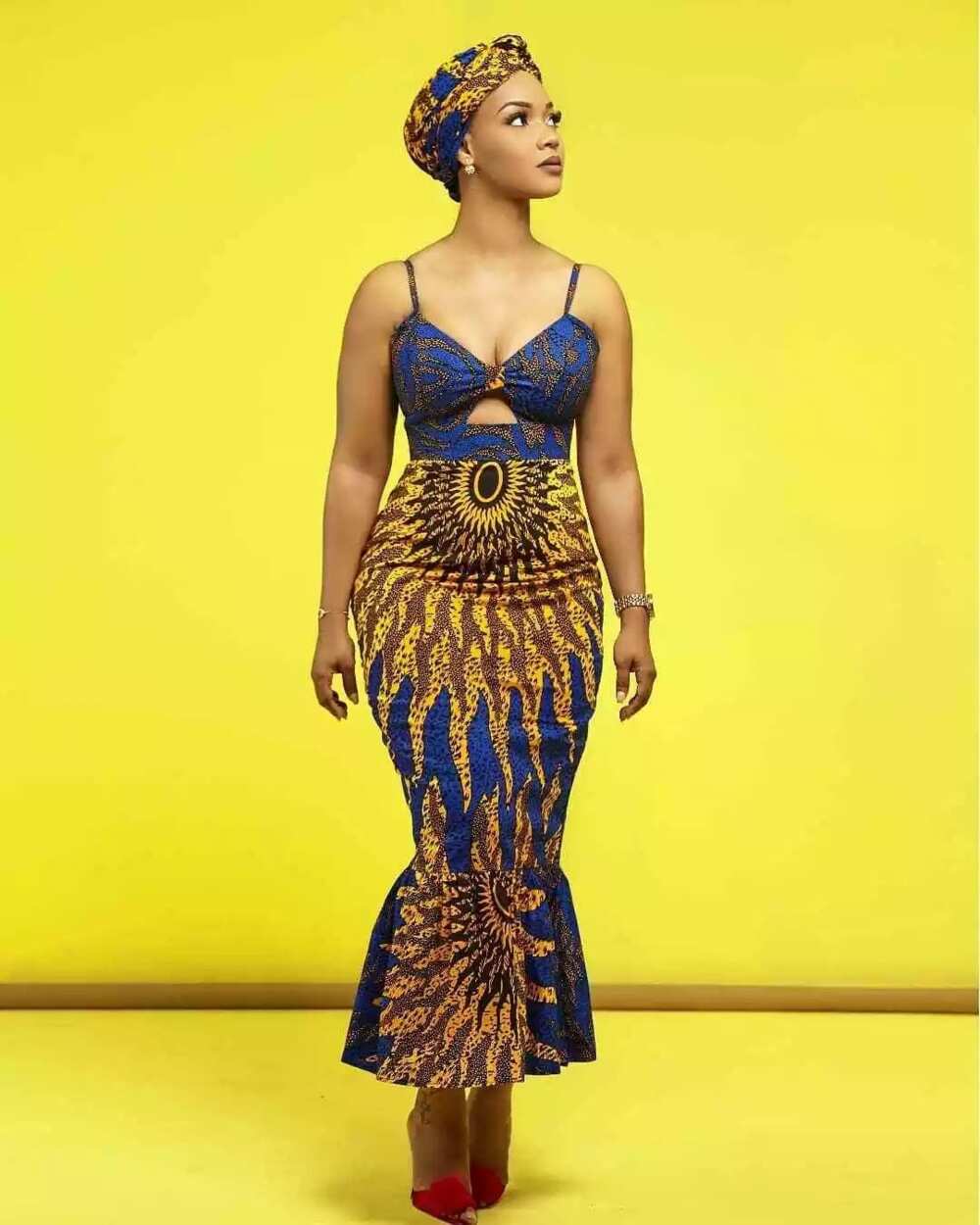 Elegant earrings with a gorgeous pair of shoes and a small handbag are ideal for your evening gown. Besides, you can even take a short belt around the waist to be more glamorous. However, a thin necklace is enough for a classic cold shoulder dress.
If you are going for a walk or date, then it is better to choose a dress with open shoulders midi long. But for a romantic dinner or celebration, the maxi dresses are best suited.
READ ALSO: Crop top styles with Ankara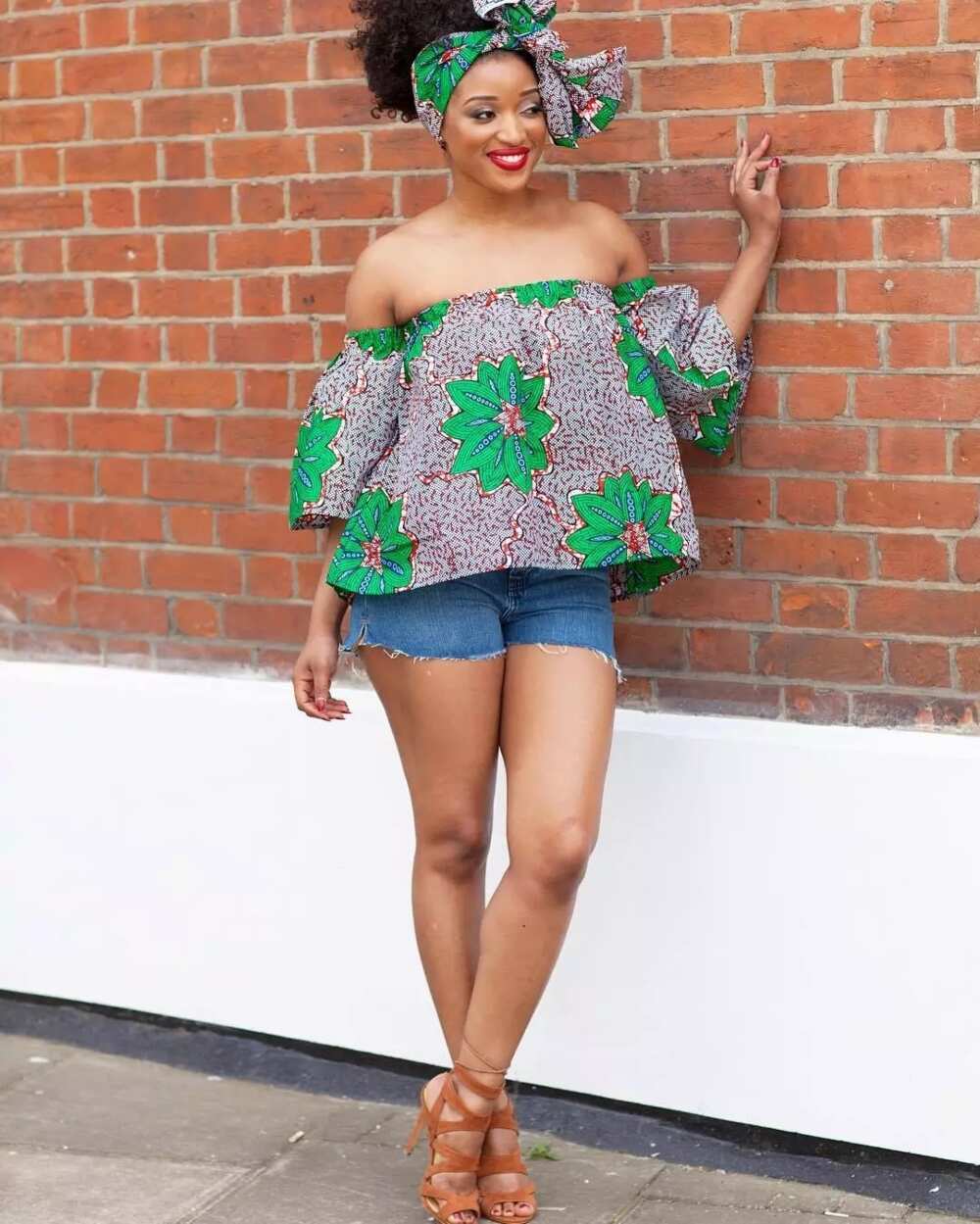 Off-shoulder ankara tops and blouses
You can supplement the off-shoulder image with a midi skirt or trousers. So, you can put on a blouse with open shoulders to the theater, to work or study. If the weather is unbearably hot and you are going to the beach or to an open-air party, the first rule about closed legs can be neglected.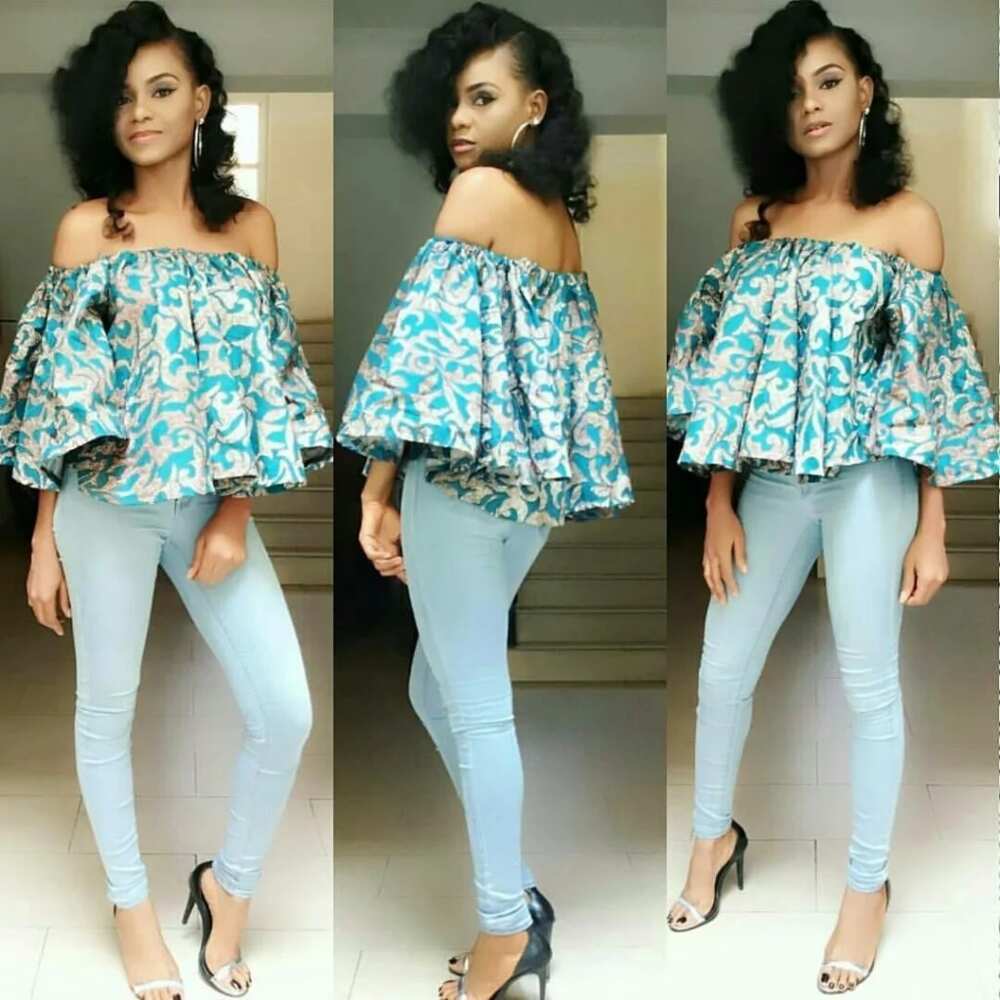 Of course, the cold shoulder blouse perfectly matches with light shorts and miniskirts. Add sandals, and you can get an insanely romantic summer image. This season we have two super trends: a top with open shoulders and crop-top.
As the ruches and flounces are 'must have' in the season 2018, you can safely choose tops and blouses with ruffles and frills. Let it be decor in the décolleté area or peplum at the waist.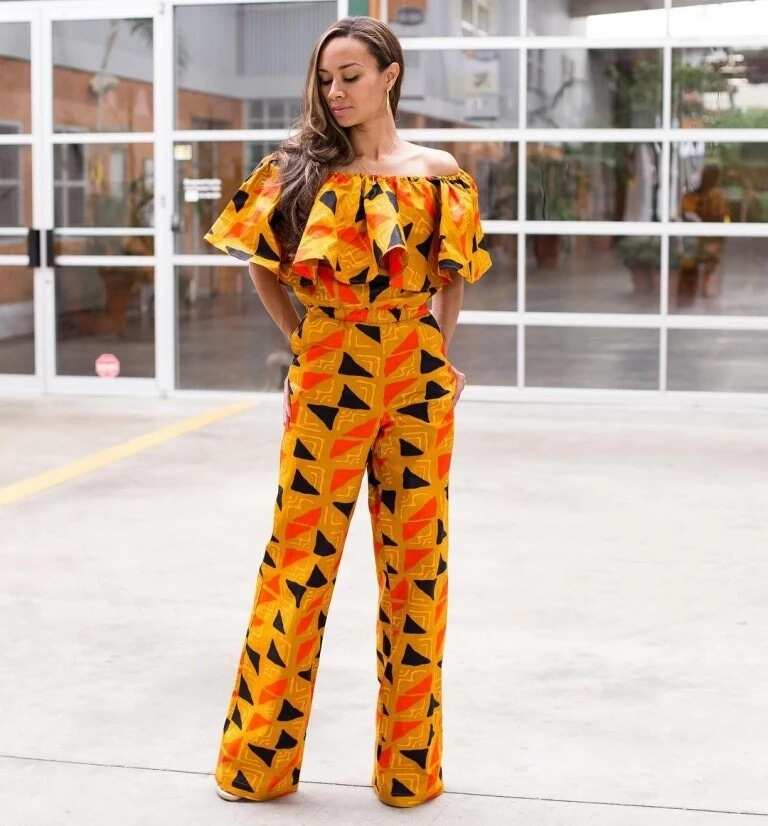 Off-shoulder ankara jumpsuits
A charming beach image can be obtained with the help of a jumpsuit with cold shoulders. Your look will be playful and tempting. A huge beach bag and summer sandals are important attributes for such attire. As for the accessories, take large items. It can be a necklace of large stones, bulky bracelets, sunglasses with a large frame, and a floppy or boater hat.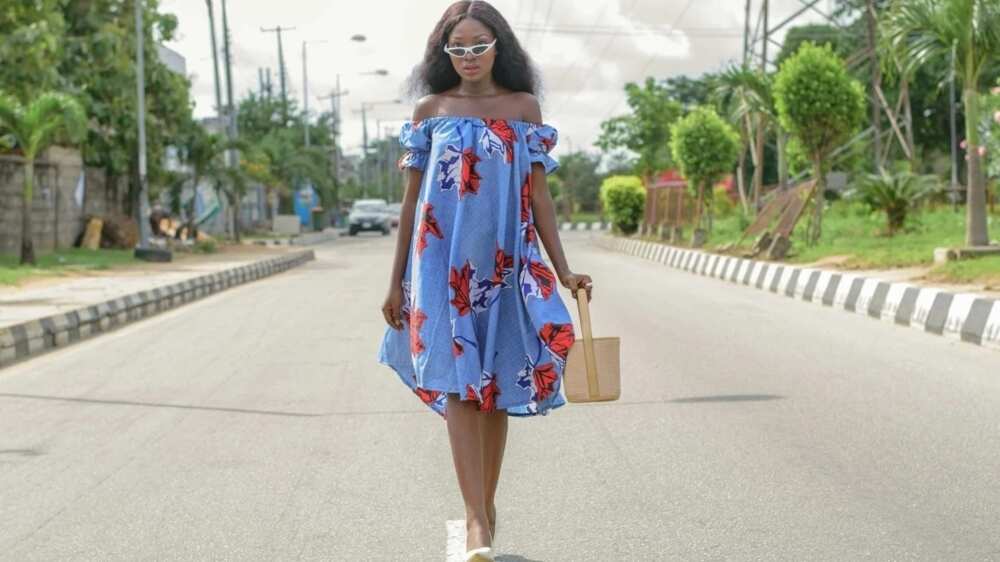 Off-shoulder tailoring and colors
Hot Ankara styles with open shoulders can have an elastic band, thin or wide straps, and also a fitted bustier shape. What variant to choose, it depends on your taste and place, where you are going to dress cold shoulder attire. In any case, you should feel convenient, and the outfit should fit you perfectly.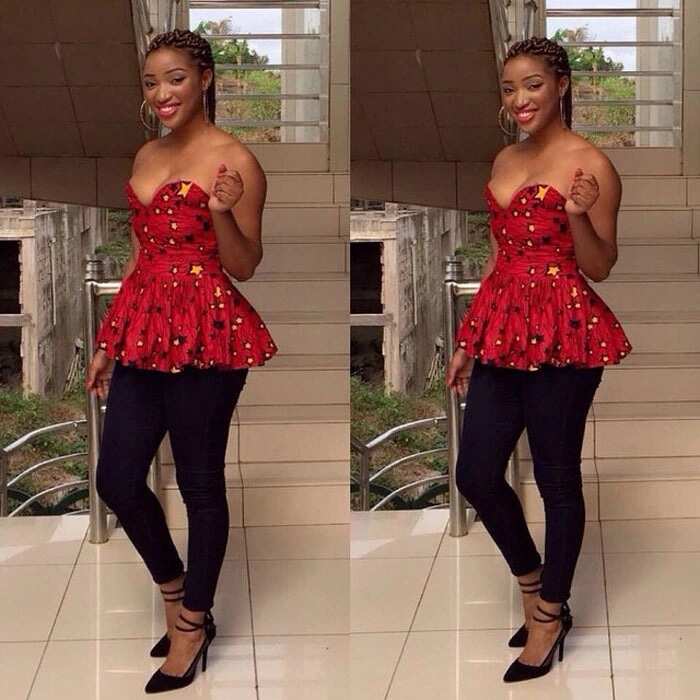 For everyday options, use simple tailoring: free or fitted. Adhere to the rule: a fitted top goes with a free bottom, and vice versa.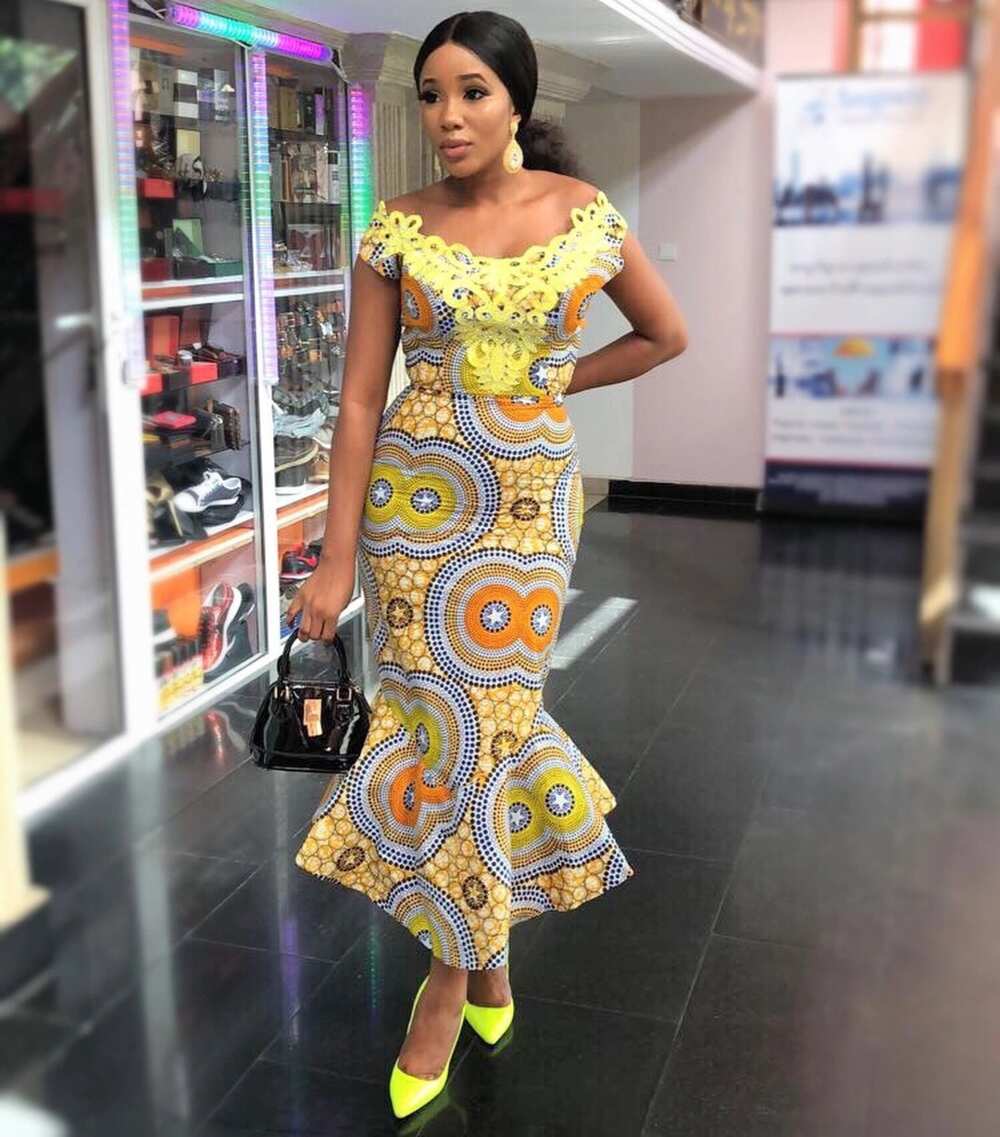 Evening variants of cold shoulder outfits can be decorated with lace, chiffon or beads. But don't overdo, the style is beautiful on its own.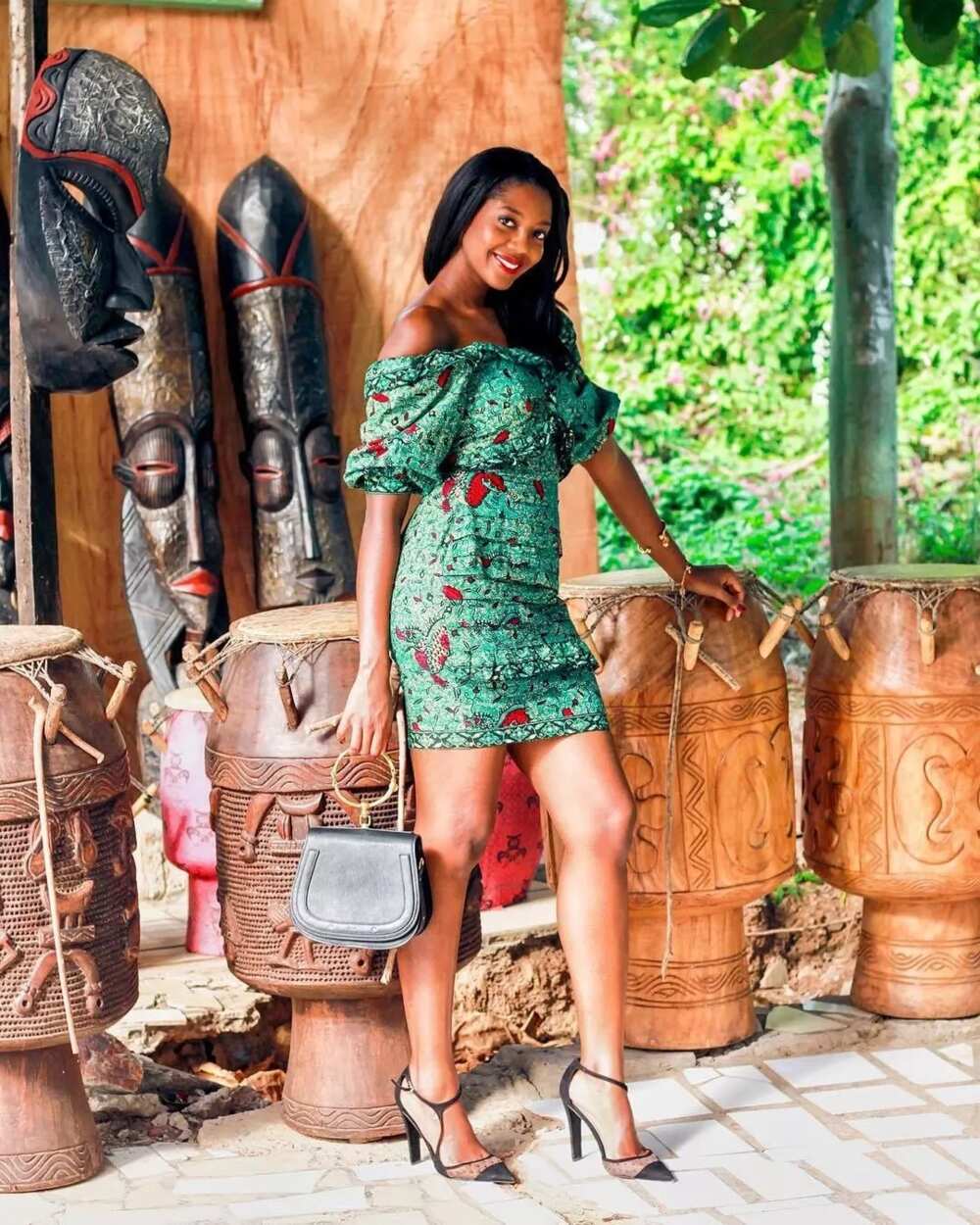 In 2018, pay your attention to the bright tones of the latest ankara styles with cold shoulders. Orange, ultraviolet, peach, and scarlet colors are in vogue. For ladies who do not want to stand out from the crowd, stylists offer emerald, blue, coral, soft blue and grassy tones for images with open shoulders.
Also, in 2018, ankara bright prints are in fashion. You can choose attire with a floral pattern, small or large polka dots, a strip, and also with geometric ornaments.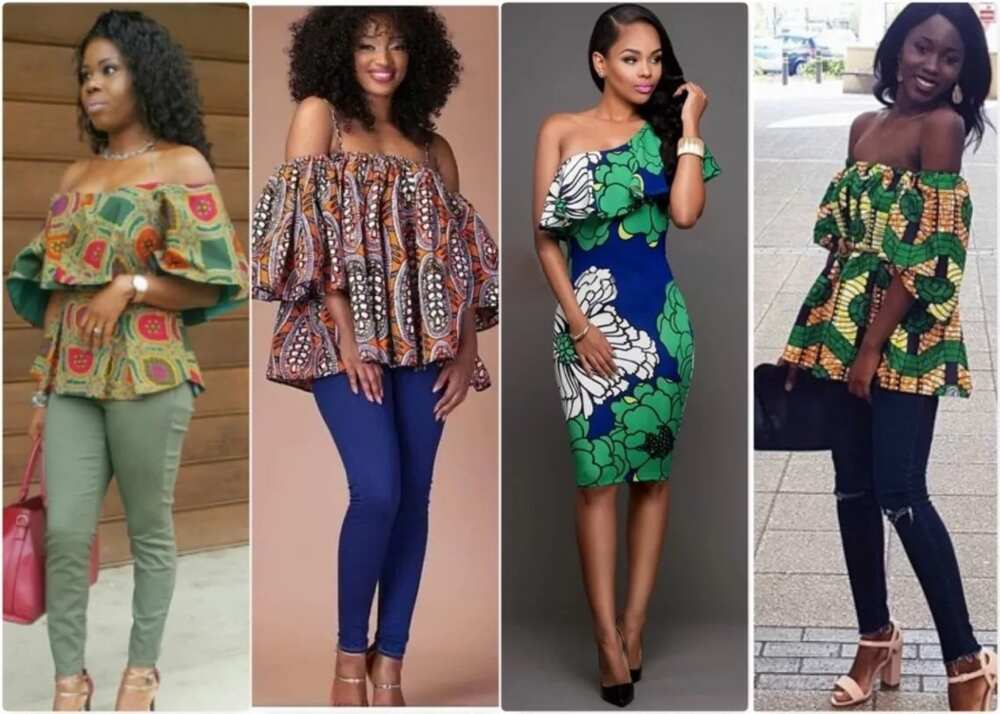 For sure, the cold shoulder outfits will be relevant next fashion season. Nigerian ladies like lovely Ankara styles with open shoulders a lot. Therefore, you can safely buy or sew off-shoulder wears. It's already a classic trend.
READ ALSO: Ankara short pencil gown: best designs for real fashionistas