Gang! We totally love these pre-wedding pictures of this military couple! (photos)
A soon-to-be-married couple spiced up their pre-wedding shoots with a daring military theme that bespoke poise and told us just enough about their chosen profession.
Beautiful pre-wedding pictures of a military couple flaunting their uniforms have surfaced on the internet. These pictures which portray the soldierly profession in its full splendour are gaining the respect and admiration of a wide audience.
The couple identified as Sylvester Emmanuel Amodu and Abimbola Precious Falaya respectively serve in the Nigerian Army.
For one, the prospective groom serves in the capacity of a medical doctor while the bride-to-be works at the Ministry of Defence.
READ ALSO: 15 amazing pictures from couples' pre-wedding photoshoot
The pre-weddding shoots captured by Tonye photography mirrored a loved up Sylvester who was full of praises for his fiancee on his personal Instagram page.
PAY ATTENTION: Read more Nigerian News on Legit.ng News App
The Nigerian military regalia hold a special significance especially in relation to the colours and types. The uniform which was initially designed as a lizard-like camouflage during the Nigerian Civil War gained credence in the army circle.
Apart from the vertical lizard patterned uniform, there are also other types like the desert camouflage patterned uniform and the plain green type which the couple in question also rocked well.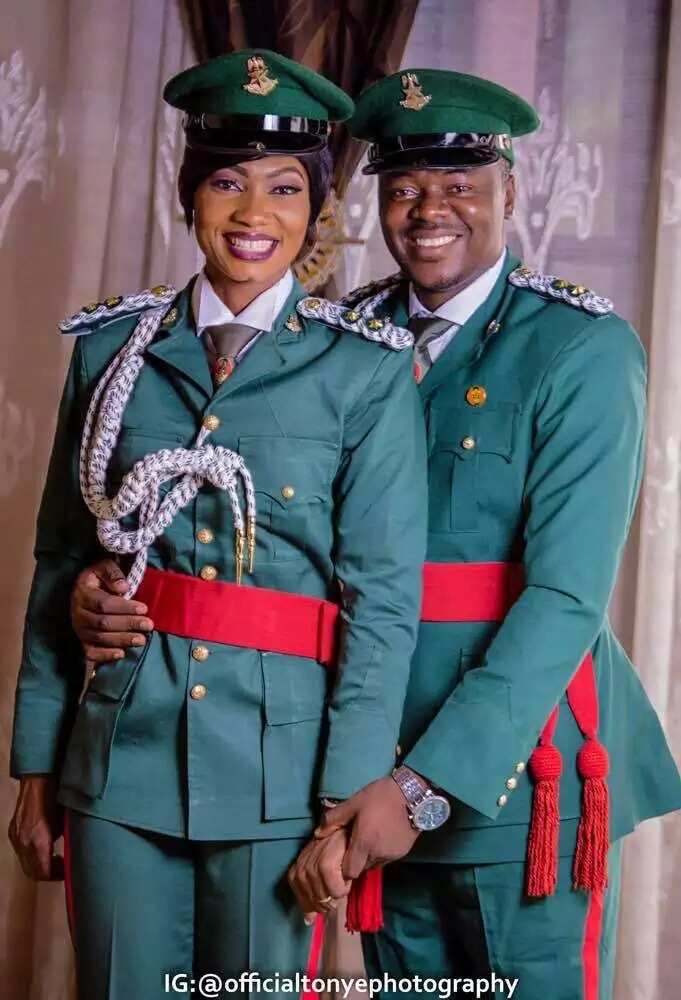 The military uniform is also used to represent ranks just as it stands as a national symbol of authority. Earlier, an article reeling out full details of Nigerian army uniform types and colours was presented by Legit.ng.
PAY ATTENTION: Africa Love Aid gives the best of relationship gossip on Facebook
Apart from the martial attires worn by the couple, other equally stunning pre-wedding shoots that depicted their forever love.
What if your spouse cheats on you just two days to your wedding? | Legit.ng TV
Source: Legit.ng