What to wear to the beach in 2018
With the onset of the beach season, many women all over the world and in Nigeria as well are searching for trendy clothes what to wear to the beach? To feel confident and stylish on the beach, it is better to know the latest trends of beach fashion. If you consider yourself as a real fashionista or just like to "be on the top" anywhere you are, you must read this. We will discuss beach wears not only for ladies but guys as well.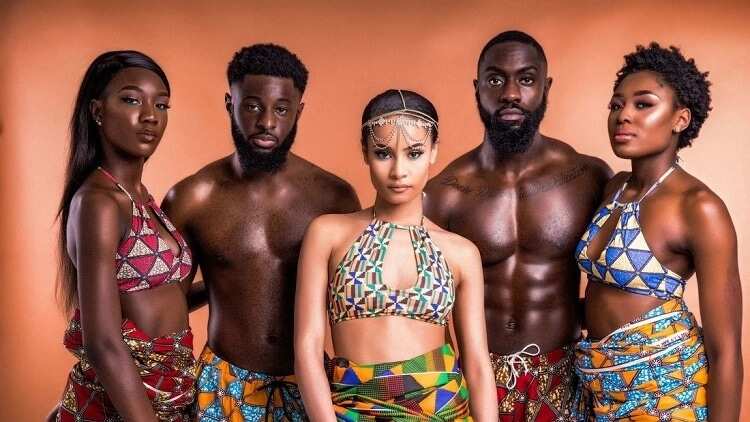 Beach wears for ladies
To look fashionable on the beach, you need to have only a few necessary things that will suit any summer image. Before we will discuss each item of the beach wardrobe separately let's talk about the trendy colors of this season. Swimwear in small and large polka-dot and stripper beach wears do not give up the leading position.
The main favorites of summer 2018 are the colors and shades of so-called sun and sea palette. You will be in the center of attention if you give preference to such colors:
turquoise
blue
brilliant green
yellow
orange
gold
brown
mustard
Trendy prints and patterns in summer 2018 are the following:
abstract prints
photo printing
animalistic images
floristic ornaments
cartoon characters
Classics will never come out of fashion, such as monochrome black, white and red swimsuits also appear in the collections of designers this year.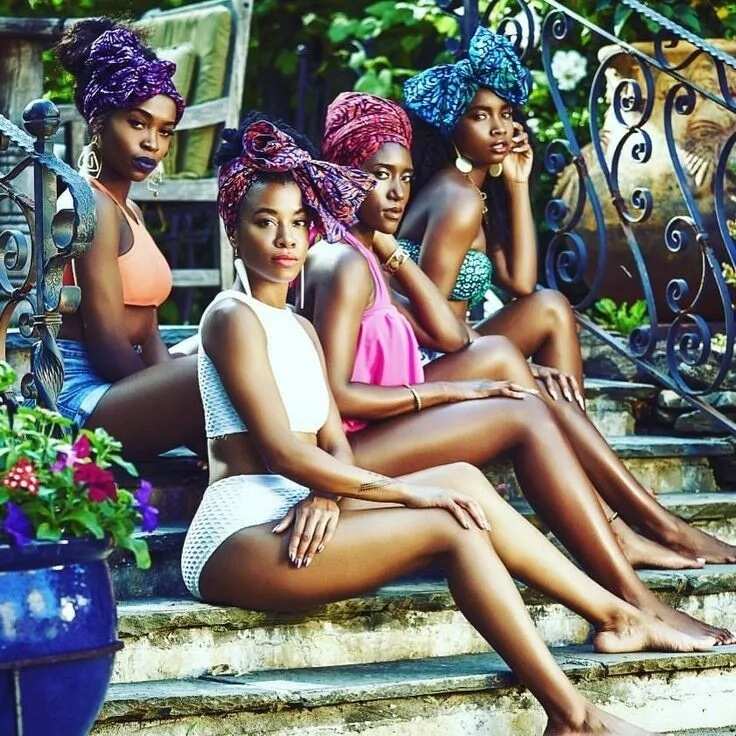 READ ALSO: Trendy Ankara beach wears for ladies to rock in 2018
Swimsuits
Let's start with the most important element on the beach, swimsuit. What swimsuits are in vogue this season?
Overall swimsuits began a new round of popularity in 2018. And the variety of new products is unlimited, you can create a stylish image choosing any of these:
monokini
trikini
sports overall swimsuit
overall swimsuit with a deep neckline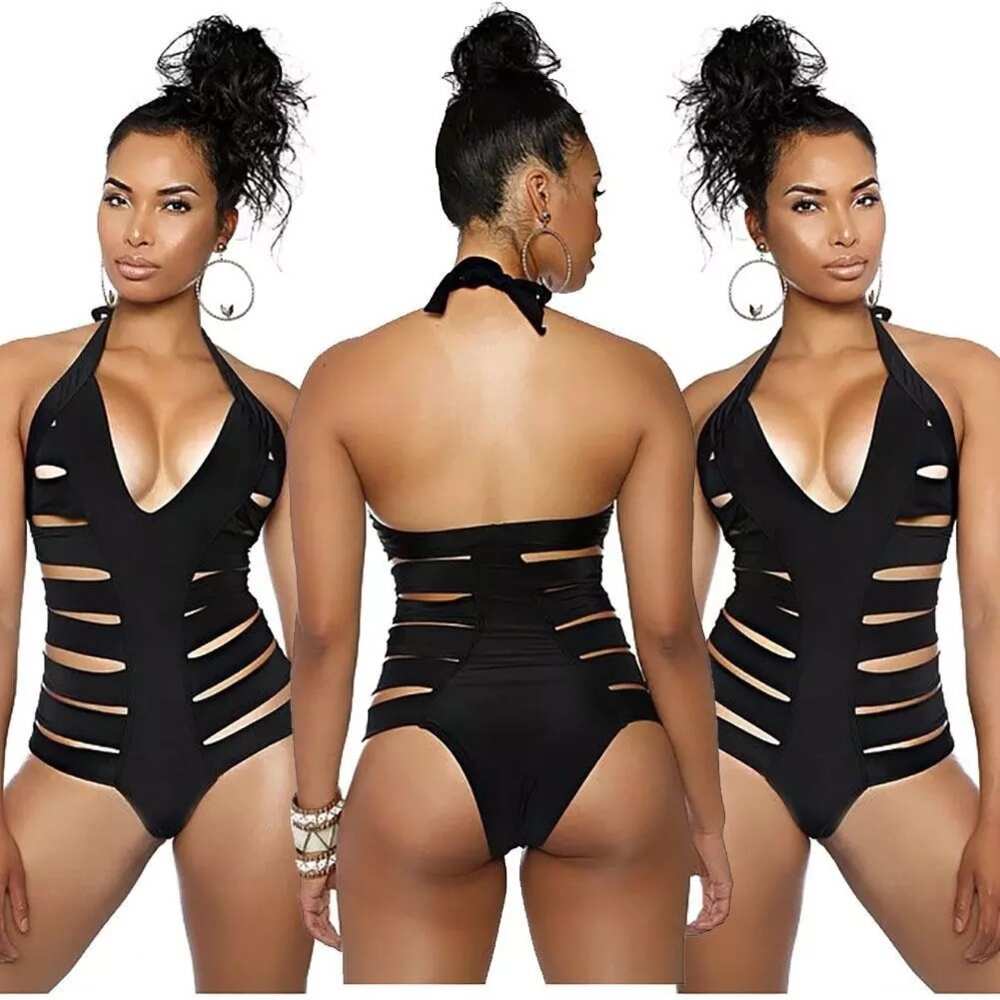 Monokini with various cutouts does not lose their popularity. The sections showing the charms of a female figure can be plural or individual.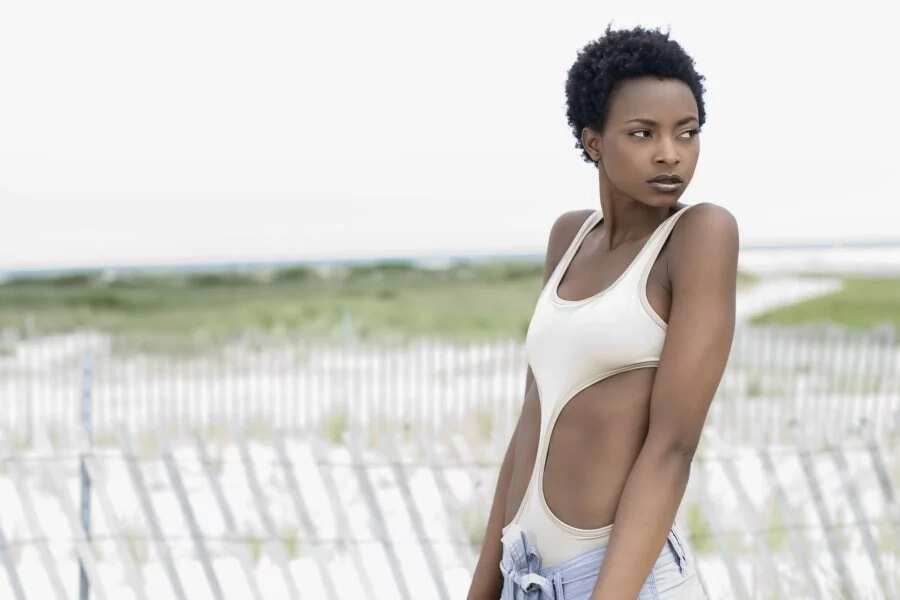 Bold trikini is also fashionable in 2018.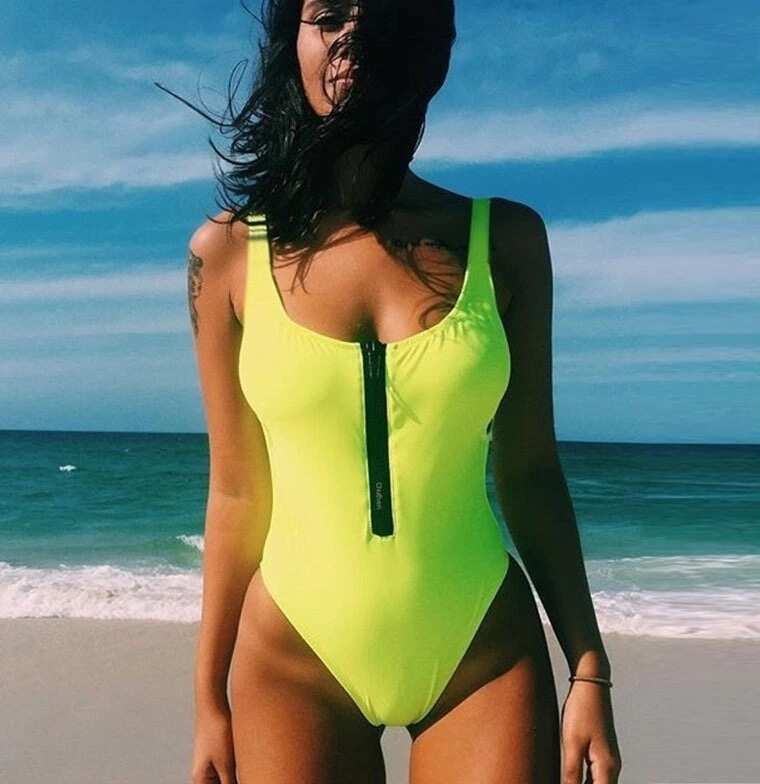 Sports overall swimsuits are at the peak of popularity this season. Actually, it is cool because they are not just comfortable but look stylish as well. Such swimsuits are distinguished by ergonomics and bright colors. The indispensable details of such models are a tight bodice, inserts, and a zipper.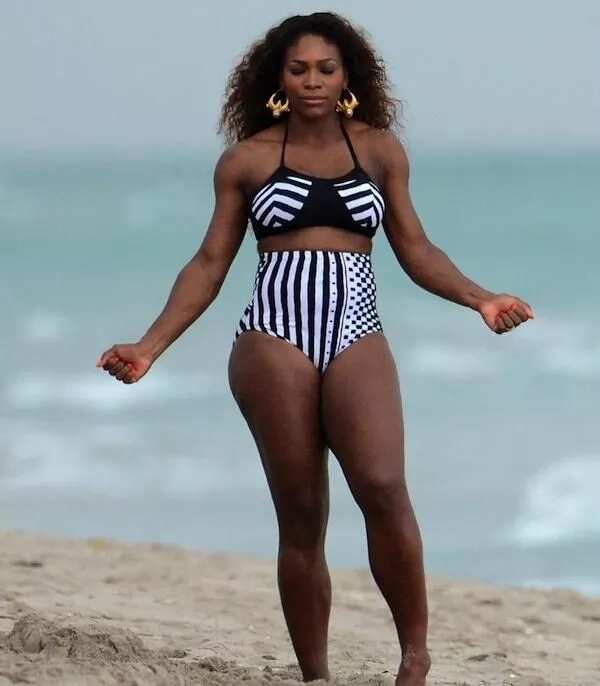 Two-piece swimsuits of 2018 are diverse and sometimes even unusual. Retro style is again in trend: such designs are made with a high fit and the cover the maximum of the body. At the same time, such swimsuits have many details that give the female body greater playfulness. These are various cutouts, transparent inserts, playful prints and a web of ribbons. The colors of such swimsuits are very different.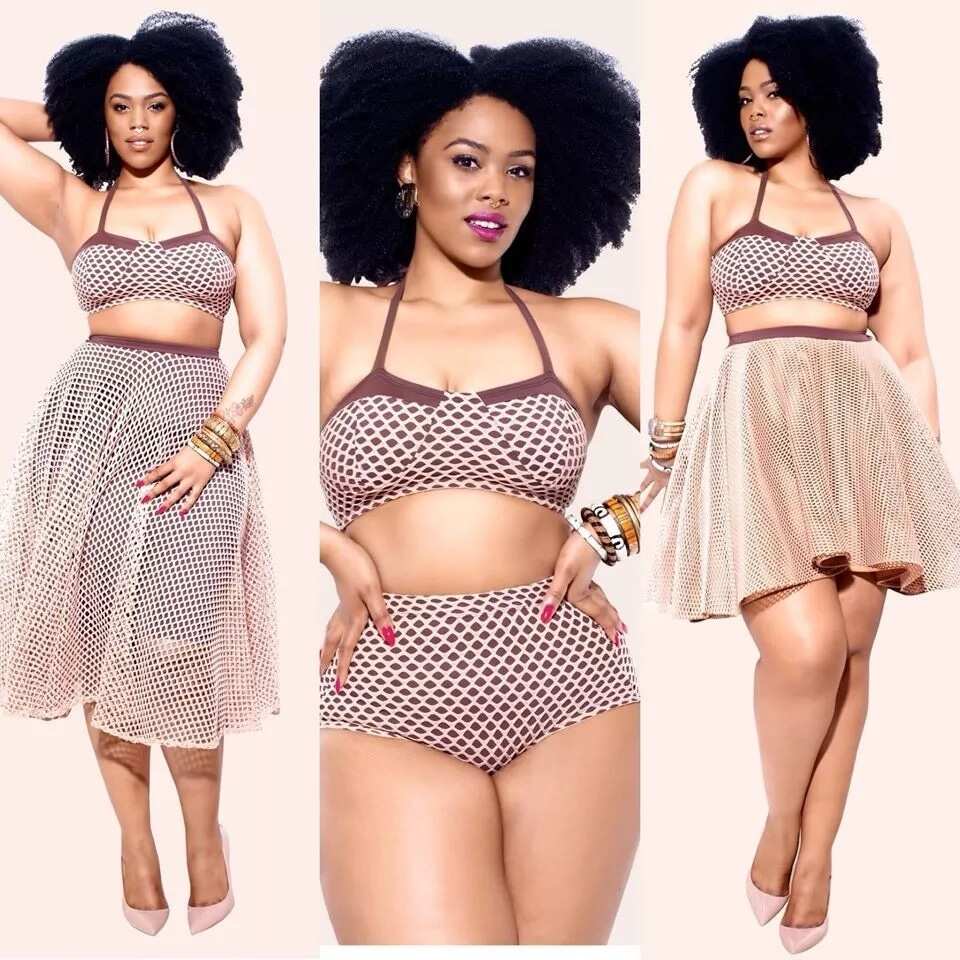 Retro swimsuits look good both on a woman of plus size and slender girls. However, you should remember that the correct selection of the color of such a swimsuit is critical.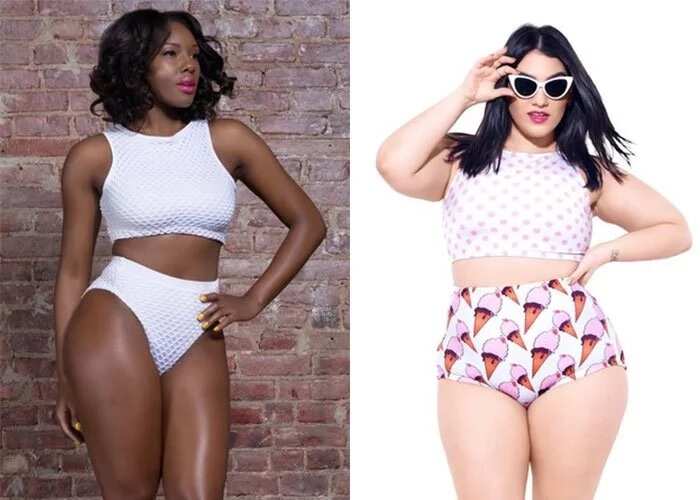 Halter swimsuits also look really amazing and hot. You definitely will be in the center of attention if you appear on the beach in such a swimsuit.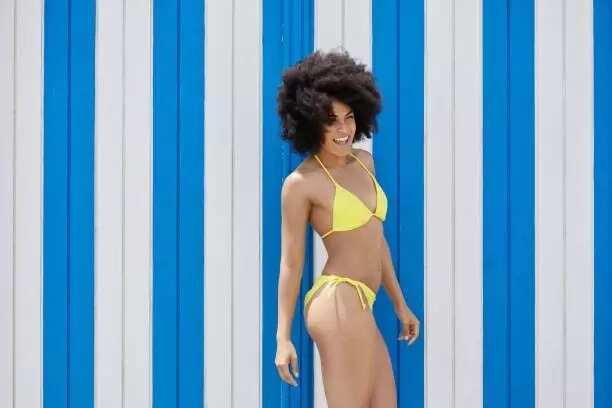 Several years in a row at the peak of popularity were bikinis. Nothing has changed in the summer of 2018, this remarkable creation is still relevant. Women prefer a bikini swimsuit for convenience and the opportunity to get a beautiful tan. Men go crazy about this model of swimsuit - it shows the beauty of the female body.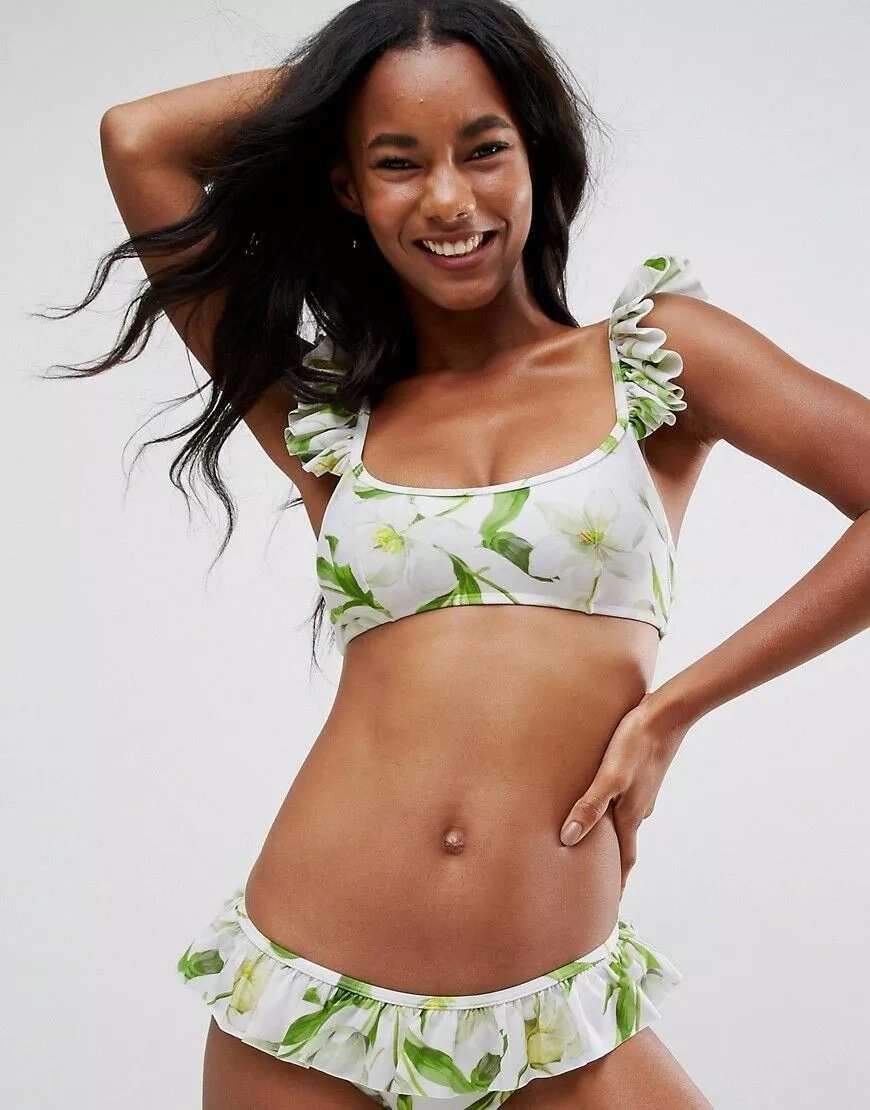 The ordinary bikini is supplemented in 2018 with a small frills, which add playfulness to the swimsuit. Also, a small ruffle will look amazing as a decoration on the lower part of the swimsuit.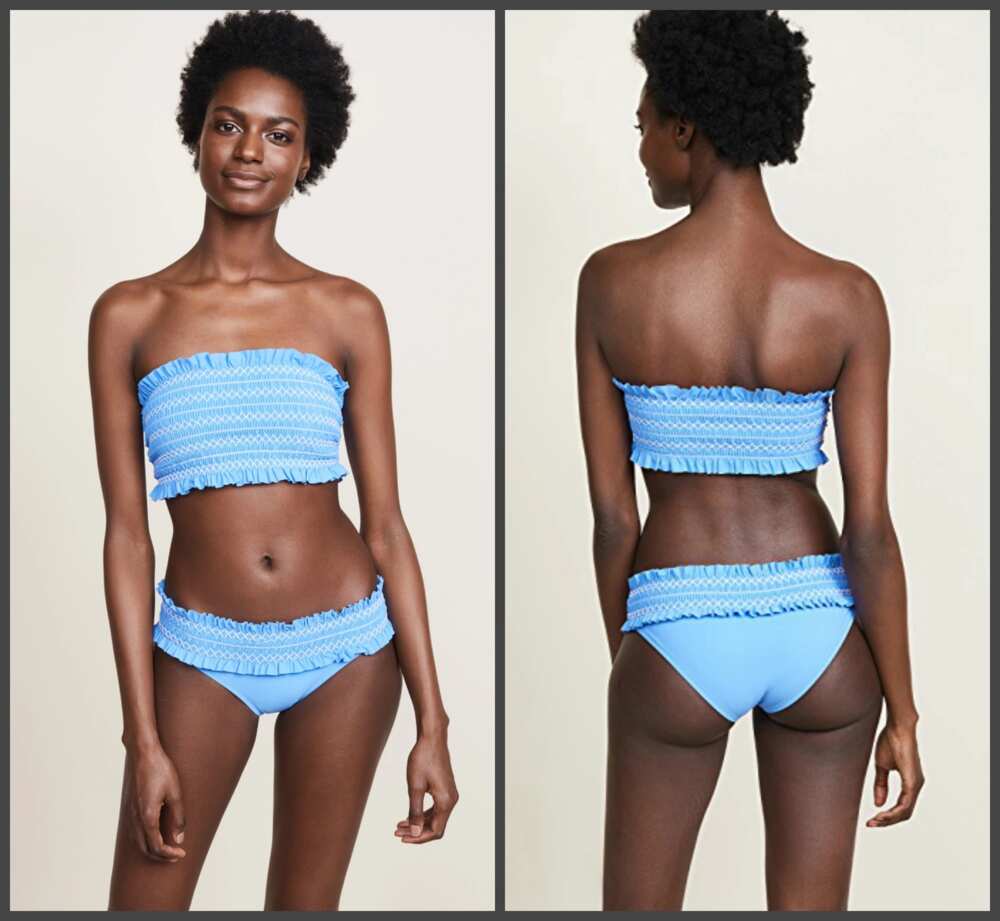 In the new collections of summer 2018, designers created many styles that renewed the bando swimsuit and gave it a second life.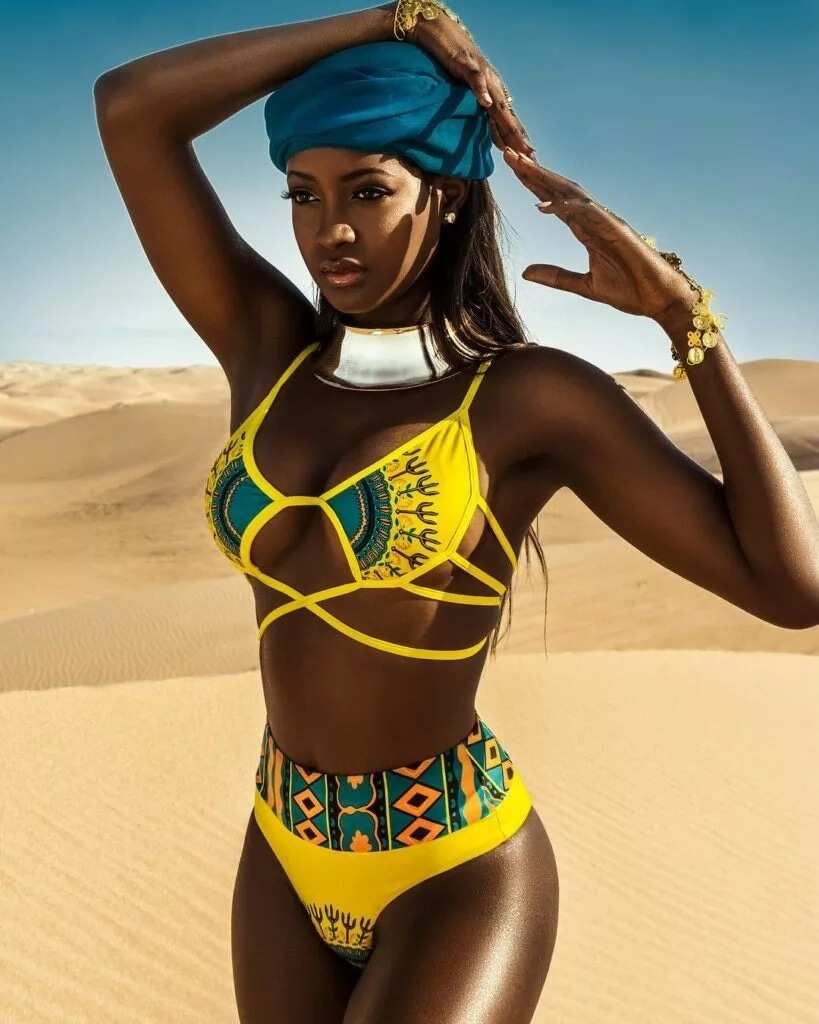 Of course, it will be a big crime if we will omit in our list of beach fashion trends swimsuits of Ankara and dashiki print. No matter what type of swimsuit you choose, you will catch all eyes and will look really stylish
READ ALSO: Latest jumpsuit styles in 2018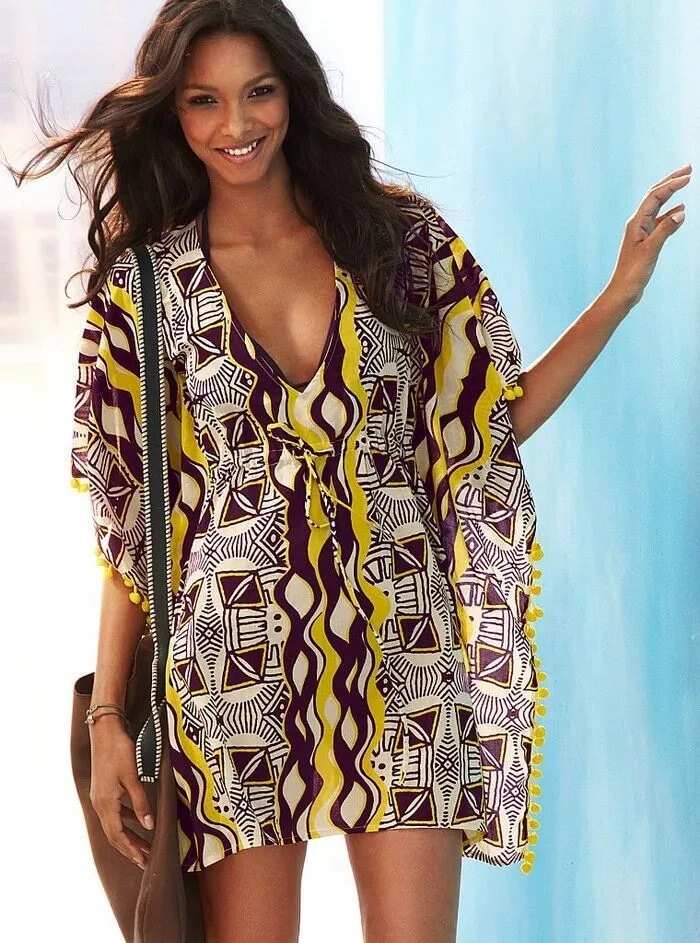 Tunics
A beach tunic can make any lady look like a stylish woman with an impeccable taste. In 2018, beach tunics are must-have.
The main rule of a well-chosen tunic - the fabric must be light and breathable. Of course, you must choose the tunic that will be combined with the swimsuit and accessories.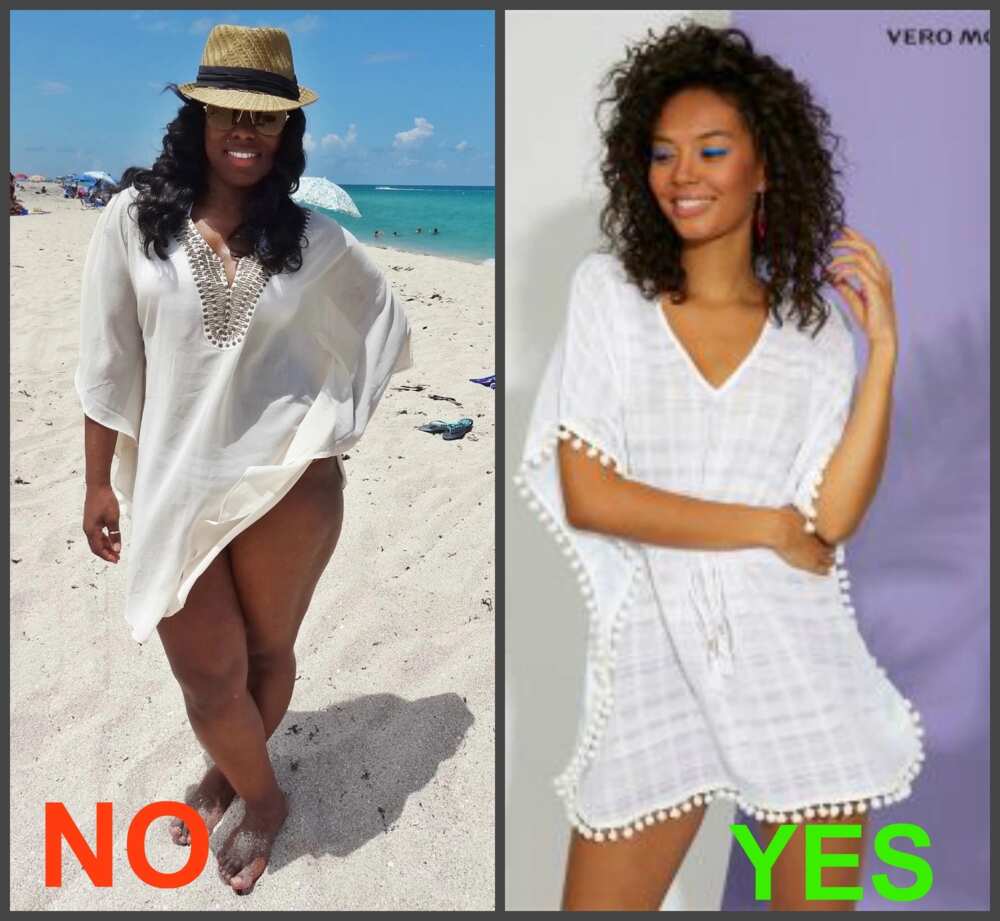 White tunics, on the contrary, have lost their popularity and in the summer season of 2018. In 2018, long tunics are not as fashionable as earlier, it is better to give your preference to short models or medium-length versions. Ultramodern will be tunics with trimmings in the form of fringe.
Neon-bright tunics didn't enter any of the fashionable collections of 2018, they are only the prerogative of teenage girls, but not stylish women with good taste. But pastel colors are in trend, and they perfectly suit both brunettes and blondes.
Tunics with animalistic print, stripped, in boho style, and with a color gradient do not go out of fashion this season.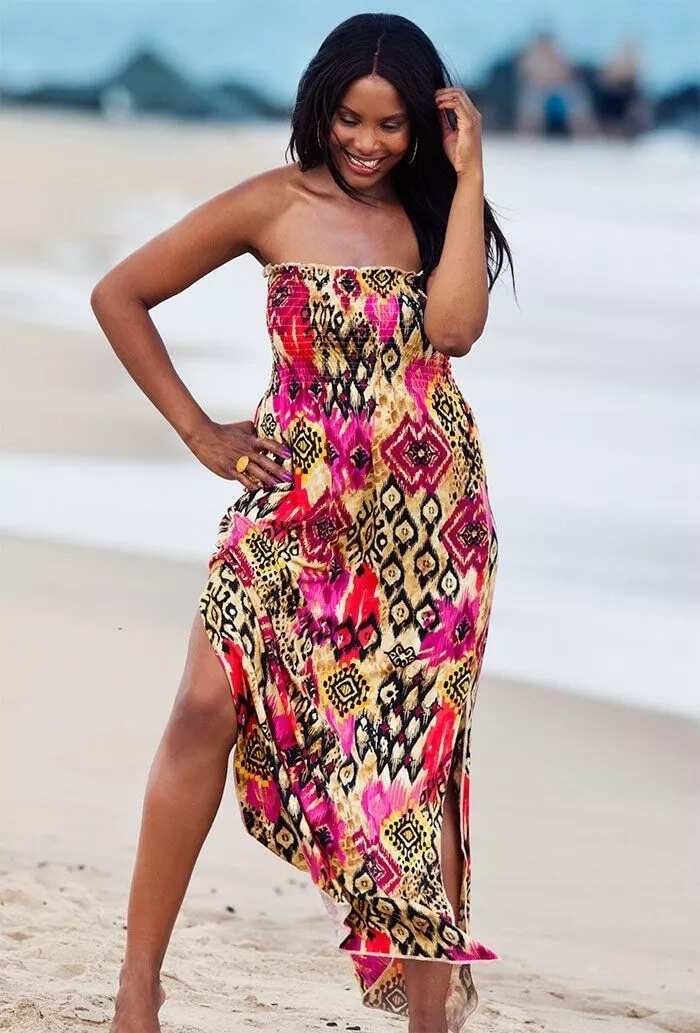 Beach dresses
The novelty of the beach fashion in 2018 is a lacy short dress of gentle light shades with low tide. As in the previous season, floral prints on beach dresses did not go anywhere from the pedestal and became even more popular, but at the same time, there are many stylish beach dresses with geometric patterns. Doted and stripped beach dresses, beach outfits with fringe, free-flowing silhouette, and fitted styles are in trend also.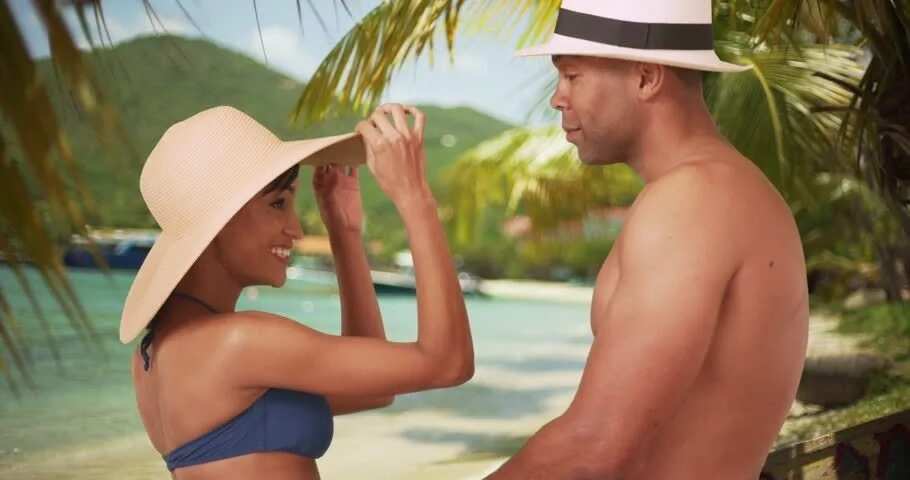 Hats
The beach headwear is an accessory that should be combined perfectly with your dress or swimsuit. Beach hats, Panama hats, caps, turbans are a separate chapter in the arsenal of women of fashion. Thanks to the creative experiments of designers, headwear became a part of the beach fashion, not only as a mean to protect your head from the scorching sun but also as an accessory to gather hundreds of likes in social networks.
The beach hat is an elegant headdress, many people will not risk putting it on, but deciding to part with it is impossible. In beach collections of 2018, style legislators are pleased with the variety of designs. Every fashionista will be able to select an option to her taste without problems.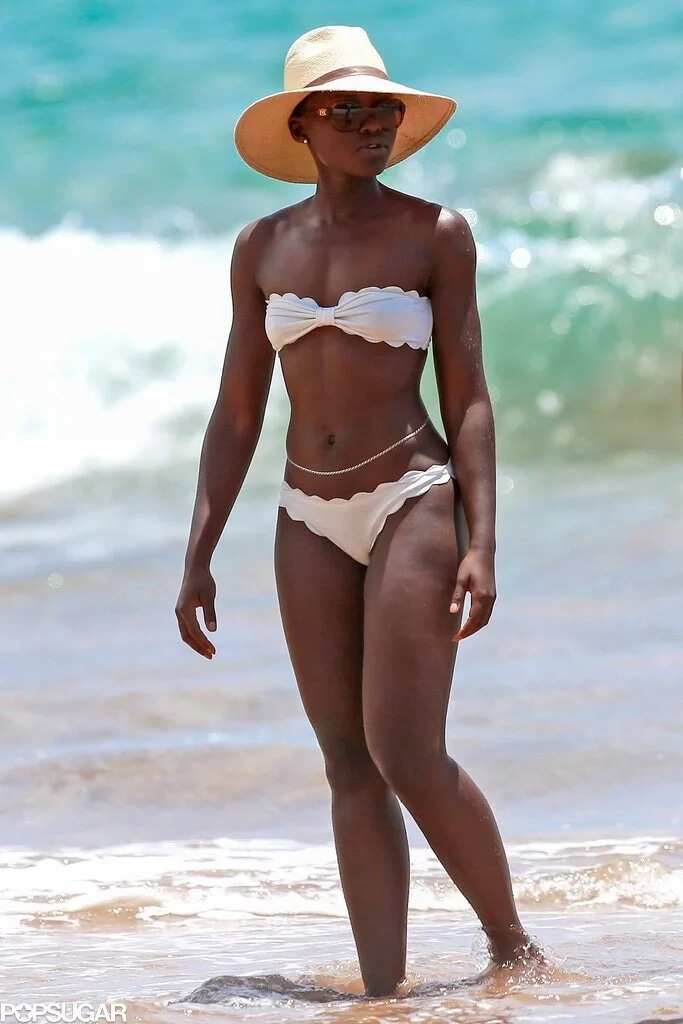 Hats with super-wide fields are not as popular as in previous seasons but do not leave a fashionable Olympus. However, it is better to forget about boring trivial designs. Actual wide-brimmed models are decorated with colored ribbons, pompoms, brushes, embroidery, funny appliqués. Bright inscriptions, strips, perforation in the fields look stylishly, and on the thong – it is better to choose a big bow, or a scattering of artificial flowers look amazing.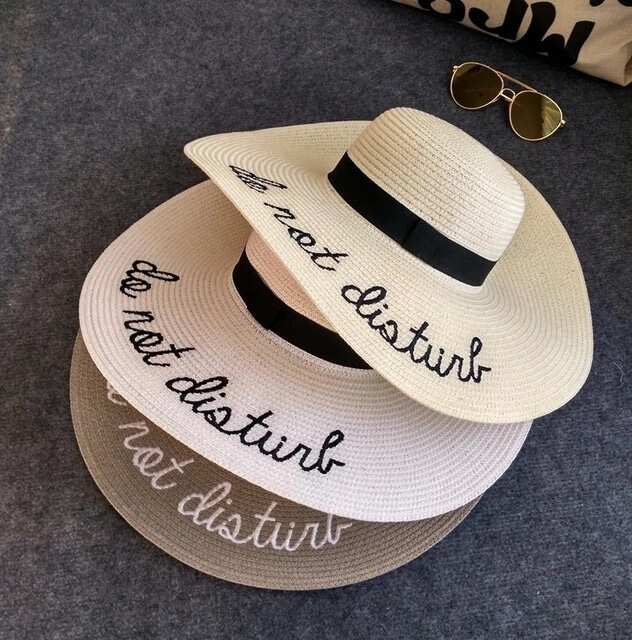 Sports style on the beach is an actual direction of summer 2018. Therefore,stylists encourage fashionistas to get out plastic visors, caps and baseball caps from the far corners of the dressing room. Neon colors, names of favorite teams, logos of famous brands- that's the secret of the ideal headgear in the spirit of popular trend.
READ ALSO: Latest native styles for guys in 2018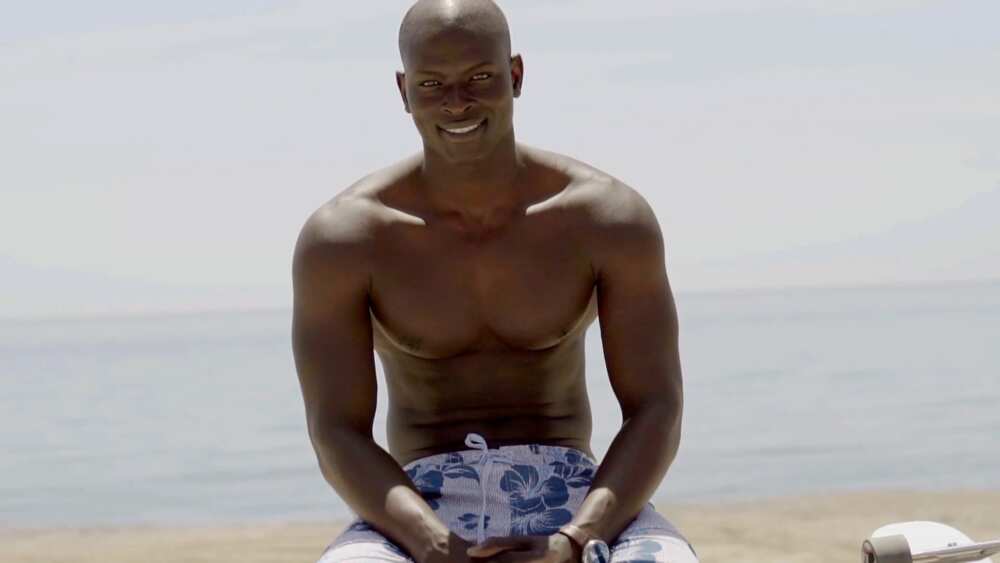 Beach wears for guys
Our men also need to know about the latest trends in beach fashion, but of course, they do not have as many items as ladies do.
Spacious men's swimming trunks are no longer fashionable in 2018. The latest fashion trends offer short, tight-fitting trunks that have a contrasting belt, pulling on the lace and side strips. Playing on the contrasts is a key feature.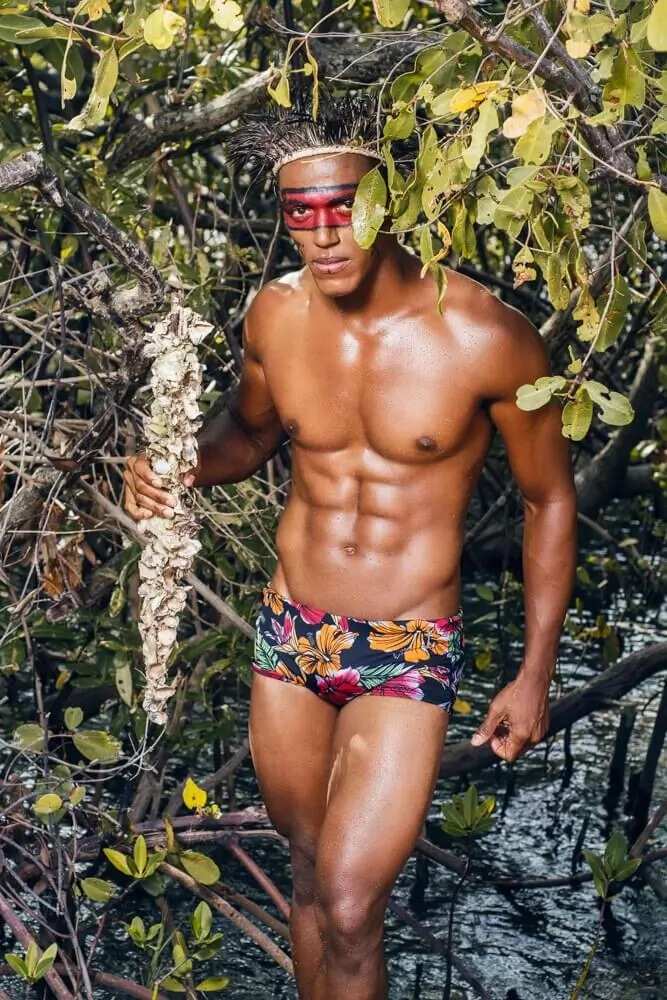 As for swimming trunks, they are also presented in a slightly lighter version. The most fashionable in summer 2018 will be melting shorts of monochrome coloring, which have a different finish and special attention is paid to the pockets.
Men's swimming boxers are still relevant. As in the previous few years, floral prints stay in trend. In this case, the color can be either monochrome or bright.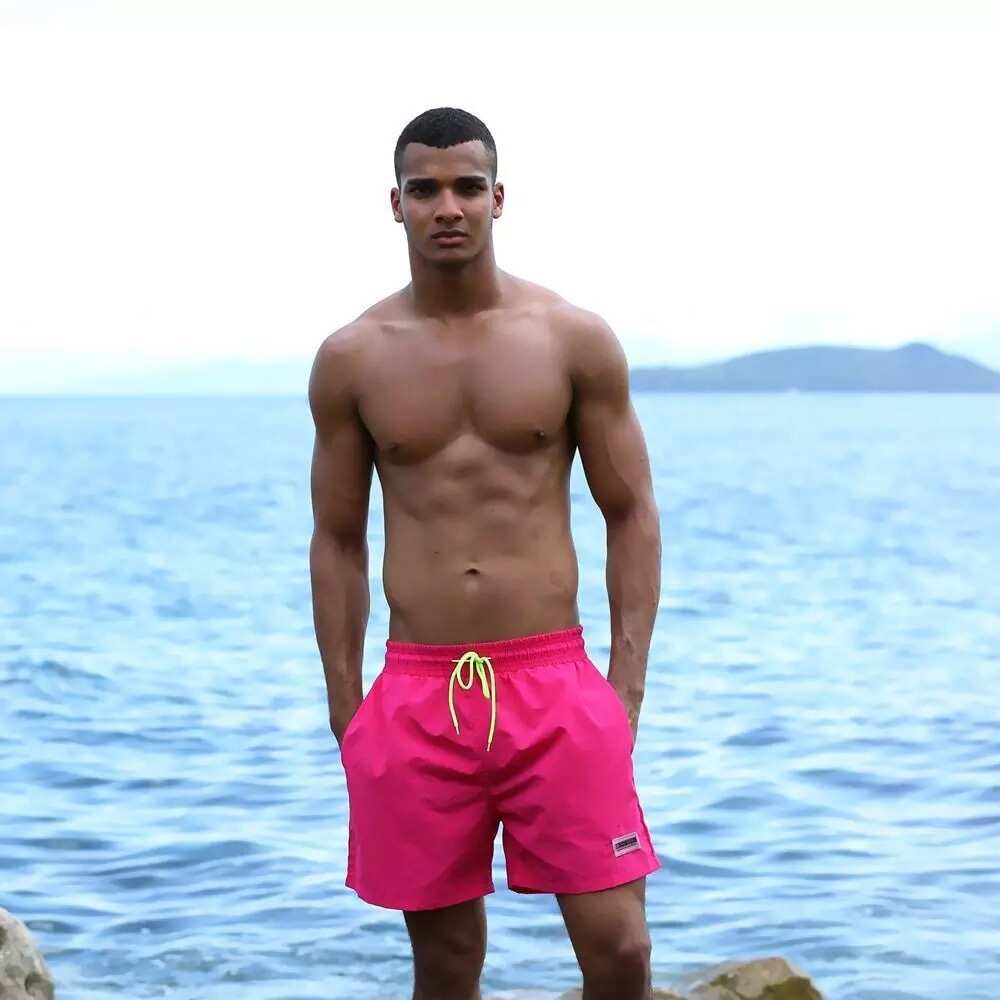 Real playboys with an ideal figure can show themselves from the best side and pin all the women's looks in mini swimming trunks with narrow sides. Many designers offer this bathing accessory in monochrome colors: white, black, and red.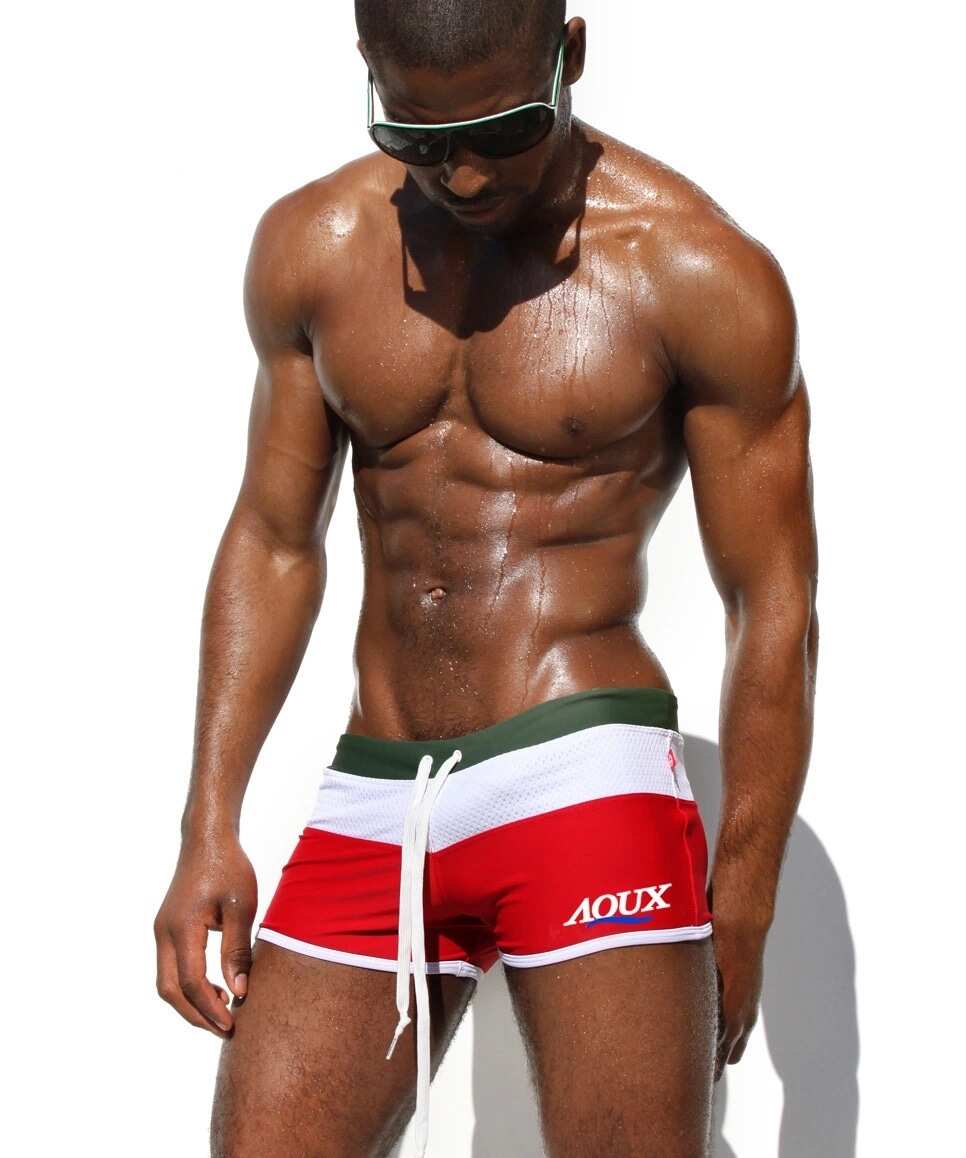 Men can also wear Ankara shorts and T-shirts to the beach, as well as dashiki tunics. Traditional motives in beach fashion will never lose their relevance.
We have gathered the latest trends in one post and hope that now you know how to dress to the beach to look impressive and catch all eyes.
READ ALSO: Nigerian traditional fashion styles for women
Source: Legit.ng