- The suspects reportedly raided the victim's apartment and stole her belongings while she was on holiday
- The suspects also allegedly stole the victim's car and put it up for sale before their arrest
- The development was reported to the police by the victim's husehelp
The Lagos command of the Nigeria Police Force (NPF) has arrested a couple in the state, their son and his girlfriend for allegedly stealing their neighbour's belongings while she was away on a vacation.
Folashade Odunuga of 8, Ade Onitiri, Harmony Estate, Langbasa, Ajah, Lagos was on a three-month vacation which commenced on May 27, 2018, when the incident happened.
The police said her apartment was broken into and her household property including a car, were stolen by 18-year-old Tega Teddy, who was aided by his parents, Uroye Teddy, 45, and his mother, Margaret Teddy.
READ ALSO: Saraki, Dogara react to planned impeachment of Ortom by 8 lawmakers
Tega's girlfriend, one Karima Edom and close neighbour of the victim, was also implicated.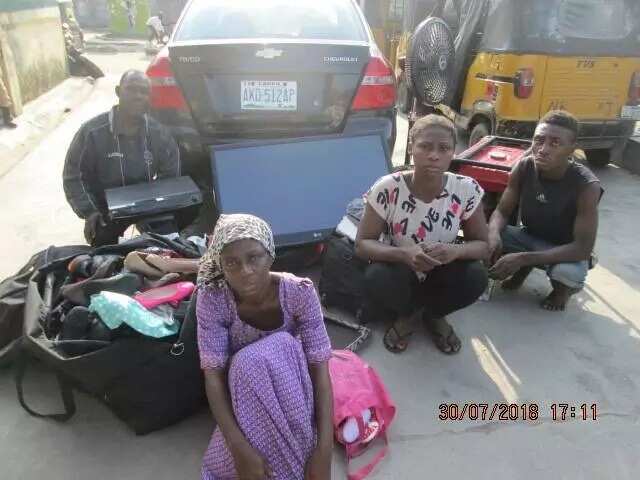 Edom was reportedly the one who passed information about the victim's absence from home to her boyfriend.
"The stealing had been going on for weeks until the victim's househelp, one Eniola Abisola, visited her mistress' house and discovered that a lot of items were missing.
"She couldn't understand how the thieves entered the apartment as all doors to the house remained locked.
"She alerted the police and detectives were sent to check on Tega, they saw the stolen Chevrolette Aveo saloon car with registration number AKD 512 AP, parked in front of his parents' house at New Osho Layout, Langbasa. He was promptly arrested.
"During interrogation, he revealed that he entered the victim's house through the ceiling and gradually, he began to pack the household items to his father's house.
"He narrated that his mother helped him to hide the stolen items in an uncompleted building while his girlfriend Karima, hid some in her apartment," the police said in a statement by CSP Chike Oti, its spokesperson.
The police said Tega further revealed that his father went with him to the victim's house to tow the aforementioned car.
"It was seen that Mrs Margaret Teddy had put the stolen properties for sale.
"Exhibits recovered from the suspects include: Chevrolette saloon car reg number. AKD 512 AP, 42 inches flat screen TV, LG home theatre sound system, electric generator, one standing fan, 5 leather bags, iPad, baby shoes and other personal items.
PAY ATTENTION: Read the news on Nigeria's #1 new app
"The commissioner of police, Imohimi Edgal, charges Lagosians to take their personal security seriously by ensuring that their houses are entrusted in the hands of trusted relations, friends or aides whenever they travel," the statement said.
Edgal urged the people to go back to their old ways of visiting their neighbours to check on them.
He added that if that was the case in this instance, Teddy and his girlfriend Karima would not have had the effrontery to cook, eat and wine in Folashade Odunuga's house during her long absence from home.
Legit.ng earlier reported that the police command in Abia arrested 43 suspects for various criminal offences including kidnapping, armed robbery, murder and defilement, within 40 days.
The commissioner of police, Anthony Ogbizi, disclosed this on Monday while briefing journalists in Umuahia on the efforts of the command to rid the state of violent crimes.
Nigeria News 2018: Is Nigeria Truly the Poorest Country in The World? Omisore Speaks | Legit.ng TV
Source: Legit.ng