Ankara mixture styles you will adore
Ankara mix and match is one of the hottest trends this summer. Being always loved and chosen by many women, this fabric is always trendy and stylish. However, wearing only ankara may not be very interesting. Checkout how to combine different types of ankara and different fabrics for fresh, shiny and stylish look.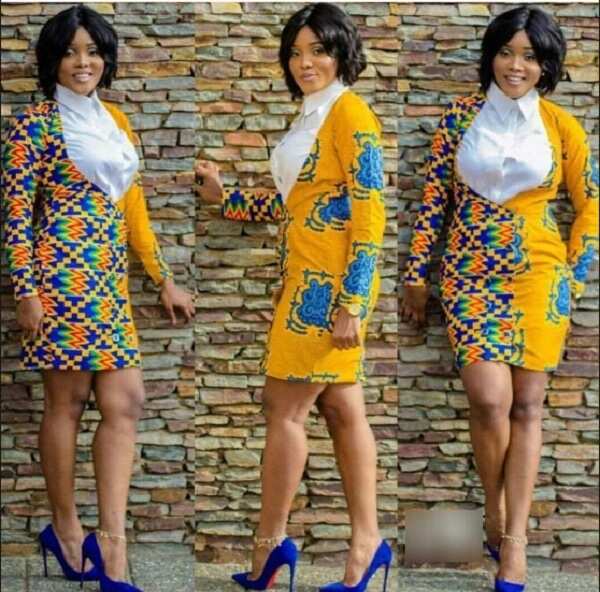 Ankara mixture styles: what does it mean?
Mixing ankara with other textures and fabrics means combining it with other items of clothes and also mixing several different textile pieces within one thing. Combinations of ankara and lace, ankara and chiffon are extremely attractive, creative and look very lovely.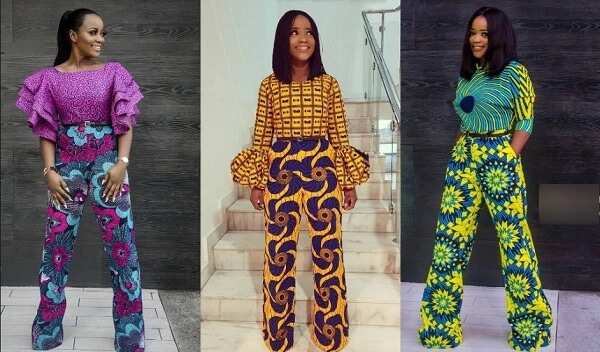 READ ALSO: Beautiful Ankara maxi dresses for real fashionistas
Everything you need to remember is: there are no rules and limitations except your sense of taste. Feel free and be open to style experiments.
Ankara combinations: colors, patterns, and styles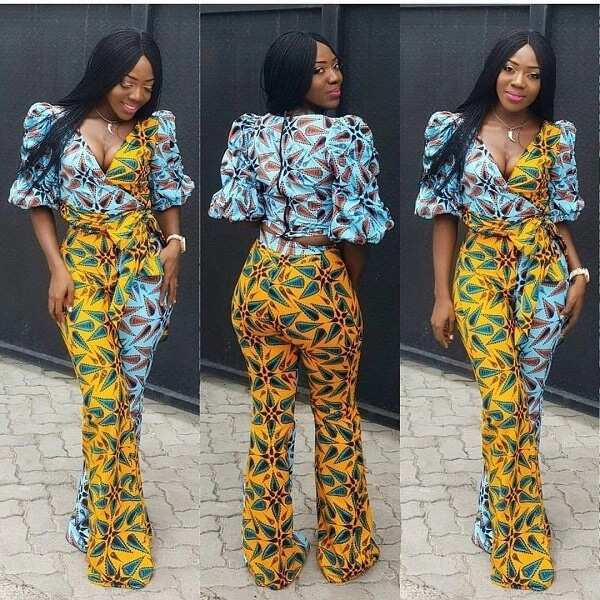 Ankara fabrics are known for their colorfulness. Their bright vibrant patterns literally shine with their juiciness. However, it doesn't mean that such fabrics cannot be mixed with other ones. For instance, it seems quite obvious that such a bright pattern will look great when combined with a solid color. Yellow and red ankara prints look perfect when matched with black and royal blue solid textures. Green ones look extremely fresh when matched with white, and so on.
Patterned pieces can also be combined with each other. Just take a look at the following items. They look just magical in spite of the fact that all the items have different patterns.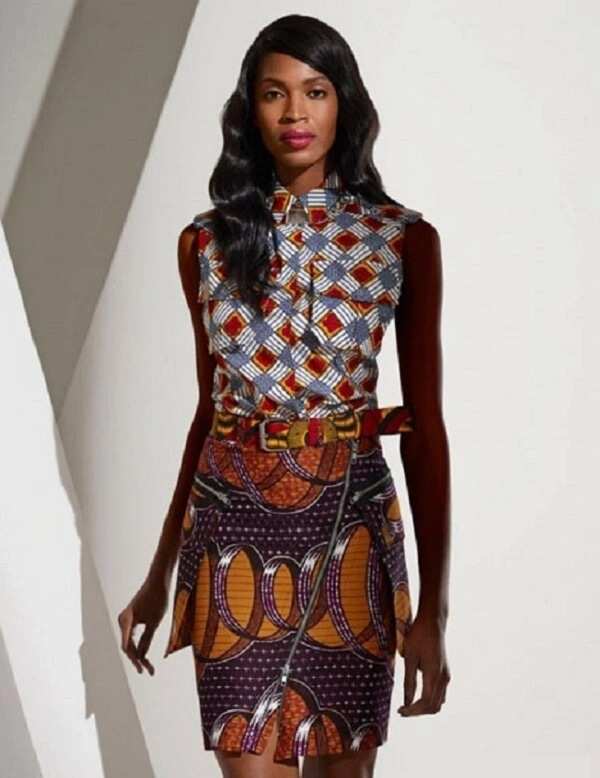 This shirt would have been named rather bright and colorful if the skirt overcame it with its brightness. In fact, they look perfectly well together. What's the secret? It's not even matching the patterns. It's matching the colors. Just look at them: the colors that are repeated in both the items – orange, grey, brown – are exactly the same. This is the key for combining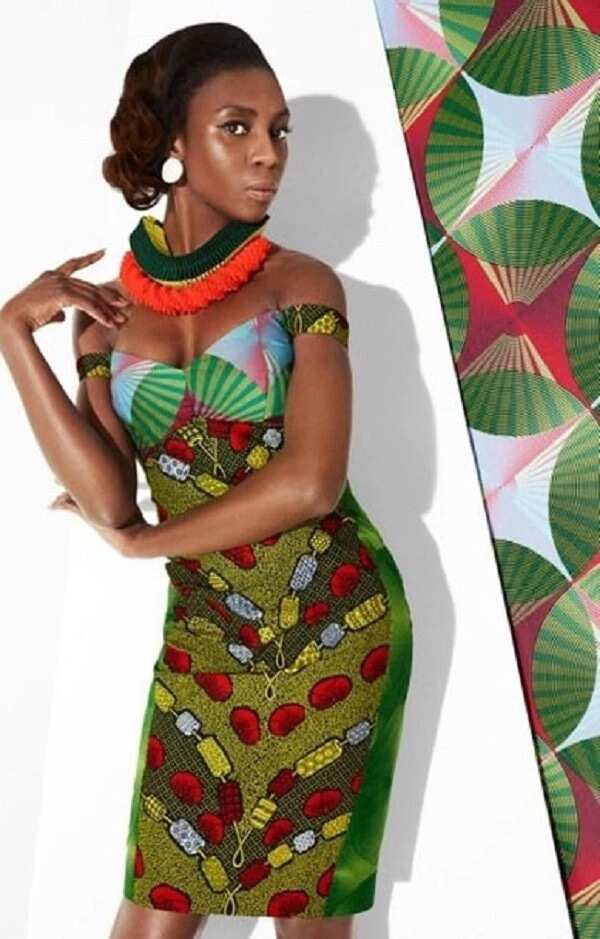 What do we see in this dress? At least, there are three different types of Ankara fabrics. Strangely, they all look so well together. The pieces used for the sides and the ones that form the bra pars in the front match each other exactly. The frontal part with its pattern is different but still looks great. What's the key here? Again, it's in the combination of colors, nothing else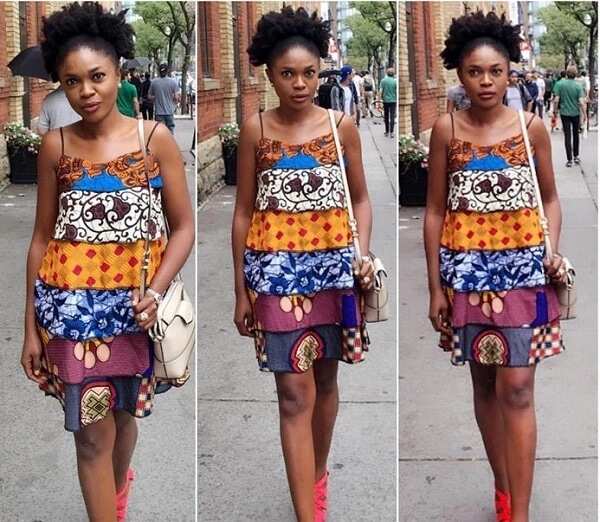 Six layers of different types of ankara. What do we receive in the end with such an ankara mix? A lovely patchwork dress that bears no odd detail. In spite of the plenty of patterns, it looks stunning. Here it even doesn't matter what the colors are. The very style with these frills inspires freedom and creativity. A little secret: such a dress is easy to make if you have remnants of fabric from previous potfits.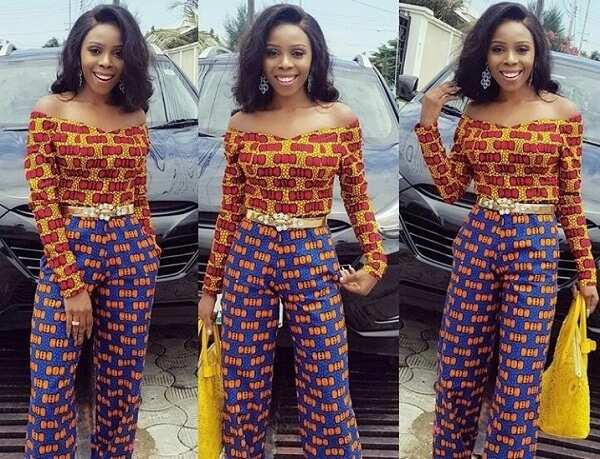 Here we have quite a daring combination, which looks incredibly perfect. What's the secret? The trick is in the patterns. The pants and the blouse bear the same print in different colors. This is why they look so pleasantly similar and different at the same time. If you happen to find two pieces of ankara with similar patterns and different colors, take them without doubts: you can combine them easily!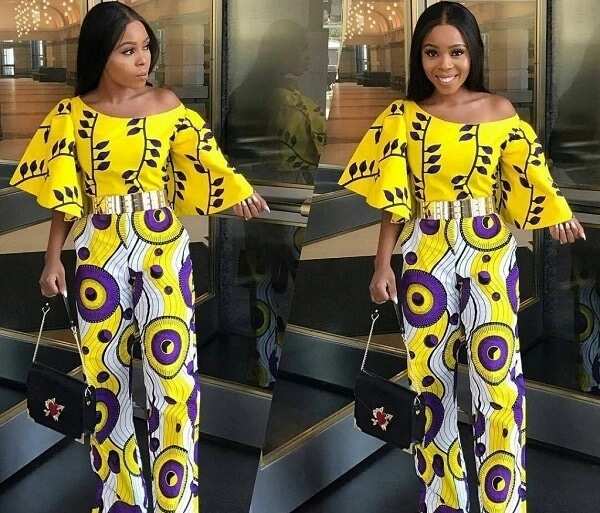 In this ensemble, two ankara prints are combined due to the similarity of their colors. It's an excellent variant of combinations when it's necessary to wear two patterned items together. Just separate them from each other with a decorative belt and see how great they look together!
Ankara mix with chiffon: the different textures in one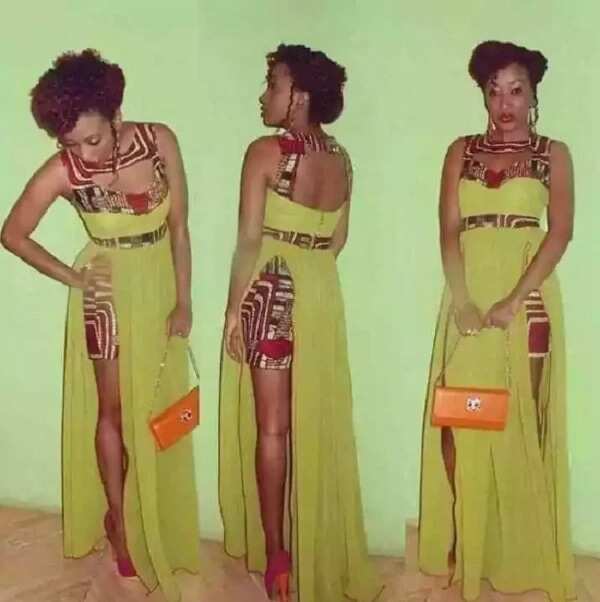 READ ALSO: Nigerian Ankara styles catalogue 2018
Chiffon is a very light fabric, it creates lovely folds and flows on the wind in a very picturesque way. More often, you can see combinations of different fabrics, involving chiffon. One of the best combinations for a practical and lovely style is ankara with chiffon. It's not only about dresses but also about blouses, skirts and other items. Let's see how they look.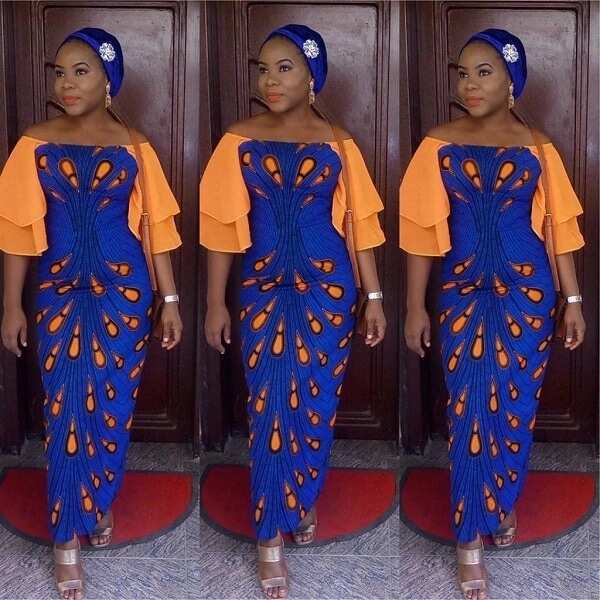 This Aso Ebi dress is decorated with frilled chiffon sleeves of a contrasting color. They make the entire look fresh and bright and bring a touch of lightness to the entire shape. The key to a proper choice of the material is in the proper choice of the color. When you add such a detail, make sure the color matches other small details. In this case, these details are the parts of the pattern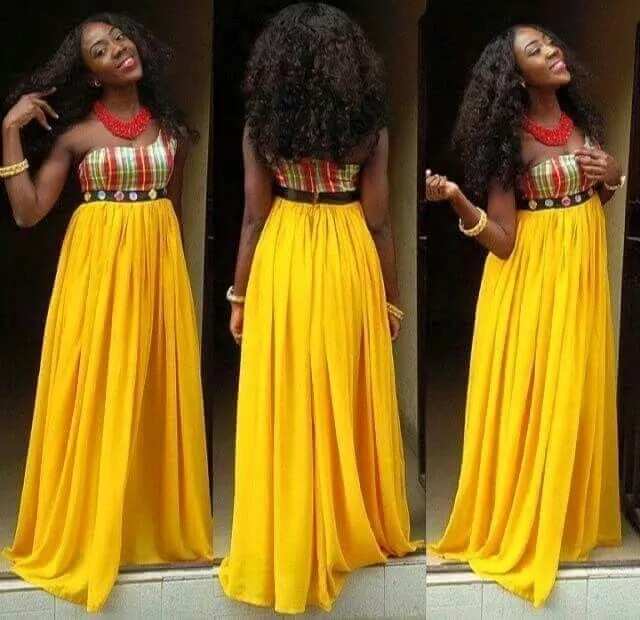 This maxi dress contains plenty of chiffon and only a little of Ankara. The one-shoulder strap creates an interesting line and the pattern on the top part adds something sweet and simple to the entire look. Should there been another pattern, the dress would have looked too luxurious for everyday wearing. Yet, due to the simple pattern, the entire dress becomes more casual, too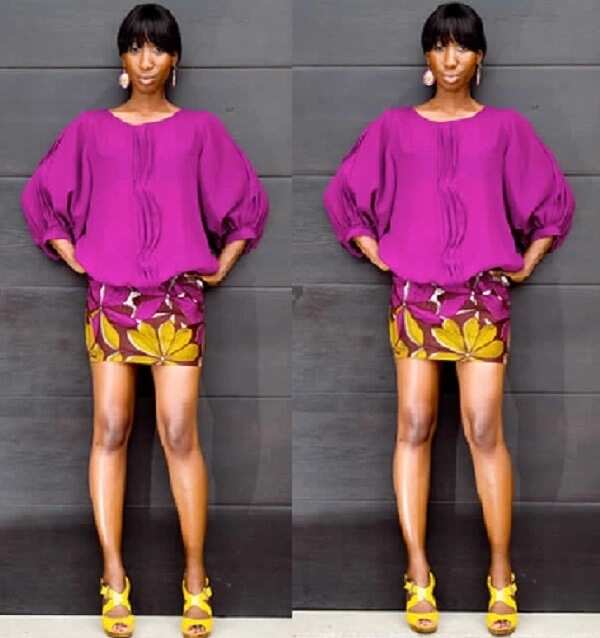 In this dress, the incredible magenta chiffon forms a wonderful top with wide sleeves and an oversize cut. Attached to an ankara mini bottom, it looks like a blouse and a mini skirt of matching colors. The trick is in the lovely cut itself and in the perfectly accurate choice of hues. This is a wonderful idea if it's necessary to combine several different fabrics and colors
Ankara mix with lace: tenderness and brightness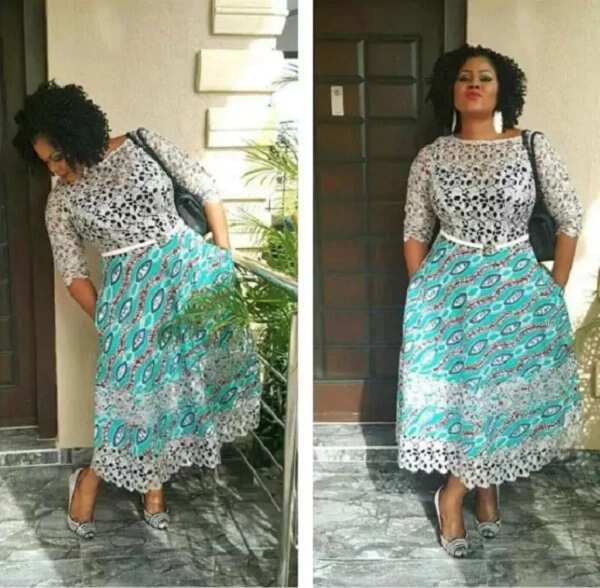 Lace is a material that's often used for special occasions like weddings and other festivities. Combinations of ankara with lace are often seen in Aso Ebi outfits. However, you can sometimes encounter quite casual options, which can be worn every day, depending on the situation, like these ones.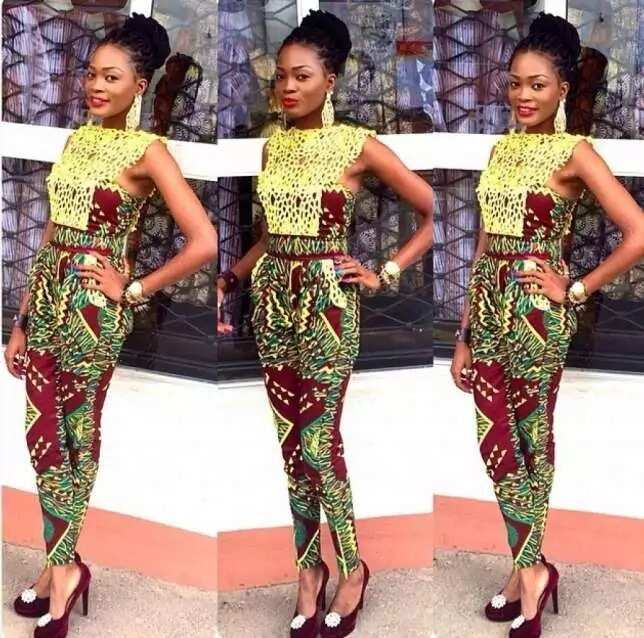 This lovely onesie with a lace decoration on the chest area is a bright example of a lovely combination of ankara and lace. Even though the material of the jumpsuit is already bright and patterned with small details, the lace doesn't look out of place at all. The key point here is the color choice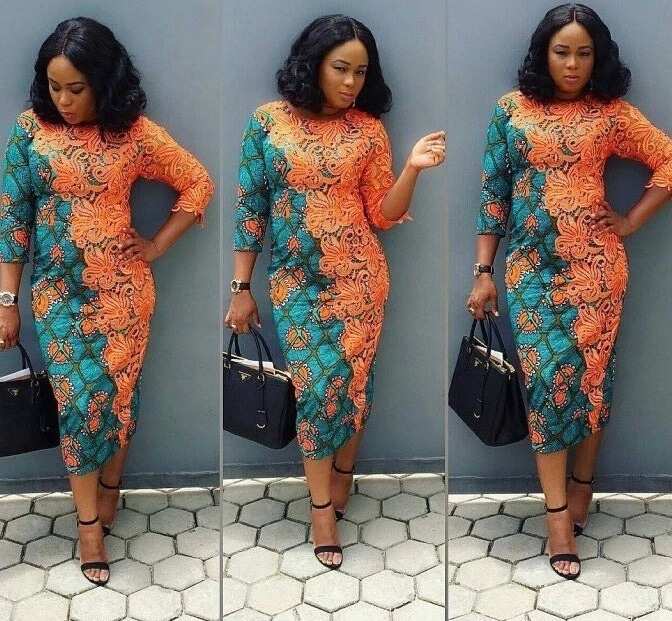 This emerald-green dress with a decoration made out of salmon-colored lace is a masterpiece. It's not too luxurious as Aso Ebi items but looks no way worse.
What a lovely, tender and fresh dress this is! A piece of white lace makes it look fresh and so lovely. With all those white accessories it looks extremely pretty. Of course, the combination would not have looked so nice if the Ankara had no white in it. The choice of colors played its role here
Ankara mix with denim: the "country" style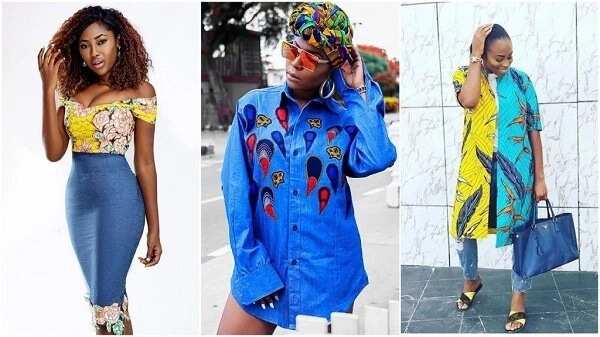 The bright colors of ankara look perfectly well when they are combined with denim. The solid color of denim balances the brightness and looks lovely and fresh. Denim and ankara textures are being chosen for many items these days, including, pants, blouses, skirts and dresses!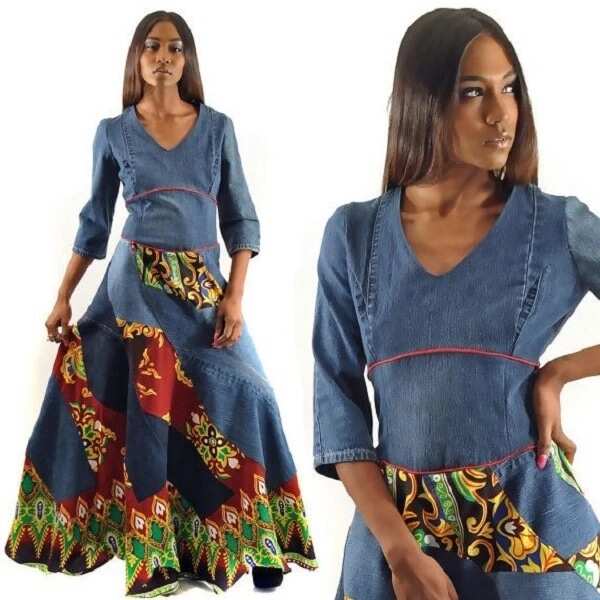 This is a very unusual dress created out of pieces of denim and ankara of different types. Together, they create a strong illusion of movement and bright accents. The solid color of the top balances the gipsy-styled bottom and, all in all, the outfit looks gorgeous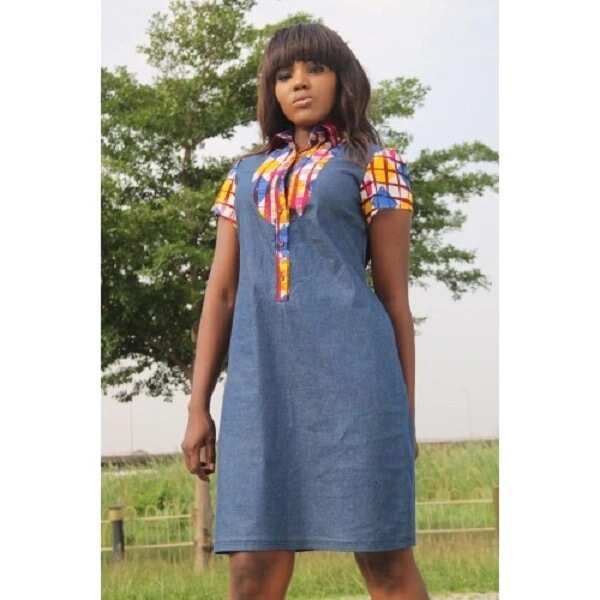 It's hard to make a wrong choice when choosing ankara that would go with denim. All types of solid blueness of the denim fabric will look perfect when combined with ankara. So, if you are into creating something really nice, the only thing that matters is the chosen fashion and details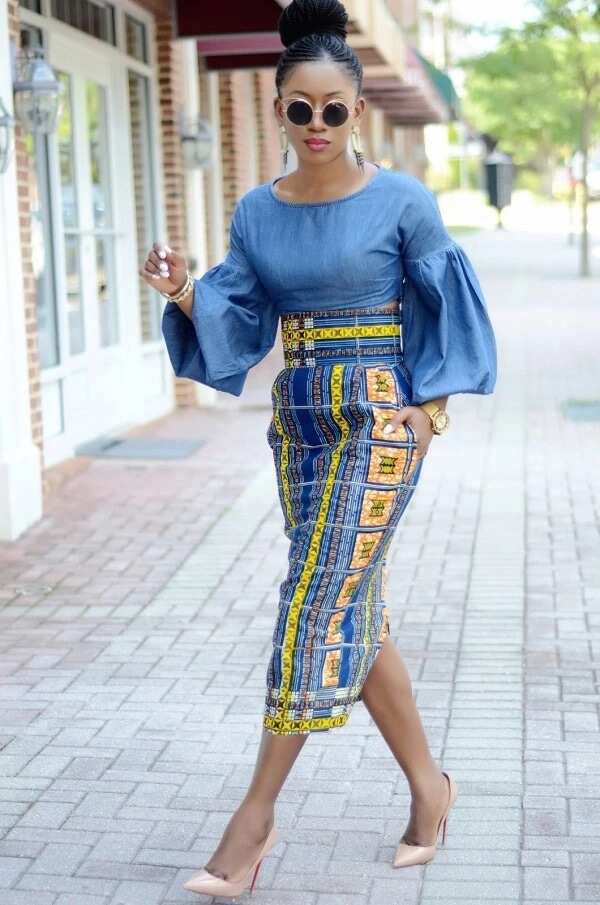 Take a look at this crop-top and a high-waist skirt! They look wonderful together due to the matching styles and colors. The top needs no colorful decorations because it's the skirt, which speaks for both of them and makes a bright statement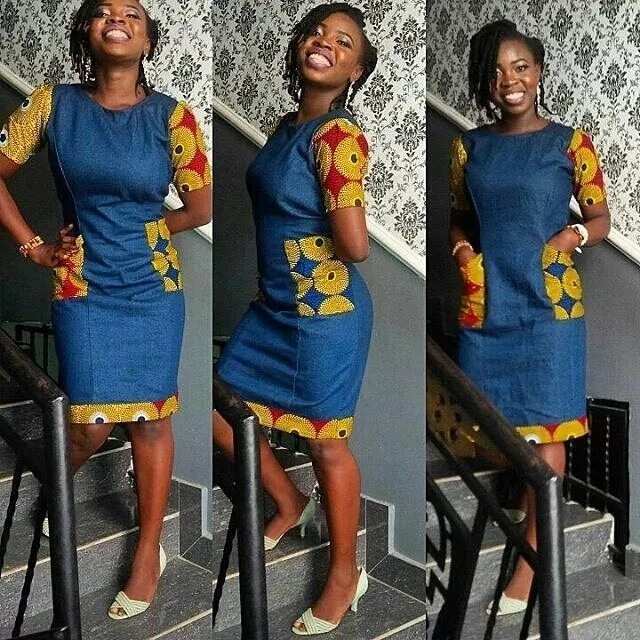 The simple dress with ankara details is lovely and bright enough for everyday wearing. It has an interesting detail, which is not easily noticed – a pocket of a different color but with the same pattern. Such small details catch the eye and create a pleasant contrast
Well, now when you know everything about the latest ankara mixture styles, you can easily make your choice and create clothes you'll wear with pleasure. Combine everything, examine the effect, and try again. Remember, there are no rules!
READ ALSO: How to tie gele with ankara: Step-by-step
Source: Legit.ng