Stew recipes are numerous and the variations of this simple but delicious meal are uncountable. Stew meat is a healthy meal because there's no frying process and no oily sauces. However, it's a tasty dish because it almost always includes aromatic herbs and fresh vegetables. Besides that, you can use any types of meat for stewing.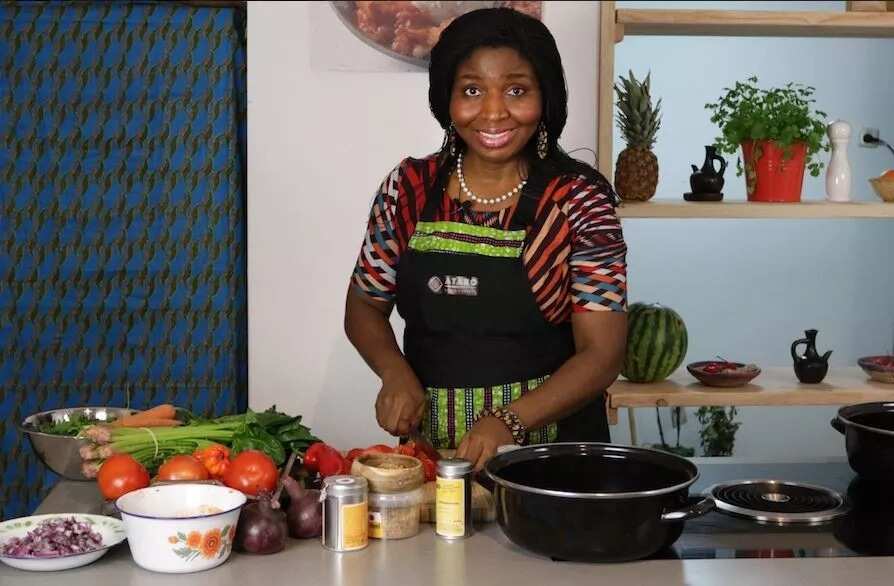 How to cook stew: general recommendations
To cook a delicious meat stew, take a piece of meat, wash it thoroughly to remove all possible contaminations, remove bones and cut the flesh into cubes. In case you make them quite big, it's possible to beat it slightly to make it more tender. Then, it's necessary to fry it slightly to receive a golden crust on the surface of the meat and immediately put it into a suitable pot for stewing.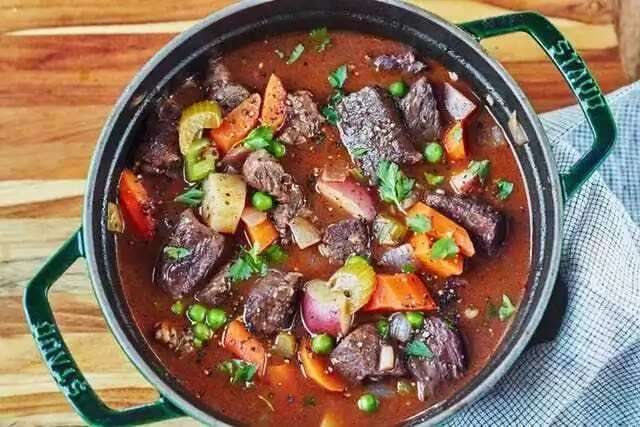 READ ALSO: Fried rice recipe with egg and vegetables
It's necessary to complete this step to give the meat a pleasant color. If you skip this preliminary frying, the color of stewed meat may be rather unattractive, however, this is good for those on a weight loss program.
Now, to the pots, in which stewed meat cooks well. If you want to know how to make stew tender, then, the answer is: use a proper vessel. You will need a pot or a saucepan with thick walls and bottom. It's perfect if you manage to get such a pot or so made out of cast iron. Besides that, the quick frying should also be done in a frying pan with thick sides.
How to cook stew fast: a universal recipe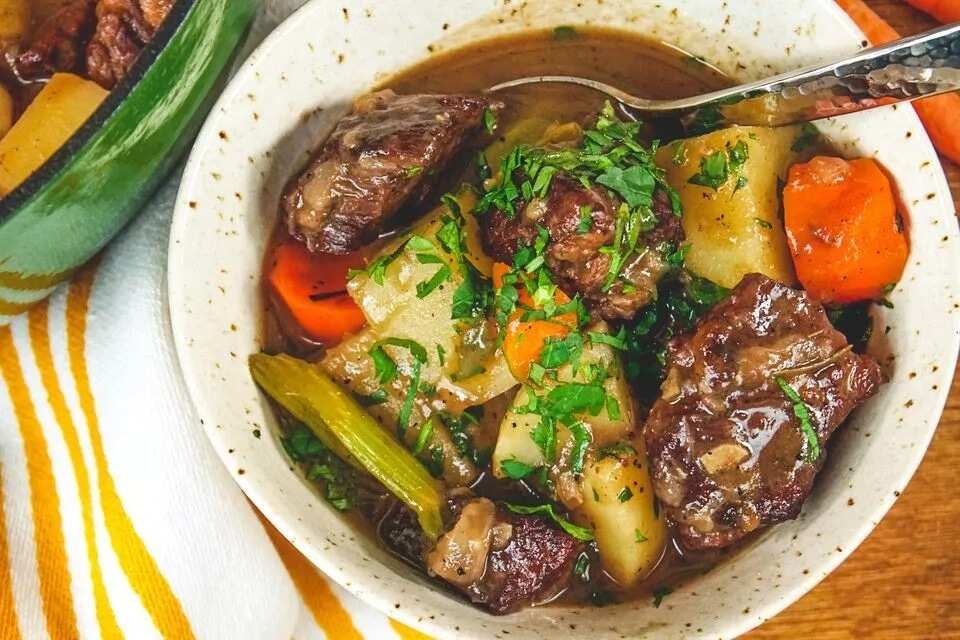 This is a way to cook meat easily and with simple ingredients but receive something really delicious in the end. So, here it goes. To begin with, you will need the following ingredients:
500-700g of low fat beef
4 onions
2 carrots
100-150g of ketchup
3 cloves of garlic
Basil, dill, or other aromatic herbs (dried or fresh)
Red and black pepper to your liking
Salt
Bay leaf
Some oil for frying
Cut the meat into big cubes. boil the meat till its tender and add a little oil to the frying pan and fry the meat so that it develops a tender golden crust. Then, put it into a deep saucepan. In the meanwhile, cut the peeled onions into half-rings and fry them slightly to a golden color. Then, add peeled and chopped carrots and keep on frying some more. When done (you will see it by the color), put the vegetables on top of the meat into the same saucepan.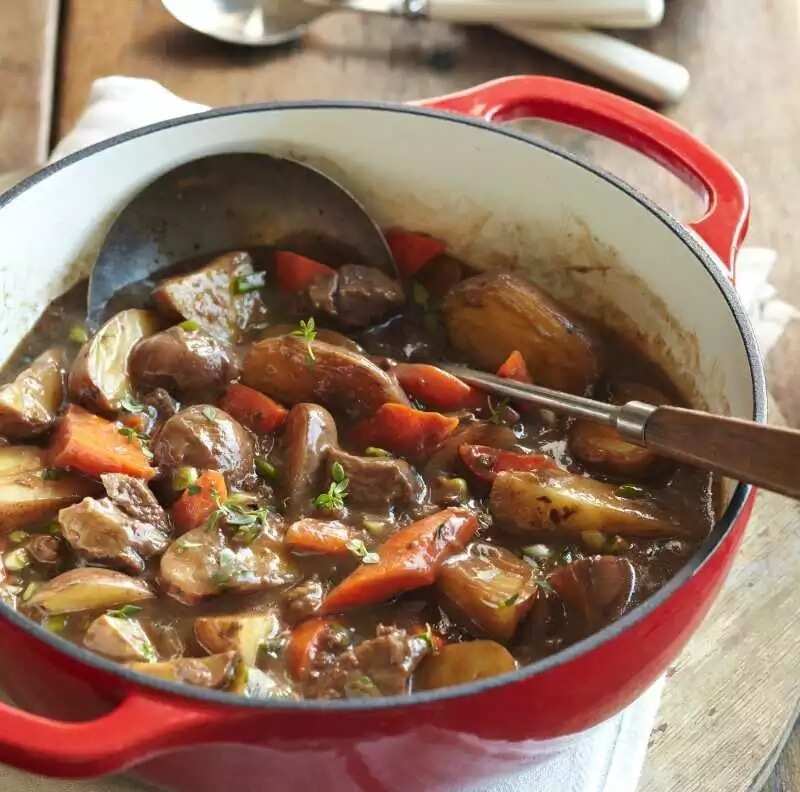 Put the ketchup into a frying pan, add ¾ cup of water and heat up. Chop the herbs and hot peppers and add them to the ketchup. Then, add salt and black pepper.
Also, add salt and pepper and a couple of bay leaves to the meat in the saucepan. Pour the ketchup mixture into the saucepan and cook in the oven up to the readiness. It will take about 45 minutes. If you still have time, allow the stew more time under the lid after the saucepan is removed from the oven.
How to cook stew meat in a pot: the taste in crockery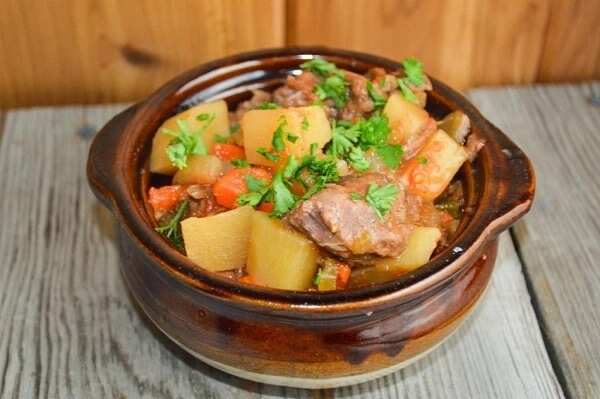 READ ALSO: Couscous recipe with chicken and vegetables
Some people say that stew meat tastes much better when cooked in a crock pot. Let's see whether it's true. You will need a suitable pot with a lid and an oven to cook in compliance with this recipe. The ingredients are as follows:
300g of low fat beef
1 onion
1-2 tomatoes
Spices that match the meat
A little oil for frying
Fresh herbs (whichever you like)
Salt, pepper, bay leaf to your liking
Again, cut the meat into cubes and fry them slightly in the oil for 2 to 3 minutes. In the meanwhile, cut the onion and tomatoes into big pieces. Add spices, salt and pepper to the frying pan with the meat. Then, add the vegetables and bay leaf (broken into small pieces). Stir everything thoroughly and put into the pot for further stewing.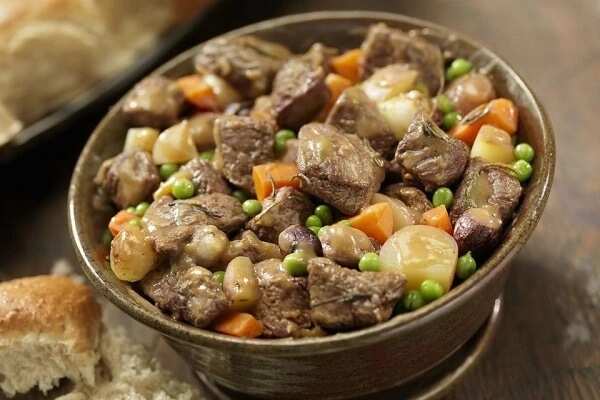 Add 60ml of clean water and cover the pot with a lid. Keep the pot in the oven for 30 to 40 minutes at 180°C. When done, season the meat with freshly chopped aromatic herbs. You can serve the meat in the pot, if you wish. In case you have several pots, you can cook in several ones, for example, as separate portions for separate guests or family members.
How to cook stew meat on stove: it's incredibly tasty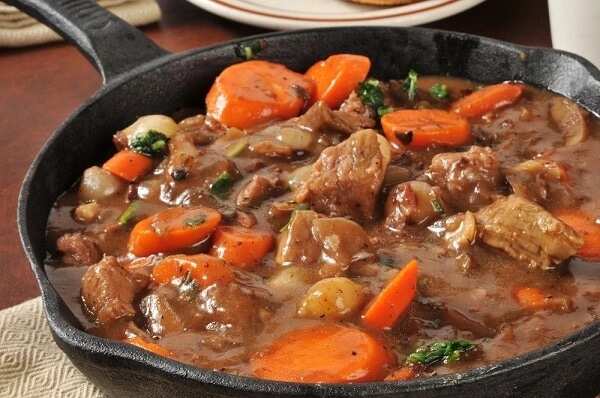 If you want to make the meat even more tender and help it cook faster, leave it in red wine for 4 to 5 hours in advance. Then just remove the wine (of course, it's no longer suitable for drinking) and start cooking. Adding onion helps retain plenty of meat juice and the meal will be soft and tasty. In the process of cooking, water and meat liquids tend to evaporate quickly. Just add some when necessary. It can be orange juice, dry wine, vegetable or meat stock.
So, take the following ingredients:
500g of beef
1 onion
1 tablespoon of flour
3 tablespoons of tomato paste
Black pepper
Bay leaf
2 or 3 tablespoons of oil
2 cups of water or meat stock
2 teaspoons of salt
Peel and cut the onion into half-rings and fry in oil for about 5 minutes under constant stirring. Put meat pieces on top of the onion and keep on frying for about 5 minutes more. The meat must gain a lighter color. Then, add salt, pepper, flour, and stir carefully. Then, fry for 2 to 3 minutes more.
Finally, add tomato paste, bay leaf, and water or meat stock. Cover the pan with its lid, reduce the fire to the smallest possible, and stew for about 30 minutes. Serve it with fresh vegetables, boiled or fried potatoes, and make sure to add freshly chopped herbs before eating.
A chicken stew: simple and beautiful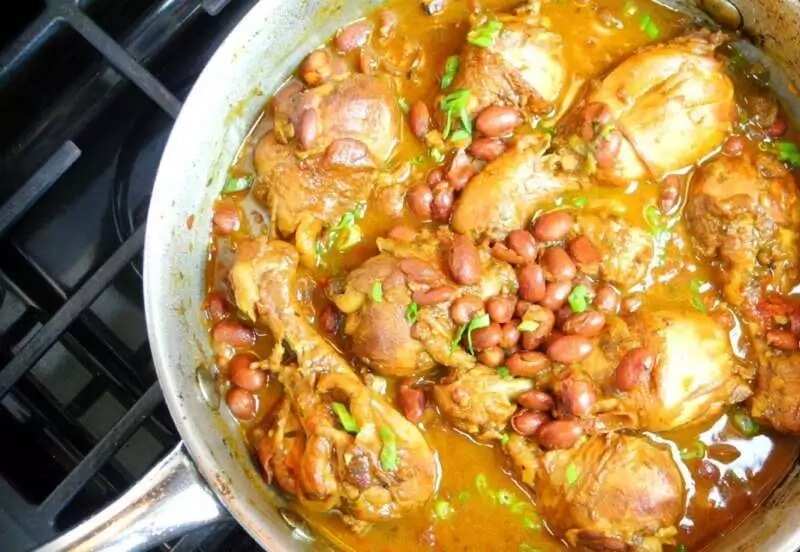 Stewing chicken is a great alternative to beef or all other types of meat that are used for stewing. A juicy piece of chicken with aromatic vegetables is everything you need for a nice homemade dinner. Well, you will need the following ingredients:
600g of chicken fillet
100g of celery root
2 small carrots
1 onion
2 cloves of garlic
300ml of chicken stock
Fresh herbs
Salt and pepper to your liking
A little oil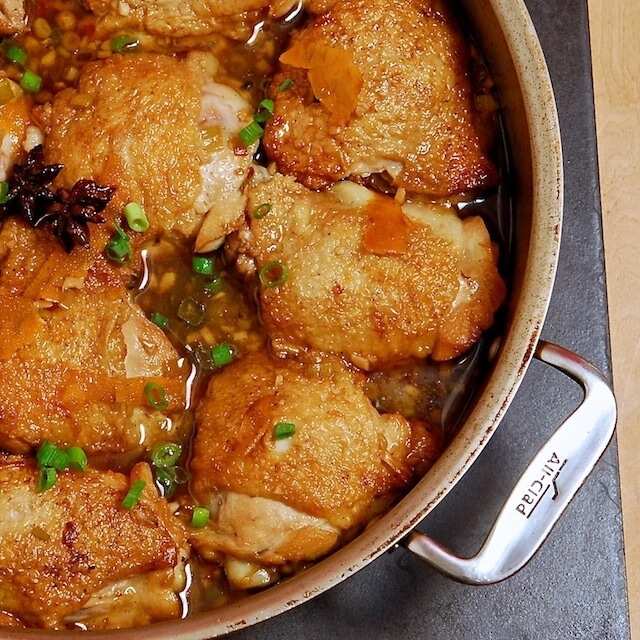 If you don't have enough fillet, you can use any meat that you have cut from other parts of the chicken. First, cut the meat into pieces, chop carrots and celery root, cut the onion into cubes, and chop the garlic. Then, heat up a frying pan, add oil, celery and carrots, and fry until the vegetables are slightly golden. Then, remove them from the pan and leave on a plate.
In the same pan, fry the onion until it's slightly golden, too, add meat, salt and pepper and keep on cooking. When the meat gets whiter, add garlic and stir everything thoroughly. Add the vegetables and the stock and keep on cooking for 20 minutes more on a small fire. In the end, add chopped herbs and leave for 10 minutes.
Unusual recipes of beef stew to delight your guests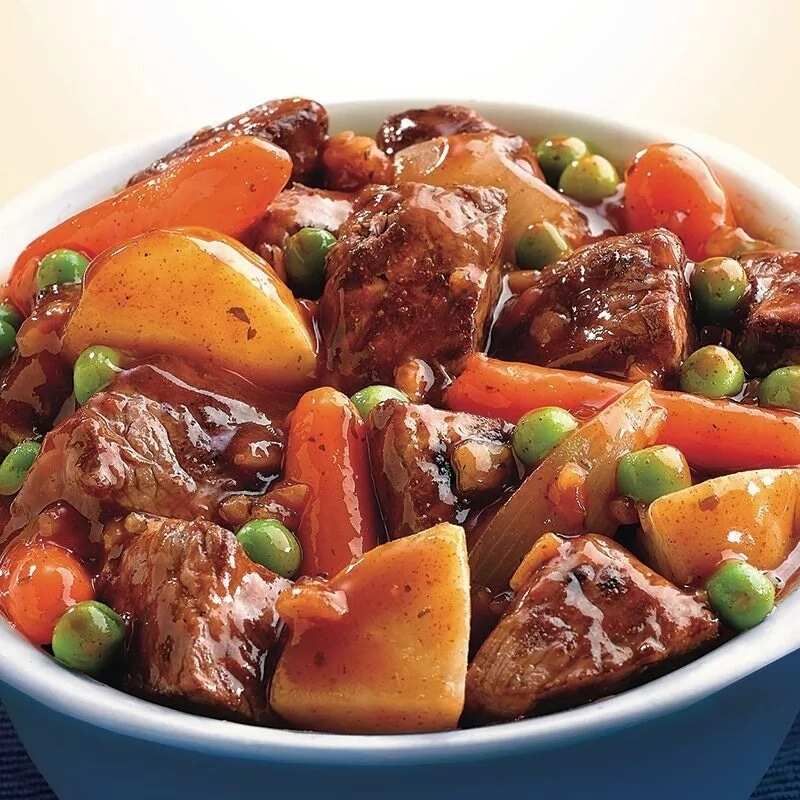 To cook this beef stew with berry juice, you will need:
1 kilo of low fat beef
3 cups of fresh berries (red currant recommended but you can take any berries you like)
½ teaspoon of sugar
1 teaspoon of salt
½ teaspoon of ground black pepper
Oil for frying
Cut the meat into small cubes. Wash the berries and squeeze the juice out of them. Put the remnants into a bowl, add about ½ cup of water and squeeze once more. Heat up a frying pan with oil, put the meat in it and fry for 7 to 10 minutes until there's no liquid and the meat is slightly golden.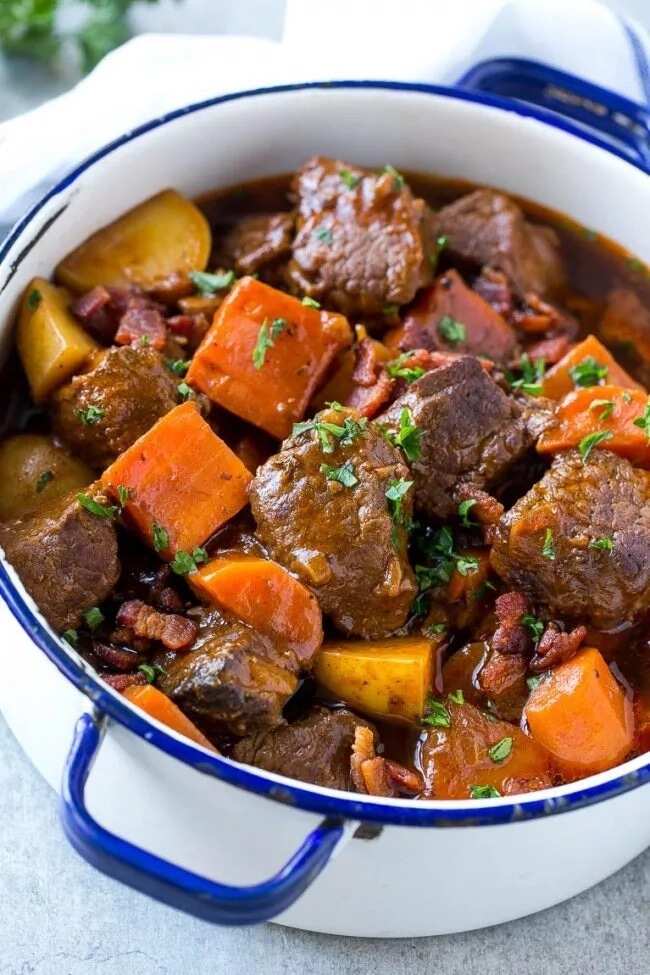 Then, add the berry juice, sugar, pepper and salt. Let the mixture boil and reduce the fire. Stew it until done under the lid, stirring from time to time. Serve with boiled potatoes at best.
To cook another unusual beef stew, you will need the following ingredients:
500-600g of low fat beef
3 onions
8-10 potatoes
500ml of beer (light preferable)
Butter and oil to your liking
Bay leaf
Thyme
Salt and pepper to your liking
Slightly fry the meat cut into small pieces. The meat should develop a golden crust. Add salt and pepper. Then, add beer, thyme and bay leaf, cover the pan with a lid and stew for 10 to 15 minutes on a small fire.
Layer another pan with slices of peeled potatoes, put the meat on top of this layer, cover it with rings of onion (already fried to goldenness), and cover everything with another layer of potato slices. Then, pour the beer from the meat into this new pan, cover the pan with a lid and stew on a small fire for about 1 hour.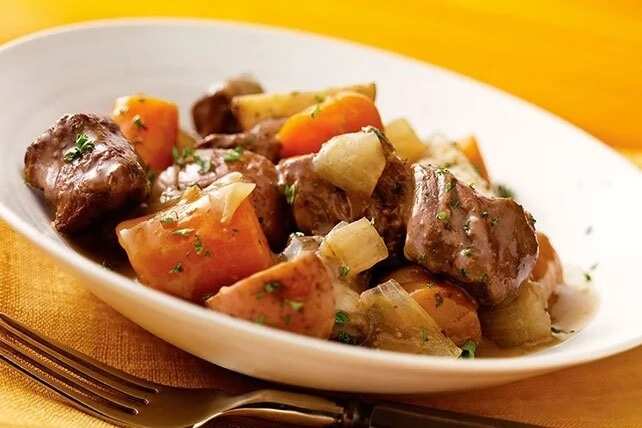 These are delicious stew meat recipes that will certainly delight your family, your guests and you, every time.
READ ALSO: How to prepare jollof rice with carrot and green beans
Source: thekitchn.com
Source: Legit.ng