A 43-year-old man who lost his wife and first son has urged the Italian government to grant him a visa to enter the country and pick up his remaining two children who were on their way to Europe by sea.
The Nigerian man identified has Ikechukwu Ndigwe from Anambra state shared the story of how he lost his son and wife.
In an interview with The Sun, the grieving father revealed that he was a businessman living with his family in Morrocco but he was arrested and sent to jail. He stated that he had urged his wife to go back to Nigeria with his children but she refused.
He explained that his wife decided to go to Italy. According to him, he tried to convince her but he had limited efforts to do so due to the fact that he was in jail.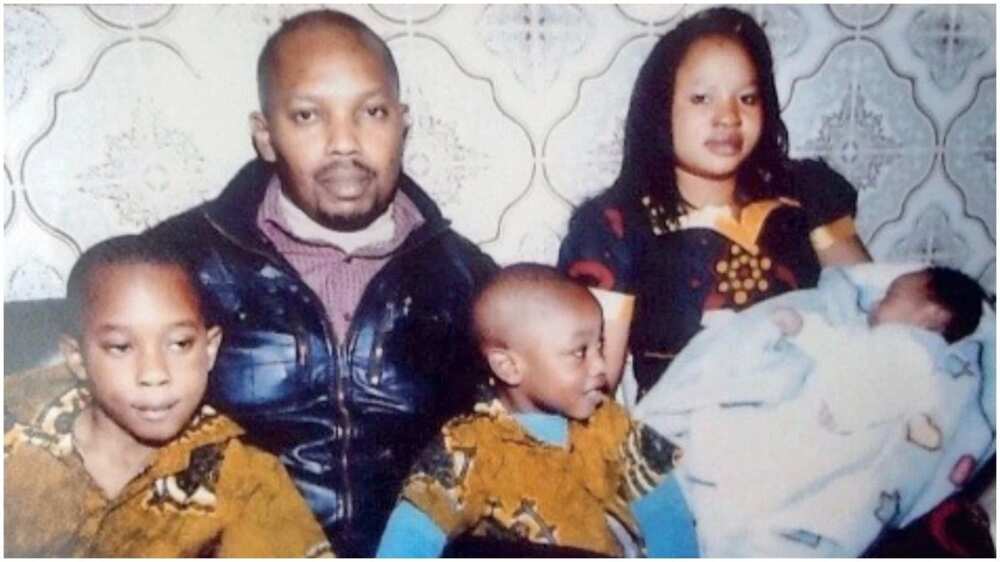 READ ALSO: Pretty young lady dies in terrible accident in Warri weeks to her wedding
Ndigwe said: "It was in 2014 when I had a problem with a Moroccan where I was doing business. I was arrested and imprisoned but my wife and children were coming to visit me in the prison. So, in 2015 I told my wife that she should take two of my grown up boys and return to Nigeria.
So, initially she accepted the idea of bringing the children home to Nigeria but in December 2015 she changed her mind and said that she would not return to Nigeria. Instead, she said that she would travel to Italy. I sought from her, who she would stay with in Italy, because I knew that I had nobody there. Besides, she would have to abandon her business in Morocco. On that day, we were talking on the phone, so I did not hear her reply before she dropped the phone. I contacted her family in Benin and my family, to inform them about my wife's decision, in the hope that they would advise her properly.
PAY ATTENTION: Get the Latest Nigerian News on Legit.ng News
Discussions on the issue continued until September 2016, when I could no longer get her on the phone, because normally I used to call her at night to avoid being caught by the police officers because it was an offence to make calls. I called my friend and requested him to go to my house and check my family. When he went, he saw that the house was locked. I told him to go to my wife's shop; he went and told me that it was also locked also. I started making contacts and asking people, to know the whereabouts of my family. That was how I learnt that she had traveled."
He revealed that his wife successfully entered Libya and decided to go to Italy by sea. He explained that in her excitement to see where she was going to she stood up in the boat and her son fell into the Mediterranean sea.
PAY ATTENTION: Get the hottest gist on Naija Uncensored Facebook Group
"So, after two days my phone rang in prison and it was a foreign number. I picked the call and it was my wife. I asked her where she was, she told me that she was in Libya, I pleaded with her on phone to come back to Morocco or go to Nigeria but she refused. I asked her to give my children the phone and I spoke with them. After that call, she switched off her phone. Then I called the phone number of the person she was with in Libya and she picked after several trials and told me that I should thank God that my wife and children had entered reached. I was shocked and immediately I started having some unusual feelings.
As they were approaching their target city, my wife out of joy stood up in the boat, probably to get a glimpse of the city. The boat tilted to one side and my son fell into the sea and was shouting, mummy, mummy. When my wife reached out to grab him and also fell into the sea. Though she was rescued, my son was not found. She was unconscious and vomiting a whitish substance. On the way to the hospital, she died. I have the video of the whole story because it was sent to me. My other two sons with her, who became stranded by the accident and her death, were rescued alive. When I heard this, I started calling my in-laws in Italy to help me locate my two surviving children, Tobechukwu Matthew Ndigwe and Ebubechukwu David Ndigwe – and eventually he found them where they were with the help of a lawyer. They also got the Nigerian embassy in Italy involved. When they saw the children, they were given my pictures to identify me. The older one excitedly shouted, 'Daddy, daddy,' and looking around thinking that I was close by. But they told them that I would come for them and then they went back to their office."
The man explained that his other two children who were saved were put under the custody of a guardian in Italy.
Ndigwe recalled his relations had attempted to take custody of the two children while he was still in detention in Morocco. He explained that they were, however, stopped by authorities in Libya.
They had claimed that the boys would only be released to their blood relation who must present himself or herself physically in front of a tribunal with full identification and evidence of financial capability.
The businessman applied for a visa and he was denied. Ndigwe has gotten a lawyer to help him fight his case in court to be granted his visa and the chairman of human rights defenders of Nigeria, Dede Uzor A. Uzor, also joined in his campaign to persuade the Italian authorities.
Which country would you leave Nigeria for? - on Legit.ng TV