- A 20-year-old lady identified as Mariam Abiola has confessed to killing at least four people within Lagos state
- Mariam, a member of Eiye' confraternity, says she feels no remorse for killing, as it is a job for which she is paid
- The 20-year-old also stated that she charges N10,000 for each killing
A 20-year-old lady identified as Mariam Abiola, 20, on Monday, July 23, said she wears white Jalabilia (gown) and hijab to assassinate her targets and cover the gun used. She also confessed to killing four people between December 2017 and last week, The Nation reports.
Legit.ng gathered that the 20-year-old who was arrested by police operatives attached to Ilasa Division, Lagos state, said she joined the Eiye confraternity after fleeing from her parent's home at Abeokuta, Ogun state.
Abiola said she was an armourer for the cult group as well as an executioner, adding that they usually gave her the picture of a target and the person's house.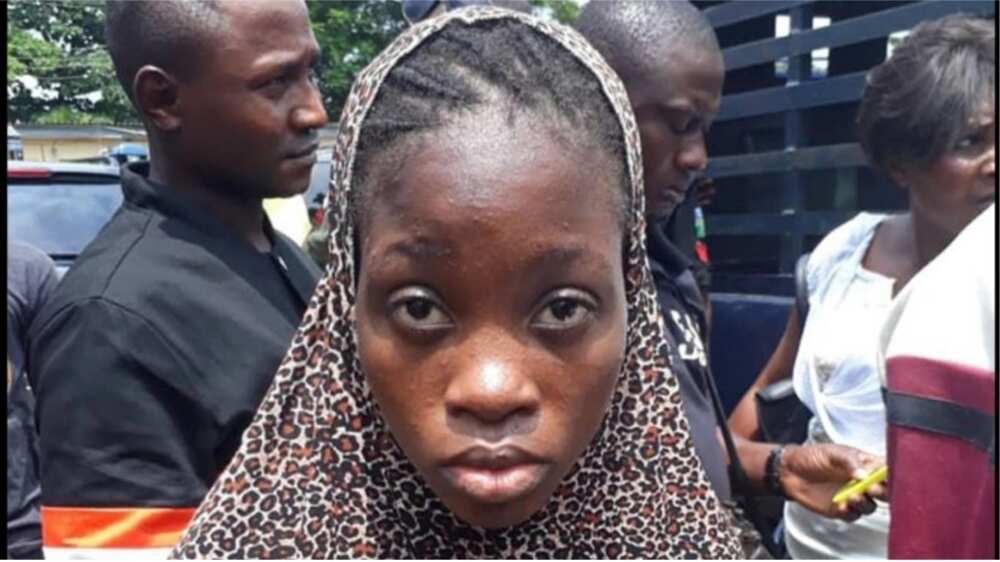 READ ALSO: Nigeria to experience thunderstorms, rains, cloudy weather on Tuesday, July 24
The 20-year-old also stated that she was paid N10,000 for each of the four persons she killed for her group at Ilasa.
She said: "I ran away from my house in Lafenwa Abeokuta to Lagos to look for work. I met one Mr. Sodiq when I got to Lagos. He took me to his house at Ilasamaja and initiated me into Eiye cult group.
"He took me to an herbalist, who gave me a black substance to eat. He told me that their work was about killing people. He gave me a gun and taught me how to shoot. I learnt how to shoot by shooting on the wall.
"I shot on the wall three times before I learnt how to shoot. Brother Sodiq gave three of us guns and pictures of persons to kill. He trained three of us. Two boys and myself. I have killed four persons. Each time that I want to go for the killing, I usually wear a white gown and a white veil (Hijab). Brother Sodiq usually showed us the target's house.
"We go to the house at night. The two boys will scale the fence and open the gate for me. We go straight to the apartment and shoot at the target at close range. None of our targets survived. I killed one guy at Fadeyi area of Lagos, another one at Hassan in Ilasa, one at Ajeh.
"Each time we killed someone, brother Sodiq would pay me N10,000 but he would pay the others N20,000 each. I do not feel bad after killing anyone because I see it as a job I paid to do."
Police commissioner Imohimi Edgal while parading the suspect advised parents to monitor their wards, saying: "It is worrisome. Her confessions are startling, chronicling the number of killings. Apart from being an assassin, she was also an armourer for the gang."
PAY ATTENTION: Read the news on Nigeria's #1 news app
Legit.ng previously reported that the police have arrested fraudsters who trick unsuspecting vehicle passengers to native doctors with the promise of giving them millions of dollars.
This was contained in a post shared by RRS commander, Tunji Disu. The scheme involves members of the syndicate pretending to be strangers in a vehicle and claiming that one of them has a bag containing dollars.
Nigeria News: How I Took the Lives of Four People - 20-Year-Old Lady Confesses | Legit.ng TV