- Some operatives of the Special Anti-Robbery Squad in Ondo state have allegedly assaulted a male beautician in the state
- The victim, Omobola Victor, says he was assaulted in the NEPA area of Akure when he had gone to buy roasted yam
- He says he was bundled into their vehicle after he was beaten
A male beautician identified as Omobola Victor has demanded the prosecution of some operatives of the Special Anti-Robbery Squad (SARS) of the Ondo state police command for allegedly assaulting him over roasted yam.
Punch reports that Victor, who was with his fiancée, had gone to buy roasted yam in the NEPA area of Akure, and was accosted by the gun-wielding cops, who also wanted to buy roasted yam.
Legit.ng gathers that the 25-year-old beautician said the SARS operatives allegedly harassed him for staying where they were.
He said: "When I saw them there, I waited for them to buy their roasted yam from the seller before I bought mine, but the next thing I noticed was that the officer beside me touched my fiancée and she asked him why he touched her.
"The officer just faced me and asked me where my car was and I told him that I did not have any. One of the officials came down from the Hilux they brought and started beating me up, saying I was stupid. People that gathered were too afraid to do anything.
READ ALSO: Vote-buying didn't have impact on the outcome of Ekiti election - NHRC declares
"They bundled me into their Hilux and drove off, leaving my fiancée there. I thought they would take me to a police station in Akure but they took me to the Yaba police station in Ondo town."
"I thought they would release me after explaining myself to them but they put a handcuff on my hand and locked me up with suspected criminals.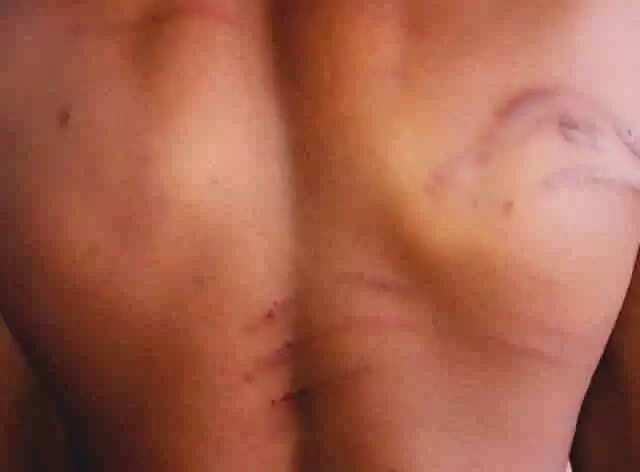 "They brought me out the next day and took me to their boss' office where they asked me again where I parked my car, adding that they knew I used a Toyota Camry; but I told them that I did not have a car.
According to him, one of the officers brought out a drug, tramadol, and threatened that he was going to use it against him as an exhibit in court.
Victor said: "The officer said I was shouting that I didn't do anything, but what about the drug they found on me. I told him that nothing was found on me and I saw him when he was bringing it out from where they kept it. He beat me up again.
"They asked me to pay them money, but I told them I didn't have any. They checked my account balance and saw only N2000. One of the officers said I was a bad market. He said in Yoruba that, "omo oloshi leleyi, won lowo nile won, won le rowo se case (this one is poor, they can't raise money for court case in his family).
"About three hours later, their boss came and ordered that they should drop me back to Akure when they were going for patrol. The officers dropped me back at the spot they picked me up from in Akure around 1pm with my cloth torn."
Reacting to the incident, the police public relations officer in the state, Femi Joseph, said: "I will need to see the complainant to get the details of the policemen and the fact of what transpired. If he can identify the officers, he should come to our office and we will talk over it."
PAY ATTENTION: Install our latest app for Android, read best news on Nigeria's #1 news app
Meanwhile, Legit.ng previously reported that the police command in Ondo arrested five of its operatives attached to the Special Anti-Robbery Squad (SARS) who on Monday, June 18, allegedly brutalised not less than 20 students of Adekunle Ajasin University located in the Akungba Akoko area of the state.
According to the spokesman of the command, Femi Joseph, the arrested SARS men included one inspector and four officials of different ranks.
Lagos CP Tells Lagosians What to Do to Erring SARS Officers | on Legit.ng TV