- Klint da drunk's alleged babymama is sparing no words as regards the brewing scandal
- In a recent interview, she revealed that the comedian has not bothered to be there for his child neither did he wish her a happy birthday when she clocked one
- She further stated that she has been the one taking care of their daughter
A while ago, Legit.ng reported the news of how comedian Klint Da Drunk was called out on social media by a woman who claimed he was the father of her 8-month-old daughter. She also took to Facebook to share photos of the baby and her birth certificate as proof to confirm her claims.
Well, she is back again and still holding on to her truth. Identified as Sandra Novo-Jacob, she opened up about the real situation of things, even as their alleged love child is now a year old.
In a recdent interview with Sunday Scoop, she had a lot to say concerning the comedian's absence in his daughter's life. In her words, "I have never regretted having the baby; it was a promise I made to myself. Even when no one is there to make me happy, she makes me happy. I also don't regret the day I met her father (Klint).
READ ALSO: Baby girl who was delivered in a restaurant toilet offered free food for life and her first job at 16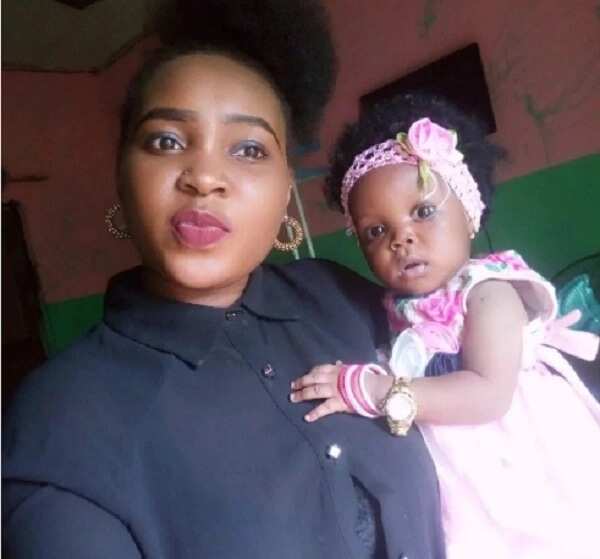 "Though I didn't throw a party for her, I am happy that my daughter is one-year-old and I thank God for keeping her alive despite all the challenges that have come my way. The father didn't wish her a happy birthday. He was aware that Thursday was his child's birthday; I sent him a message on the day but he didn't say a word. I don't feel bad that he didn't show her love on her birthday as he has never been there for her. I have been the one taking care of the child alone."
READ ALSO: Lady shares tragic story of how a Jehovah's Witness man died after his family refused to approve blood transfusion in Jos
Recall, she had taken to the social media platform to call him out. Well, according to Novo-Jacob, she did it so he could accept responsibility. In her words,"I called him out on social media because I wanted him to accept the child and take care of her. But he has refused to do so and I will continue to take care of her. I am not tired of doing this as she is my child as well. I didn't speak out to spoil his home; I am not even interested in marrying him. If I had wanted to destroy his marriage, I would have called his wife; I have her number. But I didn't want to do that."
According to her, the only time Klint has called her since the social media rant was two months ago, warning her not to disturb him again.
"I have not stopped calling him because he is the father of my child. But I don't have anything against him. I am a free person. No matter what he does to me, I will always forgive him. I want the child to be a blessing to me and the father as well."
PAY ATTENTION: Get the Latest Nigerian News on Legit.ng News App
Get the hottest gist on Naija Uncensored Facebook Group
Mom's Blog Ep 3: Does A Mom Have Weekends? | Legit.ng TV