- The suspect Emmanuel Eghaghe was said to have travelled from Benin to Lagos to demand for the money from the victim
- He got violent and smashed her head into the wall when she said she did not have that much money to give him
- Lagos police spokesperson Chike Oti confirmed the incident and said the police were searching for the suspect
It was a tale of tears in Ajangbadi area of Lagos state on Friday, July 6 after a 27-year-old man identified as Emmanuel Eghaghe beat his mother to death for allegedly refusing to give him N20,000 pocket money.
The Punch reports that Emmanuel had reportedly visited his 61-year-old mother Helen at her shop on Jinadu Street, Ajangbadi and demanded for sum as pocket money.
He however turned violent when the elderly woman said she could not afford the amount.
READ ALSO: Senator Adeleke emerges winner of PDP gubernatorial primary after defeating closest rival by 7 votes
Reports said he slammed her head on the wall while struggling to get the money by force and on seeing blood gushing out of her head, Emmanuel fled the scene.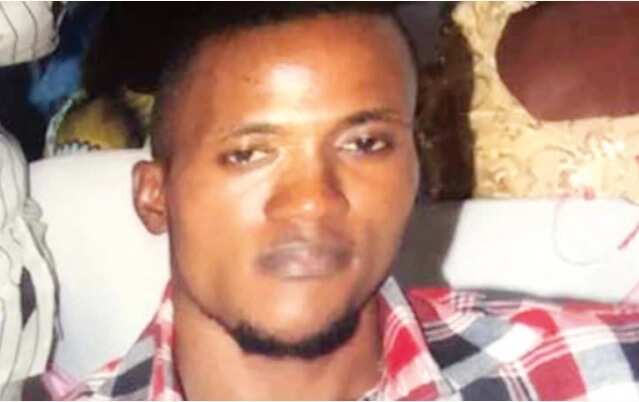 An unnamed resident said the case was reported to the police at the Ajangbadi Police Division and to the deceased's brother, who is based in Benin, Edo State.
He said: "The sister of the suspect has a hotel in the community. He gave their mother a room in the hotel. She also opened a shop for the woman in front of the hotel. On that day, the suspect approached his mother and asked her to give him N20,000 pocket money.
"The woman said she did not have that kind of money. He pushed her to the wall and broke her head in the process. There were bloodstains everywhere and the woman eventually died in a hospital. He ran away immediately and has yet to be found. His sister was abroad and she was planning to relocate him there. A resident informed the woman's brother and he travelled to Lagos from Benin. I was surprised why a child would do such a cruel thing to his mother."
PAY ATTENTION: Install our latest app for Android and read best news on Nigeria's #1 news app
Meanwhile, Lagos police spokesperson CSP Chike Oti confirmed the incident and noted that a manhunt had been launched for the suspect.
He said: "The police got a report that the suspect hit his mother's head against the wall in an attempt to get money from her forcefully. As a result, she became unconscious and was rushed to the hospital for treatment. She gave up the ghost at the hospital.
"The suspect is now at large. Detectives visited the scene and deposited the corpse at the Isolo General Hospital mortuary for autopsy. A manhunt for the suspect is being intensified."
In a separate event, Legit.ng reported that a man named Auwal who lives at Kwaru Majalisa, Badarawa in Kaduna, the capital of Kaduna state, was allegedly beaten by two policemen when they saw him smoke cigarette and mistook it for Mar.ijuana.
Legit.ng gathered that the policemen confronted Auwal on Friday night, July 20, around 11:00pm and asked him what was he smoking? "Its non of your business", Auwal was said to have responded angrily.
Auwal's response was said to have infuriated the policemen, who allegedly beat him until he became unconscious.
See the faces of newly arrested criminals in Lagos State - on Legit.ng TV