- The PDP has reportedly convinced Senate president Bukola Saraki and three governors to decamp
- The opposition met with the APC bigwigs during the burial prayer of Kawu Baraje's mother in Kwara state
- An undisclosed number of lawmakers are reportedly decamping to PDP as well
The Peoples Democratic Party (PDP) has reportedly sealed an agreement with Senate president Bukola Saraki, Governors Aminu Waziri Tambuwal of Sokoto, Samuel Ortom of Benue and Abdulfatah Ahmed of Kwara to decamp from the All Progressives Congress (APC).
The APC big wigs met with PDP leaders at the Fidau prayer for the late mother of Abubakar Baraje, chairman of the new Peoples Democratic Party (n-PDP) in Kwara state.
Uche Secondus, national chairman of the PDP; Nyesom Wike, governor of Rivers state and n-PDP's Baraje were among the notable PDP leaders who received Saraki and the renegade APC team on Wednesday, July 18, Sahara Reporters reports.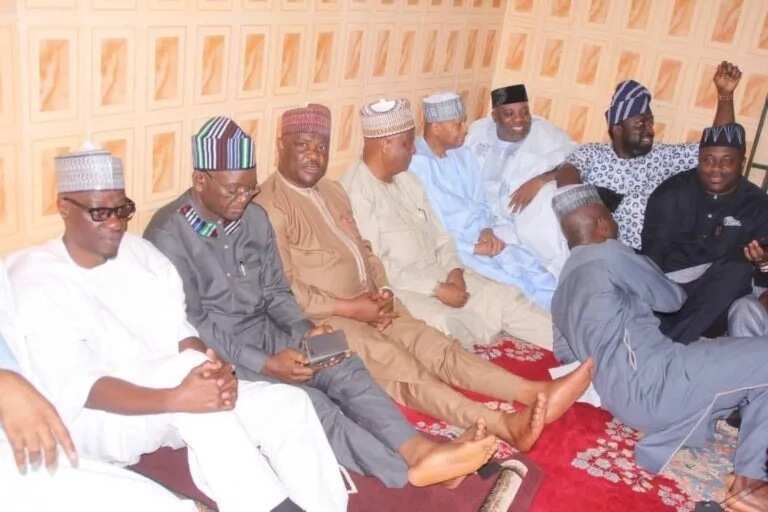 READ ALSO: You have done Nigeria harm - Obasanjo attacks Buhari again, raises allegation
The PDP, according to a similar report by Vanguard, had earlier summoned all its declared presidential aspirants for a condolence visit to Sokoto after the recent attacks by alleged bandits that left 39 persons dead.
While speaking at the burial prayer of Baraje's mother in Kwara, Secondus said the PDP presidential aspirants were in Sokoto to condole the people and government over the attack by bandits at Tabbani village in Rabah local government of the state.
He said: "We are here with a high-powered delegation to pay condolence to the people and government of Sokoto State over the attack. We are also in pain as you are because whatever happens here in Sokoto happens all over the country.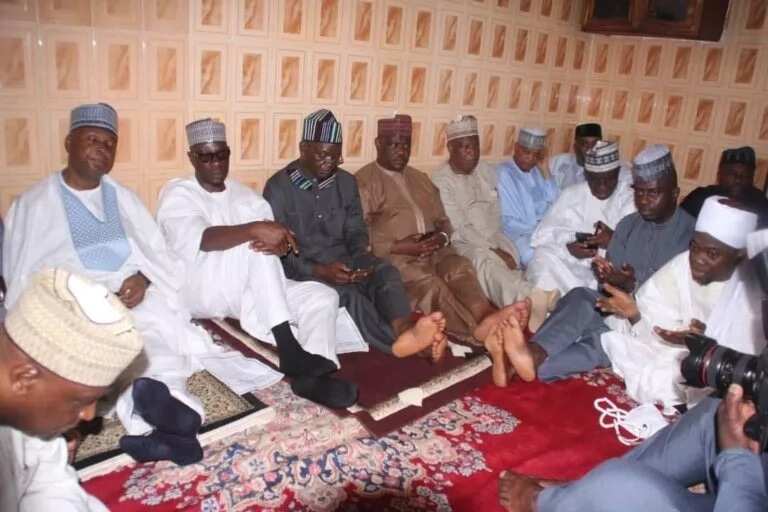 "The killings all over Nigeria are painful and people are living in fear because we don't know where it will happen next. From January till date, no one can account for the number of people killed. What we see every day is blood flowing everywhere."
Responding, Tambuwal said: "Sokoto has been very peaceful not until last week when, for no reason, some marauders attacked Tabanni village. We now have more than 5,000 people as internally displaced persons, IDPs.
"We are consoled by your visit. We are touched and concerned. We shall never forget this day."
A source at the private meeting that was held after the Fidau prayer for Baraje's mother said: "All those present at the meeting are coming into PDP. Yes, we had issues with Benue but it is being sorted out."
PAY ATTENTION: Read the news on Nigeria's #1 news app
Recall that Legit.ng previously reported that Saraki on Tuesday, July 17, said he will reveal to Nigerians when he is ready to dump the All Progressives Congress (APC).
According to the News Agency of Nigeria (NAN), Saraki said this at Ilorin International airport, in Kwara state.
Asked by journalists what he will do over the pressure by some of his followers to lead them out of the APC, Saraki declined to comment and asked newsmen not to 'worry' or 'push' him over the matter.
Saraki vs IGP: Who is telling Nigerians the truth about Offa robbery? | Legit.ng TV
Source: Legit.ng