Latest styles for native gowns in Nigeria
There are so many styles for native gowns in Nigeria that it might make your head spin. Thankfully, you have us, and we can show you some of the best native gowns styles you can find. We want to share our top picks of lace and Ankara gowns, so check it out if you want to update your wardrobe.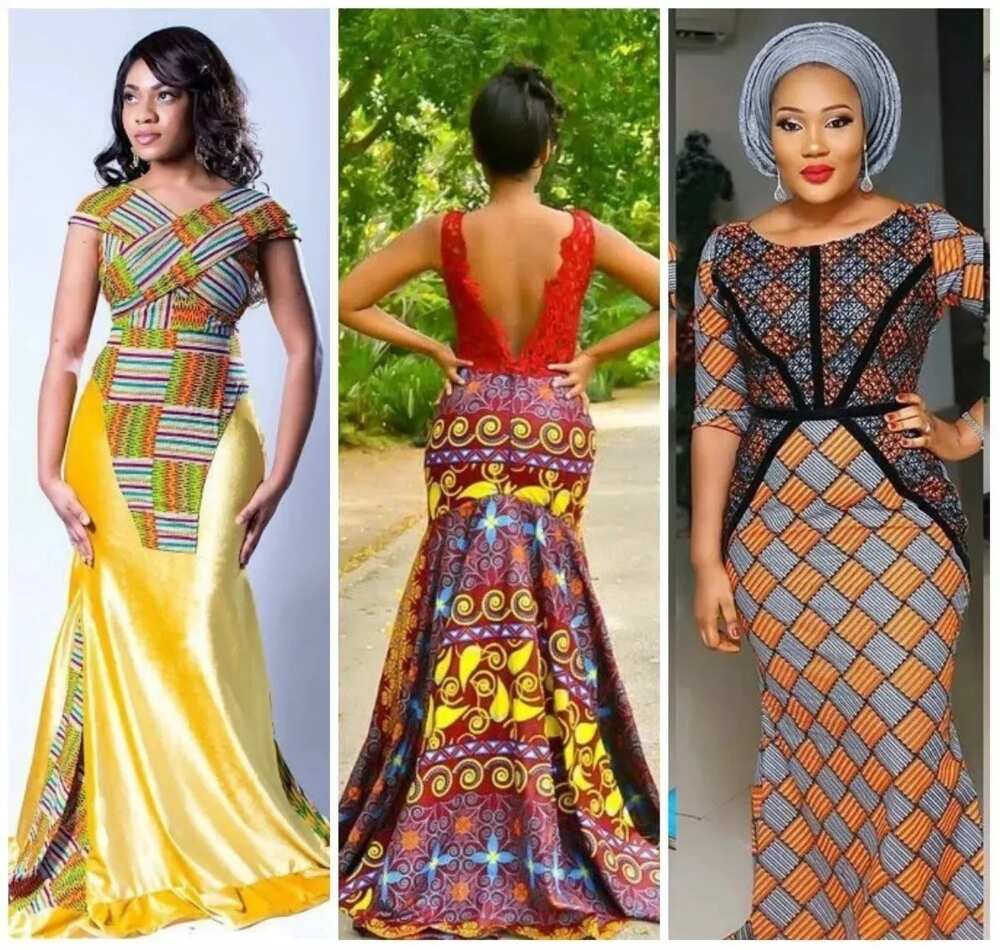 As there are quite a lot of styles that could be considered native to Nigeria, we have decided to narrow our selection to two most popular native gowns styles: lace and Ankara. Furthermore, we want to offer you both long and short gown styles from each category. So strap in and enjoy our beautiful selection of native gowns.
Ankara long native gowns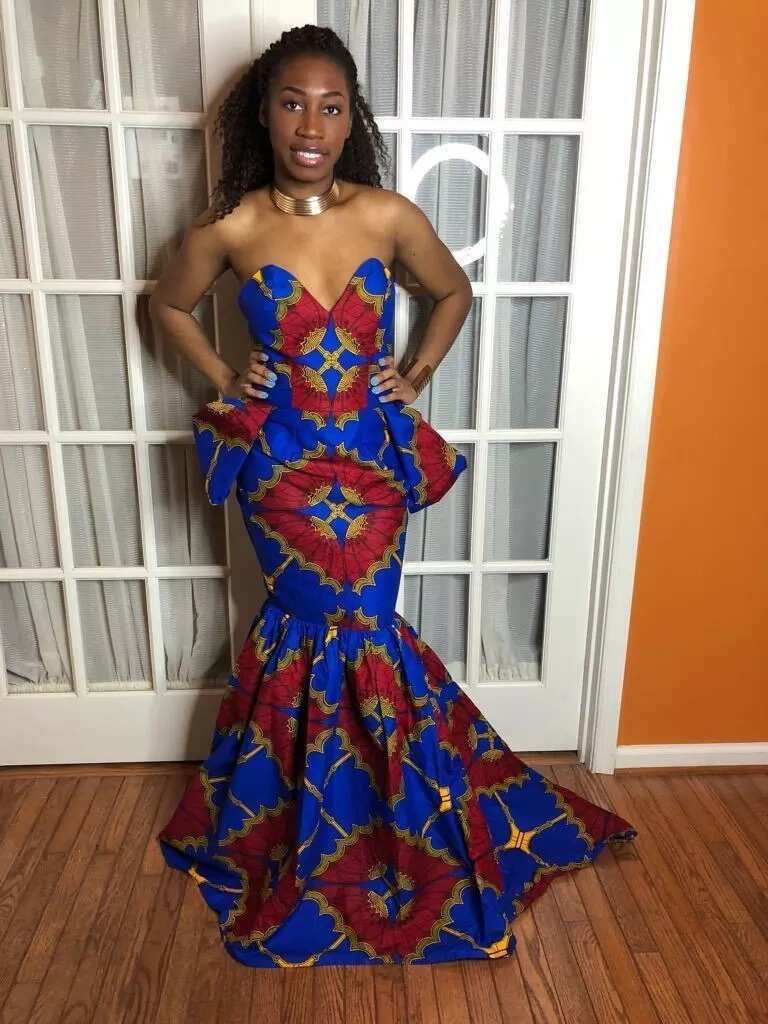 Let's begin our lovely collection with this fabulous strapless mermaid gown. The fascinating Ankara pattern works very well with the selected colour scheme, as it looks vibrant, but not overly so. The shape of the dress is highly unusual, and it would work great for those who are lacking in the hips department, as it helps to create the illusion of volume where there is none.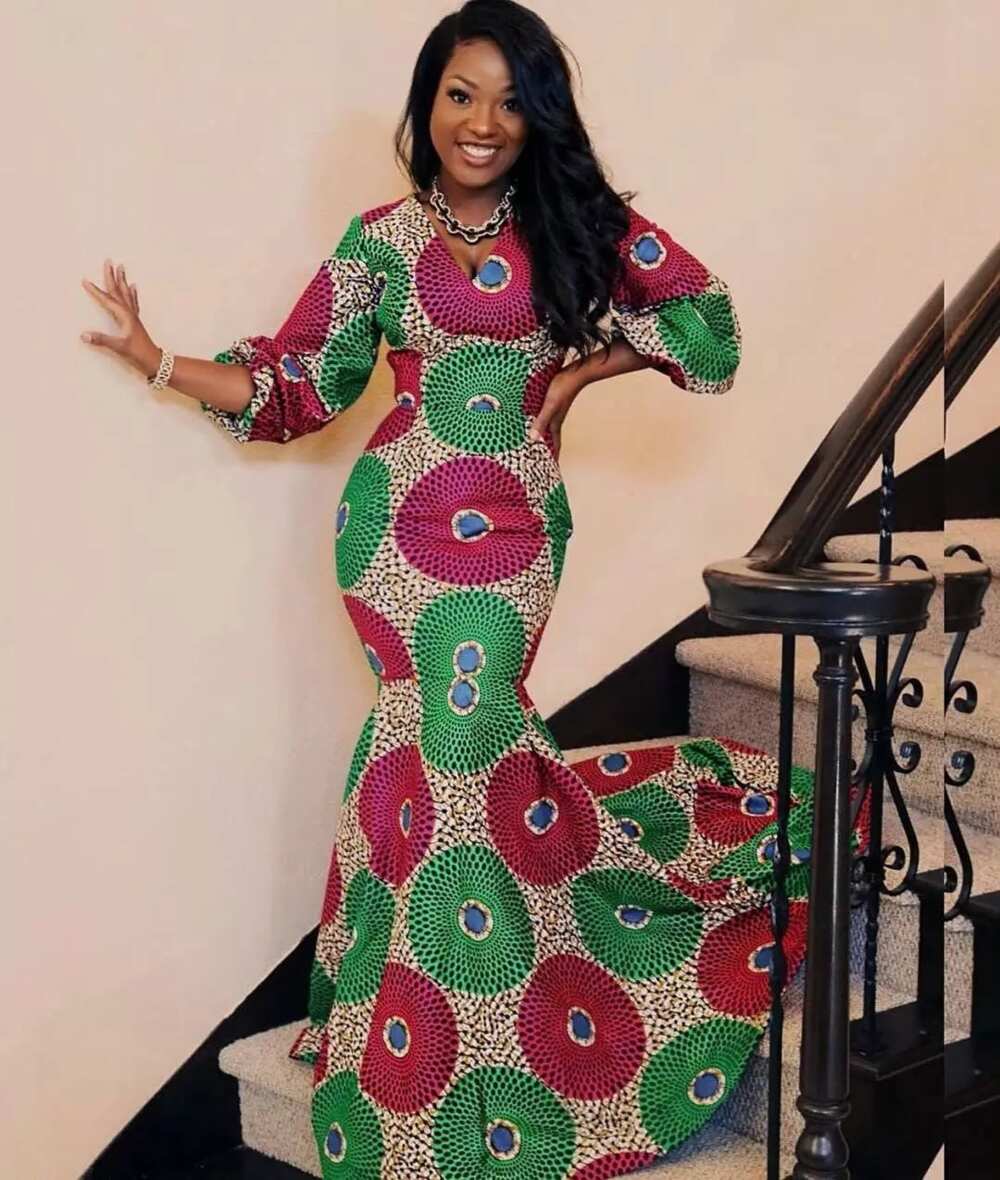 Here is a classic take on an Ankara mermaid gown. Everything in this dress is a nod to the once most popular way of wearing Ankara: from the pattern and colour palette to the silhouette and sleeves. So if you want to bring a little nostalgia to your outfit, consider going for something like this.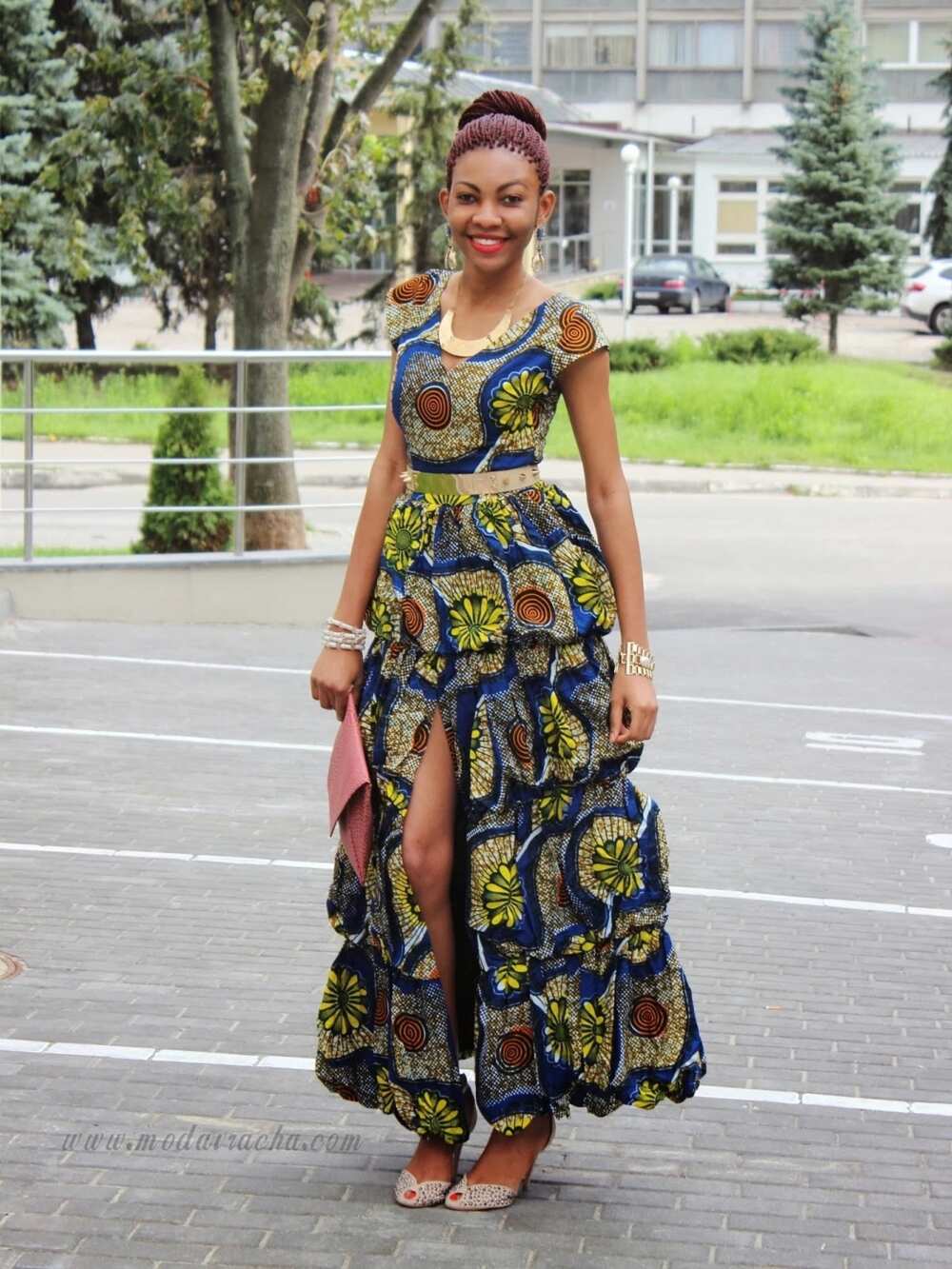 If mermaid gowns are too 'been there, done that' for you, then you should take a look at this dress. The pattern it features is new and fresh, and the shape is too interesting to ignore. Besides, the slash in the middle allows for much more mobility than you would get from a mermaid dress.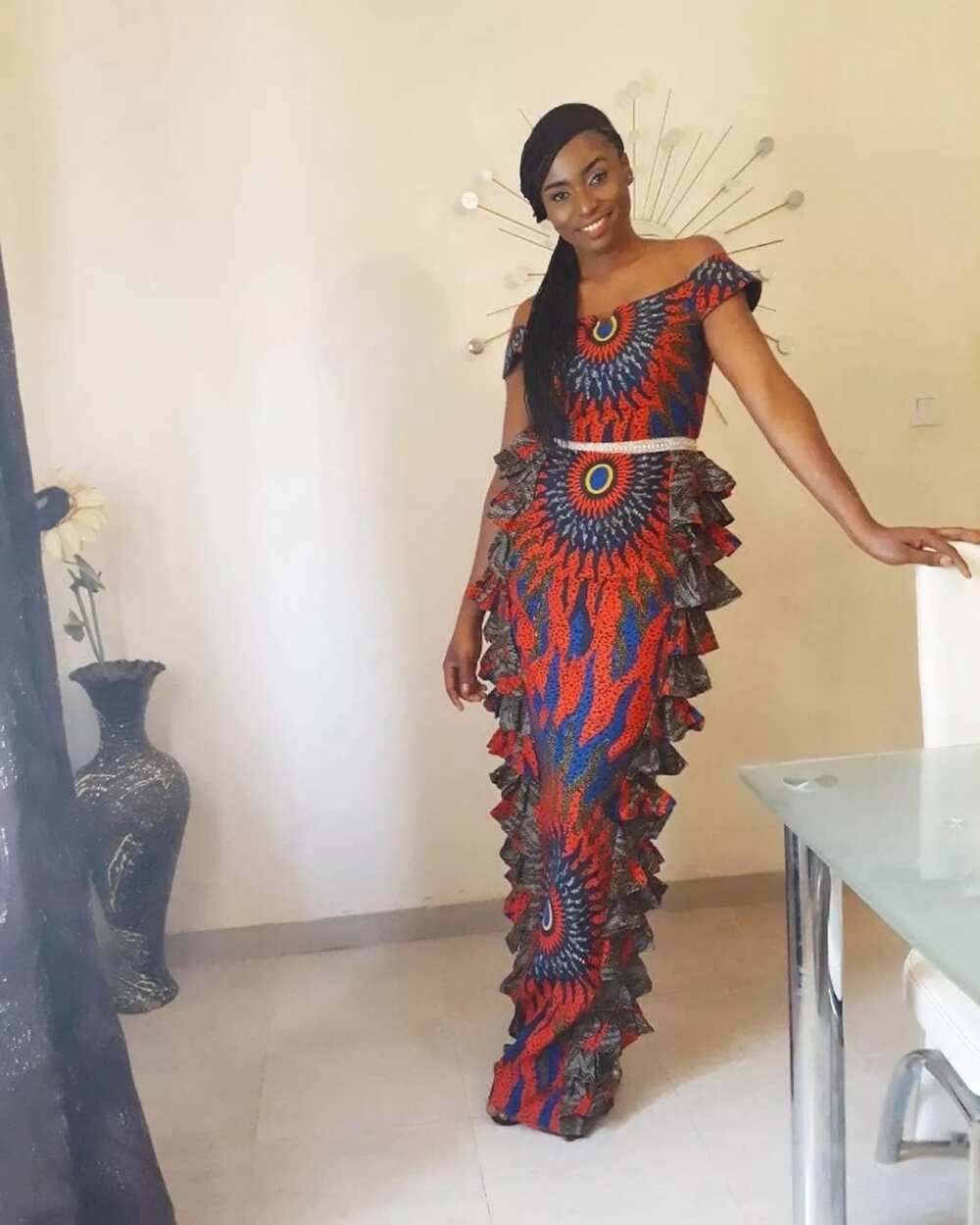 READ ALSO: Long gown styles in Nigeria to rock in 2018
While we are on the topic of unusual silhouettes, we want to mention this peculiar gown. Once again, the added ruffles on both sides can give you a much more defined shape, along with the cinched waist. With a dress like this, you will certainly be the centre of attention.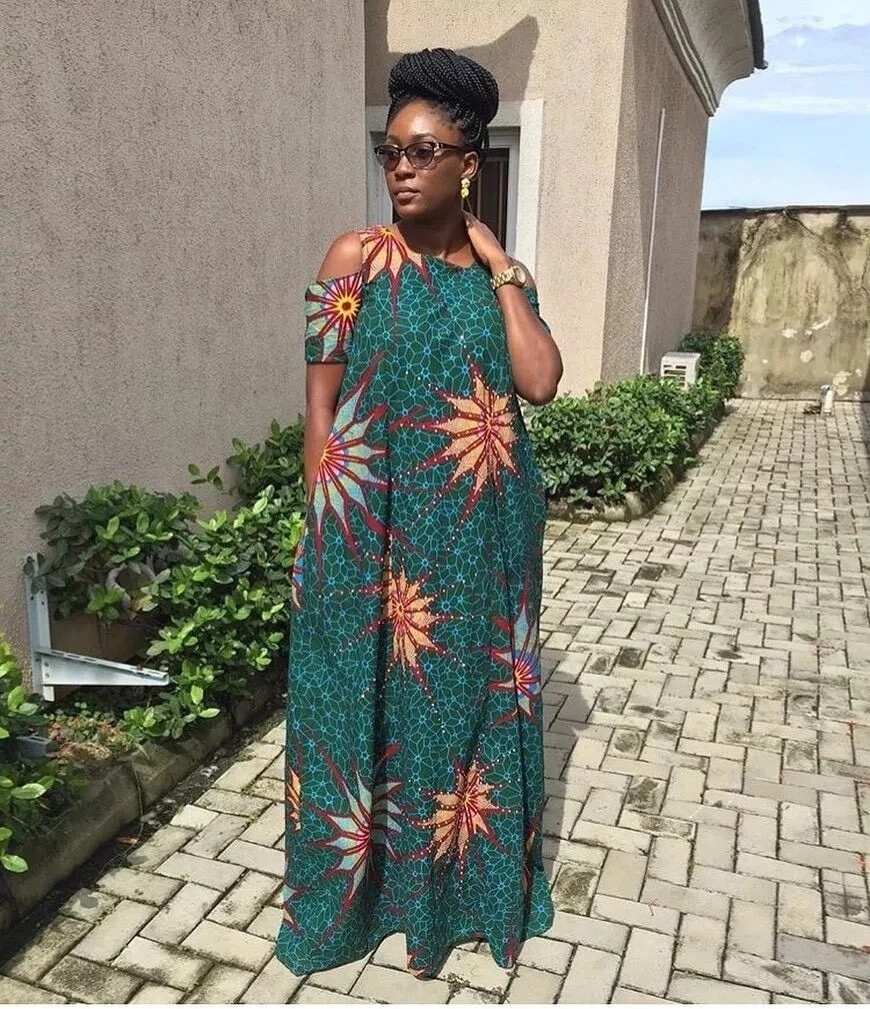 Not all people who are looking for Ankara gowns need something out of this world. Sometimes, something as simple as this free-flowing dress will be a much better fit. It does not constrict movements, but at the same time, it looks very beautiful. So if you are not willing to sacrifice style for comfort, this should be a perfect solution.
Ankara short gown styles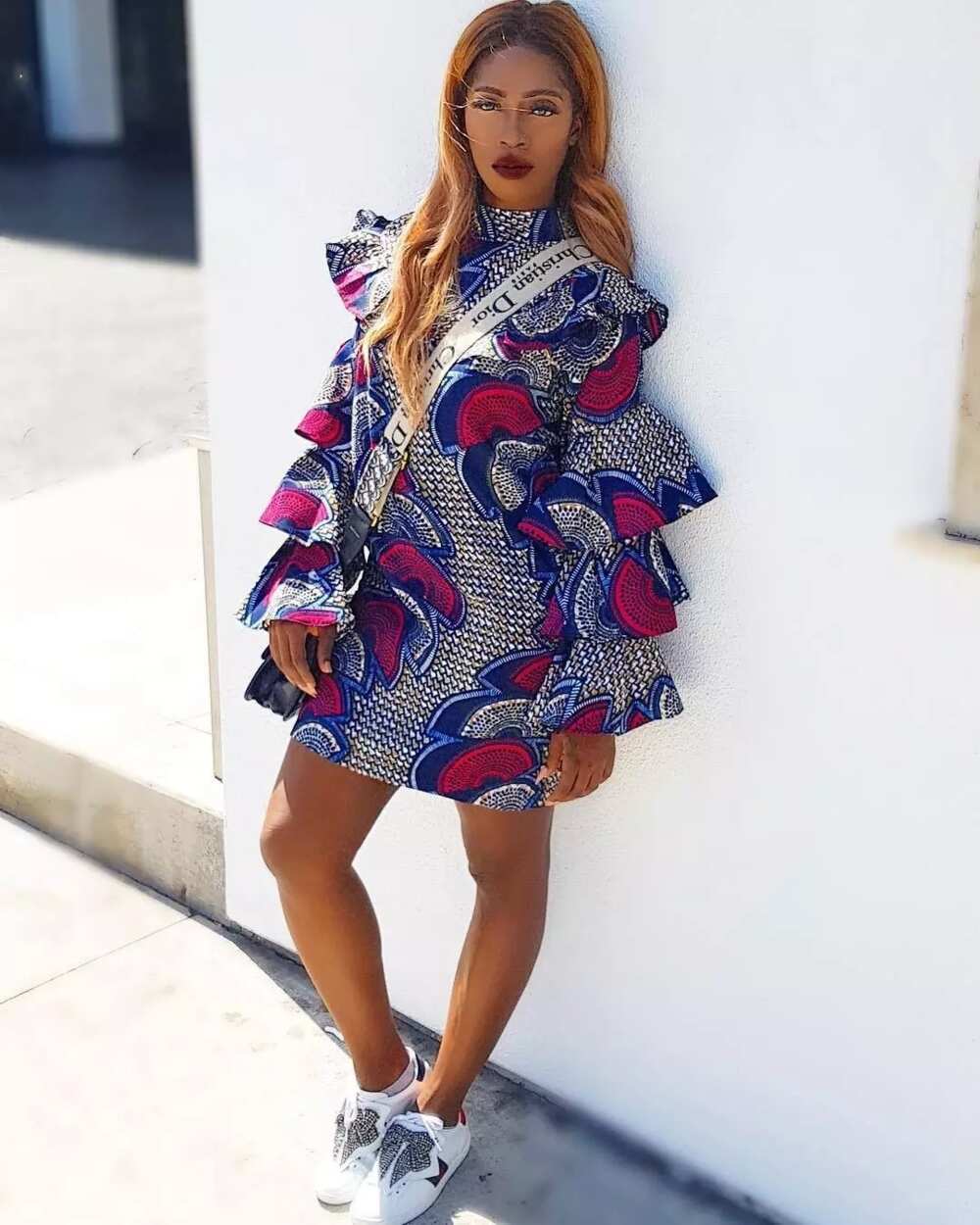 Opening our category of the latest short gown styles in Ankara is this stunning creation. The intriguing shape of the sleeves when paired with a cool pattern like this one creates some interesting optical illusions that actually make it hard to figure out where one element ends and another begins, and it leaves you guessing about the overall silhouette.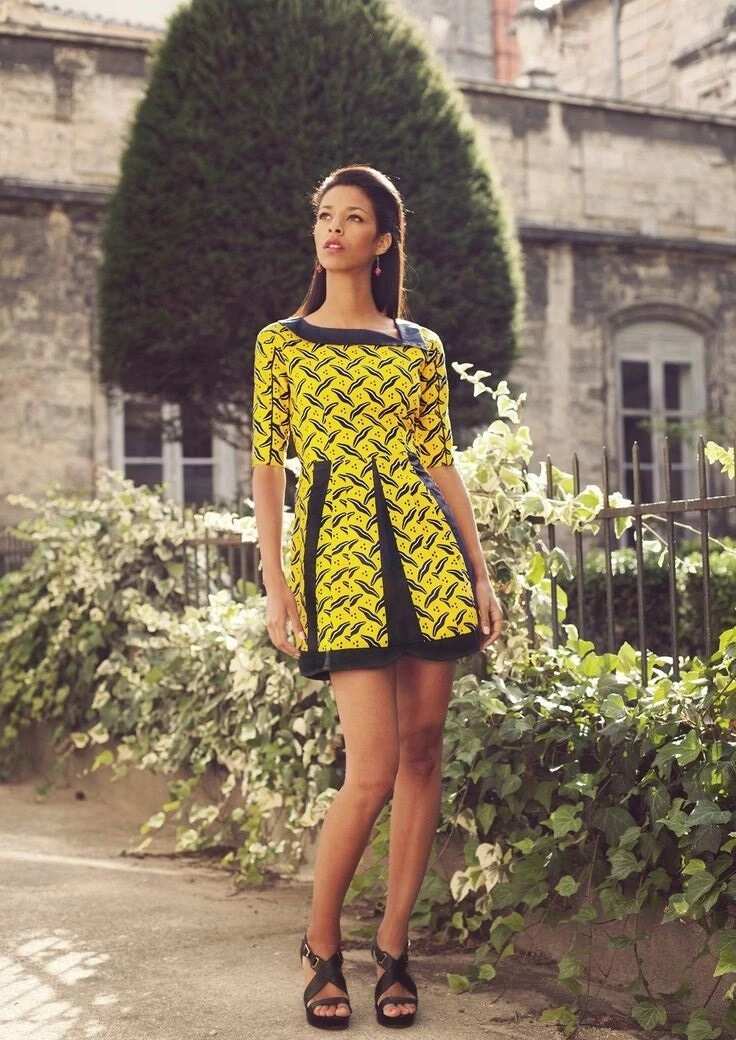 If you are looking for something a little bit more classic, then this short dress should be right up your alley. While it is incredibly short (at least for someone with long legs), the cut of the gown is rather conservative, so you can actually wear it to almost any event and not feel out of place.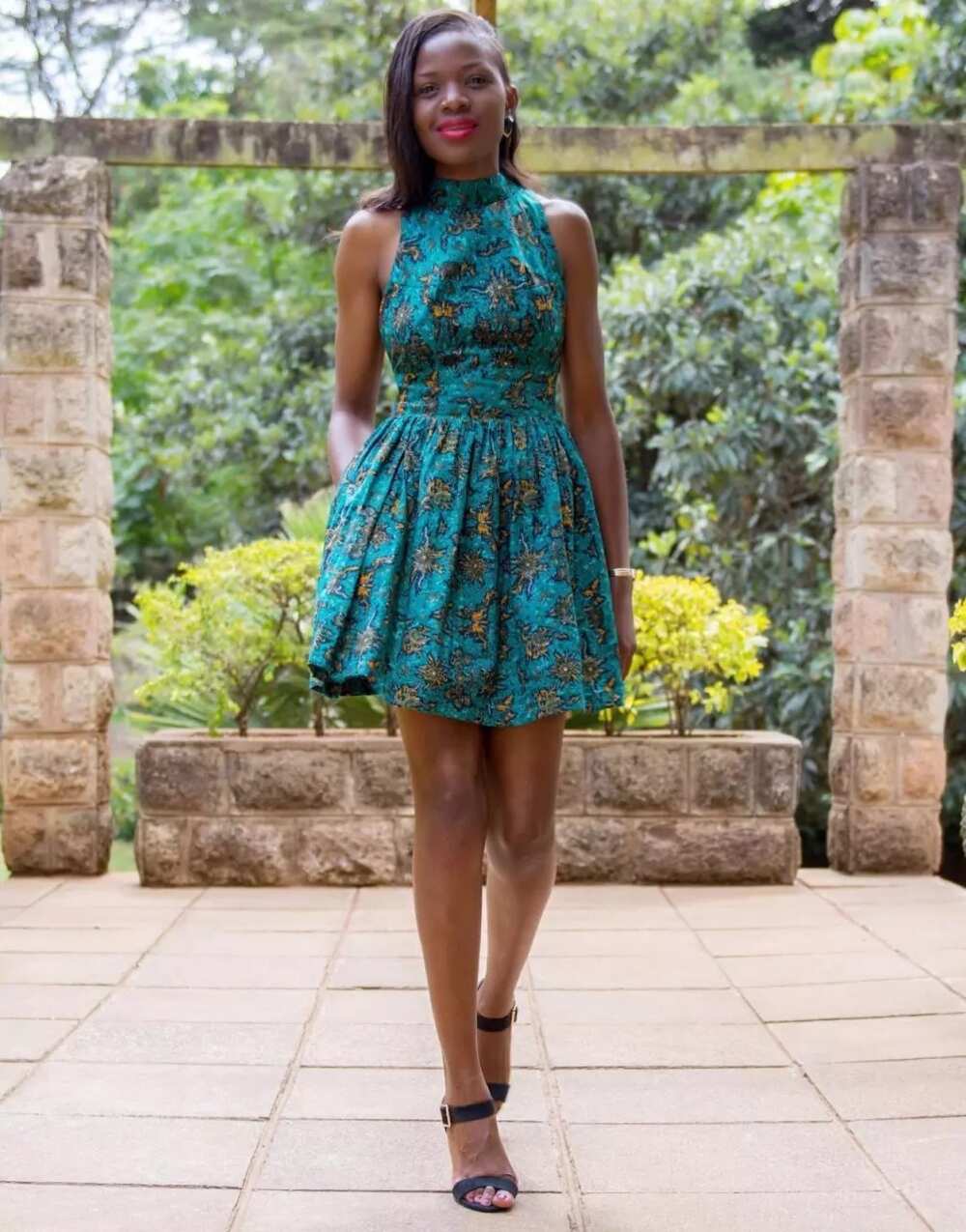 READ ALSO: Native short gowns for ladies
This is a timeless classic: a halter-neck Ankara short dress. What makes it stand out from the rest is the absolutely gorgeous aquamarine colour you do not see often on Ankara gowns. If you have broad shoulders and small chest, the halter neckline will help balance it all out.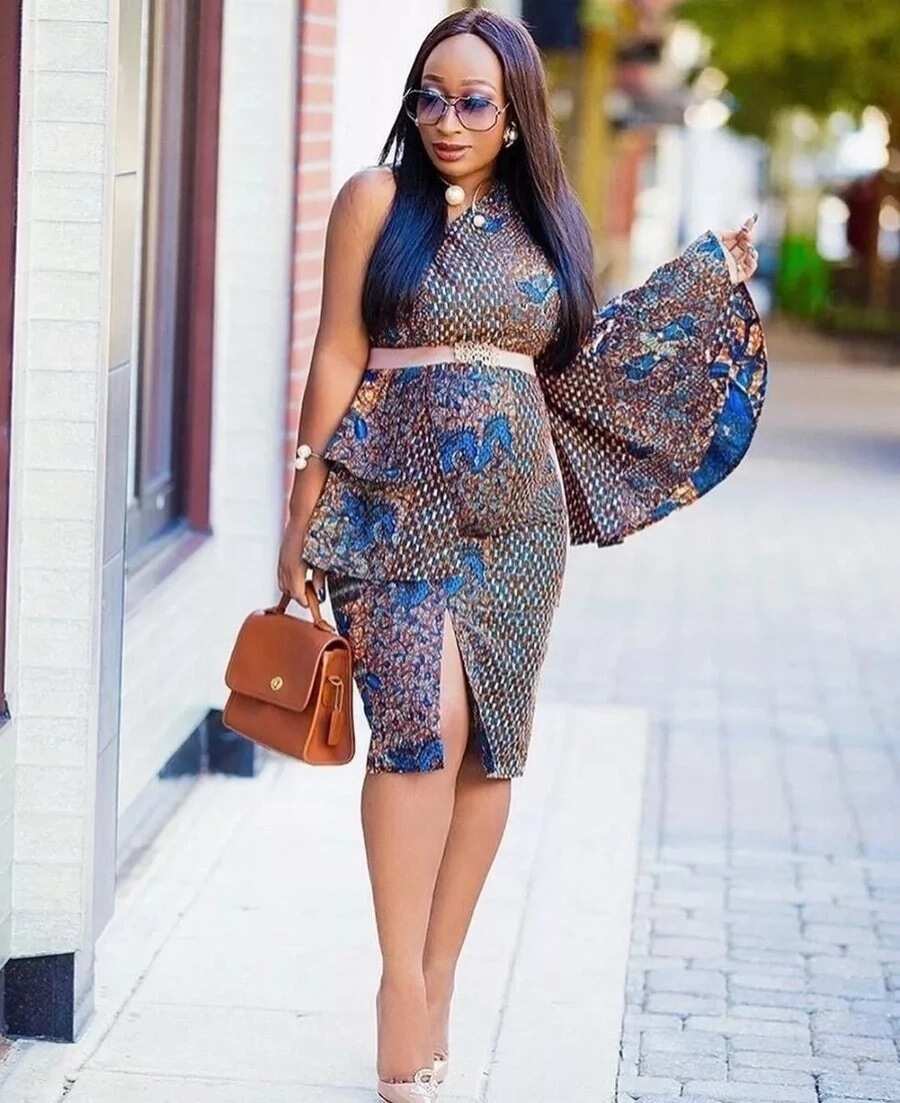 If you love asymmetry, then this dress is exactly what you are looking for. It is very interesting, from its one flared sleeve to the offset gap in the skirt, and the very fascinating pattern captures attention right away.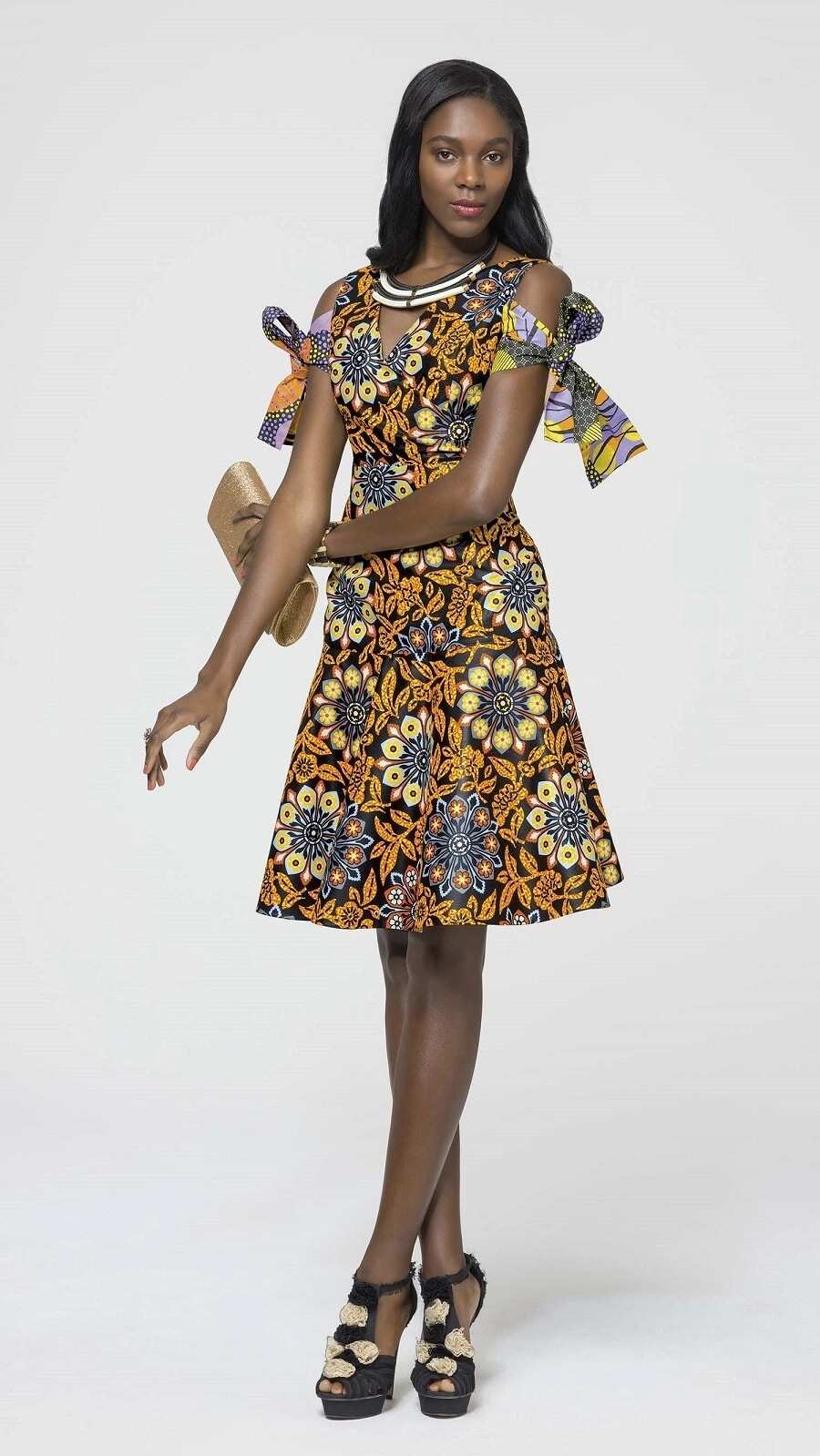 Our last pick from this category is this lovely short dress. Thanks to the cut of the gown and its fun little bows on the shoulders, it makes it look youthful and fun. So if you are looking for something special to add to your wardrobe, consider something like this.
Lace native long gowns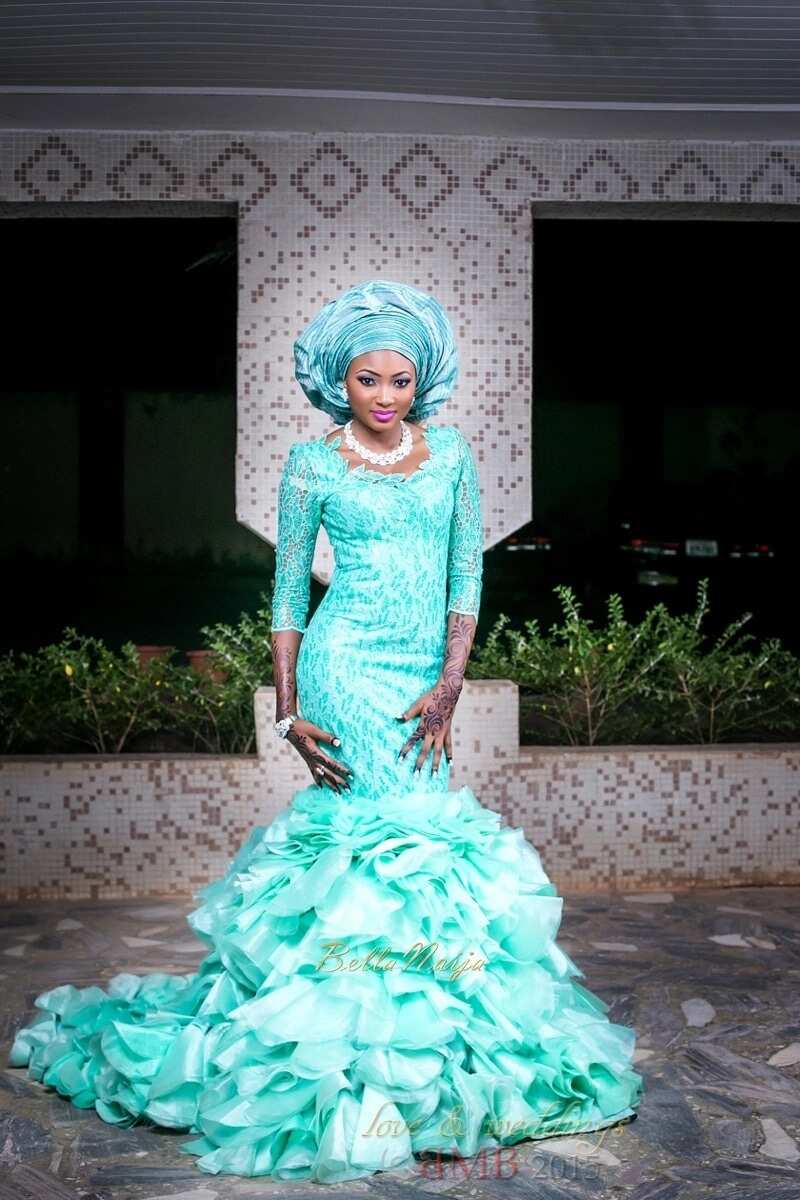 We have got to our lace gowns, and boy, was it hard to pick the most beautiful ones! They are all just so pretty. For instance, this beautiful aquamarine lace gown is absolutely stunning. It has a classic silhouette for a lace gown, but the mermaid tail takes the cake. In a dress like this, you can be the most beautiful bride ever.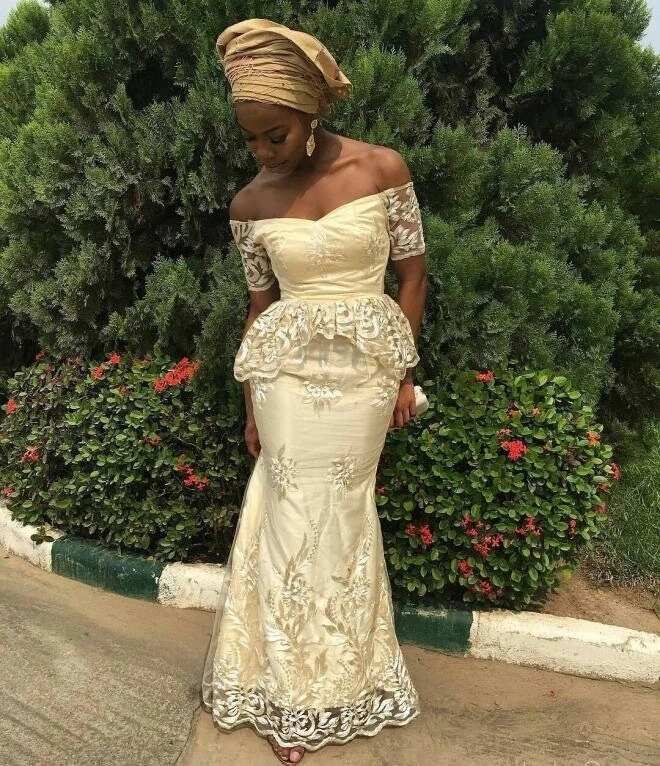 However, if you need something simpler and without a long train, we have your back as well. Consider this elegant off-shoulder gown with a peplum waist. It looks very soft and lovely, and the light colour of the dress will complement your dark skin.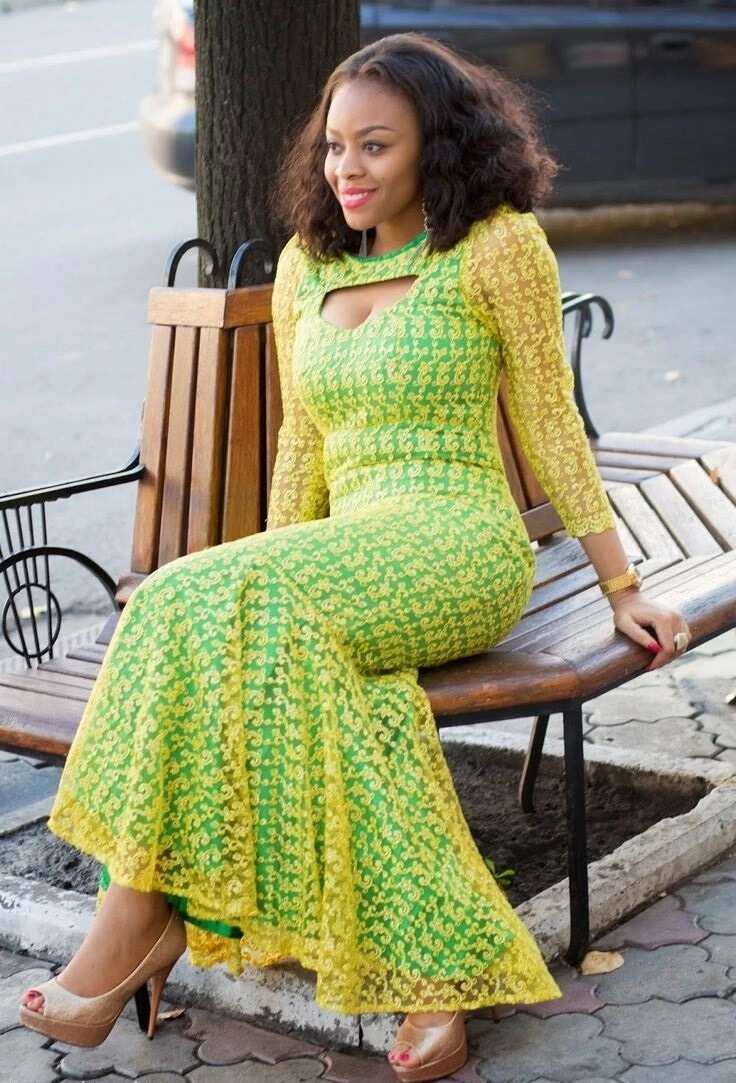 If you are looking for a lace dress to wear in your everyday life and not to a wedding, be it yours or someone else's, you can try something like this. It is especially fun when the lining is different colour than the lace. Only do not go too crazy on the colours, because some just do not go well together.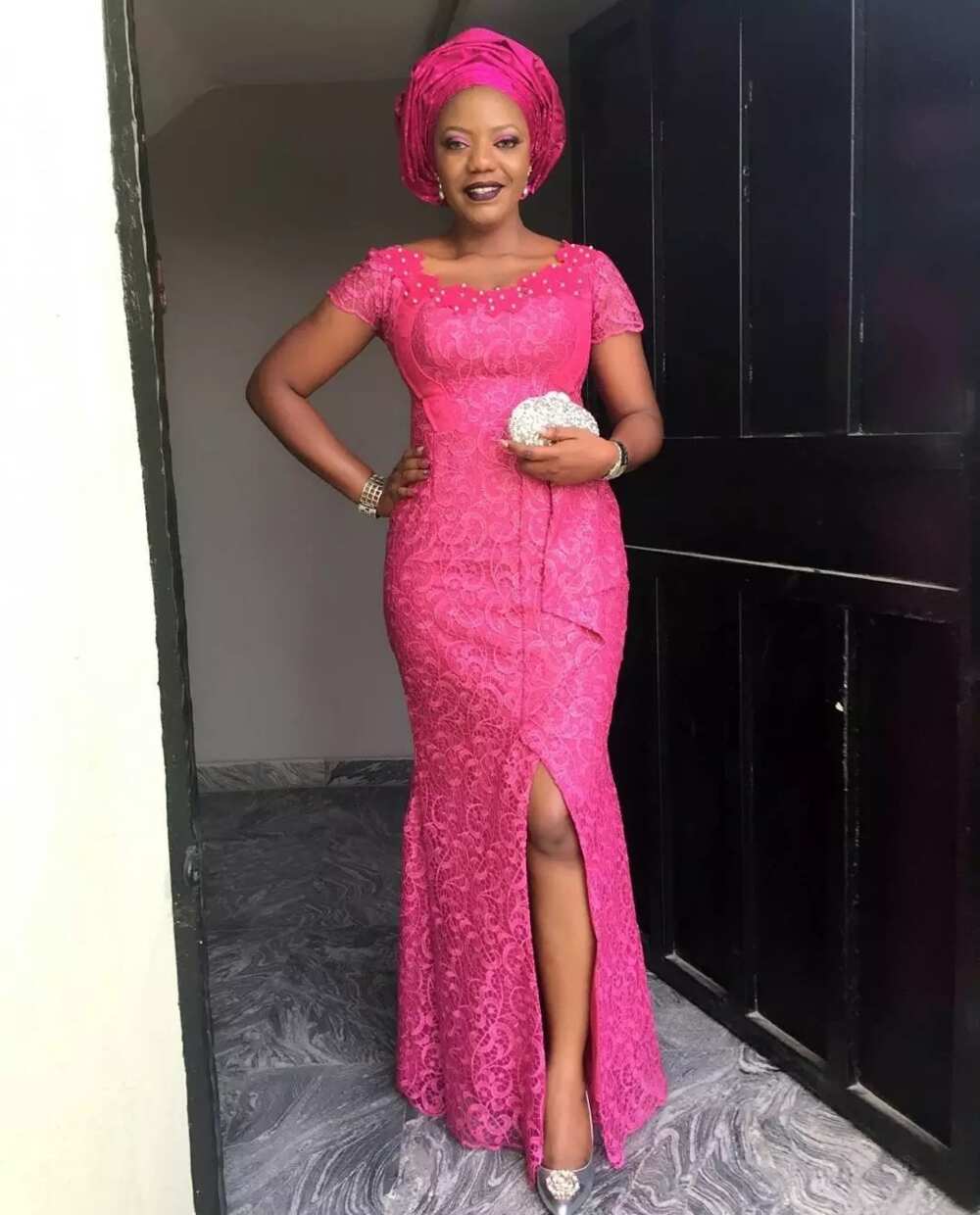 READ ALSO: Nigerian traditional wears for ladies in 2018
Here is another take on a lovely lace dress you can wear to someone's wedding. While it does follow the usual silhouette, the high gap and the asymmetric element on the hip make it different and more fascinating.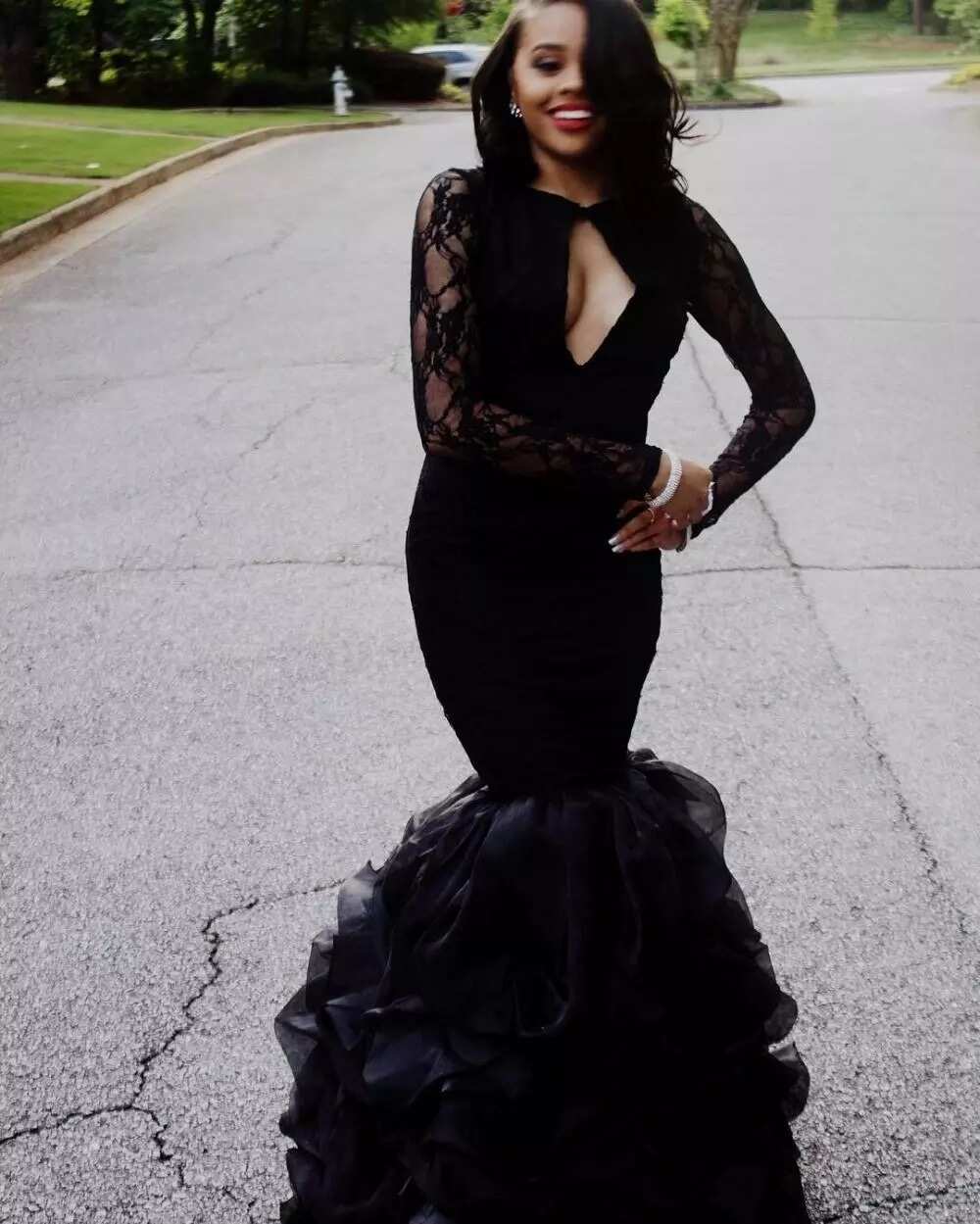 Now, this gown took our breath away. It is black, yes, so you will probably look a little bit weird at a wedding, but you can wear it to prom, to a fancy restaurant or even to the red carpet. Every line of this dress is gorgeous, and because it is black, it can suit almost anyone with any body type.
Lace native short gowns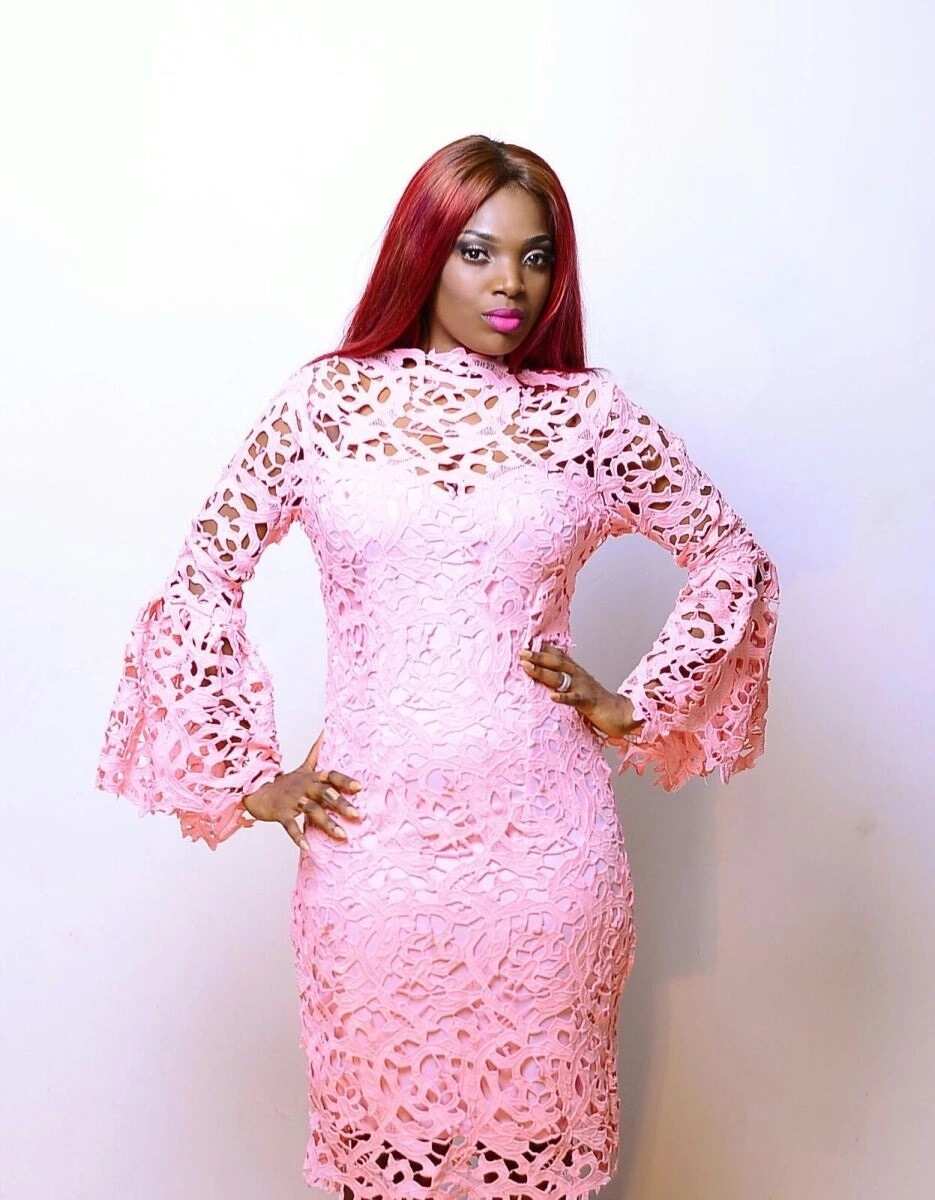 While most native lace gowns are usually floor-length, there are quite a lot of those that end at the knee or just above it, and you do not necessarily have to wear them to something formal. For instance, this dress would be a perfect fit for a cocktail party or a night around town with your friends.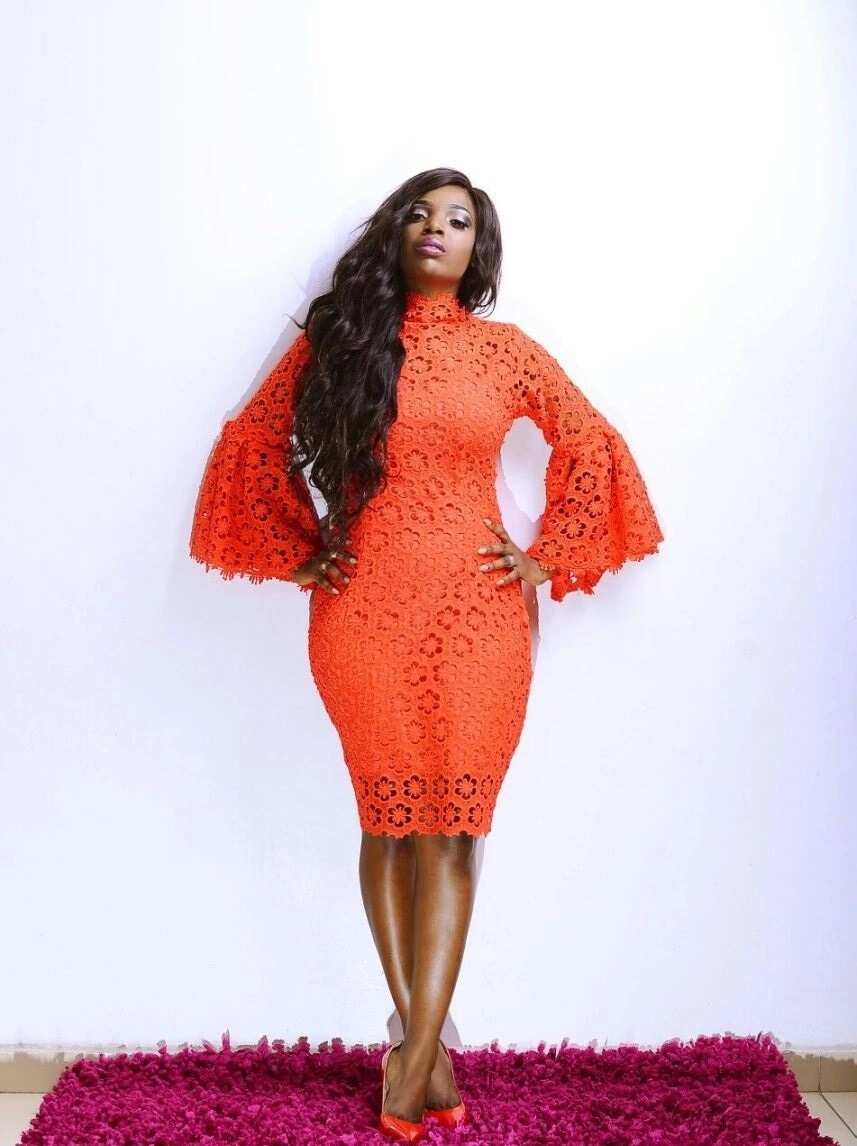 Here is another way you can go with the lace on your dress. While the previous gown featured an asymmetric design of the lace, this one is strikingly even and geometrical. You can almost get lost in the pattern. And it is a stunning colour, too!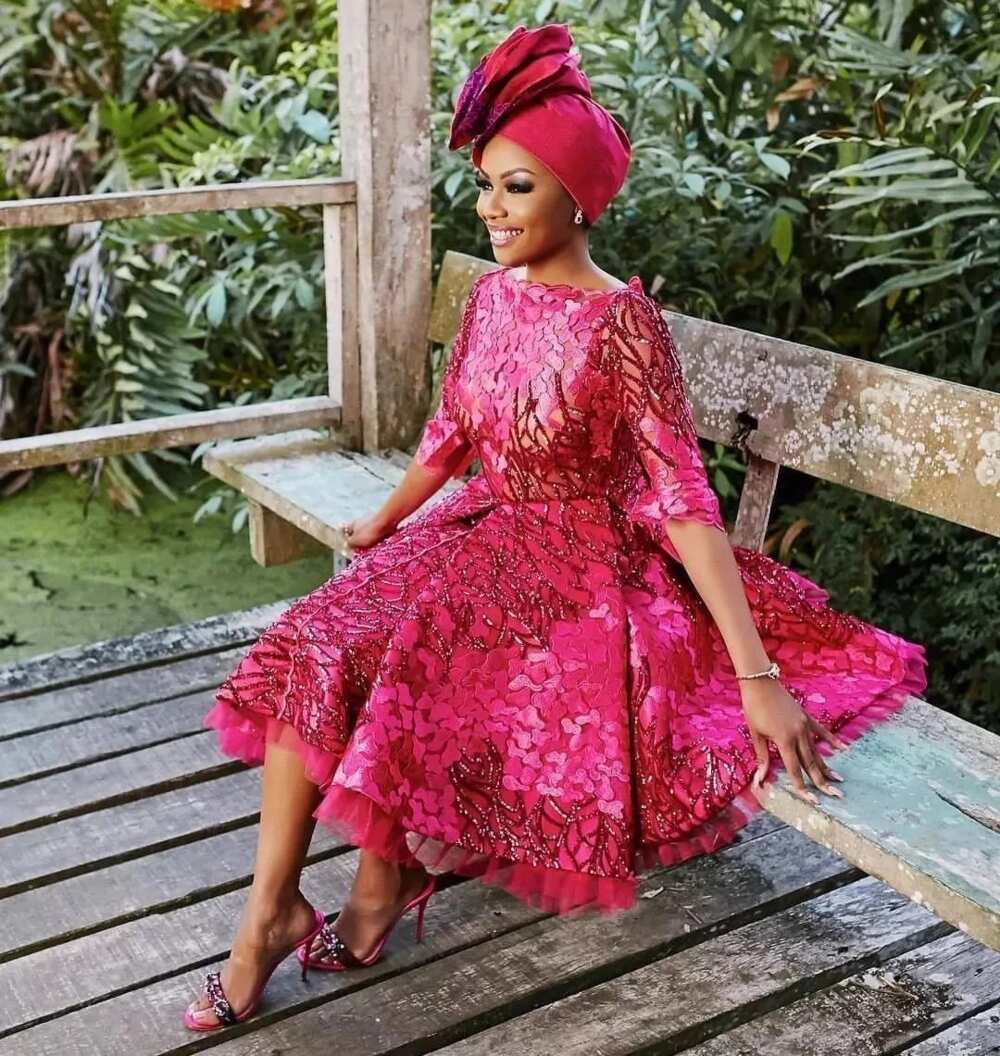 But if you want to wear a short lace dress to your friend's wedding, we have an option for that as well. Consider wearing something like this stunning magenta dress. It is shiny, and it features an unusual pattern, so unless everyone else is going to wear the same colour, you are certainly going to stand out.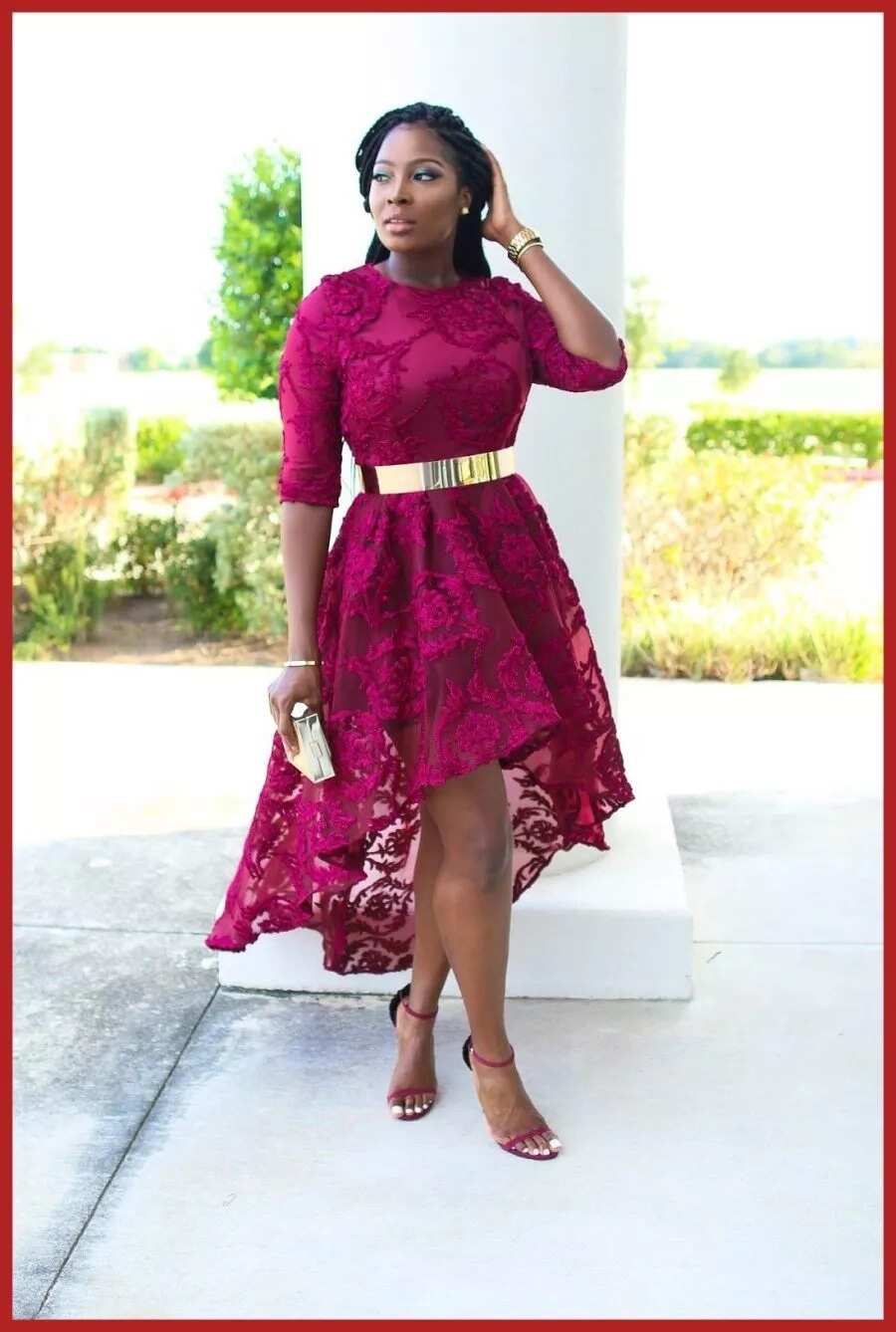 If you have been looking for a lace dress you can wear to any occasion, be it a wedding or a trip to a luxurious restaurant, you have found it! This lovely gown with its asymmetric hem and shiny belt will be perfect for any occasion.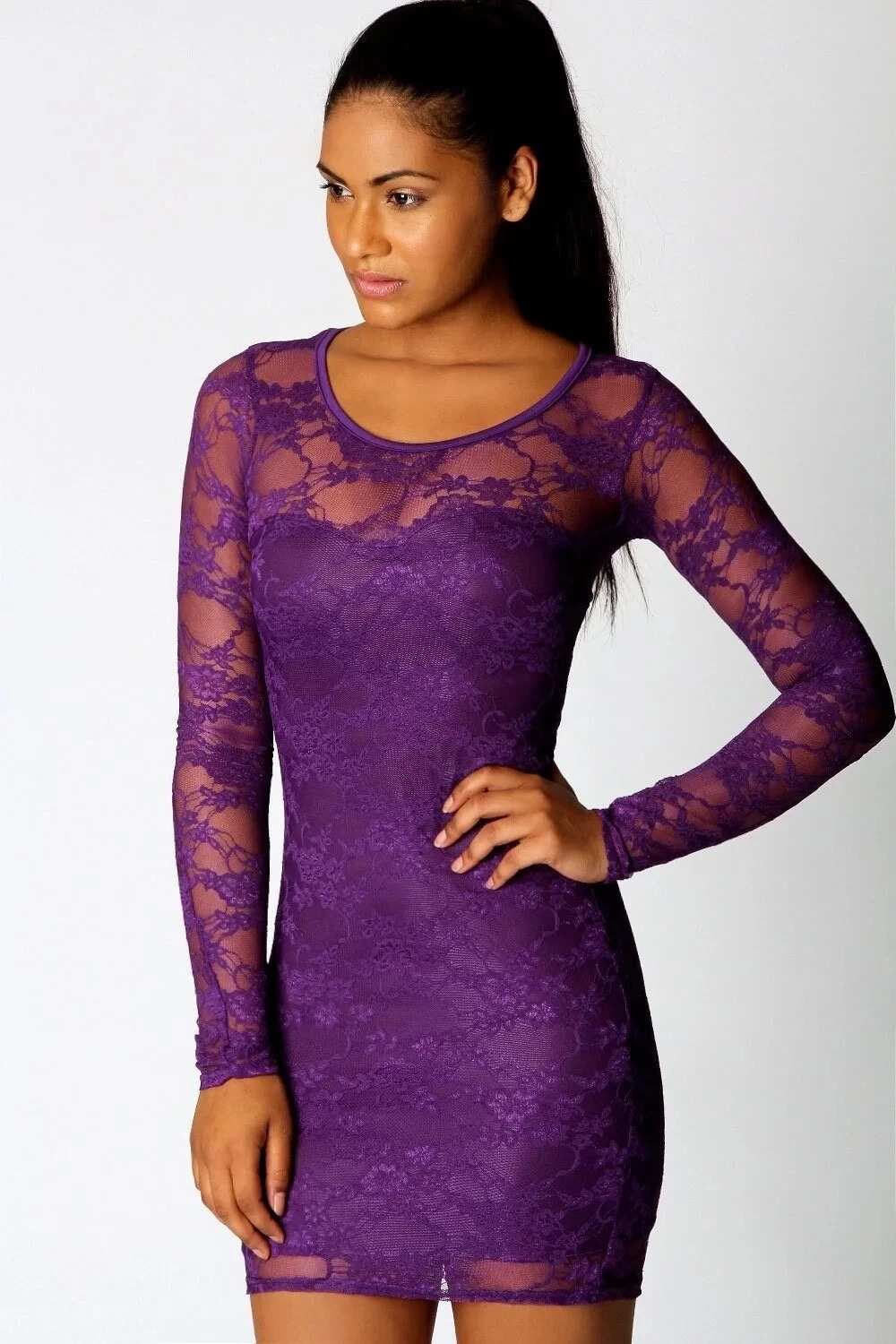 We want to end the category of short Nigerian lace styles with this short lace dress. If you are not afraid to go that short, or you actually want to show off your figure, then this is an outfit to do it in, as it leaves very little to the imagination.
And those are out picks for native gowns in Nigeria. Have you found what you have been looking for? Which of the gowns are your favourite? Let us know!
READ ALSO: Female native wears in 2018 for real fashionistas
Source: Legit.ng