Does coconut oil darken the skin tone?
Many discussions are led around the topic of the coconut oil. Can it darken the skin? And why should coconut oil for skin be in your cosmetic bag? Get to know more about this precious oil.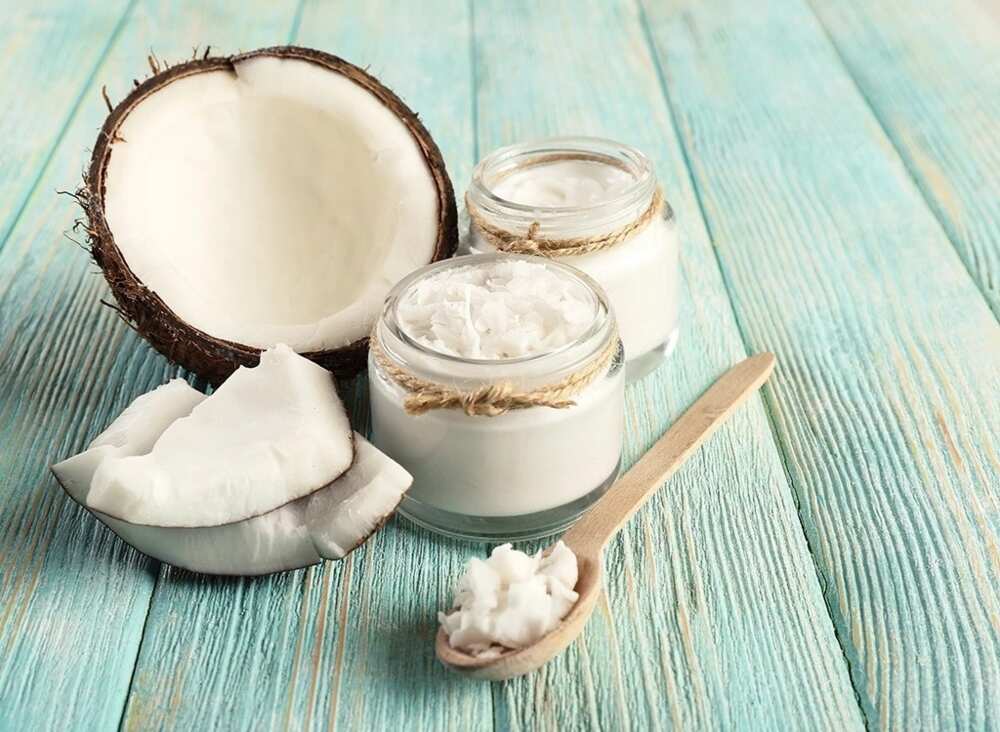 Coconut oil is a multipurpose product that became very popular due to its various application methods. It can be used both for food and for cosmetic procedures. It is recognized as the best oil for hair care and has huge benefits for skin.
Being 100% natural and healthy, this oil is a must-have on every woman's shelf.
Inhabitants of Pacific Ocean coast kept this recipe of beauty in a secret. But now we know it!
There are a great number of benefits of coconut oil on face. Coconut oil for face and body can be applied for almost any problem connecting with your skin. It is a great moisturizer; it nourishes and helps to get rid of wrinkles. Also you can whiten the skin with the help of coconut oil.
Can coconut oil darken my skin and how to use it as suncream?
Coconut oil for skin is a variant of great economy. You can use it before going to the sun. Does coconut oil darken the skin? No scientific evidence is given. But people make experiments and share photos «before» and «after» where their skin is more tanned. Anyway it is good in protecting you from solar radiation.
Also tan will be even and your skin will become super soft. Coconut oil for skin will also save you after being under the sun without any protection or in case you already burn (this kind of oil has the ability of soothing the pain). Pure product with SPF 4 will reduce the influence of solar radiation and free radicals.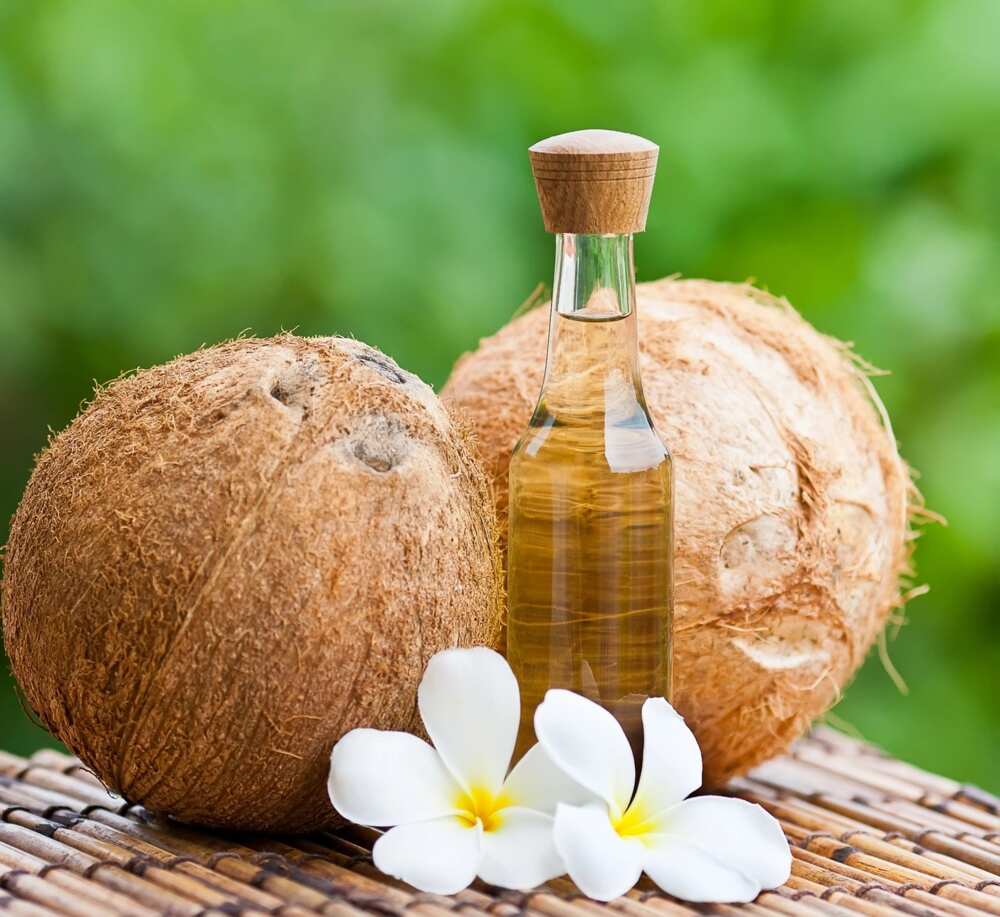 READ ALSO: How to use moringa leaves for skin care
Coconut oil for skin whitening
But it surely works in an opposite way! Coconut oil for skin whitening should be used following the strict rules not to be surprise with the opposite effect.
You have to use pure coconut oil.
If you are not going to tan, do not use it during the day. Stay at home all the time the coconut oil is on your face or apply it before going to bed.
Do not forget to wash your face before going out.
Use cosmetics with the sunscreen at daytime.
How does it work? It can put even the driest skin into healthy and luminous and hydrated skin is less susceptible to darkening. It gives immunity from bacteria and microbes due to fatty acids. Vitamins A and E are the most useful for our skin. They have antioxidant effect and prevent from aging and damaging by free radicals like wind, temperature changes and bad ecology.
One of the most important advantages of this oil is that it can be absorbed by inner layers of skin. So you are to be sure the given effect is long-term.
Beauty recipes for skin whitening:
Before going to sleep, apply coconut oil touching the areas you want to whiten and wait until it is absorbed. Wash your face in the morning and use the cream with SPF filters. Repeat every day and stop when your skin gets the desirable tone.
To enhance the effect of the coconut oil for skin you can add some lemon juice (2tbsp of oil + 10 drops of juice). But make sure you do not have any allergic reaction.
Coconut oil in the combination of turmenic is also a great lightening mask. Mix 1tbsp of pure coconut oil, 1/4 tsp of turmeric, 1 tsp of honey and 2tbsp of flour. Remove after 20 minutes. Repeat regularly.
To reduce the dark circles under eyes use the coconut and grapeseed oils together. 1 drop of coconut oil, 1 drop of grapeseed oil and 10 drops of water will help your face to look fresher.
Coconut oil for different types of skin
Coconut oil for face gets absorbed very quickly and easily. For dry skin you need only a quarter of a teaspoon. Apply with the palms of your hands with massaging movements. After 10 minutes wipe the remnants.
Do not be afraid of applying oil if you have oily skin. Most likely your skin is suffering from moisture deficiency. The excess of sebum is a natural way how our body tries preventing dehydration. Apply warm coconut oil lavishly on cleansed skin and wash after 15 minutes.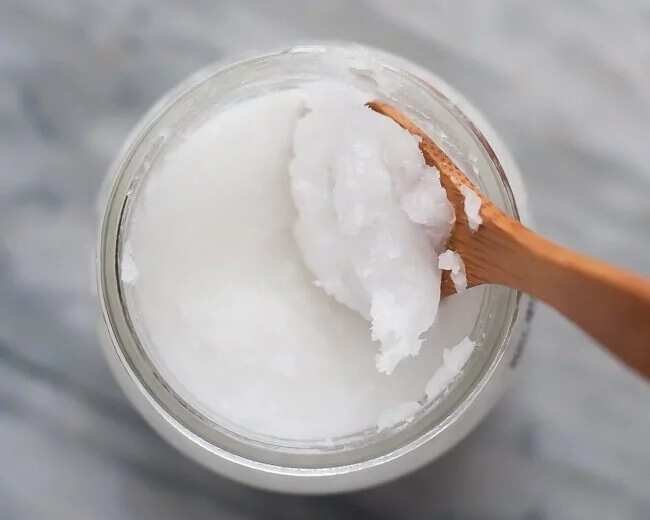 READ ALSO: Benefits of Carrot Oil for Hair and Skin
Other benefits of coconut oil on face
Besides different masks coconut oil is able to replace some of your regular beauty products.
Coconut oil in the role of natural makeup remover
Coconut oil for face is a gentle makeup remover. It is perfect for sensitive skin and for removing mascara and eye shadow from eyes. Apply it for 5 minutes with the help of a cotton pad and then wash with warm water.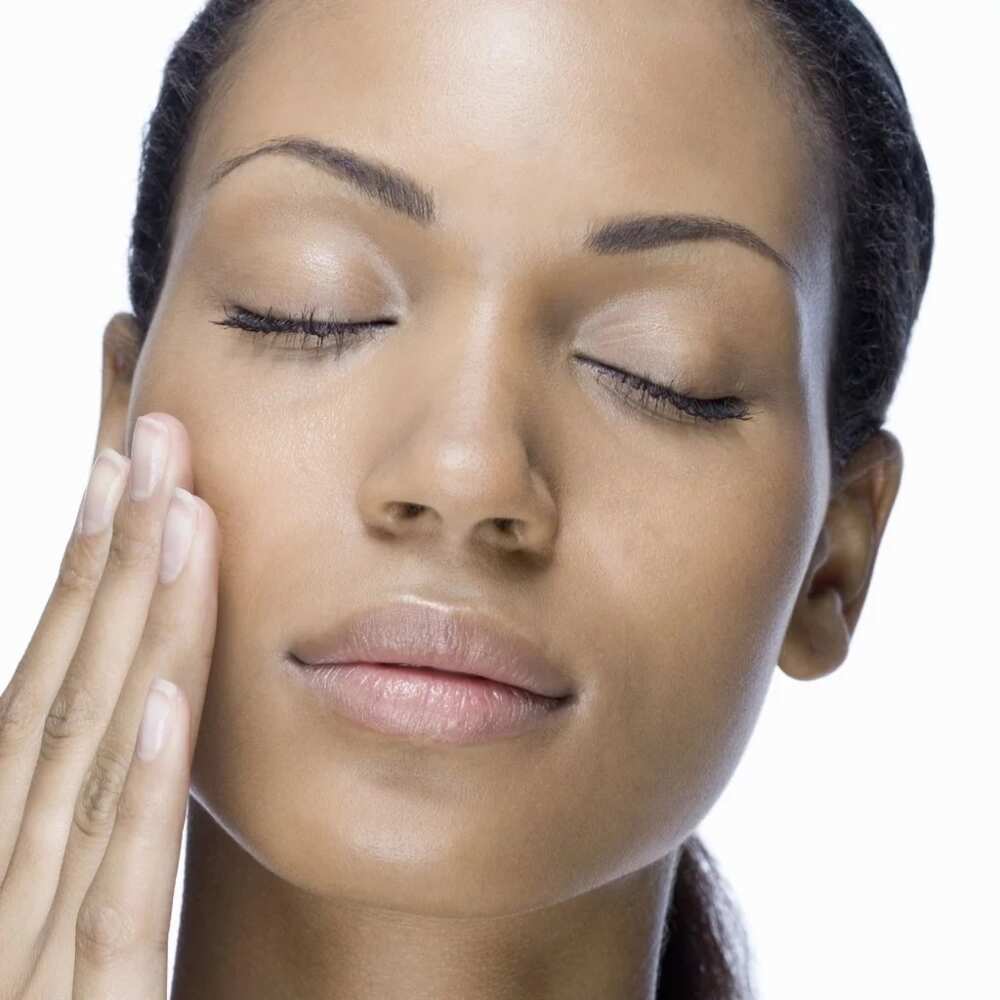 Coconut oil for face as a cleaner
Maybe you will be surprised but this magic oil can be used for cleaning the face. Sodium lauryl sulfate is derived from a coconut. Very often the producers of baby cleaning products use it instead of synthetic components that may damage the delicate skin.
If you are an owner of dry or normal skin mix 2tbs of almond flour, some coconut oil and milk to receive a paste. After 15 minutes pass, wash off first with warm water, and then with cold to close the pores.
For oily skin prepare paste of rice flour or oatmeal and coconut oil. You can also put a teaspoon of lemon juice or a few drops of lemon (or tea tree) oil to enrich this mix and make it more useful. Immerse a towel into warm water, squeeze and put on your face. This procedure is helpful in opening the pores and cleaning them out of dirt. Wash it off after 20 minutes.
READ ALSO: Benefits of shea butter and coconut oil for skin
Coconut oil as anti-aging cream
Being able to penetrate deeply into the skin coconut oil contains the collagen substitute, that is why your skin looks younger and smoother, little wrinkles go away. Skin of the face is the most affected part of the body because of air pollution, influence of cosmetics, oxidative damage and UV rays. Using coconut for face and neck daily, you will prevent early aging of your skin.
Coconut oil for lips: scrub and balm
Add sugar (brown is preferable) to the coconut oil and get perfect scrubbing substance. Use a toothbrush or your finger to clean lips from dead skin cells. Keep massaging for 1 minute and remove with a napkin.
To fabricate lip balm with your favourite smell you need to mix some coconut oil, a little bit of lipstic (optionally) and a few drops of your favourite aroma oils (vanilla, citrus etc). A pair of mint drops can make your lips more chubby.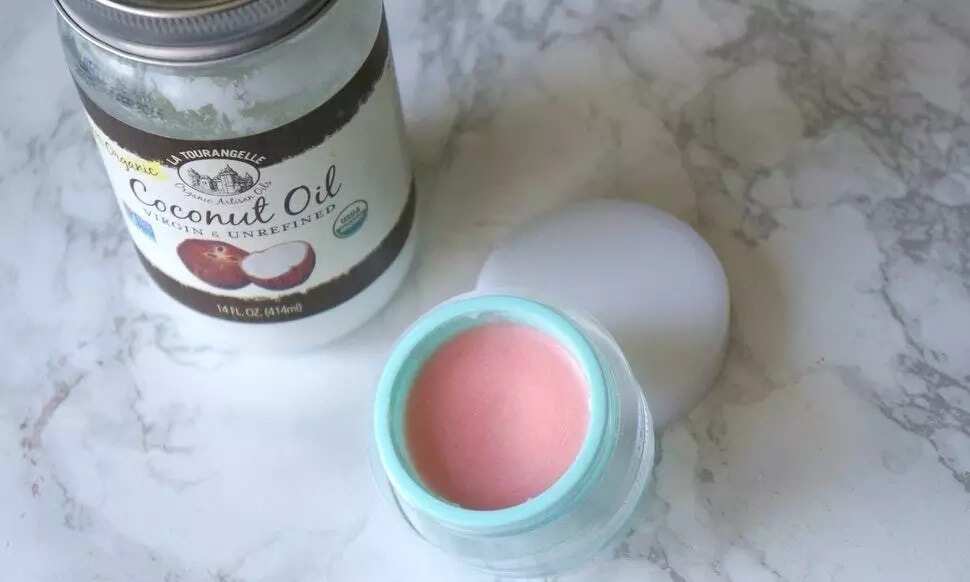 Coconut oil as a highlighter
Highlighters have become madly popular. To substitute the store-bought product make strokes with the coconut oil atop your makeup. Many popular brands that position themselves as natural cosmetics producers, use the coconut oil as base.
There are plenty of ways to use the coconut oil for your body and face skin. Whitening or assisting in getting tan, cleaning and protecting, moisturizing or nourishing - coconut oil for skin can cope with any task.
READ ALSO: Medicinal uses of shea butter
Source: Legit.ng