How can I make wig cap weave
There are many different methods of how to make a wig. We want to explain to you some tips for creating a pretty one with braids or without them. Find the answer to the question: How can I make wig cap weave? Keep on reading our post, and you will explore the step-by-step explanations for perfect wig making.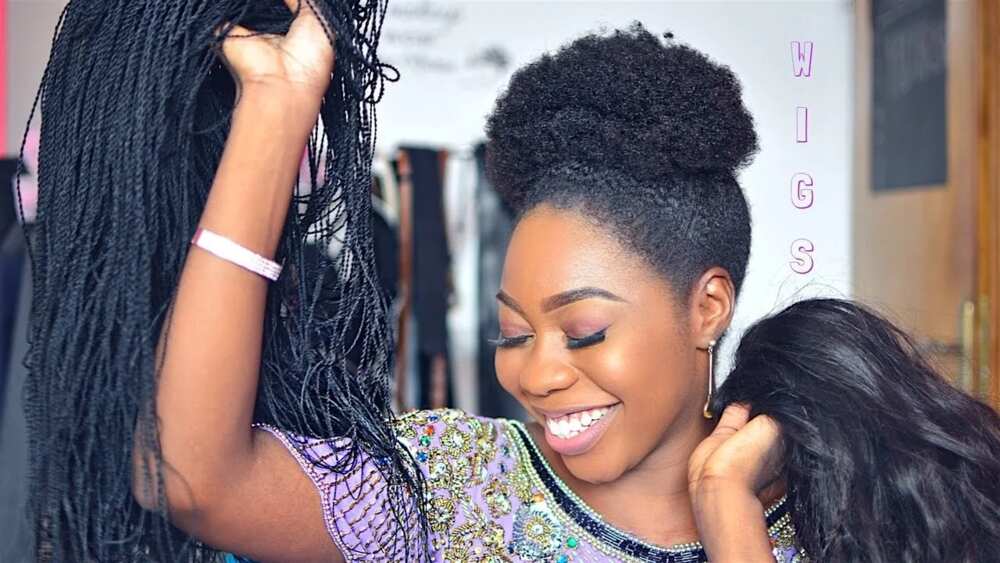 Wig making is impossible without a good-sized cap. Nevertheless, why does anyone need a wig cap and nice-looking weave? We will try to give you answers to all the questions you might be interested in.
There are many reasons why people wear wigs. Some of us have plans to change a look but are afraid of haircuts. Others fight with dangerous illnesses and are forced to wear one. Some are not happy with their recent haircut and are trying to hide all the 'cons' under the wig. Having a wig, a lady can change looks very often and be always in trend. Adding weaves to your own hair is awesome because you can extend the length or make your hairstyle look more beautiful.
How to make a wig
Sometimes you suddenly ask yourself, 'How can I make wig cap weave?' It is true that you can learn all the details of wig making from weave, so it is time to master these incredible skills. You will love the process and get an awesome result.
Here are the main steps you need to follow:
Step 1. Begin with selecting your weave and a cap. You can spend a weekend visiting some stores with supplies or check online shops and find a cute weave. It can have curly hair, straight hair or whatever you want. We will explain how to make a braided wig below, so there is nothing to worry about at this point. Just select natural or synthetic weaves, and find a cap for your head.
READ ALSO: DIY: How to make wigs with closure at home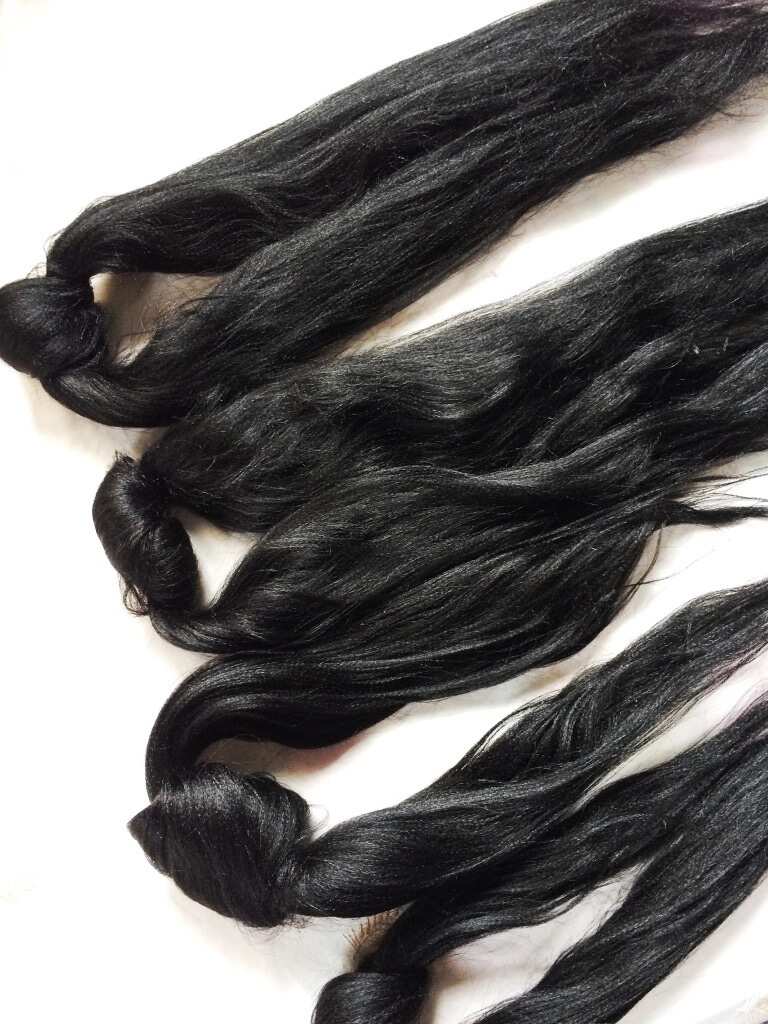 P.S. Some people prefer using natural hair because it loos realistic. But it is better to purchase more expensive synthetic weave that has natural look because such 'plastic' hair will last way longer than real human hair. Also, choose your preferred hair color. It is always better to select weave for wig making that is similar to your natural color.
How many weaves do you need? Three bundles (one pack) is what you should be looking for. This amount will help you to complete a cute wig with enough hair for braids (in case you want them).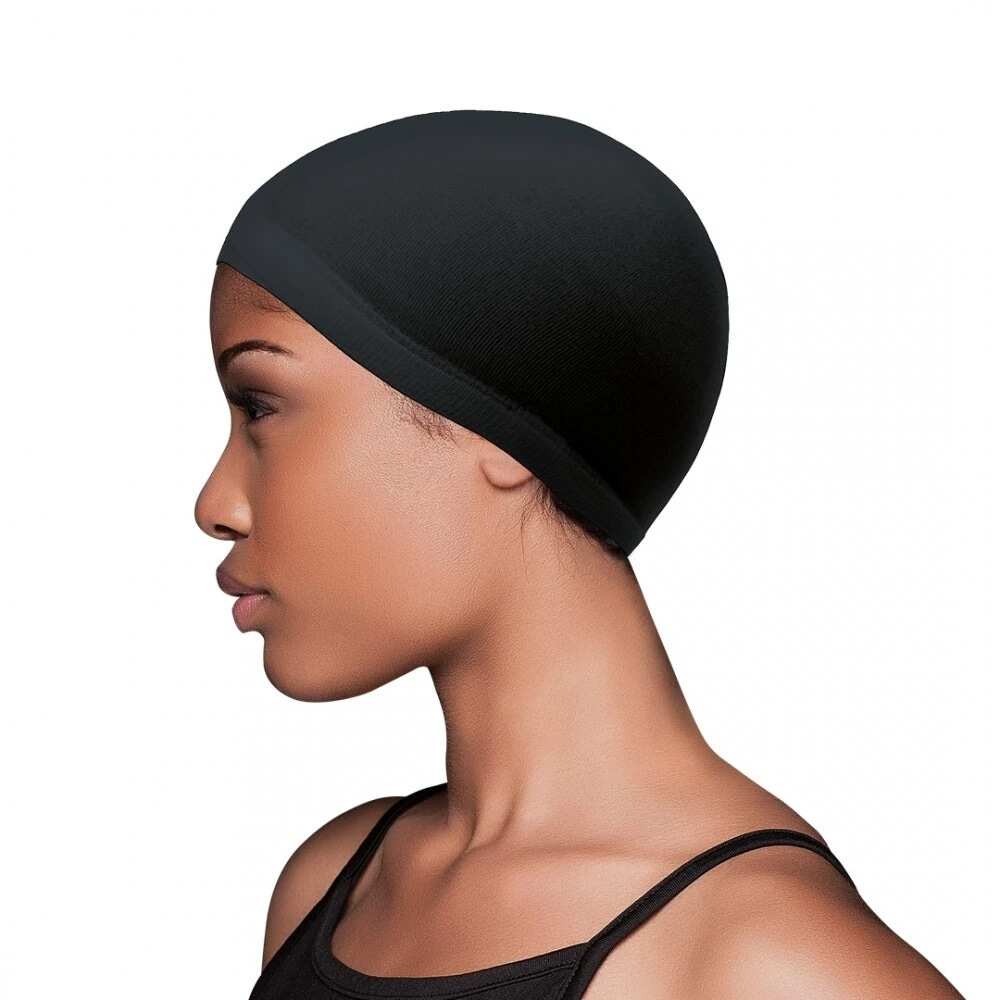 Step 2. Now you need to figure out what is the size of your best wig cap and what material of the cap to choose. Use a measuring tape to measure your head and select the cap that is of perfect size (not small and not big). Experts also suggest selecting a cap that has mesh lining. It is great when your cap is 'breathing' since this is wonderful for a human head. Every scalp needs some 'air' and soft elastic mesh lining can breathe. If you go with synthetic lining, your wig cap could feel itchy and uncomfortable.
Step 3. When you have found your perfect weave bundles and a weaving cap, you will also need some other accessories. Here are the things needed for successful wig making:
Stand for your wig
Foam mannequin
Needle
Thread (the special type for sewing hair)
Pins
Scissors
Beauty accessories (hair care, hair pins or clips, foundation, etc.)
Tweezers
Tips: in case your mannequin is smaller than your head, you should adjust the size by adding some wrapping tape after you measure your own head (circumference plus the distance from hairline to neck's nape).
READ ALSO: How to wash human hair extensions and wigs? - Top tips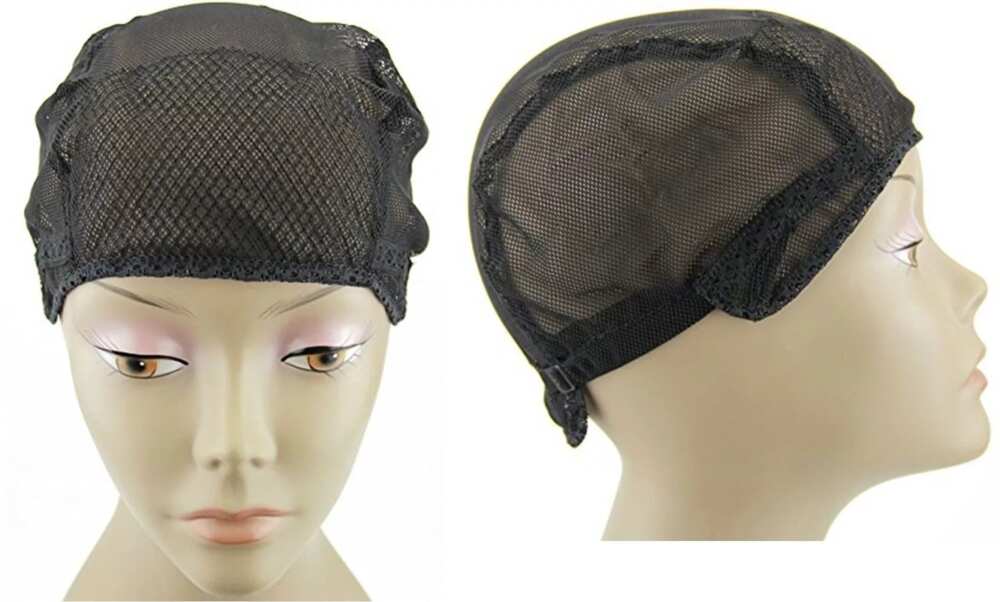 Step 4. Take some pins and carefully secure the wig cap to your mannequin head. Carefully put the head onto the stand. You will start working on your new wig soon.
Step 5. We propose you to make your wig using a blanket stitch technique. It is probably the best method, and you will love sewing around your weave's track or weft and through the cap. Carefully take each weft or track of hair, put on your cap and properly sew to it using your needle and a special thread.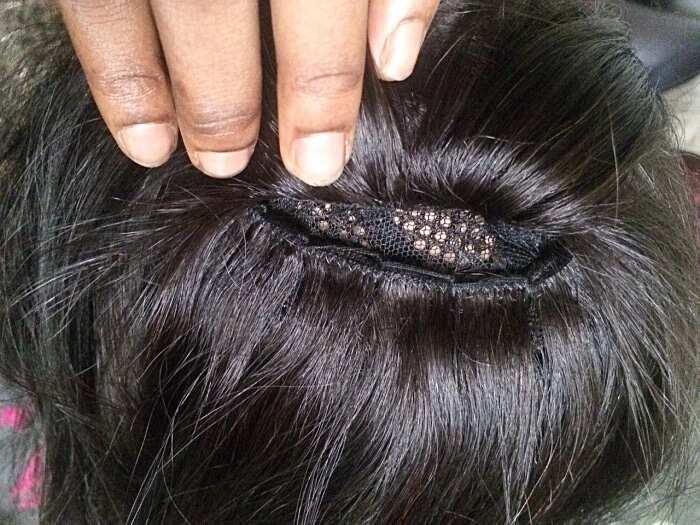 Step 6. Begin every new weft after completing the previous one. When you get to the cap's edge, you need to fold wefts carefully.
Tips: to make careful rows, you are highly advised to pin every row to the cap before sewing it. It is nice to leave some space between your rows. On the back, you can leave 2-finger-space, and closer to the top of your wig head you are advised to shorten this distance to 1-finger-space.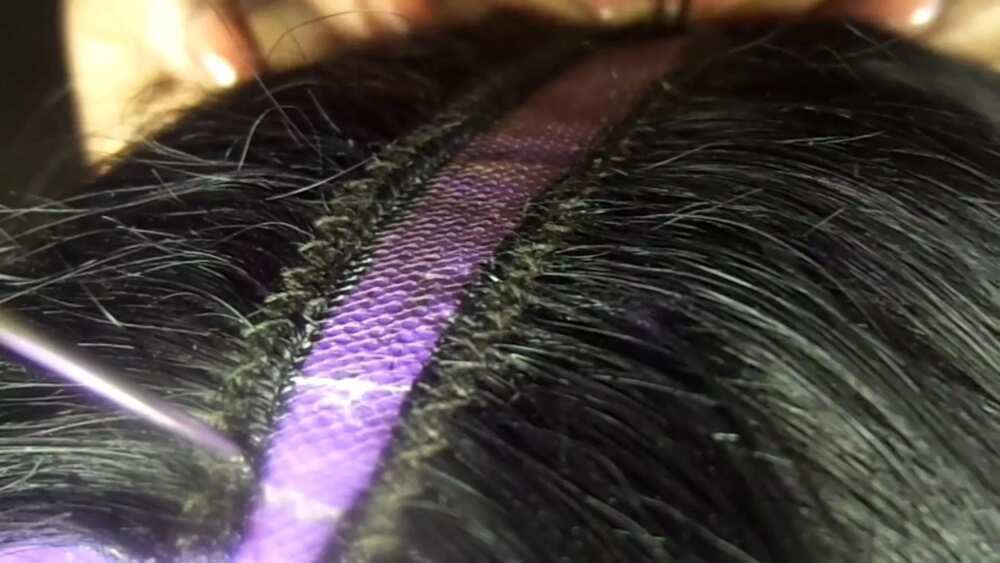 Step 7. You should make a closure when you get to your last two bundles of hair. Start from the forehead area and go down to the neck's nape. Sew along the head's center and cover all the lace closure.
Step 8. Make sure your rows are flat. Nothing has to stick out of your beautiful weaving wig. If you see any irregular length and unequally cut patches, you have to cut them carefully and make even-looking. Use scissors and customize your masterpiece. You can also remove the sticking hairs carefully and lightly with tweezers.
Step 9. Attentively look at the top of your wig and all its sizes. Do you see any cap material looking through? You can mask such pieces using foundation makeup until the colors match your own hair and scalp.
Step 10. If you are planning to braid your wig, continue with the instructions below.
READ ALSO: How to make braided wigs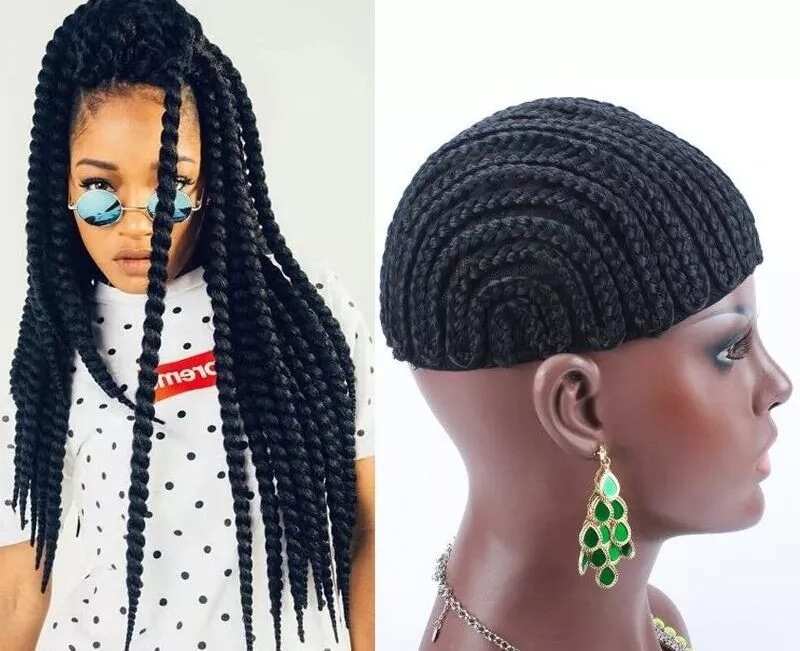 Wig making: Braids for cuteness
Step 11. Now braid your hair. Before you start braiding the wig cap with weaves, you are advised to add some talc powder onto a comb and gently brush the wig (be extremely careful or you can pull out some of the hair). This is how the unnatural shine can be reduced, otherwise, your braids (or the loose hair) will be too shiny.
Step 12. Separate the hair and braid from the top to the sides. Add thick weaves to achieve the extra volume.
P.S. You can use a special cornrow cap and thick braided pieces of hair to make such a wig from scratch.
Step 13. Make braids from the patches of hair that are sewed to your cap. Carefully complete each braid. Be patient because this can take a long while. Add more weaves to achieve your desired look.
Step 14. Make sure you knot each braid.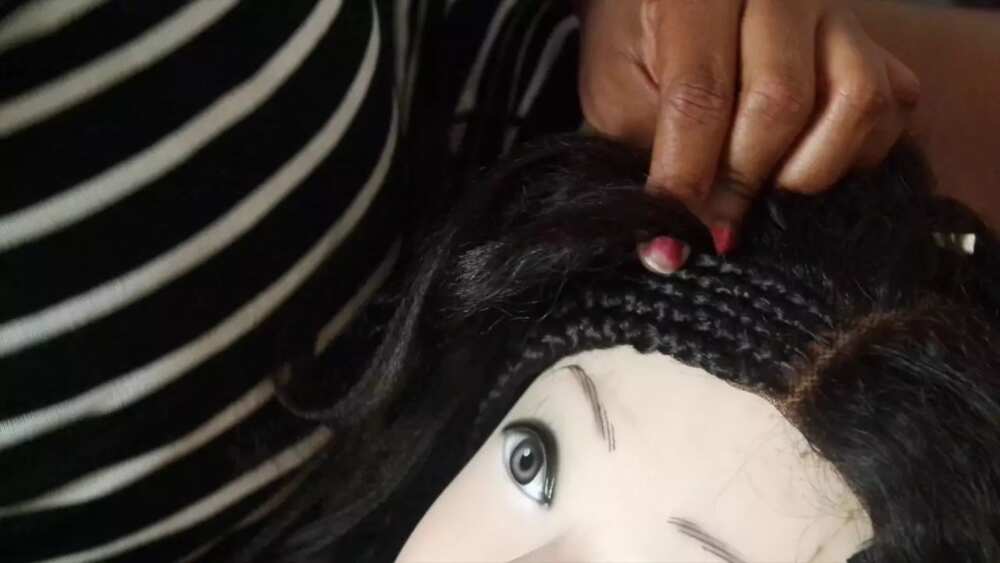 Hips on how to wear your wig cap weave
It is better not to wear a wig if your hair is loose. Experts recommend each woman who is planning to get her wig on, to wash and condition her own hair and change the hairstyle. It is a wonderful idea to braid your natural hair. Depending on its length, you can make a cornrow (or a couple of them) and clip everything away from your face.
To add a natural look to your wig wearing style, you should let some of your own hair to be lose near temples.
Before you pull on your wig (with braids or without braids), you are advised to apply some hair mouse to the wig hair ends. If you wish to add more volume, brush the hair weaves with your fingers (not comb). This way you will prevent knots and tangles.
Use hairpins to secure it in place.
Some people who have an active day might feel more secure if their weaves are carefully sewed to their natural hair in the middle of the head, the back and at sides.
Now you know how to make a braided wig and a regular wig cap weave. Enjoy your incredible look, as you are done with wig making and are now applying your masterpiece to your head. Keep practicing if you like your first wig and you can become a pro in creating beautiful wigs for yourself, your friends or people who need one.
READ ALSO: How to make a wig look natural?
Source: Legit.ng