Wedding outfits for mother of the bride
We have some really stunning outfits for mothers who want to look beautiful on their daughters' weddings. Check out this article and find some inspiration for mother of the bride look for your baby's big day!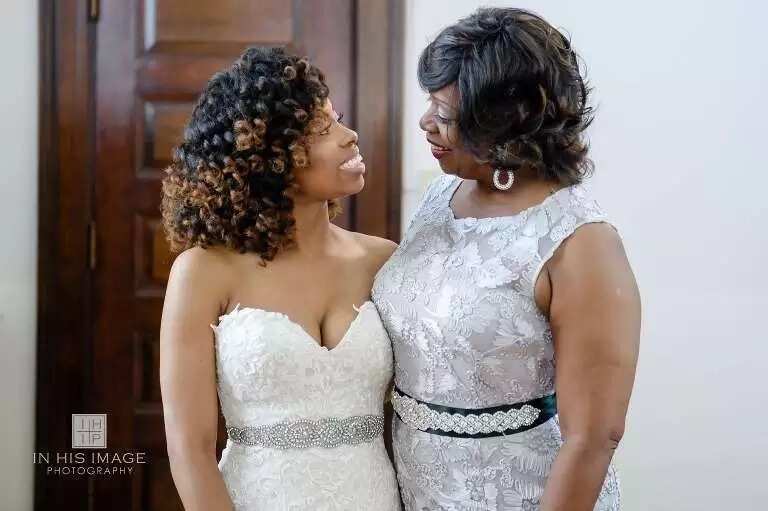 Dresses for mother of the bride
When we went out on a mission to find some beautiful mother of the bride dresses we did not anticipate how hard it might be. For some reason, most stores that sell dresses marketed towards moms who want to look great at their daughters' weddings offer dresses that would be most suitable for people who are 20 or 30 years old.
Now, we are not trying to say that a woman in her 50s cannot wear something youthful for her daughter's big day, but most of the gowns on offer are not really the best options for older ladies.
Nevertheless, we have been able to find the mother of the bride dresses that both look good and are more age and occasion appropriate. So take your reading glasses out if you have not done that already and check out these ten beautiful wedding outfits for mothers of the brides.
Top ten most gorgeous mother of the bride outfits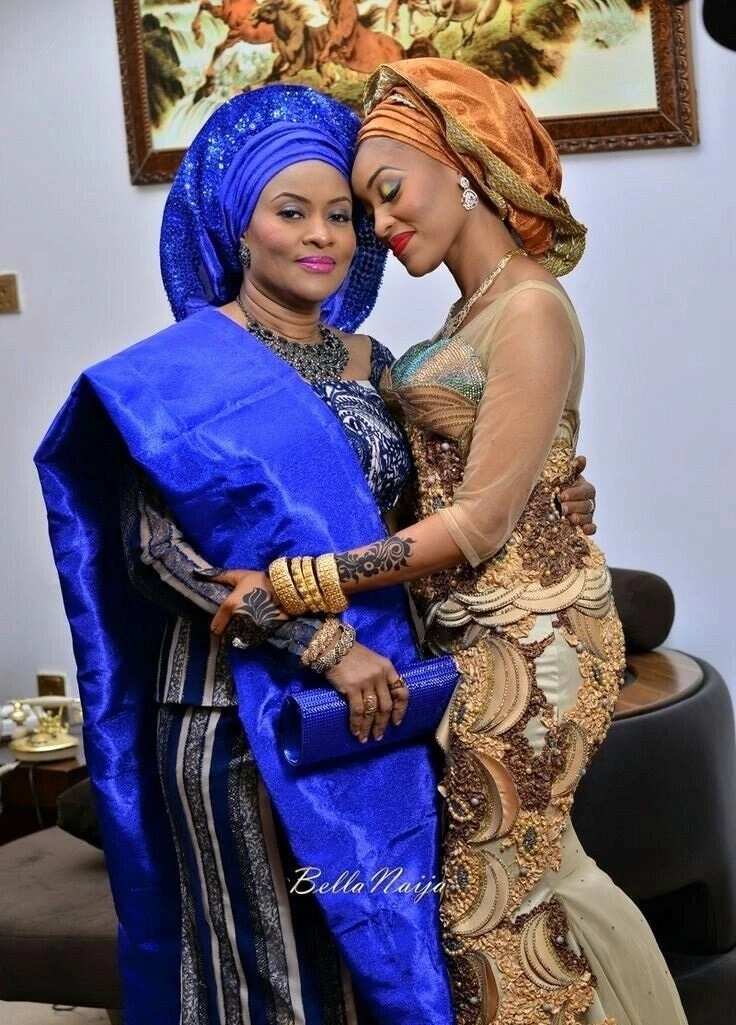 READ ALSO: Maid of honor dresses in Nigeria
First, we have this stunning duo of mother and daughter embracing each other before the main event. The bride decided to go for gold, while the mother of the bride chose the blue colour palette with gold elements that complement her daughter's outfit. Everything is thought out to a T: from the eye-catching jewellery with blue and gold to the accessories in the form of a shawl, gele and clutch.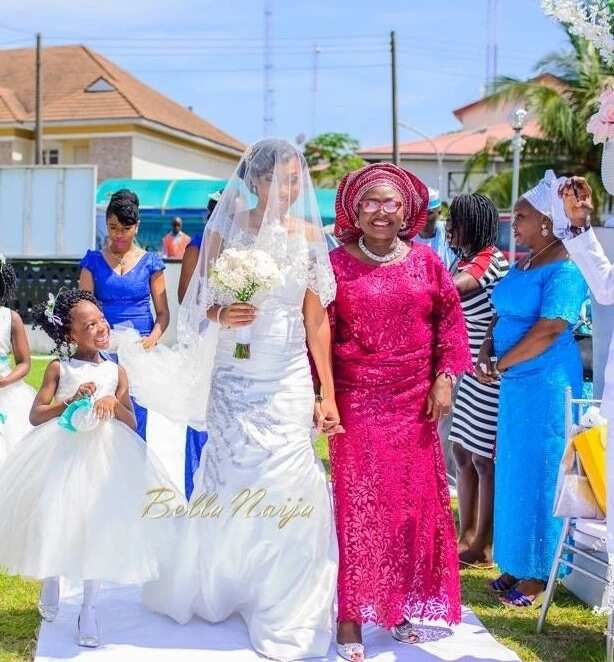 If your daughter chose to go for a white wedding, this does not mean that you are required to don a simple gown. On the contrary, you can look as vibrant as possible! The woman in this photo chose to go for a classic magenta dress with flowery lace and a traditional gele, and you can see how the bright colour makes her joy really stand out.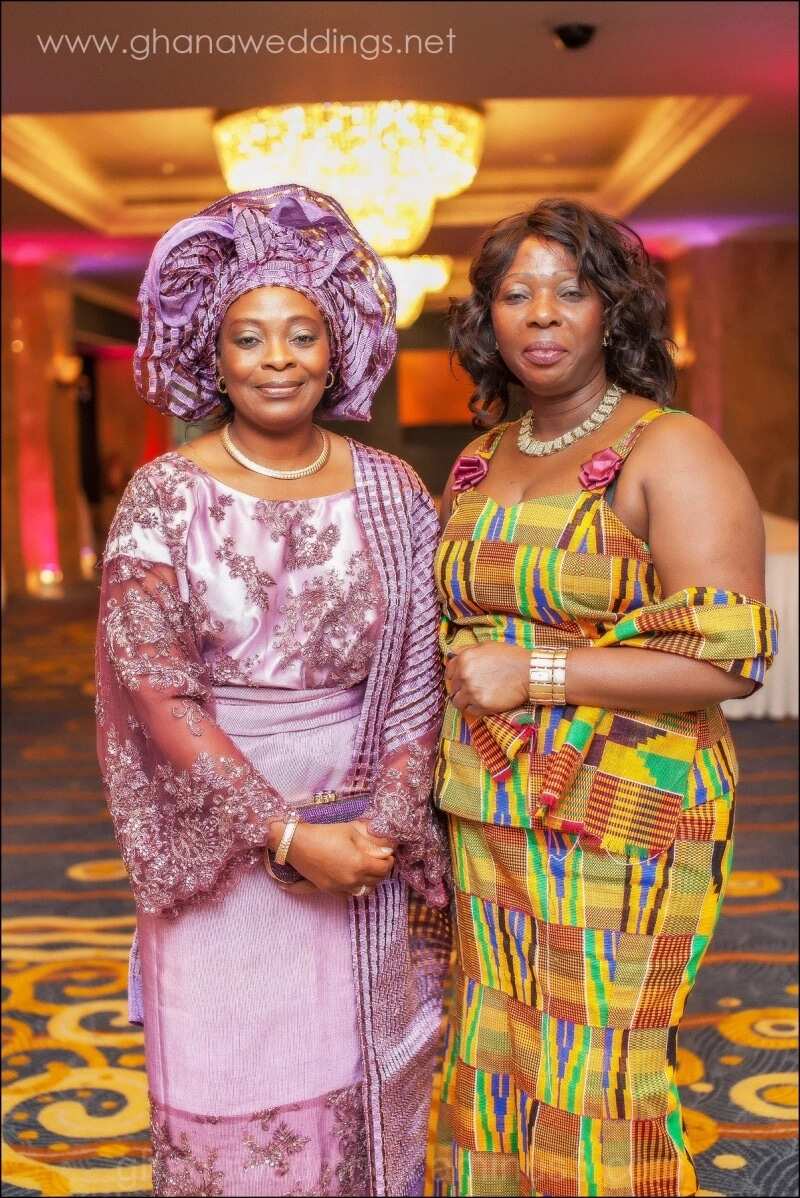 Here we have two mothers: one dressed up to give her daughter over to the other one. Both women look fabulous in their national Nigerian and Ghanaian costumes, and the difference between styles is striking. Nevertheless, it looks almost symbolic, as if not only their children have decided to bind their fates together, but their nations as well.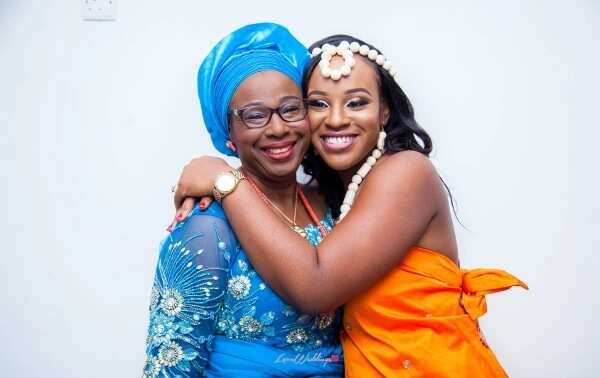 Now, even though some fashionistas think that a combination of blue and orange is rarely a good idea, we strongly disagree. Just look at how happy and bright these mother and daughter are! Besides, the coral accessories on the mother work great with the orange of the daughter's dress. So do not be afraid to choose a colour of your dress that is contrasting to the colour of your baby's wedding gown.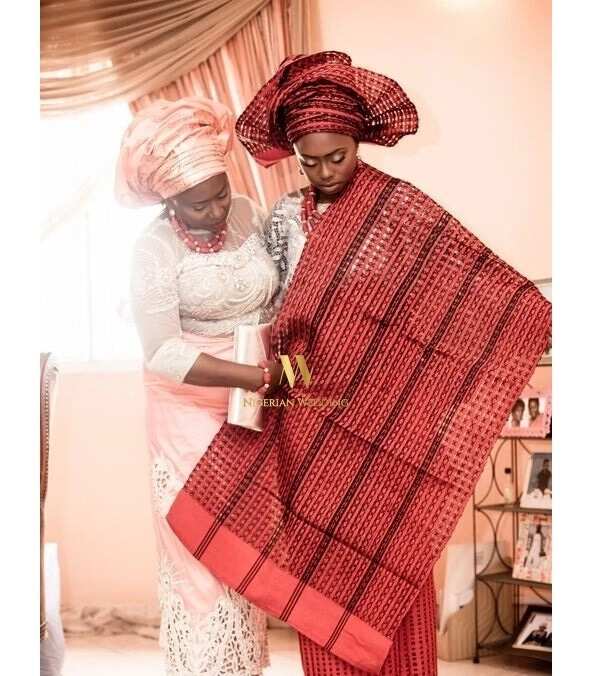 READ ALSO: Nigerian fashion dresses for weddings
As they say, 'mother knows best', so she is helping out with her daughter's ipele, all the while looking flawless. The subdued colour scheme complements that of her daughter's very well, and the family resemblance is uncanny.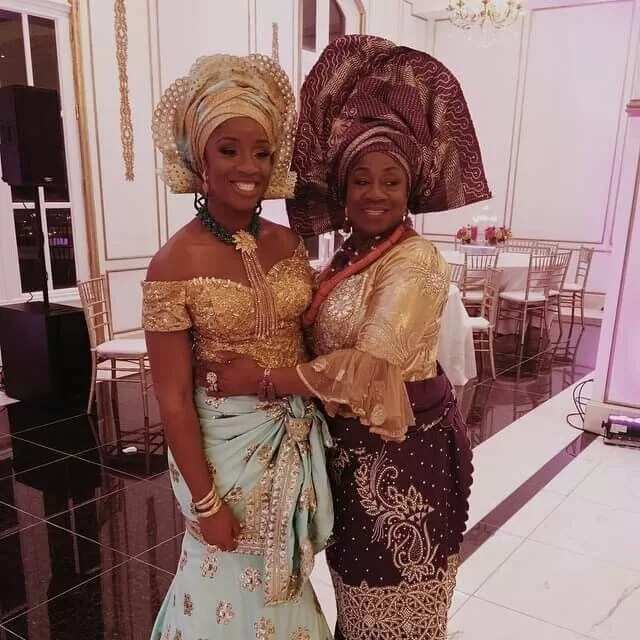 It is absolutely adorable when daughters (especially grown ones) look a lot like their mothers. These two look very alike not only when it comes to the face, but also when it comes to picking wedding outfits. Both decided to go for a lot of gold everywhere, only the wraps are significantly different. By the way, gold is always a good choice for a wedding outfit.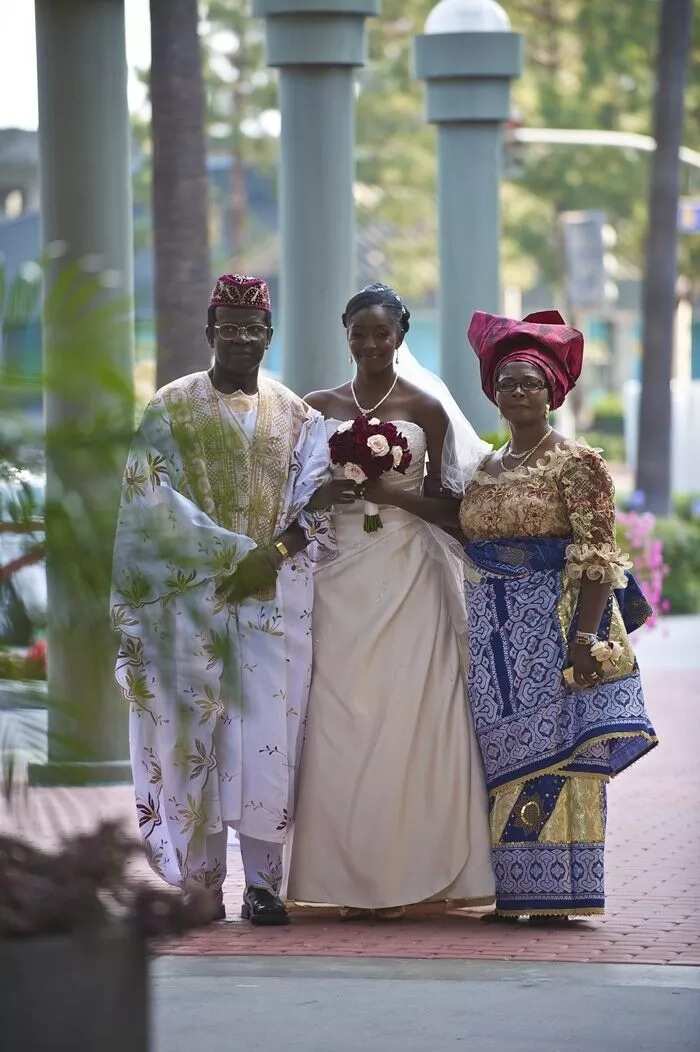 Here is another example that you can wear your traditional outfit to your daughter's white wedding and look great. In this particular case, daddy also jumped in on the trend and wore his traditional clothes. However, we recommend you to dial it down with the colours and patterns if you see that all the attention is on you instead of your baby.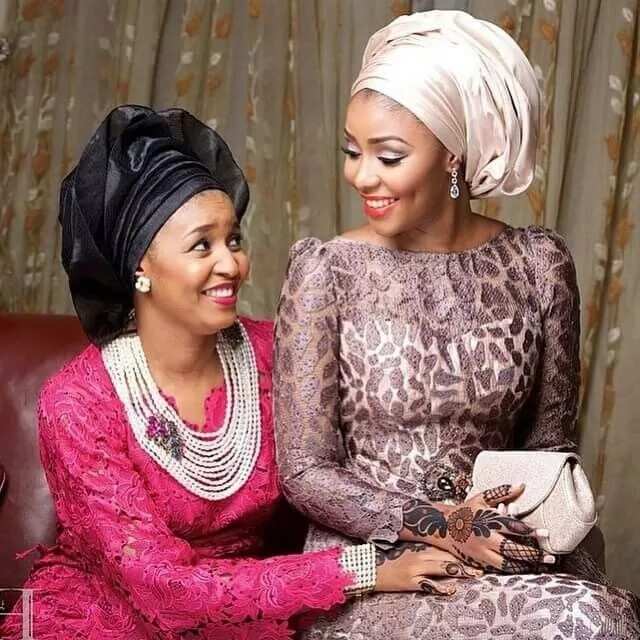 If we did not know that the women in this picture were mother and daughter, we would have assumed that they were two sisters. The mother of the bride looks exceptionally youthful in her magenta lace gown, while the bride herself looks stunning in her metallic dress. This is truly mother-daughter goals.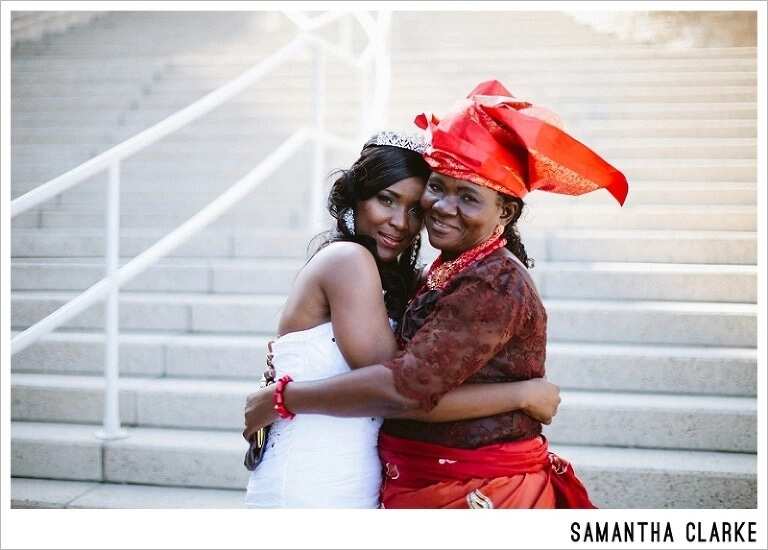 READ ALSO: Magenta Color Dress Bridal Designs
When your daughter has a wedding abroad somewhere far away from home, you can be the home for her. Apart from offering support and care, you can also dress in traditional clothing when going to her wedding. This will show her that home is always close. Besides, it is a great way to show off your culture in a foreign country.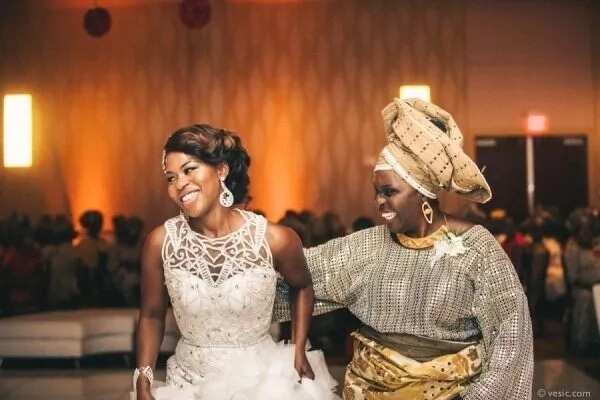 Last, but not least, here are these two very happy ladies. While the daughter is wearing a very beautiful and intricate white wedding gown, the mother decided to go for some lovely and sparkly traditional clothing.
We hope you found some inspiration for your own outfit. Who knows, maybe next time, your photo will be featured in our article!
READ ALSO: Female native wears in 2018 for real fashionistas
Source: Legit.ng