Latest muslim wedding dress styles in Nigeria
Muslim weddings are famous all around the world by original and interesting traditions. Unlike many cultures muslim brides have not one, but several wedding gowns.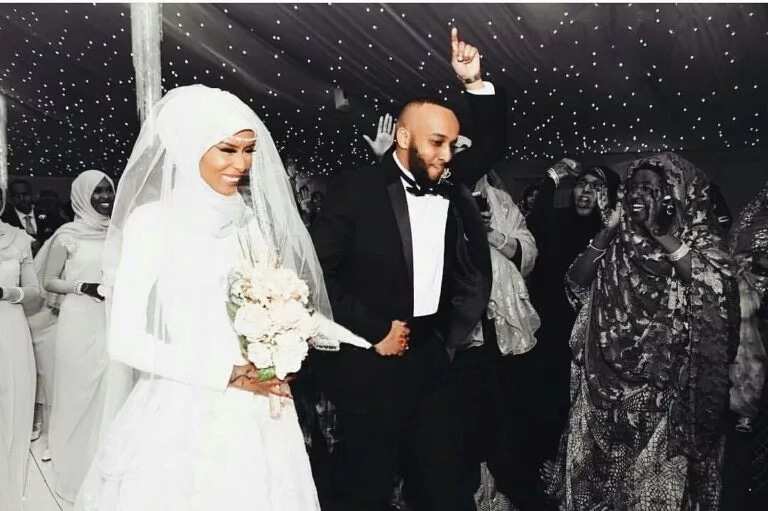 Muslim wedding fashion
Wedding planning is a pleasure. Choosing and buying or sewing a Muslim wedding dress is a kind of ceremony. But before that, the bride-to-be has to pass through some preparation.
Muslim wedding is a great event that lasts for three days. Everything begins a week before the happy date. This week is called mayoni and the future bride is to wear yellow clothes. It is believed that such islamic dress brings luck and happiness.
READ ALSO: African traditional wedding dress designs
The first night of the wedding is devoted to mehendi. In this sacred time only women gather and paint the bride's hands and feet with henna. Special clothes are prepared for this night: adult women put on sarisand and young single girls dress in lehengas. Lehengas look like skirts and blouses. The bride still wears yellow gown during this night.
The formal proposal of the groom (when he comes to the bride's family and signs the license) is called nikah. In this occasion the bride wears red and gold Muslim wedding gown. Muslim people are sure: this color brings well-being and prosperity.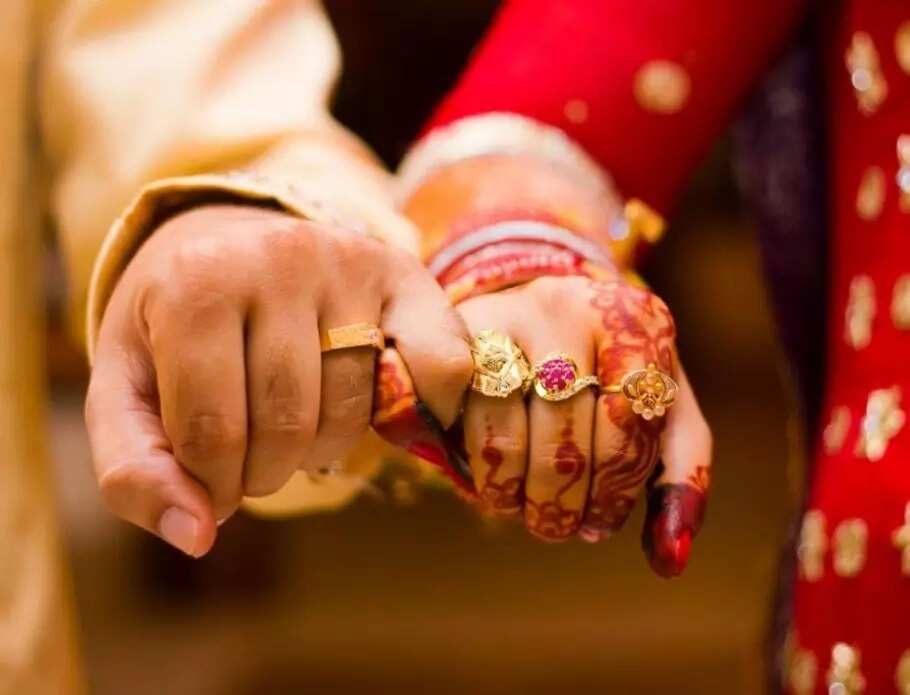 Nigerian brides that stick to traditional rules sew their bridal dresses from fabric, that is given by family as a present. Usually it is very colorful and contains embroidery. The wedding dress of Muslim is combined with a head wrap (gele).
READ ALSO: Bead designs for traditional wedding in Nigeria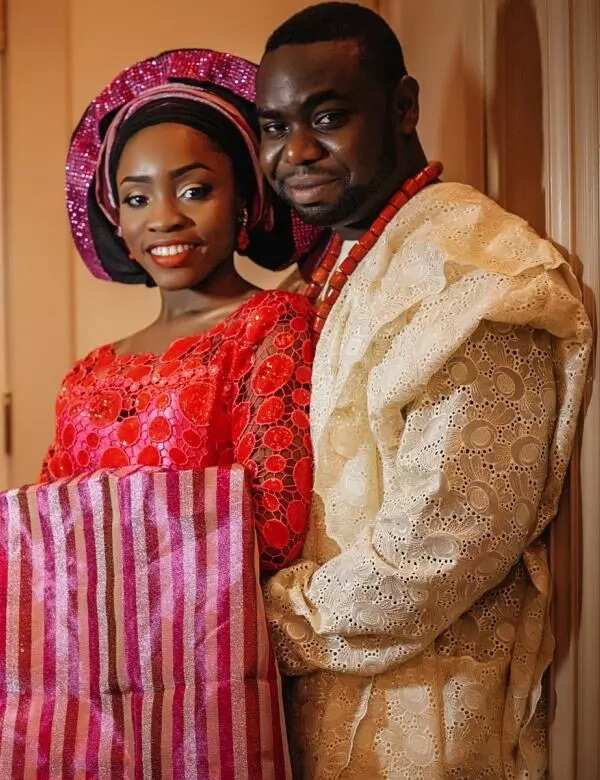 Modern wedding dress styles allow using different colors and fabrics. But one thing is common: Muslim wedding gowns are long and cover the arms. Also it is important to cover the head. A hijab or a veil can be used to complement the gorgeous Muslim wedding dress. A dupatta is a kind of scarf that can be wrapped around the head instead of a veil.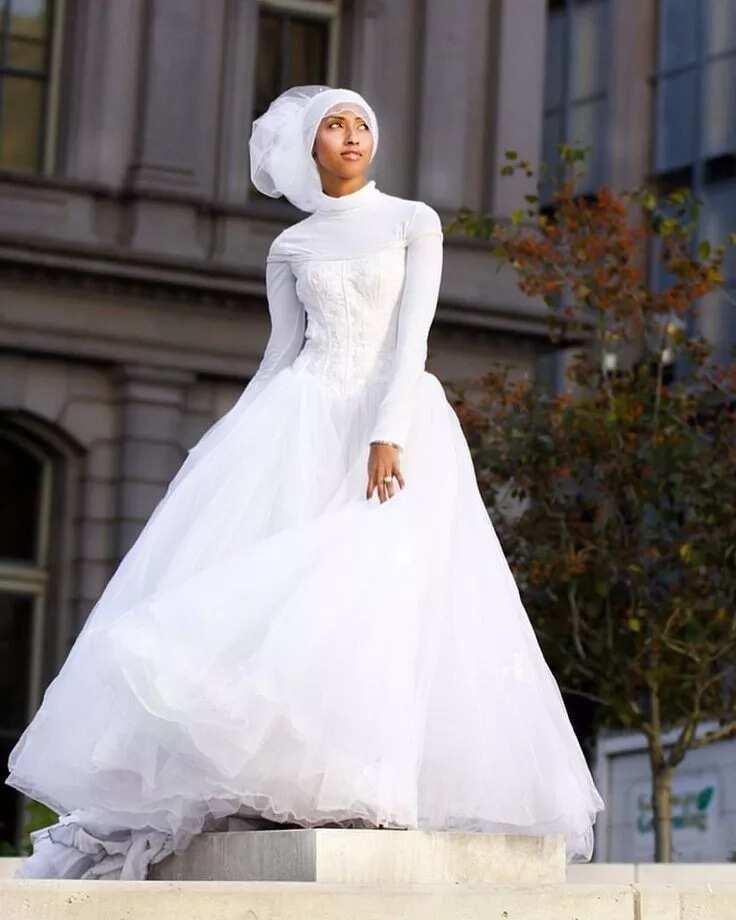 Muslim wedding gowns with hijab
Hijab covers the head and chest of the muslim bride. Wedding hijab matches the bridal dresses and can be decorated with embroidery, precious stones, flowers or a crown.
Bright colors of hijab make emphasis on bride's eyes of unreal beauty. Pearls, gold or minimalistic variant – muslim brides can invent their own one and only hijab design.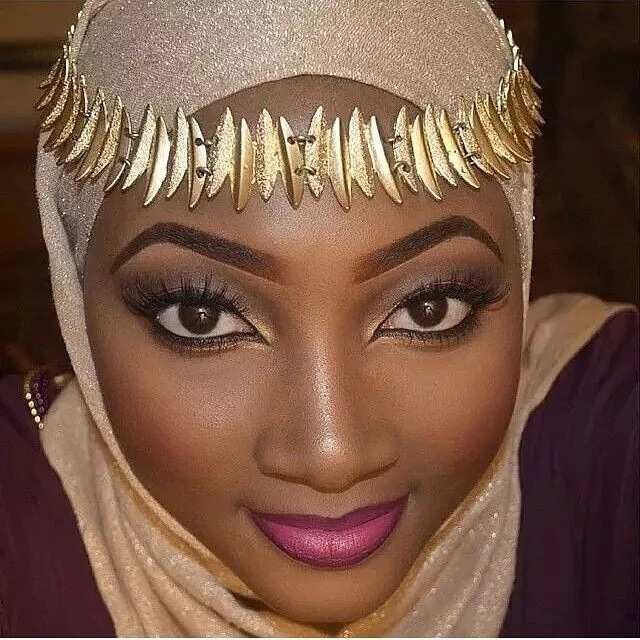 Muslim wedding dresses with veil
Veils are made from more transparent and thinner fabric than hijab. Usually lace is used for this purpose. Also the bride can experiment with the length – from shoulders to ankles.
It looks great with fluffy bridal gowns in white color.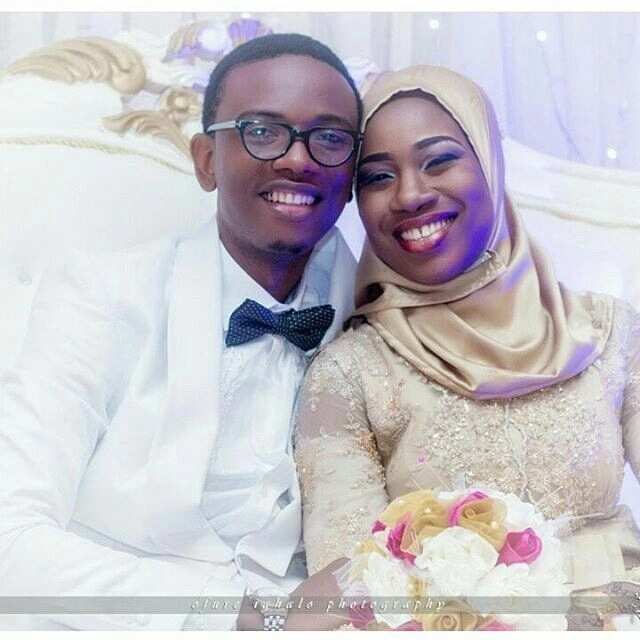 Folds of luxury fabric and lace, jewelry and perfect make up with an accent on eyes – Muslim brides are true queens.
Nigerian wedding dress designers
Nigerian bridal fashion is various and has its character. Traditions here are mixed with latest trends and flavored with glam. No one knows wedding dress styles better than designers do. Here is the list of top Nigerian designers of wedding gowns who forecast, dictate and create changes in the wind of the Muslim fashion.
Deola Ade-Ojo is known as a creative director of "House of Deola". In her collections she underlines Nigeria's identity. She gets inspiration in royal weddings and enjoys gathering cultural roots with modern tricks.
Ohimai Atafo works for "Weddings by Mai" and is known for working with stars. Among his clients are Funke Akindele-Bello, Osas Ighodaro-Ajibade and others.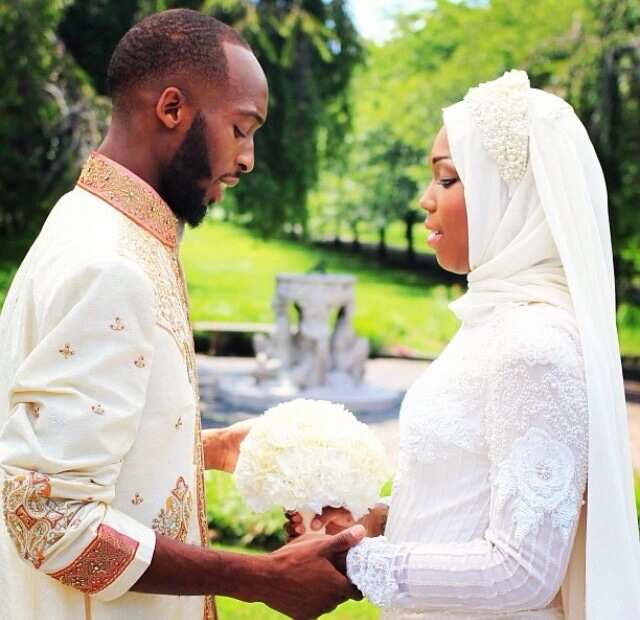 READ ALSO: Nigerian fashion dresses for weddings
Olukunbi Oyelese creates for "April by Kunbi". Her cup of tea is making bridal and evening gowns. Famous people like Toke Makinwa, Tiwa Savage, Agbani Darego and Adesua Etomi trust her in choosing their outfits.
Dumebi Iyamah is a creator of "Andrea Iyamah'' brand. Nigerian-American superstar Osas Ighodaro-Ajibade put on the dress by Andrea Iyamah for her wedding.
Zizi Cardow does not hesitate while using African prints. Futuristic designer made a real revolution by her courageous experiments and even visited Milan Art exhibition.
Nigerian wedding fashion respects tradition, but at the same time allows fresh approaches. What Muslim wedding dress did you like most?
READ ALSO: Wedding hairstyles in Nigeria: best styles for brides
Source: Legit.ng