Top 15 satin bridal gowns with sleeves
Have you always dreamed of a satin bridal gown but could never find the style you liked? Well, do not worry, as we have prepared a collection of fifteen gorgeous satin wedding dress styles with sleeves for your viewing pleasure. Find the style you like and get yourself a wedding dress of your dreams!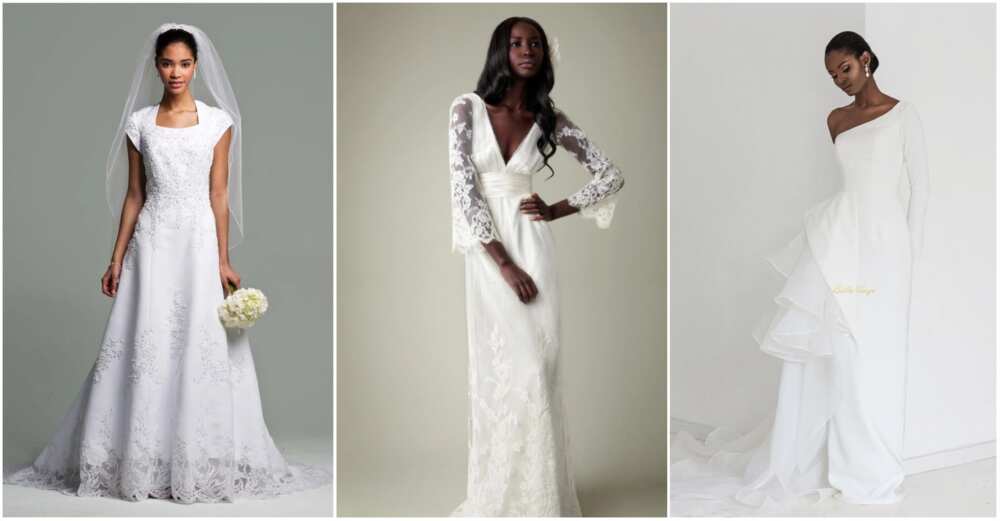 If you are not new here, you probably know that we love structure here. Thus, our fifteen picks of wedding gown styles are sorted into three categories: satin bridal dresses with short sleeves, medium-length sleeves and long sleeves. That way, you can quickly find exactly what you are looking for. Without much further ado, here is our gallery of stunning satin wedding dresses.
Satin wedding gowns with short sleeves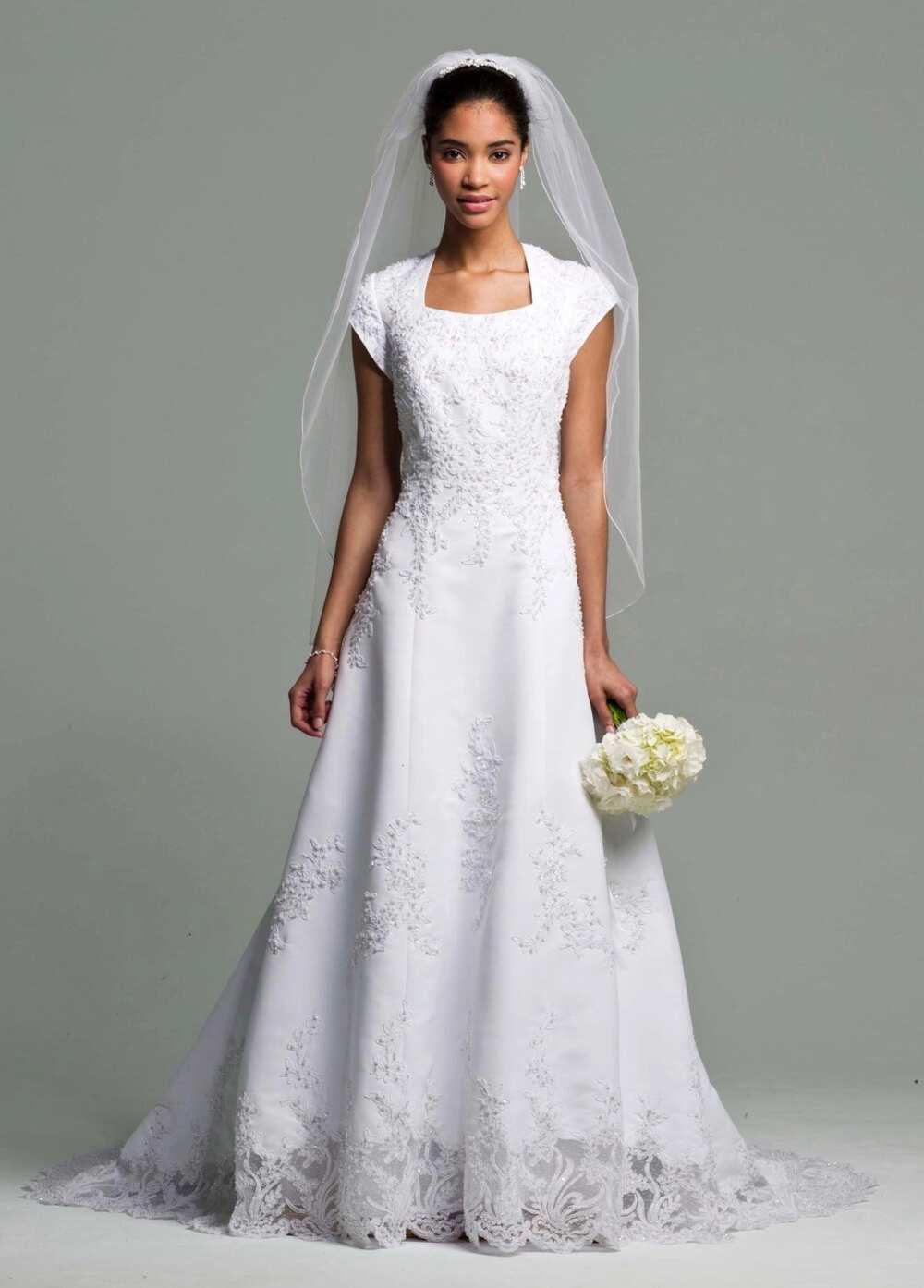 Let's start this off with this lovely delicate satin dress with lace detailing. It is very simple, yet classic and appealing. If you want your wedding day to be about you and not your clothes, then this would be a great choice. You can also accessorise this dress to your liking without worrying about making the outfit too busy.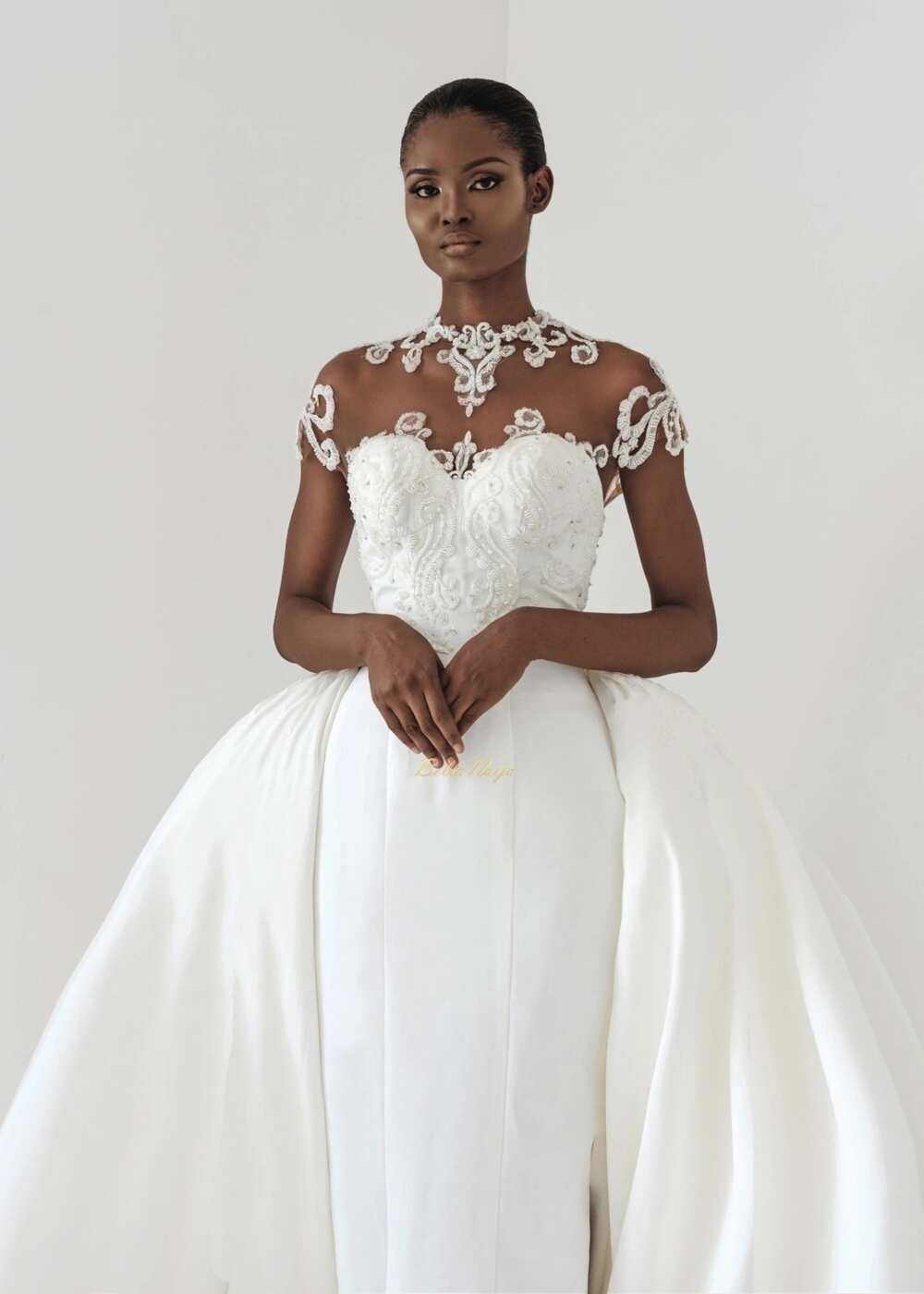 Next, there is this grand beauty with see-through short sleeves. This is a perfect option for those who cannot decide whether they want to have sleeves or not, as technically there are sleeves in this dress, but at the same time, they are translucent. The beautiful details around the neck and arms are stunning enough for you not to need any additional accessories.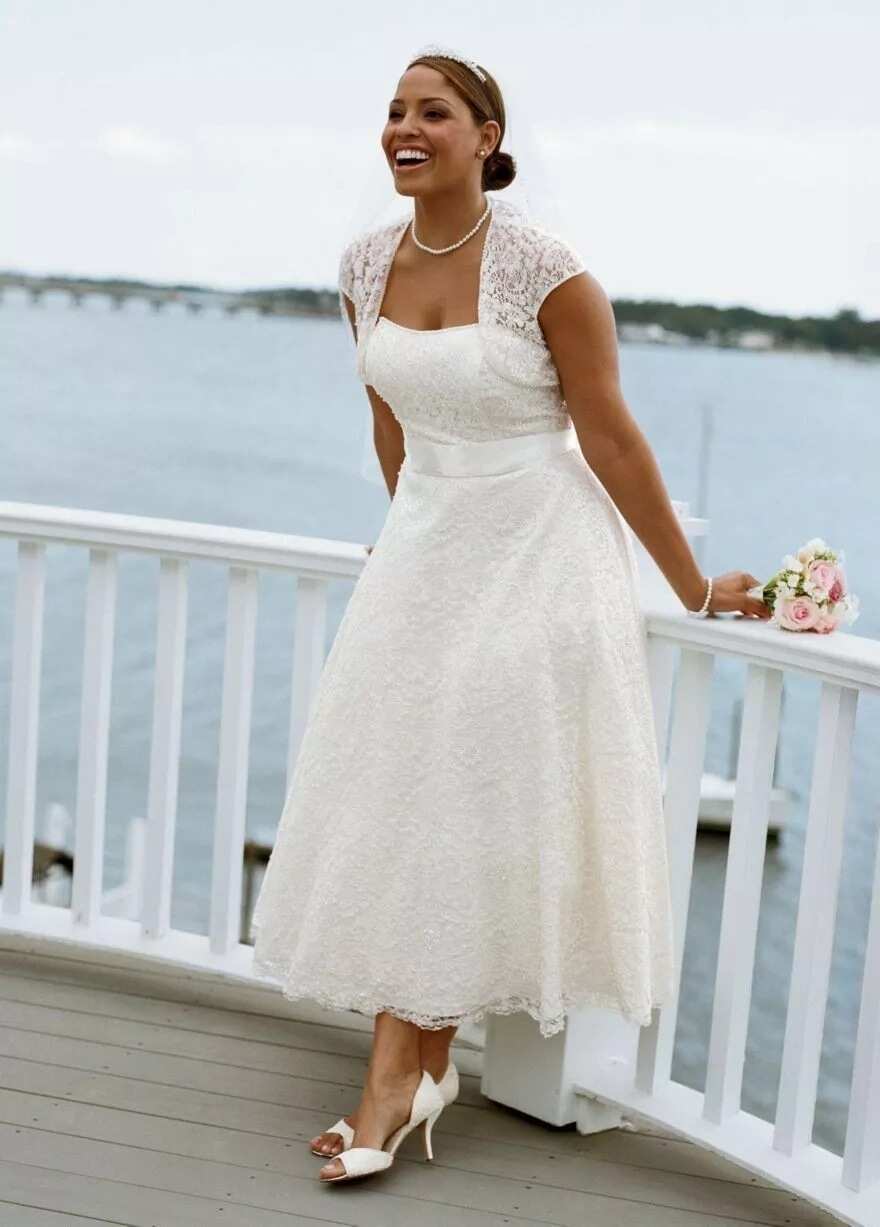 READ ALSO: Latest traditional marriage dresses in Nigeria
Here is another satin dress with lace on top, only here, the sleeves are detachable. You can either wear it as a strapless gown, or you can put the bolero on and cover your shoulders. Either way, it is going to look beautiful. The open neck calls for some lovely jewellery, so bust out your favourite necklaces and earrings and complete the look.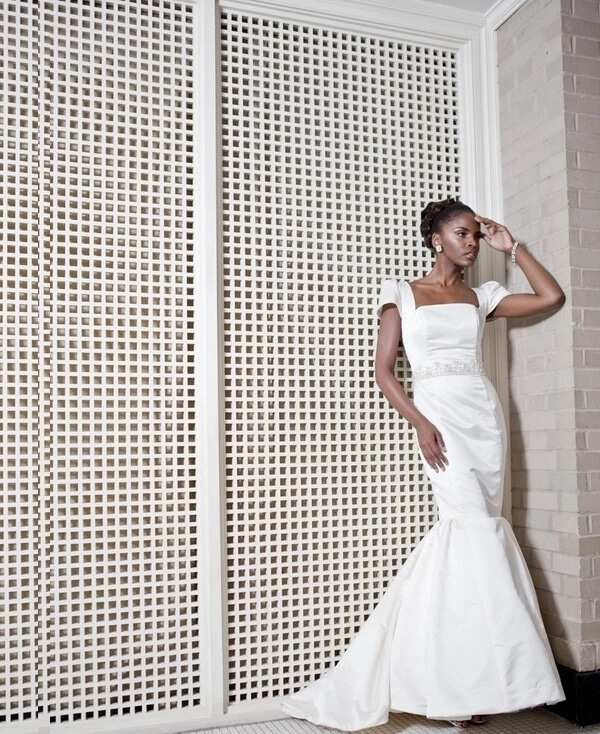 If lace is not exactly your thing and you just want plain satin, then consider something like this gown. It has an interesting neckline, a fitted silhouette and stunning mermaid tail with a little bit of a train. In order for it not to look too simple, the designer also added some intricate detailing to the waist that rounds up the look wonderfully.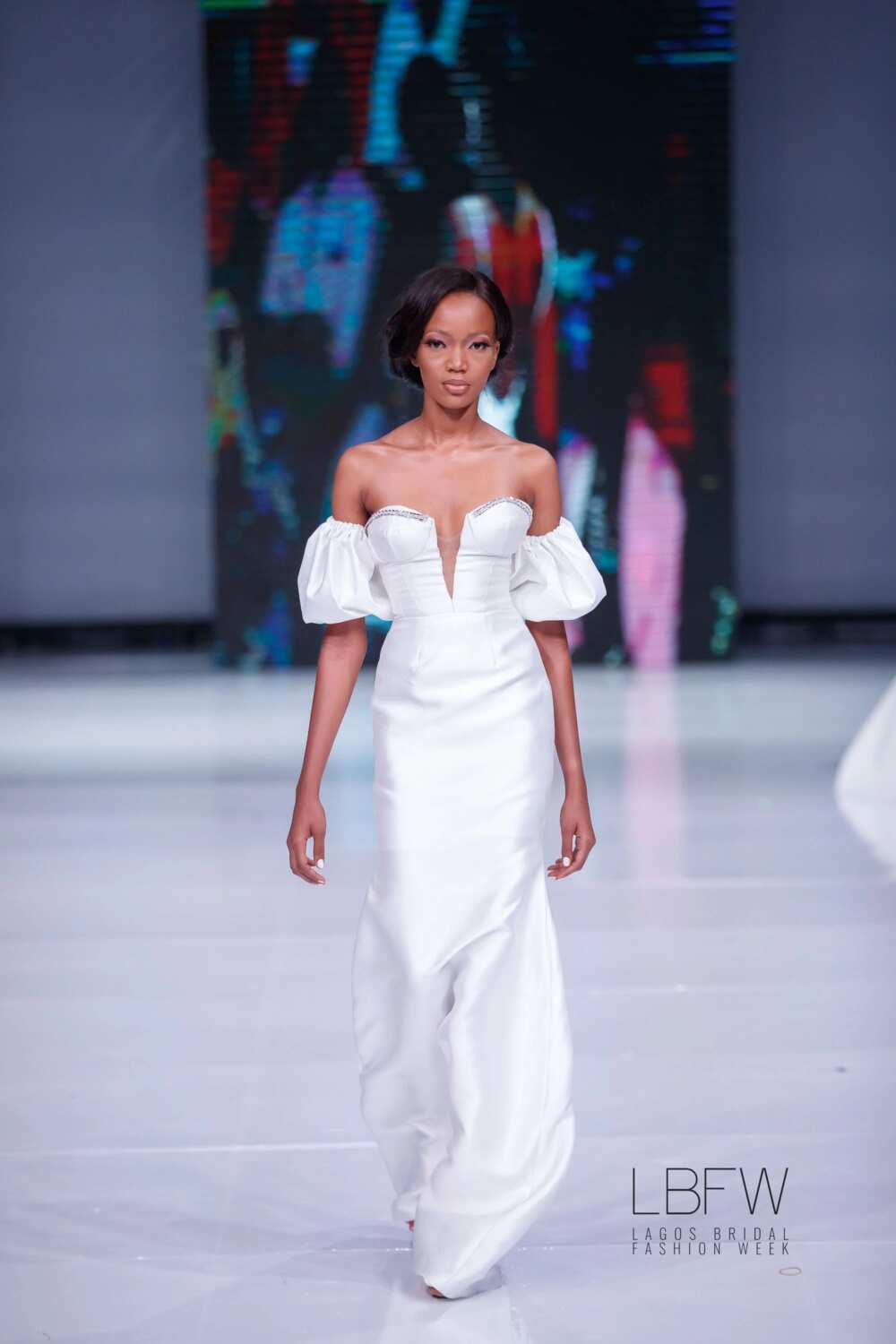 Lagos Bridal Fashion Week (LBFW) has given us this beauty of a dress that is unlike anything we have seen before. The puffed off-shoulder sleeves, the sweetheart neckline with a deep slash in the middle and the gown's overall shape — everything about this dress is perfect. So if you want to show off your shoulders and are not afraid of the bustier slipping, then certainly consider this option.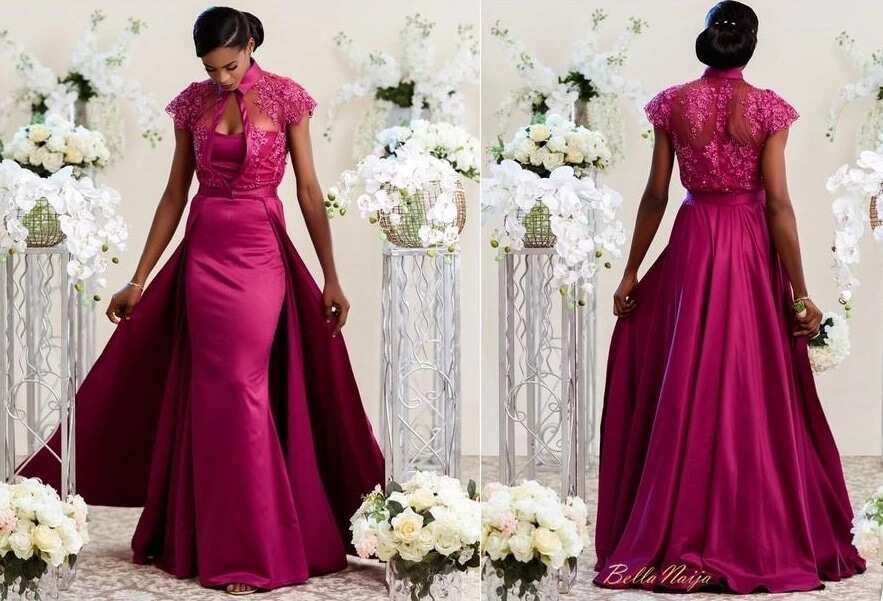 Who said that beautiful satin bridal gowns should only come in white? If you have always wanted to try some other colour for your wedding, this rich fuchsia would be perfect. The dress itself is also a work of art: lace top (which is most likely detachable), slim silhouette and a spectacular waist cape make it one of the most beautiful garments we have ever seen.
Satin wedding dresses with medium-length sleeves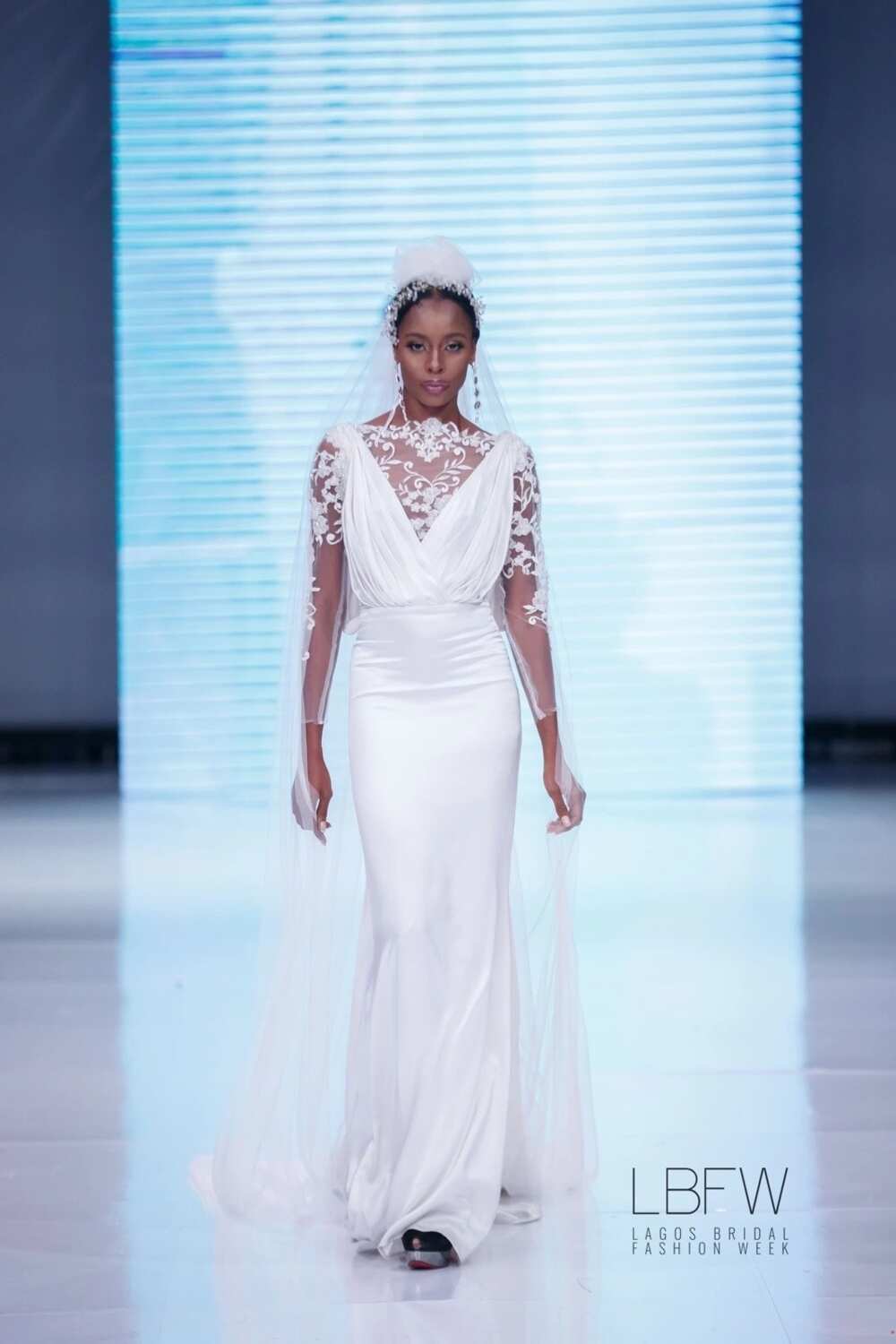 READ ALSO: African traditional wedding dress designs
Once again, LBFW delivered, because one look at this dress made us fall in love with it. It is unusual in a way that gowns with a neckline like this do not often feature sleeves, let alone translucent ones with lace detailing. It looks really great, and it is also practical, as with a plunging neckline like this one, some people might want to cover their chests. And what better way to do it than with a see-through insert with a floral pattern?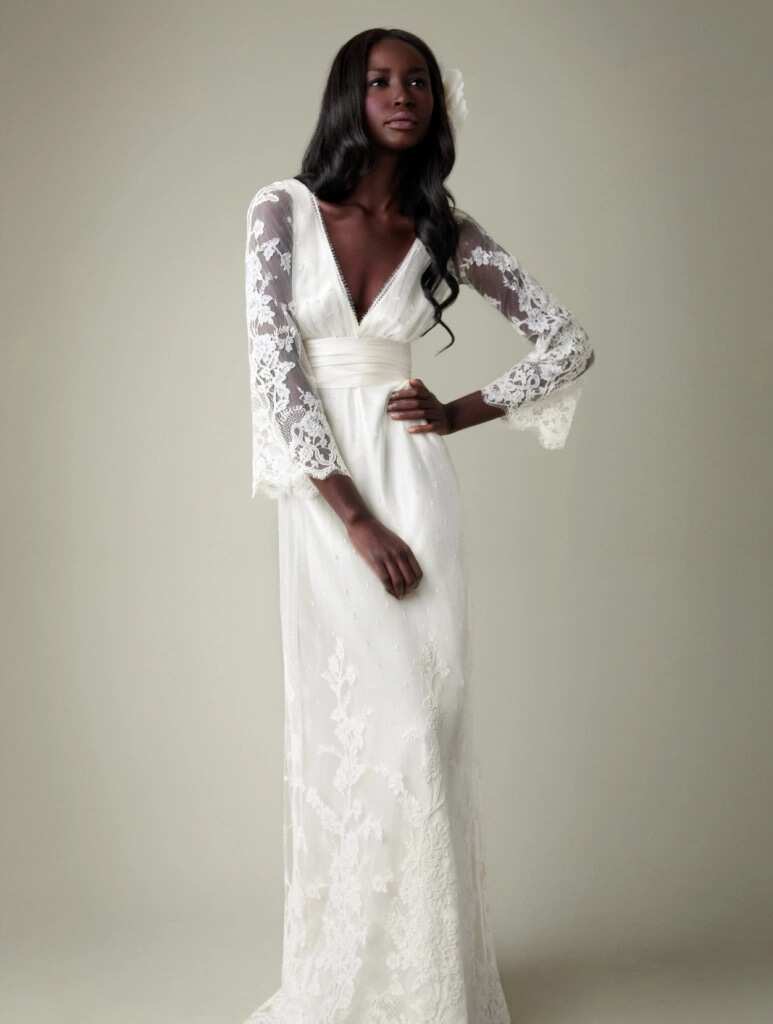 Now, if you love the idea with translucent sleeves on a dress like the one before but the insert in the chest region does not really float your boat, then you can try something like this as an alternative. This particular gown also has lace detailing all over it, so if you are a fan of that, it will be an added bonus. We absolutely love the shape of the sleeves, as they make the dress look light and dreamy.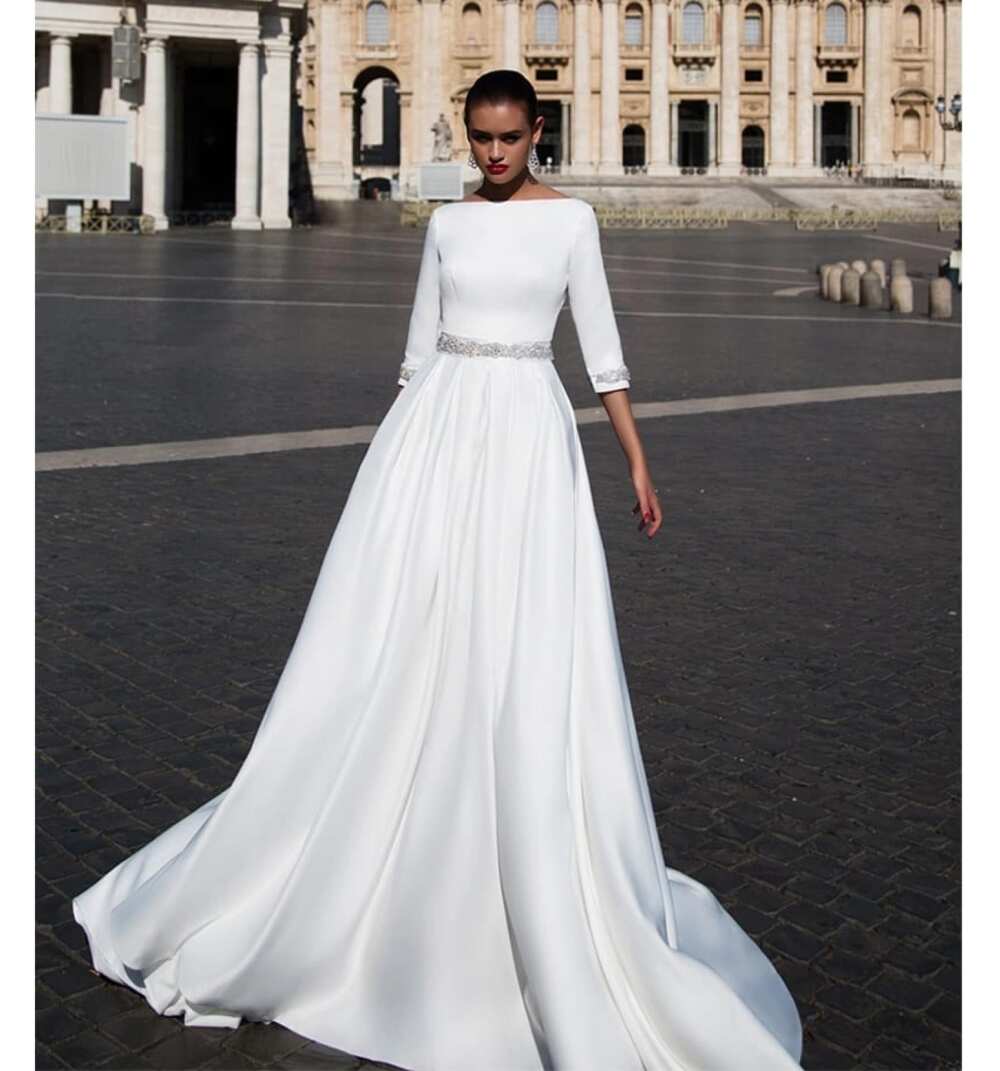 If you love long dresses, and we mean really long, ones that require a person to carry the skirts around, then you will probably like this gown. It looks fairly simple, nothing too out of the ordinary, and yet there is something special about it. The dress covers almost everything, so you will not have to worry about any slippage, and your parents will most likely appreciate it too :)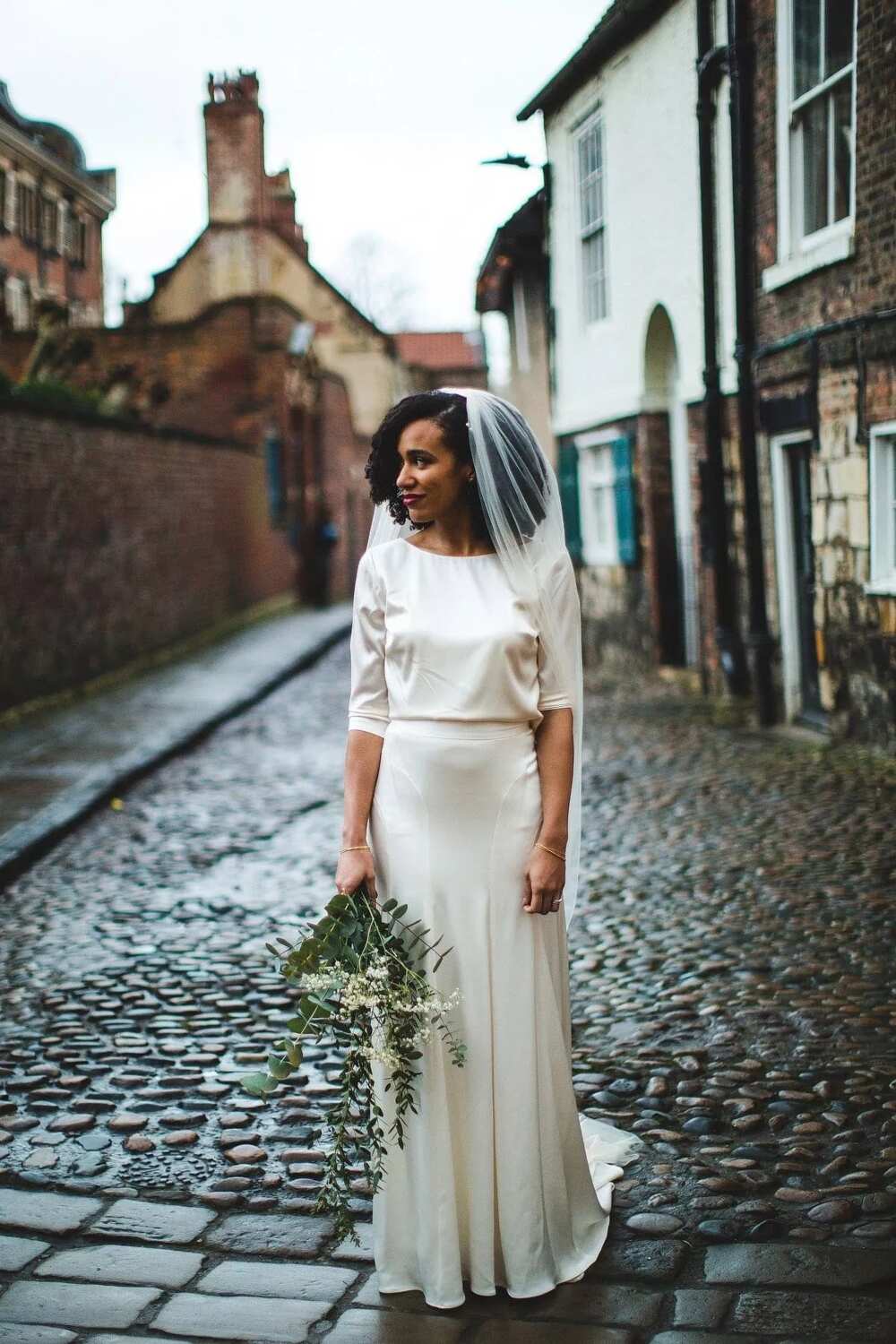 Sometimes you do not want to go overboard with your wedding outfit and want to keep things simple and pristine. In that case, you should be able to appreciate this beauty of a dress. It is really plain, but that is not a bad thing in this case. With a gown like this, everyone will be looking at you and remember you at your wedding day, and not your dress. Besides, it looks really comfortable without all those corsets and plunging necklines.
Satin bridal gowns with long sleeves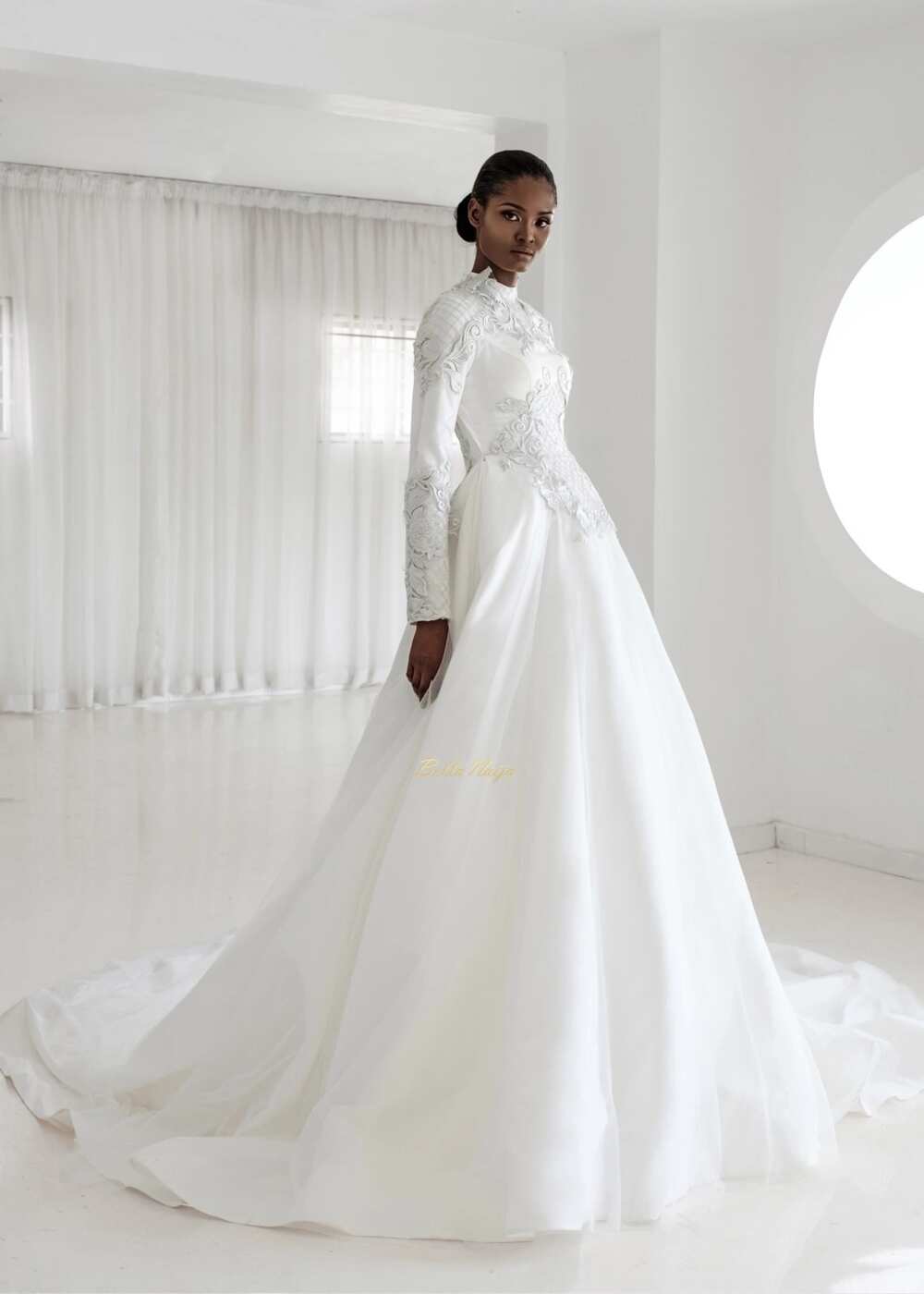 READ ALSO: Nigerian fashion dresses for weddings
Now we have finally gotten to the long-sleeved wedding gowns, and they are all absolutely breathtaking. For instance, our first pick is this gorgeous dress with a long train and silvery lace detailing. With this dress, nobody will be able to take their eyes off you.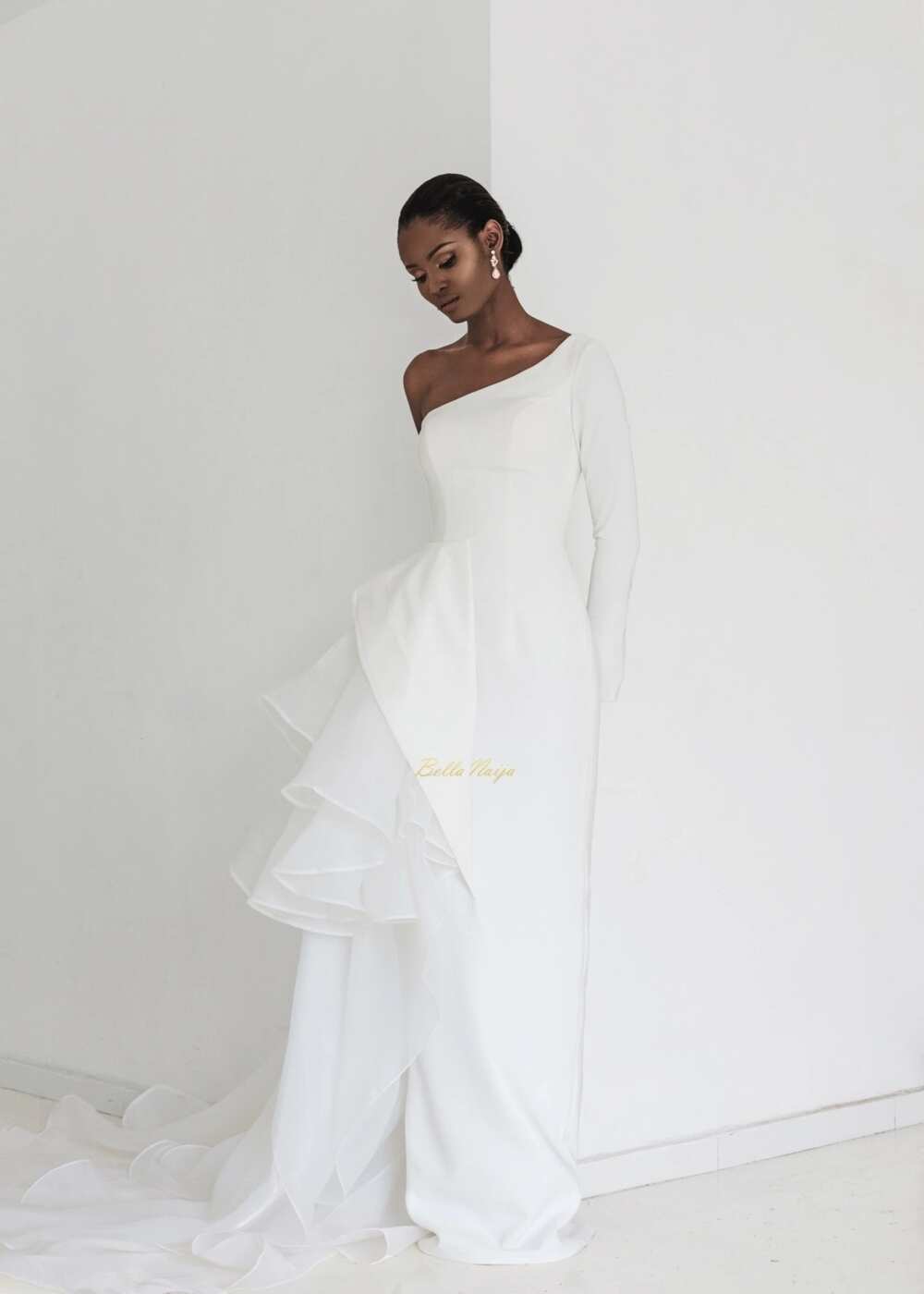 If you cannot decide whether you want sleeves or not, why not do both at the same time? :) You can go for a dress style like this one, with its one sleeve, asymmetric neckline and ruffles on the side. This gown looks really fascinating and memorable, and we think it will look amazing during your first dance with your partner.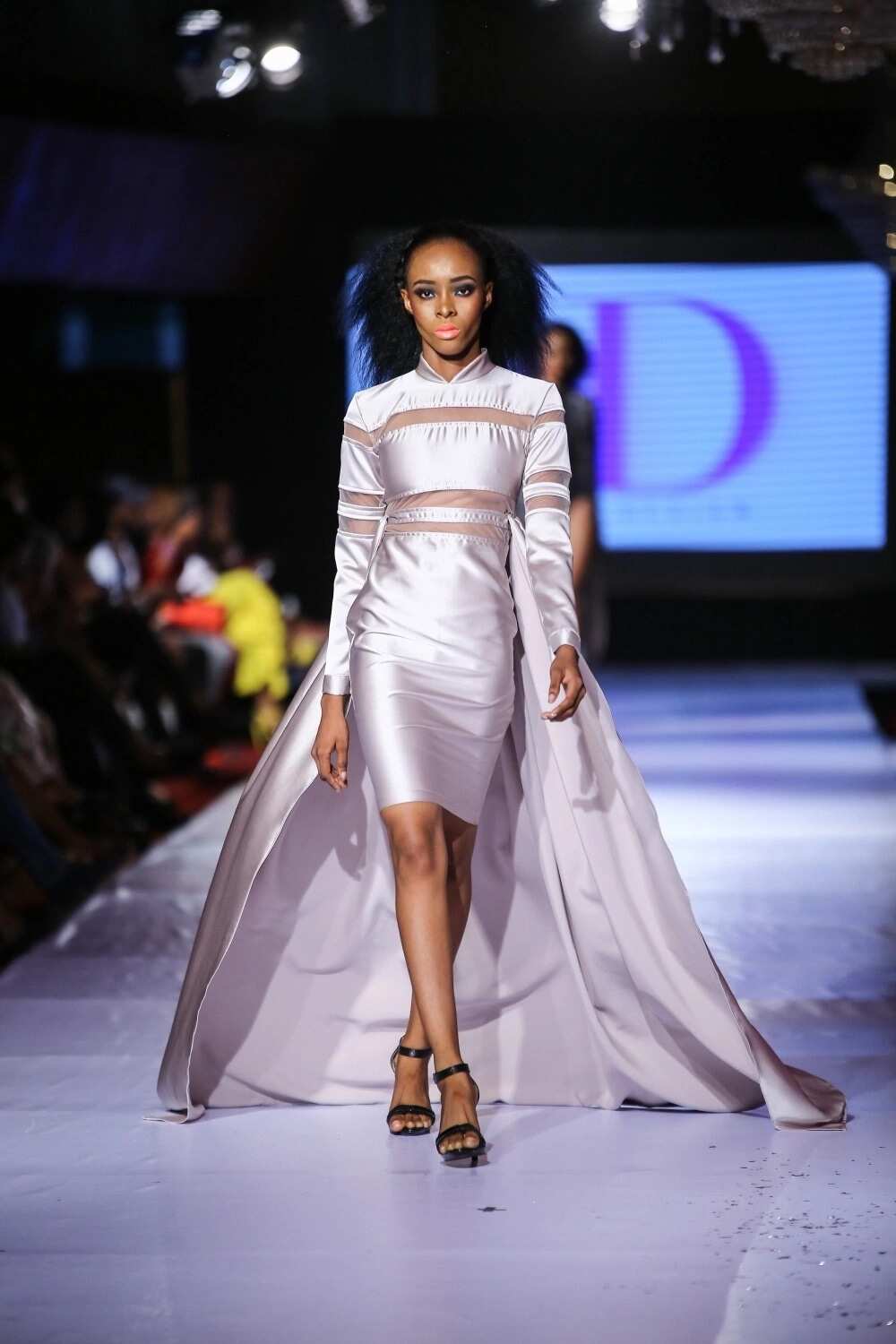 If you want your guests to remember you as a rebel, then this gown should do the trick. It is much shorter than most wedding dresses, its see-through elements are strategically placed to attract attention, and the long waist cape will sweep anyone off their feet (figuratively, of course, unless you want it to be literally).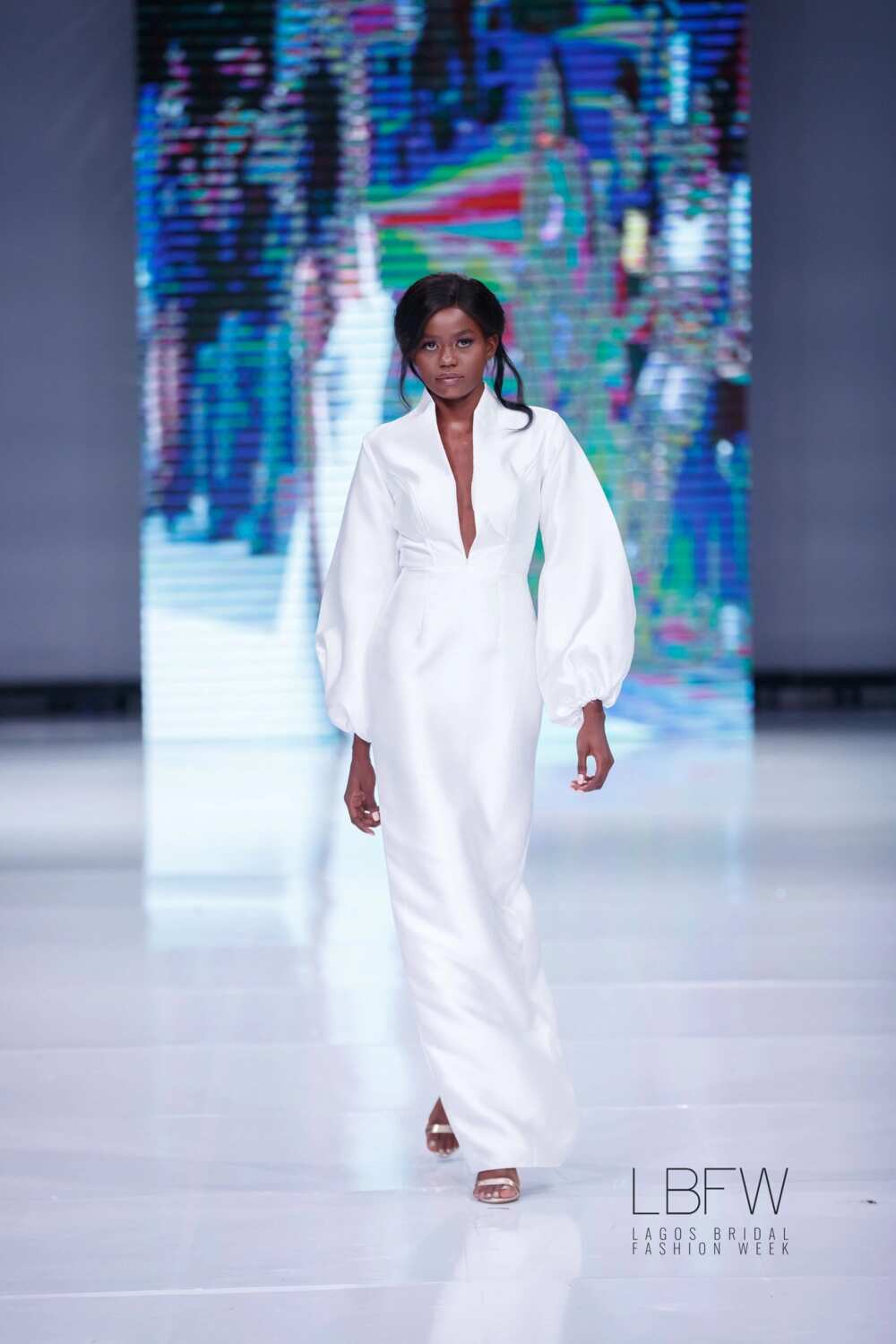 There are times when you want to look like a boss, and when else should you show who is in charge if not at your own wedding? This dress says 'I mean business', even though its neckline reaches the navel. It has a very interesting silhouette you will not see on many brides these days, so you know that you will stand out in this. And the sleeves, of course, are a particularly great element of this already amazing outfit.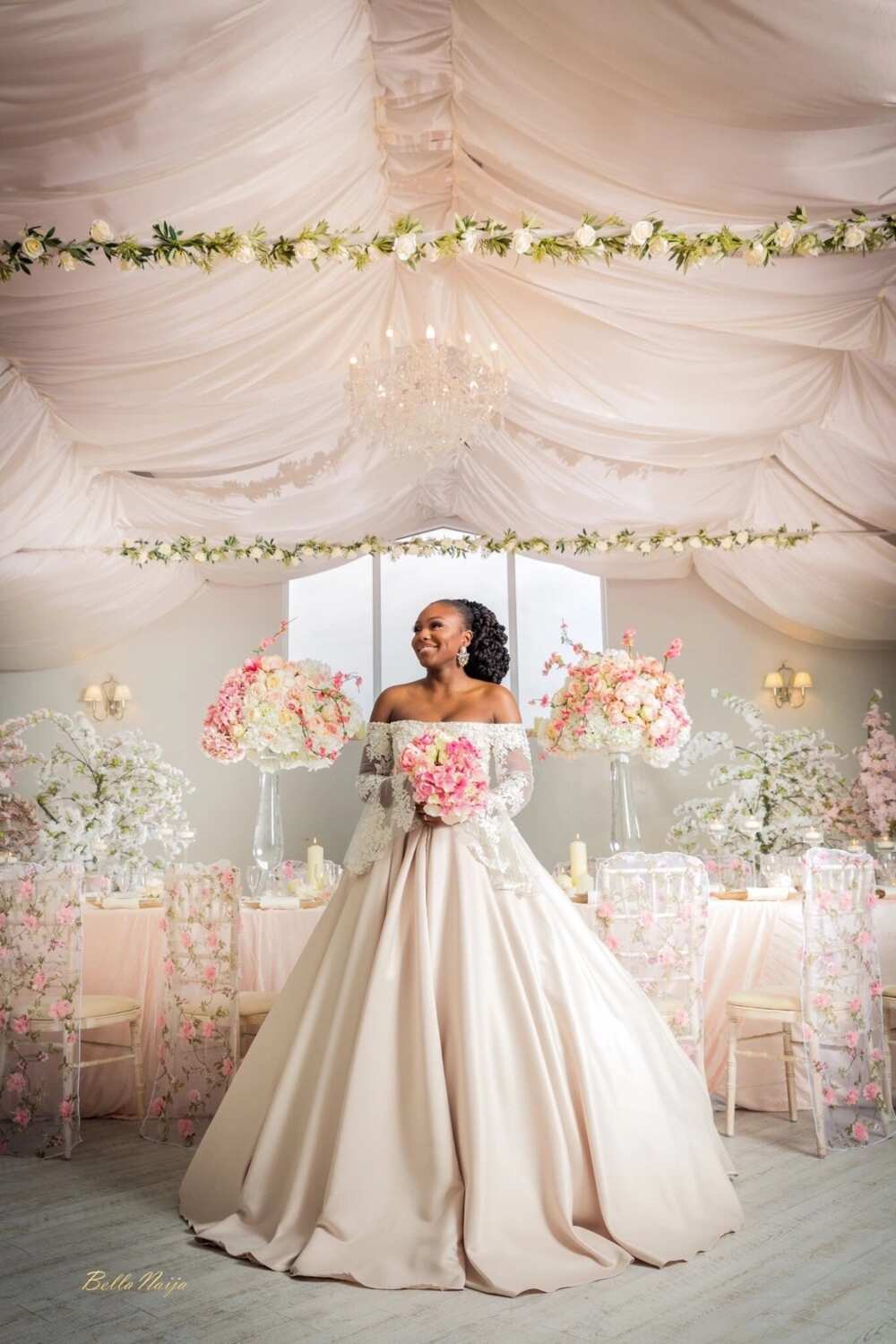 We want to end this article on this divine gown. To be honest, we do not think there is a dress more charming than this one. Everything in it — from the colour scheme to the delicate lace sleeves — is perfect. It can make an already gorgeous bride look even more alluring. So if you have the means to get something like this, go for it, as wedding pictures alone would be worth the price.
And those were all of our picks of satin wedding dresses. Which one did you like the most? Are you considering wearing satin to your wedding? Let us know in the comments!
READ ALSO: Wedding hairstyles in Nigeria: best styles for brides
Source: Legit.ng