Cristiano Ronaldo's sons Cristiano and Mateo
Even though Cristiano Ronaldo is a public figure that seemingly has nothing to hide, very little is known about his personal life, and especially his children. Today, we will tell you about Cristiano Ronaldo sons, at least what we do know about them. So check this out if you want to learn more about Cristiano Ronaldo family.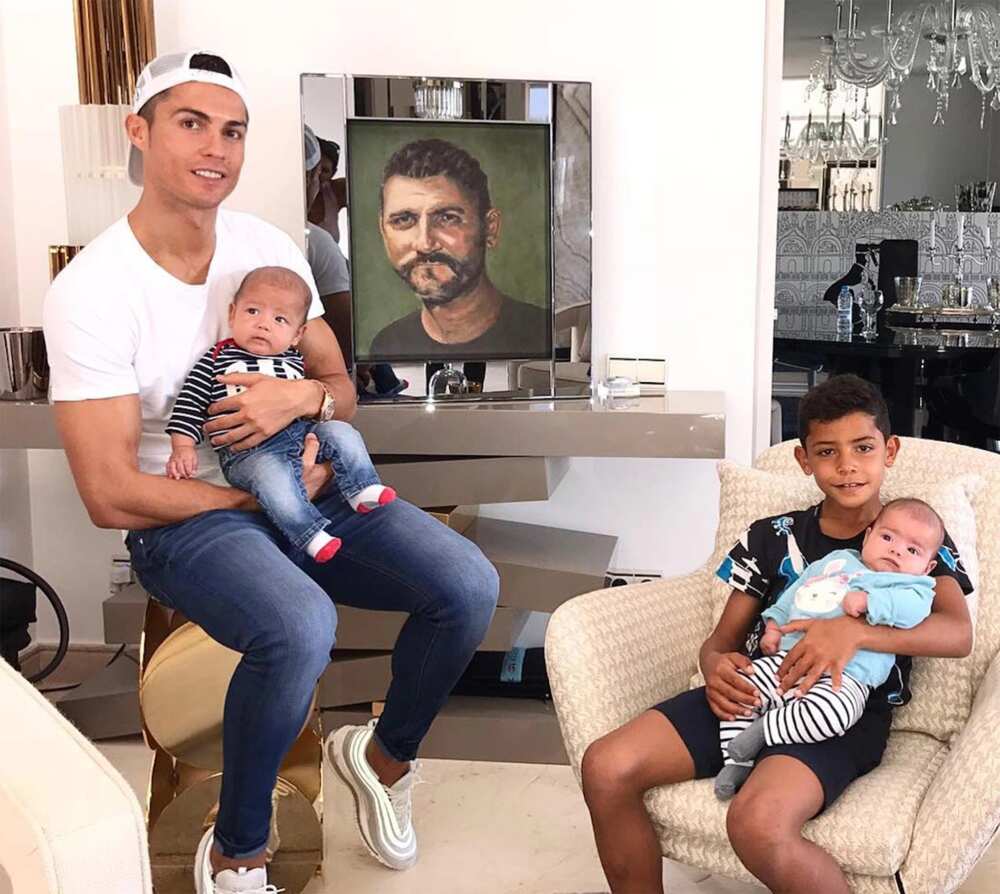 Cristiano Ronaldo children
As of right now, 33-year-old Cristiano Ronaldo is a proud father of four. He has two sons and two daughters. The eldest Ronaldo son is Cristiano Ronaldo Jr., born on June 17, 2010. Then, he had twins Mateo and Eva Maria, born on June 8, 2017.
Just recently, he and his girlfriend Georgina Rodrigues had a little baby girl Alana Martina, born on November 12, 2017. So in just one year, his family has grown two times in size! Now, even though we know of Ronaldo children, we do not know much about them.
Cristiano Ronaldo Jr.
Back in 2010, when Ronaldo was just 25, he went to his social media to announce that he had just become a father of a little baby boy. Cristiano Ronaldo Junior was born in a private hospital near San Diego, California, United States to an unknown woman. To this day, her identity is being kept secret, as she wanted to remain confidential.
People have been speculating about that, some arguing that it was just a woman in Ronaldo's life nobody knew about, while others claim that it was a surrogate. According to the rumours, Ronaldo had to pay £10 million to gain custody of the child. That said, nobody knows for sure, but the boy was taken by Ronaldo Sr.'s mother Maria Dolores to Spain right away, and he spends most of the time with her these days.
READ ALSO: Lionel Messi wife story: is she his first love?
Despite all the questions and rumours, Cristiano has not revealed the identity of this woman. His sister once said that the mother of Cristiano Jr. was of Mexican origin, but that is by far the most information available about her.
On the Jonathan Ross Show, the footballer said that he would not reveal the truth to the public. However, he believes that his son has a right to know the truth when he is older, so they will probably have 'the talk' in the following years.
Now, the boy is only eight years old, so there is nothing newsworthy he could have done, but we do know that he is following in his father's footsteps. Cristianinho (meaning 'little Cristiano') has expressed interest in football, and his father said that he was the best goal scorer at his school. Who knows, maybe in 10 years Cristiano Ronaldo Jr. is going to replace Cristiano Ronaldo Sr. on the field.
In addition to that, he is taking after his father in terms of being a model. Both of them appeared in the ad campaign for the CR7 Denim Junior collection (CR7 is Cristiano Ronaldo's own brand).
Cristiano Ronaldo son Mateo
READ ALSO: Cristiano Ronaldo children - Football star posts first photo of his twins
The story of how Cristiano's twins Mateo and Eva Maria were born is not any less mysterious. By the time they were born in June 2017, Ronaldo had already broken up with his long-time girlfriend Irina Shayk and did not appear to be in any kind of relationship.
Nevertheless, while he was playing in the Confederation Cup, his babies were born at the same hospital near San Diego as their older brother was. This time, the theory that he used a surrogate mother was confirmed, but her identity was not revealed to the public.
If you have ever googled 'Cristiano Ronaldo children', you might have noticed that some of them have the last name dos Santos or dos Santos Aveiro. Why is that? As it turns out, 'Ronaldo' is not actually a surname, but a middle name. Cristiano's full name is Cristiano Ronaldo dos Santos Aveiro, dos Santos being his mother's last name and Aveiro being his father's. So that is why you might see his children with a last name you do not really recognise.
Both Mateo and his sister Eva Maria are still too little to have done anything that would be in the news, as they have just celebrated their first birthday. Ronaldo's youngest child is not even a year old yet, so we will talk about them when they are older.
And that is all we know about Cristiano Ronaldo's sons. We know it is not much, but their father prefers to keep his private life private. If he decides to share more information about them, we will make sure to let you know.
READ ALSO: Cristiano Ronaldo private jet: does he really have it?
Source: Legit.ng