The main headlines of the mainstream Nigerian newspapers for Thursday, June 28, are focused on outrage and protest in Plateau state after gunmen suspected to be herdsmen stormed villages to kill over 200 people.
Vanguard reports that violent protests, yesterday, rocked Plateau state Government House, Jos, following last weekend's killing of over one hundred persons in three local government areas of the state.
The otherwise peaceful protests turned violent when no government official came out of their offices to address the protesters.
The protests came on a day the Middle Belt Forum called on communities in the region to arise and defend themselves against unabated pogrom being launched at them by herdsmen.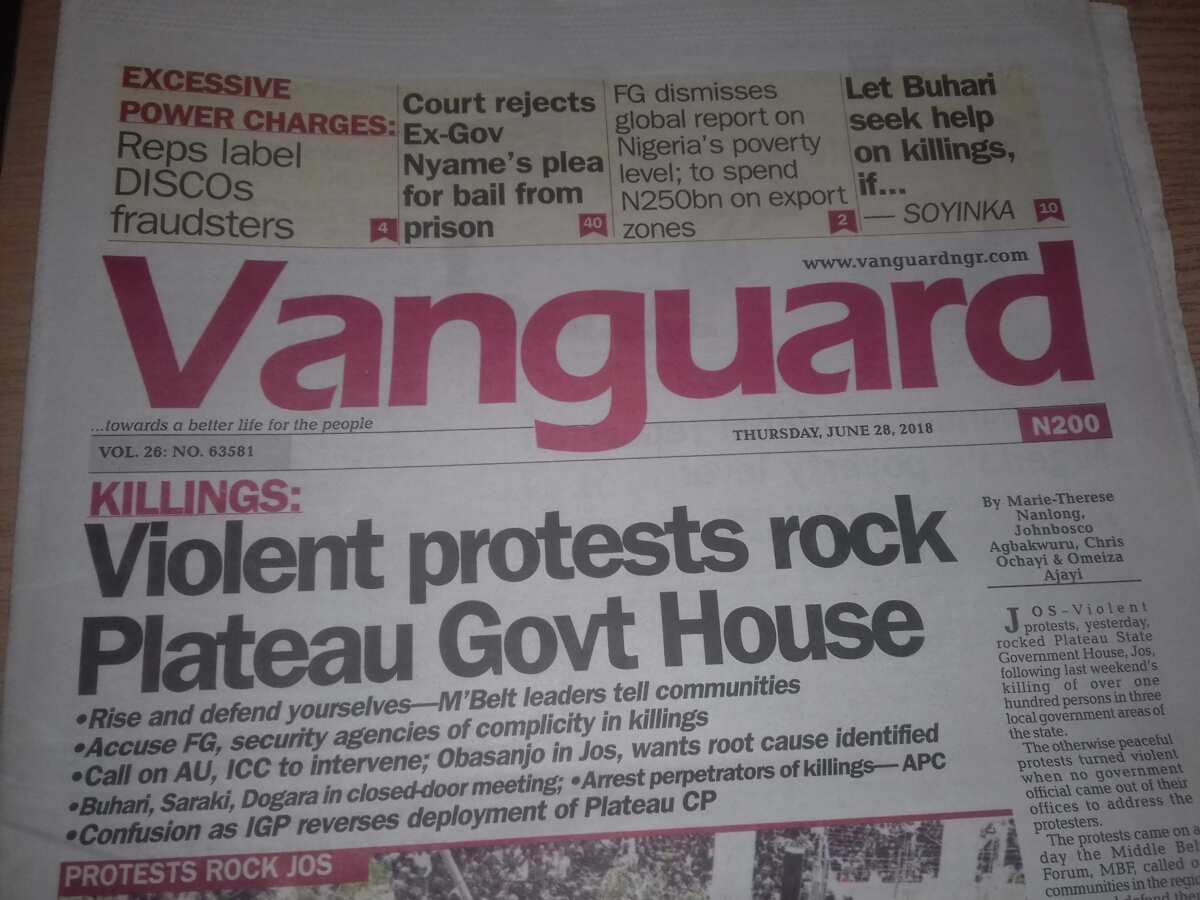 The Punch reports that the protesters, who had converged on the Old Airport Junction and marched to the Government House, were initially repelled from getting access to the premises. Some of them climbed the fence to gain access to the Government House, forcing security agents at the gate to eventually open it.
One of the protesters, Mafeng Gyendeng, expressed displeasure over the failure of the Plateau state government to receive them.
The Plateau state director of Peace Building Agency, Joseph Lengmang, who was detailed to address the protesters narrowly escaped being lynched as he hurriedly scampered for safety. But some of the protesters chased him and the fleeing government officials, trying to stop them from leaving the premises.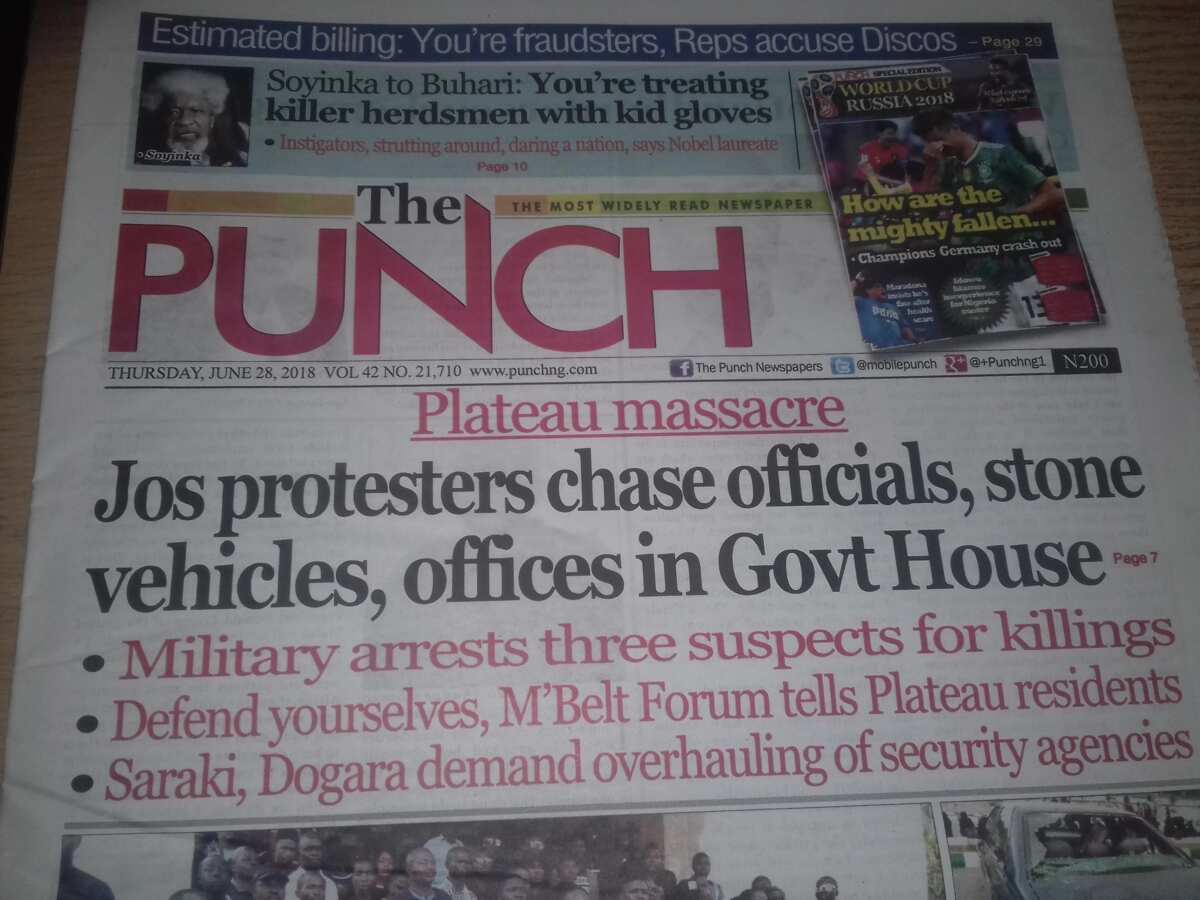 READ ALSO: Jos killing: Obasanjo visits Plateau, recalls what happened during his administration
The Nation reports that the House of Representatives speaker, Yakubu Dogara, said President Muhammadu Buhari is to rejig the country's security system.
Dogara said President Buhari had already taken enough steps to arrest the deteriorating security situation in parts of the country, adding that he was open to adopting the National Assembly's measures aimed at addressing the worrisome security situation.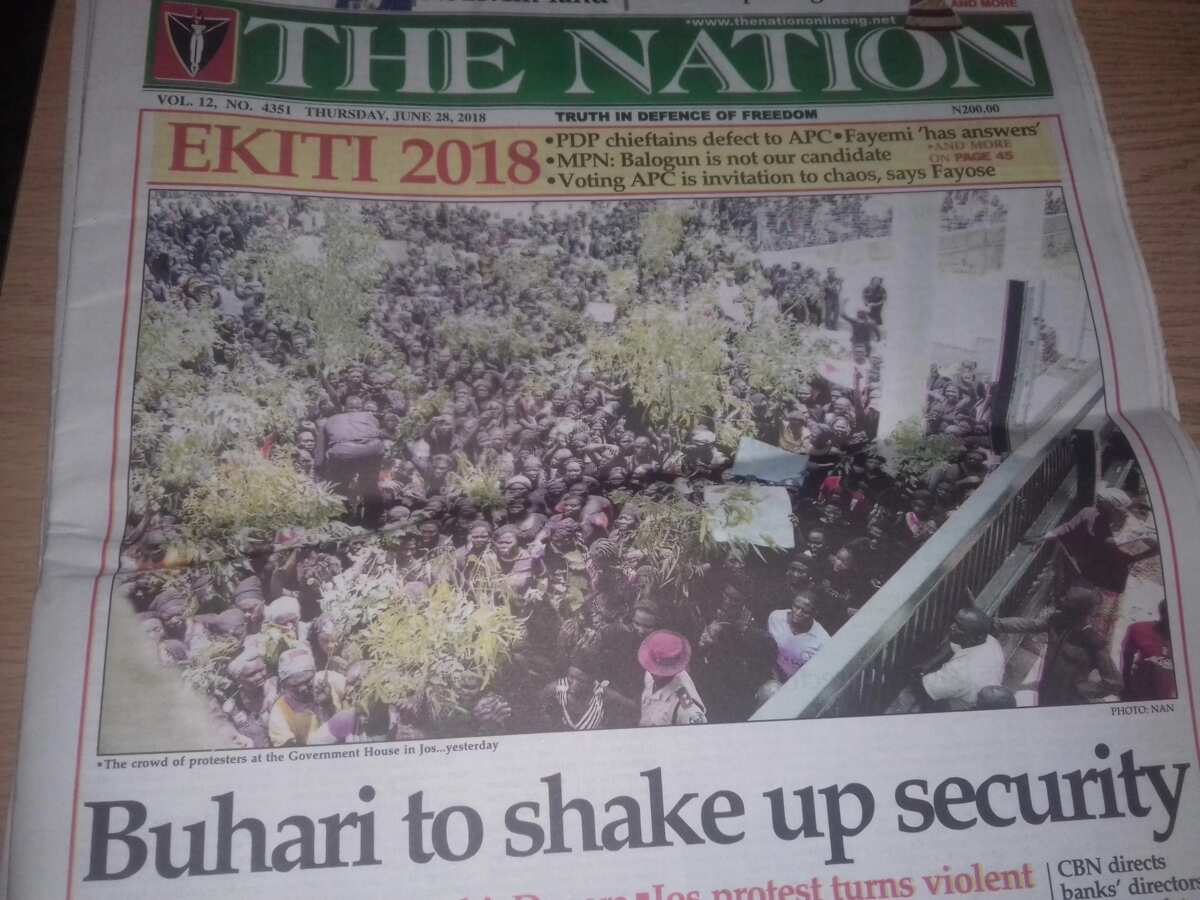 PAY ATTENTION: Read the news on Nigeria's #1 news app
This Day reports that both Dogara and Senate president Bukola Saraki met with Buhari Wednesday before the commencement of the weekly Federal Executive Council (FEC) meeting in the State House over the Plateau state tragedy.
State governors also met Wednesday in Abuja over the situation in Plateau state and decided to send a delegation to the state on Friday to condole with the victims of the strife.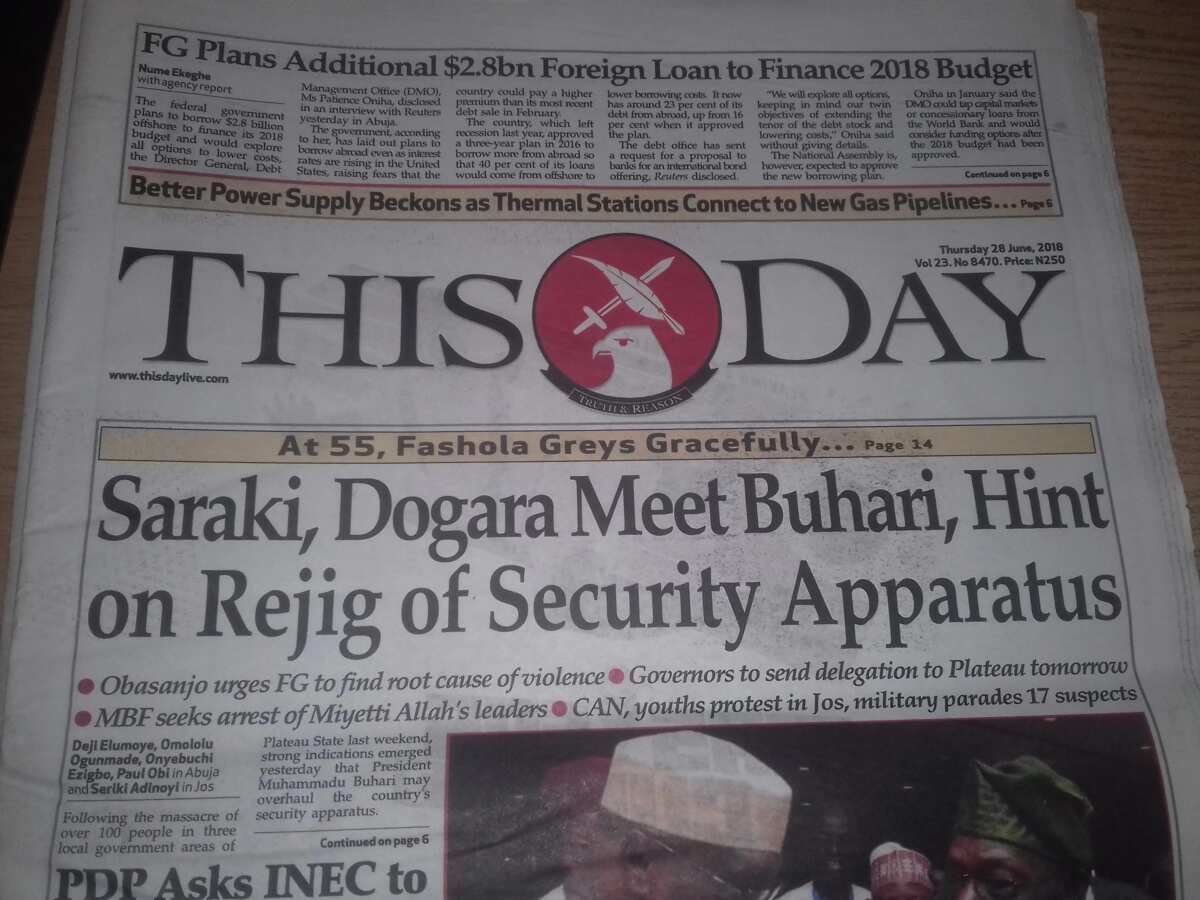 The Guardian reports that Nobel laureate, Prof. Wole Soyinka, has reacted to President Muhammadu Buhari complaint that 'it is unjust for the public to accuse him of being silent on the killer herdsmen'.
In a statement he issued yesterday, titled, 'On Demand: A Language Of Non-Capitulation, Non-Appeasement,' Soyinka said Buhari had yet to speak in the language that these murdering herdsmen understand – simply, "that forceful seizure of land will not be tolerated in any part of a federation under his governance. That the temporary acquisition of weapons of mass elimination by any bunch of psychopaths and anachronistic feudal mentality will not translate into subjugation of a people and a savaging of their communities. That any such gains are illusory and temporary and will be reversed."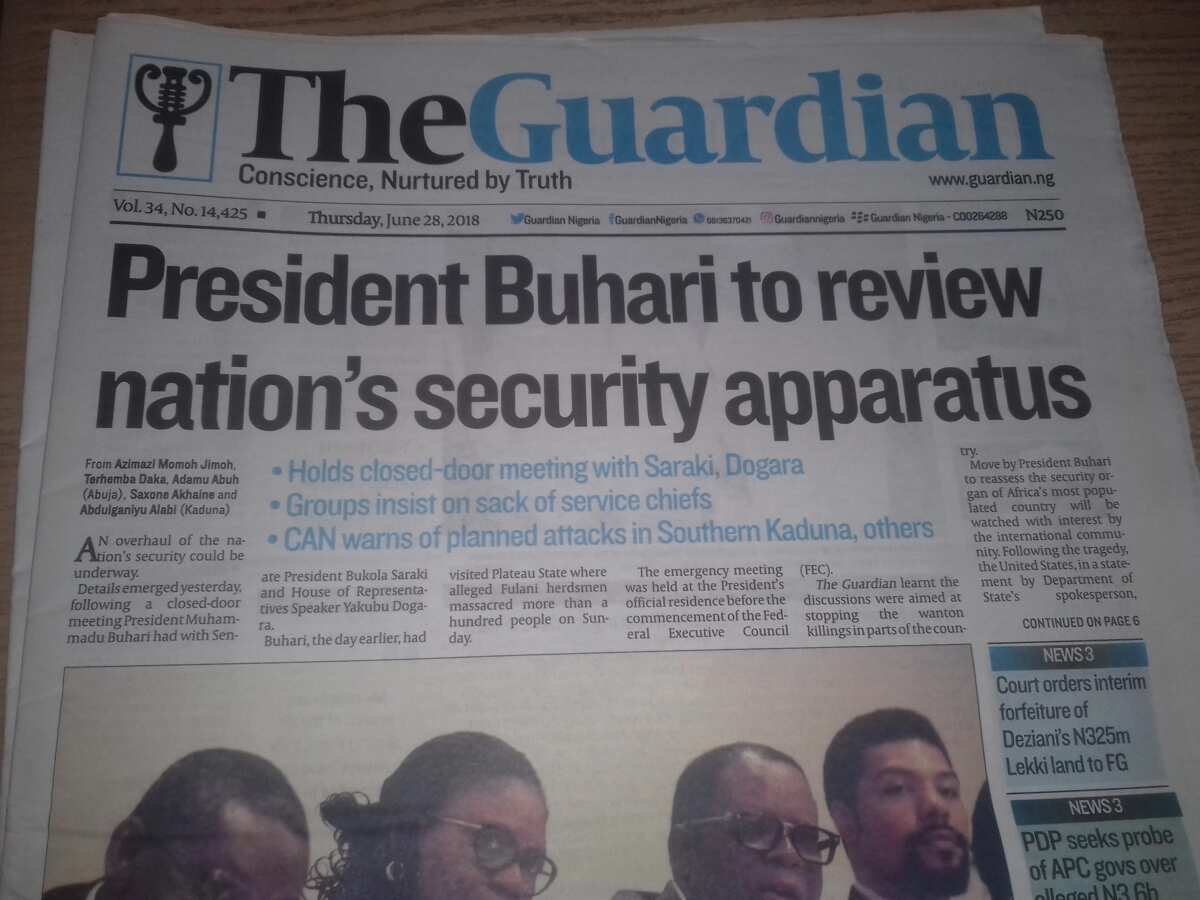 Why President Buhari cannot control killings in Nigeria - Nigerians cry out on Legit.ng TV
Source: Legit.ng