Retro: Onyeka Onwenu, music and life
In the early 1980's many Nigerian musician through their music gave voice to the people by steadily voicing out the ills in the society through their afropolitan vibes.
One of Nigerian singer who contributed immensely to the Nigerian music industry in the 80's and was a voice for the people was Onyeka Onwenu.
Born on May 17, 1952, Onyeka is the youngest daughter of late Nigerian politician D.K Onwenu, who died in an autocrash when she was four years old.
Raised and cratered for by her mother, she studied abroad, bagging a Bachelor's degree in International Relations and Communication at the Wellesley College of Massachusetts, USA, and a master's degree in Media Studies from The New School for Social Research in New York.
READ ALSO: The rise and fall of the popular Igbo music group Oriental Brothers
On her return to the country in 1980, she joined NTA as a National Youth Service Corp member and quickly raised though her diligent and fearless journalism which led to her presentation of an internationally acclaimed BBC/NTA documentary in the year 1984 titled Nigeria, A Squandering of Riches which exposed the level of corruption eating into the fabric of the Nigerian society.
Expanding her career, Onyeka launched her musical career in 1981 and released her first album in 1982 and her subsequent albums which were released between 1983 to 1988 which were produced by Sunny Okosun.
Get hottest gist on Naija uncensored Facebook Group
Her music was a great hit, Onyeka stood out as the only musician to have crossed Pop with Juju music and Highlife, combining English and local languages to deliver lovely music. Her songs had religious tones, which tackled social issues as well as advocating for unity and cultural cohabitation.
PAY ATTENTION: Get best news on Nigeria's #1 news app
Diving deeper into the entertainment industry she moved into acting featuring in movies such as Conspiracy (1999), Different World (2006), and most recently, Half of a Yellow Sun.
Onyeka Onwenu joined politics belonging to the People's Democratic Party. She contested for the post of chairman of her local government in Imo state on two occasions but lost both times.
She, however, got appointed by the governor of the state, as the chairperson of the Imo state Council for Arts and Culture. She is a former executive director/chief executive officer of the National Centre for Women Development, having been appointed by former president Goodluck Jonathan.
The elegant stallion as she is popularly called has two sons Tijani and Abraham Ogunlende.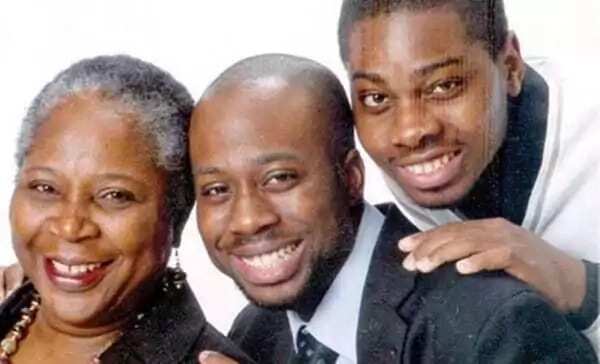 Buhari should apologise at Fela's grave - on Legit.ng TV
Source: Legit.ng