- The local currency maintains the same rate against Dollar and Euro at parallel market
- The local currency, however, appreciated against Pound
- The Naira closed at N362 to a Dollar, N420 to Euro while the Pound traded at N484
The Nigerian Naira on Monday, June 25, retained its rate at the parallel market against Dollar.
According to Legit.ng findings, the local currency maintained the same rates of N362 against Dollar, N420 to Euro and appreciated against Pound to N484.
The naira has remained stable across the foreign exchange market due to the intervention of the CBN.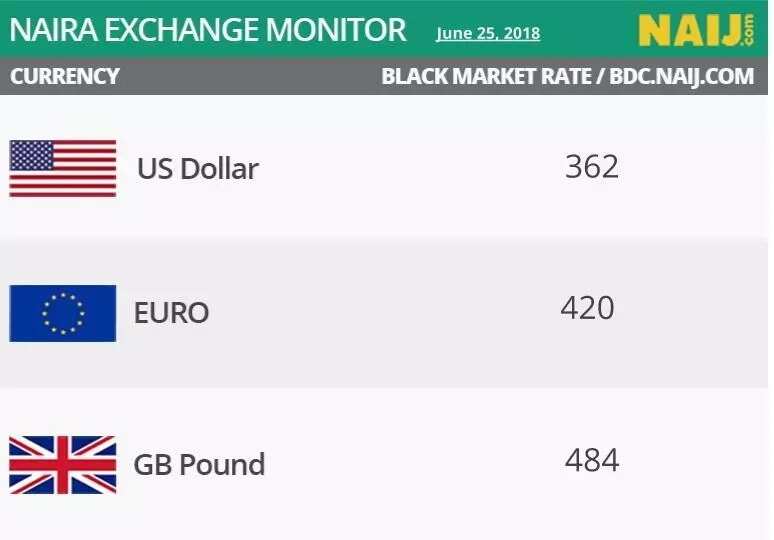 The Naira on Friday, June 22, recorded a marginal gain against the dollar at the Parallel market in Lagos, exchanging at N359.5 to the dollar, the News Agency of Nigeria (NAN) reports.
The Nigerian currency had traded flat against the dollar for 48 hours at N360 to the dollar across major market segments.
The Pound Sterling and the Euro closed at N485 and N424, respectively.
At the Bureau De Change (BDC) window, the naira closed at N360 to the dollar, while the Pound Sterling and the Euro exchanged at N483 and N424, respectively.
Trading at the investors' window saw the naira close at N361 to the dollar, with a trading turnover of N312.05 million. The naira closed at N305.8 to the dollar at the CBN window.
Can N1 ever become $1 again at Forex Market? on Legit.ng TV.