Nigeria's ruling party, the All Progressives Congress (APC), is currently holding its national convention at the popular Eagles Square, Abuja today, Saturday, June 23.
The convention which was delayed due to the slight rainfall witnessed in the Federal Capital Territory earlier today has since kicked-off.
The event is however not devoid of drama as it is the norm with any gathering of Nigerian politicians.
Earlier, some delegates from Imo and Delta states engaged themselves in a fist fight, throwing brooms at each other.
PAY ATTENTION: Install our latest app for Android and read best news on Nigeria's #1 news app
Outside the venue, a group of party members from Zamfara state are protesting over their inability to enter the convention venue on the insistence of security agencies.
Addressing journalists outside the Eagles Square, Muhammad Bello Bakyasuwa, state publicity secretary of the Senator Kabir Garba Marafa faction of the party in the state, insisted that they are the legitimate APC faction in Zamfara.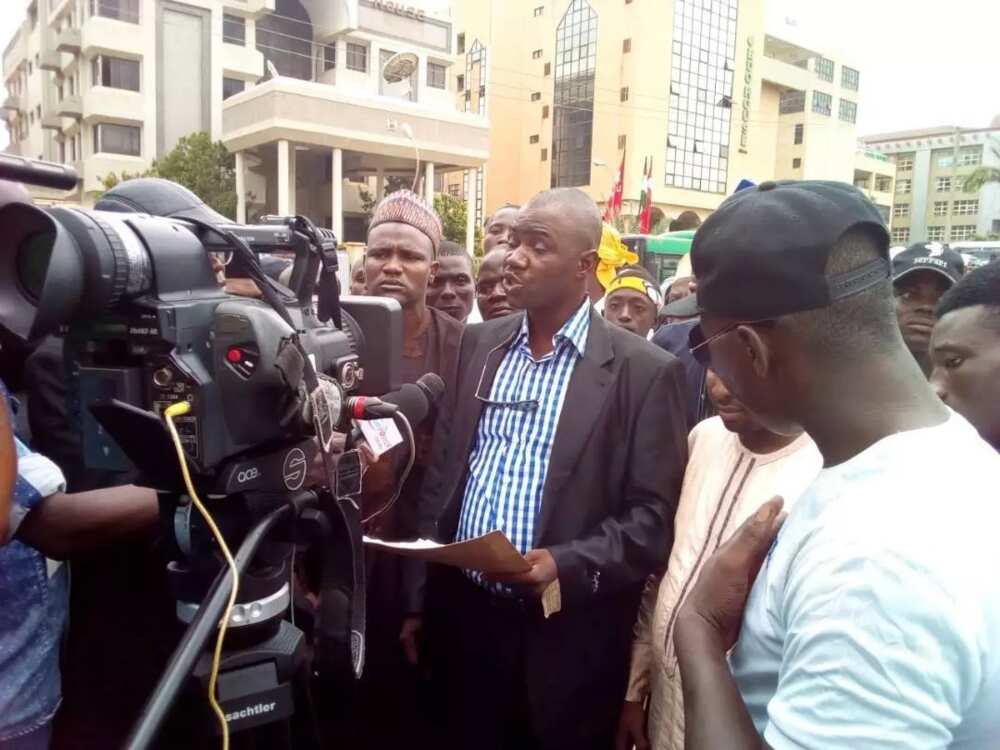 He said: "The APC faction under the state chairman, Alhaji Surajo Garba Mai Katako Gusau. We were elected in the parallel APC state congresses of 5th, 12th and 19th May 2018 in Zamfara state.
"We are here in Abuja to express our happiness, support and solidarity with our party over the national convention holding today to produce new national leaders for us.
"So, we are in Abuja to witness this convention as Zamfara state national convention delegates and supporters of Senator Kabir Garba Marafa, CON, for governor of Zamfara state in 2019 and also supporters of President Muhammed Buhari for second term in 2019.
"We are here with all our delegates and over one thousand supporters but we have been denied entry into the Eagle Square. So, we hereby appeal to our new national party leaders to be fair and recognize our faction as the legitimate APC leadership in Zamfare state.
"Our faction fulfilled all the requirements or contesting party positions. While the Abdullaziz Yari faction didn't fulfil the requirements. The Governor Yari faction didn't pay for the forms for contesting elections to party positions but our own faction fulfilled all the conditions including the payment for all the nomination forms.
"As you can see we are the majority but the security operatives stopped us from entering into the venue of the convention. Right now we don't know where our chairman is. We will take appropriate action to seek redress. We are duly and legitimate elected executives of APC in Zamfara state. They stopped us because some of our supporters were wearing T- shirts with the photograph of our leader, Senator Kabir Garba Marafa."
READ ALSO: Benue state government denies Ortom caused Suswam's arrest by DSS
Bakyasuwa vowed that their faction will pursue all legitimate means of ensuring that justice and fairness is done "by giving us our due recognition as the legislate APC leadership in Zamfara state."
You can follow the live updates of the convention on Legit.ng here.
TODAY'S GIST: Democracy Day! What is There to Celebrate? - Nigerians Lament | Legit.ng TV