- Many of the internally displaced persons were at the Unity Fountain in Abuja on Friday, June 22
- The IDPs were set to return to their homes in the northeastern part of Nigeria
- They were also at the Unity fountain to show appreciation to President Buhari and the Nigerian Army for ridding the ancestral homes of Boko Haram terrorists
Many internally displaced persons have stormed the Unity Fountain in Abuja in preparation for their return to various states in the northeastern part of Nigeria
The IDPs who were displaced as a result of Boko Haram terrorists activities, Legit.ng gathered, are set to return to their ancestral homes from Kuchingoro in Abuja and other environs within the Federal Capital Territory.
The individuals who have been living in Abuja for years also were at the Unity Fountain to appreciate President Muhammadu Buhari and the Nigerian Army for their effort in fighting Boko Haram in the northeast.
One of the IDPs, Maryam Nuhu, who spoke at the rally urged relevant authorities to fish out those who have been sponsoring the Boko Haram sect that had made the country volatile.
Nuhu appreciating the Chief of Army Staff (COAS) Lieutenant. General Tukur Buratai said his tenacity in the counter-terrorism fight made their return possible.
READ ALSO: BREAKING: DSS arrests Abaribe in Abuja, whisk away PDP senator to unknown destination
She said: "For years we were displaced persons in our own country, at the Kuchigoro IDPs camp and other annexes in Abuja and neighboring states.
"The measure of comfort and care provided us almost made us to resign to calling these camps home. But even if we had been quartered in the most glamourous of the hotels in the nation's capital, the affinity for our ancestral lands would have still pulled us to return home as it did now.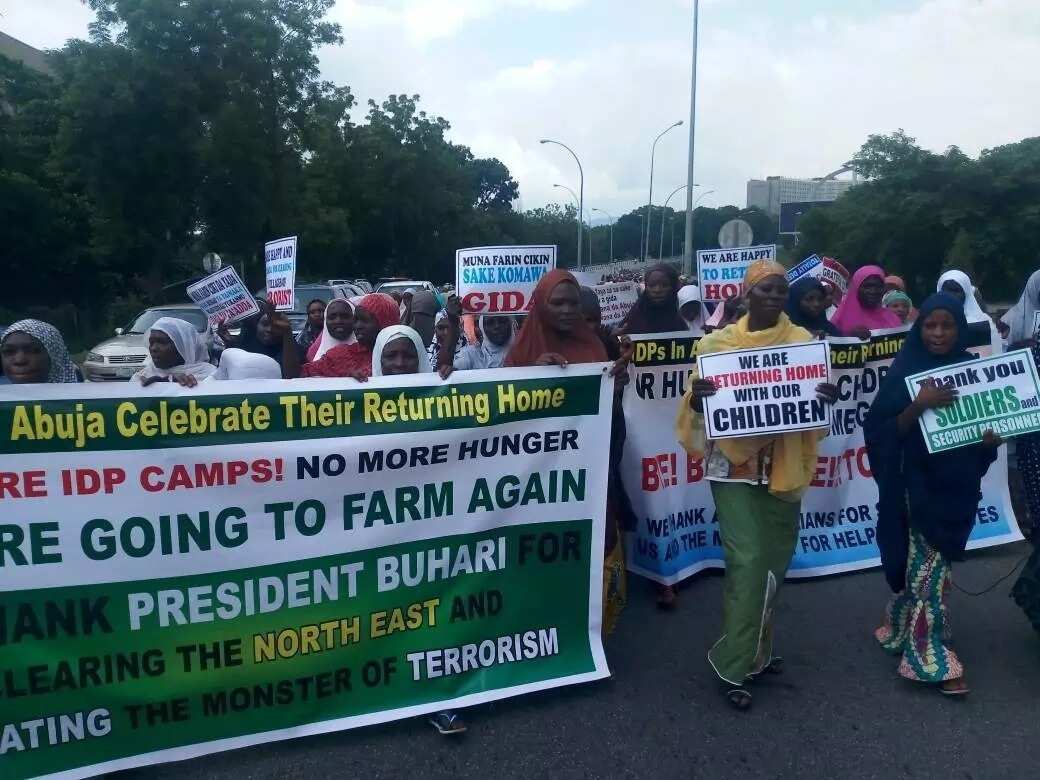 "The only thing that would have kept us away from our home is the terror attacks of Boko Haram that uprooted us in the first place. However, Boko Haram has become history as far as we are concerned. Whatever the terror group is capable of right now is no different from the kind of criminality that can occur on the streets of any of the world's many towns and cities.
"Our towns and villages have been cleared of these terrorists. We can now confidently return home to pick up our lives from the points where we will meet them. Of course the scars of our losses are there but they are scars that will remind us of the healing that sincere leadership can bring as opposed to the dark side of humanity that Boko Haram its backers want us to know.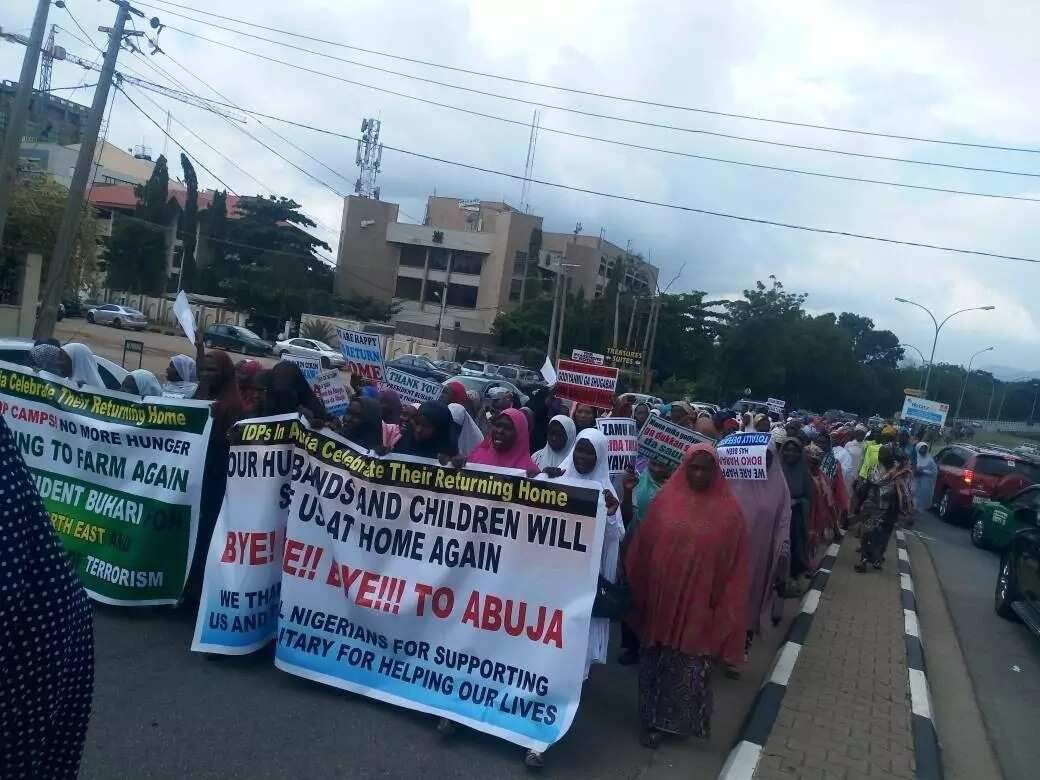 Nuhu thanked the Chief of Army Staff (COAS) Lt. Gen. Tukur Buratai for his tenacity, saying he went the extra mile to ensure IDPs can return home. She said because of him, they have the assurance that they will be protected when they get home.
"It is proper that we also appreciate the troops. Their sacrifices, in many instances the supreme price, make it possible for us to be returning home today. We say thank you," she said.
According to her, they want to make meaningful contributions to the economy, starting with reviving the northeast as a hub for commerce.
"We therefore call on Mr. President to intensify efforts towards providing whatever infrastructures are still lacking in our places. Mr President should encourage his appointees to support IDPs to return home to start farming, agro-processing, and small scale ventures that will guarantee everyone a quick win.
"We believe that returning home is the right thing to do and that now is the best time to do so. We do not wish for or ancestral lands to become wilderness neither do we want the left over of Boko Haram fighters to get free spaces from where to plot further evil," she added.
READ ALSO: Lagos CP reveals identity of policeman alleged to have N2bn in his account, declares lady behind mask wanted
Nuhu stated that for the IDPs, justice goes beyond the terrorists that have been killed in military operations or jailed after trial. She said justice should extend to finding out those that made it possible for Boko Haram to dispense terror.
"They live in comfort in many Nigerian cities and other world capitals; they enjoy themselves while they made us suffer. Justice would be letting the world know who these people really are and what they did to turn a portion of Nigeria into hell before President Buhari, through the Nigerian Army, redeemed us from the brink," she concluded.
Speaking to the IDP, the senior special assistant to the president on media and publicity, Garba Shehu, said steps are being taken to rescue the country from terrorist using the Nigerian Army.
Shehu said: "There is no day that he doesnt express concern about the plights of the IDPs and he is doing everything possible to relocate them all back to their various communities.
"It is a slow process but with international support, it shall be done, efforts are on to provide infrastructures to the North East to relocate all displaced Nigerians," he added.
PAY ATTENTION: Install our latest app for Android, read best news on Nigeria's #1 news app
Meanwhile, Legit.ng previously reported that Buratai, had called on internally displaced persons in Borno north to return home.
The chief of Army staff urged the displaced persons to restart their lives as their communities are now safe and secure.
He told the people of Borno to leverage on the deployment of Operation Last Hold to return to their communities which have long been liberated by the gallant troops.
Benue IDPs: Education amidst crisis | on Legit.ng TV
Source: Legit.ng