Have you ever considered cooking eggplant for baby food? If not, then let us open the new horizons for you. We will tell you all you need to know about eggplant: how to cook, how to choose and store, as well as why eggplants are good for babies. Read this article and find all the answers to your questions about eggplants.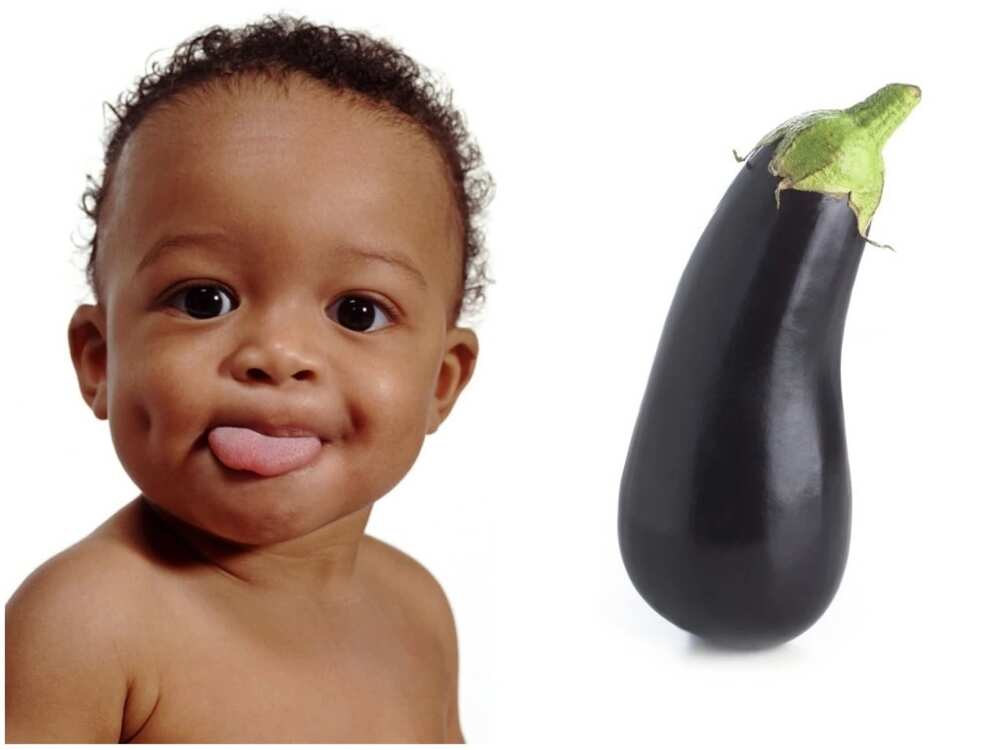 Three simple eggplant recipes appropriate for babies
Eggplants can be introduced into your baby's diet as early as at 8-10 months. You can steam them, sauté them or make them into puree — as long as it is thoroughly cooked and soft, it should be safe for the child to eat. However, if your kid is suffering from digestive issues, it is best to remove the skins from the eggplants before giving them to the baby.
There are many ways you can cook eggplants that would be appropriate for small kids, but we have decided to focus on three best and simplest homemade baby food recipes made with eggplant that your baby will love. So check them out, give them a try and thank us later :)
Eggplant puree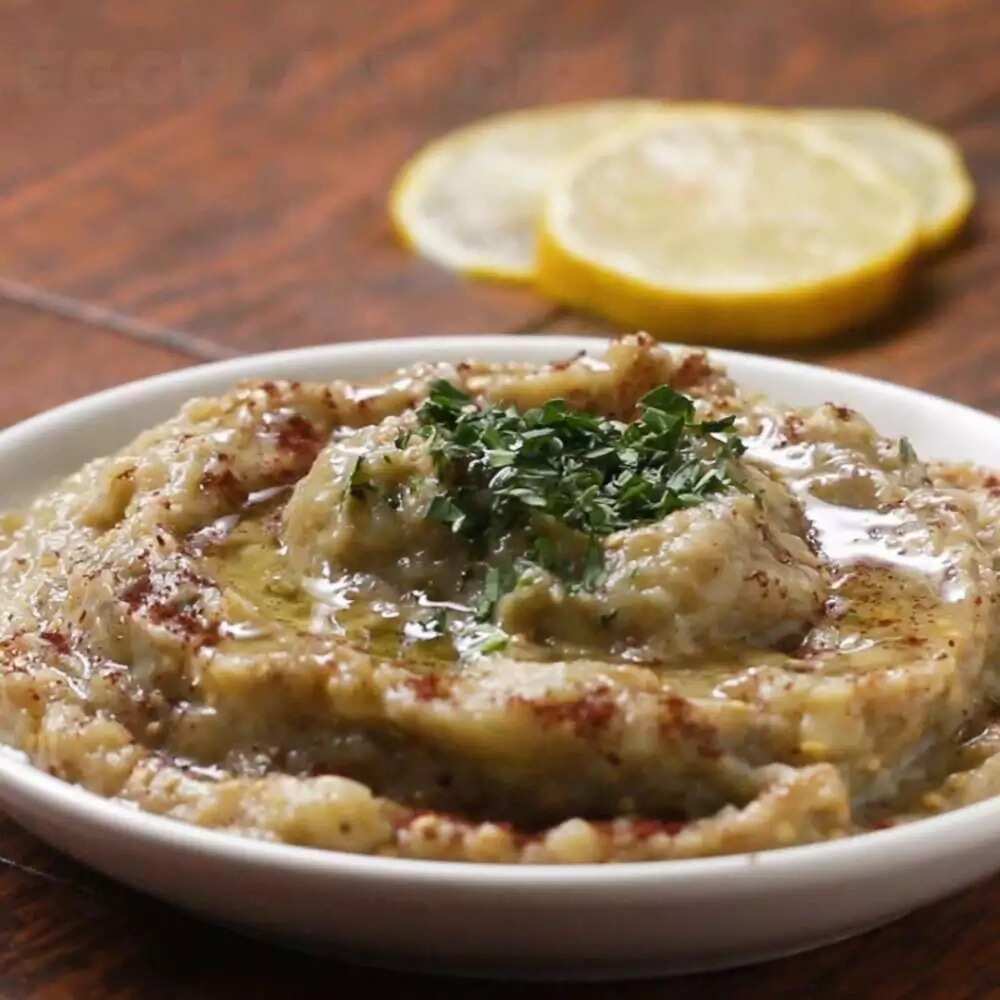 This recipe is incredibly simple, as the only ingredient you are going to need is, you guessed it, an eggplant. Wash it and peel of its skin. You can either cut the eggplant into medium-sized cubes and steam them until they get mushy, or cut it into quarters and bake in an oven at about 190 °C for half an hour. The result will be the same.
Then put the cooked eggplant in a bowl and mash it into it gets to the puree consistency. If it is too thick, add a little water (better to use boiled water). When it is smooth enough, make sure it has cooled to appropriate temperature and then serve it to your baby.
If you want to add a little bit more fun to the mealtime, you can skip the pureeing part and give your child steamed eggplant cubes to eat as finger food. Just do not give your baby the eggplant straight from the oven/cooker.
Baked eggplant and cheese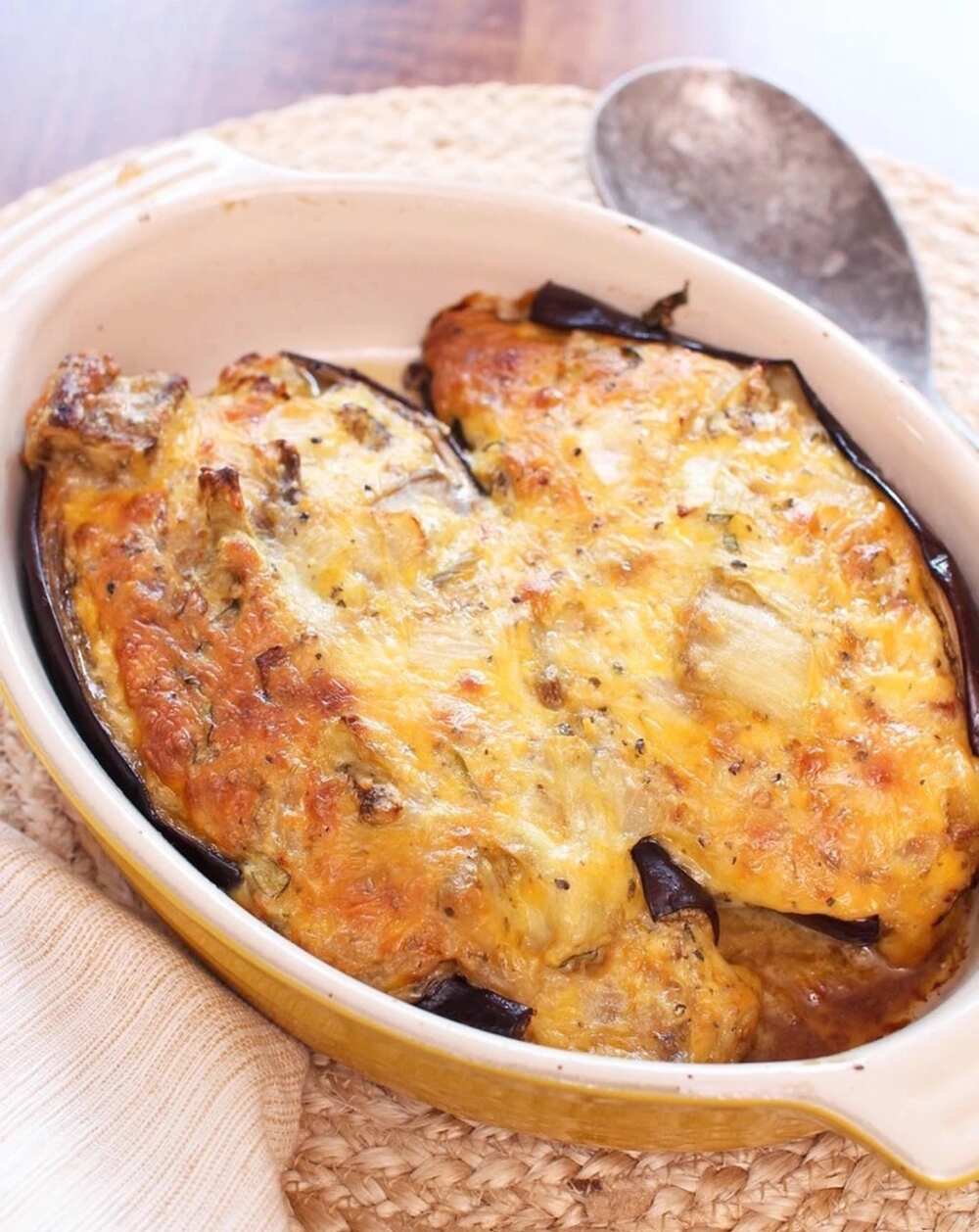 READ ALSO: How to make pap for babies
Another recipe you can try is baked eggplants sprinkled with cheese. For this recipe, you will need:
One eggplant;
Cheese (as much as you want);
Some olive oil;
Basil (optional).
Instructions:
In order to make this meal, preheat your oven to 190 °C.
Wash (and, if you want, peel) your eggplant, then cut it into quarters.
Brush the quarters with olive oil, sprinkle some basil and bake them in the oven for about half an hour.
When there are about five minutes left before half an hour is over, grate some cheese over the eggplant quarters and put them back for the remaining five minutes.
After taking the eggplant out of the oven, cut it into bite-sized pieces and give to the baby when they are no longer hot.
Eggplant sauté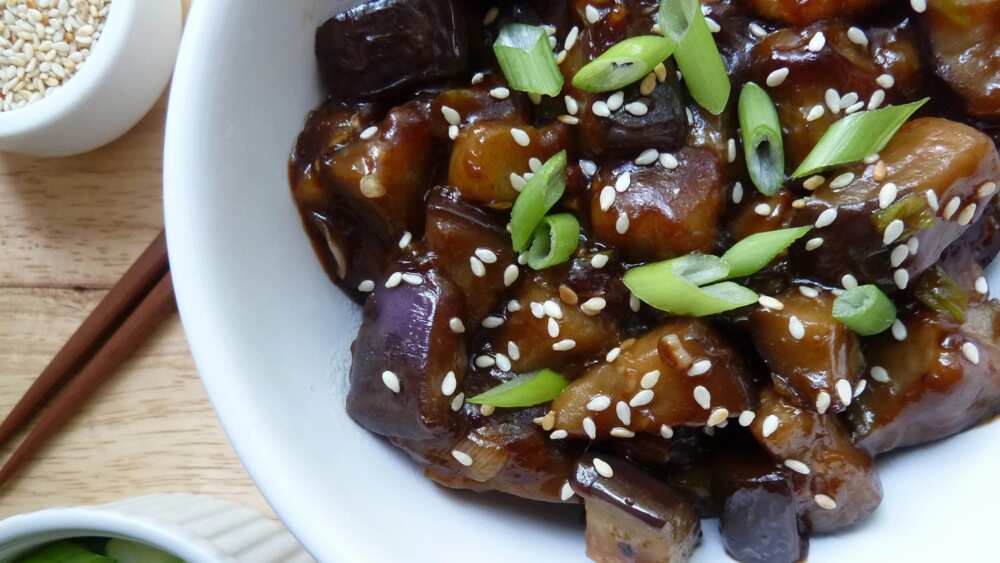 READ ALSO: How to prepare Quaker oats for babies
It turns out that you can introduce spices into your baby's menu as early as at six months, so you can try making some eggplant sauté for your child. That way, not all the food they taste is bland and uninteresting. For this recipe, you are going to need:
One eggplant;
Two tablespoons of olive oil;
Half a cup of finely chopped onion;
Half a teaspoon of garlic powder;
Quarter of a teaspoon of pepper;
Quarter of a teaspoon of basil.
Instructions:
Wash the eggplant, remove the skin and cut it into cubes.
Sauté the chopped onion in the olive oil for five minutes on medium-low heat.
Add the eggplant and spices, then cook until the eggplant is soft.
When the eggplant is done cooking, drain the remaining olive oil and serve as is or over some noodles.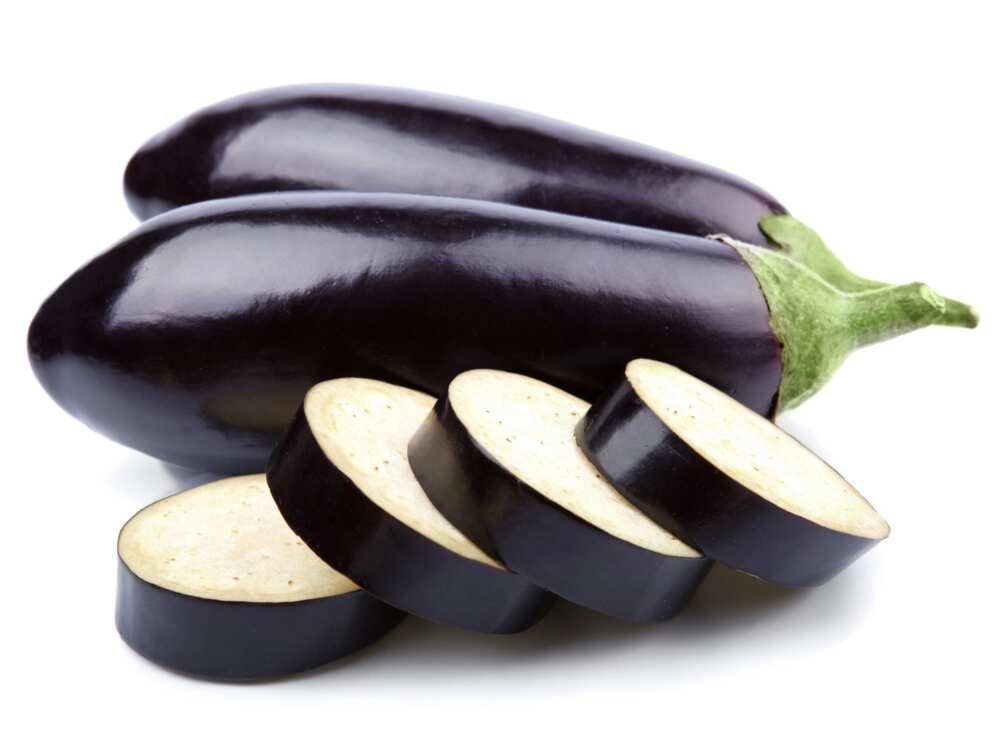 Even though these recipes seem quite simple and harmless for children of 8 months and up, you should still talk to your doctor before introducing new foods into your child's diet. So make sure it is safe for your kid to eat eggplants before actually feeding them with any of the aforementioned meals.
If your doctor does not protest against you giving your child eggplants, you might want to know why it is an important vegetable, especially in the early months. Well, one of eggplant benefits is that it is full of Folate, Vitamin A and fibre. The latter can help your child regulate bowel movements. Eggplants also contain Vitamin K and calcium, so unless your baby cannot eat them, they should definitely be in their menu.
How to pick and store eggplants for your homemade baby food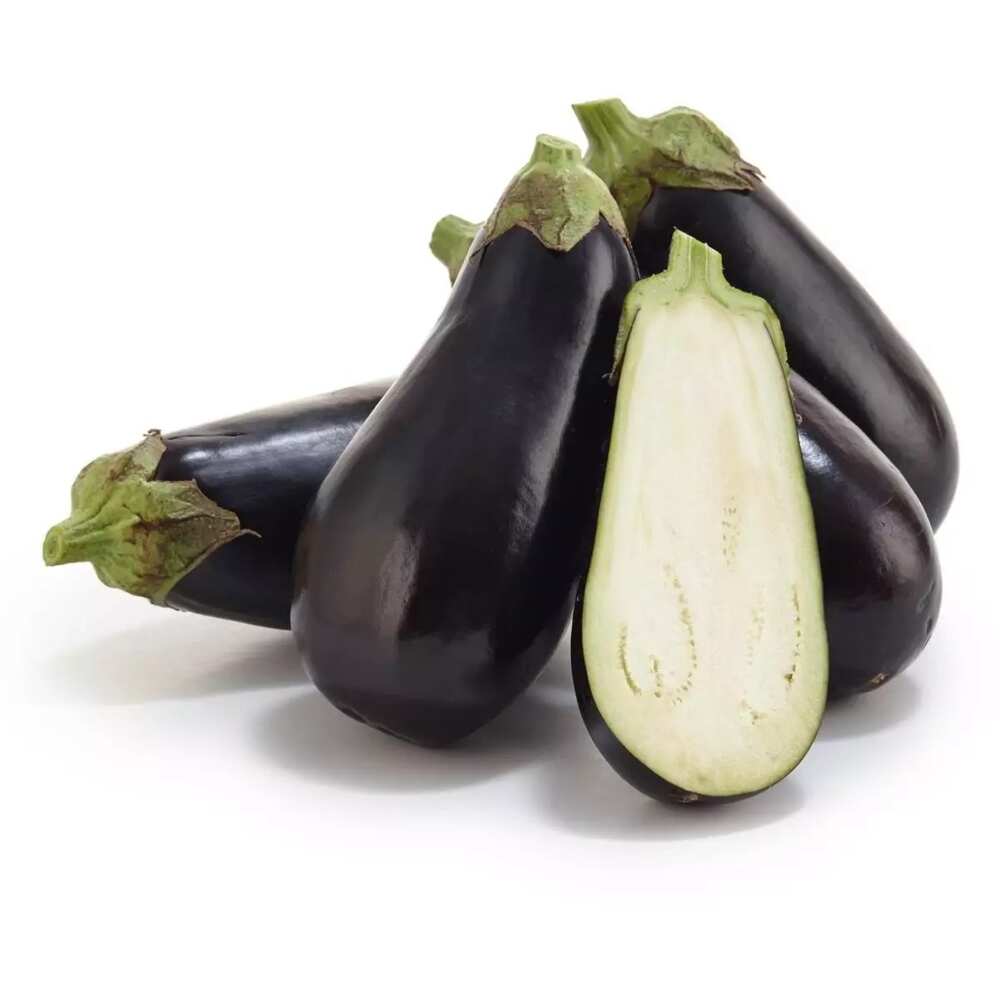 Now that you know how to cook eggplants, let us tell you about a few things you should know when it comes to choosing and storing the eggplants.
When selecting an eggplant, you should pay attention to its weight and consistency. A good eggplant is firm and a bit on the heavy side. When it comes to the skin, it should be smooth and shiny, and the colour needs to be vivid. You should avoid eggplants that have discolorations and bruises, as they are probably damaged or even decaying.
When you bring the eggplants home, store them in the fridge, as they are quite delicate. It is recommended to cut the eggplant only before the immediate use, so if you want your eggplants to stay fresh, do not cut them and then put them back in the fridge. Other than that, store them as you would any other vegetables.
That was all we wanted to tell you about eggplants as ingredients for baby food. Have you tried any of these recipes already? Which one do you think your child would love best? Let us know in those comments below! If you have some eggplant recipes of your own, share them down there as well.
READ ALSO: List of baby food companies in Nigeria