Abacha (Igbo food, also known as African salad) is one of the most loved Nigerian recipes. Find out how to make Abacha here, so that you can wow your friends and family with your awesome cooking skills! We will walk you through the whole process and you will be able to cook this delicious dish in no time. Check it out!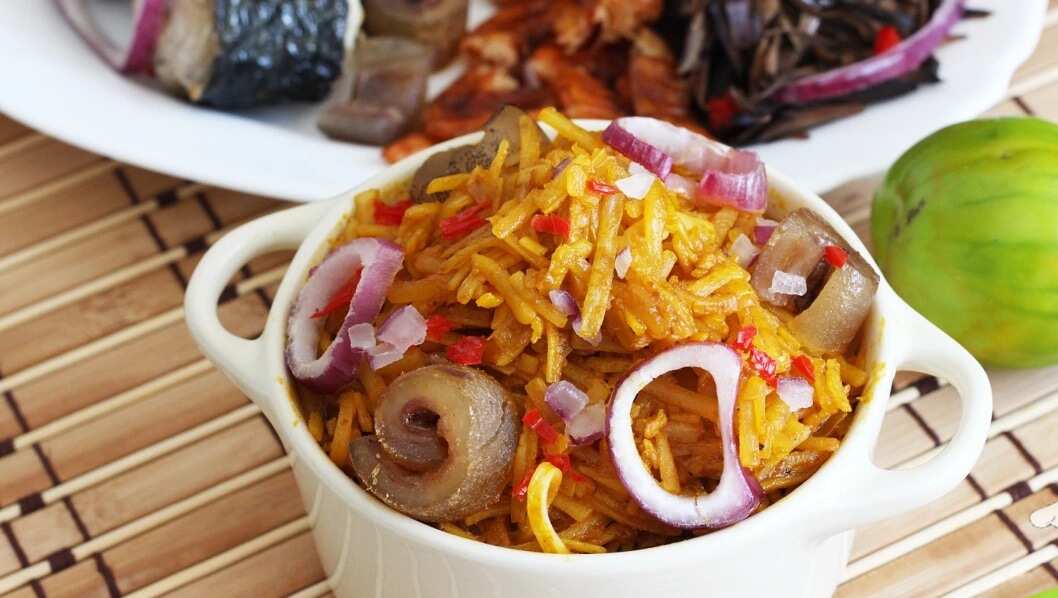 Ingredients needed for Abacha recipe
The secret of a tasty Abacha food is to get as many ingredients as possible. We are going to offer you the full list that can make this dish taste complete, and you can decide whether to use a certain ingredient or not. Here is what you are going to need (according to AllNigerianRecipes):
Three handfuls of Abacha *
Two cups of ukpaka (ugba)
300 ml of red palm oil *
Two tablespoons of food tenderiser (powdered potash) *
Stockfish/dry fish/fried mackerel * (at least one type)
Two (red) onions
Ground habanero/cayenne pepper *
Four tablespoons of ground crayfish *
Two flavour cubes (Maggi/Knorr) AND/OR Castor seed paste (Ogiri Igbo) *
Two teaspoons of Calabash Nutmeg (ground Ehu seeds)
Garden eggs and leaves * (you can replace the leaves with spinach)
Three fresh Utazi leaves
Kanda/Ponmo (cow skin)
Salt (to taste, but not too much)
As you can see, there are quite a lot of ingredients, but you really do not have to use them all. However, in order for your dish to really be the true Igbo Abacha, you absolutely have to use the ingredients marked with a star. The rest will certainly make your dish taste better, but the recipe will not suffer significantly if you do not have the unmarked ingredients at your disposal.
Now that that is sorted out, let's get cooking!
Step-by-step guide on how to prepare Abacha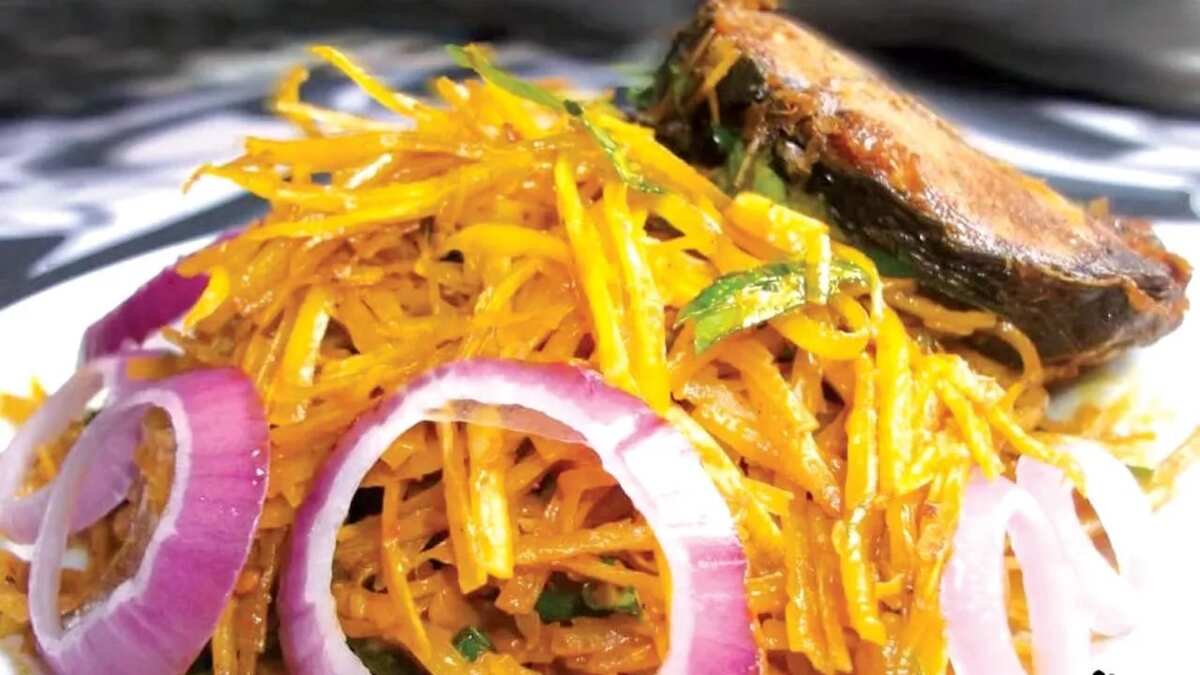 READ ALSO: Types of Igbo culture food
When you cook Abacha, a big chunk of time has to be spent on preparations and not on the actual cooking, so we should probably get those things out of the way first.
Before you get to cook Abacha, you need to do the following.
Put your dry fish into some cold water and leave it to soak and soften. When it is soft, clean it, remove the bones and break into pieces (the smaller the better).
Get your Abacha in water, soak it for two minutes and then place it in a sieve to drain.
Wash your stockfish, cook it until it is soft and then debone it.
Get your potash, mix it with water, give the mixture a stir and set it aside.
Cut up one of the onions into small pieces and the other one into rings.
Thoroughly wash your leafy greens (whichever ones you chose to go with), set some aside, and cut the rest into strips and small pieces.
Wash your ukpaka/ugba and leave in a sieve to drain.
Cut up some of the garden eggs into small pieces and the rest into thin discs.
If your palm oil is not in liquid form, pour it into a large pot and let it melt on low heat. Make sure that it is just melted, not bleached. It should not be hot. When it is melted, take the pot off the stove.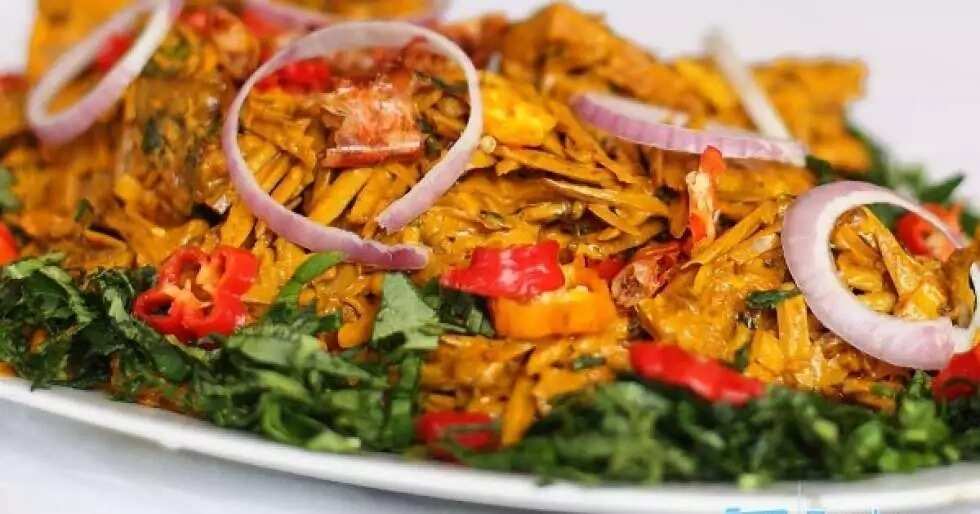 Once you have prepared all the ingredients, the rest of the preparation process is not at all complicated:
Slowly drain the liquid from the potash into the pot with your melted palm oil. Do not forget to stir while pouring the liquid into the oil and make sure that potash itself does not fall in. After a while, the palm oil should turn yellow and thicken.
After that, crush the flavour cubes and add them to the pot, along with crayfish, ehu, pepper, diced onions and leafy greens (we will be using cut up veggies later). Mix until the ingredients are well incorporated.
Add your Abacha to the mix with dry fish, Ponmo/Kanda, ukpaka/ugba and garden eggs. Mix the whole thing up and give it a taste. If it is not salty enough, add some salt. However, in most cases, this should not be necessary.
If you prefer to consume your Abacha warm, put it over low heat and do not forget to stir. Otherwise, you can simply serve it at room temperature.
Your Abacha is done! You can use the garden egg discs, onion rings, garden egg leaves and strips to garnish your dish. This meal is best served with a chilled drink, such as palm wine.
As you can see, making Abacha/African salad is not that hard. You will probably spend more time preparing your ingredients than actually cooking this dish. We hope you and your loved ones have enjoyed this recipe. Bon appetit!
READ ALSO: How to make vegetable sauce with ugu