What are male Ankara styles to rock in 2019? In the new season, those who closely follow the fashion can choose their ideal image. At the same time, men who are looking for simple and clear solutions for everyday wear will be satisfied too. We have chosen the main trends of latest Ankara styles 2019! Read our essay!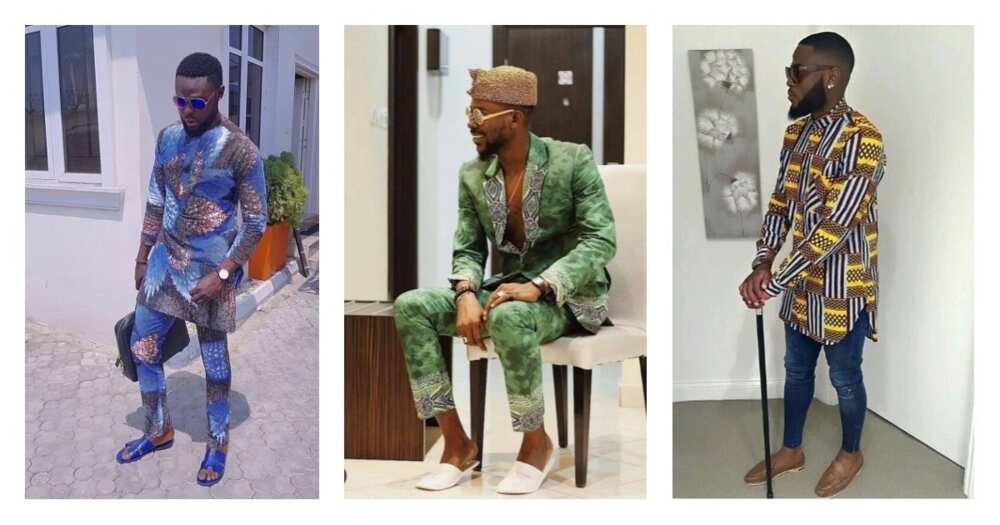 Nigerian men fashion plays no less important role than women's. Tidy and beautifully dressed men are always in trend. Therefore, a lot of males are constantly interested in latest fashion styles for the current season.
In 2019, a man who follows the fashion should be more open than ever to experiments: with colours, large details, clear lines, and textured fabrics.
Today we look through the trendy images created for guys with Ankara styles. So, for what should the men pay attention this season?
READ ALSO: Native wears for guys 2018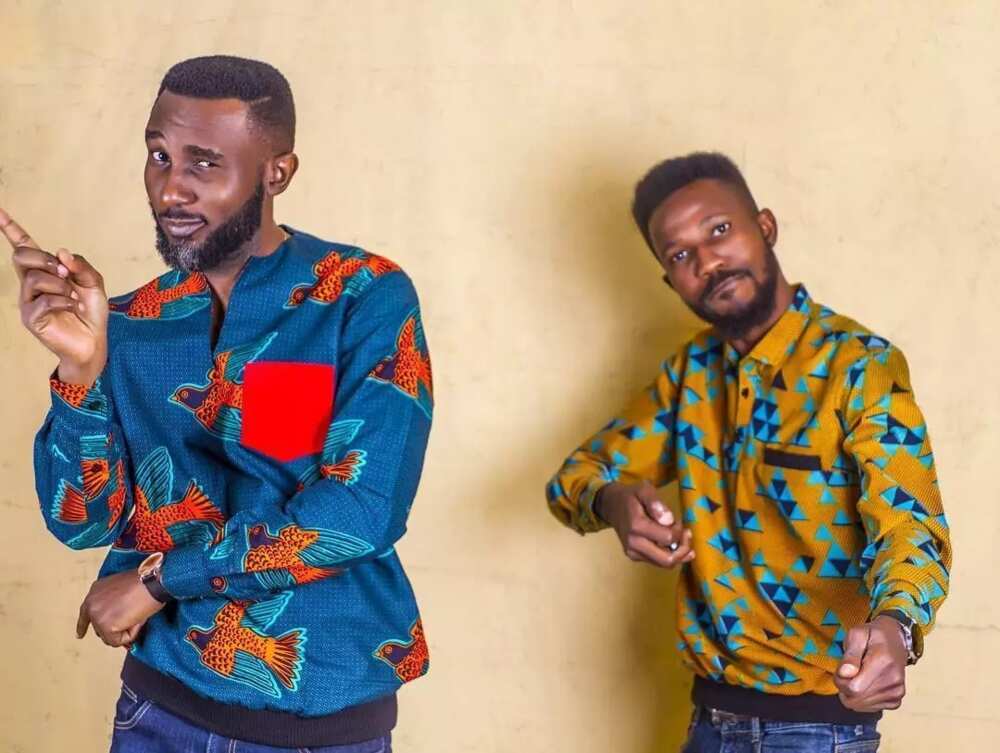 Men Ankara styles: shirts and tunics
The basic thing in the arsenal of every Nigerian man is a shirt or tunic. Ankara shirts with floral, abstract or geometric patterns are at the top this season. Most of them are short-sleeved with oversized tailoring. Multi-coloured shirts with bright patterns are in demand in the world's fashion too.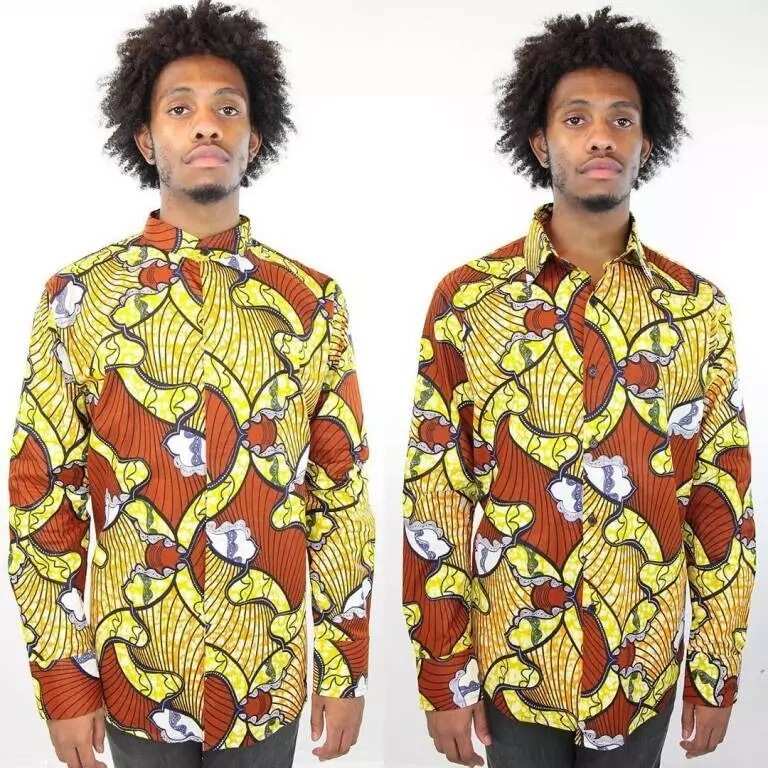 The popularity of this shirt style is not a surprise. It can be worn unbuttoned over a white T-shirt with shorts or fastened with trousers. Ankara shirt with short sleeves is a very practical outfit. It's both attractive and incredibly simple. Choose some bright Ankara shirts and be stylish.
Striped shirts are always in fashion, but designers decided to go further and applied a similar pattern as a partial detail. In season 2019, the imposition of one print on the other and combination of different patterns in one shirt model is also relevant.
READ ALSO: Top 10 Ankara styles for guys in 2018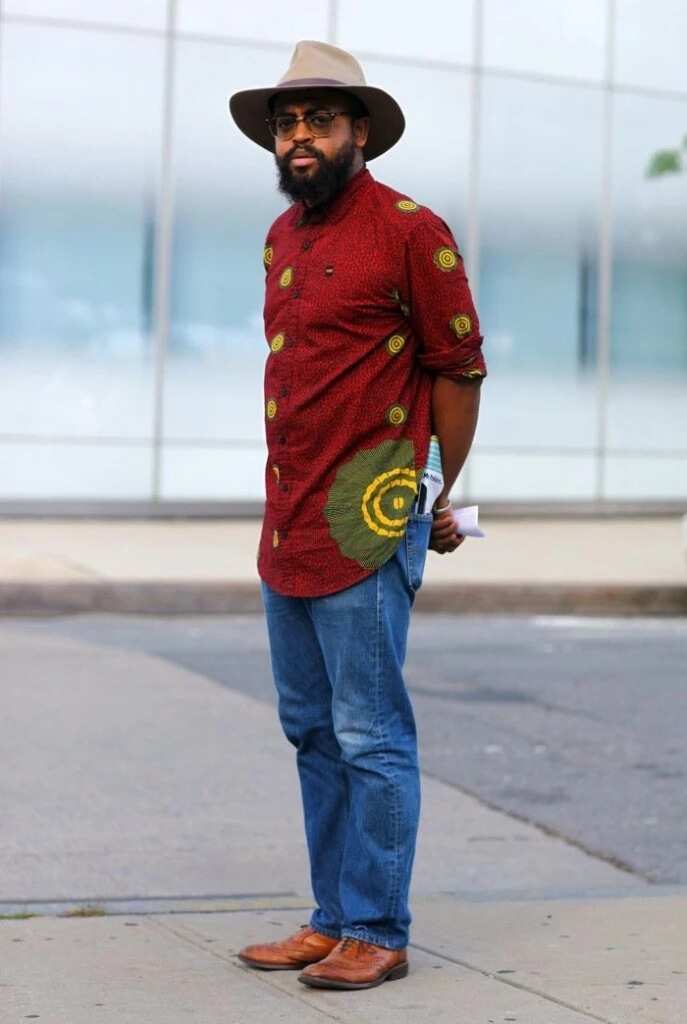 Red is the main colour of 2019. Even in men's collections designers decided to use this colour actively. Therefore, we can see a large number of stylish red shirts on the podium. This shirt goes great with a pastel one-coloured costume or trousers.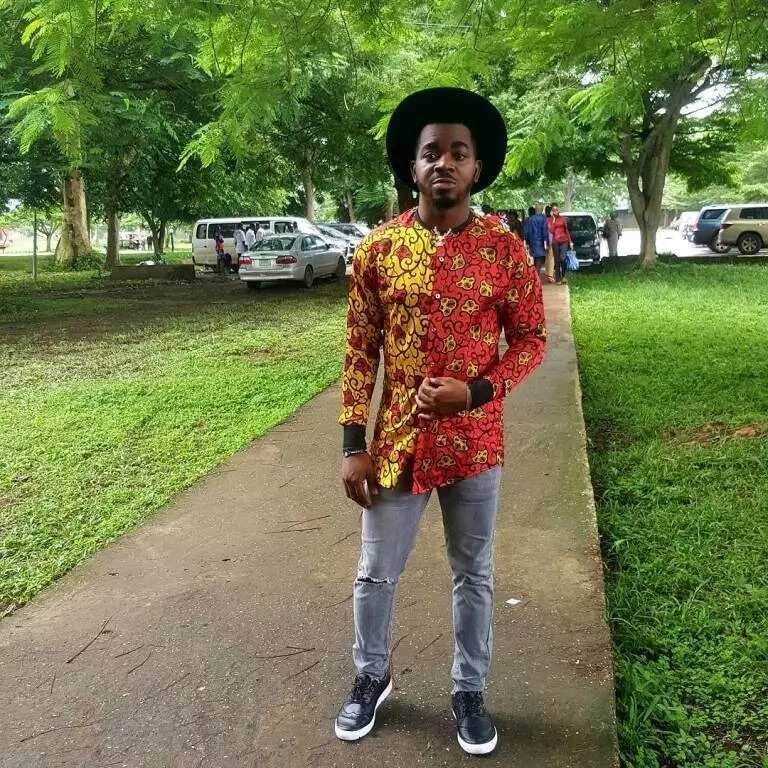 On the general background of the usual Ankara items, a man's shirt without a collar is very original and unusual. It looks like a narrow stand collar and worn unbuttoned. Such shirts can be made with short sleeves and even without them. The models with long sleeves are stylish to wear rolled up or collected in folds to the elbows.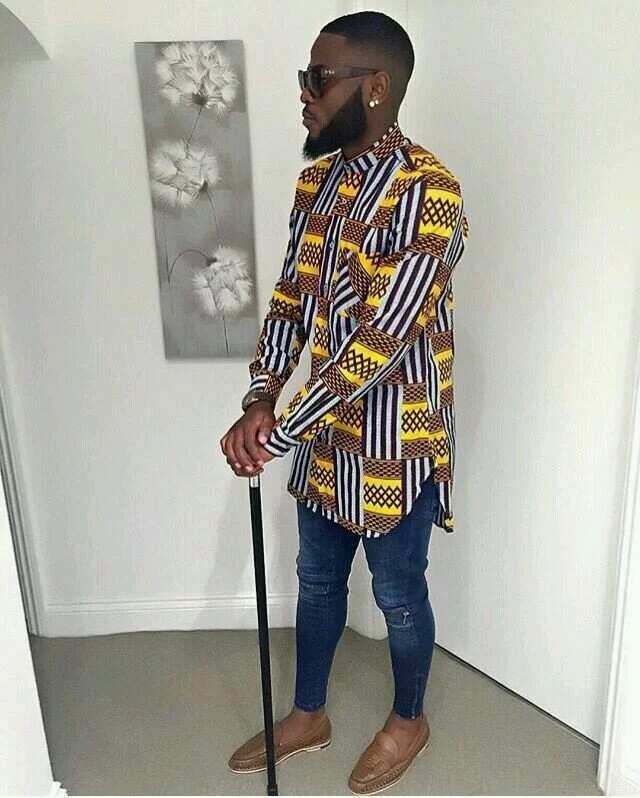 Elongated Ankara shirts and tunics are 'must have' for Nigerian guys. Besides, tunics are an invariable component of native styles for a male. Straight or slightly fitted options are very popular among men. They go well with narrowed trousers and short waistcoats too.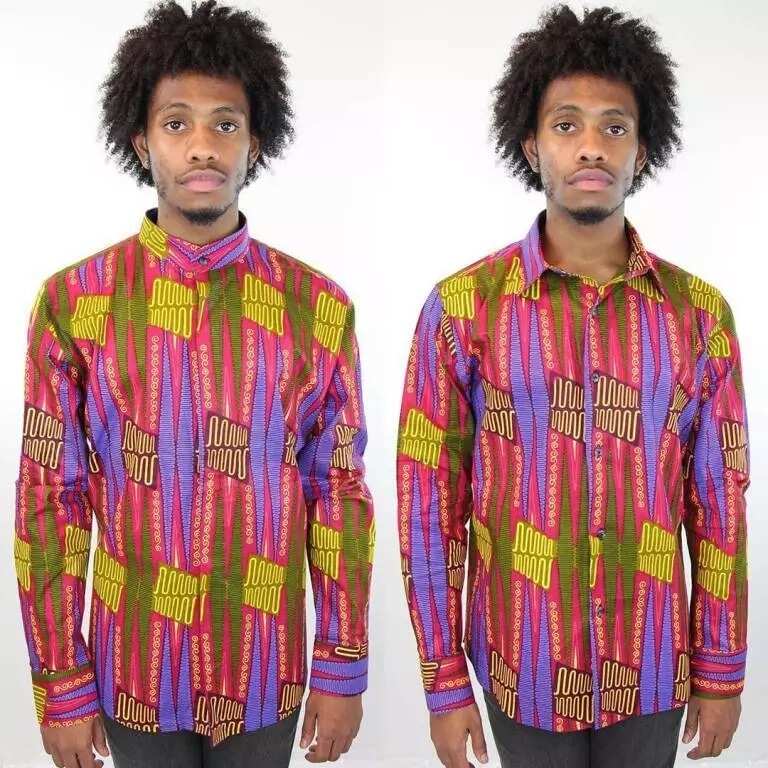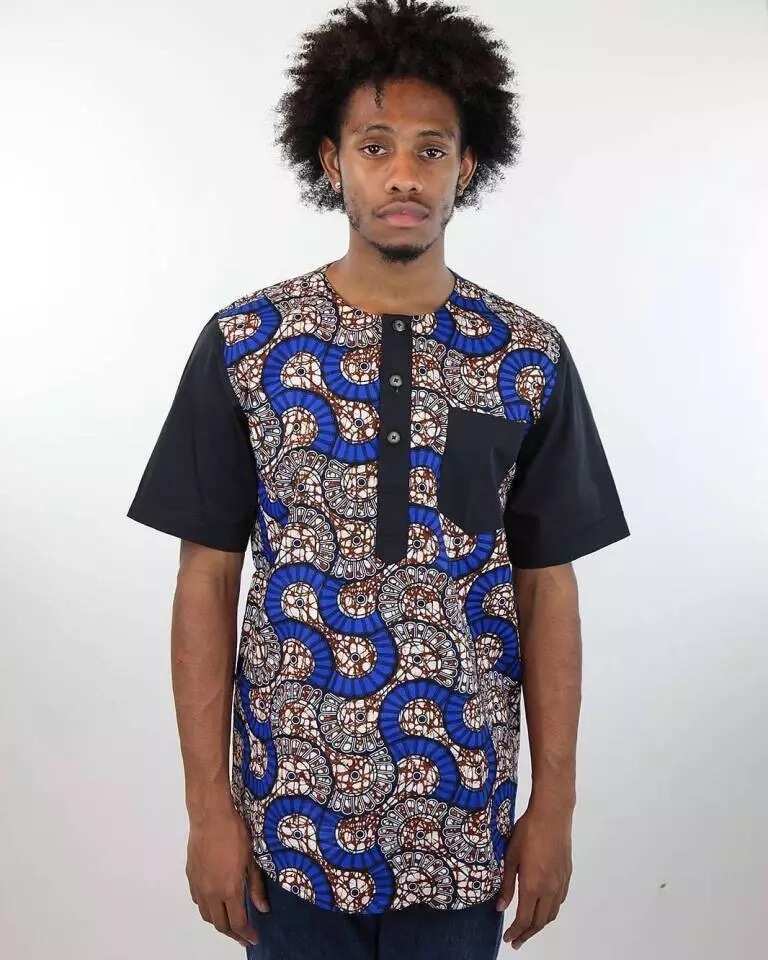 The colour palette of shirts and tunics has bright and saturated tones. The most popular colours of stylish men's shirts in 2019:
white;
deep dark blue;
gray from the lightest to the darkest tones;
brown with red notes;
bright purple;
muted emerald green
The colours in one item can be combined. Contrast tones are used for straps, cuffs, and collars. The same colour but a bit lighter or darker is used for pockets.
READ ALSO: Nigerian male Ankara designs to wear in 2018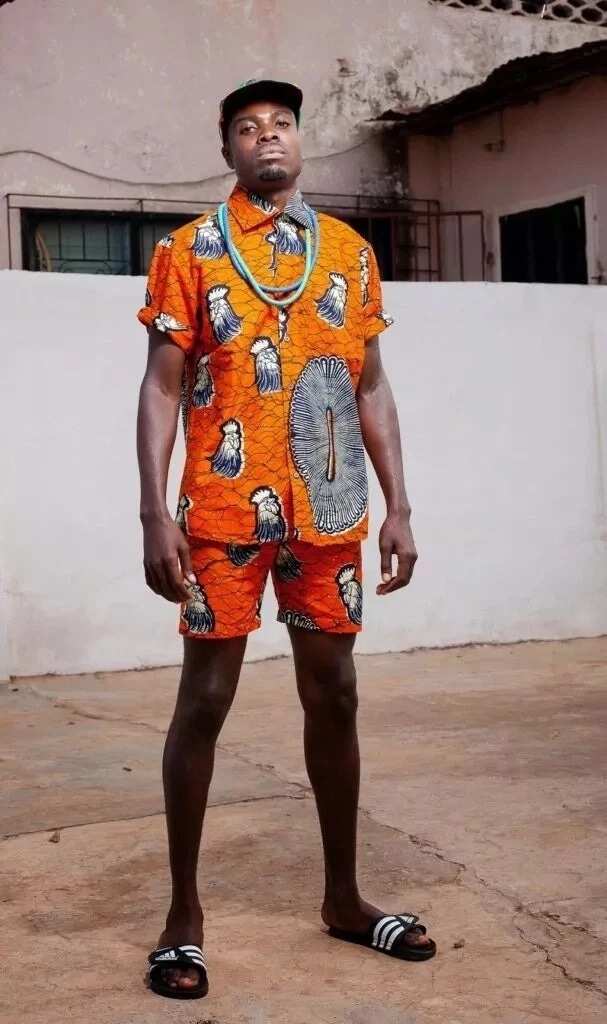 Ankara shorts and pants for men in 2019
Ankara jacket styles and suits for guys 2019fort. It's recommended to pay attention to shorts and loose trousers. They can be dressed both without belts or additional accessories and with waistbands. For example, shorts with free tailoring are recommended to wear with belts. The shorts can be slightly elongated. The items with a belt perfectly harmonize with waistcoats or blazers. This option is suitable for the office.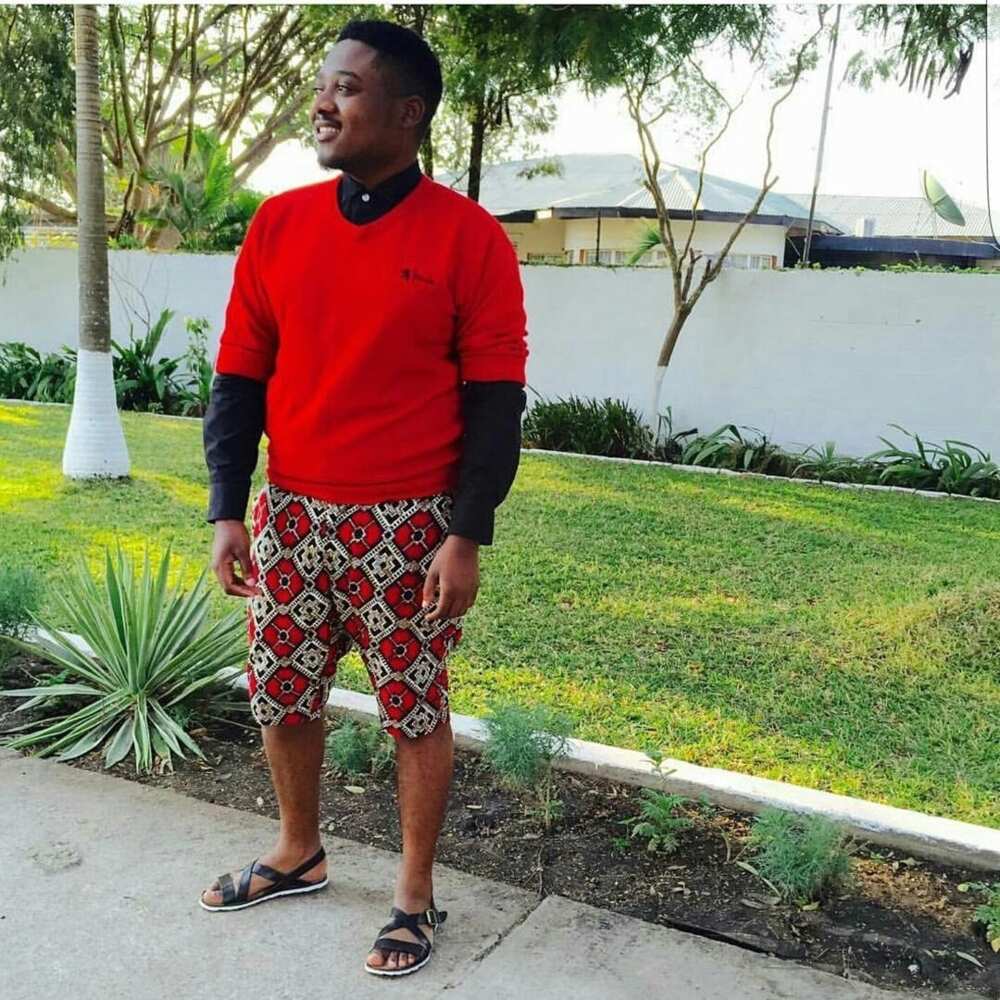 The shorts of bright colours, for example, orange or red are great for parties. The chinos model is combined with almost all clothing: T-shirts, shirts, and short tunics. Complement the image with moccasins or sneakers.
The fashion includes popular in the 90's Bermuda. They are presented both in pastel colours and in bright colours and decorated with massive pockets.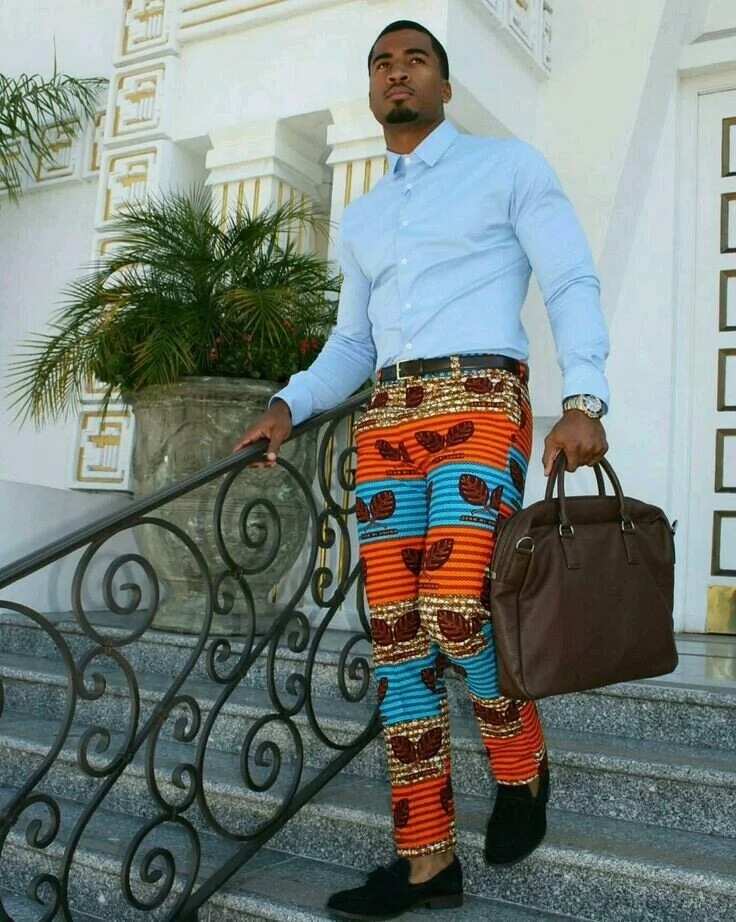 As for the trousers, the pants should be slightly narrowed. Trendy length for them is 7/8 or up to the ankles. Tuck pants is not a surprise this year. But if they are bright red, green or purple, they are a current and original choice.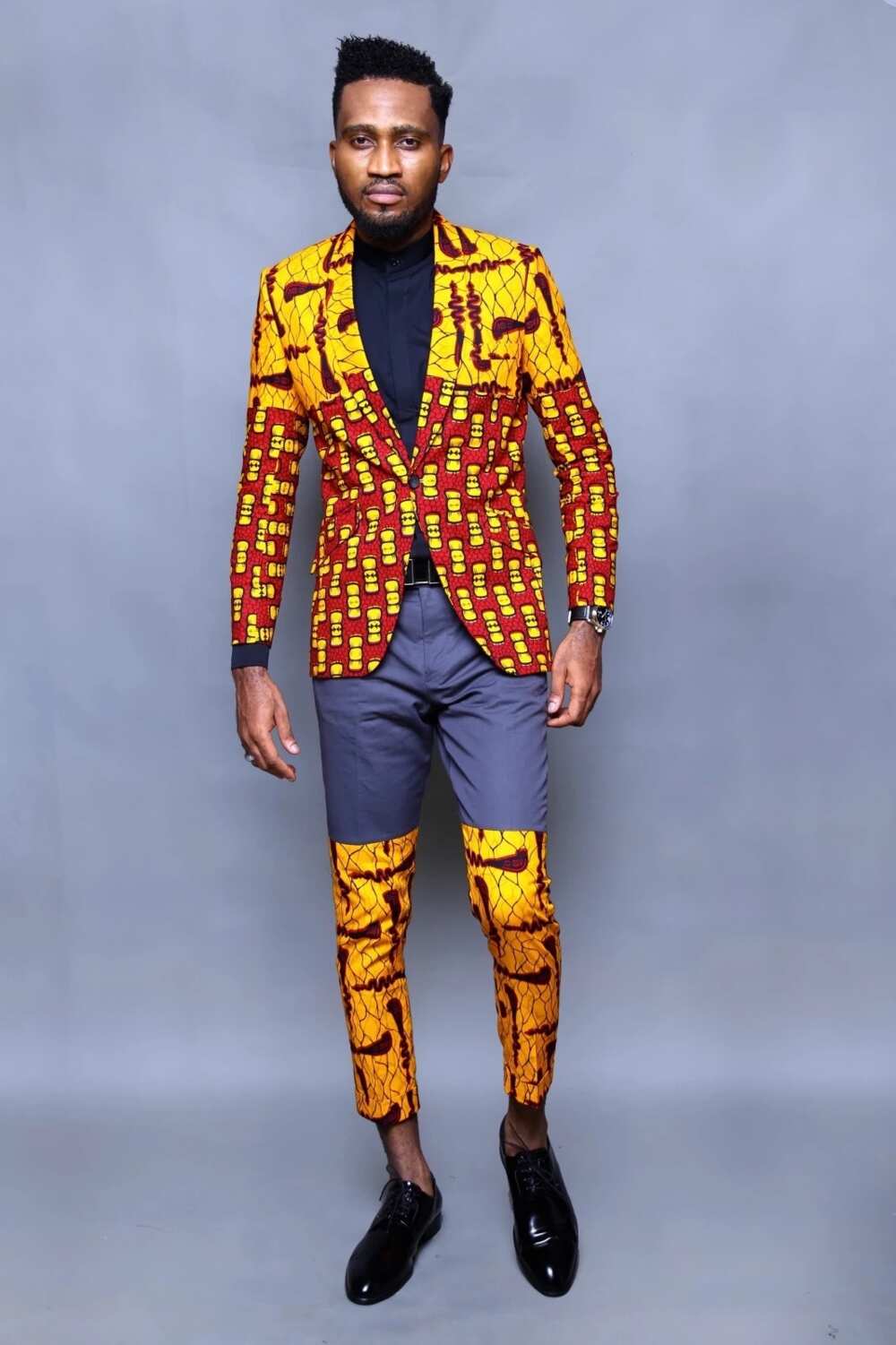 Ankara jacket styles and suits for guys 2018
Ankara trouser suit is a classic option. The colour of the trousers may differ from the jacket. The shirt with different Ankara prints and patterns add a highlight to the image. Ankara trousers can be with an overstated waist.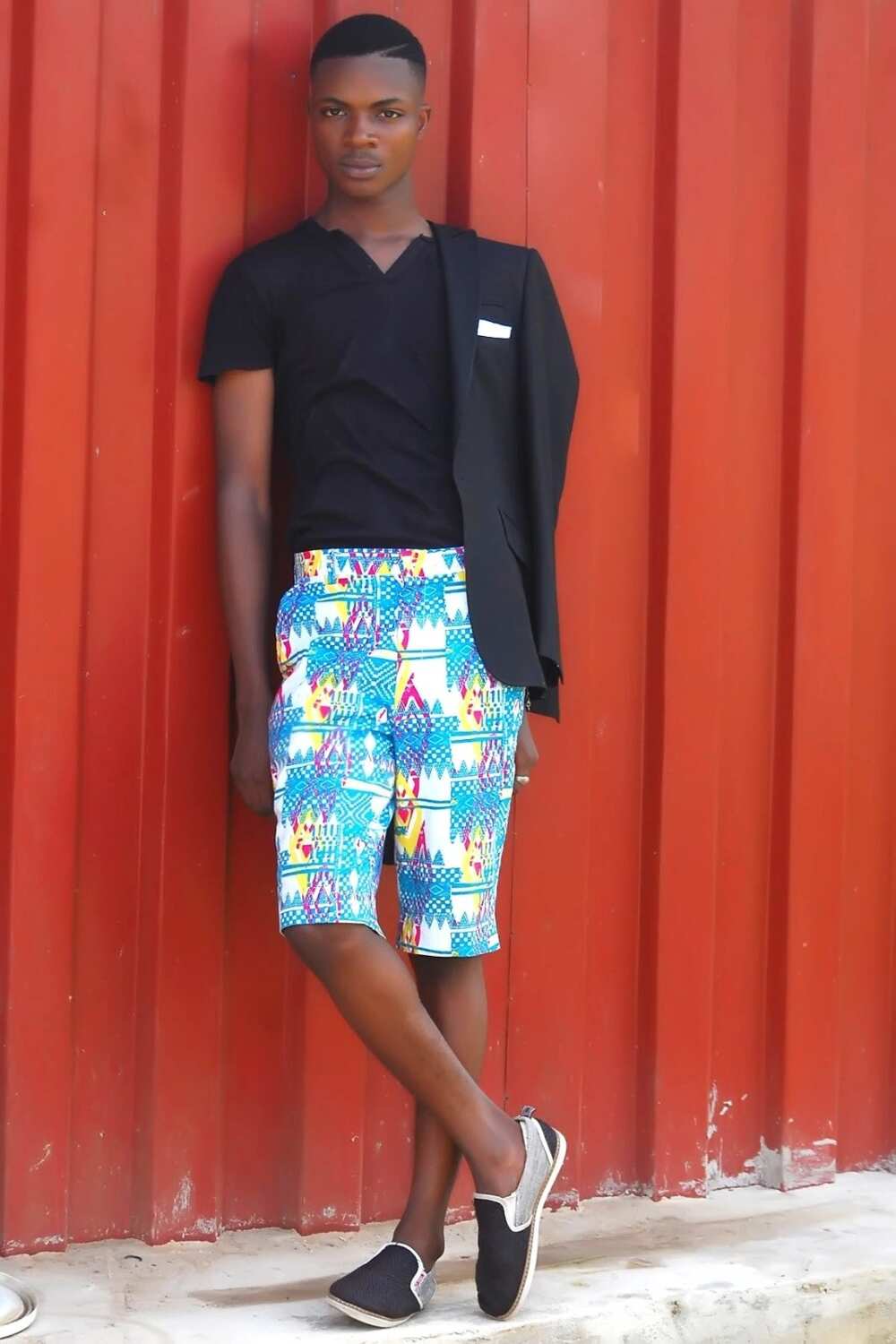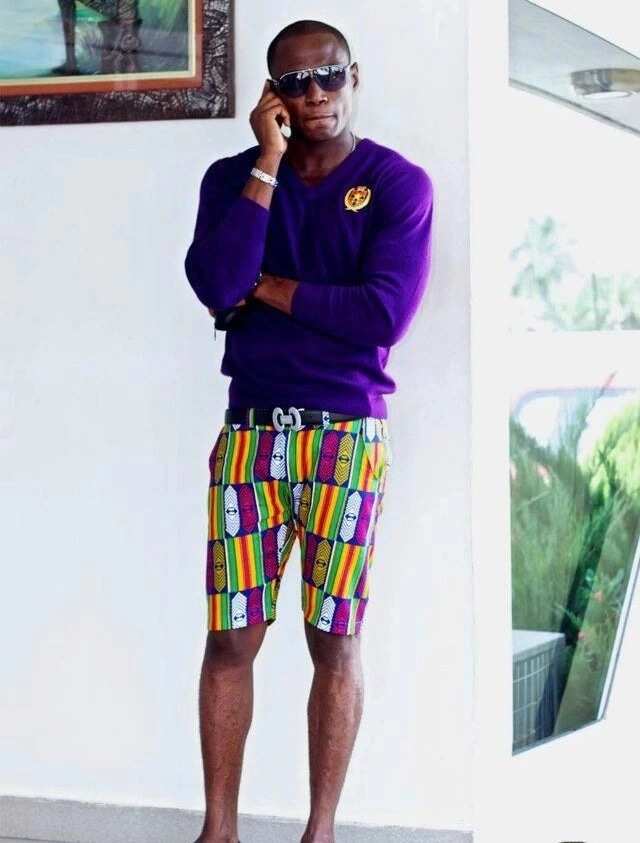 Despite the popularity of costumes with a geometric pattern, Ankara suits in a sports style are at the height of fashion. If such suit has shorts instead of trousers, then it's better to choose the elongated version to the knees.
Ankara man's jacket with classic tailoring should be short, fitted, and has narrow flaps. It's appropriate in 2019.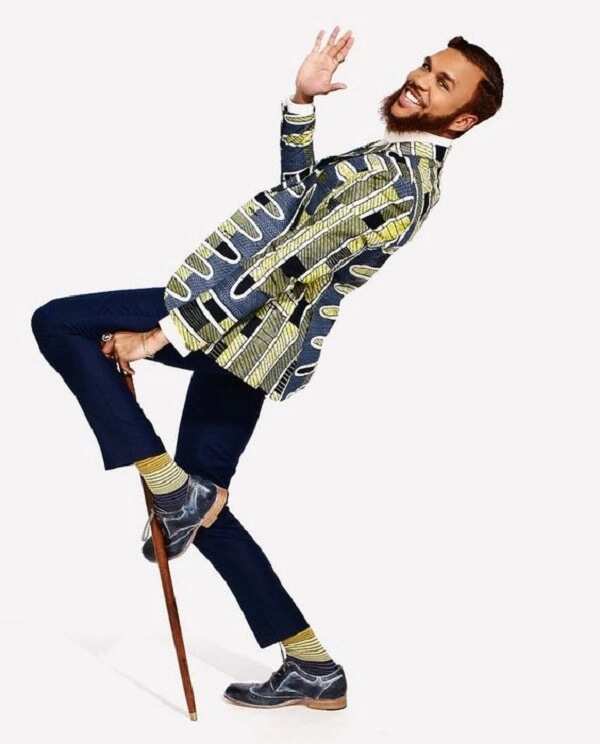 Nigerian men can safely combine monochrome wide or narrow trousers with bright Ankara printed jackets. Double-sides jackets decorated with large buttons are popular again.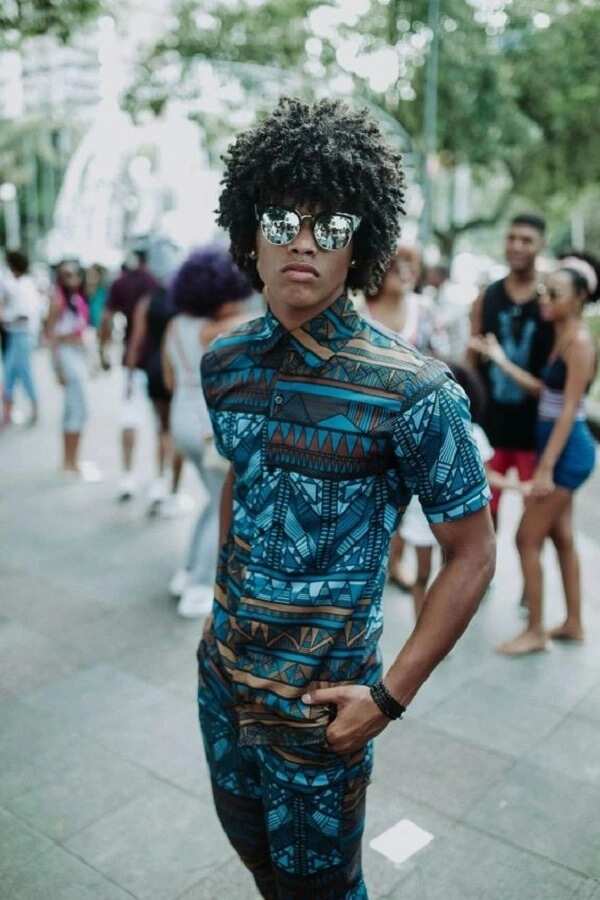 The suits with plain pants and a patterned shirt are perfect. But the main colours must be the same for both items or match each other.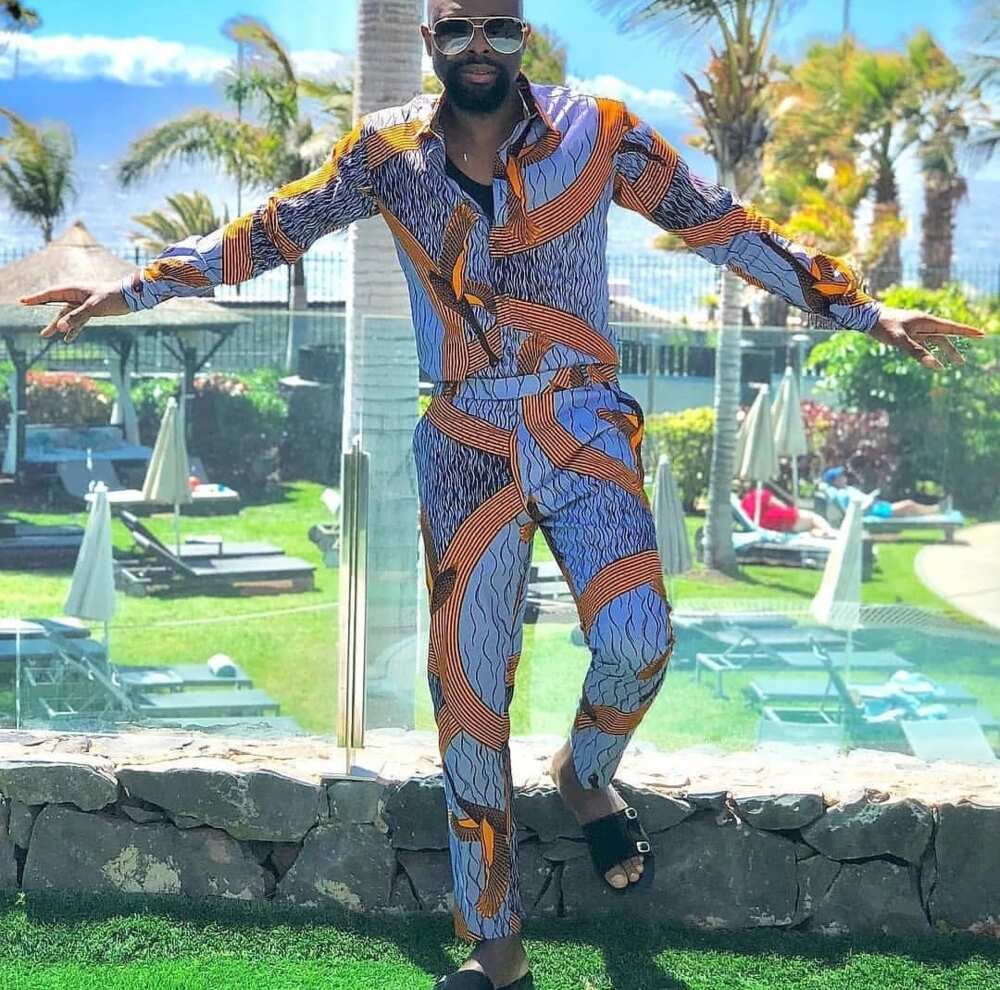 Now the suit-deuce is supposed to be worn without a shirt. The simple T-shirts and vests returned in fashion. The even more relaxed approach is to combine jackets and trousers of different colours and textures including Ankara.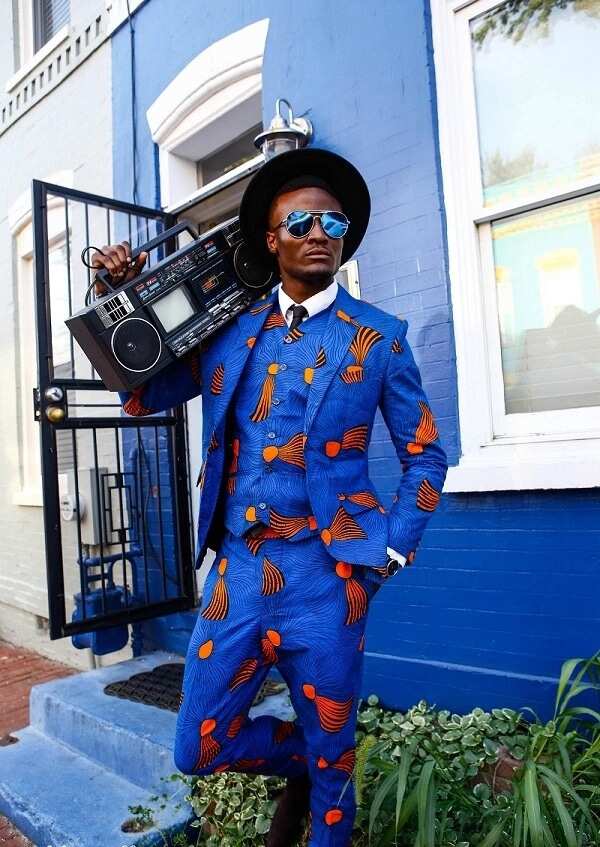 Ankara vest
Men that are used to consider a business style rather boring and unpretentious are pleasantly surprised in 2018. Unlike last years, when the main tendency of any business look was a two-piece suit wearing, today the bet is made on elegance. It's enough to supplement the suit with a vest of classic tailoring that is an absolute 'must have' of the season.
In the men's fashion in 2019, the most incredible prints burst. Their variety can only afford the designers imagination. Simple monochrome is in serious danger because a modern man is offered to wear now the most colourful clothes like Ankara styles. It's better if you choose a printed mono look. c tailoring that is an absolute 'must have' of the season.
READ ALSO: Latest Aso Ebi designs for guys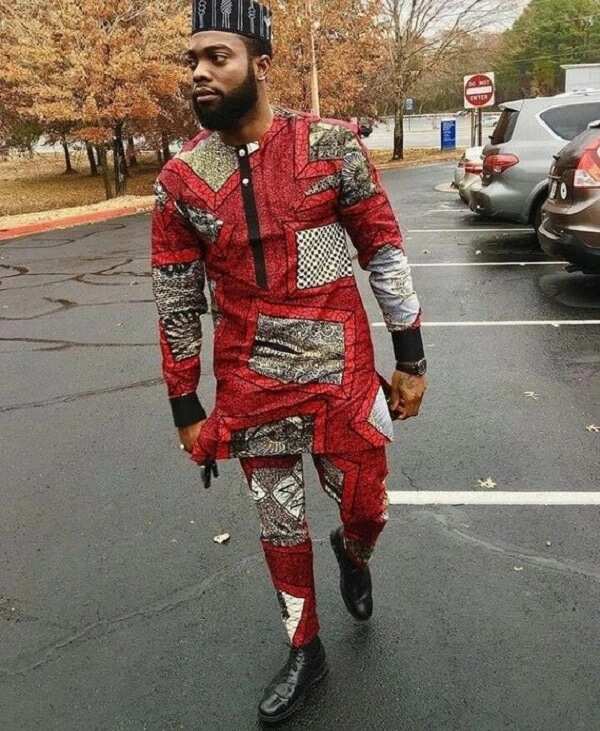 Ankara native styles for male
We also want to dwell on Ankara native styles for men. You can make excellent tunics of any length in dashiki style with narrow or slightly expanded trousers from bright Ankara fabrics. The styles can be either loose or fitted. It all depends on the taste and type of the guy's figure. But the tailoring of such items is always quite simple.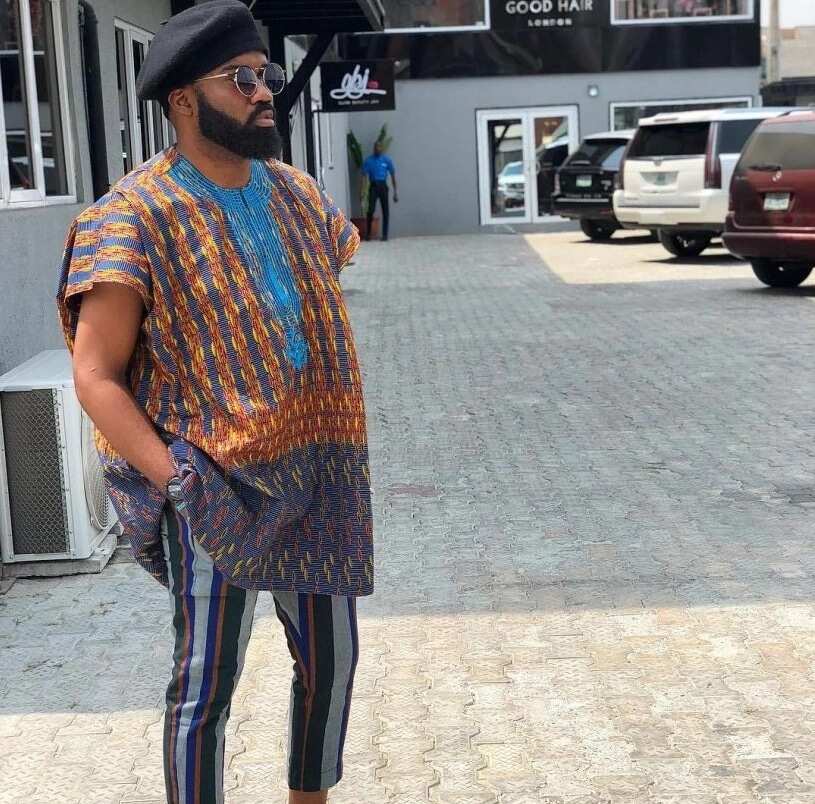 The colour scheme and prints can be identical and make up a costume. The solution where the top has a pattern, and the bottom is plain, or vice versa is also popular. The highest mastery in the manifestation of the excellent man's taste is a combination of two different patterns for tunic and trousers but with a similar theme and colour scale. For example, it can be a trendy strip of different thicknesses and tones.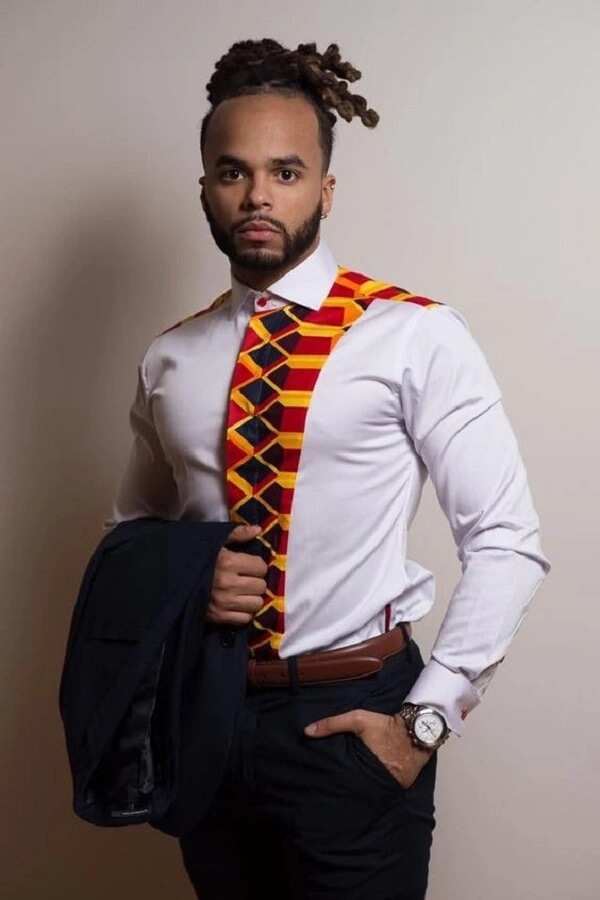 Also, in men's outfits, only a trim made with Ankara fabrics is widely used. Coquets, collars, cuffs, and other parts of the outfits are used for this purpose. Such technique is typical for office style, where it's necessary to keep moderation.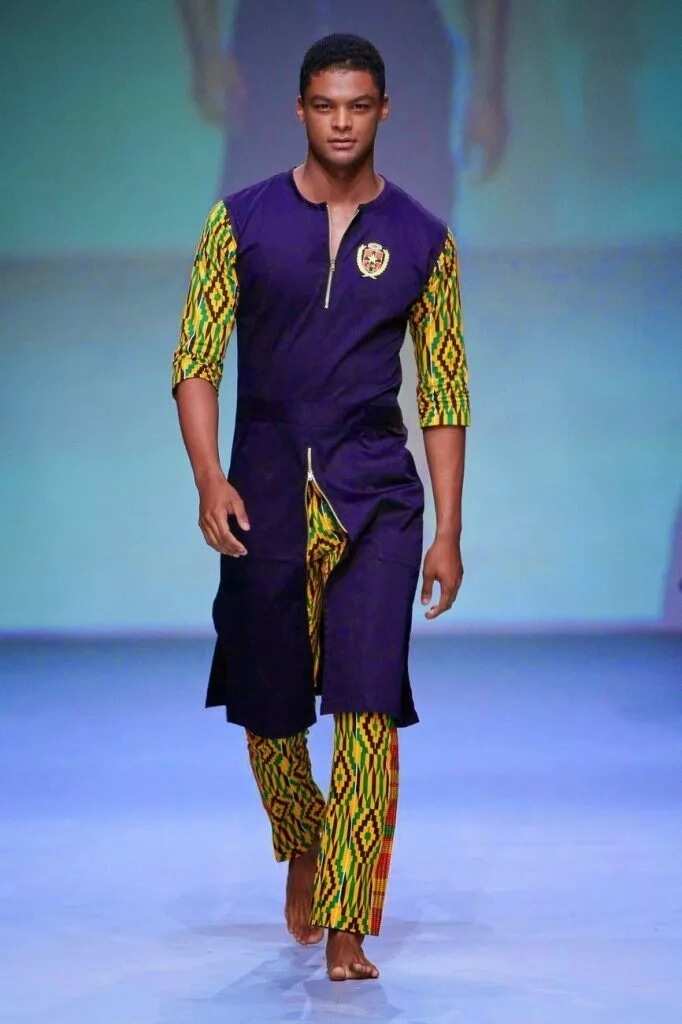 Male colours and prints for current Ankara styles
Designers offer men clothes of various colours: from classical pastel to very bright. The highlight of the season is snow-white clothes. The khaki colour is at the peak of popularity too.
Gray, metallic, olive, and deep blue - these colours remain constant male companions. Black colour deserves special attention. It's always relevant, even if you do not know what to wear. This colour immediately attracts like a magnet and creates a stylish image.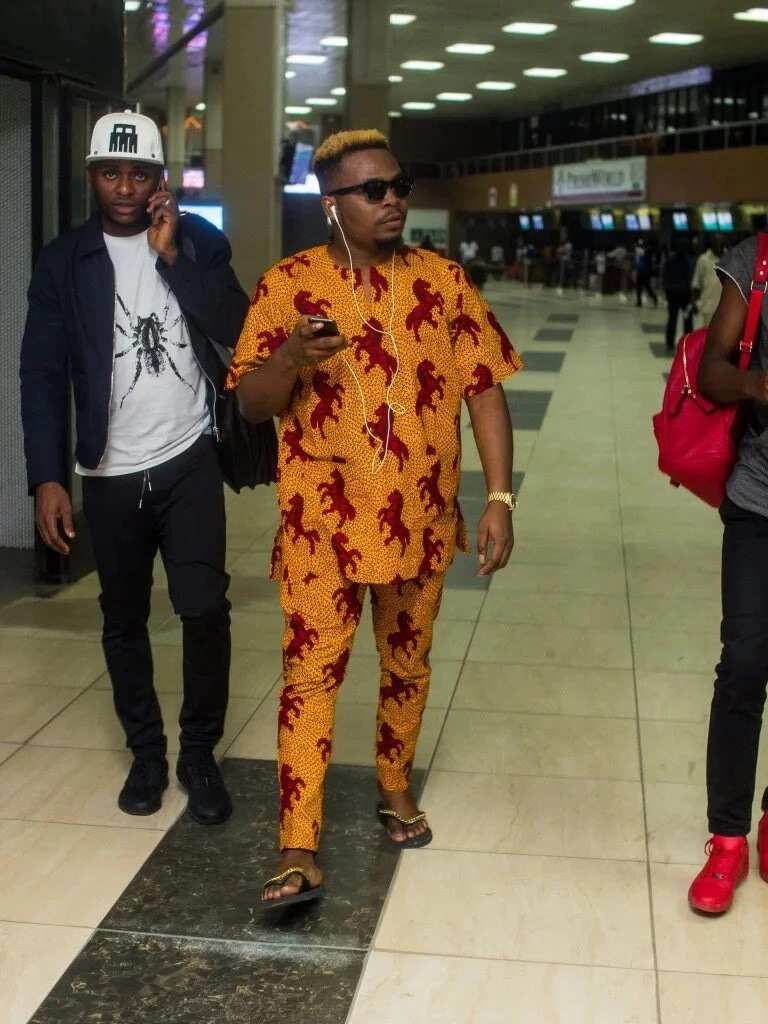 In modern men's fashion, you cannot see stripes of zebra and tiger, leopard spots or a pattern like the tortoiseshell. But it doesn't mean that trend for animalism has gone from the fashion podiums! Just today they take a completely different form. Designers decided to give space and attention to Ankara patterns in the form of fantasy and quite ordinary representatives of the animal world.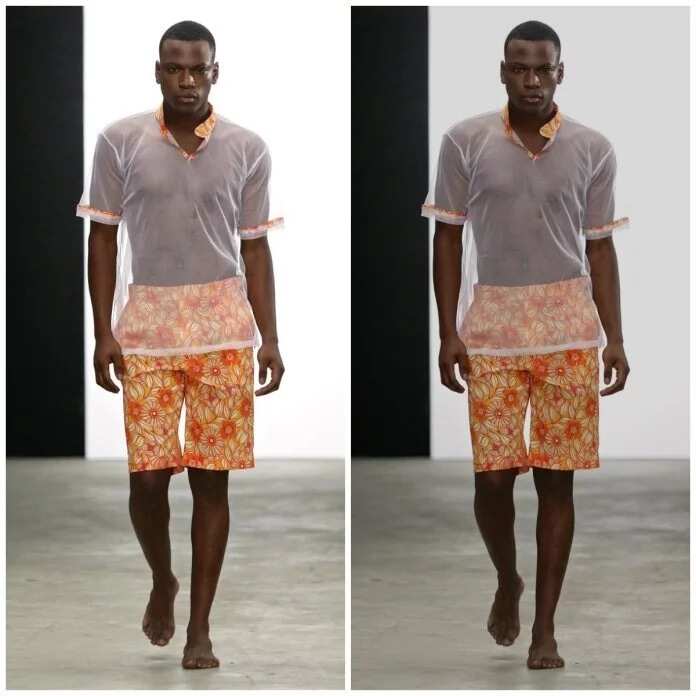 Floristic finally ceased to be the privilege of women fashion. Modern men's trend also reminds you of flowering gardens! Designers decorated absolutely all items of the guy's wardrobe with the most incredible colours, petals, and compositions from garden and field plants. The floral motifs are relevant for both shorts and shirts.
The stripped and checked fabrics are also in trend.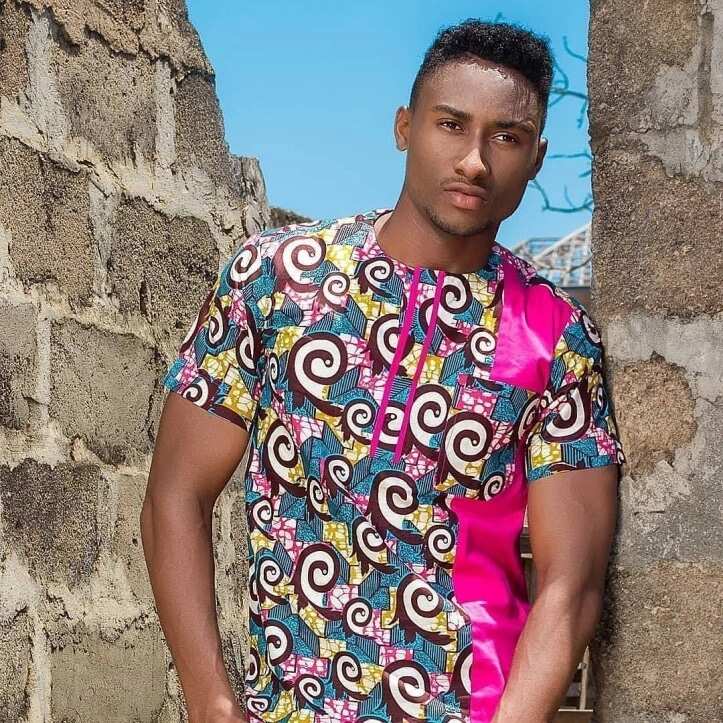 In the men's fashion in 2018, the most incredible prints burst. Their variety can only afford the designers imagination. Simple monochrome is in serious danger because a modern man is offered to wear now the most colourful clothes like Ankara styles. It's better if you choose a printed mono look.
In 2019, men are not afraid of bright details and accents on clothes. Fashion designers offer elements of embroidery and even scattering of stones and rhinestones.
READ ALSO: Top Ankara jackets on Bellanaija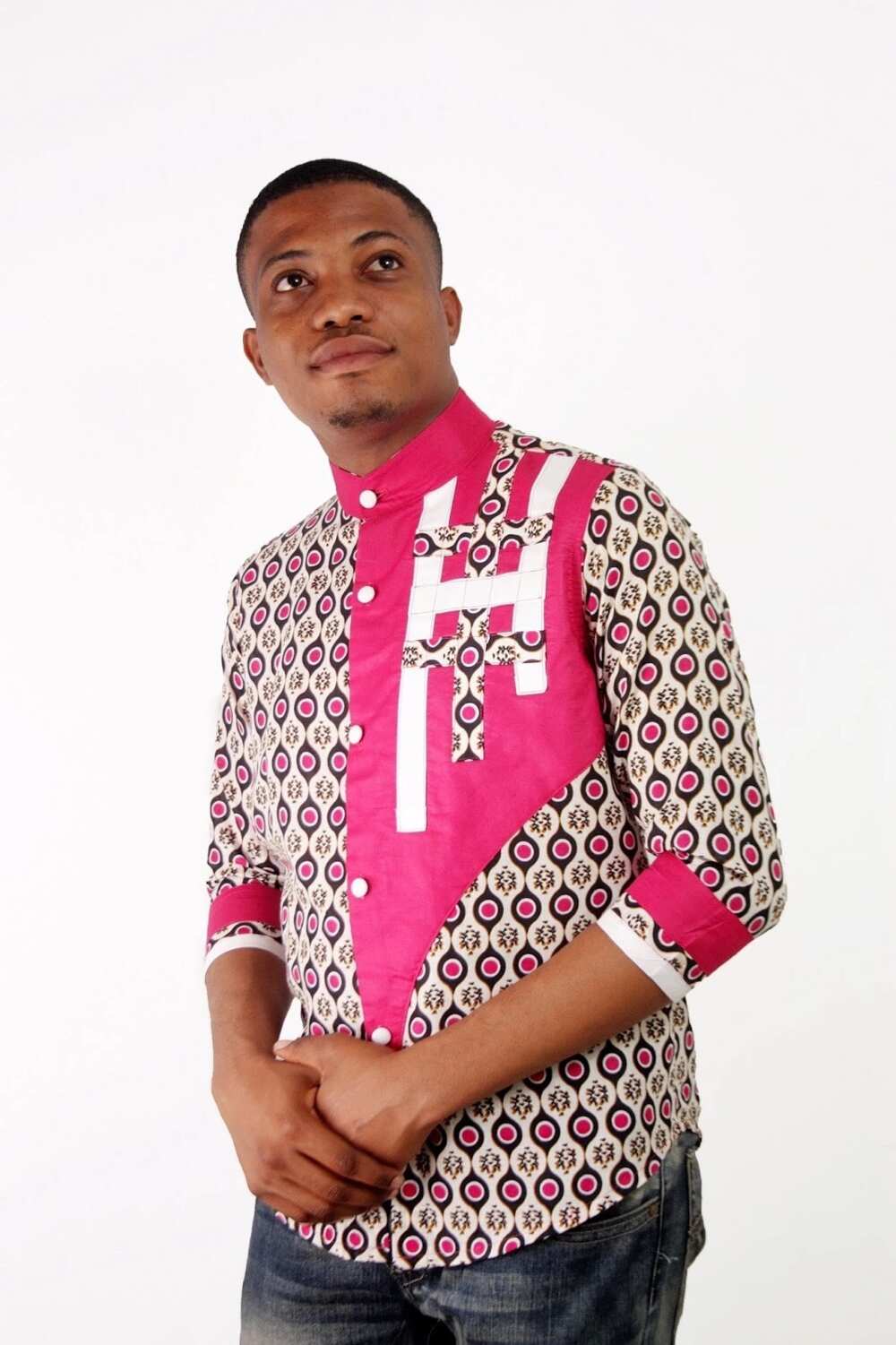 There are a few more interesting trends for Ankara's men's styles in 2019
Pink and light blue colours are relevant in any of its performances and 'full colour' image. This year pastel colours are a real hit among the colours of season 2019 in men's clothing.
Oversize in casual styles: The main secret of the stylish casual male image in 2019 season is the rejection of clear lines and classic cuts.
Updated business style: reload of business attire. The new office image moves away from the classical schemes and focuses on bright accessories and retro lines.
Ankara overalls: they are included in the top ten most relevant women's trends in season 2019. Overalls are also a bright element of the men's wardrobe.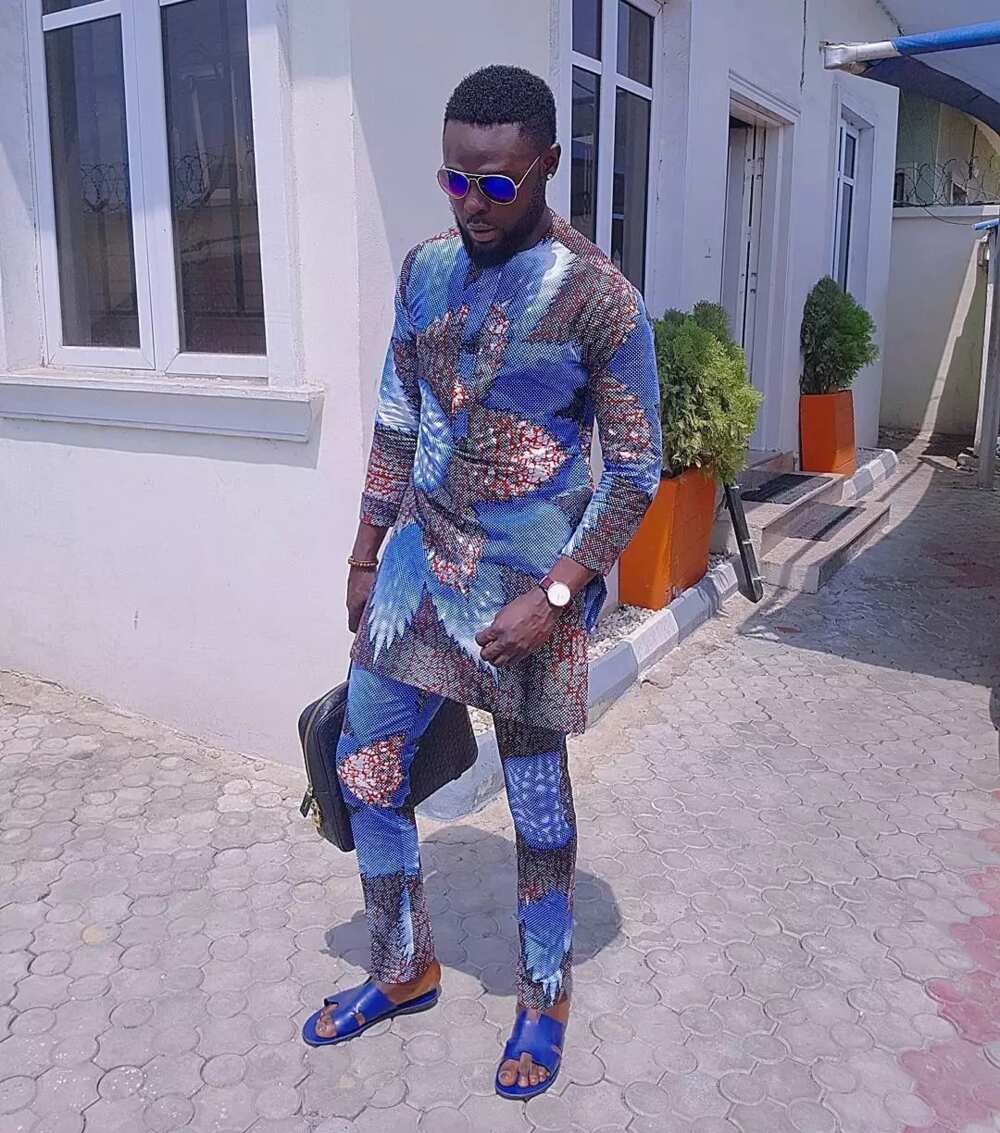 It's naturally for a man to follow the fashion using Ankara styles for guys. After all, with clothes, you can create your image. It helps you to enjoy your appearance and be in harmony with others.
READ ALSO: Ankara trouser and top styles for men