Latest Ankara flare gowns in 2018
Ankara styles are at the peak of their popularity these days, which is why we have decided to talk about Ankara flare gowns today. Find out how diverse they can be, as we show you some beautiful pictures of latest Ankara flare gowns of 2018.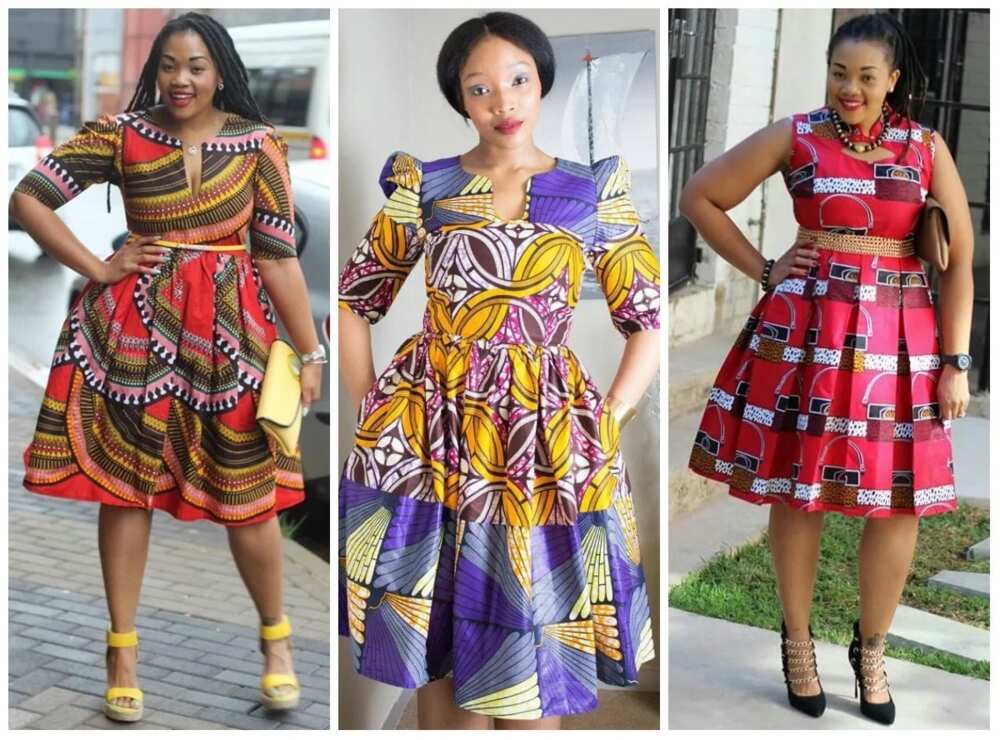 Ankara flare gowns are usually either short or long. That is why we have decided to divide our picks along these lines. Thus, you will be able to see ten long and ten short flare gowns made with Ankara. Take a look at the Ankara dresses we have chosen and find your newest outfit today!
Ankara long flare gowns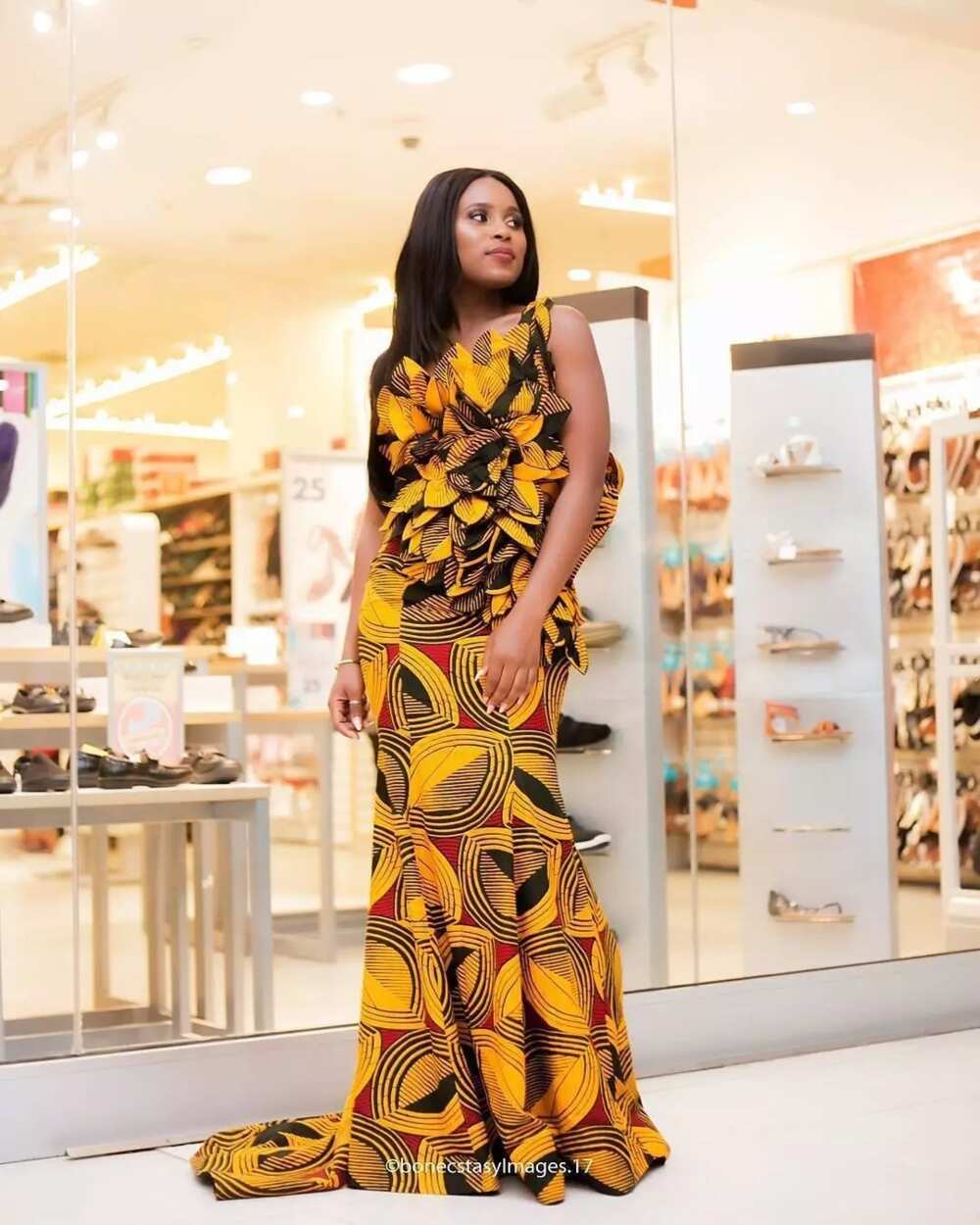 Let's open our gallery of latest Ankara styles of gowns with this gorgeous creation. With a dress like this, you will be turning heads wherever you go, be it a fashionable event or a regular trip to the mall. The large flower element looks particularly stunning.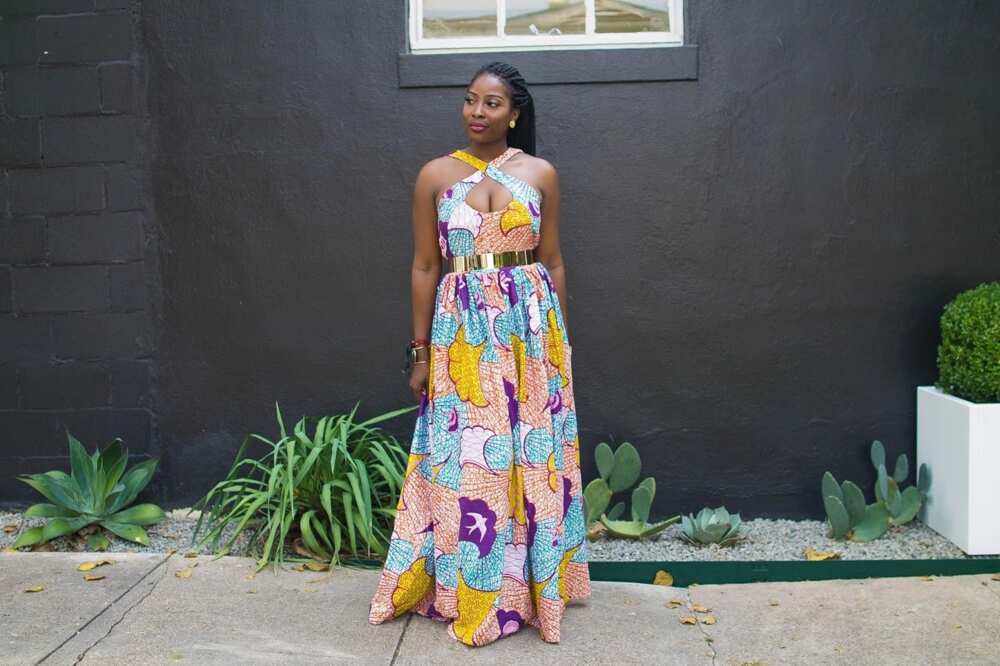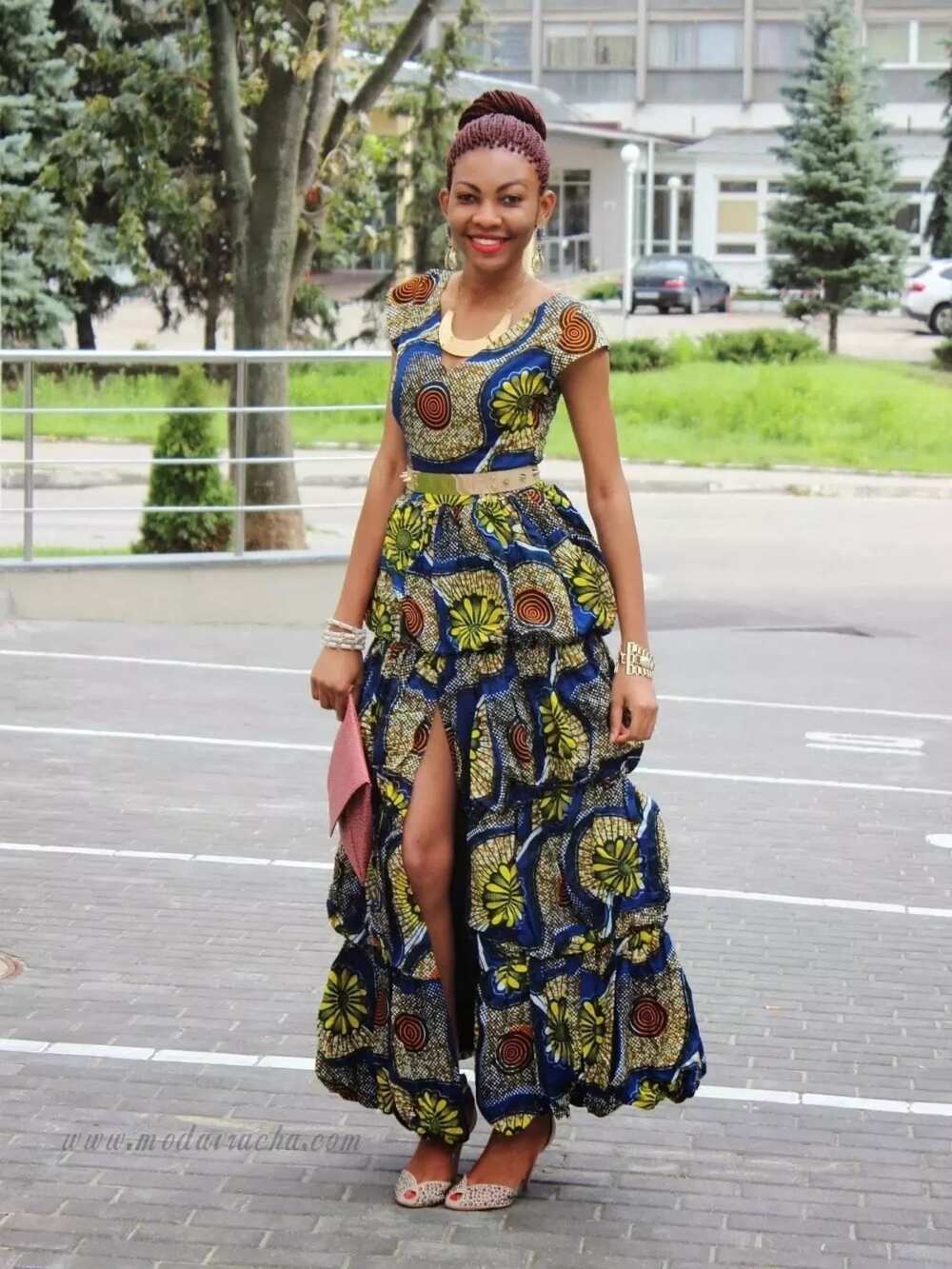 Sometimes, you just want to look different from everybody. Well, this gown can help you do just that. The unusually shaped skirt with a high slash right down the middle can not only make movement in it more convenient but also attract a lot of attention and compliments.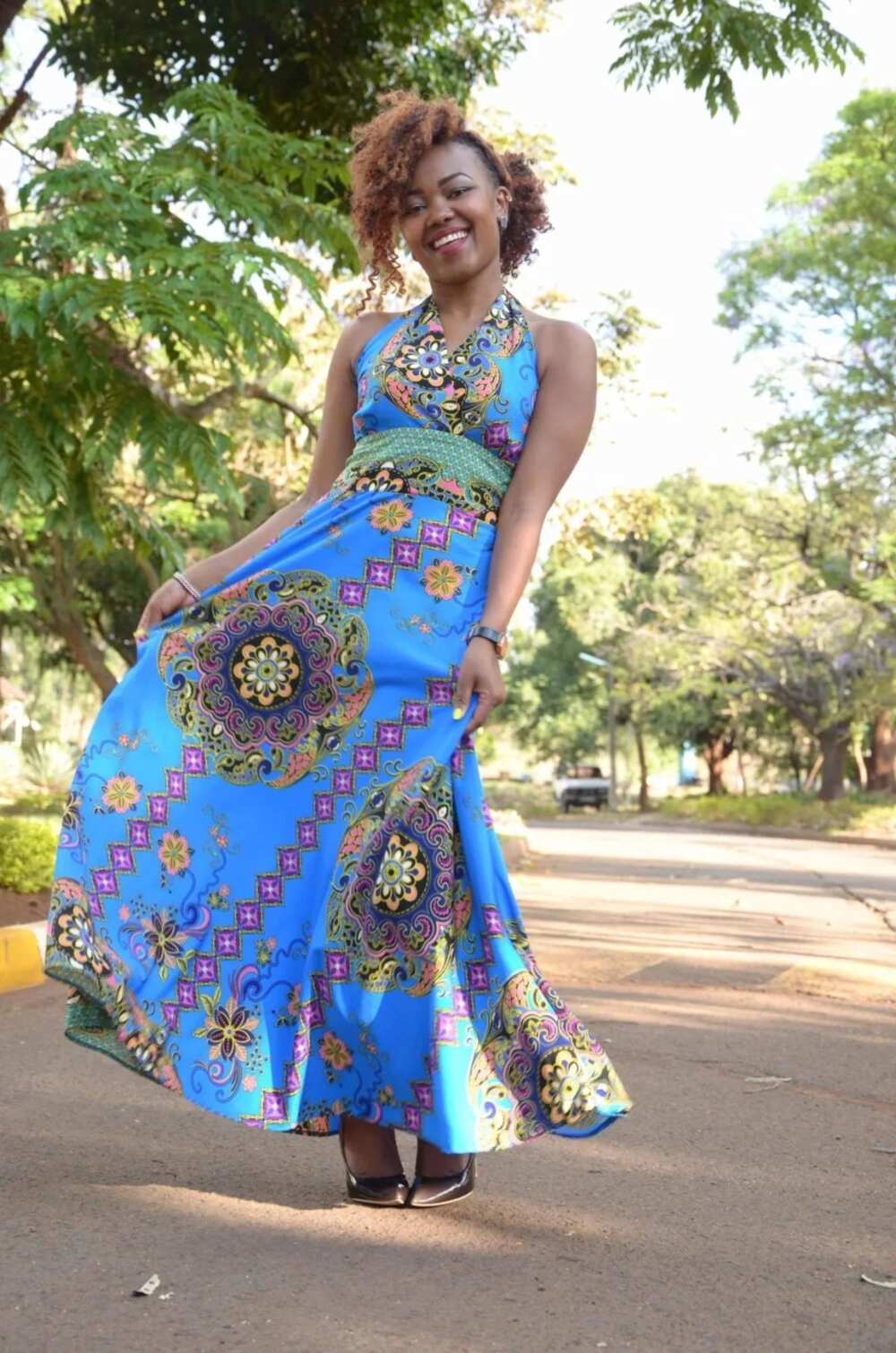 READ ALSO: Lace styles for wedding in 2018
This dress is a perfect option for a breezy walk around town or a date night at the beach. It is light, flowy and very comfortable (at least by the looks of it), so you can simply put it on and leave all your worries behind.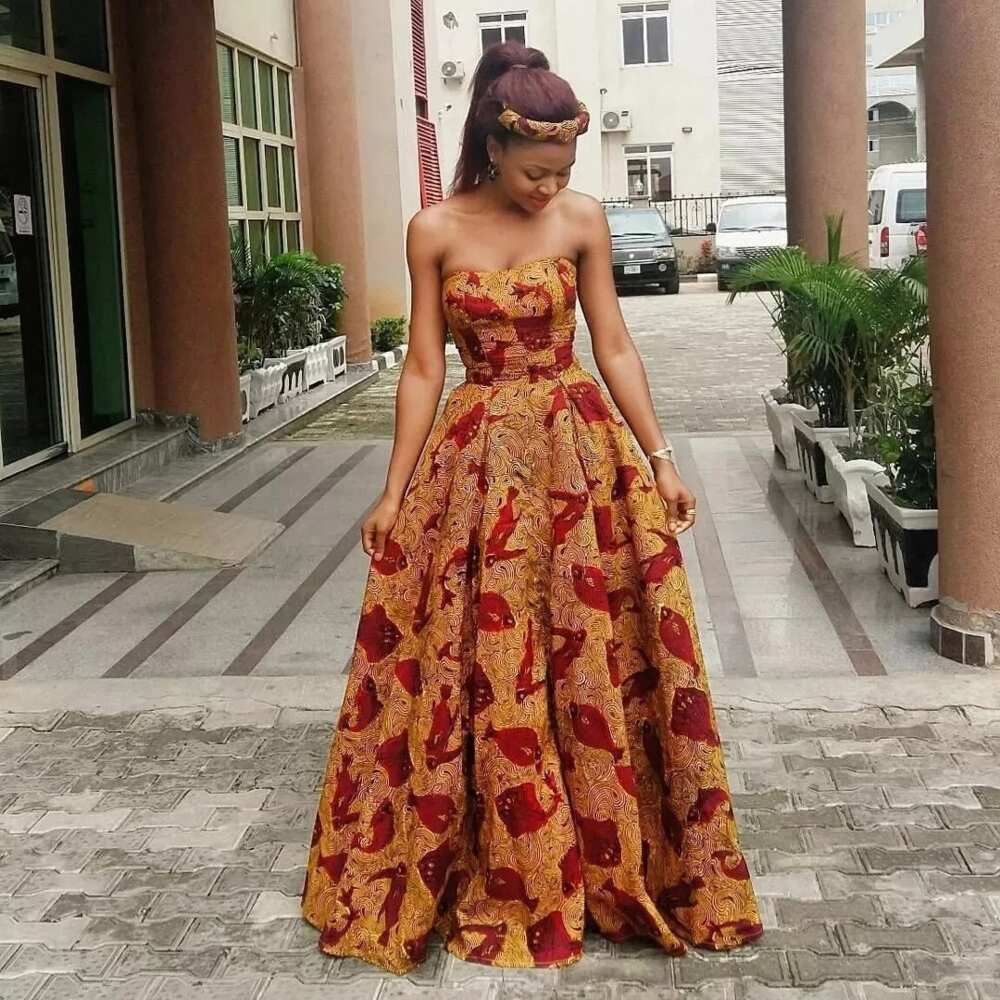 If prom night or some other important formal event is coming up and you still have no idea what to wear, consider a gown like this one.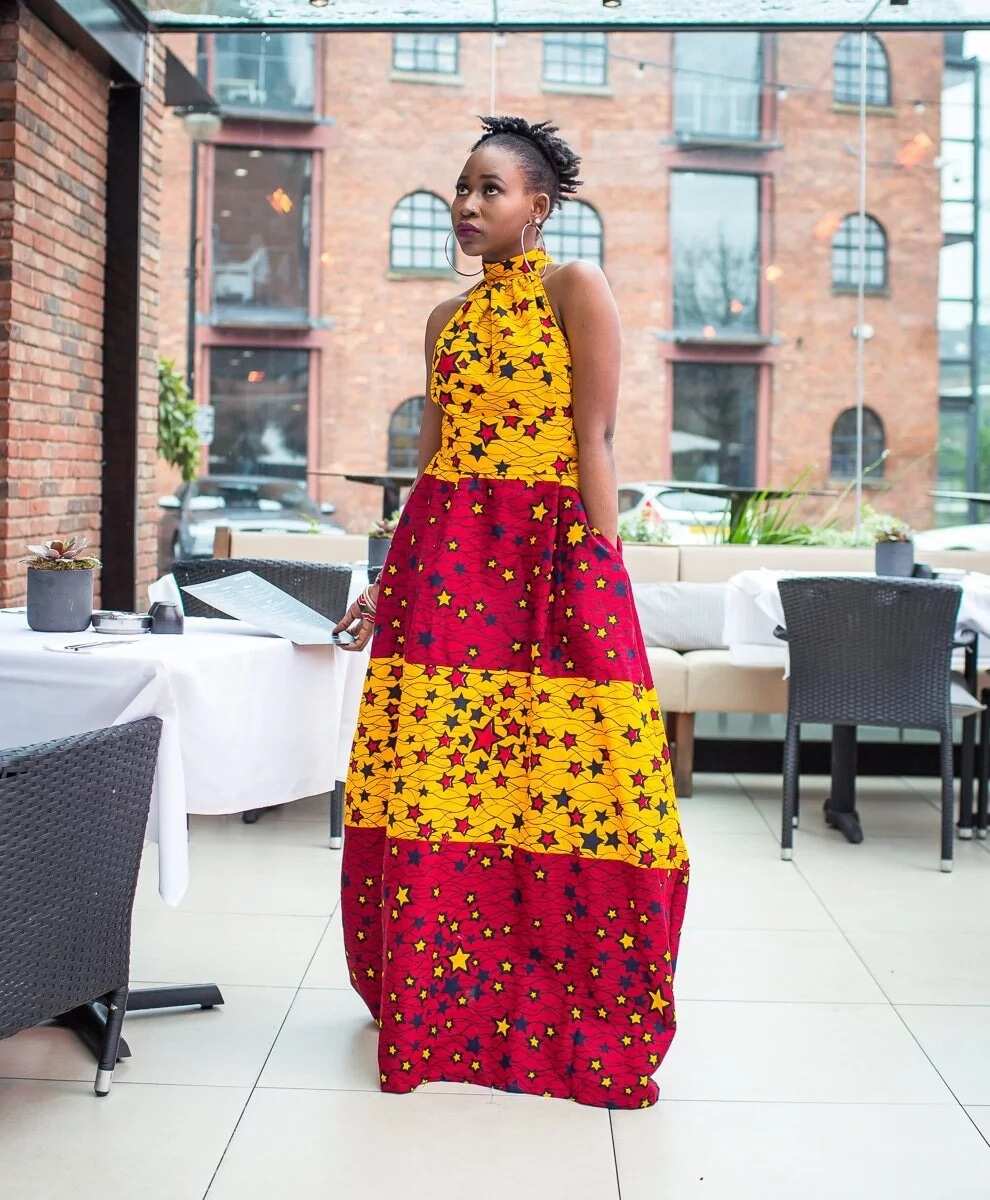 If you are looking for something simpler but still eye-catching, consider this Ankara gown. It stuns with its bright colour palette and yet, it does not look garish. The halter neckline, which is not very common for Ankara gowns, only adds to the beauty of this look.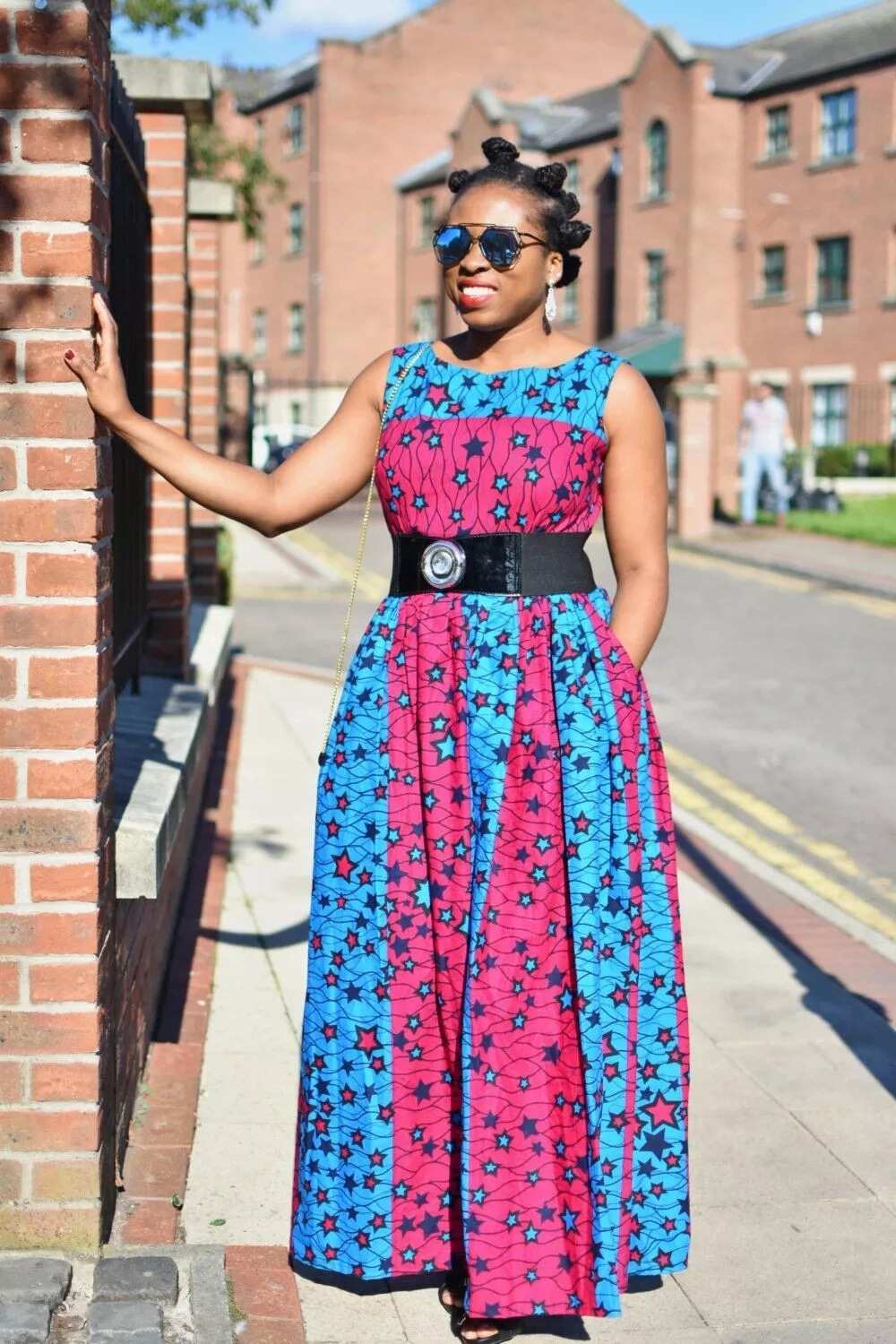 Here is another option you can go for if you enjoy this particular Ankara pattern. While it looks quite similar to the previous dress, the changes in the colour palette, direction of the stripes and the cut of the top make it a distinctly different outfit.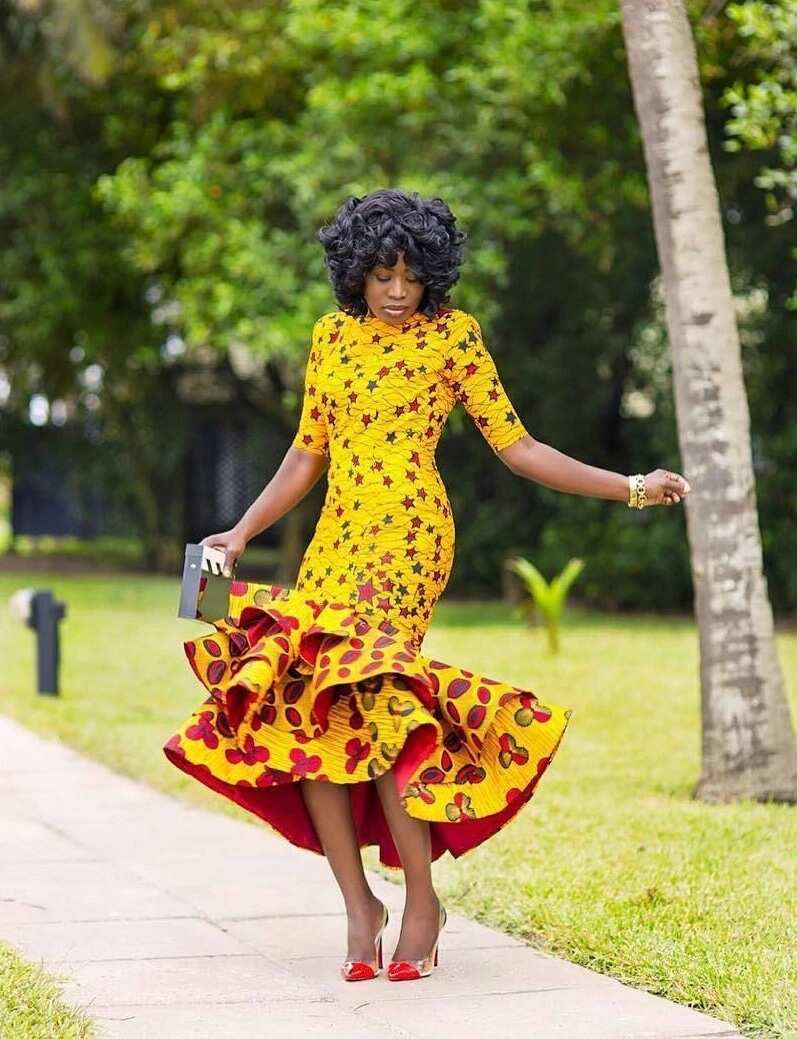 If you cannot get enough of the star Ankara pattern, here is another gown you should check out.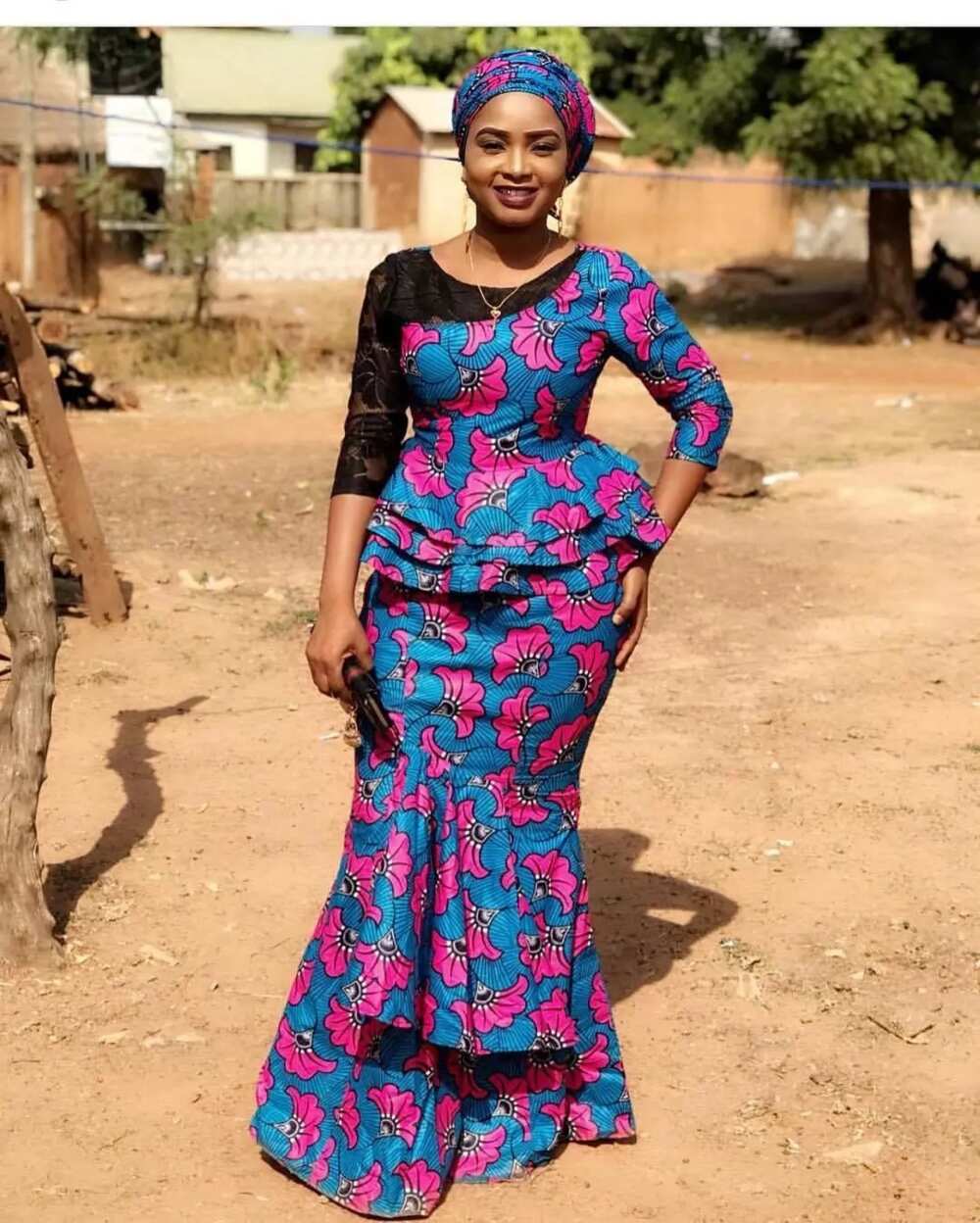 While we are on the topic of mermaid tails, take a look at this peculiar gown.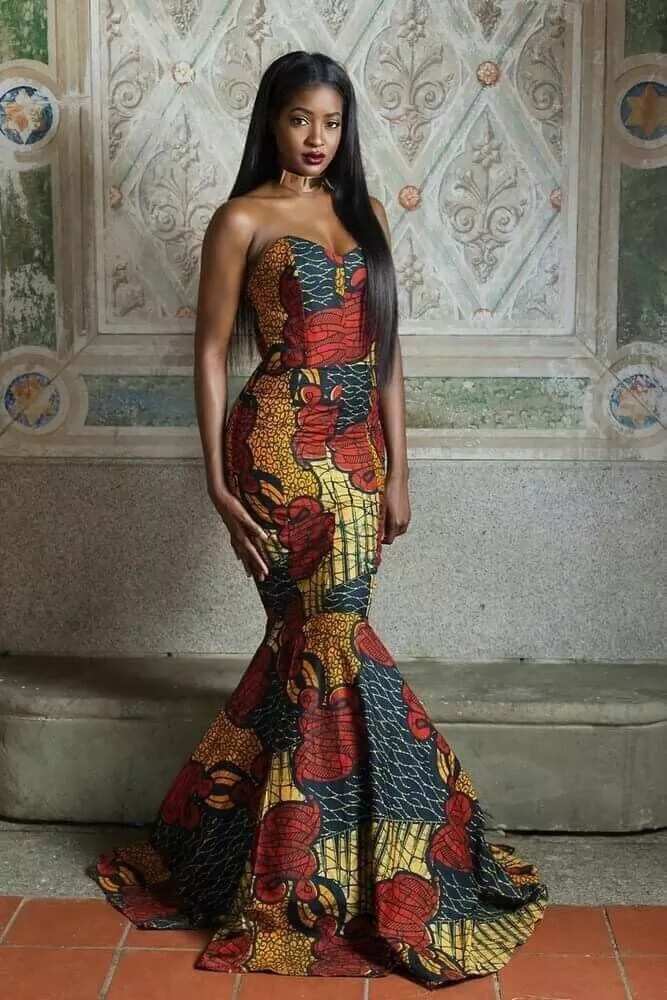 READ ALSO: Ankara pencil skirts styles
Here is a long Ankara mermaid gown. Dresses like this one should definitely be reserved for special occasions, as you probably would not be able to get far with a tail like that.
Ankara short flare gowns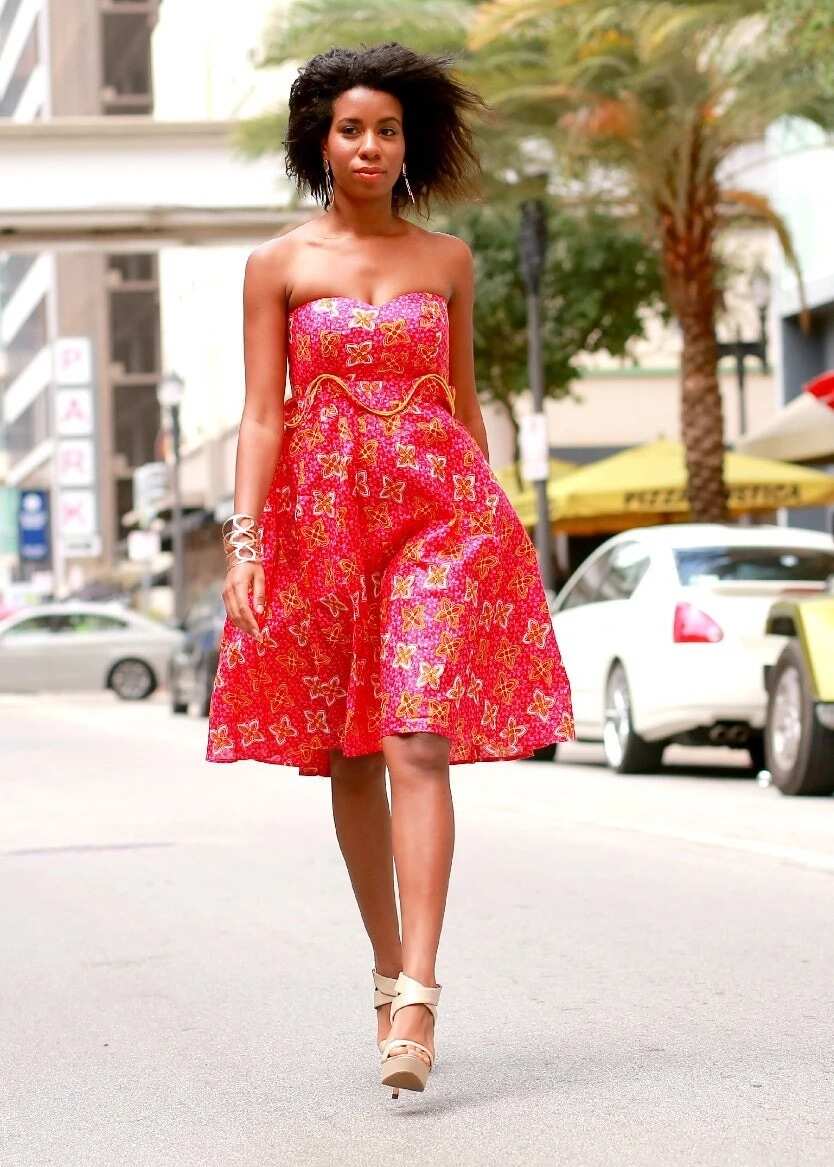 Do not leave just yet, as we still have ten short Ankara flare gowns to talk about. And the first one is this cute and colourful number. The sweetheart neckline and flowery pattern can make you feel beautiful and young, no matter what your passport says :)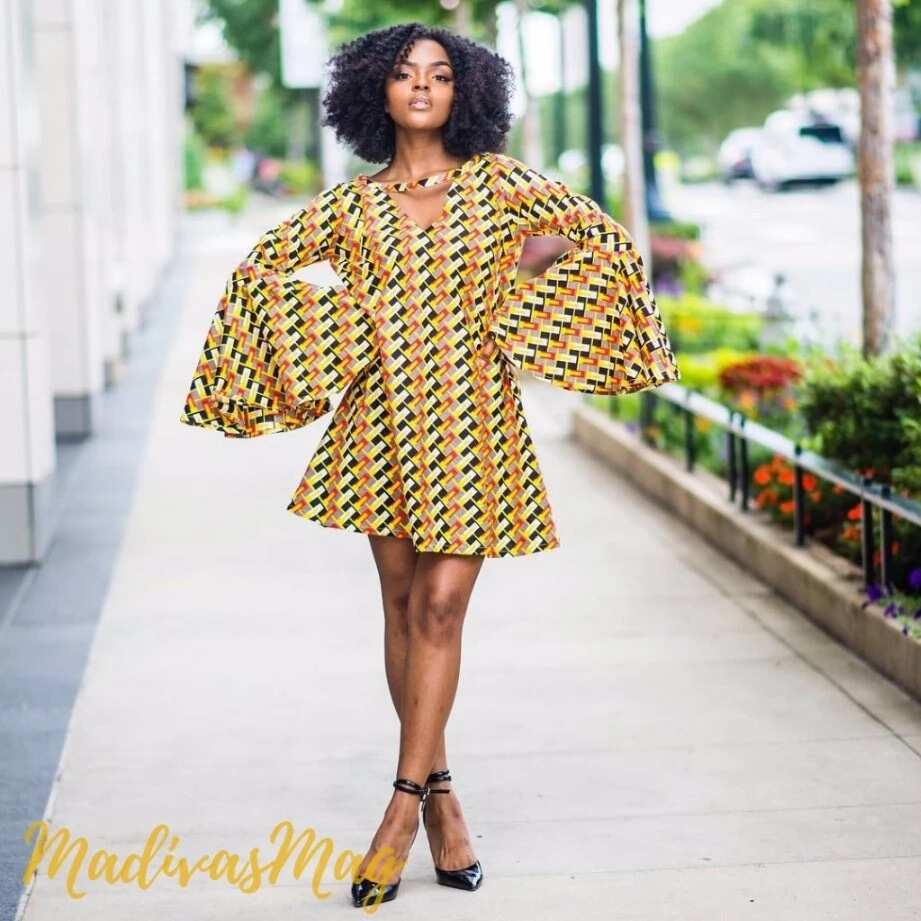 If the flared skirt of the dress is not enough, we have a gown that also has flared sleeves! A dress like this simply calls for turns and twirls, as all this 'extra' fabric reacts to the movements beautifully.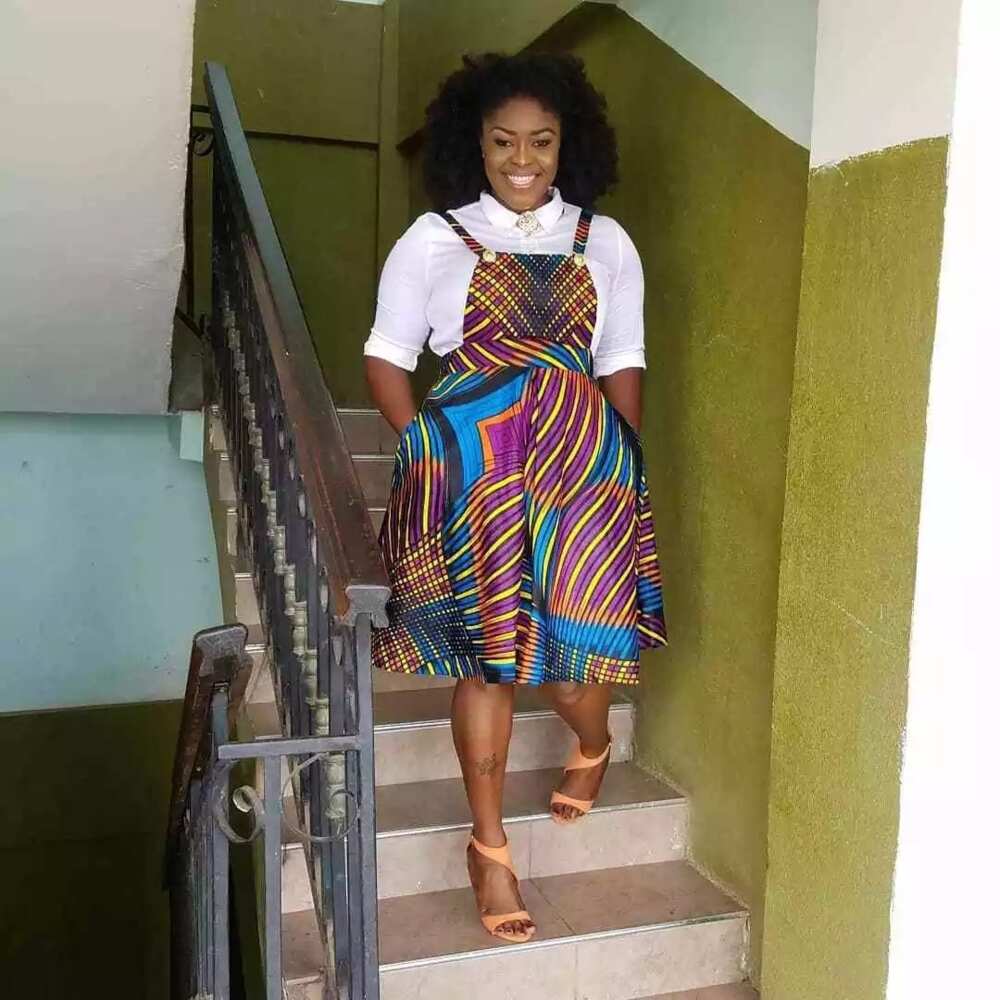 We have recently been talking about Ankara dungarees, and dungaree dresses in particular, so we could not move past this adorable little gown.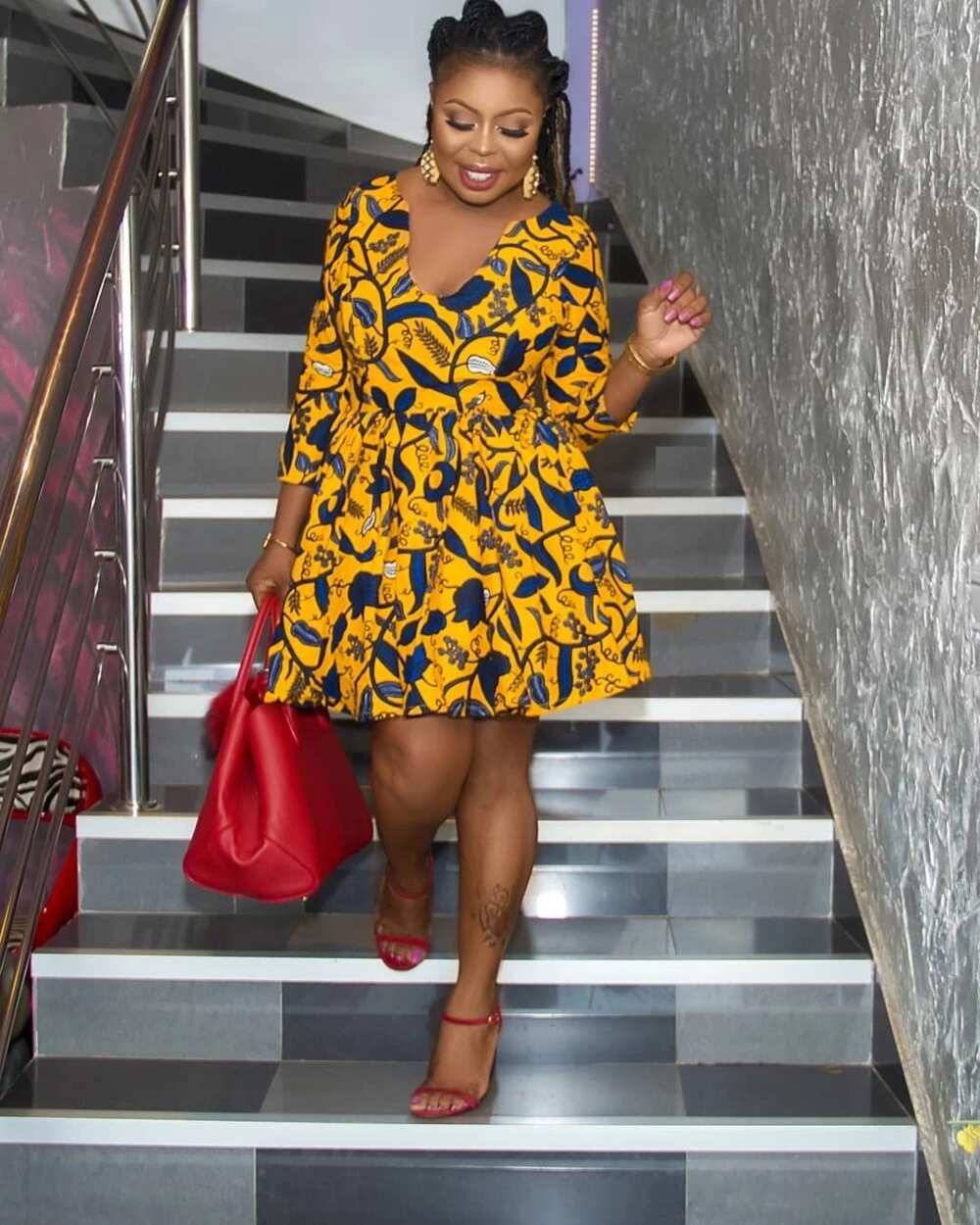 READ ALSO: Top 10 Nigerian fashion designers' magazines
Now, if you want something a little bit more serious and classy, then check out this dress. If you accessorise it correctly, this dress can serve you for almost any occasion possible: from a simple evening with your girlfriends to a fashion show.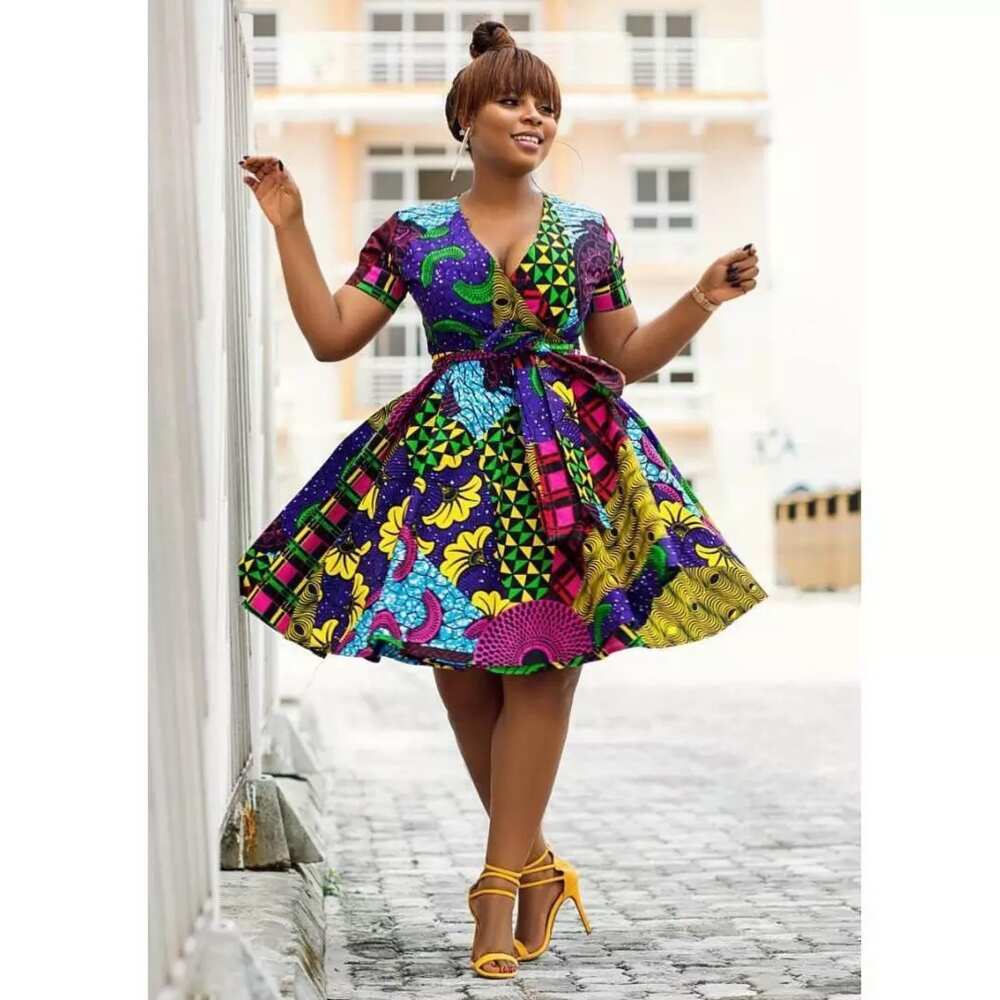 If you have a flair for the dramatic, then this dramatic flare gown should be right up your alley! We love puns here, just so you know :) But jokes aside, this dress looks incredibly fascinating, from its patchwork-like pattern to the unusual cut and a very big skirt.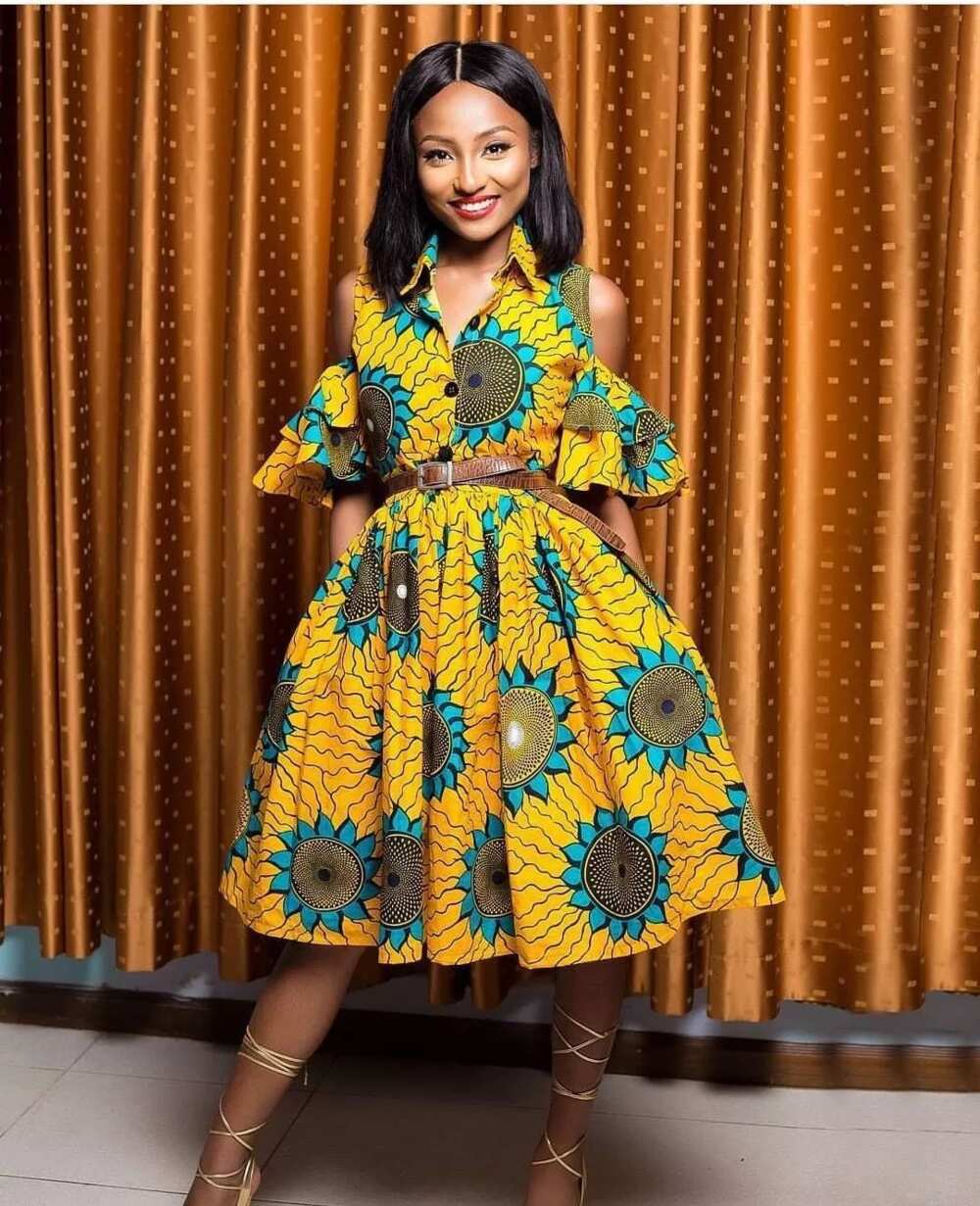 We adore unusual Ankara styles, so it is not surprising that this dress has caught our attention. It features cold shoulder ruffled sleeves, a collar, and it is a button-up.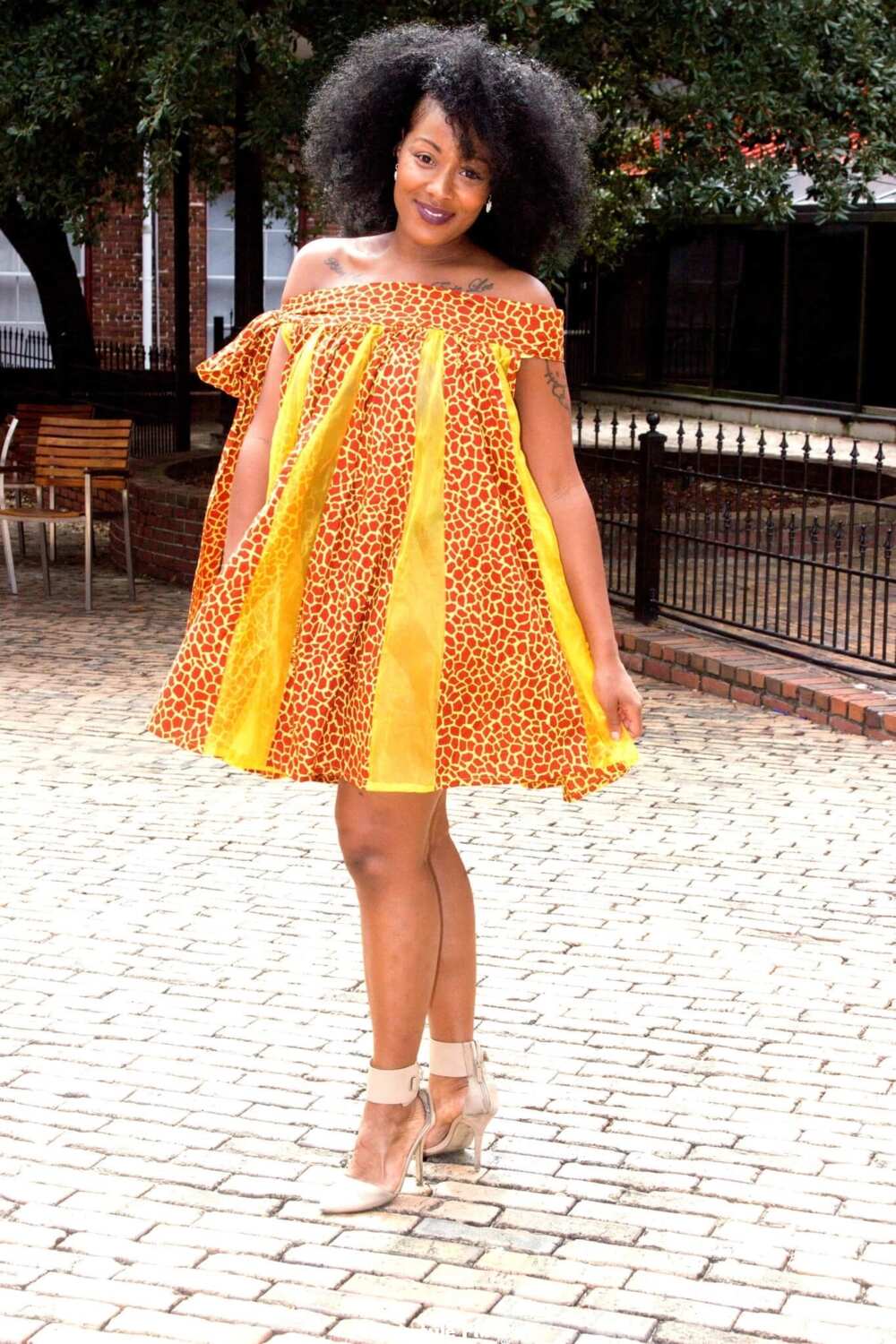 For all the giraffe lovers, we present this lovely gown. It looks very light and fun, and, in case you have not noticed, the yellow inserts are actually see-through.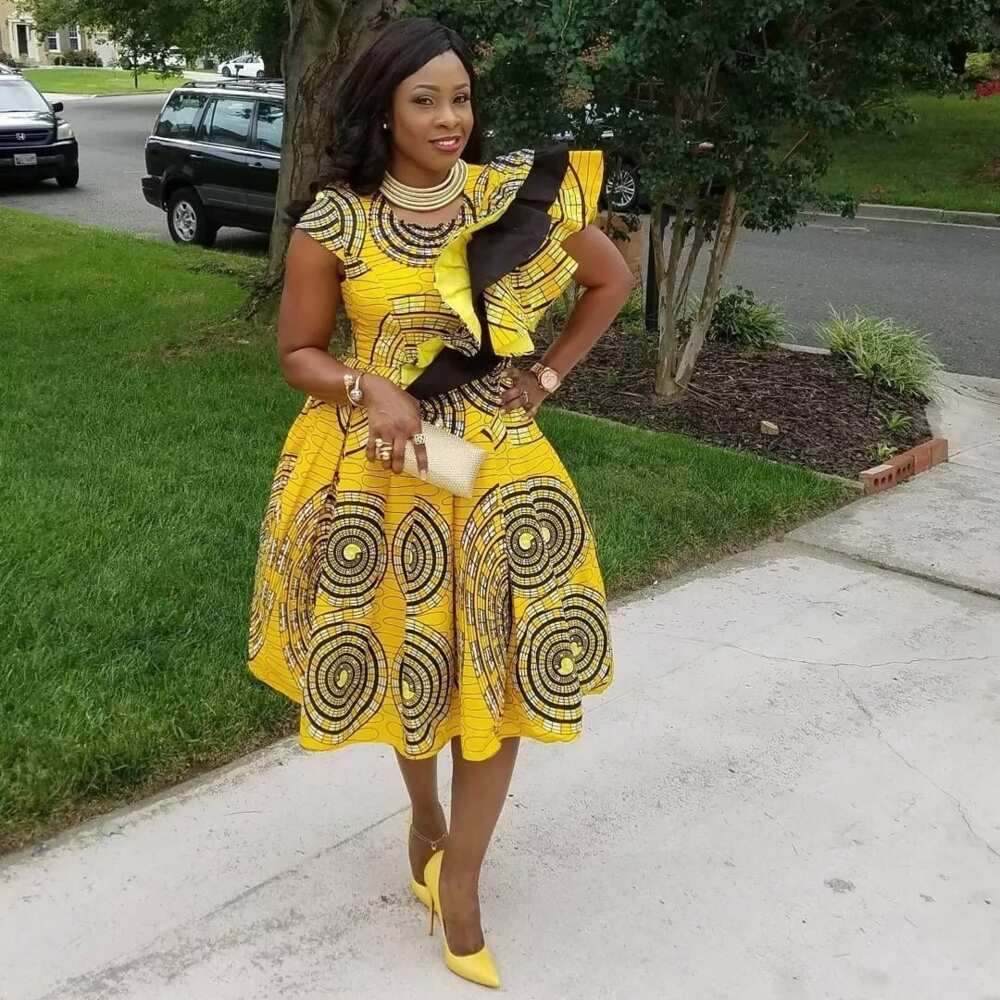 Remember the very first gown from this article? Well, this dress must be its distant relative. Everything in this piece looks fabulous and well thought out, and the shoulder element brings a little something special to the whole picture.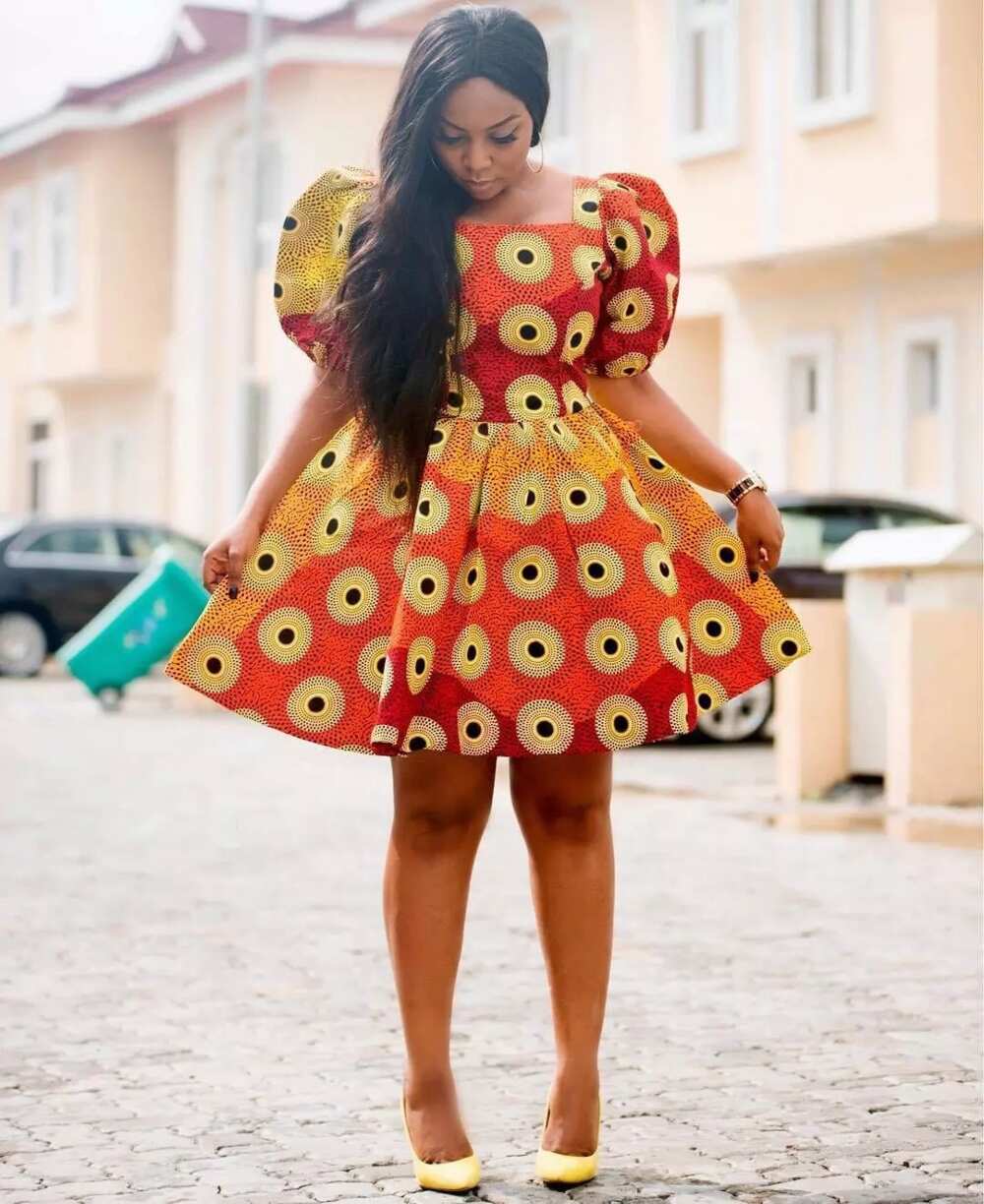 If you love geometry just as much as we do, this dress will probably be among your top five favourite Ankara gowns. We are particularly fascinated by the puffy sleeves, as they can make you look like a classic Disney princess.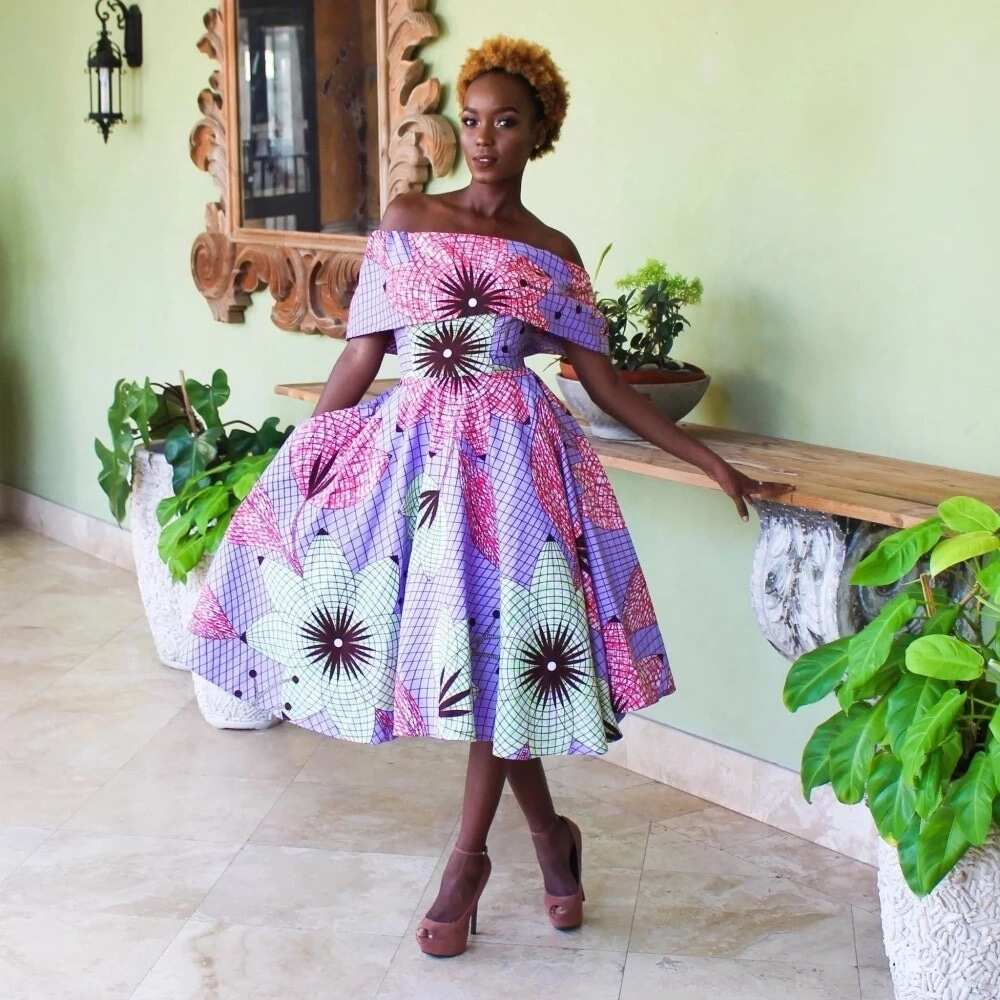 Our last pick from this category also reminds us of something a cartoon princess might wear. The soft colour palette and floral design work very well for creating a light feminine image. A gown like this can make anyone happy.
We have finally reached the end of our little gallery of Ankara flare gowns. As you can see, all of them look absolutely gorgeous, so go ahead and find the right dress for you! We hope that you have been able to find the style you like among our picks.
READ ALSO: 10 children Ankara styles to wear in 2018
Source: Legit.ng