African pear and pregnancy: is it safe?
Do you know the health benefits of African pear? What about its advantages for pregnant women? If you have no idea, we recommend you to read this post. You will know why it's useful, what is an acceptable amount for pregnant lady and other interesting facts about African pear fruit. Let's go!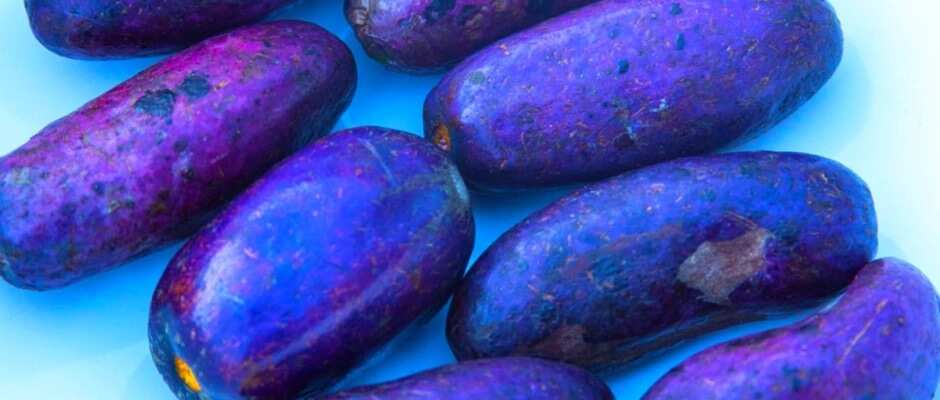 African pear fruit
African pear fruit is also know as Dacryodes edulis and belongs to Burseraceae family. The homeland of this tropical plant is considered moist African forests. In natural conditions African pear tree can reach a height of 40 meters. However, if the plant is grown artificially, its height will not exceed 12 meters. Growing on plantations, trees do not have such a rich bright green and dense crown. The fruits of the Dacryodes are blue or purple fruit and also have elongated form. Their length reach from 4 to 12 cm. The fruits can be safely eaten.
African pear can be eaten raw, and sometimes it's also boiled or fried. The pulp of cooked fruit becomes very similar to butter. It has the same viscous and soft consistency that is almost half (about 48%) of fatty substances. Dacryodes edulis plays very important role in the economy of those countries that are engaged in the cultivation of the African pear. Fruit kernels are often used as feed for goats and sheeps and the tree itself brings good honey.
READ ALSO: Benefits of unripe plantain in pregnancy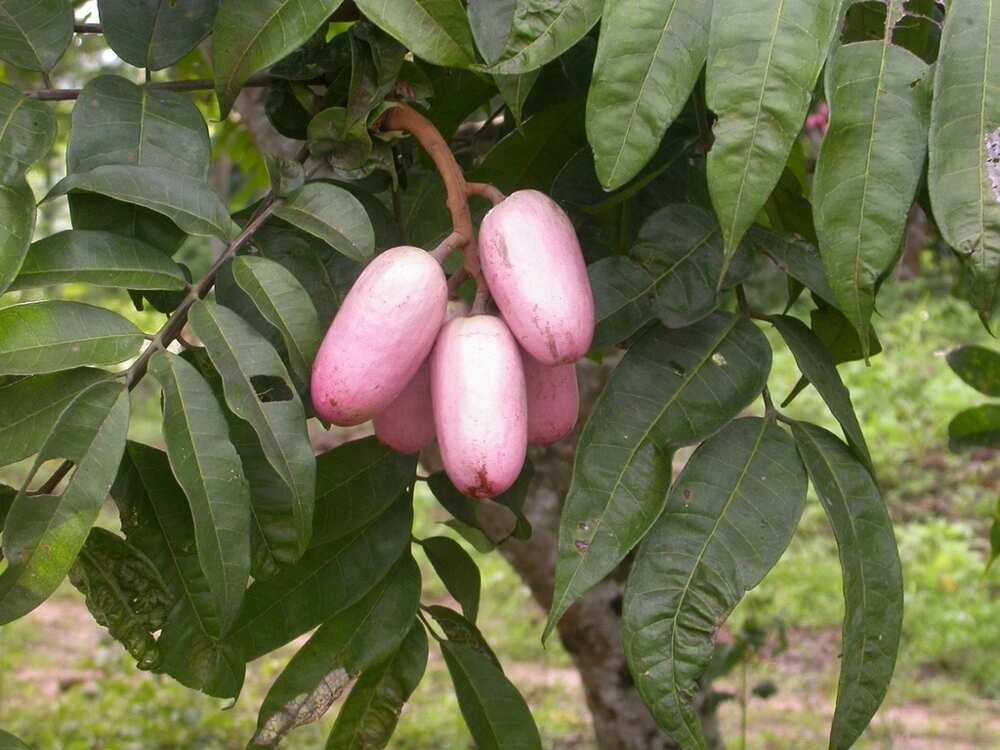 READ ALSO: How to stop nausea in pregnancy
African pear fruits during pregnancy
Dacryodes edulis is rich in amino acids, triglycerides, fatty acids, as well as beta-carotene. Thus, the African pear is not only a rare exotic fruit with a pleasant and delicate taste, but also an incredibly useful and nutritious product.
Decent source of vitamin C
African pears are an excellent source of vitamin C. One pear contains about 7 mg of ascorbic acid that is 11% of the daily intake recommended for pregnant women. Vitamin C helps the body fight various infections that are especially dangerous during pregnancy. Eat pears on the same day with foods saturated with iron, such as rice, legumes and meat. It will help your body to absorb this anemia-protecting micronutrient. Iron deficiency occurs in pregnant women quite often, so a sufficient intake of vitamin C becomes even more important.
Natural fiber
This is one more important advantage of African pears. This benefit helps to reduce constipation that is very common during pregnancy. In this important period for women, doctors prescribe all kinds of vitamin complexes containing iron. Unfortunately, such vitamins can also cause constipation, so you need to diversify the diet with vegetables and fruits with a fibrous structure. Pears are better eaten with the peel to improve digestion. As we've said earlier, you can even boil or fry it.
READ ALSO: Is garlic good for a pregnant woman?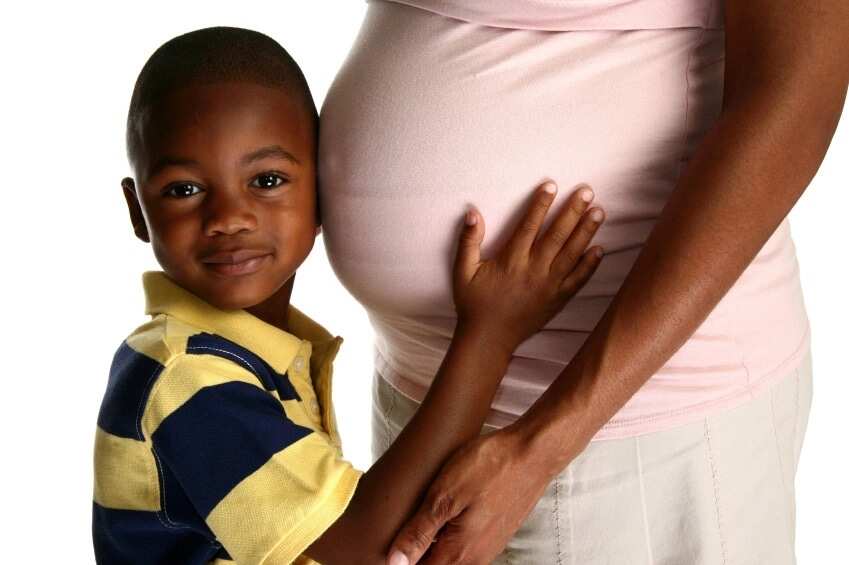 High content of potassium and magnesium
Potassium and magnesium contained in African pears provide a normal operation of the heart muscle and regulate the water-salt balance. When prescribing diuretics (for example, if there is a threat of gestosis) African pears will prevent loss of minerals.
Content of calcium
One of the most significant African pear health benefits. Calcium is important for the formation of fetal bone tissue and prevention of osteoporosis in women.
Content of iron
African pears have more Iron than many other fruits. When losing your strength or feeling dizziness and other symptoms of anemia, eat Dacryodes edulis. Even 100 grams of African pear a day can fill iron reserves. By the way, the lack of iron leads to hypoxia and, as a result, causes a delay in the intrauterine development of the fetus.
Many pregnant women complain of loss of appetite at the initial stage. As Dacryodes edulis is very nutritious, it will help you to increase your appetite. It occurs due to a lot of glucose and fructose in this fruit.
As you can see, African pear is very beneficial and safe for pregnant woman. In addition, It's used as constant treatment of various diseases, ranging from ear infection to fever and other health problems. In Nigeria, the resin of this tree is used to treat parasitic skin diseases. The dried bark is used for scarring of wounds. In Congo, decoction of the bark is used to rinse the mouth and for the treatment of tonsillitis.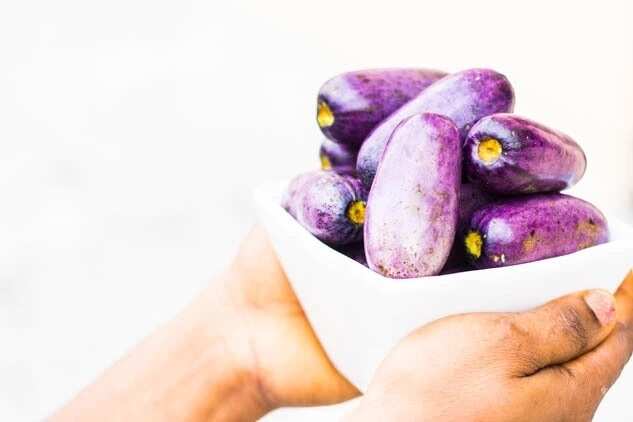 Of course, it's impossible to get only benefits of fruits for pregnant. There are also some disadvantages of African pears. However, they are not very significant. Contraindications may occur because of intolerance of individual components by your body and you also need to consult a doctor.
Choose ripe, soft, but not overripe fruit. If African pears are removed from the branches too early, most likely, they will not have a pleasant flavor and will lose all vitamins. Actually, nothing can be useful in large quantities. That's why, control a number of eaten fruit. 100 grams of African pear a day is enough.
READ ALSO: Can a pregnant woman take lemon and ginger?
Source: Legit.ng