Top Ankara styles for wedding occasion
What are top Ankara styles for wedding occasion? You open the wardrobe, and the first thought is 'I have nothing to wear again.' This topic is familiar to almost all the girls on the planet. We are ready to save you. See the best looks and create beautiful images for a wedding event.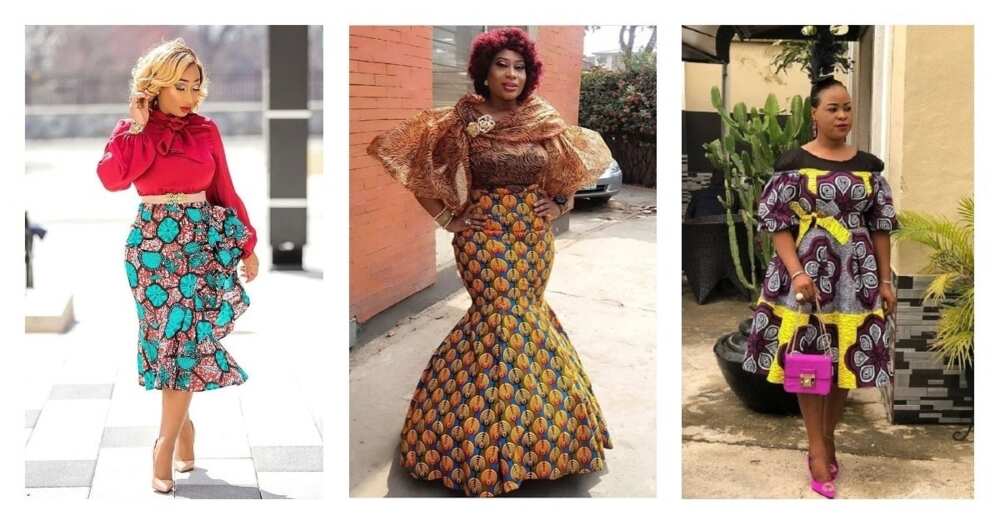 The evening dress style dictates its rules. The outfit for wedding occasion must be exquisite but not flashy, solemn but not provocative. There is a great variety of evening clothes' trendy styles. It's important to choose one for your personality.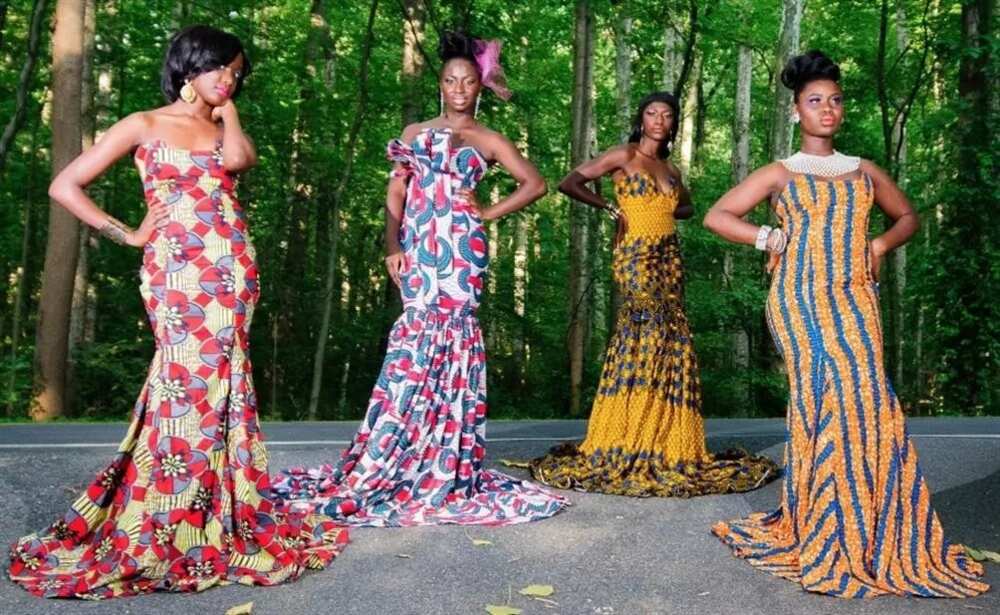 Female outfits for wedding occasion: trendy dresses
In the 1950s, a dress for special events was considered as elegant, if it was sewn from expensive fabric, such as satin or silk, in contrast to gowns for everyday made of wool or cotton. Today, the dress looks different. The most advanced designers create such dresses from bright Ankara fabrics loved by Nigerian ladies.
READ ALSO: Lovely Ankara styles for wedding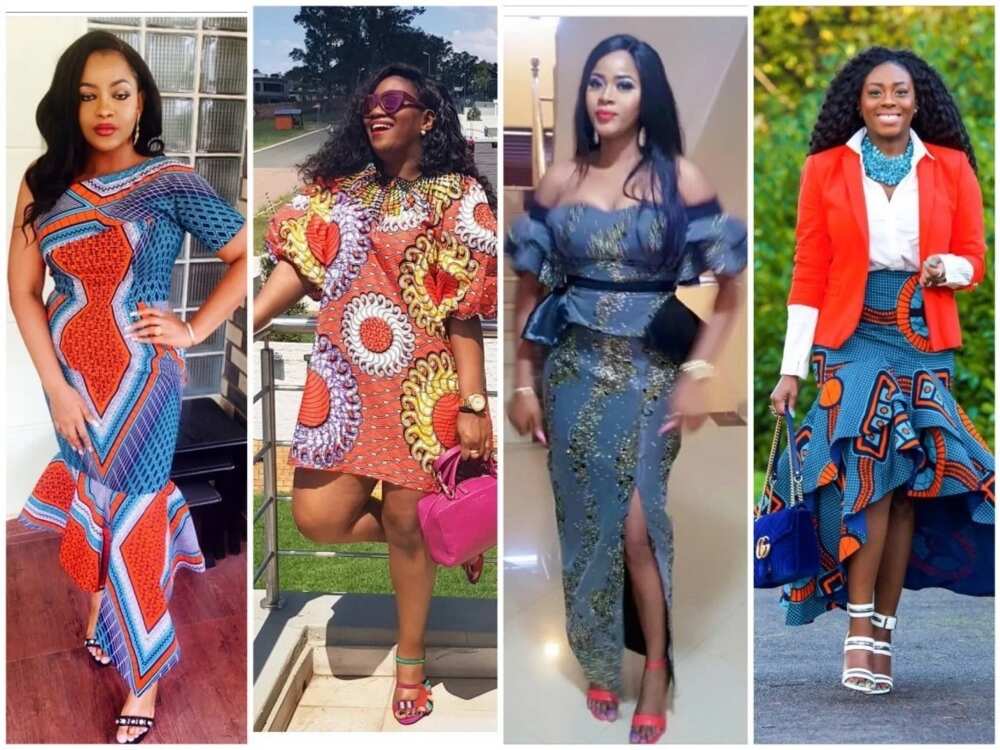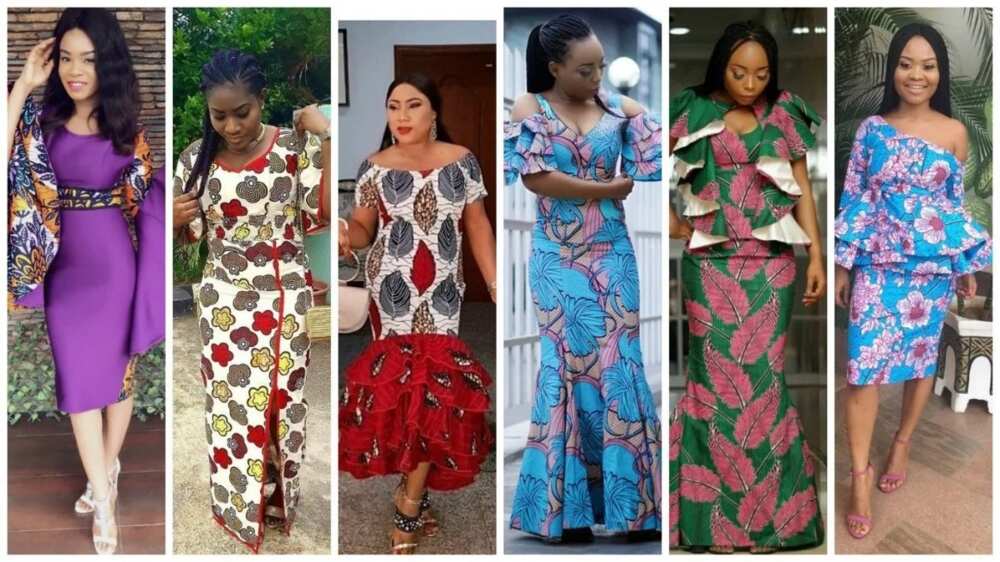 Top Ankara styles for wedding occasion
The colour and print of Ankara outfit should attract attention, even if you are in the opposite side of the hall. The attire's tone must stand out among the plenty of expected colours.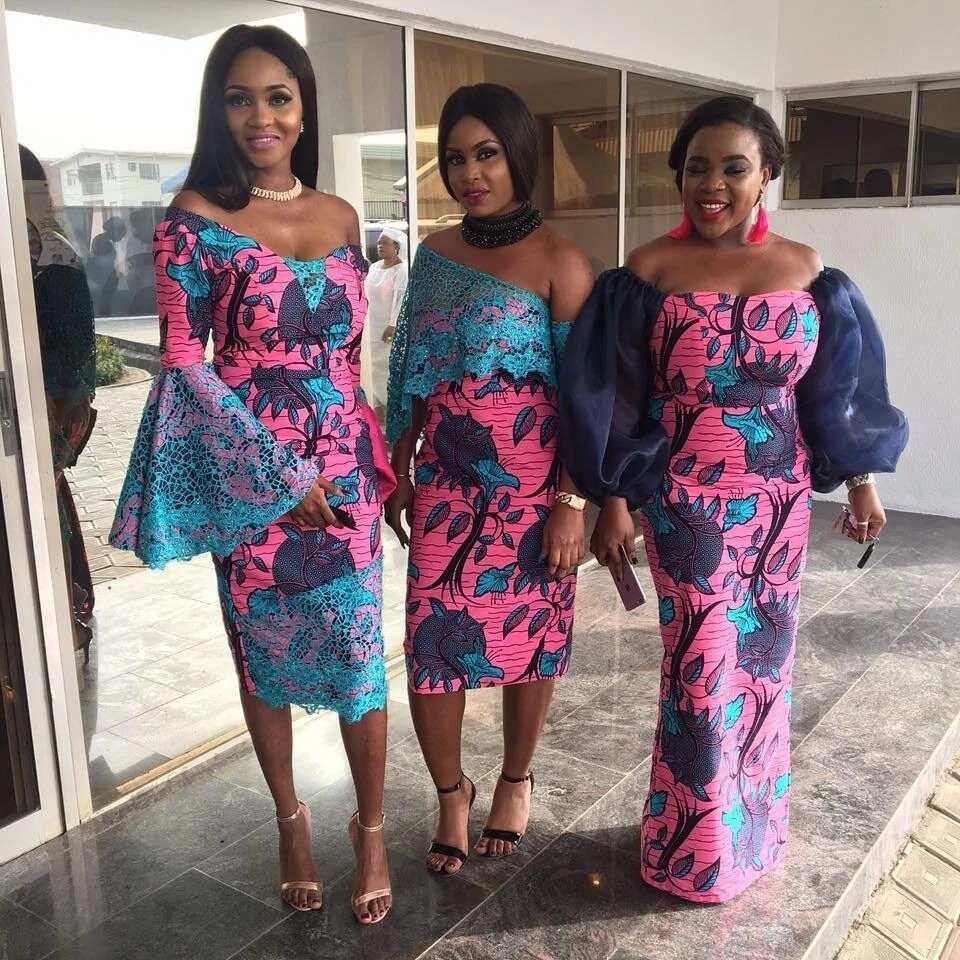 When selecting clothes of latest Ankara styles for events, do not put fashion above good cut. Take the size that suits you (don't buy an item two sizes smaller hoping to lose your extra pounds before an occasion). Then go to a good tailor who will give a truly impeccable look to your outfit.
Ankara gowns wardrobe
The successfully selected gown can transform an ordinary woman into a real goddess.
Let's look at the latest trends of Ankara dresses.
READ ALSO: Beautiful Ankara gowns for events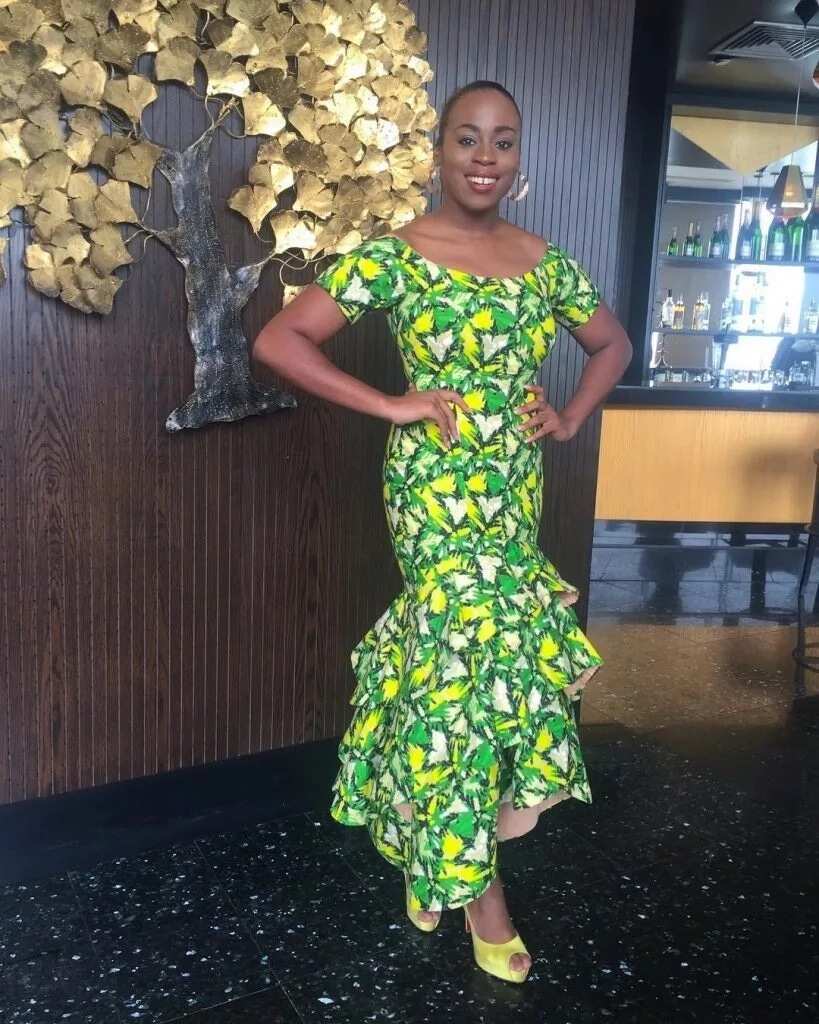 Mallet dresses
The tailoring of this gown differs with multi-level hem. Such design has some advantages. It's suitable for women of any shape.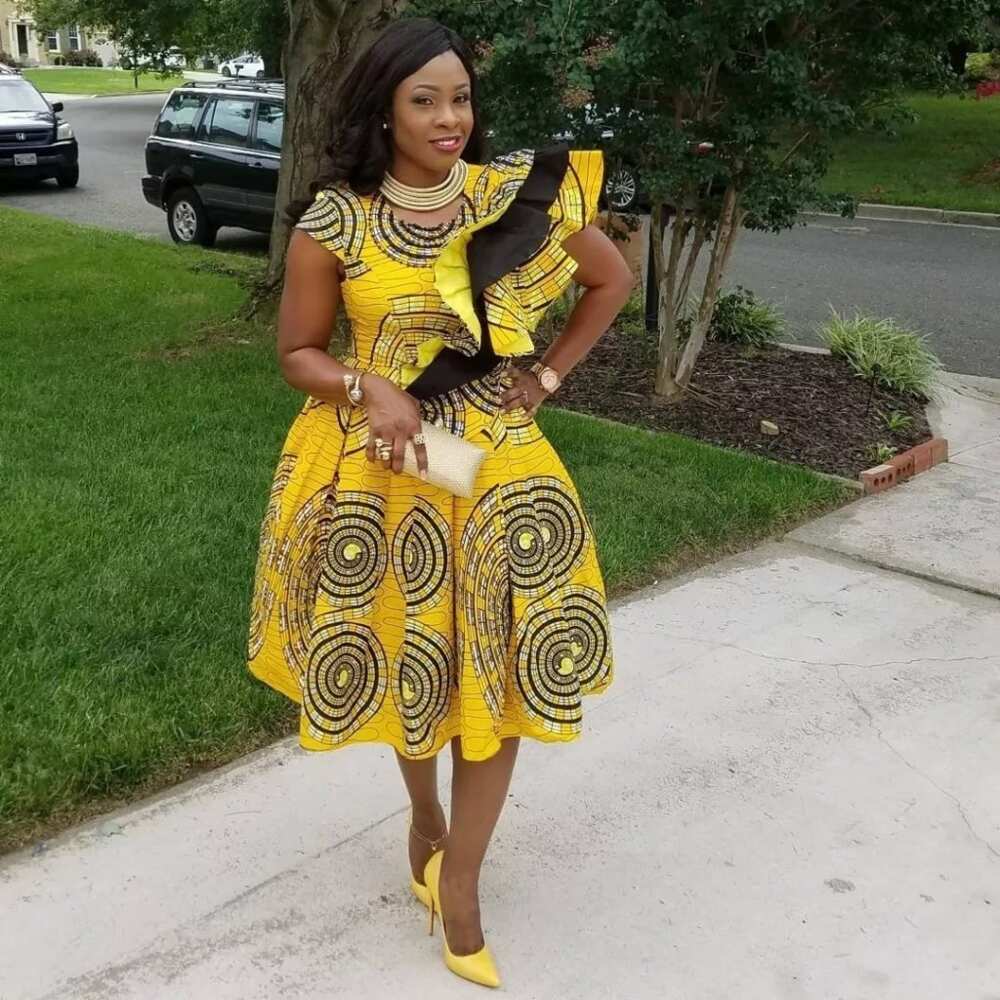 Gowns with multi-tiered frills, folds, ruffles and flounces
Dresses with these elements are perfect for wedding events. At the same time, folds, ruches, and flounces can be on various parts of a dress: on the décolleté, waist, and sleeves, etc. Details can be almost invisible or look like a real waterfall, shimmering with all the rainbow colours.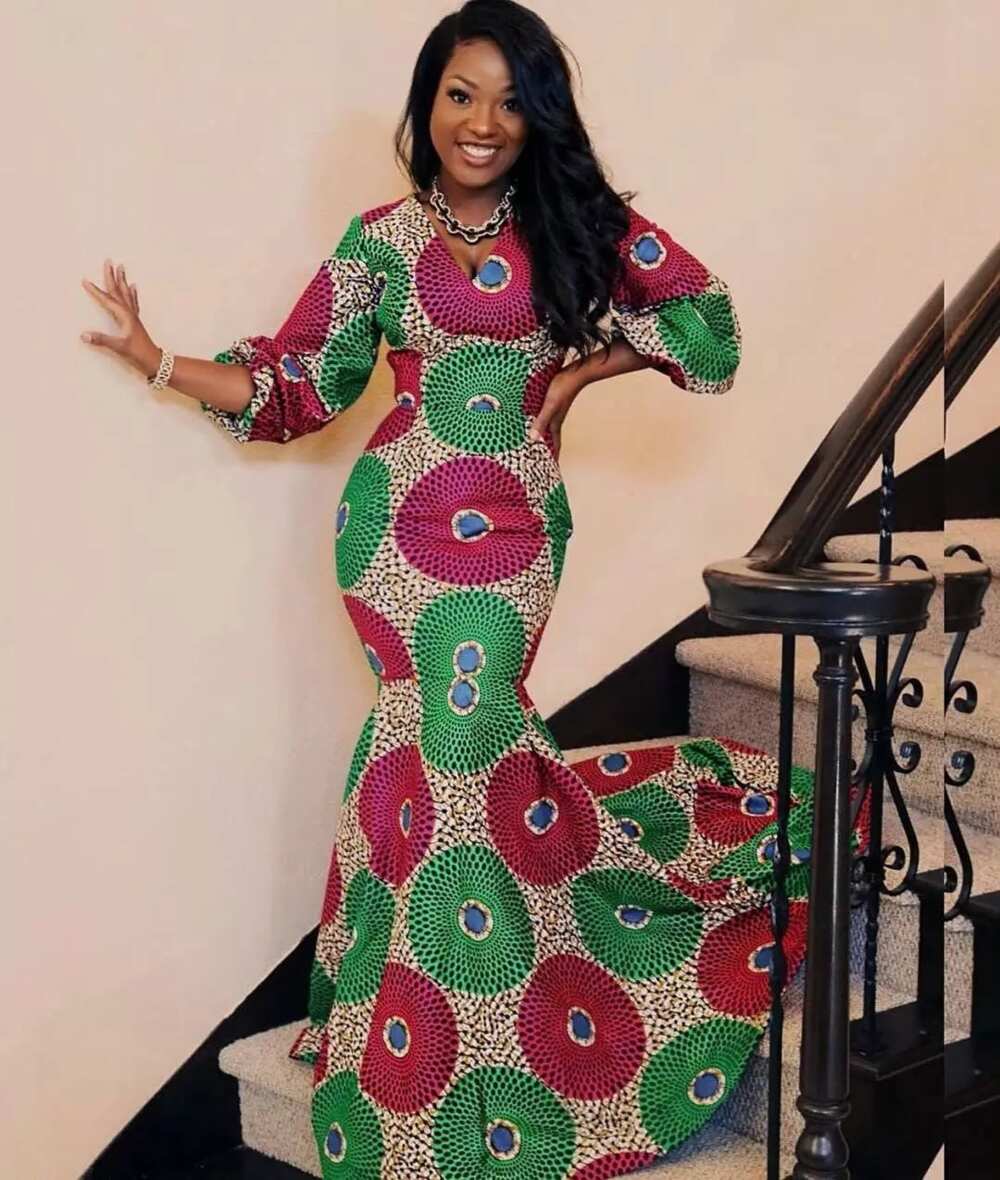 Mermaid style dresses
Long dresses with a mermaid silhouette have already become classics. We constantly see them at various awards and celebrations of the most important events. They are worn by the Nollywood stars on the red carpet festivals.
READ ALSO: Beautiful Ankara maxi dresses for real fashionistas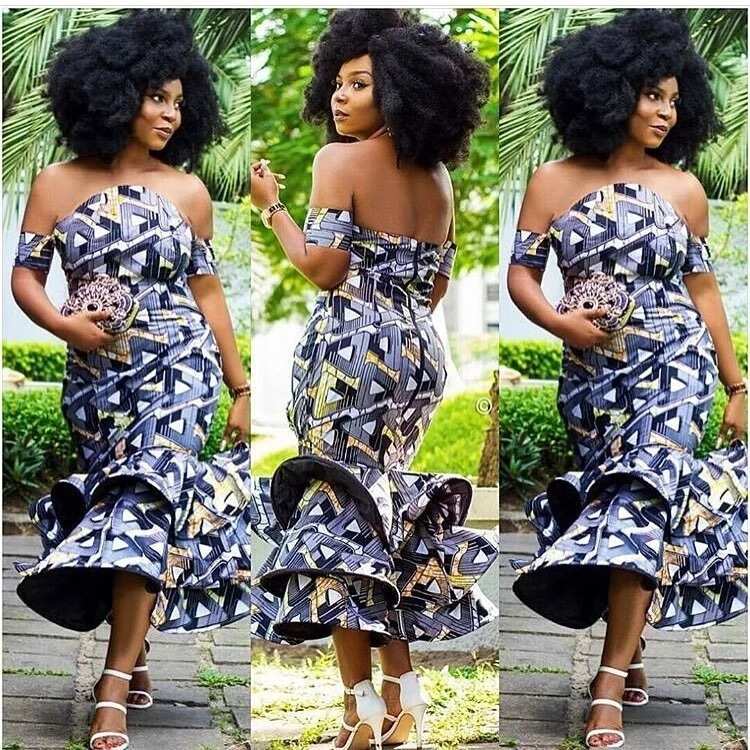 Bando and bustier gown
At present, Nigerian women don't deny the pleasure of showing their décolleté. Moreover, there are many items of wardrobe on sale, which, if necessary, can be used for closing the open parts of the body: boa, shawls, and tippets.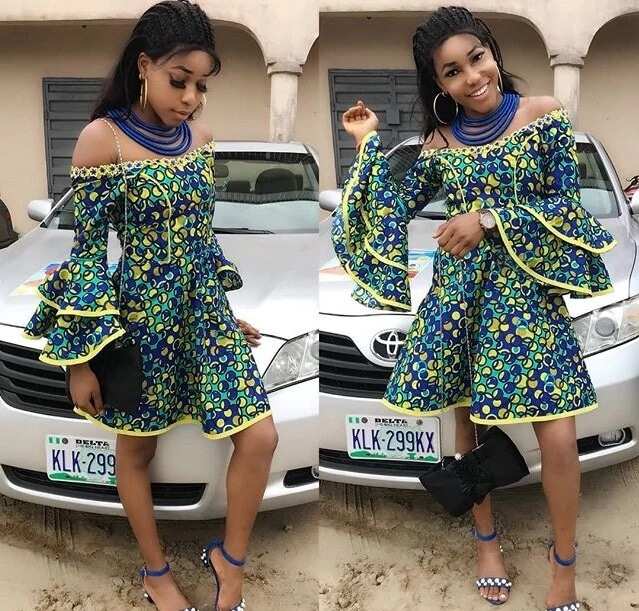 Short models of evening dresses
Currently, most girls choose gowns for wedding of midi length.
Let's get acquainted with the most popular models of short gowns 2018: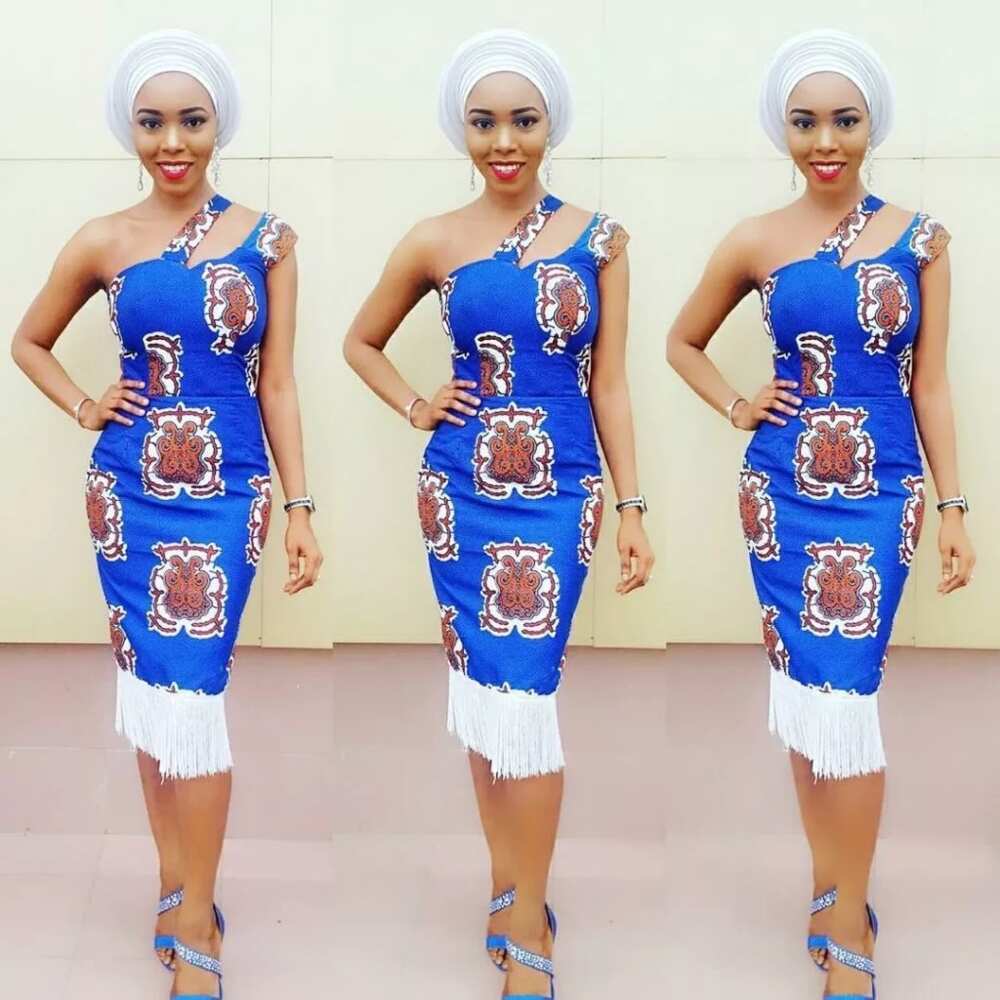 Dress-case
It has a semi-adjacent silhouette and doesn't have a horizontal cut line. The dress has vertical tucks. Such tailoring slightly stretches the silhouette.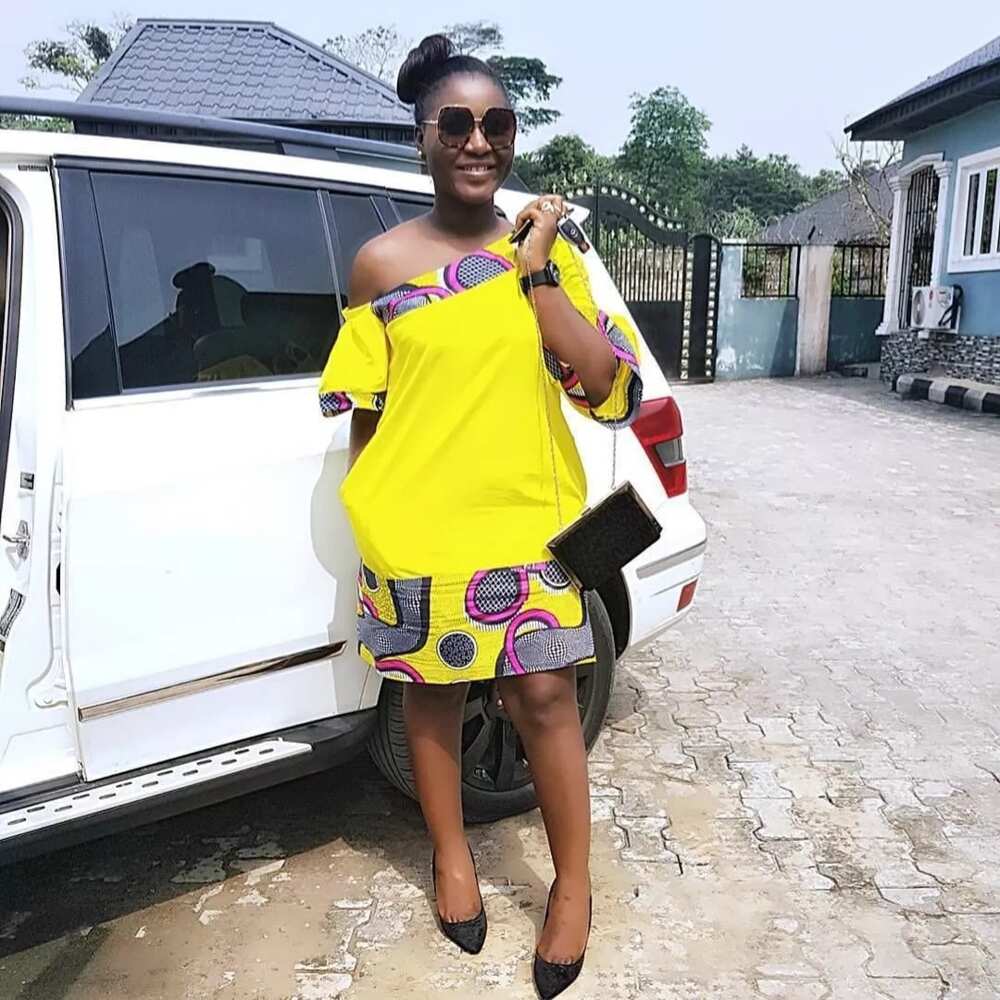 Balloon gown
The dress name was given due to the unusual oval shape of the skirt. It can have flared or straight tailoring, like a 'wide tube.' In the waist area, the textile can be gathered into small folds. The hem is folded and sewed to the underdress. Due to this, an original volume is formed. The top is made like a corset. The shoulders can be both open and closed. The neckline can be of any shape.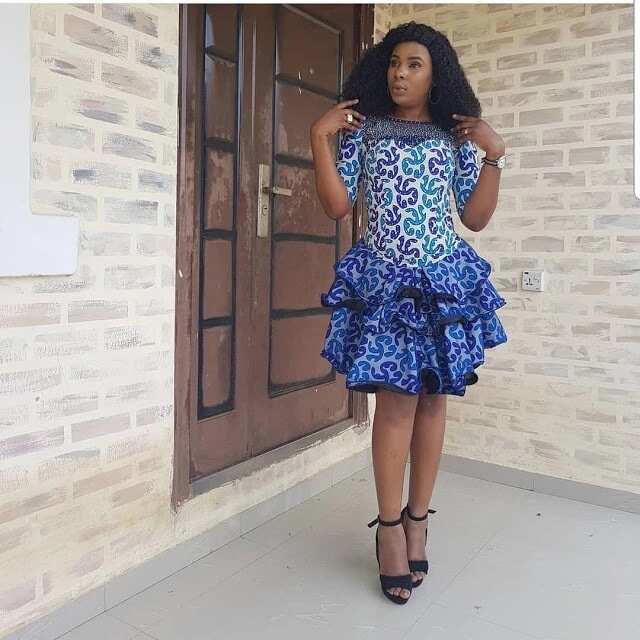 Babydoll dress
Such style is ideal for slender young girls. As a rule, it has ruches, sleeves-lanterns, and various bows.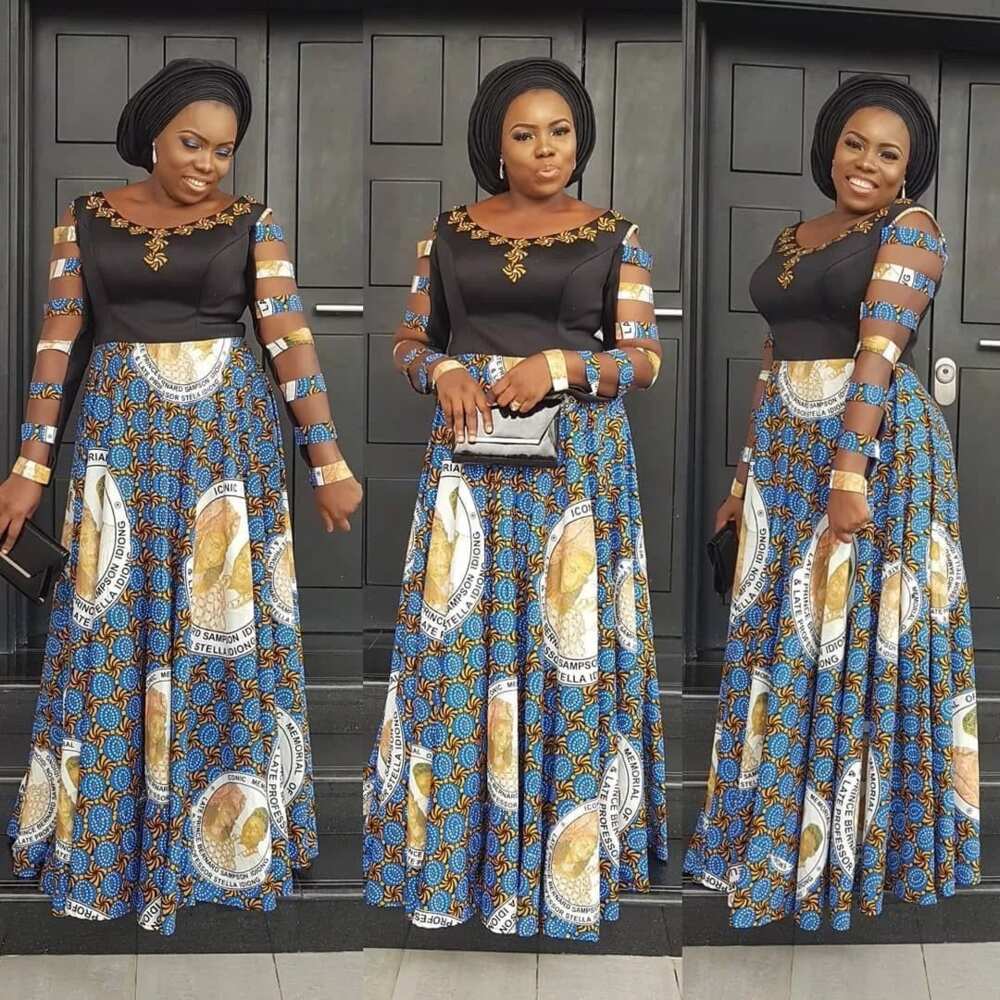 Gowns for plus size ladies
A plump woman can also look spectacular and charming with Ankara fashion. A dress selected properly can gently emphasize the waist and hide the extra pounds on the thighs.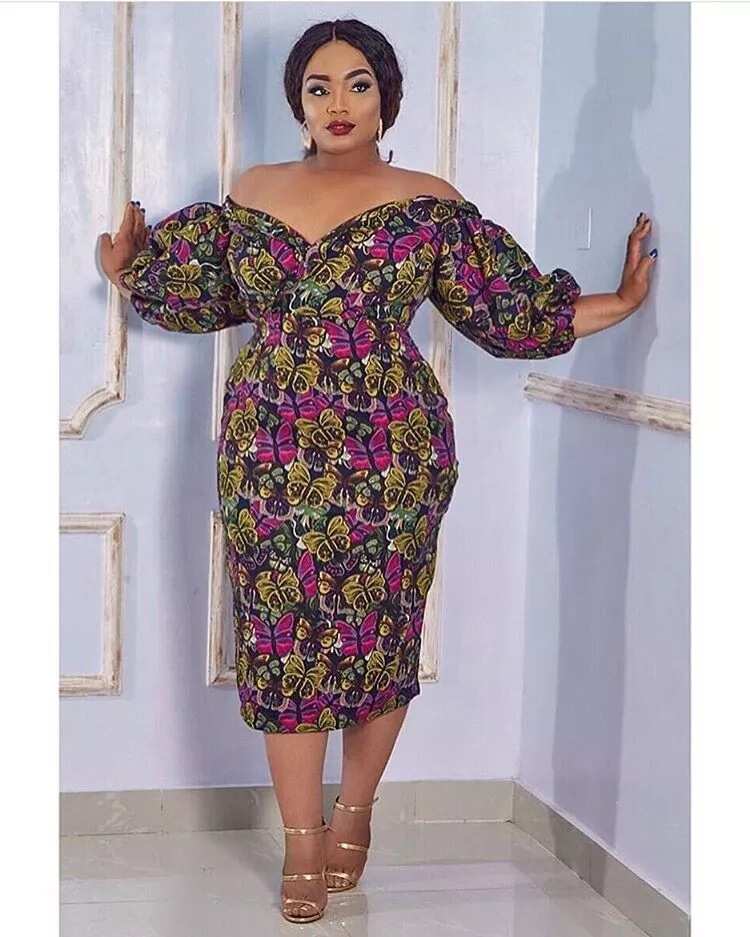 The appropriate Ankara styles for plus size ladies:
Greek style
Empire style
Boho-chic style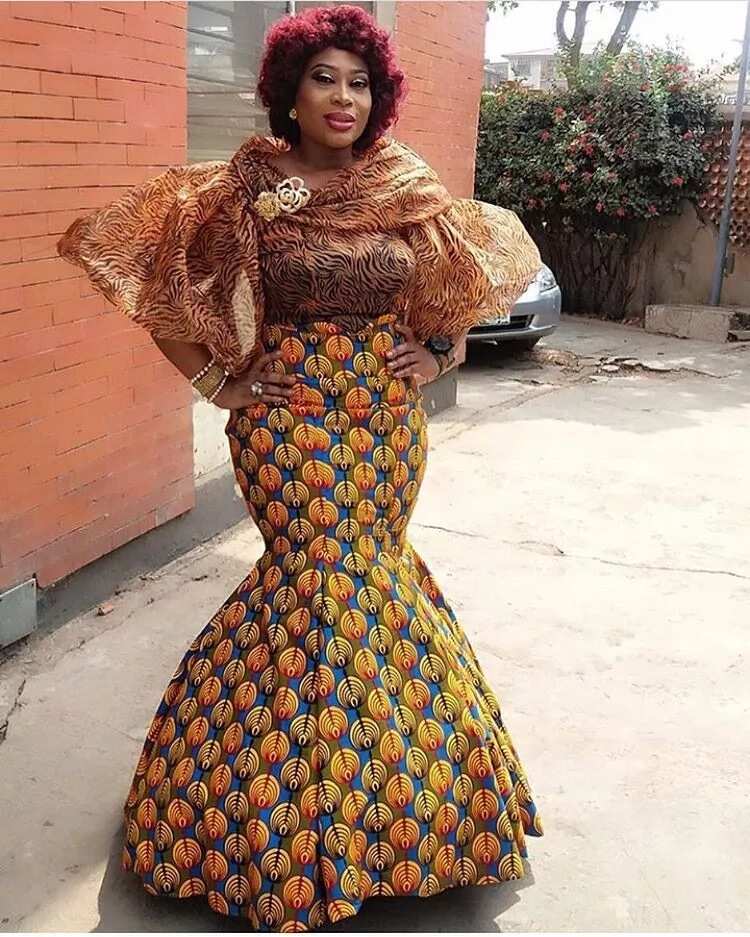 Certainly, a dress is a classic outfit for a wedding. But skirt and blouse can also be very smart.
So, let's see what blouses are suitable for a wedding ceremony.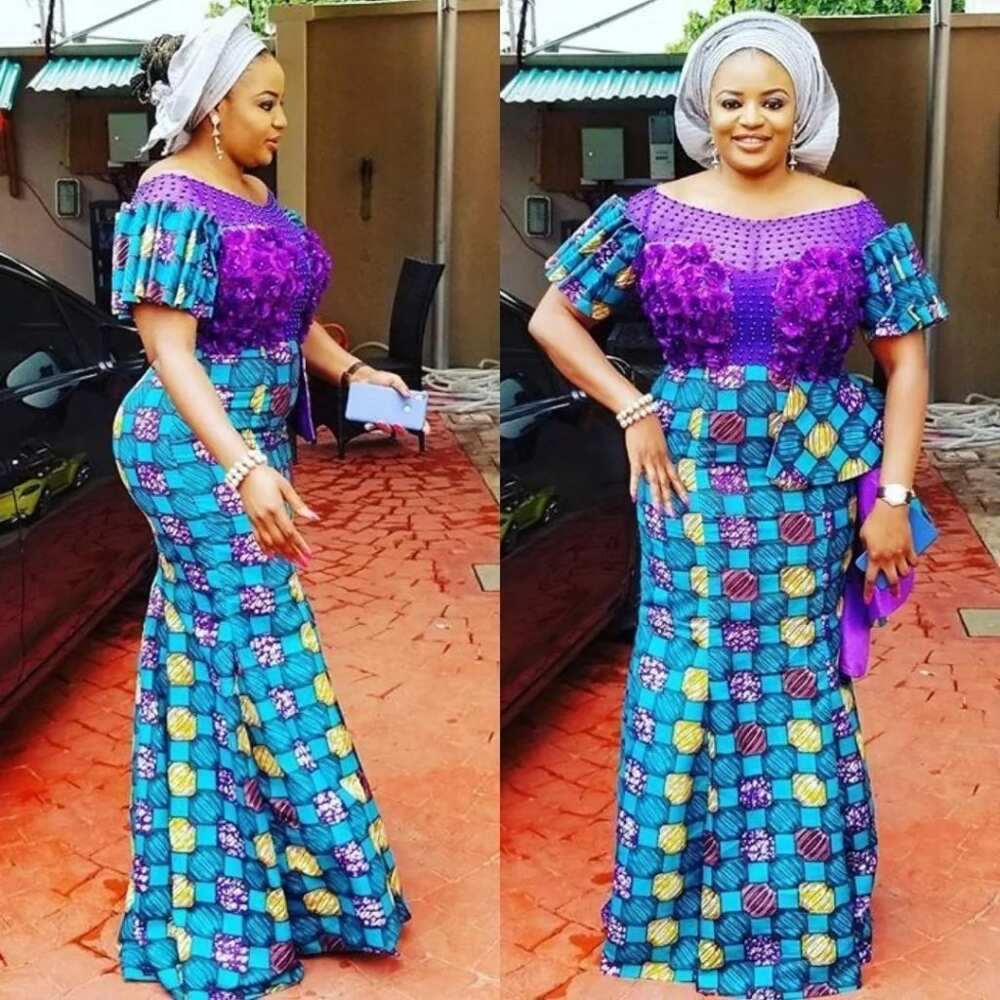 Ankara skirt and blouse
Without a doubt, it should be very beautiful and festive option. The blouse must necessarily have one or more spectacular decorative elements.
Blouses with voluminous sleeves
Large volumes, free silhouette, and large sleeves - all this we can see not the first season. Blouses with a voluminous sleeve are mostly designed for a special occasion.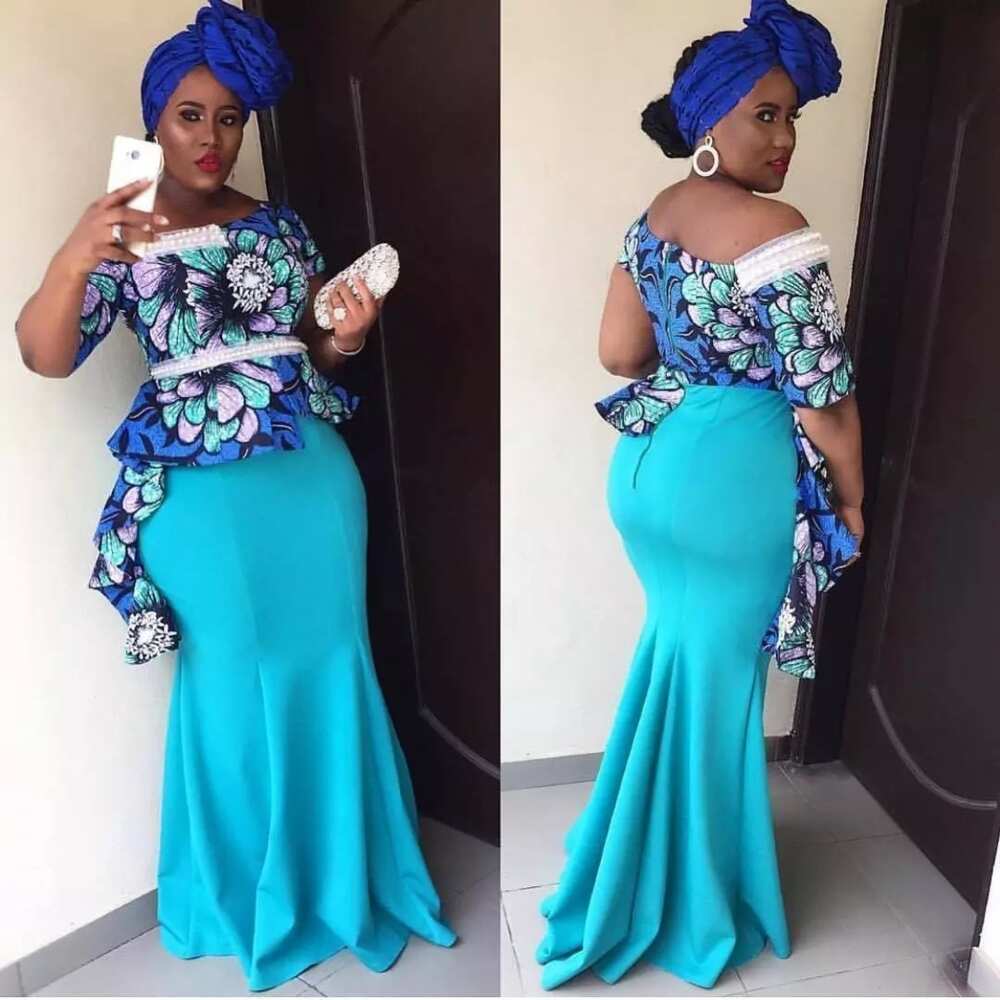 Trendy blouses with asymmetrical tailoring
Asymmetry continues to win wardrobes confidently. Any detail of such blouse can be tailored with asymmetry.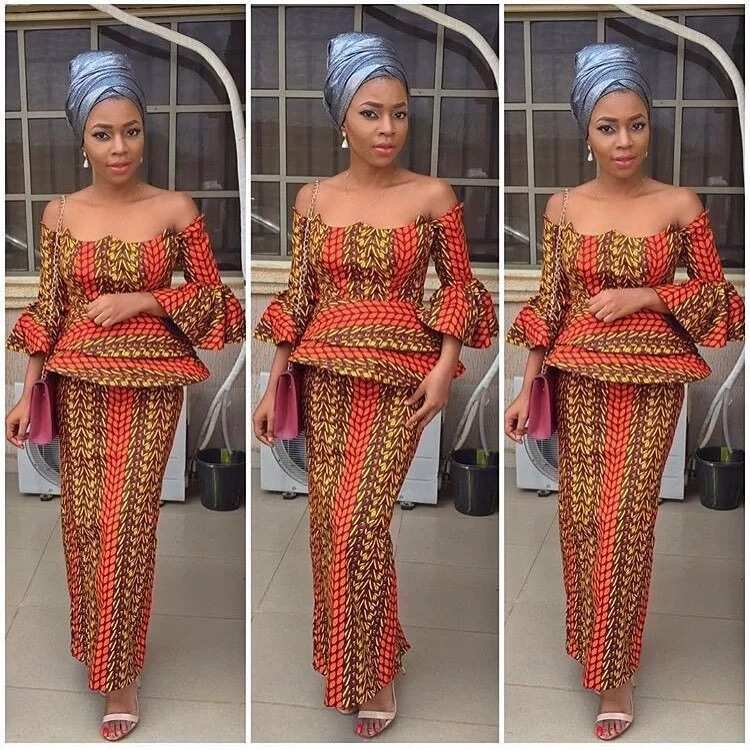 Blouses with open shoulders
This trend continues to be on demand. It's not the first season that the neckline is made lower and lower.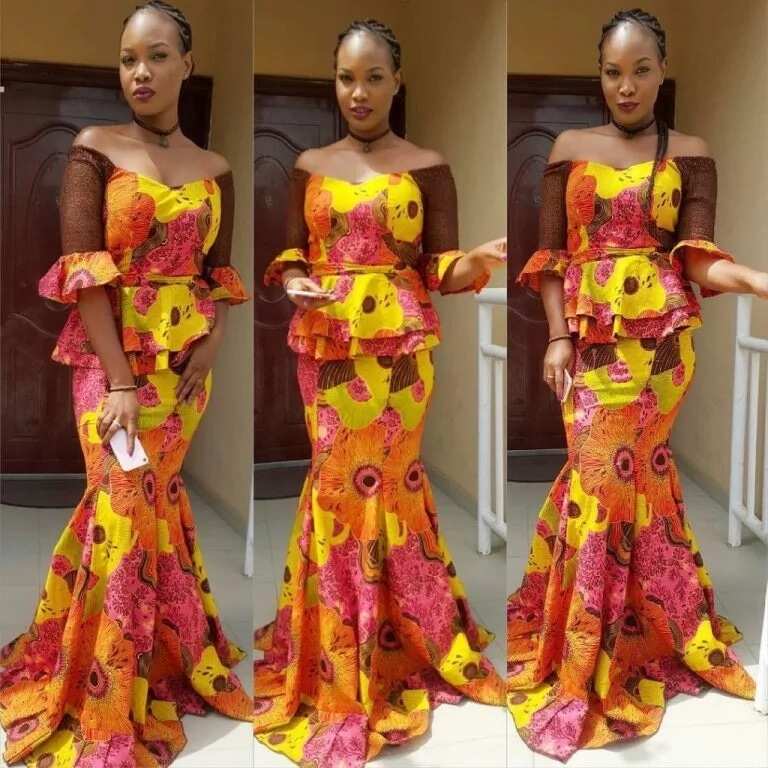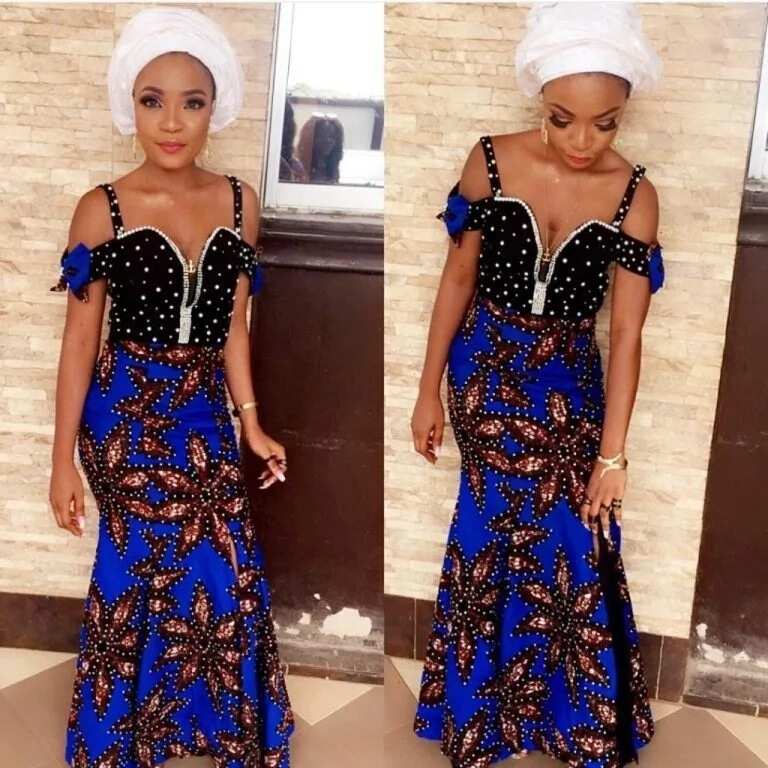 Unique Ankara styles for skirts
For such event as a wedding, the midi and maxi skirt length is appropriate.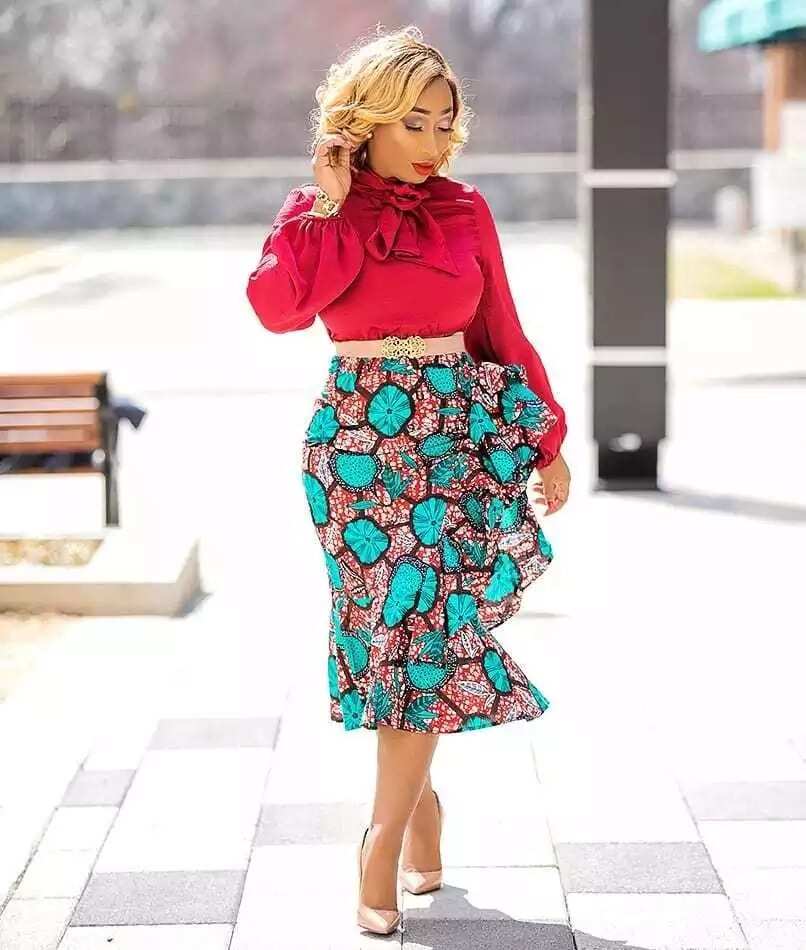 For example, if your blouse is voluminous and richly decorated, then it goes to a pencil-skirt of simple tailoring or maxi straight skirt.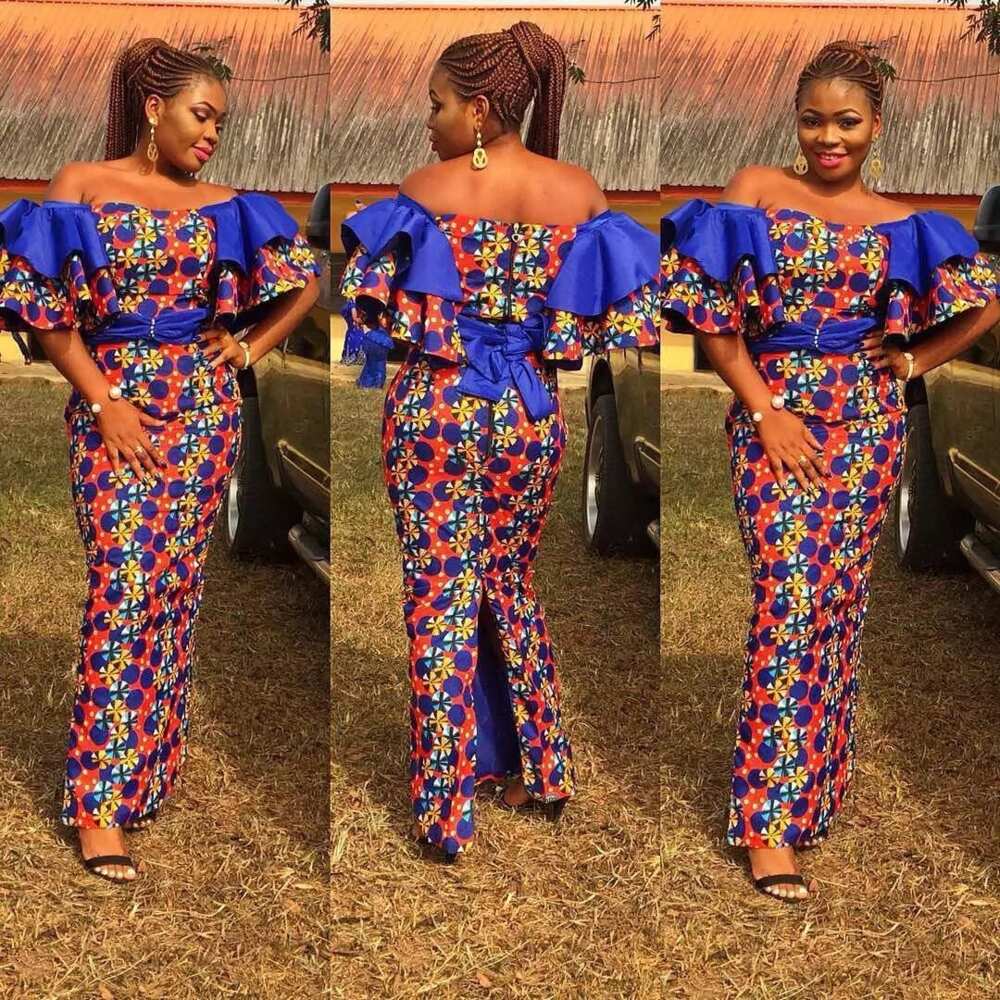 Choosing an outfit for someone else's wedding, in any case, try to observe the sense of proportion. You can specify in advance whether the host party has any reservations about the dress code. Bright Ankara styles for ladies will help you to create unforgettable image.
READ ALSO: Latest Ankara styles for wedding in 2018
Source: Legit.ng