If you are planning to have some pre-wedding pictures taken before your big day but have no clue how to choose a style for them, we have your back. We want to offer you some of the most beautiful pre-wedding photos in Nigeria that will hopefully help you find some inspiration for your own pre-wedding photoshoot. Check them out!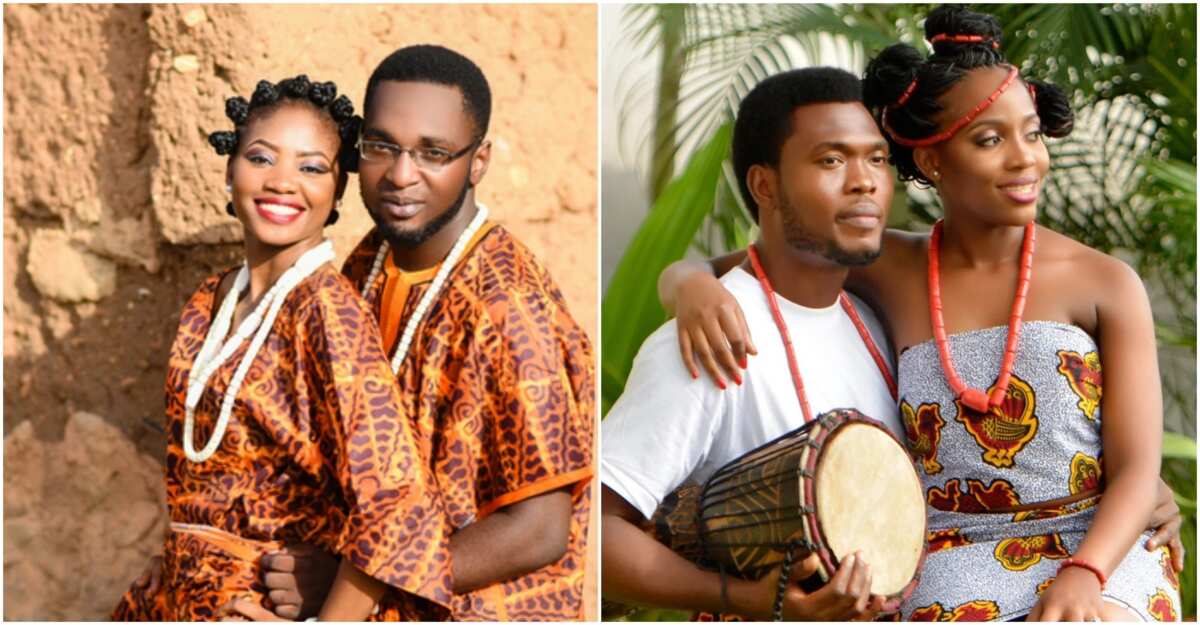 Pre-wedding pictures ideas
In order to give you a better idea of how you do a pre-wedding shoot, we want to show you five most beautiful couples and their wonderful traditional pre-wedding photoshoots. In addition to that, we will share the inspiring stories of each couple so that you can get to know them a little bit more. Without further ado, here is your dose of inspiration!
Pre-wedding photos of Amanze and Eucharia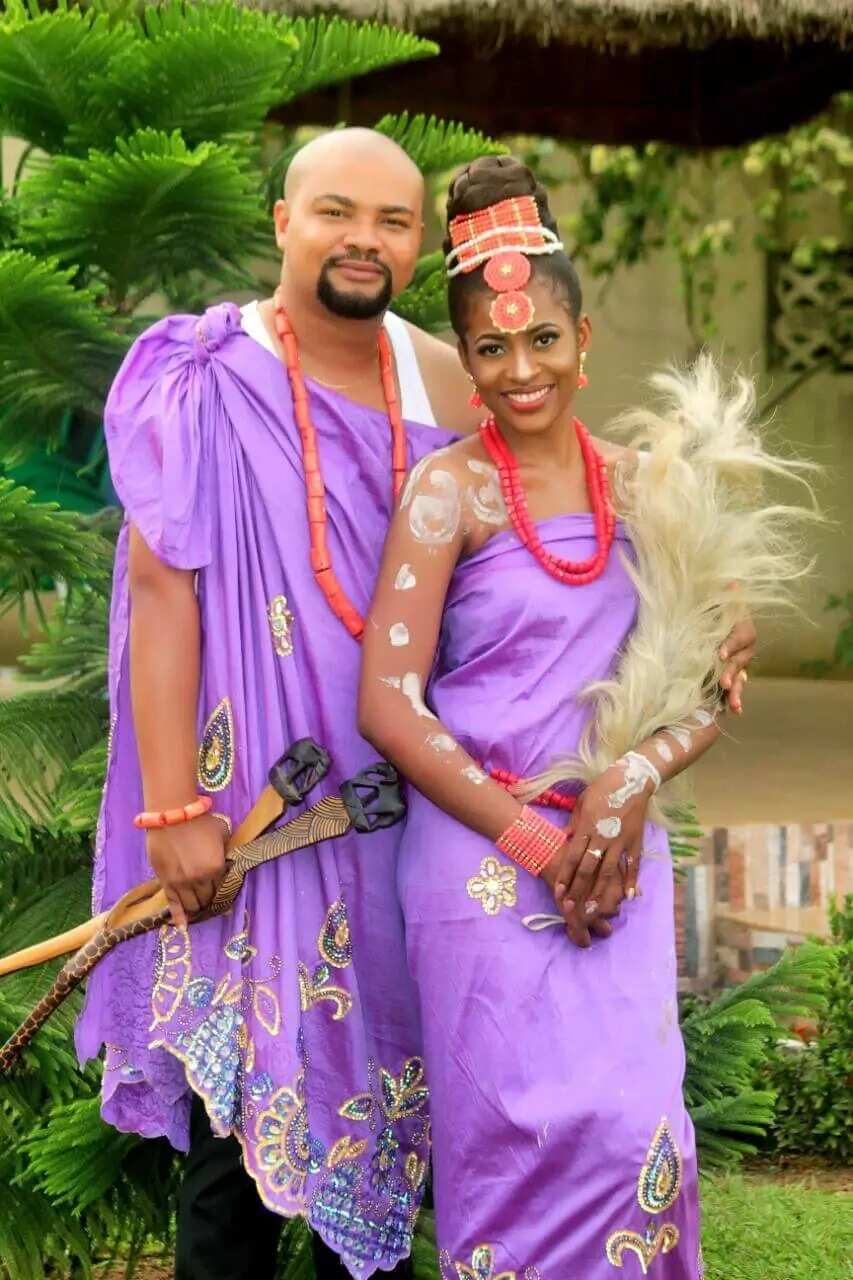 The first couple we want you to meet is Prince Amanze and Eucharia. The groom is a member of the Njemanze Royal Dynasty and the bride is a former contestant of Most Beautiful Girl in Nigeria, a prestigious beauty pageant.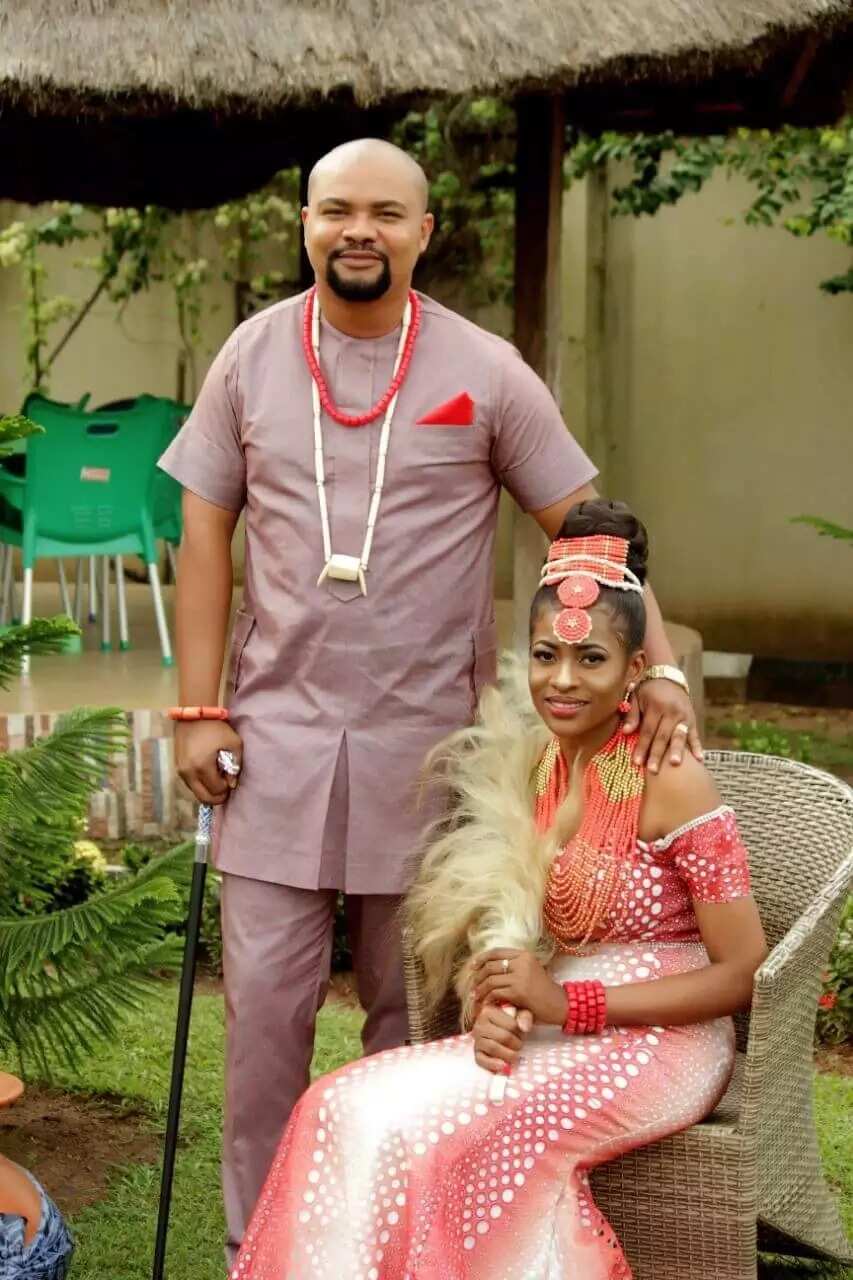 The two have been together for a while before deciding to tie the knot on December 30, 2016. The wedding was held in the hometown of the bride, Umunoha, Mbaitoli LGA, Imo State.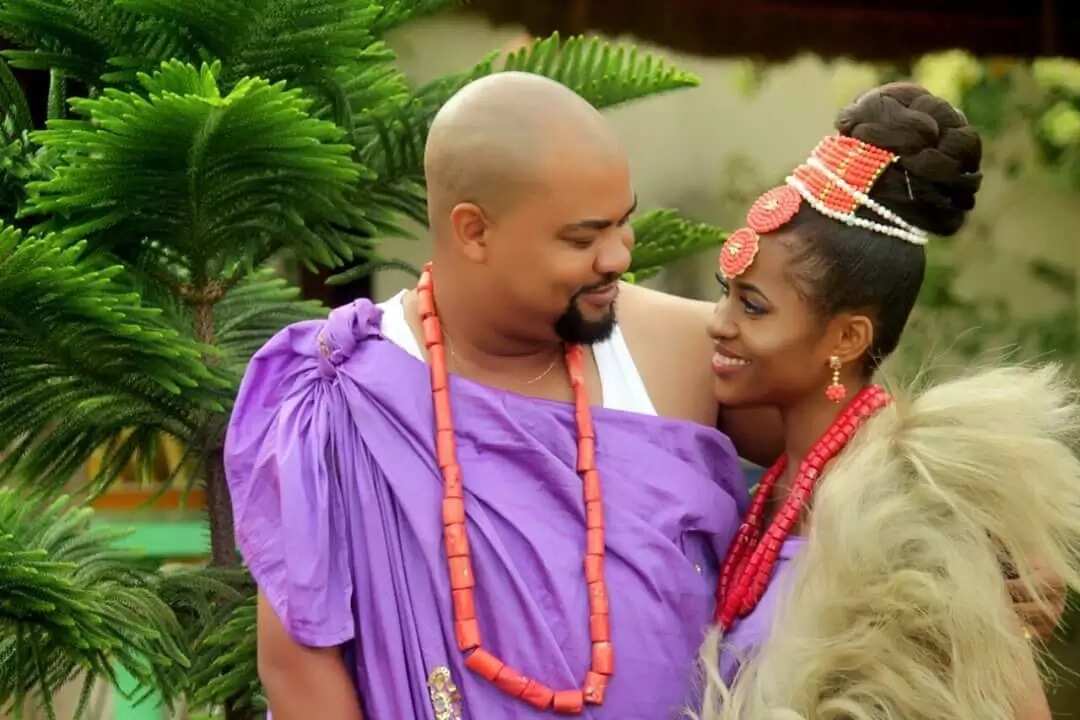 However, before that important date arrived, they decided to have some pre-wedding photos taken in their lovely traditional wears. In some photos, the couple is seen sporting matching purple embroidered wraps and coral accessories.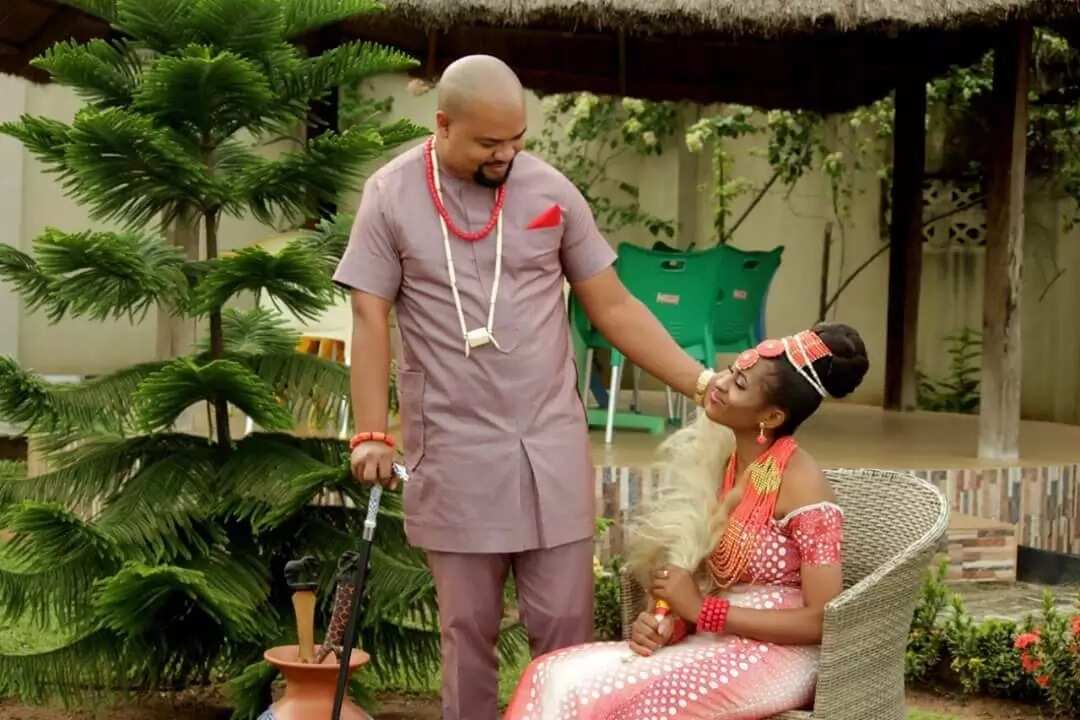 In other photos, the groom is seen wearing a traditional matching combo (native shirt and wide leg trousers), while the bride wore a lovely salmon-and-white fitted dress and traditional accessories.
Pre-wedding pictures (Bella Naija) of Onyinye and Olaolu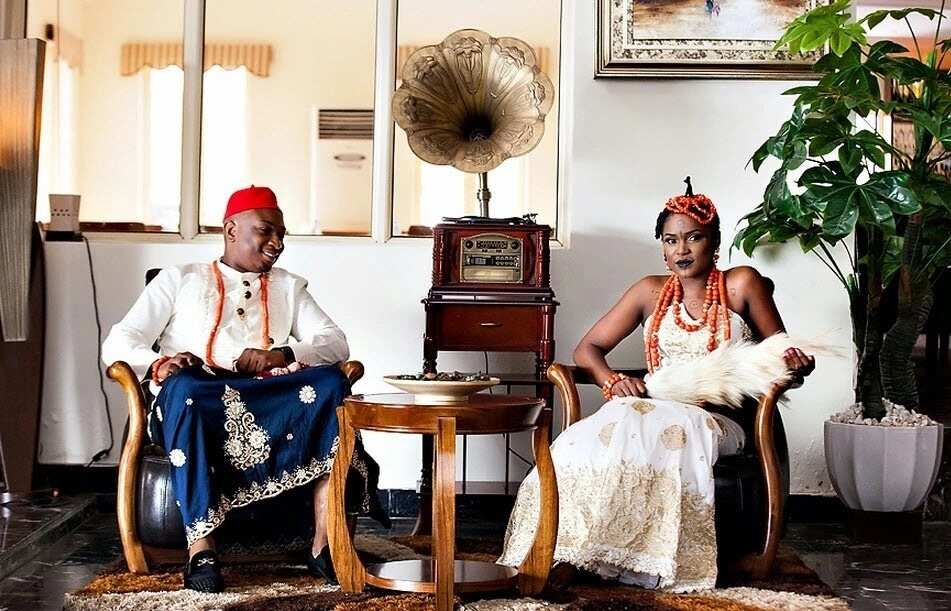 Next, we have the lovely Onyinye and Olaolu. This happy couple first met in college, but only after meeting each other a few years later, the two of them realised that they were in love. Olaolu proposed to Onyinye in Las Vegas, and on April 5, 2014, they had their traditional wedding in Lagos.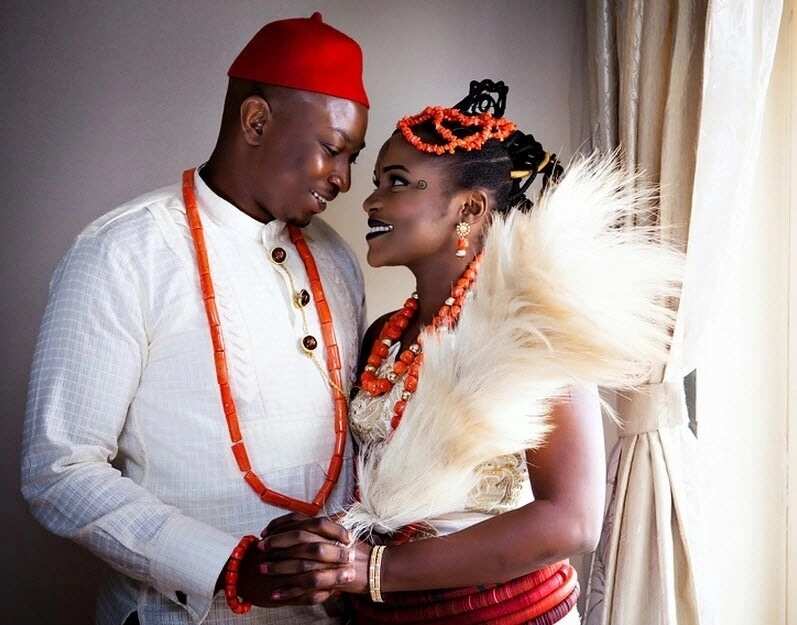 As you can see, both bride and groom looked incredible in their pre-wedding pictures. The colours they chose for their traditional outfits complemented each other perfectly.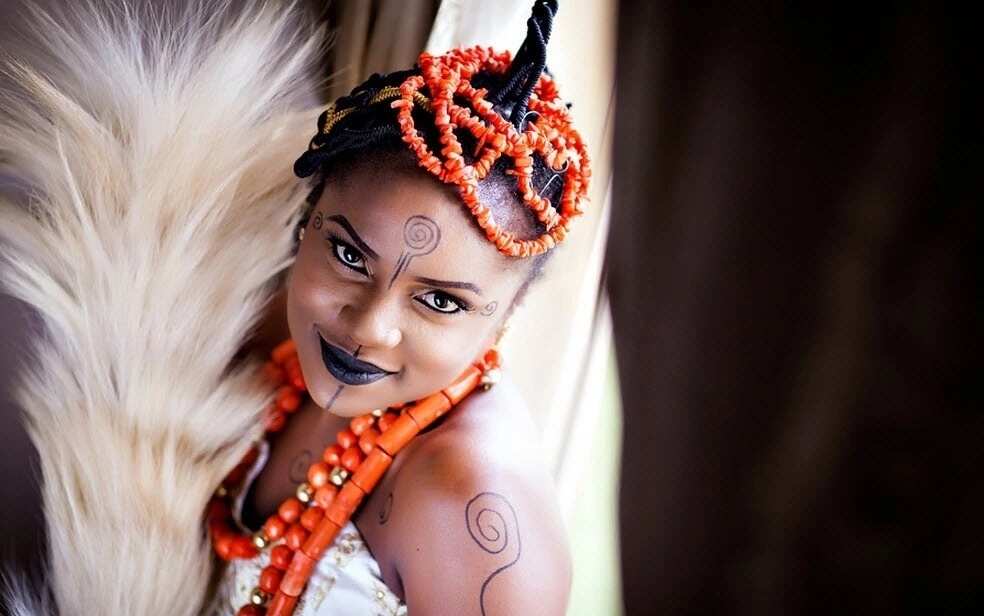 The bride wore a gorgeous white dress with golden embroidery, traditional coral beads and carried the customary horsetail. Her hair was up in elaborate braids and adorned with corals, and her skin was covered in traditional Igbo body art.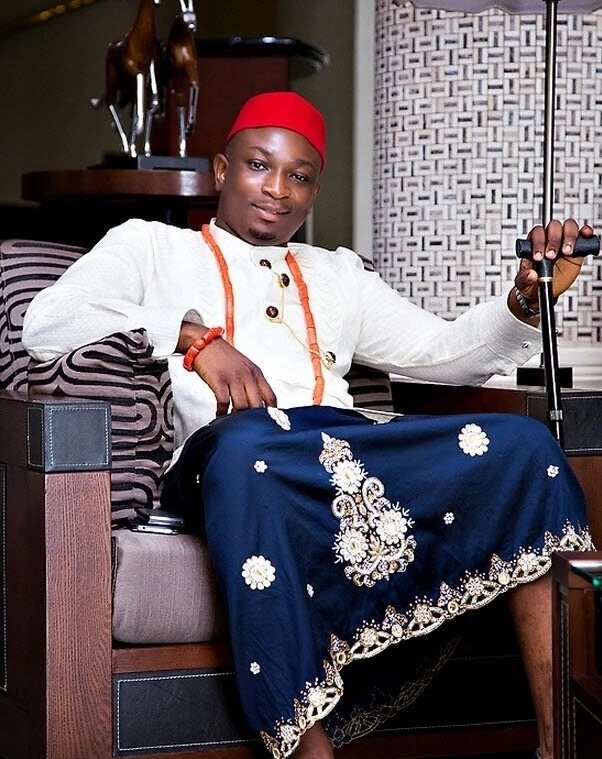 The groom wore a crisp white shirt with a deep blue embroidered wrapper, along with coral accessories, a customary red cap and a sleek black cane.
Pre-wedding shots of Modupe and Opeyemi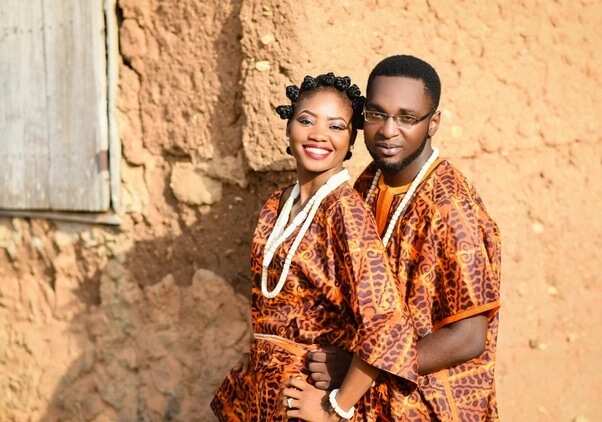 Modupe and Opeyemi probably had the most memorable and fun pre-wedding shoot of them all. The two met when Modupe was in her last year of school, and dated for three years before Opeyemi had the courage to propose.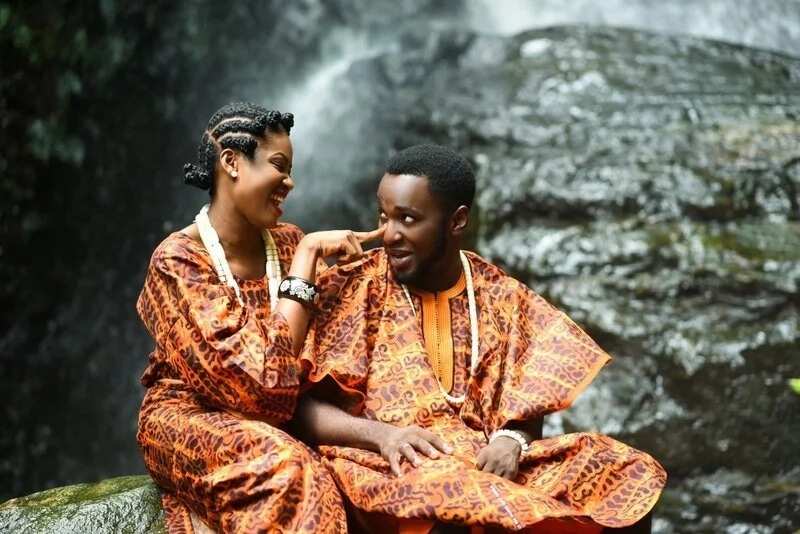 For their pre-wedding photo shoot, they chose to be very matchy-matchy and also very playful. While they wore traditional clothes. The couple pulled quirky faces, jumping around and just generally having a good time.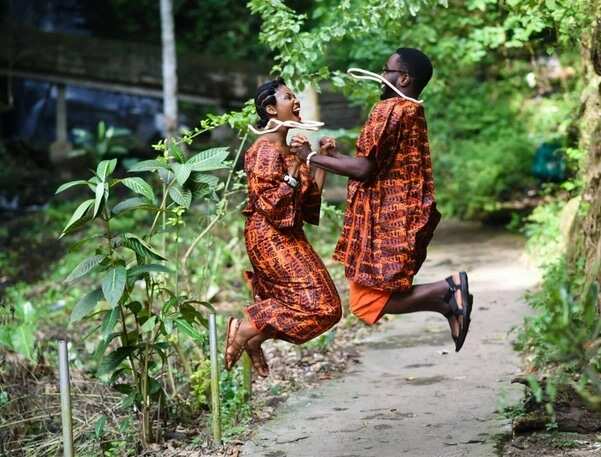 READ ALSO: How to style bridal hair in Nigeria? - Latest trends
Instead of having a boring run-of-the-mill photoshoot they would never remember, Modupe and Opeyemi went to some beautiful places and took some great shots they will definitely be showing off to their kids and grandkids.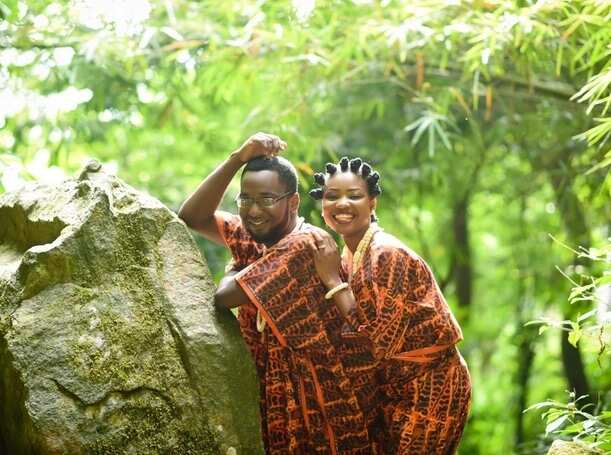 So if you feel too young for a regular pre-wedding shoot, definitely consider something like this. That way, you will be able to give a nod to traditions and have lots of fun in the process.
Pre-wedding shoot of Alafia and Dan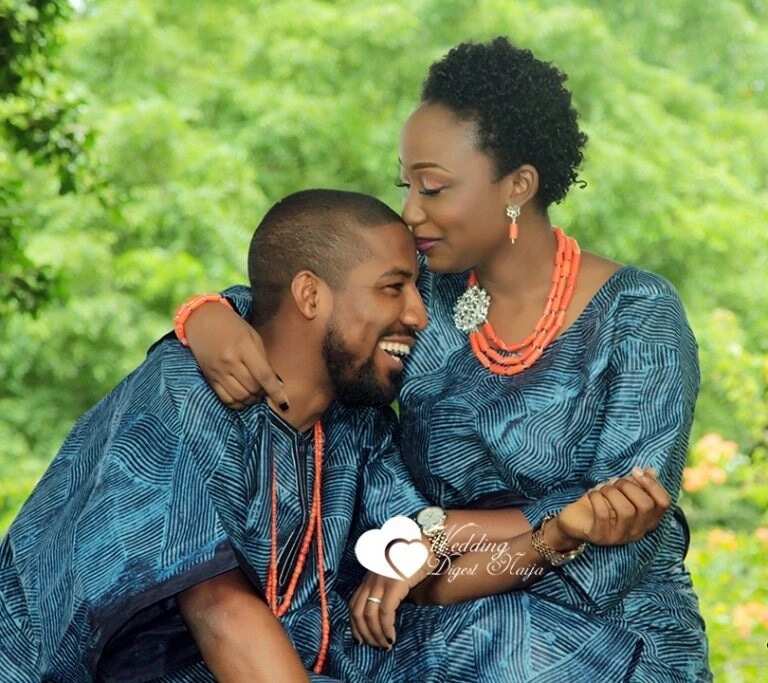 Alafia and Dan prove to us once again that having matching outfits for a pre-wedding photoshoot is a good idea. These two sweethearts met in 2010 and quickly became friends. However, over the years, they both realised that there was more than friendship between them, and in 2014, they finally got married.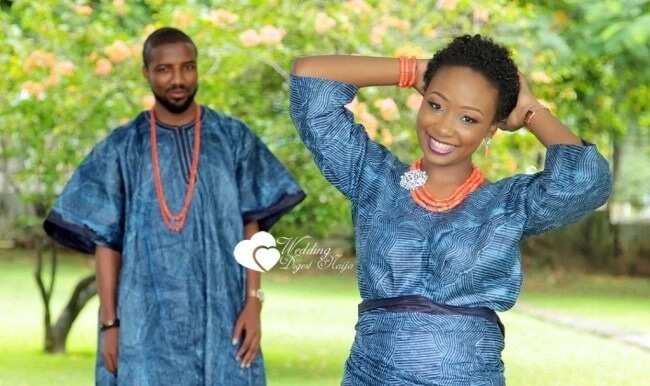 With their photoshoot, the couple aimed to show other people their love for each other, their people's traditions and, most importantly, their love for God who has blessed them with their union.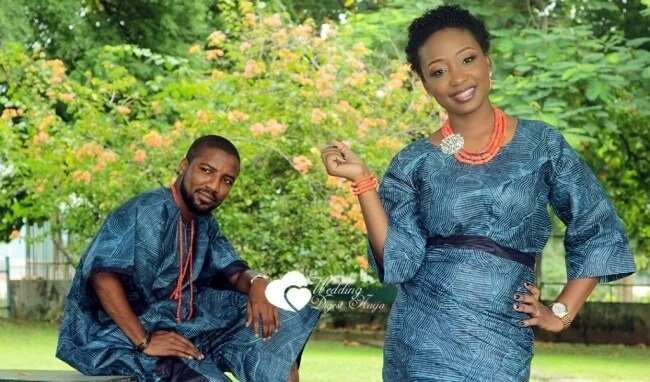 Alafia and Dan sported beautiful traditional outfits made out of the same stunning blue fabric, and accessorised their looks with coral beads.
Pre-wedding photoshoot of Eduabasi and Kido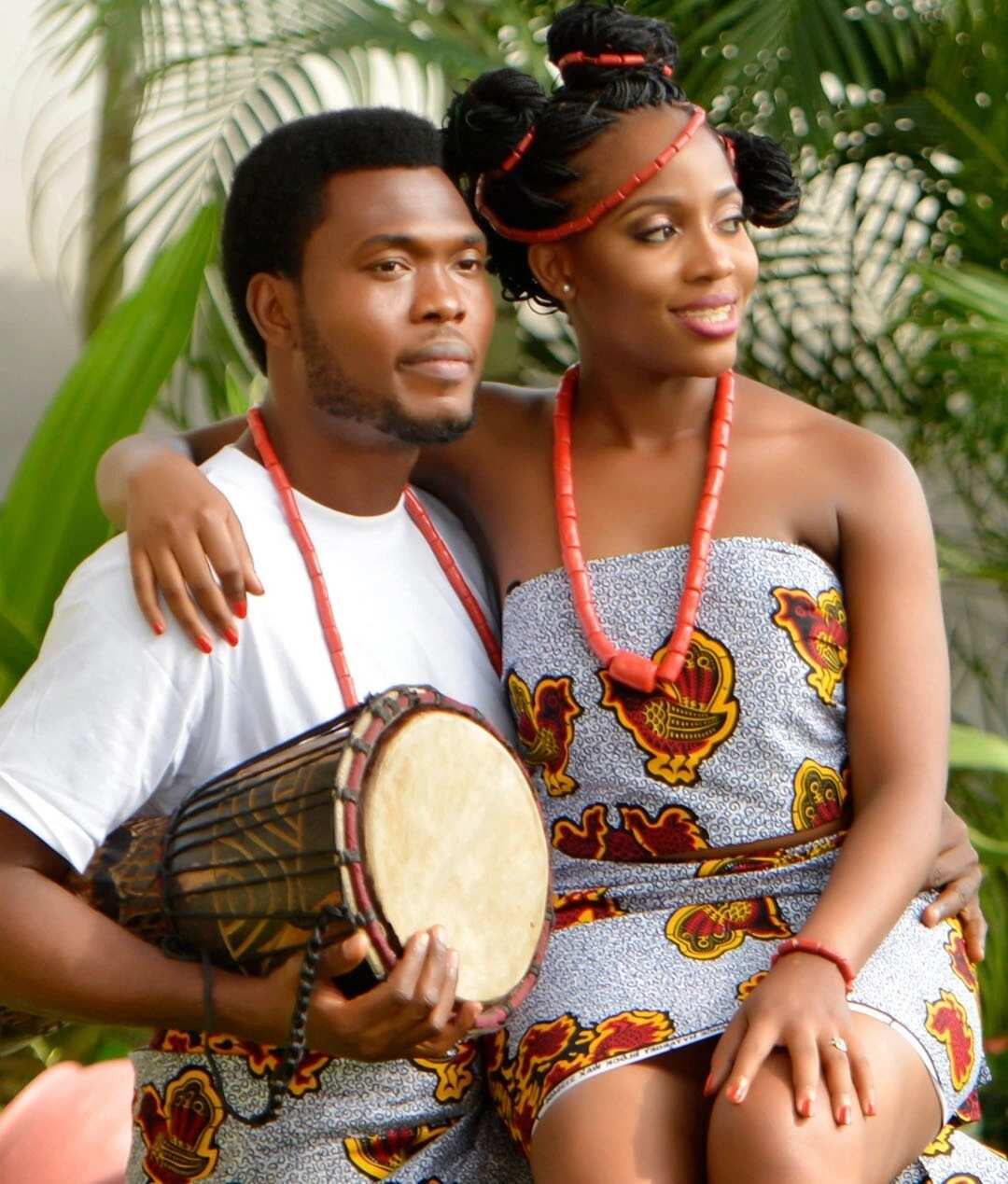 READ ALSO: Lace styles for wedding in 2018
Last, but certainly not least, we want to mention the photoshoot of Eduabasi and Kido. These lovelies met in church back in 2011, and the romance between them blossomed. Fast forward to 2016, and they were already taking pre-wedding pictures.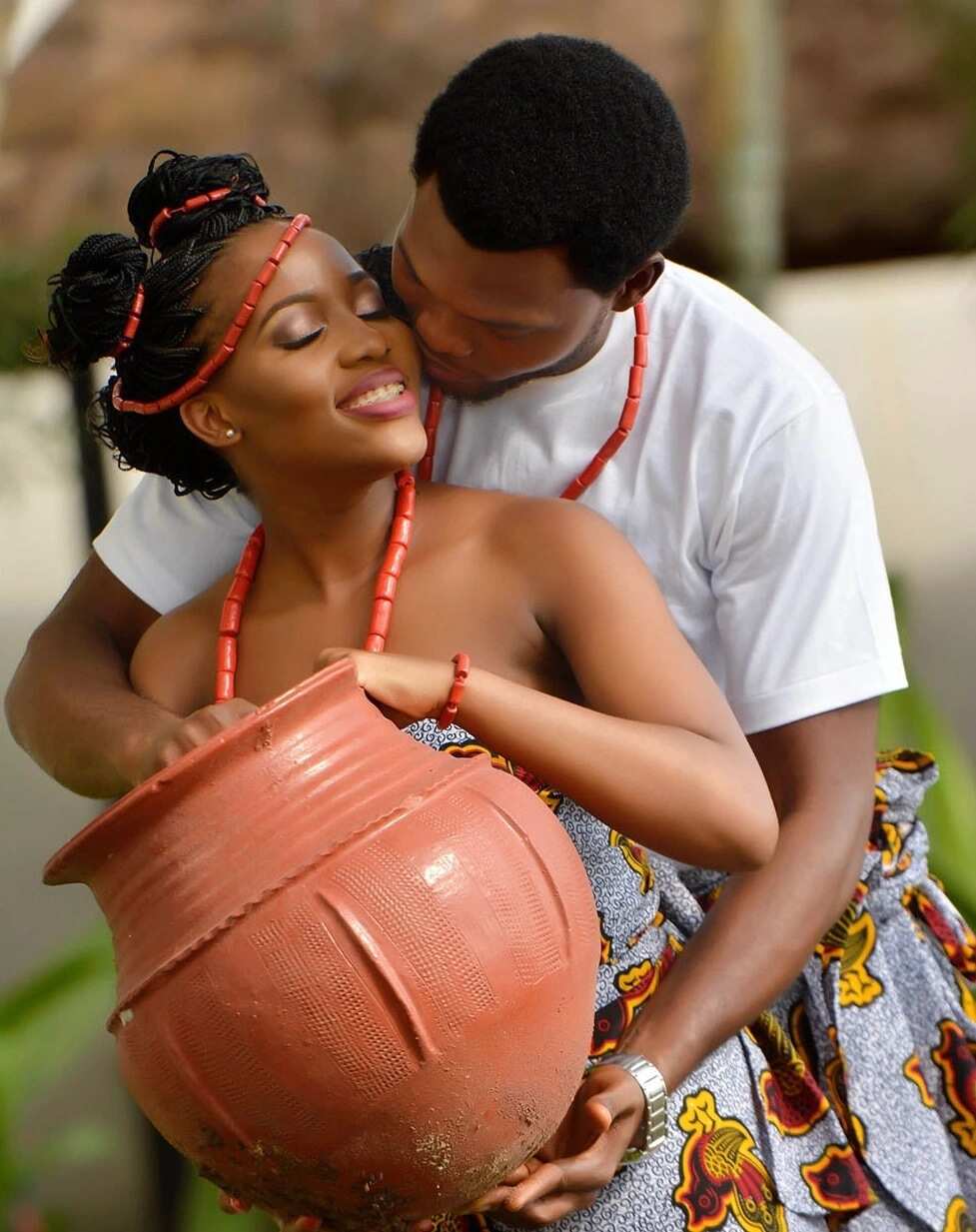 These young souls decided to remember their roots and had a photoshoot in traditional wears. They had matching outfits and accessories that worked very well together.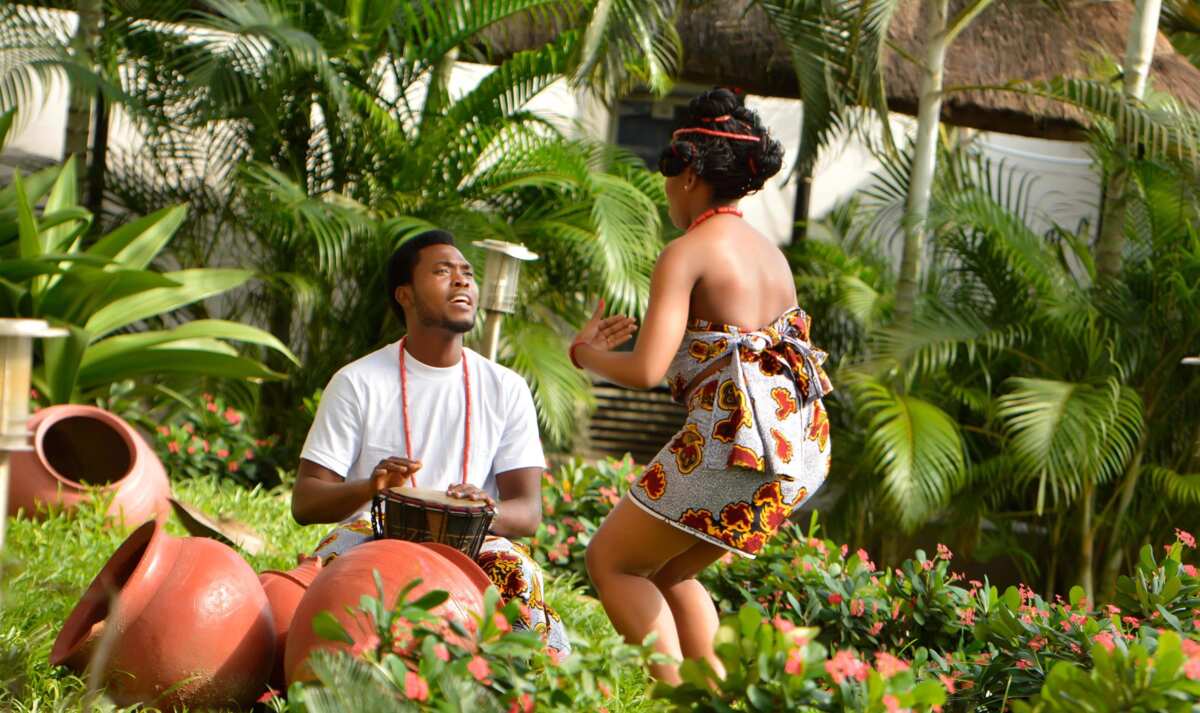 As for the pictures themselves, they look very alive and in-the-moment. The photographer captured their essence perfectly.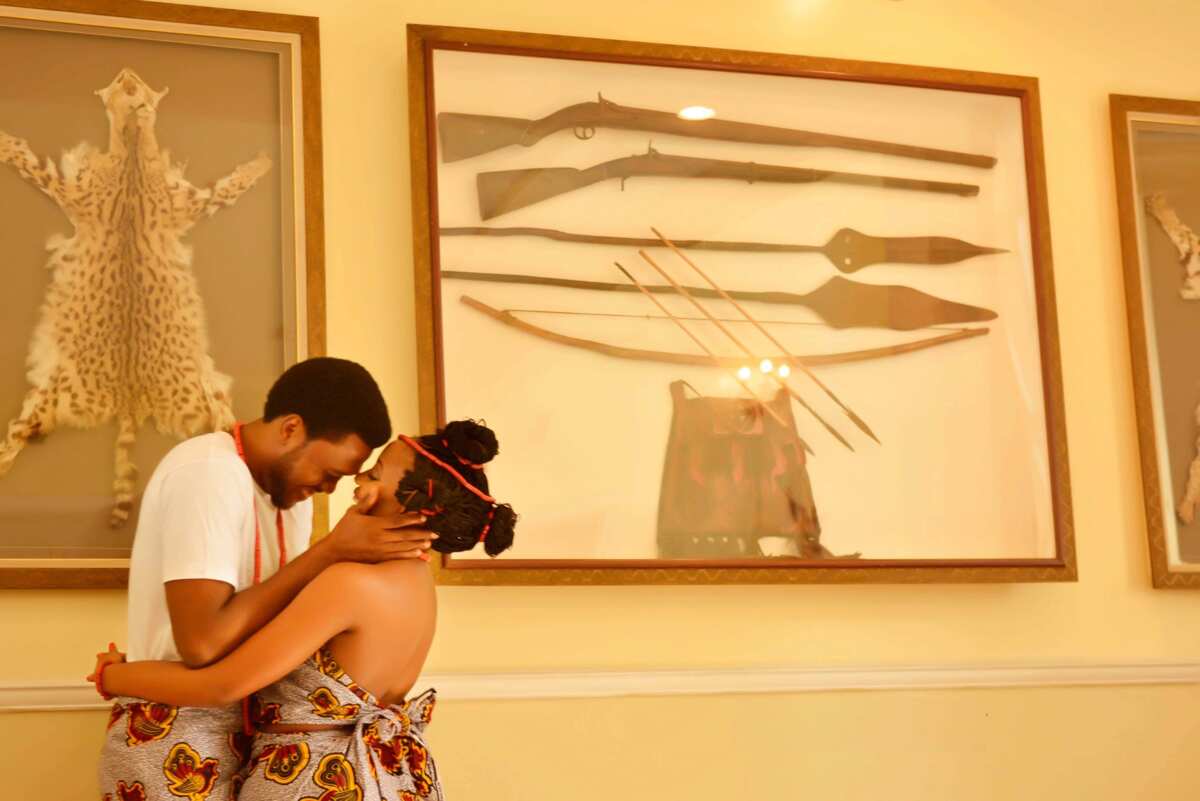 You can see how happy Eduabasi and Kido are when they are together. Here is to hoping that every day of their married life is that joyful.
As you can see, there are many ways to have a traditional pre-wedding photo shoot in Nigeria. So look through these pictures and find some inspiration for your own pre-wedding shoot.
READ ALSO: Best Monalisa Chinda wedding photos