The love of Ankara clothing in Nigeria shows no signs of stopping, so we want to offer you another collection of latest Ankara styles. Today, we will be talking about Ankara short straight gowns, so if you have always wanted something like this, come in and check this article out! We have some beautiful gowns in store for you.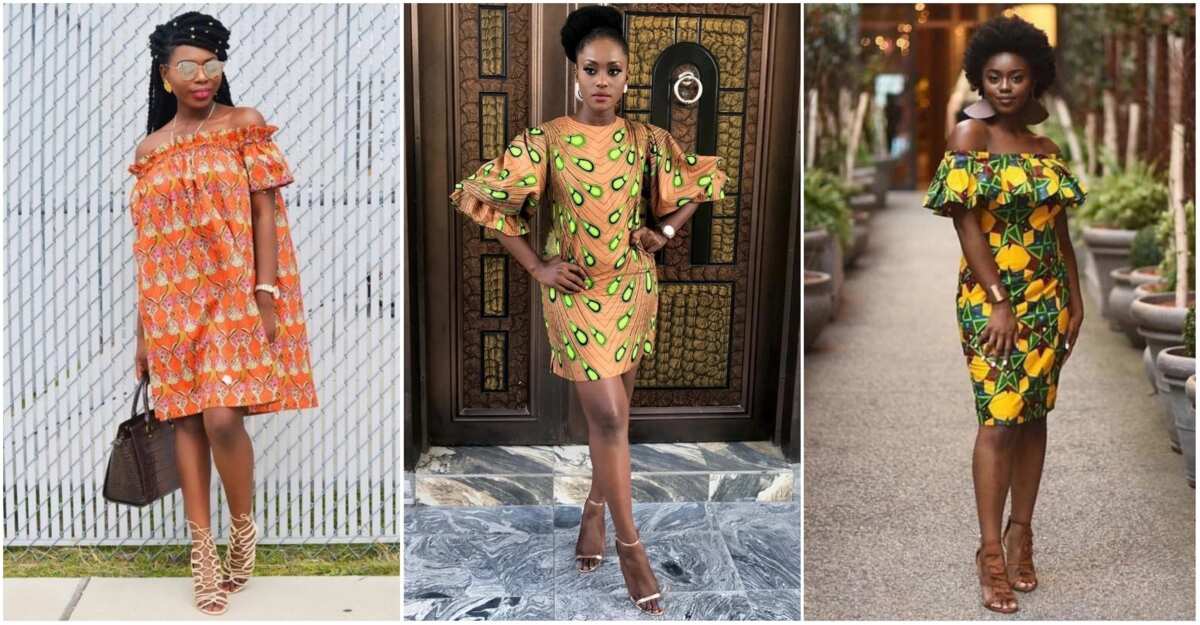 As always, we are dividing our images of Ankara short gowns into three categories: Ankara gowns with a fitted silhouette, loose shift-like gowns and tight bodycon or pencil dresses. You can find the right style for you based on your preferences. Let's get to it!
Fitted Ankara short gown styles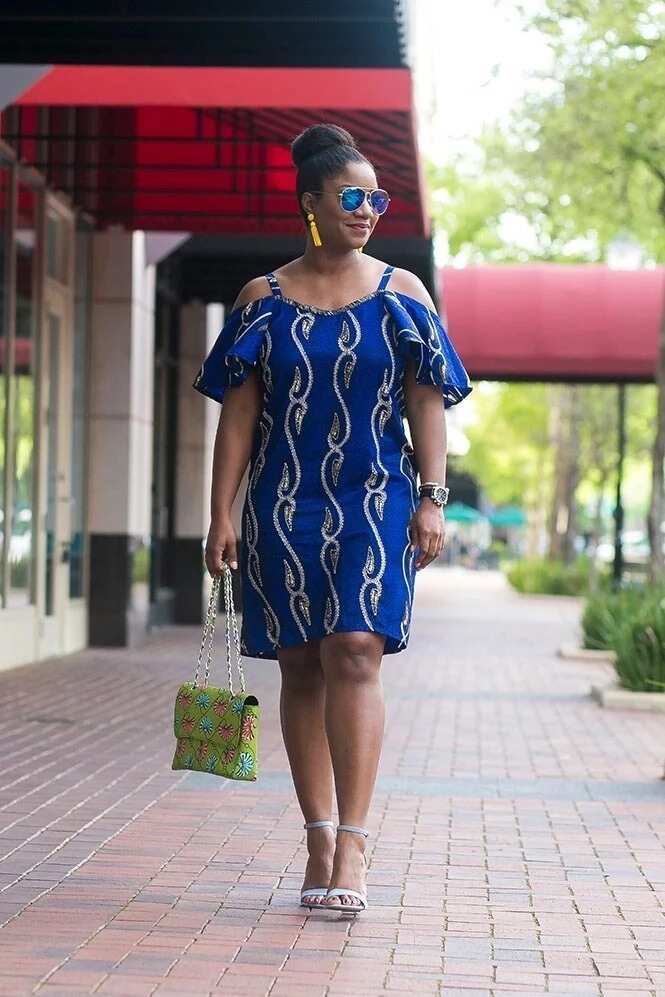 We want to open our gallery of Ankara short gowns pictures with this lovely blue dress. It has a straight yet fitted shape, and the frilly cold shoulder sleeves make it even more exciting. This gown is perfect for semi-formal events, so consider wearing something like this to your next cocktail party.
READ ALSO: Beautiful Ankara maxi dresses for real fashionistas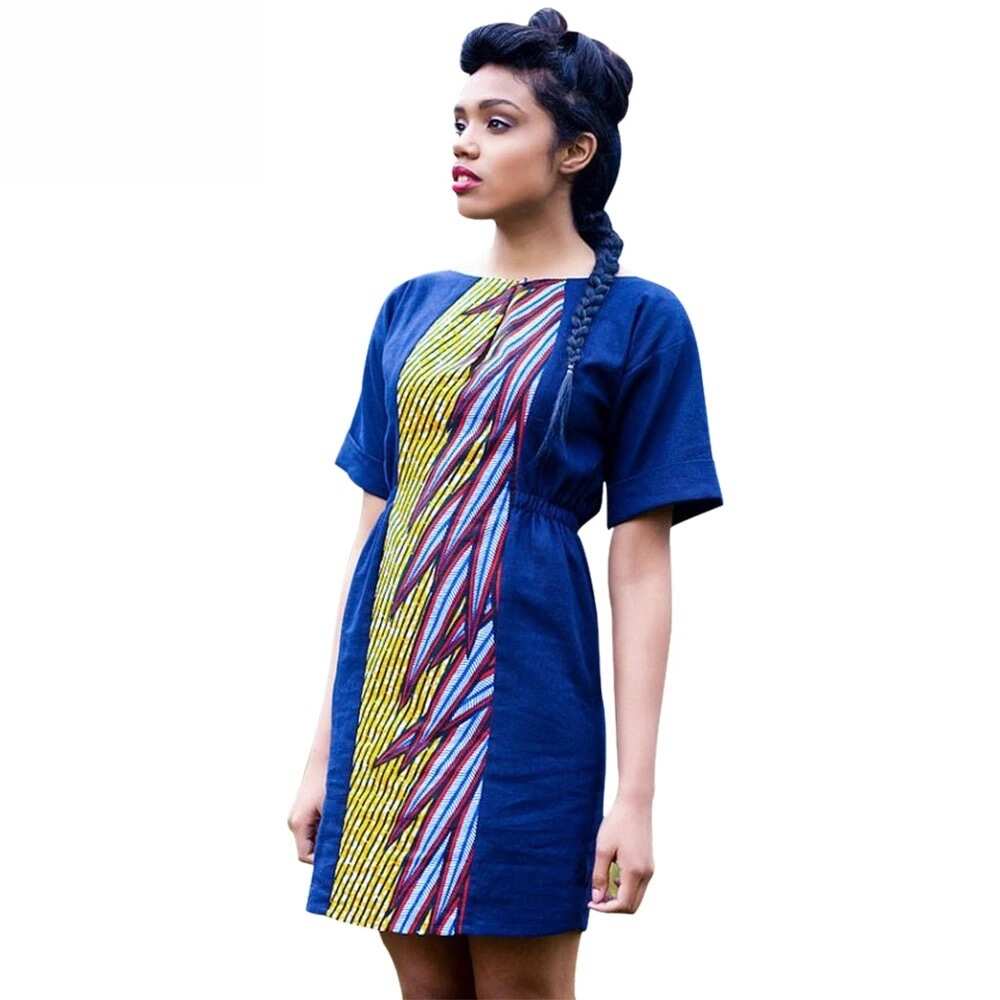 Next, we have this simple yet gorgeous dress. It could have been in the next category if not for the elastic waist that turns a shift dress into a fitted one. The gown features a wonderful patterned insert on an otherwise plain look, which makes the outfit look high fashion.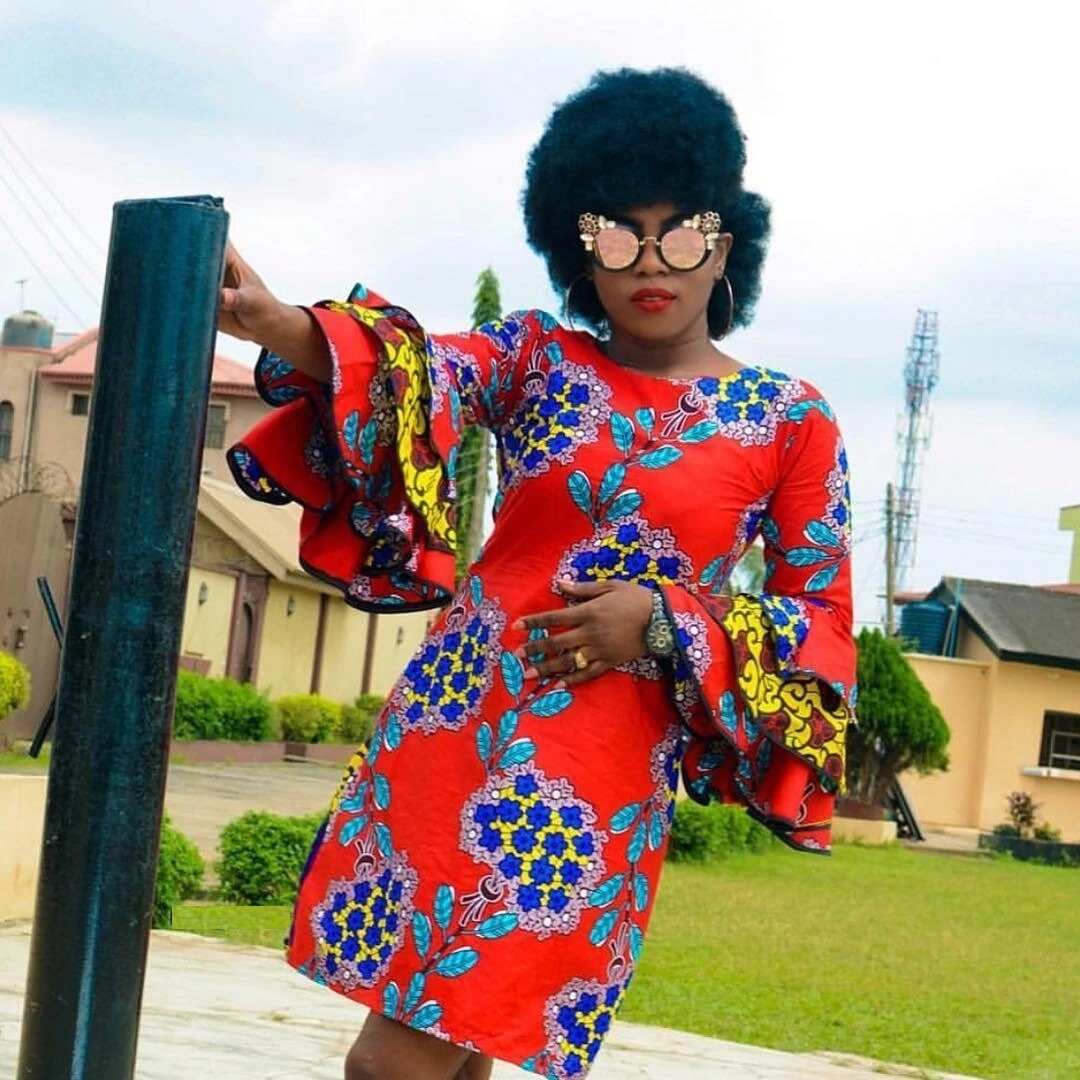 Sometimes, we all just want to look extra. This dress will serve perfectly for such purpose. Vibrant colours, bold patterns and fascinating layered sleeves draw the eye instantly, so if you wear something like this, you are guaranteed to be the centre of attention.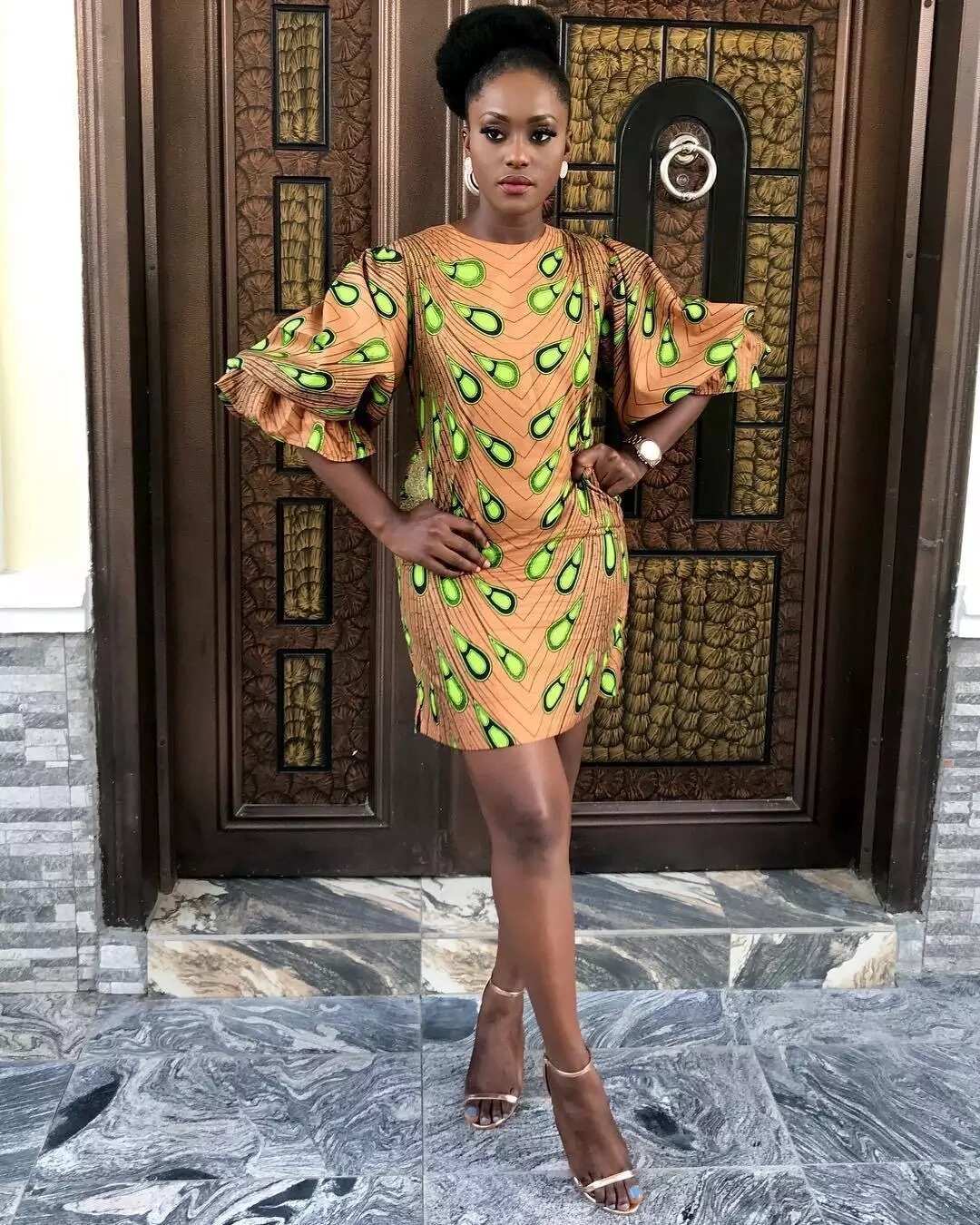 That said, if unusual sleeves are your thing but bright colours are not, consider wearing something like this. Even though this dress is quite short, it still manages to look very classy, and the peculiar puffed and frilly sleeves add a little something special to the look.
READ ALSO: Ankara free gown styles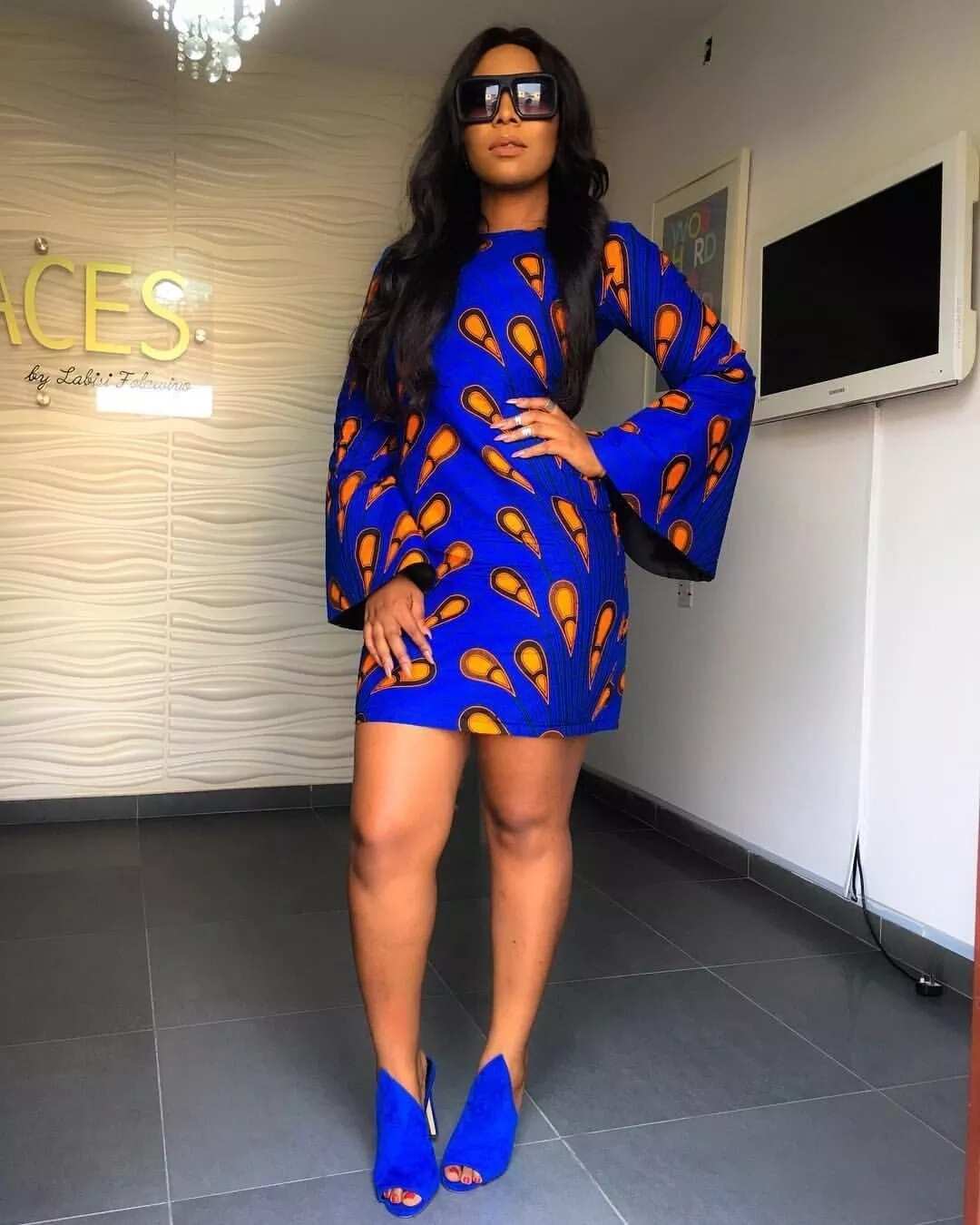 New colours, upside down pattern and long flared sleeves stand in stark contrast. Nevertheless, this gown is not any less beautiful than the previous one.
Loose Ankara short gowns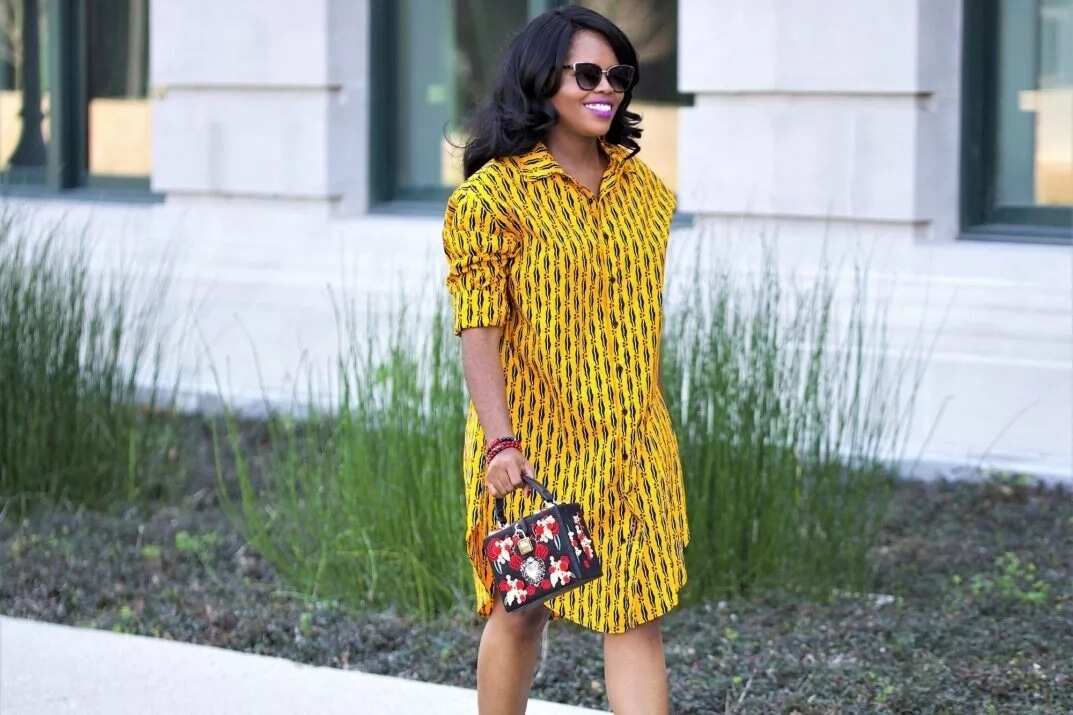 Now, let's go through our loose Ankara styles. And what better way to start off this category than this stunning shirt dress. This will be a perfect option for those who like to think out of the box and try new things, as it is not just your regular Ankara dress.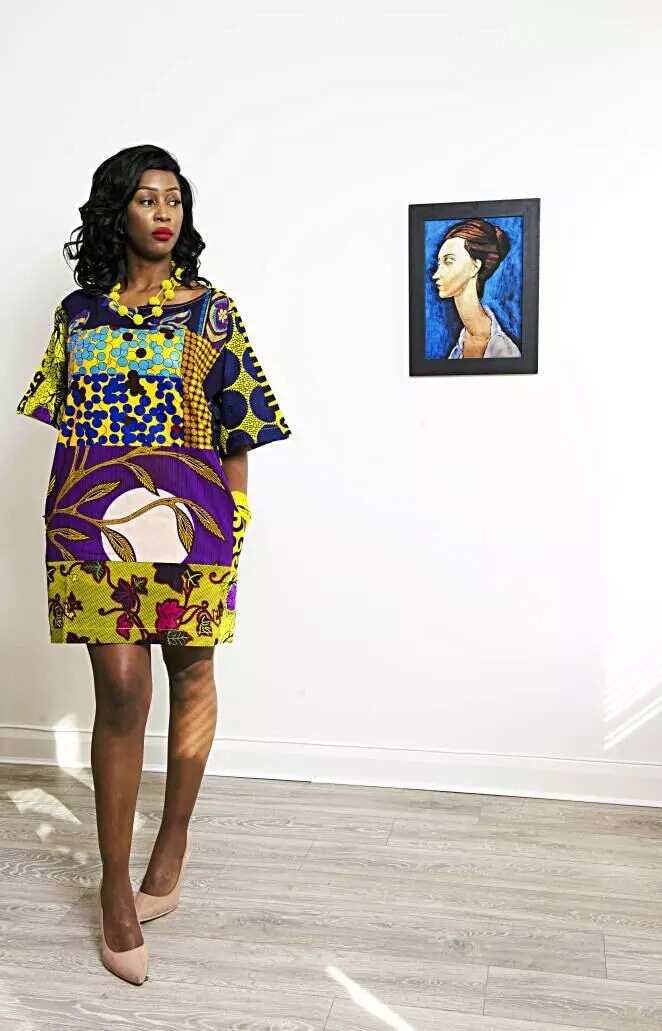 If you like art and you want to look like a work of art yourself, then this gown is a perfect option. It manages to combine contrasting patterns and elements in a way that not a single panel looks out of place, and it even has pockets! What a great dress.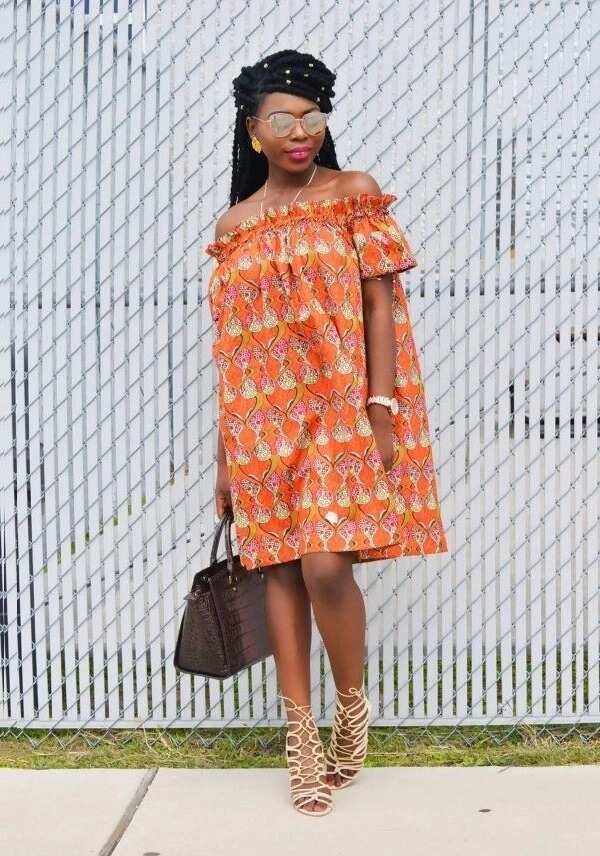 READ ALSO: Ankara free gown styles
For all those who want to feel young, light and beautiful, this gown style should be just right. The very loose silhouette and the frilly off the shoulder neckline can make anyone look as if they are ready to float on the wind.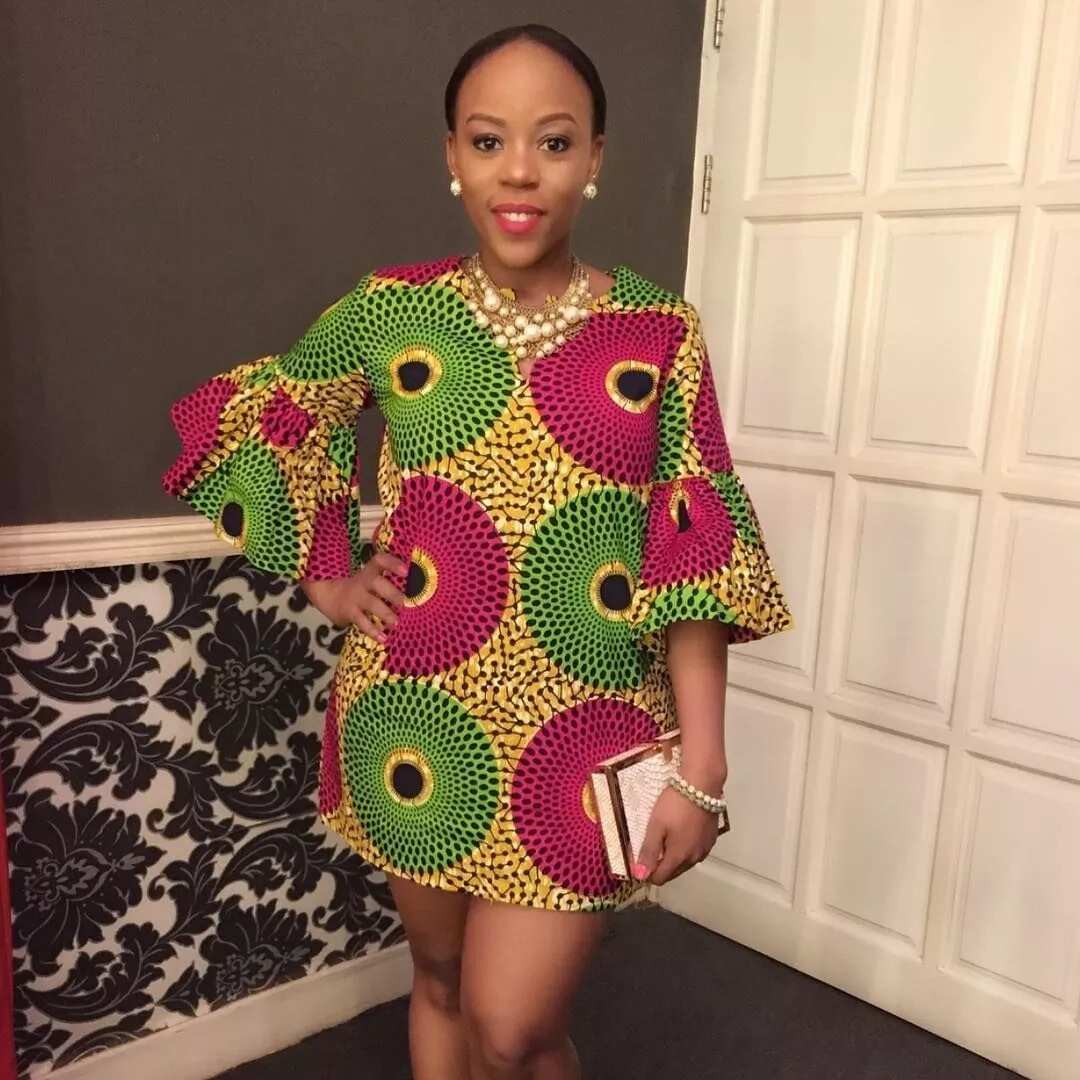 Some Ankara patterns are more popular than others, and this particular one is probably among the top 10 classic Ankara styles. So if you enjoy some classic Ankara looks, you will probably enjoy this dress. Despite its relative shortness, you can still wear it to semi-formal events and not look out of place.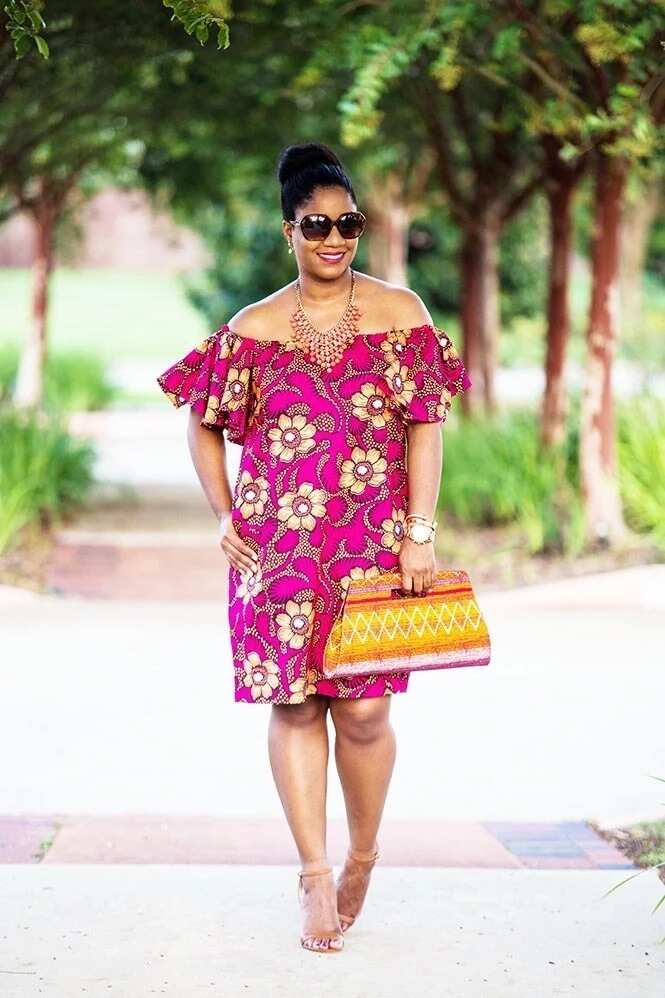 Last dress from this section is the floral vision in fuchsia. The off the shoulder cut is simply begging for some big and gorgeous accessories for the neck and ears, while the loose silhouette means style and comfort in one lovely package.
Tight Ankara short gowns styles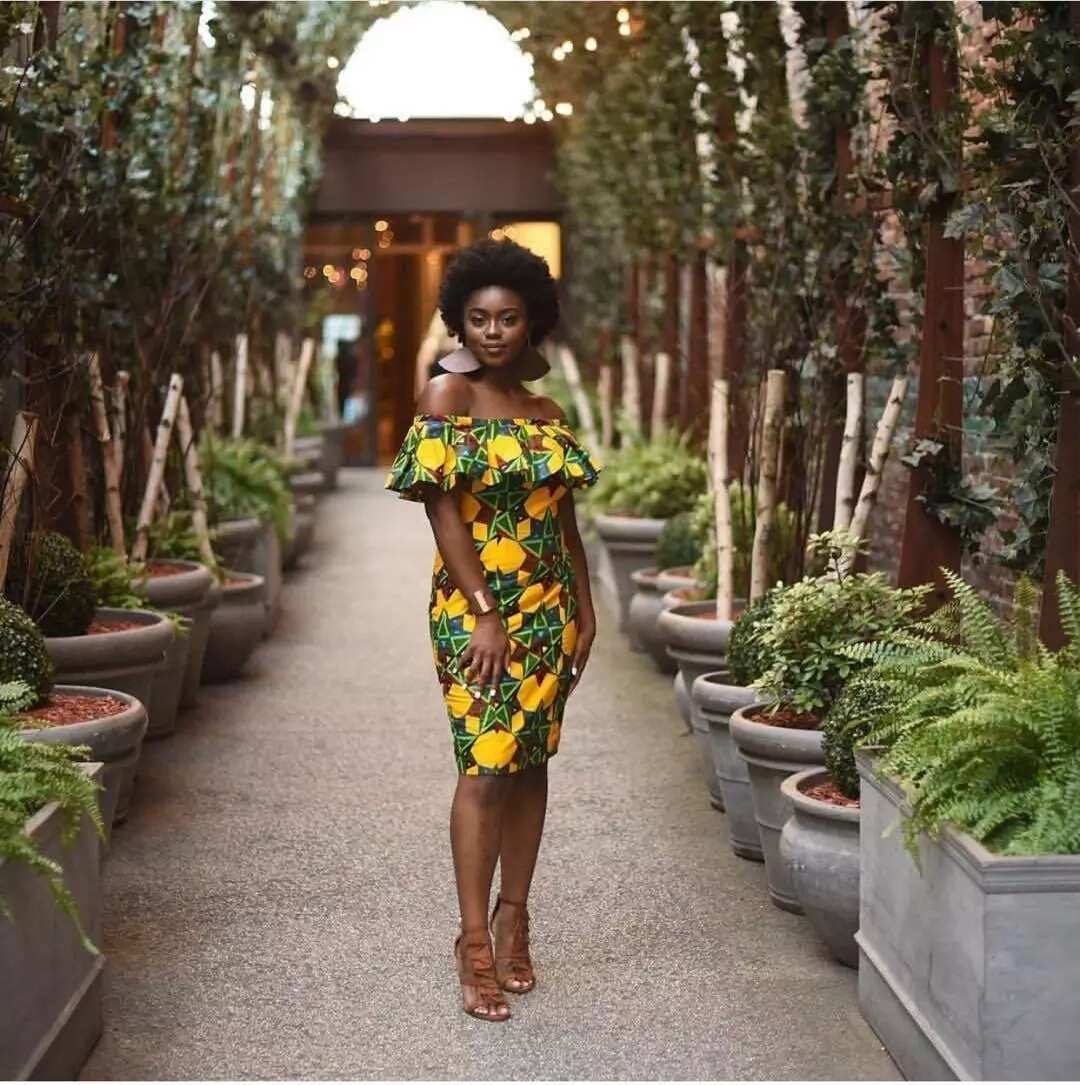 If you love your dresses to envelop you whole, then you should definitely like this section, as we have five beautiful pencil and bodycon dresses for your consideration. For instance, our first pick, with its off the shoulder frilly neckline looks absolutely stunning. Every line of this gown deserves your undivided attention.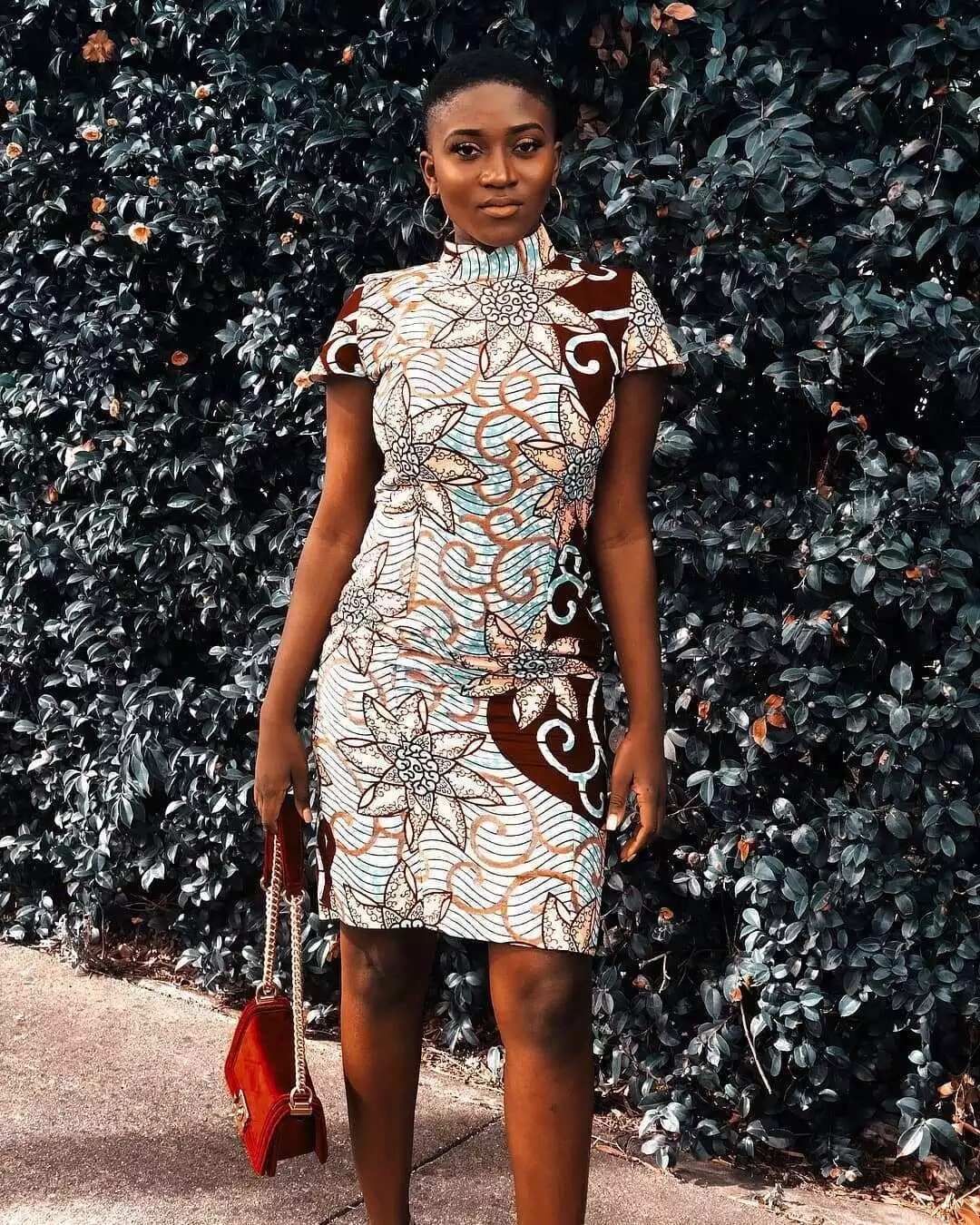 Here we have a rather unusual dress, as it in tot every day that you see a short gown with such a high neckline. With a dress like this, you can look both stylish and modest at the same time. We also absolutely adore the pattern and colour combination featured in this look.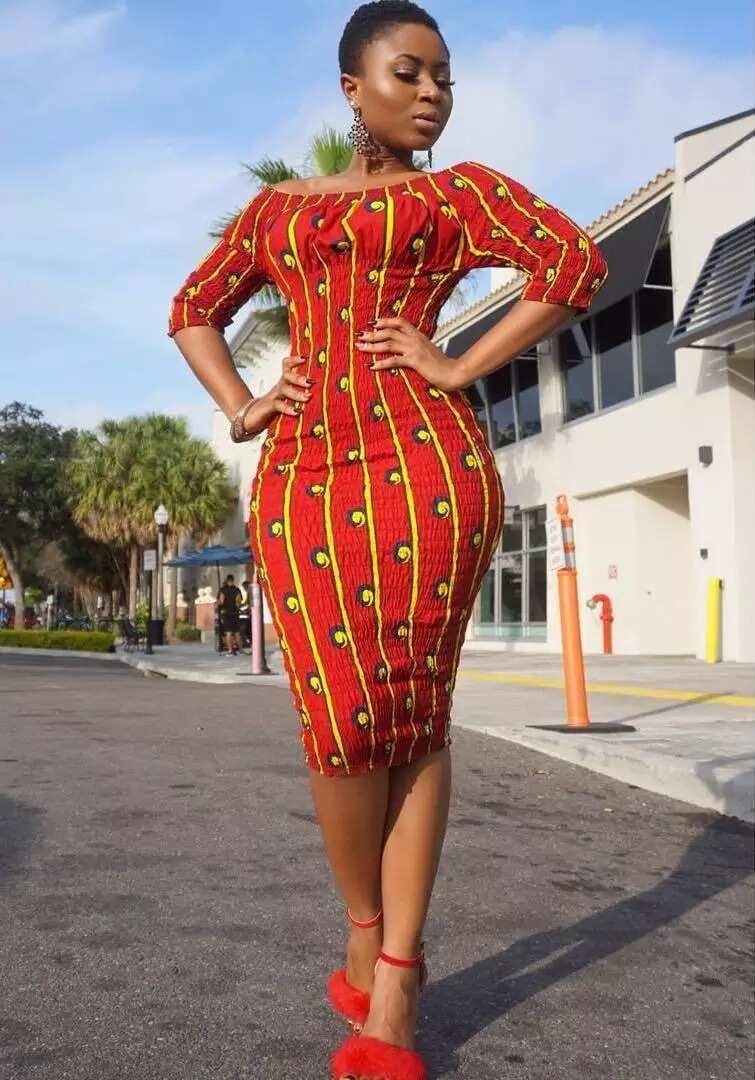 For those who have luscious curves and are not afraid to flaunt them, this type of Ankara gown should be just what the doctor ordered.
READ ALSO: Flowing gowns made with ankara to rock in 2018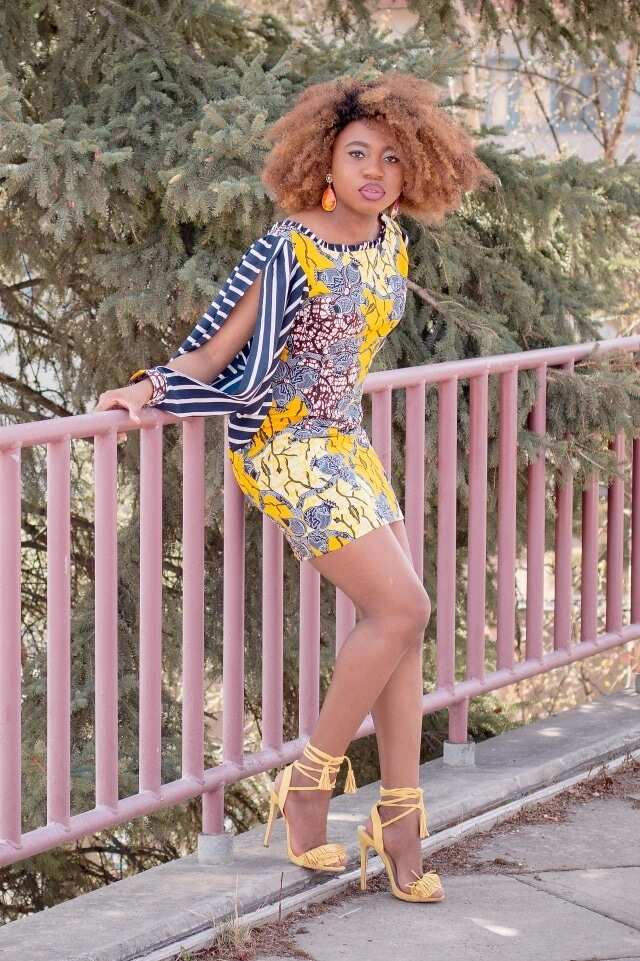 Do you know what we do not have enough of? Slіt sleeves. It is such a cool concept that we are surprised not that many dresses feature it. So if you share our opinion that there should be more slіt sleeves in this world, you will definitely like this gown.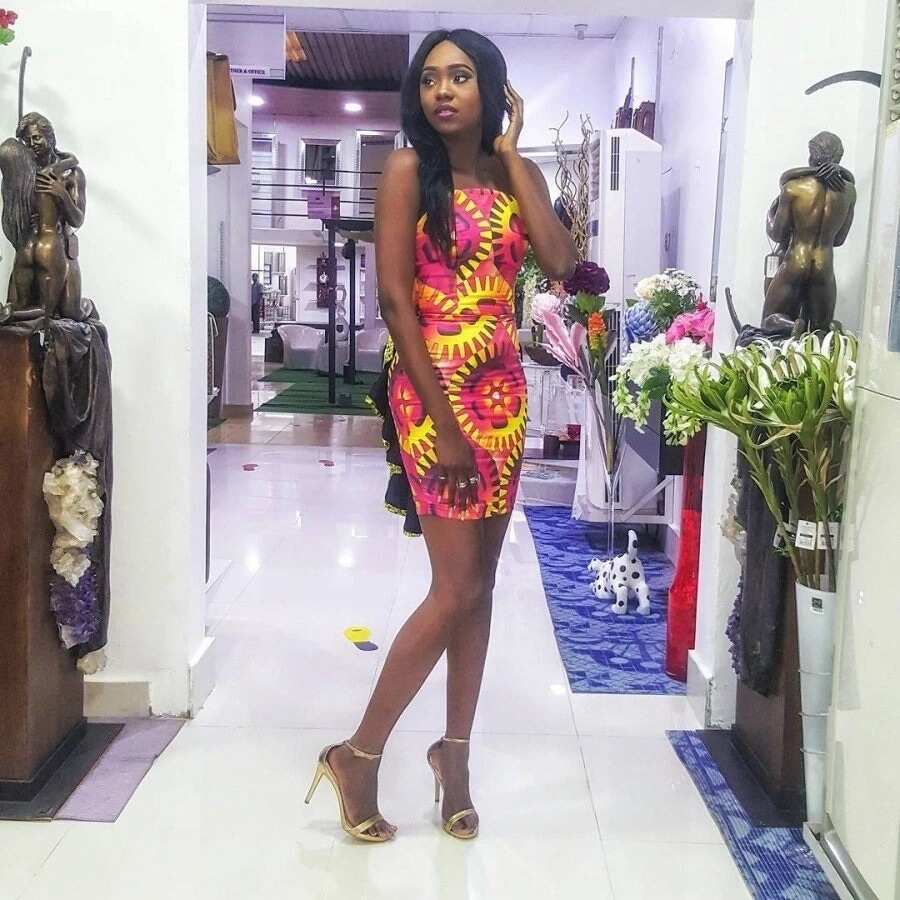 Last, but definitely not least, is this colourful short Ankara dress. It will be perfect for those who are not afraid of attracting a lot of attention to their person, as well as for people that love showing off their gorgeous legs. Or both, both is good, too.
Tell us in the comments, which short Ankara gown style is your favourite, and show us some pictures of similar dresses you might own. We would love to see them.
READ ALSO: Maternity gowns sewn with Ankara in Nigeria in 2018