- Disappointing sights at the Ekaterinburg Arena as most of the seats during the Egypt vs Urugauy match were left empty
- The game ended 1-0 in favour of the south Americans as they rank second on Group A table behind the hosts Russia
- Meanwhile, tickets for the fixture was said to have sold for £300-a-seat
Several seats are left unoccupied in the second match of the 2018 FIFA World Cup clash between Egypt and Uruguay at the Ekaterinburg Arena on Friday, June 15.
Reports coming from Russia claims the Russian fans aren't pleased with the high costs of match tickets fans are expected to pay as much as £300-a-seat for the game.
However, this decision by FIFA to charge that much may have probably returned early to haunt them as most of the orange seats show the gaps in the crowd due to poor ticket sales was beamed across the globe.
READ ALSO: Musa, others perform spiritual rights before Nigeria's Group D clash against Croatia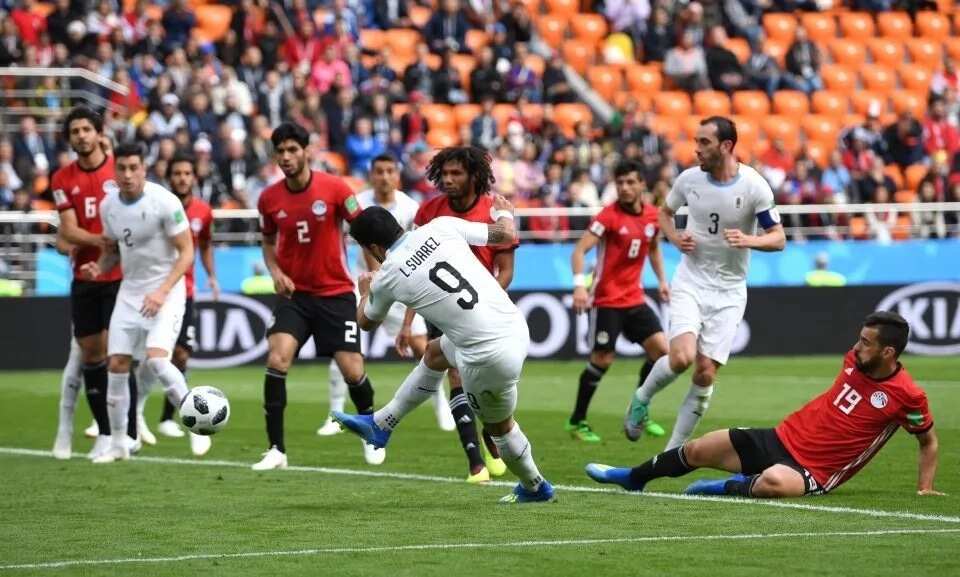 In contrast, the new structure - where prices were much cheaper for local fans - was almost packed out as supporters voted with their pockets.
Meanwhile, the view of too many empty seats was an eyesore for the game, and fans were said to be unhappy that Fifa had not done a better job making tickets available.
With Arsenal star Mohamed Elneny on show for Egypt, there were some who said he would feel at home given the poor attendances at the Emirates Stadium last season.
PAY ATTENTION: Become a member of the leading sports Facebook group 'Naija Football Fan Zone'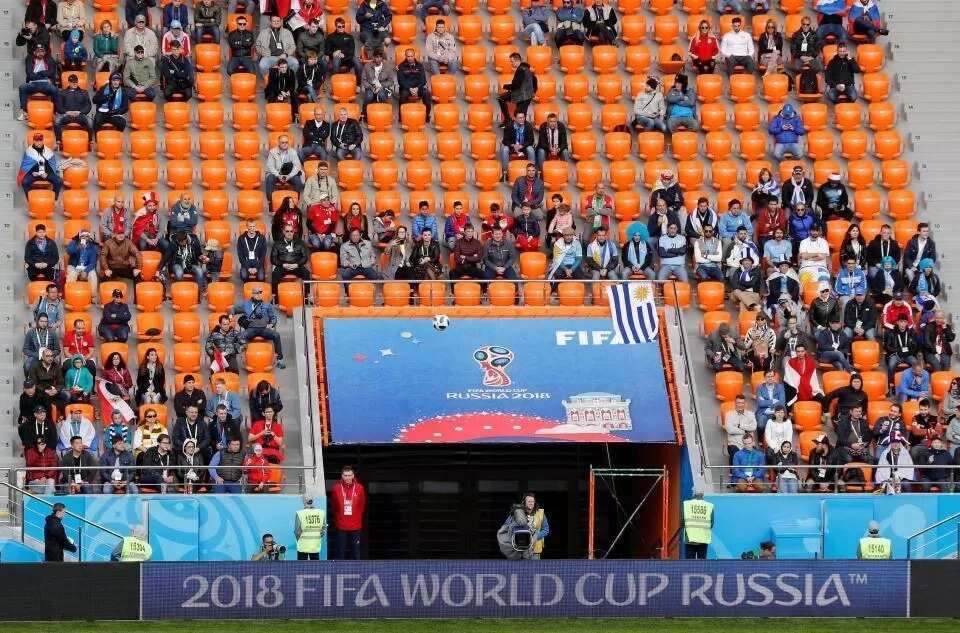 Huw Roberts tweeted: "Nice to see the #Dutch fans out in numbers at #EGYURU in the #WorldCup2018.
"Oh sorry, my mistake, they're just empty orange seats...
PAY ATTENTION: Click on link to get World Cup standings on Legit.ng
And @Vernoff wrote: "If you're a TV exec and you see that the one section that always shows up on tv is empty, wouldn't you think that maybe, just MAYBE those seats should be cheaper for everyone to fill up the seats?"
One of the big problems for organisers is that Ekaterinburg is the venue farthest away from Moscow of all the host cities.
PAY ATTENTION: Click on link to get World Cup fixtures on Legit.ng
While there are thousands of fans from around the world who have made the capital their base, the prices of flights and difficulty travelling mean travelling supporters turned their back on the match.
Legit.ng earlier reported that the new World Cup section will be available to all our readers on both the desktop and mobile versions.
It will cover every important aspect of the 2018 World Cup including news about the tournaments, fixtures, dates, times and results of all the World Cup games.
The Legit.ng World Cup section will also provide you with information on all match standings of the tournament organized in groups so you know what is going on at every point in time.
How Super Eagles qualified for the Russia 2018 World Cup - on Legit.ng TV