Following the aged long debate about trust in relationships and the lack thereof, a Nigerian pastor and author has taken to social media to give reasons for unsuccessful relationships.
It is common knowledge that most people believe the church is the best place to find a good partner. However, following past events and experiences shared by people who have been disappointed by partners they met in church, the belief seems to be flawed.
A Nigerian pastor and author identified as Sola Adio has taken to the Twitter platform to through more light on the reasons both men and women find it difficult to find a good partner or grow a healthy relationship in church.
He wrote, "I think I can explain the confusion behind men saying that there's no woman left that they can trust to marry. I'll number my statements as I go on, just for clarity.
1) you were introduced into the world of s*x by the older housemaid just before you hit puberty.
READ ALSO: Rich Nigerian man buries his father in a brand new BMW used as coffin
2) For the boys who missed the preying housemaid, you were introduced into the world of s*x as a teenager by your friends just after you hit puberty. 3) Then, some p*rn and some m*sturbation thrown into the mix. Rocky journey though teenage life is underway.
4) By the time you get through teenage life into adulthood, you were already fully sexualised. 5) Your evaluation of females is now mostly based on the dimensions of their protruding body parts drawn from the stereotypes of your environment.
READ ALSO: Physically challenged 20-year-old who wants to become a journalist writes exams with a pen in her mouth
6) By the time you got through your entire teenage life into adulthood, no-one had taught you or given you a lecture of what marriage should be like. 7) All you know about the man-woman chemistry is c*m, give head, doggie, ride, missionary etc. That is your entire range. No more
8) In addition to the fornication list in (7), you are also a n*de hungry boy, creeping into female DMs all over Twitter either asking for their n"des or offering photos of your organ hoping to exchange it for their n*des.
9) While growing up, you didn't learn too many useful things from Dad. He had a string of side chicks unknown to mum. Uncles too were no better. You crossed path with a few uncles at UNI when they came to pick a girl you were scoping from afar.
10) You grew up hearing mum say "men shall always be men" to your sisters each time Dad was caught with a side chick half his age. Dad always got off lightly with a slap on the wrist. 11) Not only were you into the girls your age, your friends also got you out on Allen and Opebi on a few Friday nights. You explored the full range of sizes and shapes available in women.
PAY ATTENTION: Get the Latest Nigerian News on Legit.ng News App
12) The handles you always follow on social media are those of scantily clad women so you can feed your eyes on their slay pictures. 13) At some point, you begin to think that you should start looking ahead into married life. However, your ideal women, most times, are determined by s*xuality. 14) Another variant of you then thinks, you cannot marry any of the girls or women you have fornicated with.
15) You have still not met Christ but you have bumped into a few church going women who keep inviting you for service. 16) These church going women are split between the ones with genuine Godly passion for souls and desperate ones who want to convert you and then marry you. 17) You are still not saved and you are only guided by your uncontrolled er*ction. You are now a full-time "Yoruba demon" even though your ethinicity is not Yoruba. You now scam women into fake relationships so you can have a piece of their fruit and run away to the next one.
18) in order to scam a church girl into thinking you are now saved, you even tried to learn some "fake tongues" and you stepped out during an altar call, not because you wanted to be saved but to make her think you were now saved so you can smash and run.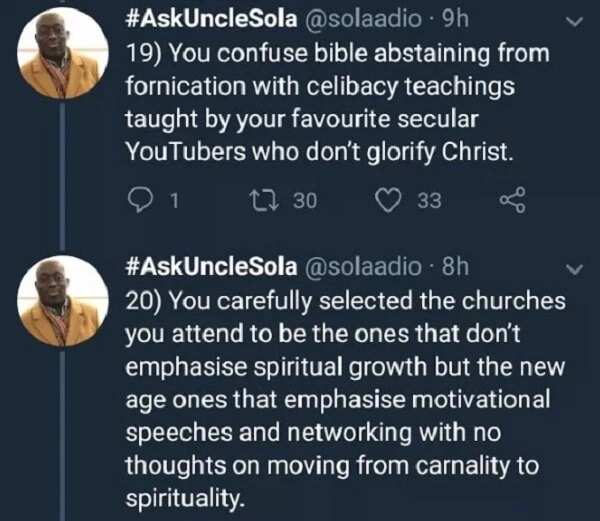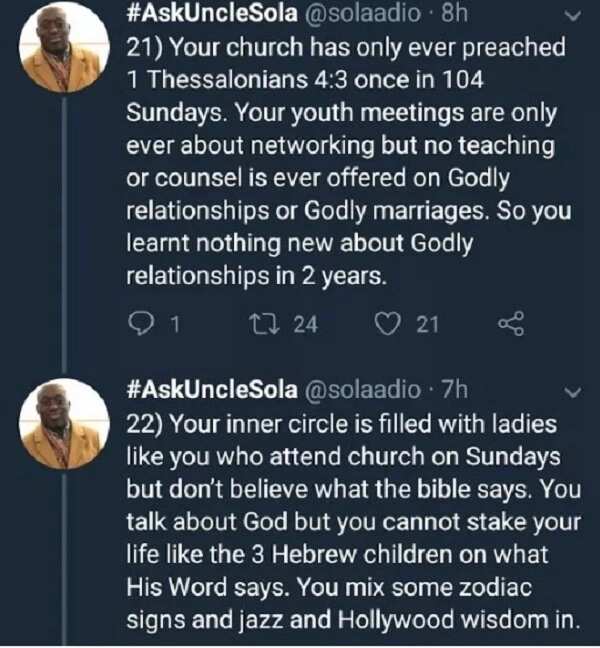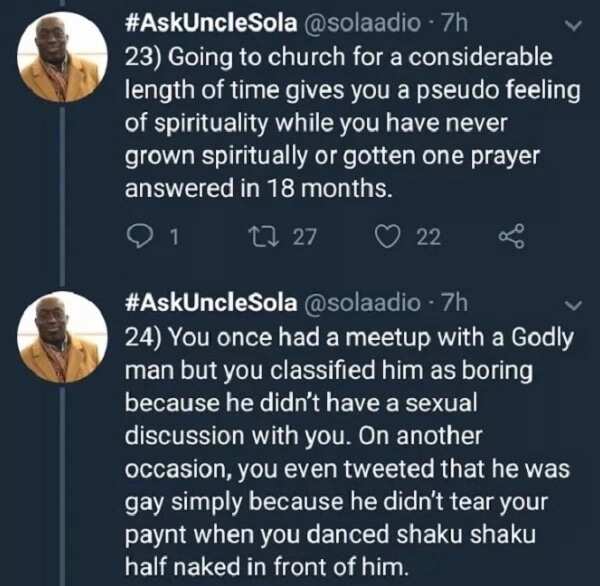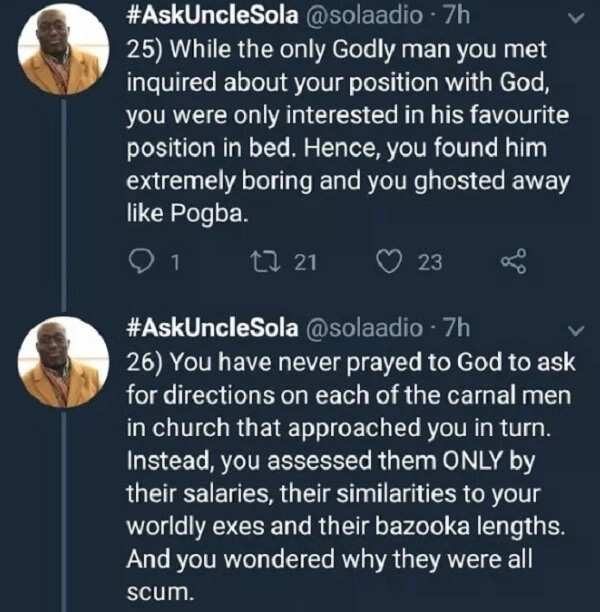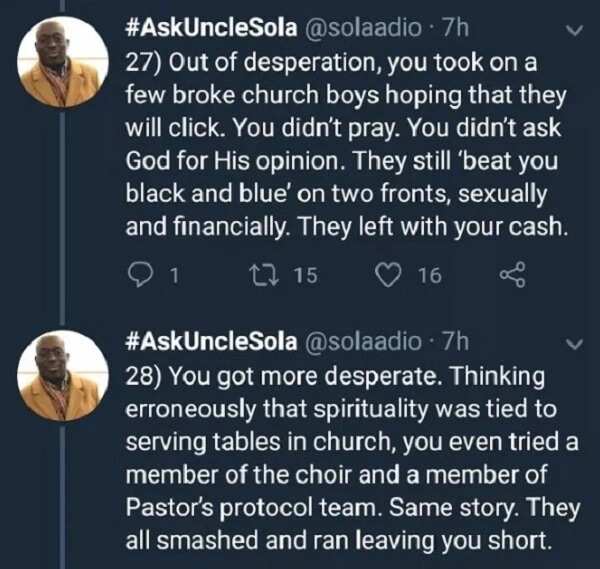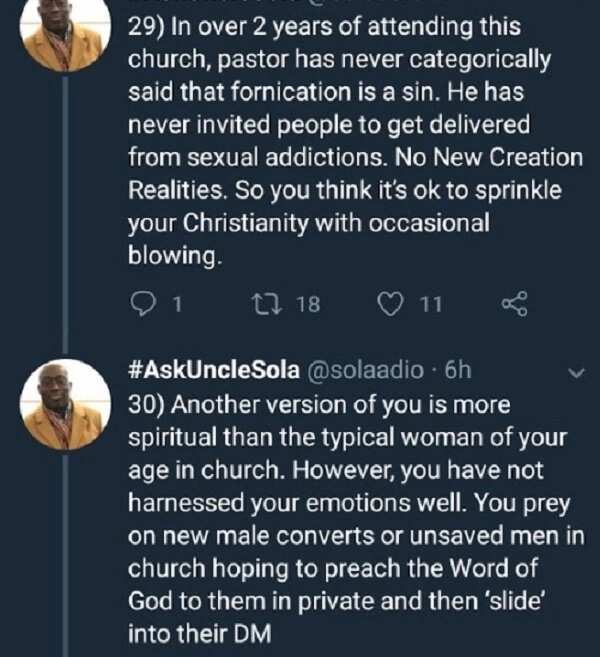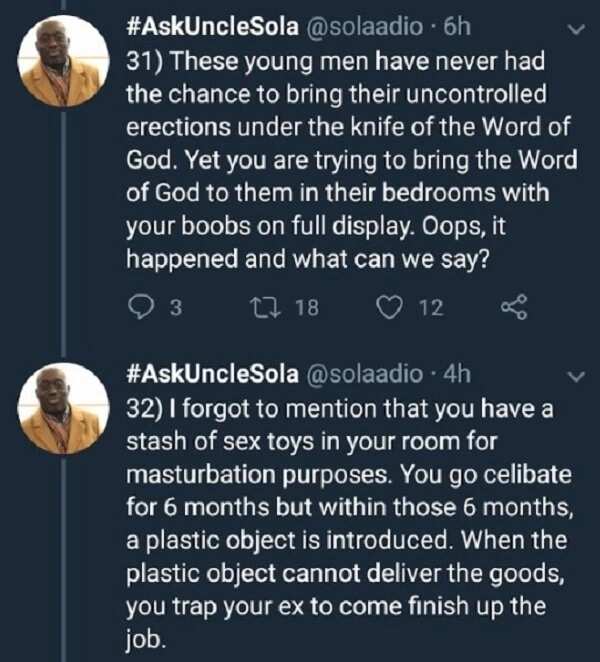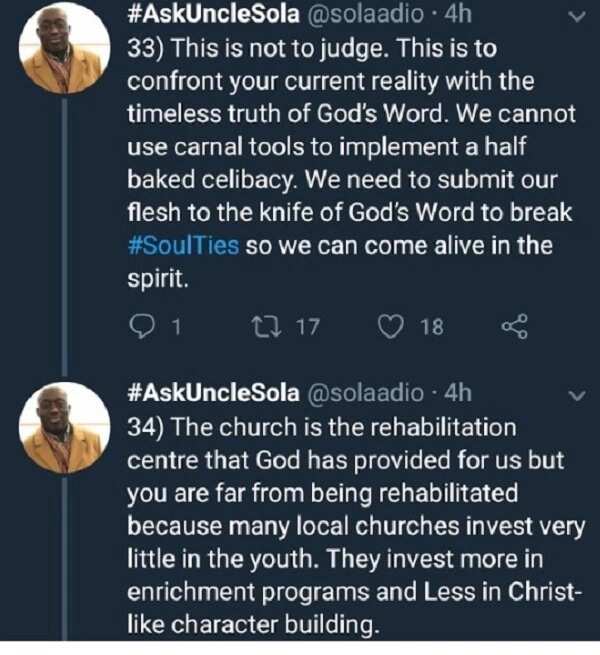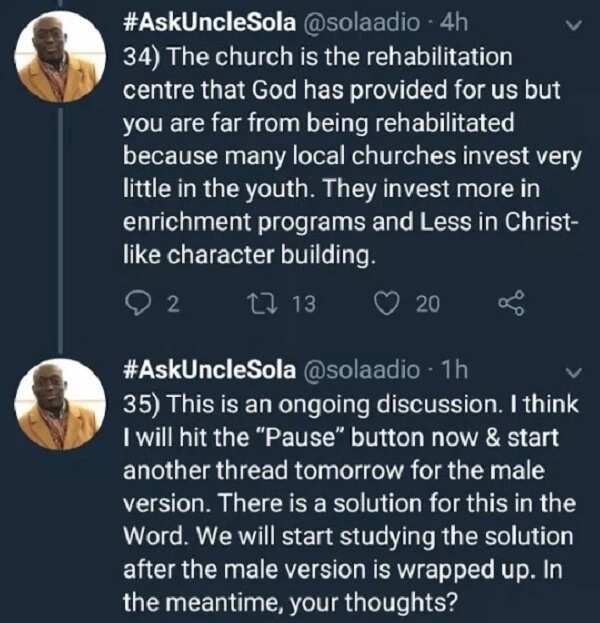 Get the hottest gist on Naija Uncensored Facebook Group
What is the major reason why relationships crash? on Legit.ng TV:
Source: Legit.ng