Are you planning to launch a cashew nut processing business? Then you need to draw up a good business plan. Read this post and learn how to start a successful cashew nut processing in Nigeria.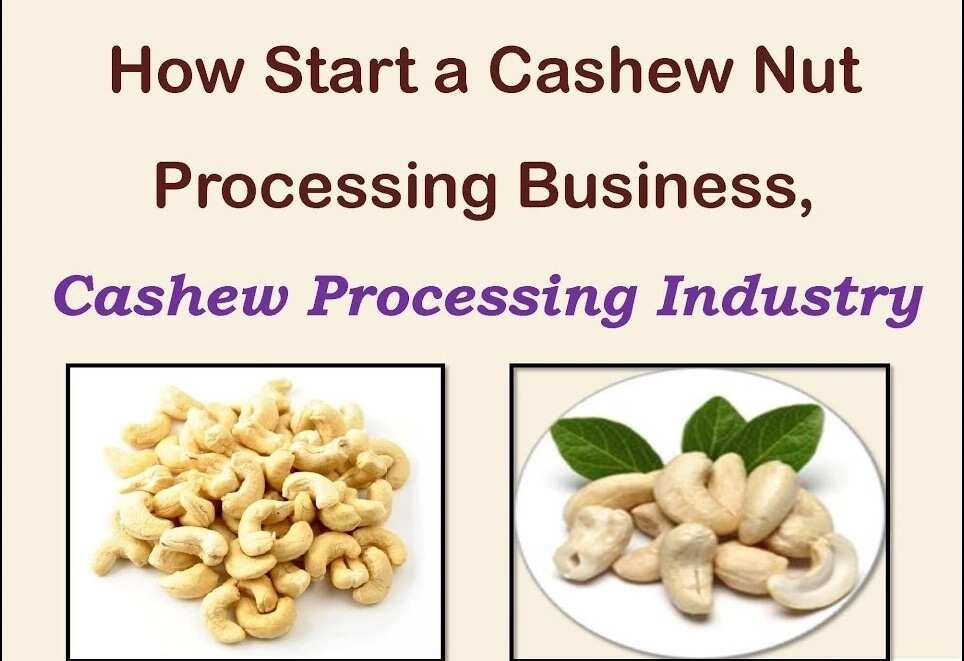 We all know that fruits are very useful for human body. If you eat at least one fruit a day, this ensures strong immunity and good health. Their benefits are undoubted due to contained vitamins. As for the cashew nuts, they have a lot of different elements that are useful for people. This food is highly nutritious and contains all necessary antioxidants for strong health. Despite the high calorie content, this nut is very beneficial. It may prevent a lot of dangerous diseases including cancer.
Of course, cashew belongs to seasonal fruits as well as many others. However, its processing is in demand all year round. And as you understand, this is profitable for business. That's why, many businessmen start cashew nut business in Nigeria. However, a process of launching the company can be often complicated and costly. You need to draw up a successful business plan. Find out the major steps for starting this business.
READ ALSO: Cassava processing business plan in Nigeria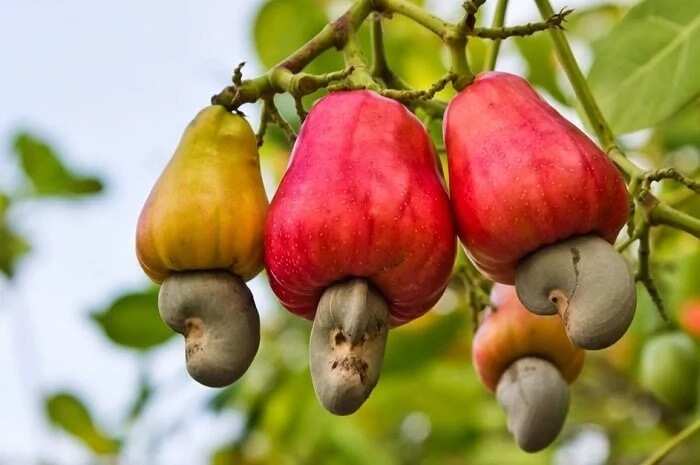 Cashew nut business plan
You can't create a business that doesn't need preparatory work. It's necessary to find out the cost, benefits and its profitability. Well, you are starting your cashew nut processing business. Then you need to:
Make research
When creating a business plan, you need to make your own research. As for the cashew nuts, you should explore their benefits, know when they are available, that is their season, harvesting, shelf life, and also when you can buy them.
Your researches should also include the study of other similar companies. It's necessary to know how cashew plant works, what equipment you need for processing cashew nuts. Fortunately, we live in 21th century and can use internet for such type of study.
READ ALSO: How to write a business plan in Nigeria
Give the name to your company
Of course, you should name and register your new enterprise to identify it. Register also all relevant leading organs and firms that are important for managing your business. Sometimes it's necessary to join the special association of cashew nuts processing. You will need to register with it to run your company.
Determine the location of your enterprise
If you choose a place located near the farm where these fruits are grown, it will be very advantageous for you. Otherwise, you can face extra costs for transportation and many other inconveniences. It will also help you to get the cashew in time. The fruits will not rot very fast.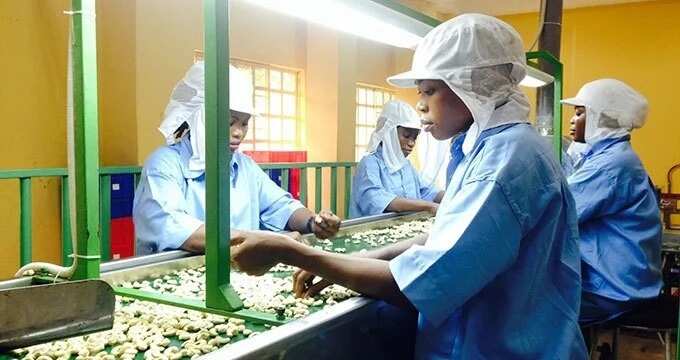 READ ALSO: TOP 10 lucrative farming businesses in Nigeria
Get the building permit
Each entrepreneur knows the importance of this item. When starting any business, you need to get not only license to start your business but also the building permit. There are special agencies who are responsible for constructions in your location. They will examine and approve your construction plan. Sometimes this process cause different problems. These agencies can't give permit if your plan does not match the major scheme of the city. As you understand, this is important and inevitable process.
Find your business partners
At first you should seek people who will provide you with cashew. We mean farmers who grow and harvest these fruits. You will also need some investors, that is banks or individuals. There is no business that doesn't need financing.
Find professionals for different purposes
It's no secret that any new company needs many professionals who will do the works. You should hire builders, electrics, engineers and so on. Actually, you better know what professionals you need for your business.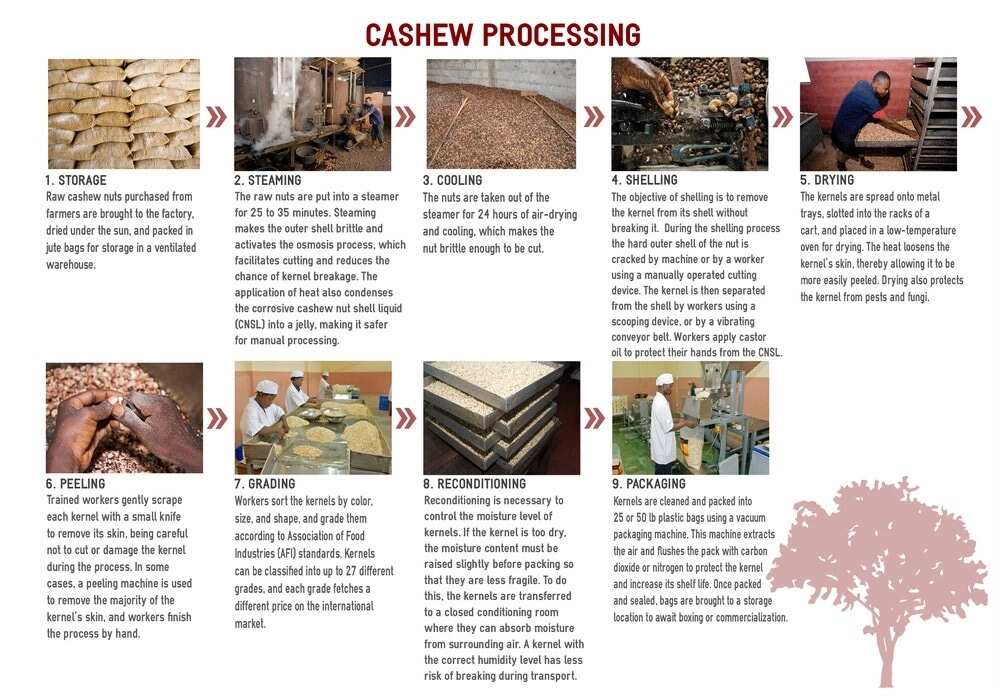 Test you product on the market
When everything is ready and you can start to produce your product, examine it on the market. It's necessary to make sure that it will be demanded. When you will get some feedbacks, consider them. Perhaps, you should adjust something. In any case this will help you to develop the quality of your product.
Improve your product
This is the continuation of the previous point. Well, before you enter the market completely, you should consider all feed backs, advantages and disadvantages of your product. Pay attention to any detail and improve it. This is very important and even decisive step. It will help you to avoid material losses in the future.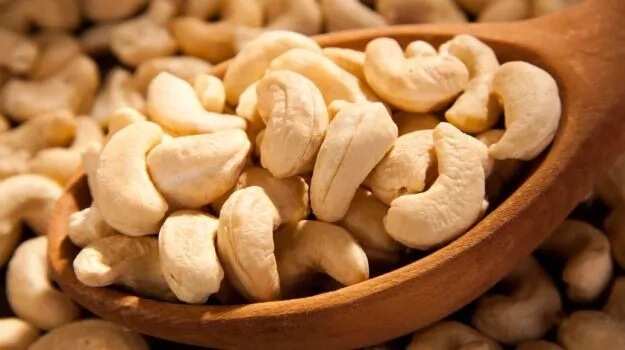 Create your own website
The official website is a necessity for any business in 21th century. Even if your company is only at an early stage, you still need a high quality official website. It's even more important than you may think. Make sure that it's comfortable in using, has nice design and all necessary information. Specify how and where the buyers can get your processed product, prices, add some pictures. Give any information that can be useful and necessary for the customers. If in doubt, specify also your contacts to clarify details.
Promote your goods
Finally, if your product is ready and available in the market, start to advertise it. Use any medias and tell why they need your processed cashew. What will people get using your product? What are the main benefits of your product? What special techniques you use for processing?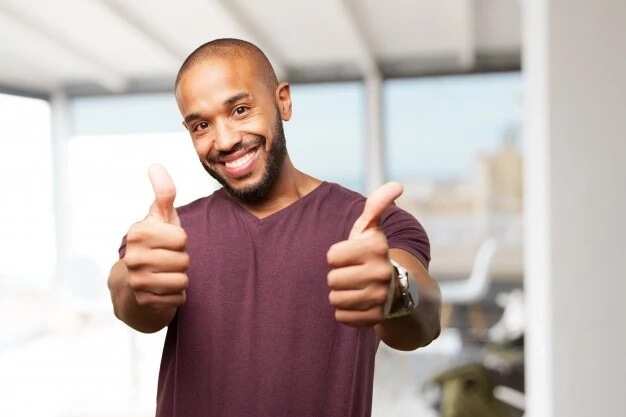 This cashew nut business plan will allow you to start a successful business. You should follow any of these items to run your business without any problems. Remember that each young entrepreneur faces a lot of problems at the beginning. That's why you need to be patient and perform these initial tasks meticulously. But more importantly to find a good motivation.
READ ALSO: Yam flour production business plan