How to write a leave letter
Are you looking for the best method on how to write a leave letter when you feel sick, cannot be at work or school for a couple of days? It is better to follow all the leave letter requirements to explain your appeal clearly so that managers will understand why you are leaving. Below, we will share some examples, tips and how-to guide.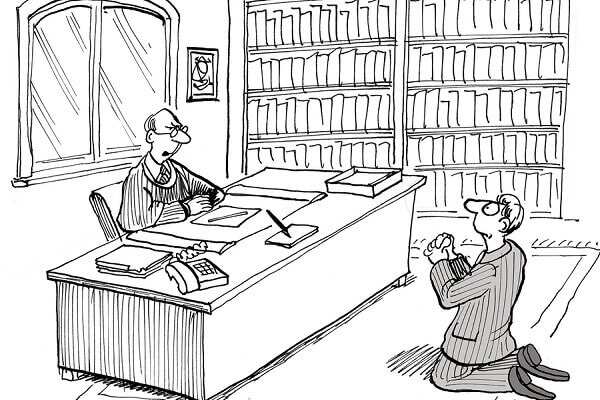 Leave letter
Every organization respects documentation, that is why each employee at offices and companies, teachers and students at school have to notify their administration about staying away from work or class for a short period.
Whoever writes a sick leave letter, casual or official leave letter has to meet the main documentation requirements, no matter if you will be absent for 1 day or a couple of months. Your school or company has to know when you are back to study or return to your regular job functions and responsibilities.
Leave letter is meant to avoid all types of confusions between a student or employee and their organization. Such letters have to be written effectively, in clear and professional manner.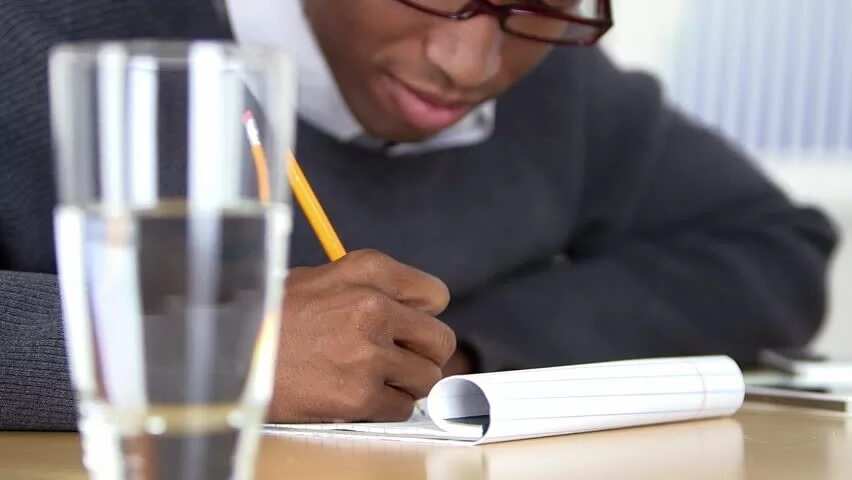 How to write a letter for leave
Each document consists of particular elements that distinguish different types. For example, when you learn how to write a leave letter you will know that it contains:
Yours and organization's details
Introduction part
Main body
Clear conclusion
Signature
The first part, introduction, has to be friendly and polite. It describes your 'leave' situation and has to be right to the point. The main part shares all the details about 'leave' such as the date of departure, the date of return, your contacts and other important facts your organization has to know. The conclusion is also a polite part of the note.
Here are the potential mistakes to avoid:
Incorrect spelling of names
Wrong dates
No reason for leaving a school or job
No contact details
Enough room for interpretation
Way too many unnecessary details
It is always better to limit a leave letter to not more than two pages. Sticking to 1-page format is the greatest thing to do. It is also important to add your address and name to the upper part of the page.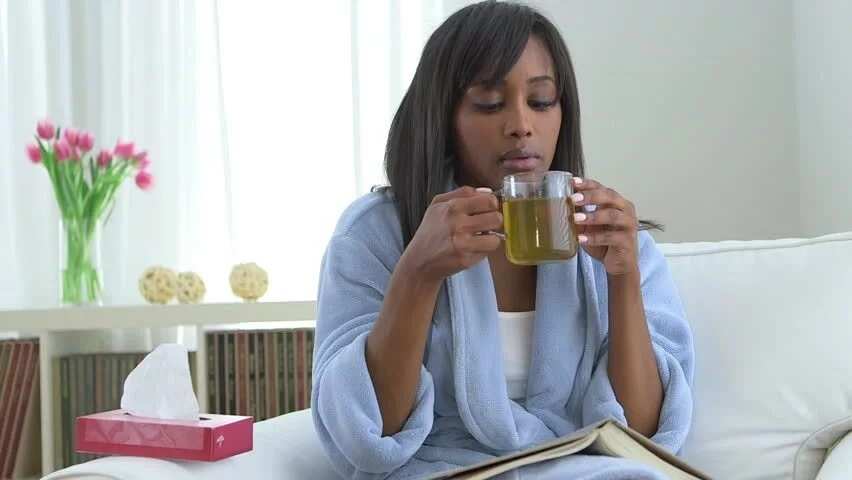 Sick leave letter
Workers and students who are absent from work, studies because they are sick have to learn how to write a letter of leave because their organization has to know their nonappearance reasons and add this document to the database.
Here are some important things to consider:
Write your sick leave letter as soon as possible (once you know that you cannot attend school or work because of illness).
Stick to the company's policies or simply write an email to the teacher (if you are in school).
If you need a notice from a doctor, make sure to get one (this is usually necessary when you are ill for more than 3 days).
Make sure to write a formal sick letter and explain when you are planning to come back to work or class.
Here is a sample of a quick sick leave letter for your project team:
Hello team,
I apologize, but I cannot make it to work today. I got a fever and flu. I will take a day off, so I have plans to keep in touch via email and do my work remotely.
Sincerely, Andrella
READ ALSO: How to write application for annual leave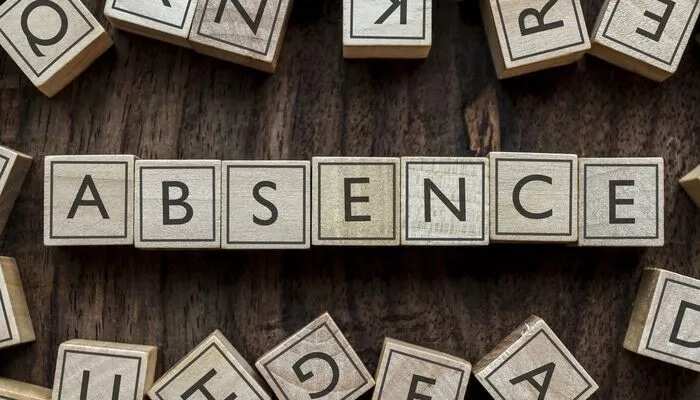 Casual leave letter
Those workers who have to stay away from their work for 1-2 days can write a casual leave letter. It is meant for users who only need a short time for their nonattendance.
Casual letters are not planned beforehand, but they still require a good reason for a sudden absence. They should be written shortly, politely and explain when you are going to return to work or school.
So here is what you'll have to mention:
Politely request for a grant to be away for 1-2 days
Explain dates when you are off and back to work or school
Explain the legit motives for being absent
Leave your contacts so that you can be contacted in case of urgency
Thank for being approved a permission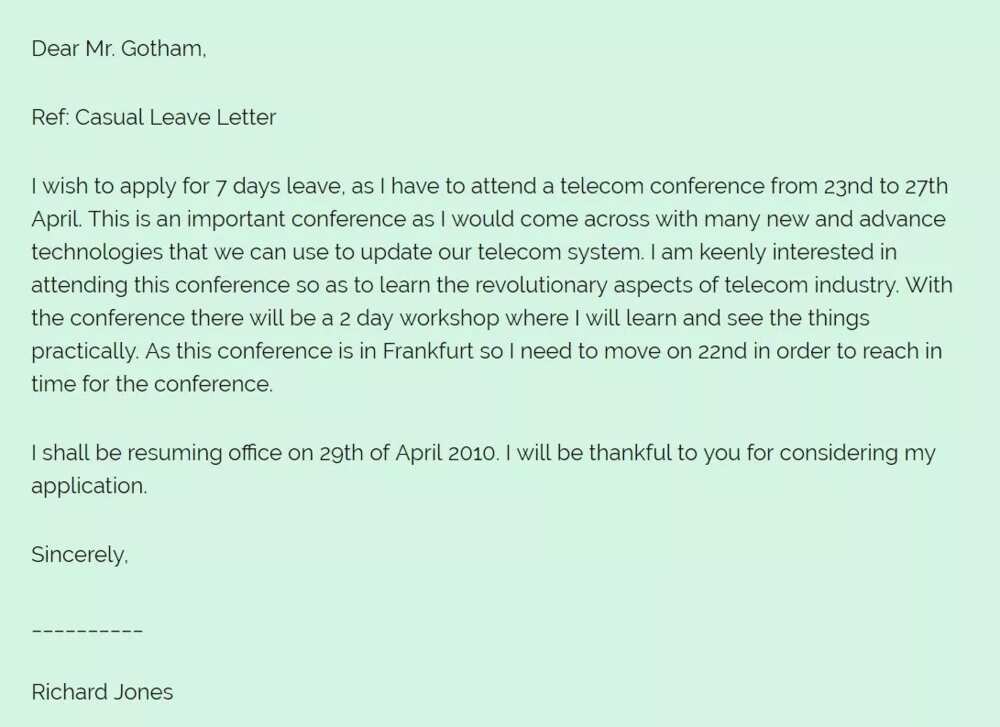 Official leave letter
This type of leave letter is usually written by employees who won't be working for a while for a particular reason. Since it is meant for your business organization or firm, the official leave letter has to explain why you will be absent, for how long, when you are back, and all this information has to be written the way so that the manager gets the idea and can find someone to replace you for that period of time.
It is correct to ask for leave through a letter because the company has to minimize the risks and make sure all the projects and responsibilities will be taken care of.
It is great to discuss your absence before you even write a letter. Talk to your boss or manager, think about the best time for your absence, explain your situation, make sure you are financially covered and only after a successful conversation you can spend the time by placing all this discussion into the form of an official leave letter.
Your letter should contain this data:
Why you won't be working for a period of time (maybe you are about to give birth to a child, experience personal problems or stress).
What you are planning to do before you leave (find someone who will replace you, stay in touch while being away from work, etc.).
When you are leaving and when you'll be back (dates).
Correctly written formal (official) leave letter with 'thanks for consideration' note, your name and signature.
This document will be added to your file, and you will get official approval to be gone from work for the reasons and dates stated in the letter.
Here is an example of an official leave letter:
Your full name
Full address (street, city, postal code)
Correct phone number
Date of writing a letter
Manager's name (administrator, teacher, etc.)
Title
Company's name
Business address (street, city, postal code, etc.)
Dear John,
Per our yesterday's discussion, I would like to request a leave of absence from June 11 until June 25, 2018. I would be back to work on June 26, 2018.
If approved, I will be happy to offer remote support via email and phone.
Please let me know if any further information is needed.
Thanks a lot for your consideration of my request.
Sincerely, Andrella
When you complete your leave letter, reread it and edit to make it short, clear, easy-to-understand, and correct. Then you can bring this document to your organization administration (boss or teacher) and make sure all your plans are understood, and you are approved to leave.
READ ALSO: How to write an apology letter to your boss for being late?
Source: Legit.ng