Ankara maxi dresses in 2018
Ankara maxi dresses are one of the hottest trends in 2018. They are comfortable, stunningly pretty, and easy to make. Such a maxi dress is a thing each woman should have in her wardrobe. Why each? Well, it's not only possible but also quite easy to find a good style that would match any body type and any taste. Just check out the guide with pictures below. You'll see plenty of styles and possible variations.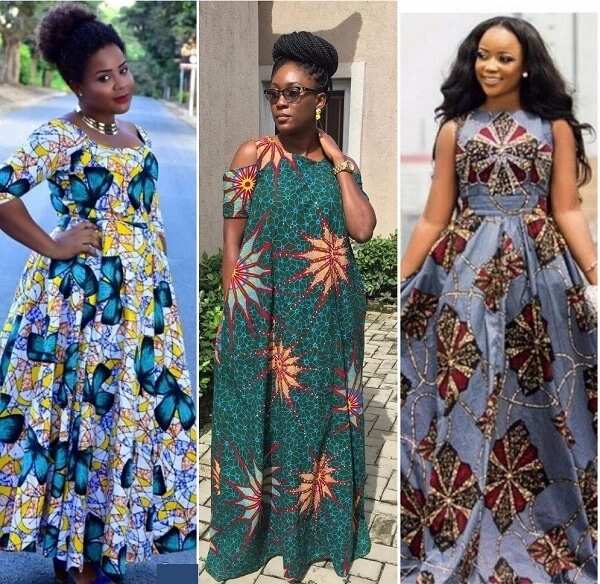 The best maxi Ankara styles for casual looks
Many women are used to the thought that maxi dresses are good only for occasions because of their trim look. Indeed, evening dresses are always long and they are not worn every day. However, what can prevent a woman from wearing a casual long dress that looks simple but smart at the same time?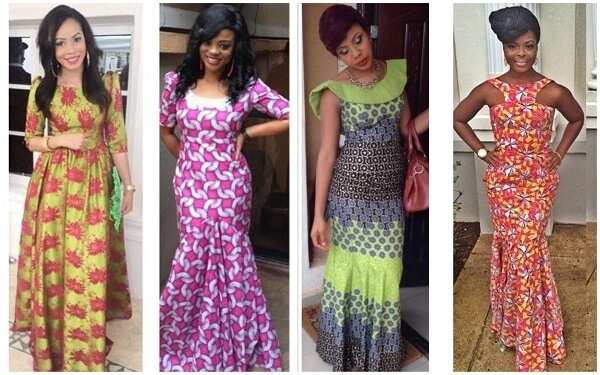 READ ALSO: Female native wears in 2018 for real fashionistas
Maxi dresses made out of Ankara fabric are both casual enough to be worn every day and vibrant enough to be chosen as a garment for a special occasion.
Let's take a look at some pretty awesome Ankara designs that are good for casual everyday wear.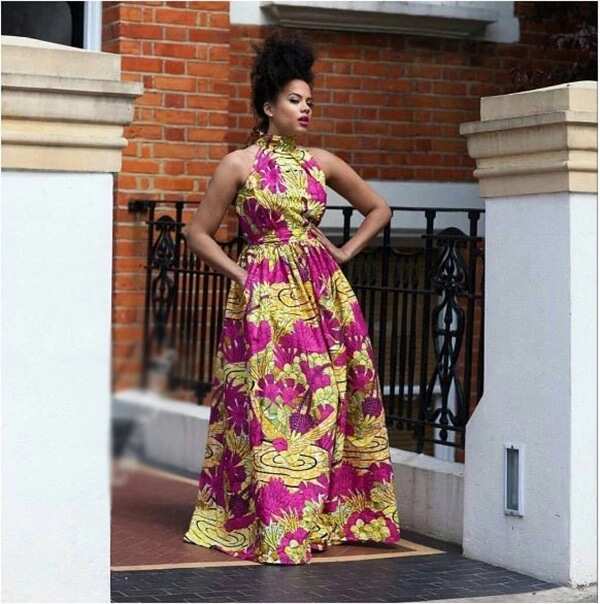 This halterneck maxi dress made out of purple and yellow Ankara fabric looks stunning and simple at the same time. Its wide skirt offers freedom and comfort for walking and the tight top part emphasizes the beauty of the body shape. Charming pockets add loveliness to the look. Such a dress is perfect for both a day walk with friends and an evening out with a partner.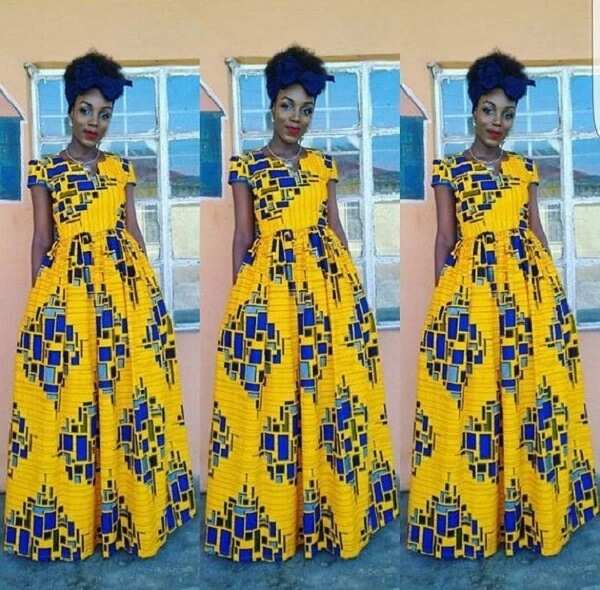 The yellow and blue Ankara dress looks sunny and fresh and very comfortable. Its cut is absolutely simple: small sleeves that cover and emphasize the shoulders, a very modest neck opening, and a simple silhouette. Still, it's a true eye candy that attracts glances and inspires admiration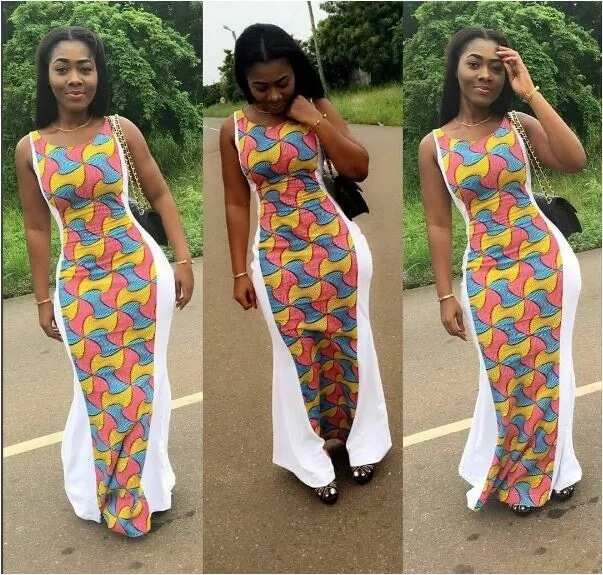 This adorable dress made out of a charming combination of plain white cloth and Ankara is a perfect way to accentuate your body shapes. The vibrant front part that repeats the curves of your body will definitely catch all eyes on you. Without deep neck cuts or tight skirts you will attract all the attention and demonstrate all your beauty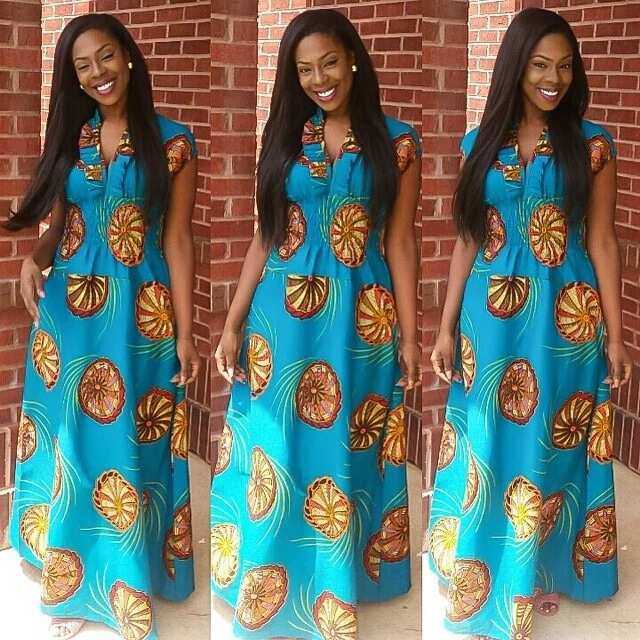 A simple but so vibrant dress with an unusual combination of colors looks fresh as ocean waves. It has a simple cut but attracts attention and flatters the body with the help of elastic bands in the waistline and lovely frills along the neck cut. It requires no additional decorations or accessories. Simply wear a pair of matching sandals and you are ready to steal hearts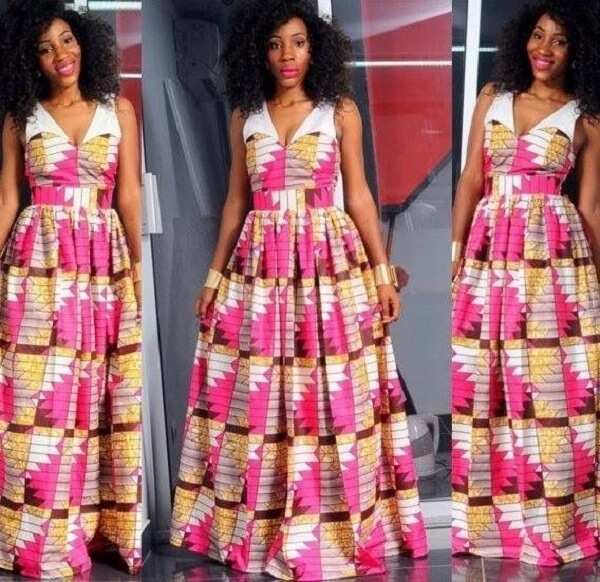 This pink-white-yellow dress attracts the attention due to an unusual and lovely idea with a wide white collar. Decorating the neck cut, it brings freshness into the entire look and makes the simple dress look smart and very neat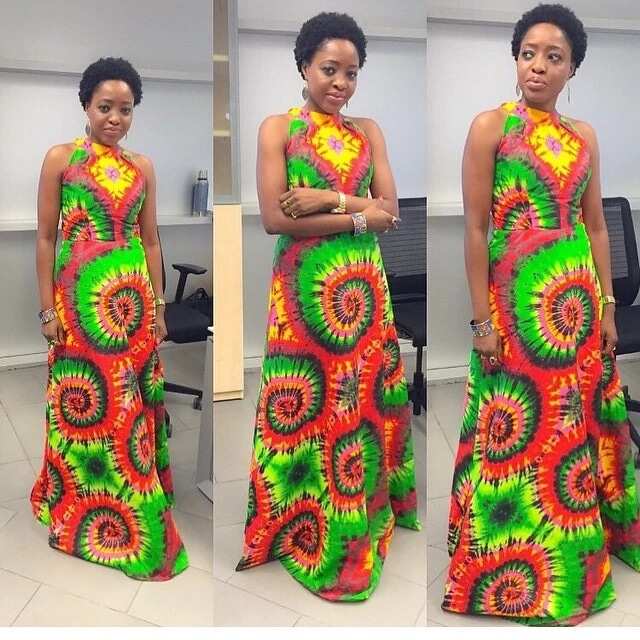 This Ankara dress is as vibrant as only African Ankara can be. It has a perfect sunny look that will improve your mood whatever happens. It has a simple cut and no specific features except the halter neck but it looks amazing due to the color choice and the fabric
The maxi Ankara inspiration for an evening or a date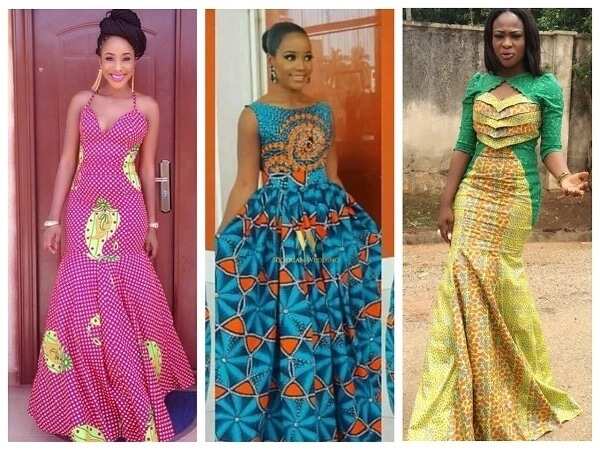 Going out in the evening or going on a date requires something special and a little bit more elaborate than day casual looks. Dresses for parties with friends or dates are somewhere in between festive ones and casual attire. Let's check out some lovely ideas.
This Ankara dress stands special because if the unusual bell-shaped sleeves that reach the elbow and the wrap over cut. The deep leg opening exposes one leg almost completely so it's not the design you would wear on casual occasions.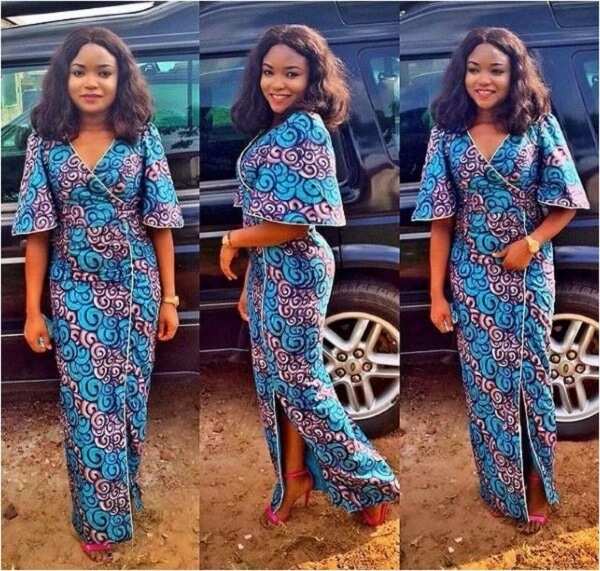 One more halterneck dress is here but this one exposes a little more bare skin. It depends on you whether to make the back open, too, or to cover it with fabric. In any case, such a luxurious dress will attract attention to you and your divine shapes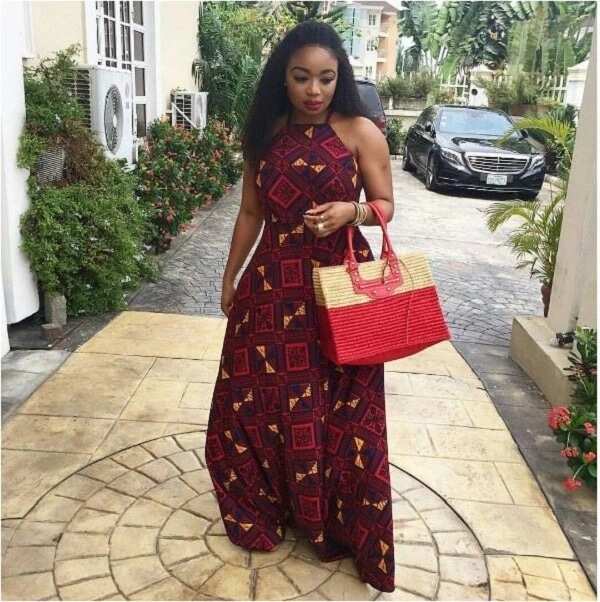 This lovely blue item combines several extremely attractive and pretty details. One of them is a deep opening that exposes one leg and the second one is the way the neck opening is finished. The X-shape of the stripes creates a stunning effect of elegance and loveliness. A belt of a contrasting color will give the dress some additional freshness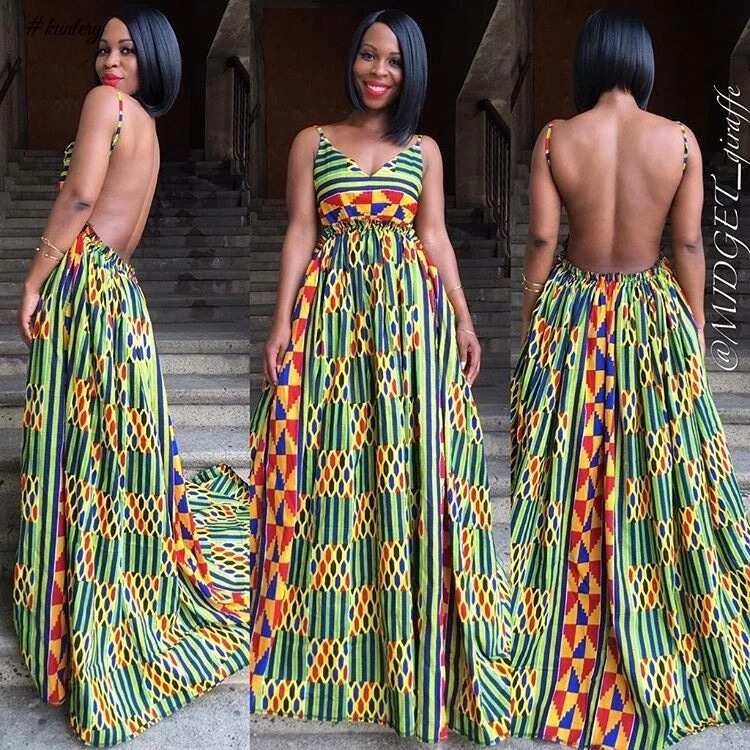 A great idea of a maxi dress with long sleeves that are compensated by a deep neck cut and a side opening that exposes one leg. Such a dress is perfect for parties and goes amazingly well together with high-heeled shoes or sandals. The idea is in the wide sleeves that make the waist look even more slender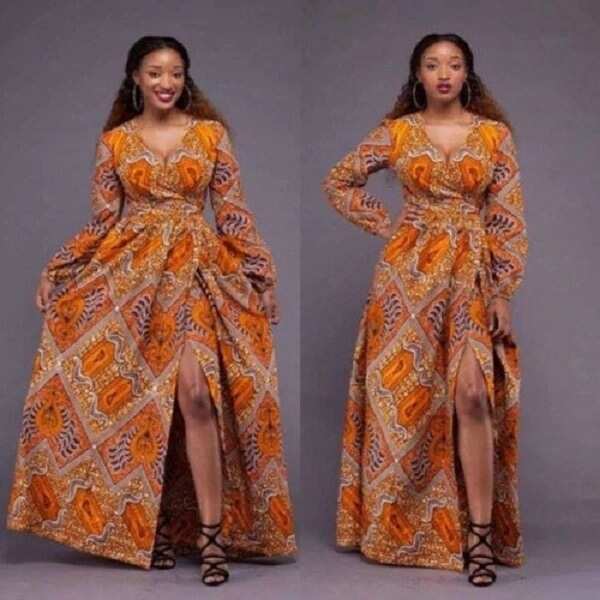 This grey and lilac dress has one half of its beauty in the colors and the other in the unusual shape. The lovely neck opening that's not deep but is wide accentuates the shoulders and the tight upper part of the skirt attract the attention to the waist and hips. The wide bottom of the skirt makes it comfortable for walking and very feminine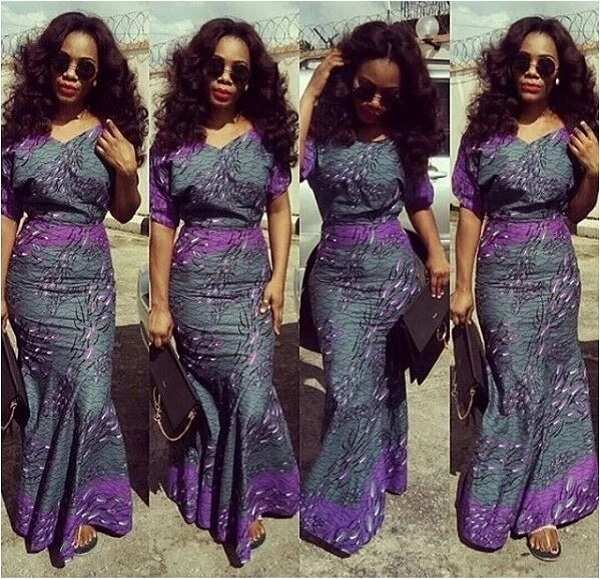 Ankara maxi dress designs 2018 for events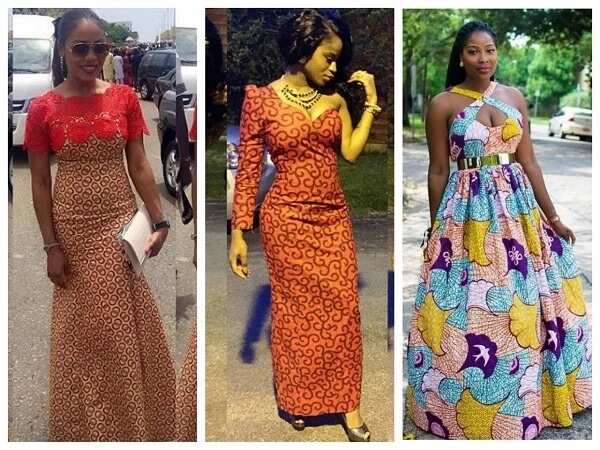 Special occasions require special dresses. Let's take a look at the most attractive Ankara maxi items that seem to decorate any festivity with their stunning beauty and elegance.
Just look at this stunning salmon-colored item! With its complicated top cut and frills on the tight skirt it's going to catch all eyes and amaze everybody around you. Wear it with high heels and you'll see the effect!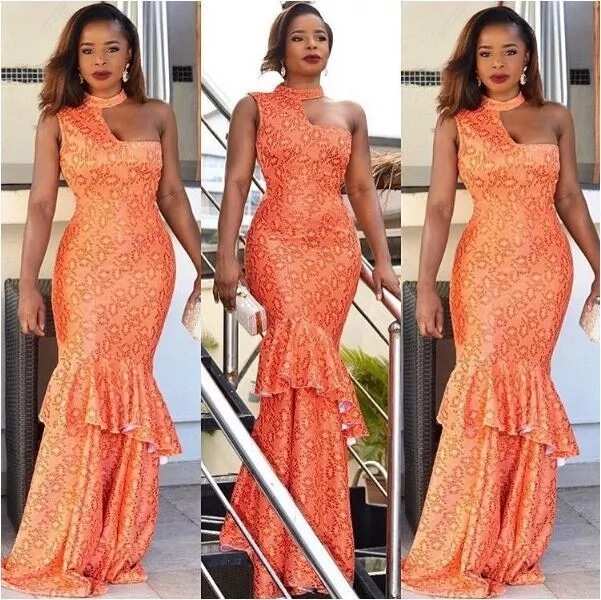 Here's a dress that's going to make you look like a true princess. The wide luxurious skirt and the modest cut of the tight top will emphasize your figure, creating the stunning effect. Try such a dress on your best friend's wedding!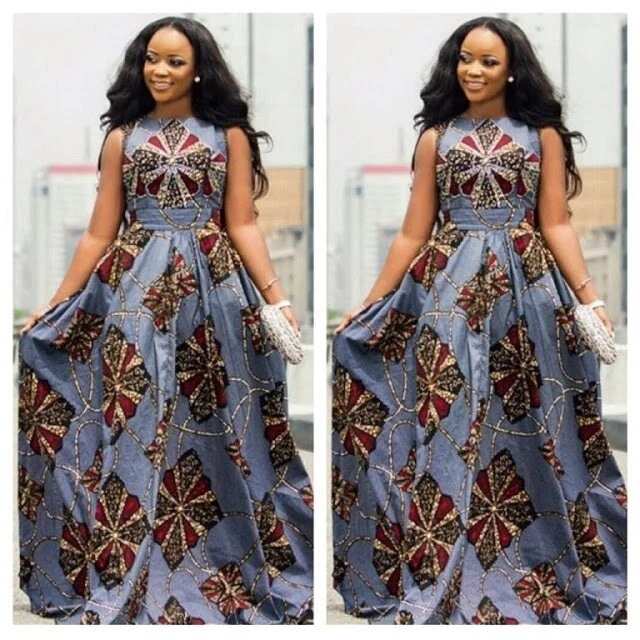 A dress with a gorgeous skirt that has a long tail is always suitable on a festive event. You will be the centerpiece of any party if you wear such a wonderful dress. Remember: the choice of colors matters a lot!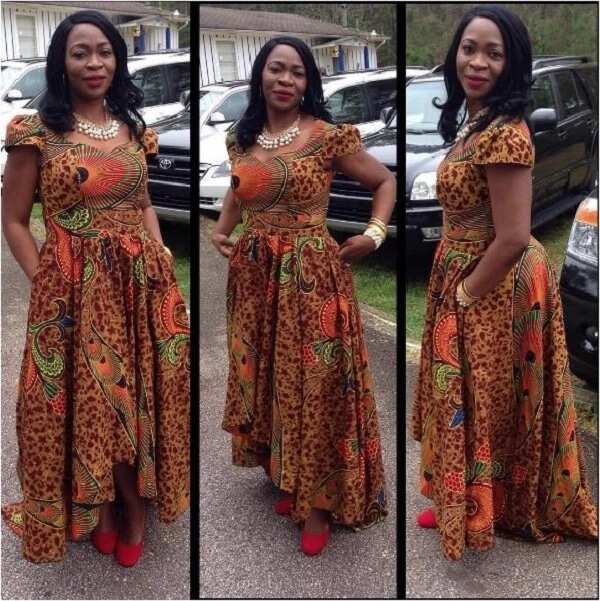 Another princess-like dress is here to show you how festive Ankara may look. The strapless top exposes the slender shoulders and its tightness demonstrates the slender waist. No extra decorative elements, no flamboyant accessories: such a dress is a gem on its own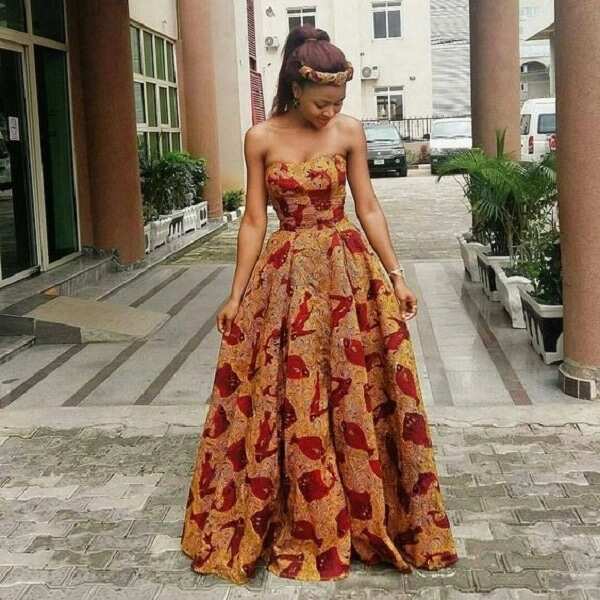 Maternity Ankara maxi dresses
Maxi dresses for future mothers are a perfect solution from the point of view of comfort and style. Check out a couple of lovely maternity ideas that will charm you with their simplicity and attractiveness.
This deep green dress with an imitation of off the shoulder sleeves looks amazingly pretty and comfortable. Handy pockets, a loose cut that can be worn from the early term to the very delivery time – all this makes this dress a great choice for expecting mothers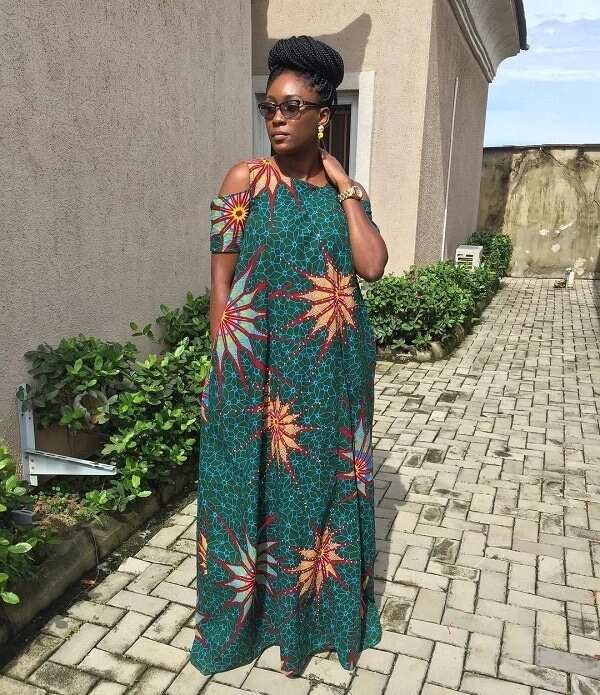 This halterneck dress that looks like flowers scattered over brown sugar is another example of the utter maternity comfort combined with a perfect style. Maternity is a time when a woman just needs to feel pretty and attractive and here it is, the dress that will give self-confidence and coziness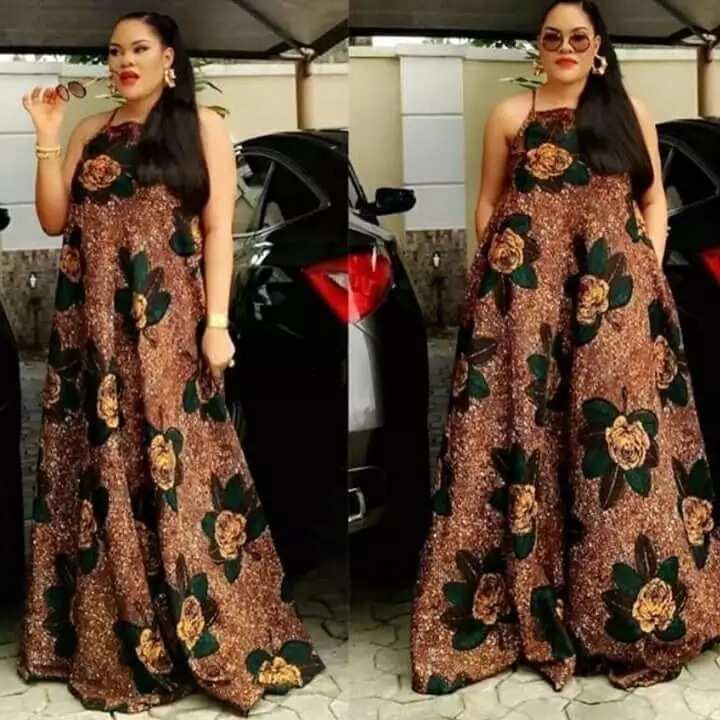 Well, these are the brightest maxi Ankara ideas for 2018. Hopefully, you have chosen something outstanding for you and liked the styles and fashions.
READ ALSO: Hausa dressing styles for ladies
Source: Legit.ng