How to twist hair into bun
Today we are going to tell you how to twist hair into nice and trendy buns. Get ready to know the best hairstyles in 2018. Some of them will never go out of style. This is what you need to know to be irresistible and stylish.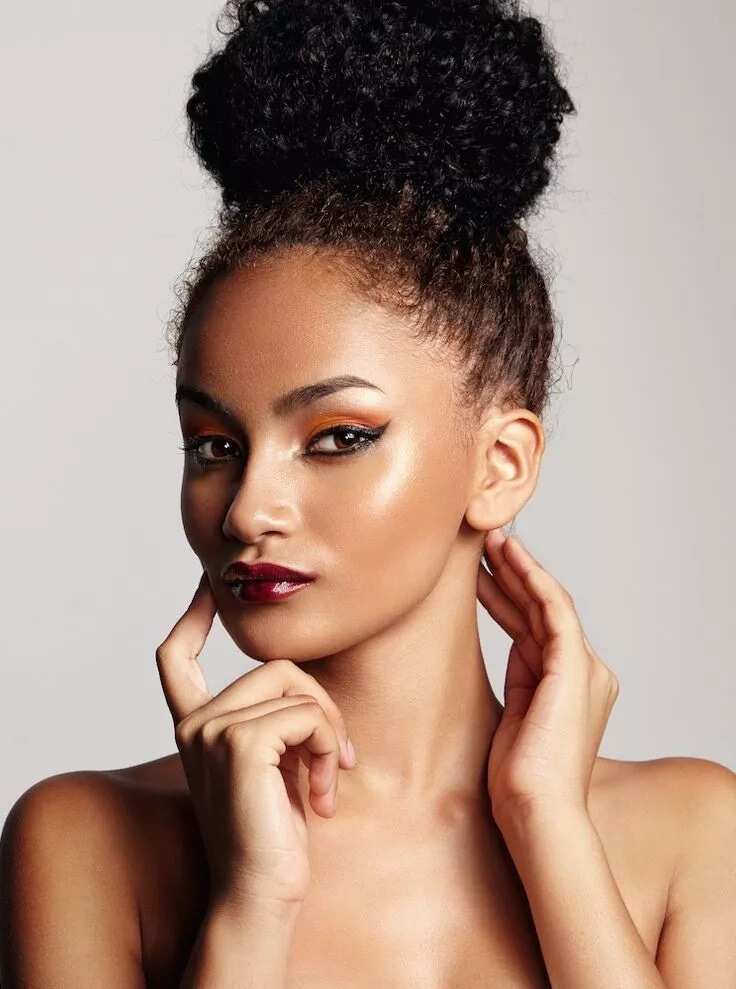 Every woman always wants to look fashionable and beautiful and all of them make a lot of efforts for it. To look stylish, women make sacrifices and spend a lot of time and money. In today's post we will share with you one very fashionable, stylish and elegant hairstyle. You must have tried to do it already. Well, how to make pretty buns? Read on.
How to make a messy bun?
This is one of the most simple and easy ways of making buns.
At first you need to brush your hair carefully. Be sure that there are no knots and tangles. Otherwise, it may spoil your hairstyle and even mood. Then slick your hair back as you want to make a tail. Don't leave any locks, grab it very carefully. Fix your hair at a level where your hair bun will be.
However, you can leave some locks or bang. Today many women make such hairstyles. They look very stylish in 2018.
If you would like to create more exquisite modern look, pull your hair up. And fix it at the top of your head. For more official style choose the middle of your head. To create simple and messy bun fix your hair at the nape of your neck.
Then take an elastic and tie your hair. It should be tight for further successful pretty bun. Then leave approximately ⅓ of your hair hanging out the bottom as a tail. As a result you should have some loop at the top of your tail.
The next thing you need to do is to twist the hair around the base of the tail. Finally, secure it with hair pins.
One more way to make a messy bun is to braid your hair and secure it in the same way.
The hairstyle is very simple and easy. It does not take much time. And when using various kinds of pins, it will always look elegant and luxurious.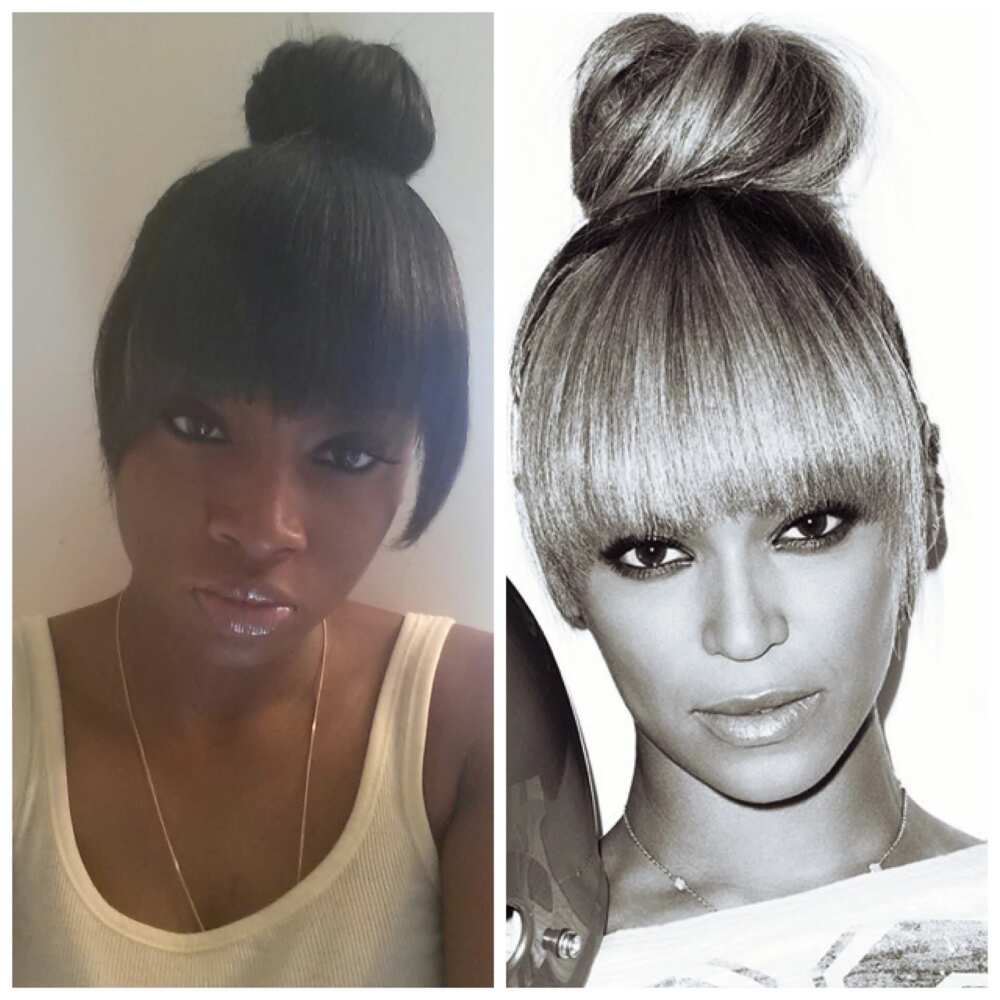 How to make bagel bun hair?
Natural hair twist in bun also looks amazing with bagel for hair. This type of hairstyle has become trendy recently, and its execution will take only a few minutes.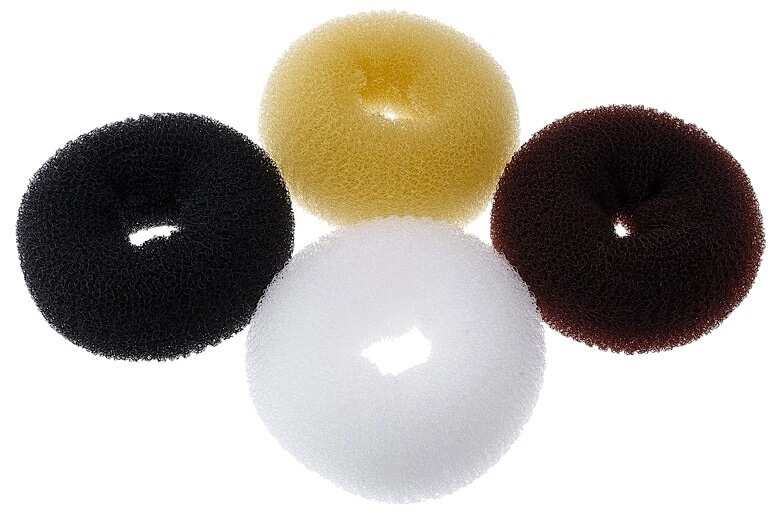 Firstly, you need to pull your hair back and make the tail fixing it with the hair tie.
Then wear the bagel bun hair on the base of your tail (on top of the hair tie).
Thirdly, spread your hair over the bagel. Then fix it with any thin hair tie. Finally, twist the rest of hair around bun and secure with hair pins.
This is one of the most favorite twist styles of Nigerian women. It looks very original, extravagant and sophisticated.
READ ALSO: Top low cut hairstyles for natural hair
Twisted bun black hairstyles for short hair
The side bun hairstyle is loved by many celebrities, including Nigerian stars. It looks very womanly and beautiful. This type of hairstyle will make any short hair perfect. Moreover, it's easy to make.
Firstly, make a side parting and gather your hair on one side (choose any side to your liking). Then tie your hair in a tail and make a little bun securing it with hair pins.
The next hairstyle for short hair is called braided bun. It's almost the same like previous one. You just need to make two or few braids and curl them together. And finally, secure it with pins.
Would you like to look like a ballerina? This is possible due to little bun for short hair. We've written about similar type of bun at the beginning of our article. However, it will be great not only for long hair. Well, pull your hair in a ponytail, then divide them into the upper and lower section. Take the upper part and make a small bundle. Then secure the lower locks on the small bundle with the hairpins. This classical variant will help you to look sophisticated.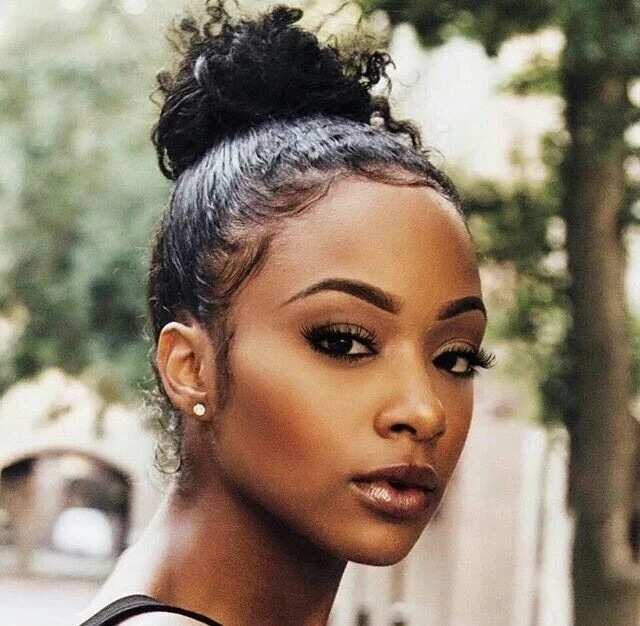 One more good variant for beauties with short hair is bun on the he nape of your neck. This must be the simplest way to make a bun. However, it looks stylish and nice. That's why if you have very short hair, do not despair. Use this method. Just pull your hair on the back of your head and tie it in a bun. If you want you can also use beautiful hairpins.
All these twisted bun black hairstyles are available and gorgeous on anyone. The main advantage of this hairstyle is open face and neck. It helps to highlight your face feature especially eyes. If you don't want to open your face fully, you can make any type of bang or just leave some strands.
READ ALSO: Nigerian weavon hairstyles 2018
Source: Legit.ng