- The march held at the popular Allen Roundabout just about 2.9km from the Lagos state governor Akinwunmi Ambode's office at Alausa
- The walk was organised by women rights activists and religious bodies who termed the march 'National Day of Mourning'
- The organisers charged the president Muhammadu Buhari to do more to stop the killings and also appealed to the perpetrators of the violence to stop the acts
Residents of Lagos on Monday, May 28 trooped out to one of the state's busiest area, Allen Roundabout to march against the continuous killings in some parts of the country.
Vanguard reports that over 300 men, women and youths gathered at Allen, some few kilometres away from the governors' office at Alausa.
The march was led by Dr. Abiola Akiyode-Afolabi, the founder of Women Advocates Research & Documentation Centre (WARDC) and tagged 'National Day of Mourning'.
READ ALSO: 2018 Democracy is a celebration of freedom - President Buhari
Included in the walk were women rights activists and civil society organisations like the Federation of Muslim Women Association of Nigeria (FOMWAN) and the Women Wing of the Christian Association of Nigeria (WOWICAN) who sang songs of mourning and begged perpetrators of the violence to stop.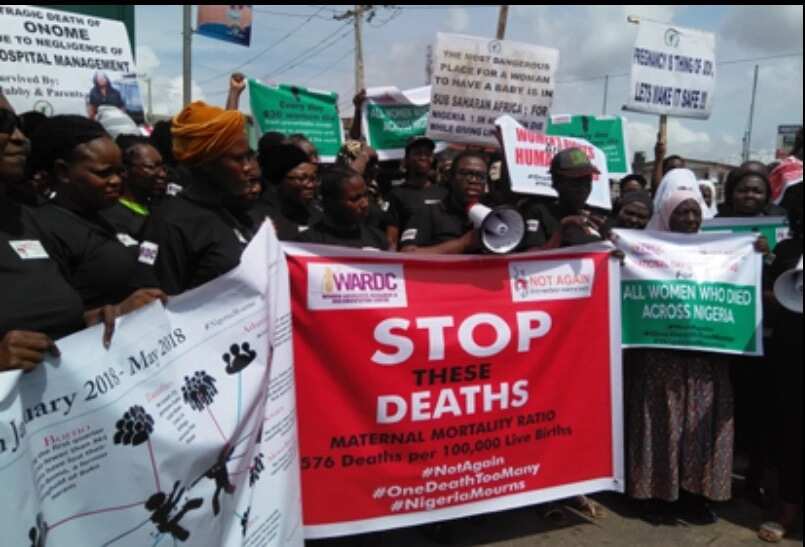 Dr. Akiyode-Afolabi said: "Today, we condemn all killings, whether perpetrated by Boko Haram, herdsmen or kidnappers. We are remembering, also, Nigerian women who have died due to our poor maternal healthcare system; and we are saying no woman deserves to die while giving birth. We are saying "enough is enough.
"Who are these killers that government cannot find them? Our people are being slaug*tered daily like animals. We can no longer keep quiet about this; we want results from government."
PAY ATTENTION: Install our latest app for Android and read best news on Nigeria's #1 news app
She added: "In the first quarter of 2018 alone, in Benue State, no fewer than 534 persons lost their lives to the ongoing conflict between farmers and herders. In Nasarawa, at least 131 persons were killed. In Kaduna State, over 218 persons;
"In Taraba, at least 189; In Lagos, at least 45; In Rivers, at least 70; In Akwa-Ibom, at least 16; In Kwara, at least 54; In Kogi, at least 52; In Plateau, at least 87; In Adamawa, at least 67; In Zamfara, at least 75, and in Borno, at least 361 persons were killed. Edo State too has had it share of this horror. We are talking about the first quarter of 2018 only."
Meanwhile, Legit.ng reported earlier that police in Benue state arrested three suspected firearms fabricators including a father and son.
The suspects, Thomas Ode alias Tommy, Kingsley Abi and his father, Odah Abi, were apprehended by the police at Oju in Oju local government area.
According to report, a G3 rifle, four G3 empty shells of ammunition, two expended cartridges, two cut-to-size iron barrels for construction of locally fabricated guns and three wooden gun b*tts were recovered from the suspects.
National Day of Mourning for Victims of Violent Killings Across Nigeria - on Legit.ng TV
Source: Legit.ng