Top Nigerian children hairstyles in 2019
Nigerian hairstyles come in a wide variety, and your child deserves to have the best one. Children always want to be noticed and stand out, so a lovely natural hairstyle can help them in this. See the top Nigerian children hairstyles in 2019, both for girls and boys!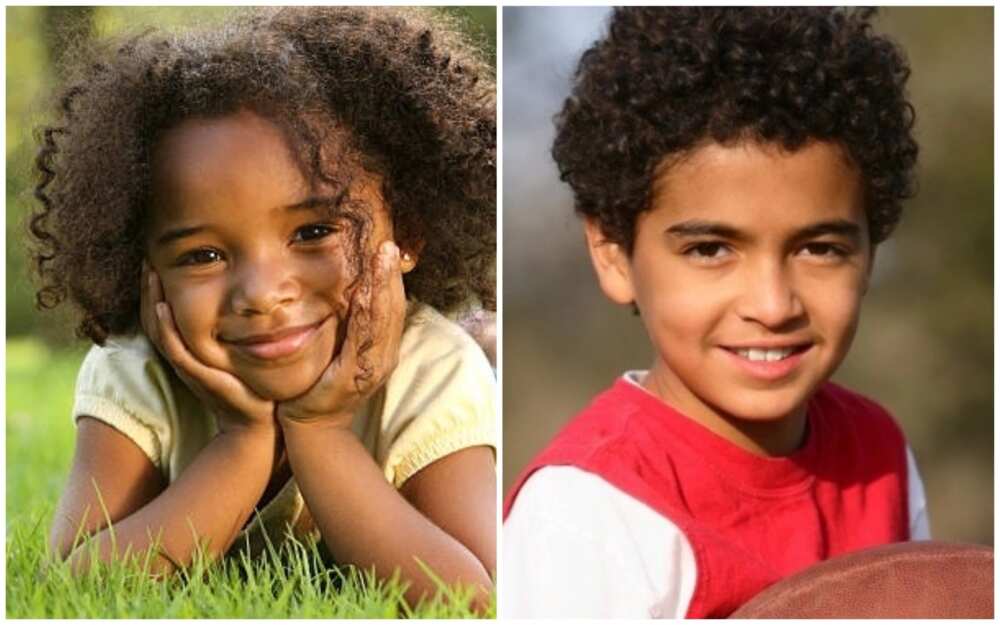 Nigerian hairstyles for kids
Every child wants to have a defining hairstyle, the one that would make them different from the public. Nigerian children hairstyles have a lot of personality and cuteness, and they are just right for every little girl or boy. They can be worn both by energetic children and the calmer ones. No matter if you choose braided hairstyles or styles for short natural hair, this article has a lot to offer you. So, next time your kid will need a hairstyle update, you will know exactly what to do.
Here are the most trendy and fashionable hairstyles for young girls. Every little lady dreams about a lovely hairdo, so you will be able to help her out now.
1. Braided bun
Probably one of the cutest and the most protective hairstyles for little girls is the braided bun. It can be created both with thin and thick cornrows, as well as made out of natural hair, so it is really universal for any hair type. There are various types of buns – regular bun, spiraled bun, high or low bun, and so on. The bun is easy to create, and if your girl is active and cheerful, the hair will not stand in the way of her daily activities. It is also one of the perfect hair choices for studies – your girl will look serious, determined, and the hair will not fall on her face when she is busy studying new material or taking notes. However, the bun can also be a great choice for formal events – you can decorate it with different cool elements.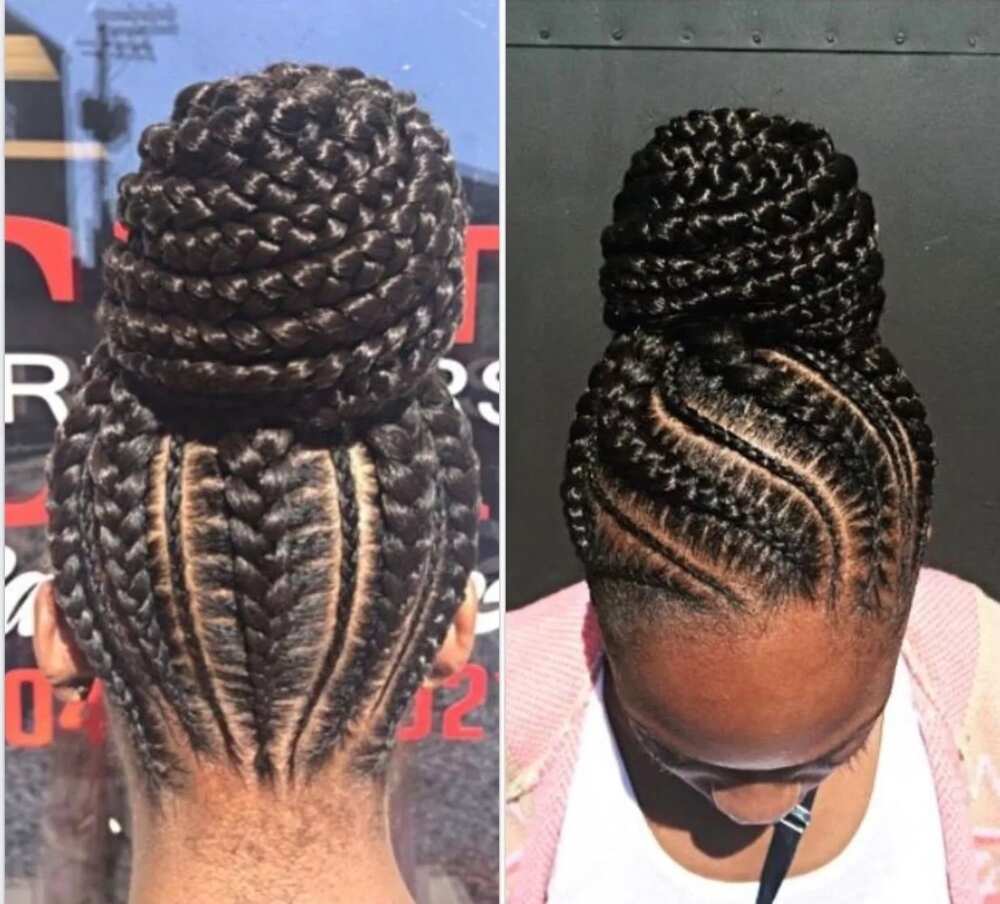 2. Fishbone cornrows
If your girl has natural hair and you think that this type of hair is not made for bold experiments, you are totally wrong. There are thousands of unique options for children hairstyles, and one of them is fishbone cornrows, which are absolutely stunning. Your girl will instantly attract everyone's attention and become a fashion lawmaker. If there is some puff left on top of your girl's hair, you can style it separately as you wish or just leave it how it is. This hairstyle does not need any special care – you will only have to refresh the curls every day with the hair oil, to keep the hair healthy and protected.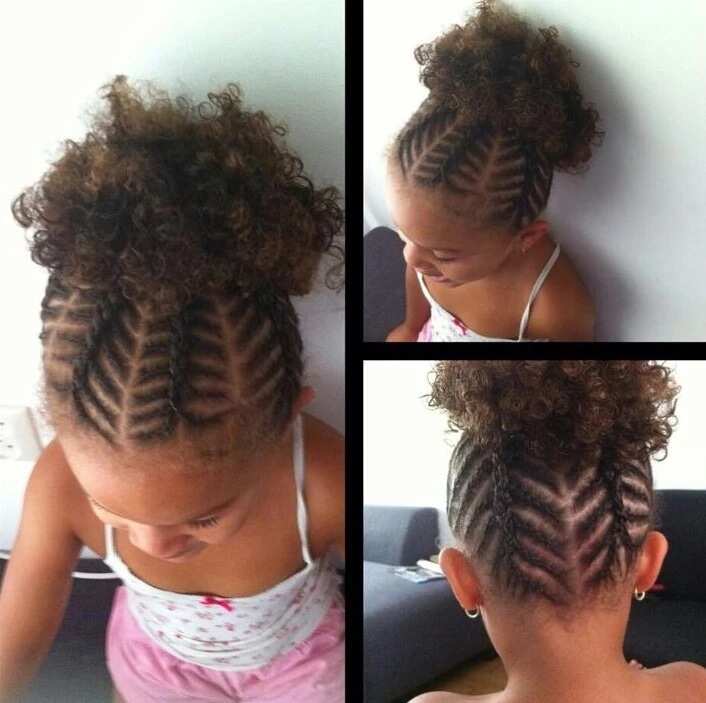 3. Twisted braids
It is one of the most classic and common hairstyles for girls but it also means that you can make basically anything out of them – ponytails, braids, or buns. Most often, you can also add some sweet-looking hair ties or scrunchies which you can change daily, depending on the outfit that your girl is wearing. With the twists, you will not have to worry about styling your daughter's hair all the time. Besides, this option is also ideal for those young ladies whose hair is naturally dry, because it will protect their hair from different factors.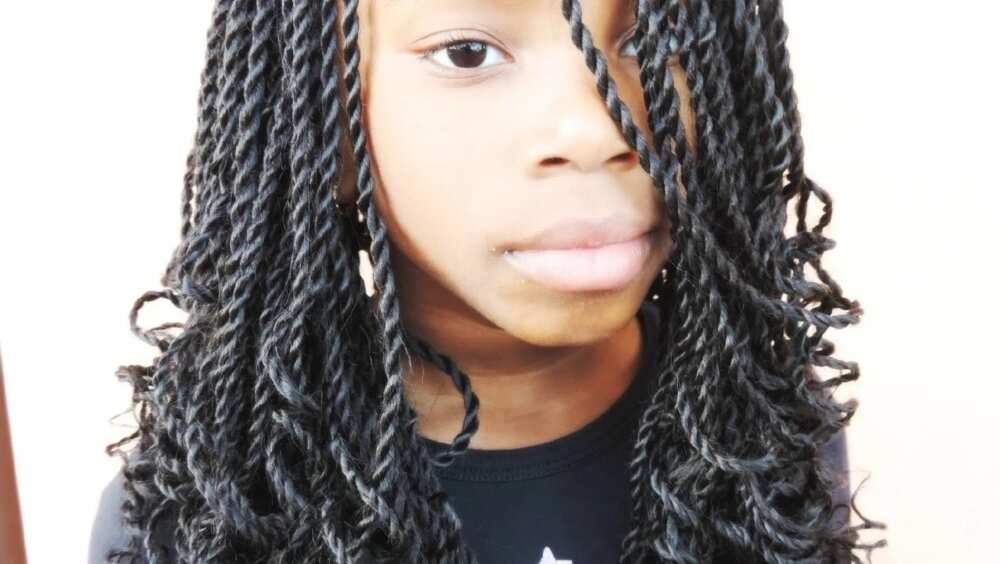 4. Shirley temple curls
There is no hairstyle which would look sweeter and fresher than these adorable curls. It is one of the retro hairstyles for kids that is still relevant and loved by many Nigerian moms, as well as their daughters. To make these curls, you have to make flat twists in the front and curly spirals in the back. You will quickly notice that this style offers you a lot of variety because you can gather the curls into a ponytail, two pigtails, or let them loose. It is strongly recommended for your daughter to wear a protective satin bonnet during sleep because the twists compared to braids are not as tight, and they can be messed up in your sleep.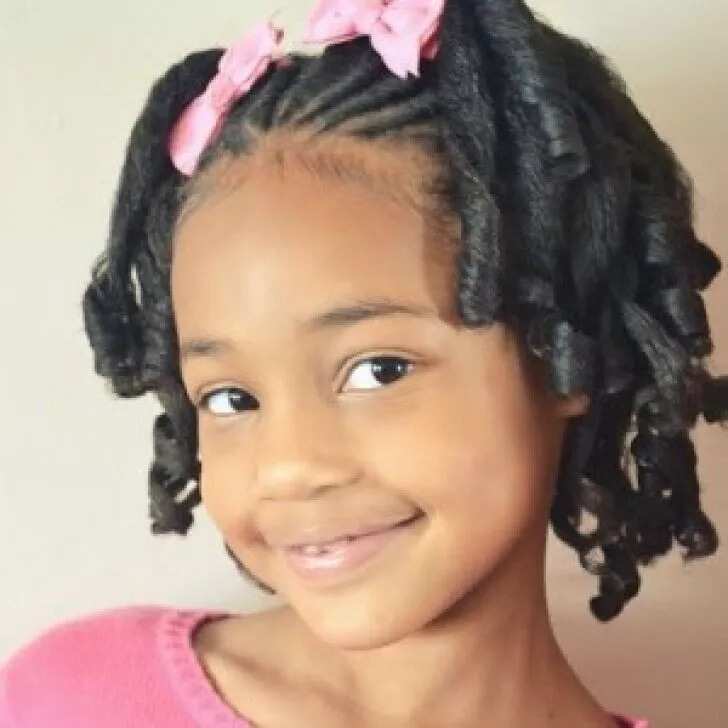 5. French braids
One of the all-time favorite hairstyles both for adult women and little girls are French braids. You can see the appeal of this hair choice, because they are appropriate for any age, and they will make you look especially elegant and sophisticated. This hairstyle can be worn to the official events, as well as for every day. For example, it would be a great choice for a girl who loves sports and wants to tie her hair for convenience. The French braids are easy to weave, so you will not necessarily need help from the professional hair stylist. They are a unity of elegance and comfort.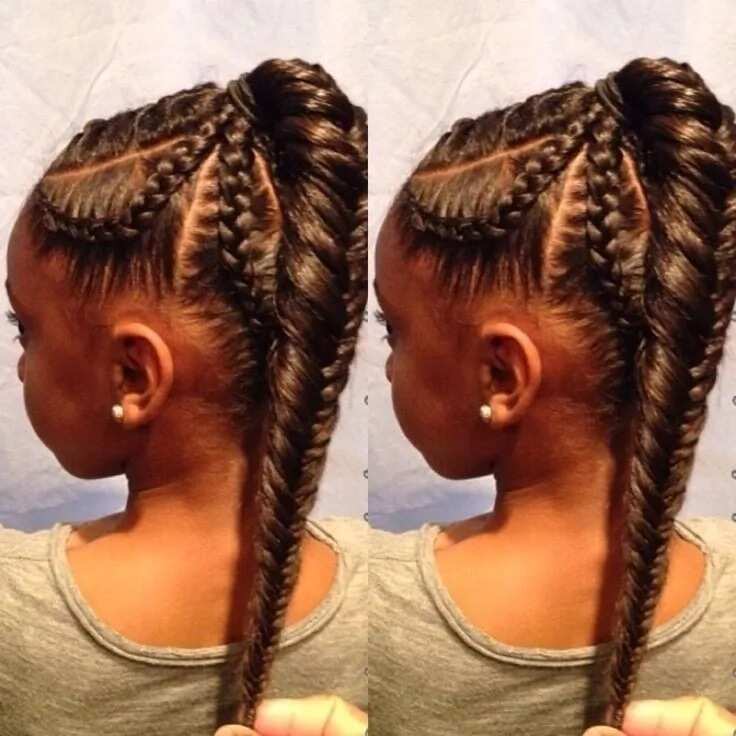 6. Natural afro
You should never listen to anyone who tells you that natural hair looks scruffy. Nothing can be more beautiful than the flow of natural strands. If your girl is ok with letting her hair loose, you should just let her embrace her beauty. However, sometimes the natural afro can get in her face and be inconvenient, so there is a simple solution – making partial cornrows, with the front braids keeping the volumetric hair away from your girl's face. This hairstyle is really versatile because you can create anything you want out of it – no matter if these are Bantu knots, twists, braid-outs or curls.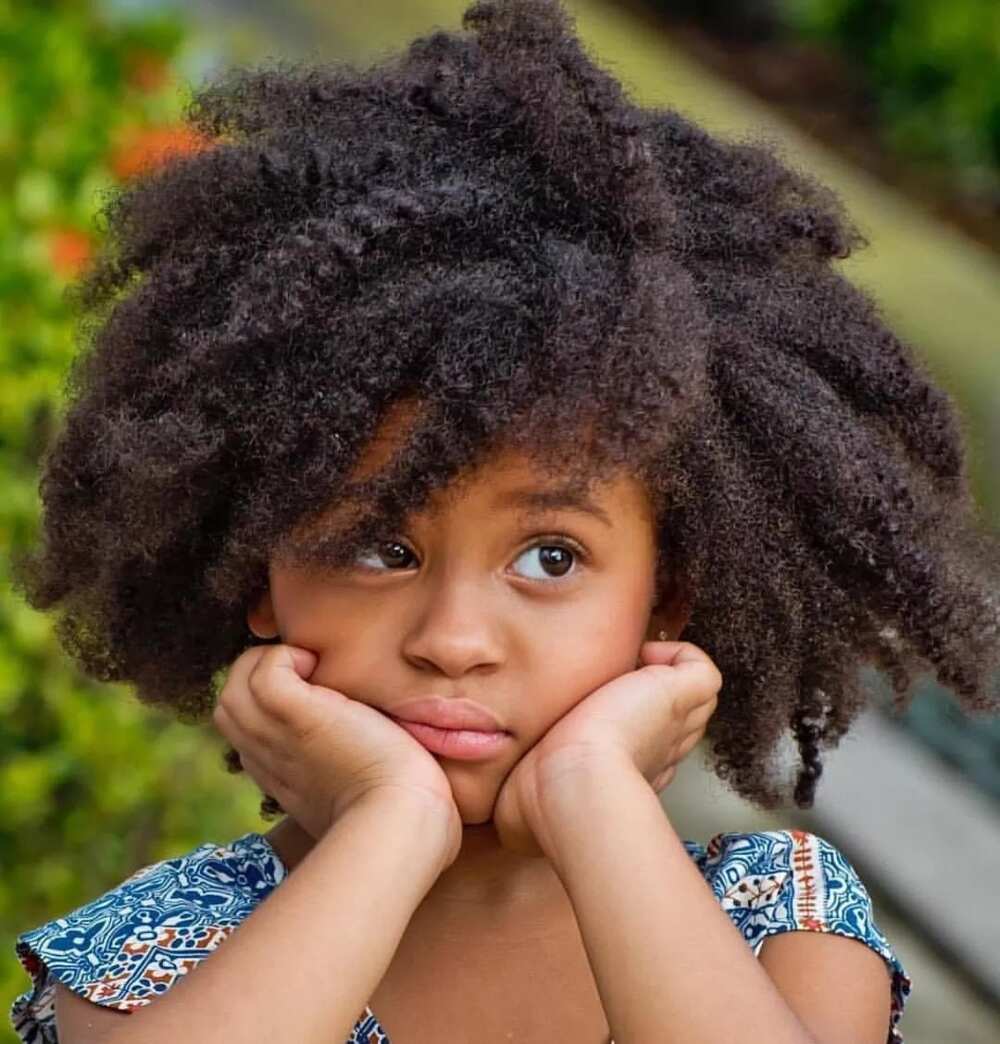 7. Braided space buns
Whenever we see the space buns, they remind us of childhood. They are really adorable and would look especially charming on a little girl. The buns will definitely capture everyone's eye once she shows up wearing them. If your daughter has long hair which can be gathered in large and attention-grabbing buns, you can totally create such a hairstyle for her. However, if she has short hair, you can still try to make buns for her, only they will be a little smaller. In order to make cute buns without going to the professional stylist, you will just have to part your girl's hair and wrap it into two ponytails. Afterwards, you will need to braid each of them and create a bun.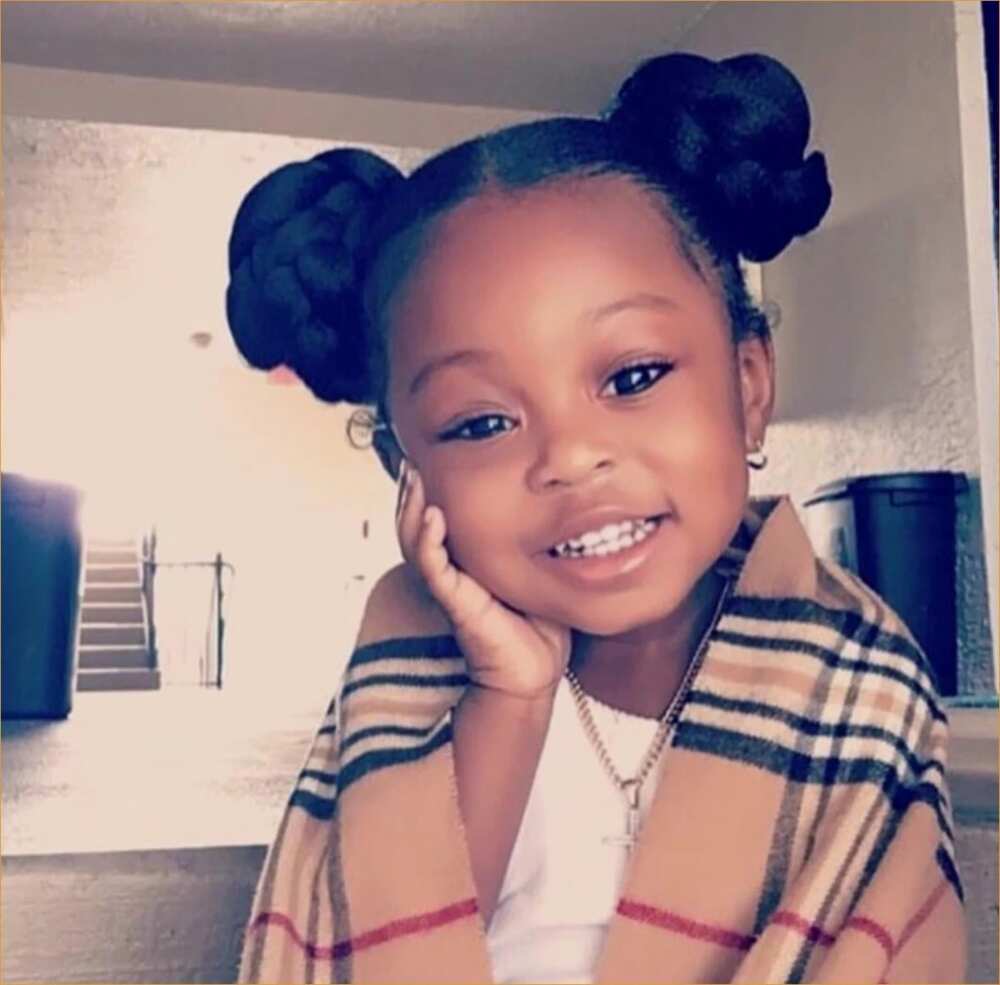 8. Chopped Mohawk
If your girl is a little rebel at heart and has short hair, then you can try to make a spiky Mohawk style for her. The young singer Willow Smith had the similar hairstyle for a while, and it looked really bold and youthful on her. So, this would be the perfect choice for kids who are always full of energy and ready to conquer new heights. In case your daughter absolutely hates sitting through braiding and would rather have her hair short, then you should consider this brave hair pick for her.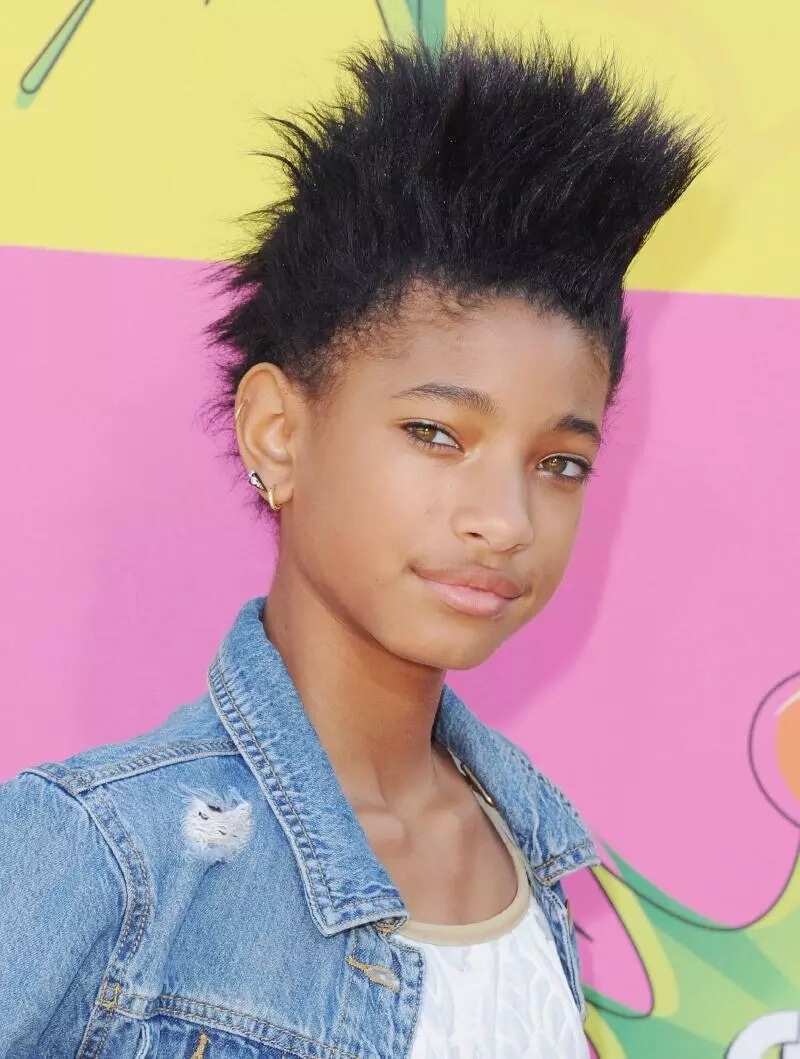 9. Heart-patterned braids
This sweet and beautiful design will always be relevant for young kids because they are the ones who share love with adults and the world. So, it would be just right if you weaved a heart pattern on your little girl's head and decorated it with some multicolored beads. This will indicate that your young lady is charming, lovely, and beautiful inside and out. By the way, a heart is not the only pattern that you can design on your daughter's head. Nowadays, the hair masters create wonders out of the female hair, designing the unique and breathtaking art on their heads. All it takes from your child is patience – she needs to be the kind who will manage to sit a few hours of braiding. In the end, the long wait would be worth it.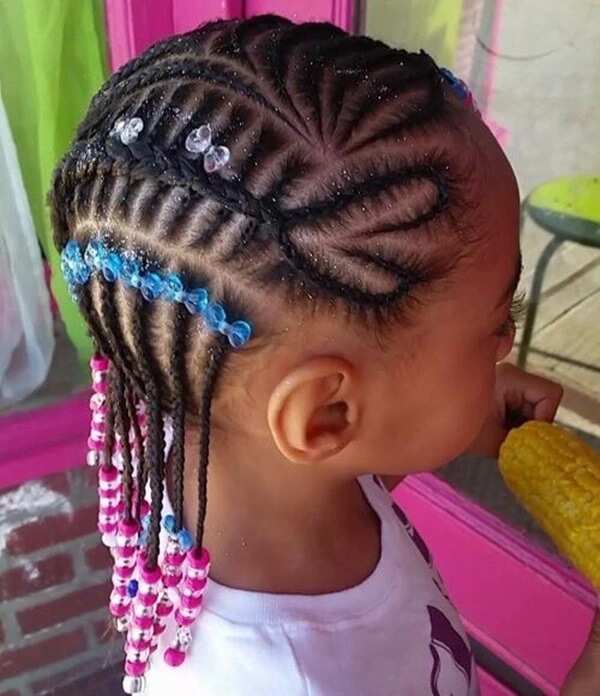 10. Side ponytail
Every girl will feel like a famous superstar with the classy side ponytail. It would be the best look for any party or special event in your little lady's life. Even though the classic ponytail is timeless, the side ponytail can be a new and fresh outlook on it. Some hairpins or satin ribbons would give the look even more charm. This hairstyle is born to go together with the bright and noticeable outfits, and your girl should not forget to smile. The cute side ponytail can turn every girl into a star.
READ ALSO: Best hairstyles for black girls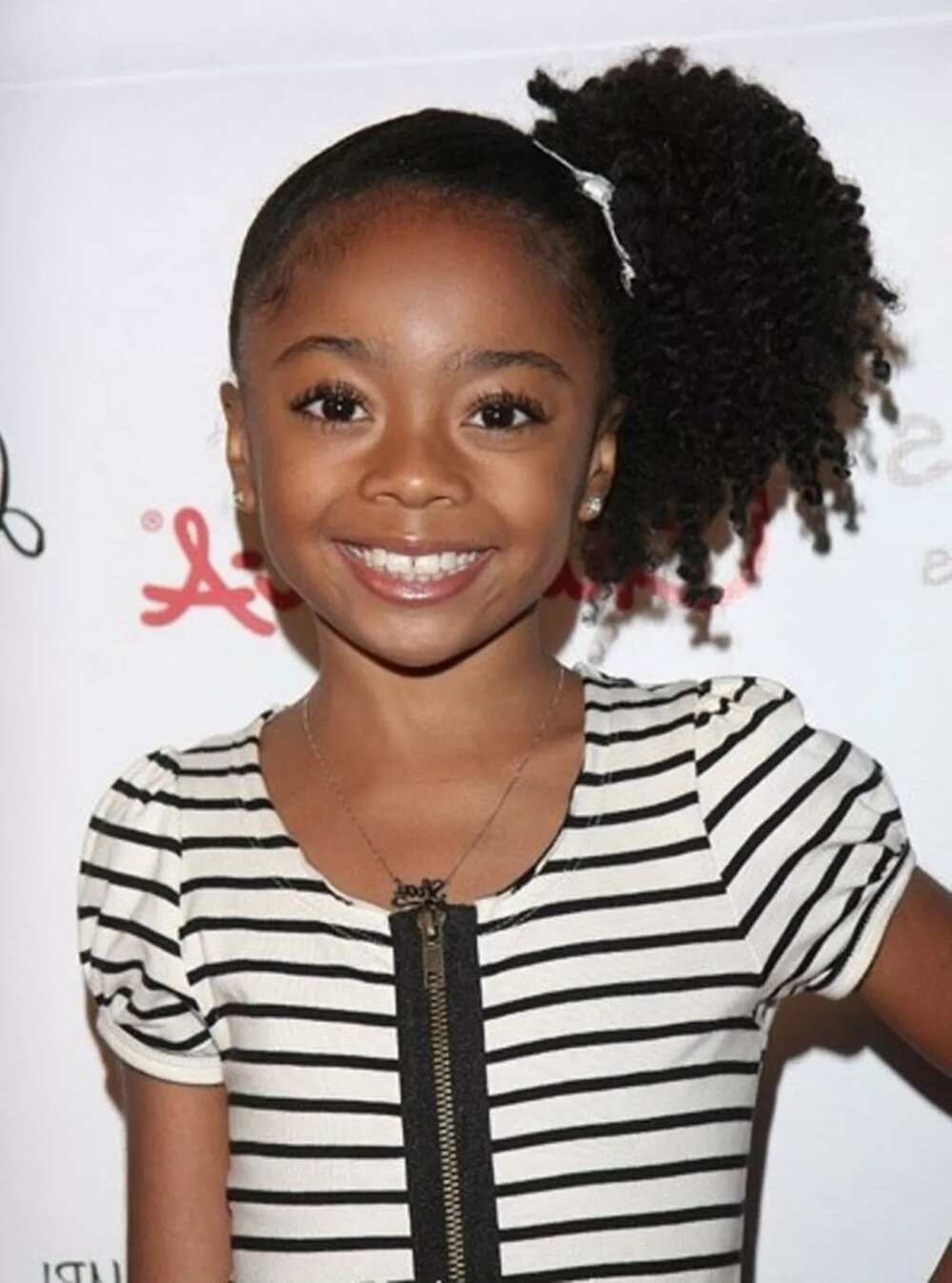 These were some of the classic, but interesting and unique hairstyles for young girls. Of course, you can go further and come up with your own ones based on them because every girl needs to feel like her hairstyle is the only one in the world.
Nigerian children hairstyles for boys
Now, we will have a look at some of the coolest hairstyles for boys. They want to be trendy no less than girls, and here is a collection of stylish hairstyles for young men.
1. Buzz cut with fade
If your son wants to be in touch with style, but he is uncomfortable with long and fluffy hair options, you can give him a short buzz cut with some interesting fun elements. For example, there can be a V-shaped shaved part, shaved-off sides, half-moon part, or any other things that will make your son stand out. All we know is that fade is extremely trendy among young boys because it looks handsome and is very practical in real life.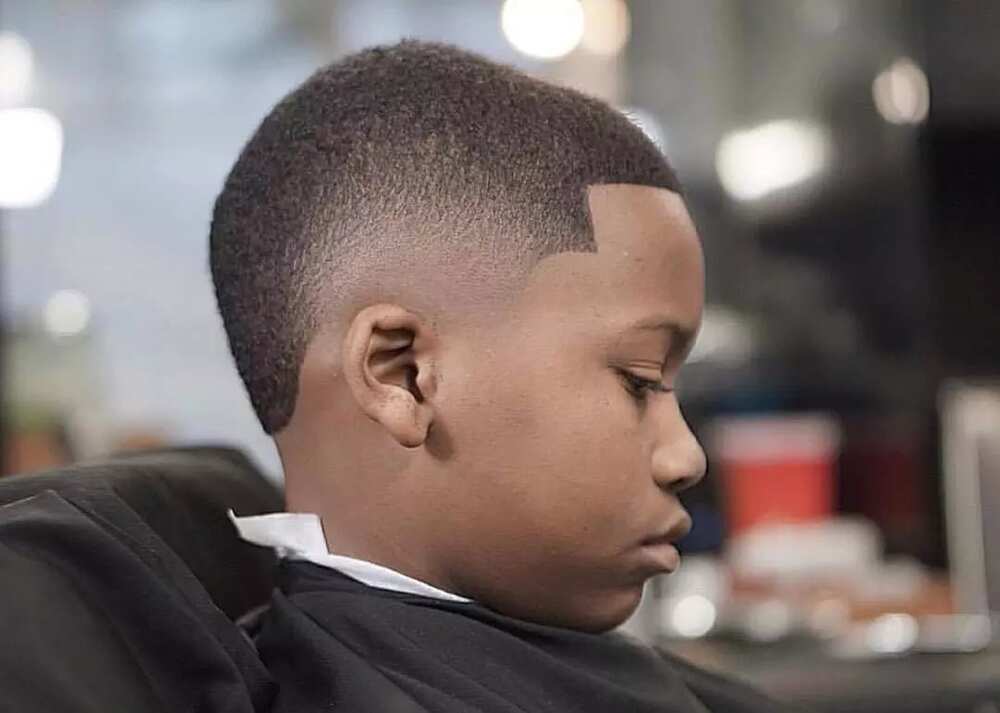 2. Short curls with fascinating hair designs
The lovely small curls are another option for short hair. They are slightly longer than buzz cut, which means that it will still bring convenience and comfort, but you will not have to shave off all of your boy's hair. However, the regular curls will look a little bit too routinely, so you will have to add some unique twists into it. For example, the zigzag pattern would look pretty unusual and show that the boy has got the feeling of style. Many Nigerian superstars wear similar haircuts, and no one has questioned their coolness yet.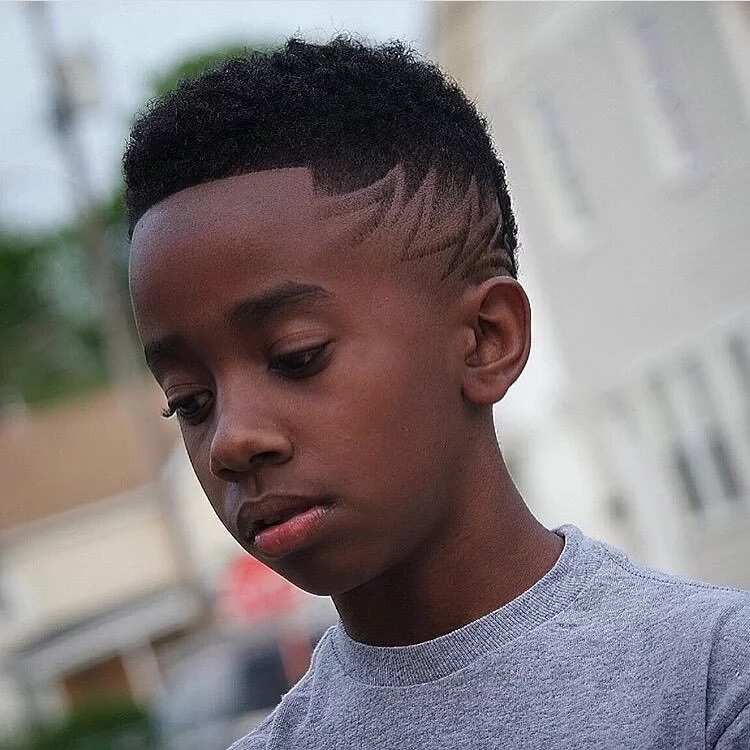 3. High fade with shaved line
The whole beauty of this hairstyle is based on the fact that you can leave any amount of hair you like on top of your head, but below the shaved line, your hair will be fading. It looks really modern and innovational, and nowadays, more and more Nigerian boys are rocking such hairstyles. It will be especially nice if you have the curls that are just beginning to grow out, and you leave them a little messy. Maybe some people would say that the similar hairstyles are for older boys, but the younger ones would show them off just as successfully.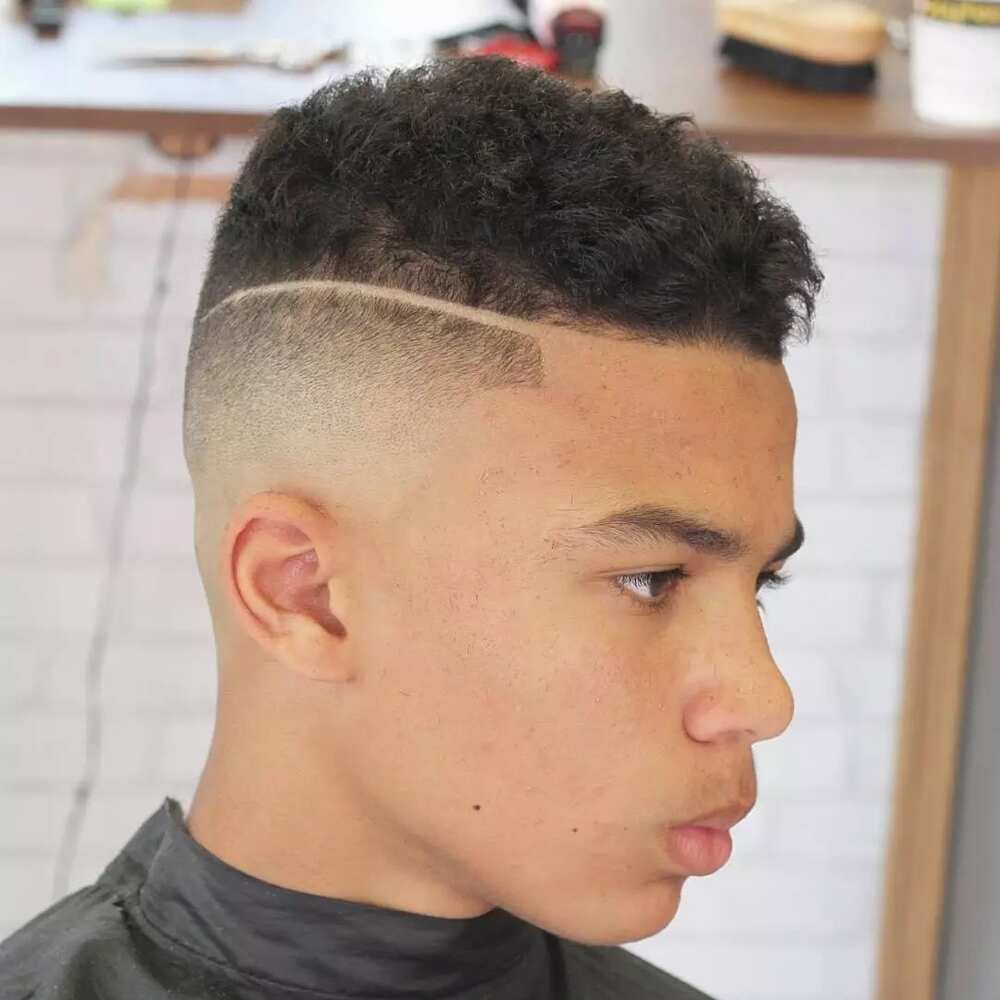 4. High fade with unique designs
Every boy wants to feel like he is on top of the world. Perhaps the unusual hairstyle with shaved off designs would help him. The trick is that you can shave basically anything on the fade, from the abstract geometric patterns to the first letter of your name or in some cases even emblem of your favourite football club. The shaved hair is the best canvas for art, and we are sure that your boy will appreciate something as memorable as this.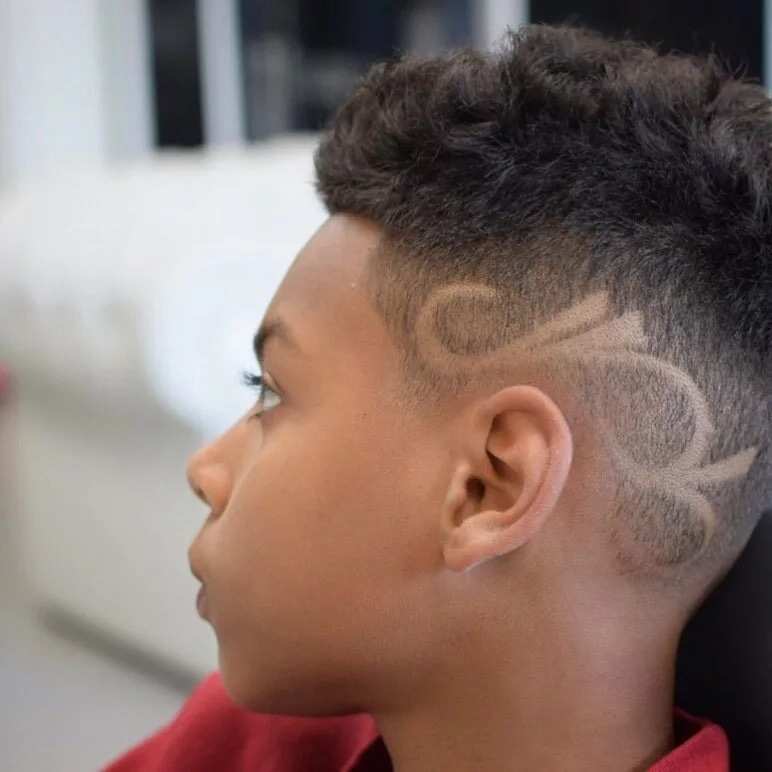 5. Frohawk with the hair design
This hairstyle is similar in some way to the previous one, except that the boy's hair will be gathered into a cool curly frohawk. The fade part can be designed in thousands of different unusual ways, and it is certain that after your son gets this hairstyle, all the classmates and friends will want a similar one.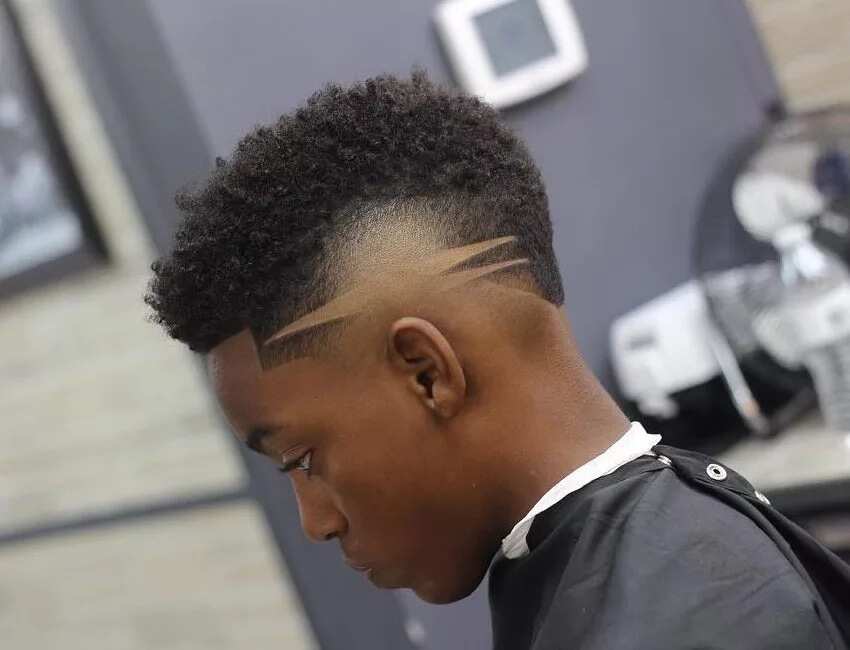 6. Medium curls
The boys with curly hair look especially soft and kind, but at the same time there is a strong and independent vibe coming from them. Letting your son's natural curly hair loose and shaving only a little bit of the sides would be the best choice. This hair option is easy to manage, and it is also protective for your boy's head.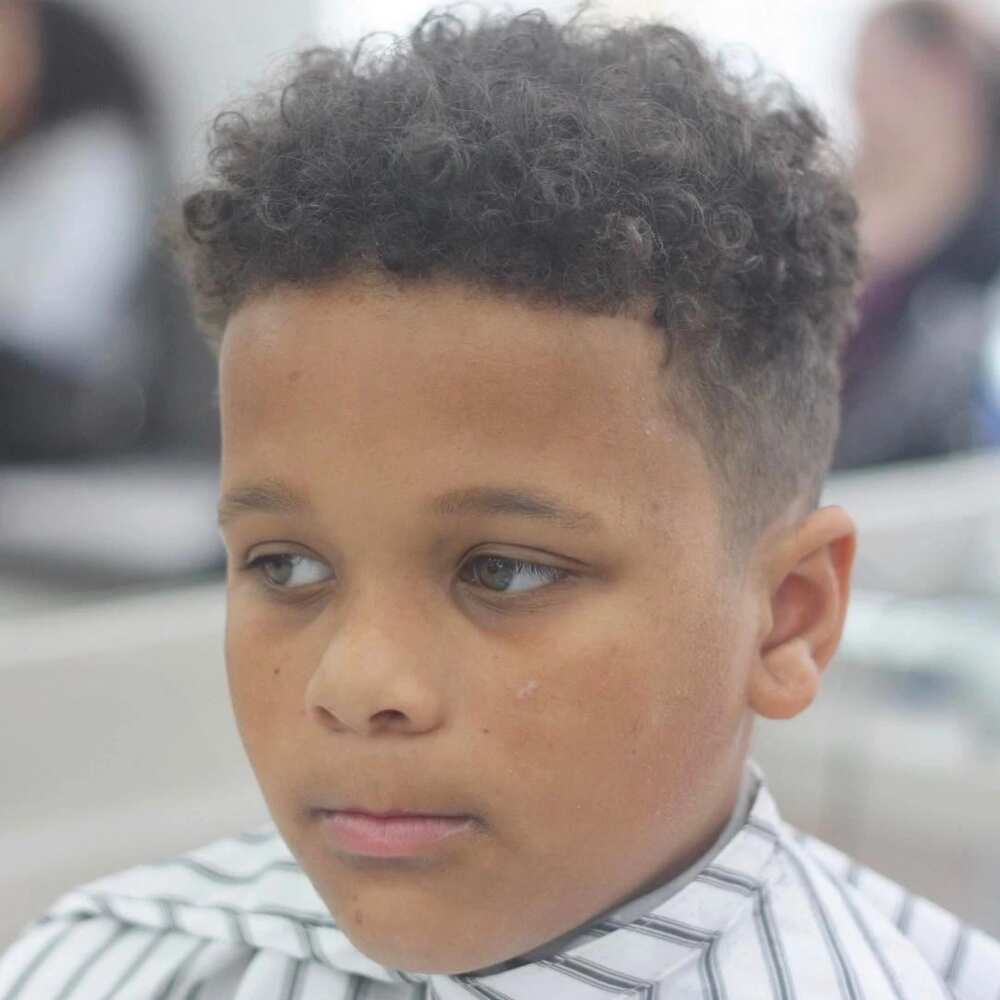 7. Multicolored curls with geometric fade
Do you want your boy to set everything on fire with his bold haircut? Some curls with golden highlights and a geometric faded shave would be just right for everyone to talk about your son. Every child's hairstyle has to be memorable and showcase the spirit of youth.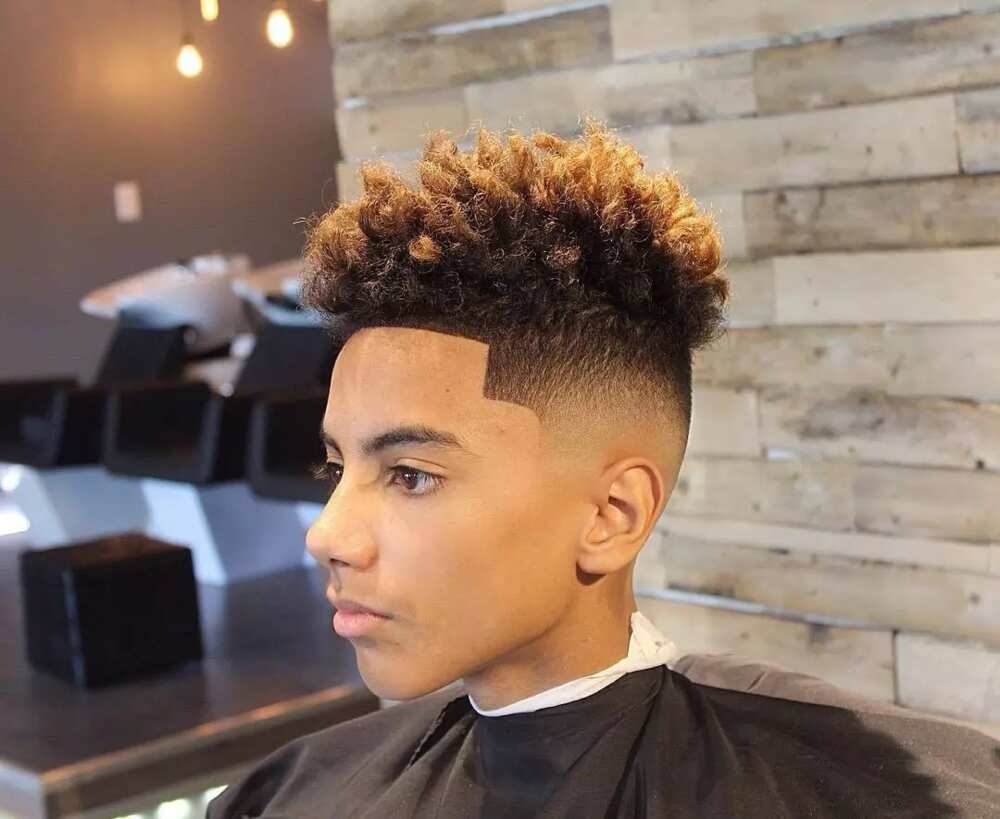 8. Big afro
Usually, when we see a guy with the high afro in the movies, he is cheerful and outgoing. Your son can also give the same vibes by getting a stunning afro hairstyle. The benefits of it are countless: it is not so difficult to maintain it, and your boy will definitely be noticed from afar if he shows up with this haircut. However, there is one minor drawback – everyone will ask to touch his hair, and unless your son is okay with invasions of his personal space, this might be a problem.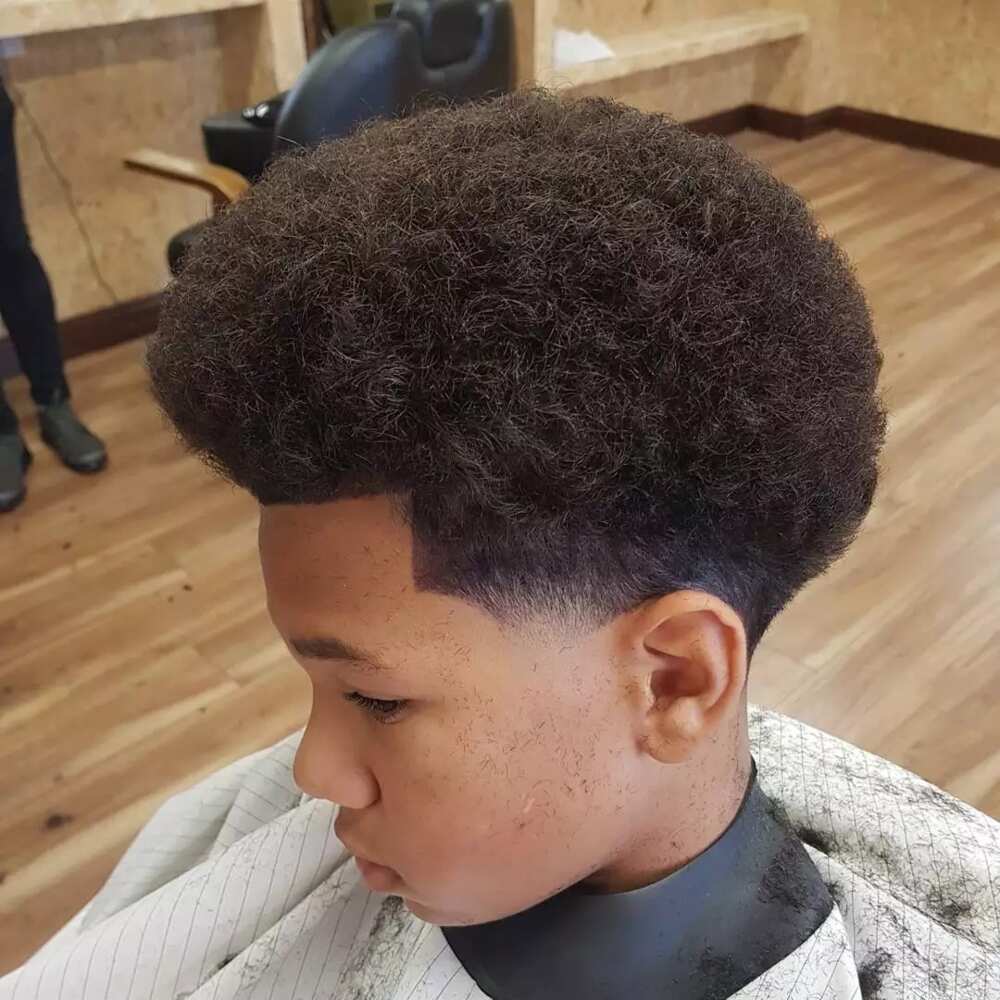 9. Long curls with a high fade
What about this unique haircut? If your son has naturally curly hair, then you should not be afraid to flaunt it in such a courageous way. This hairstyle basically contains both fluffy natural hair and modern fade undercut. It would be the awesome choice for any boy, and portray his sense of style in the best way.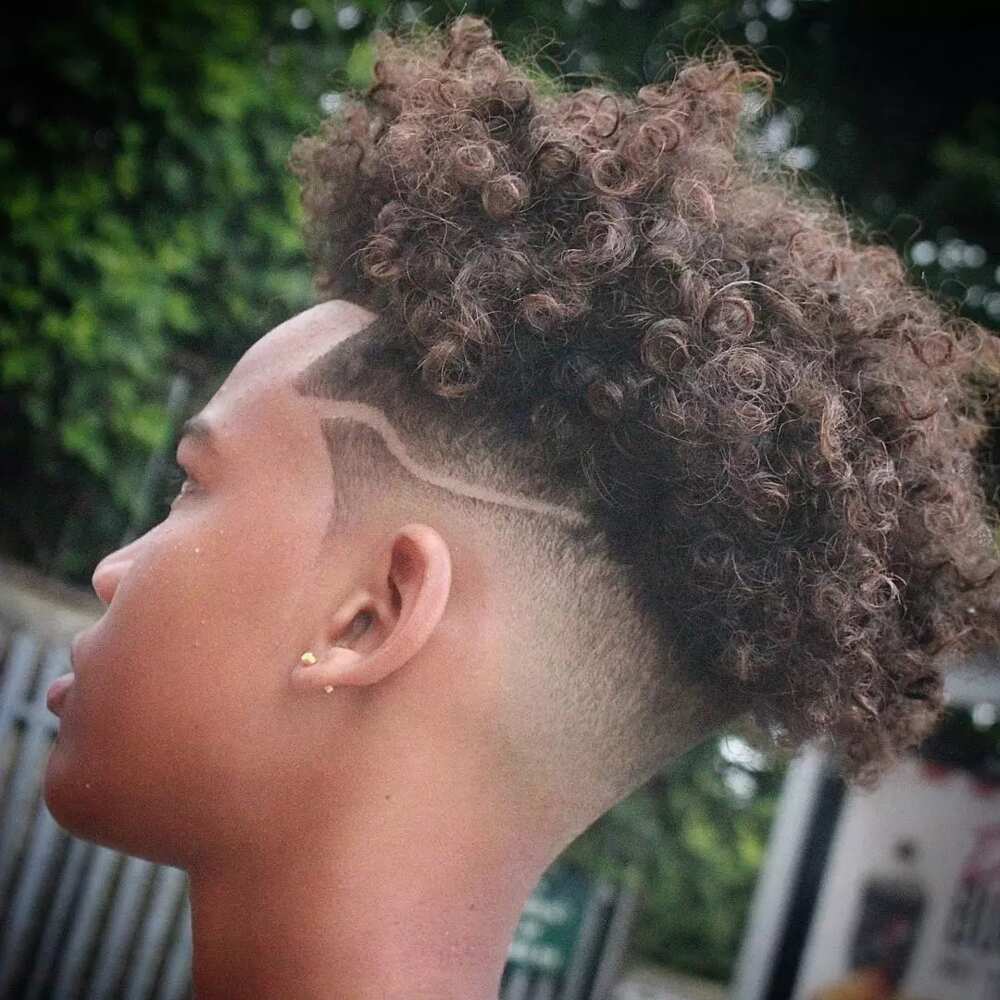 10. Fluffy natural frohawk
Perhaps your son thinks his afro is too intimidating, or does not allow him to focus on important things, but still does not want a buzz cut? The best solution would be a frohawk with the shaved sides. Your boy will still have some hair left, and everyone will admire the way it is styled.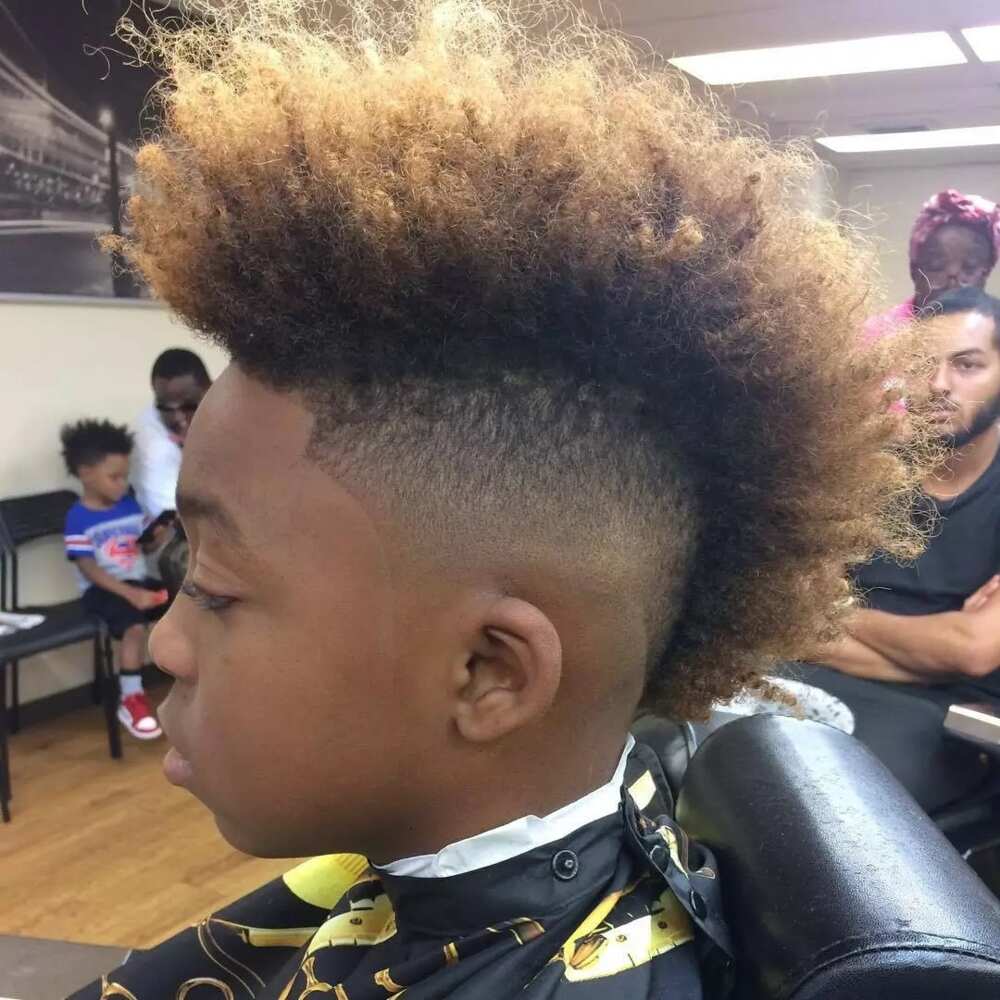 The best hairstyles for kids were compiled for you in this post. It doesn't matter if you have a girl or a boy, you can now help them to create the unforgettable hairstyle.
READ ALSO: Kids braided hairstyles with beads
Source: Legit.ng