How Eedris Abdulkareem and ex-president Olusegun Obasanjo 'fought in public'
Between 2004 -2017, a 'battle' raged between popular Nigerian musician Eedris Abdulkareem and former president Olusegun Obasanjo. In this article, Legit.ng takes readers down memory lane of how Eedris and Baba Iyabo became 'enemies.'
It all started when Eedris Abdulkareem on September 2004 released a song titled Jaga Jaga. The song was a satirical retribution of the government in power led by then president Olusegun Obasanjo.
Eedris sang about the decay of Nigeria at that time categorically talking about how the poor were suffering while the rich continued to live large. Below are some of the lyrics of the song:
"Nigeria jagajaga
Everything scatter scatter
Poor man dey suffer suffer
Gbosa, gbosa, gun shot inna di air"
READ ALSO: Precious, wife of former minister of aviation Femi Fani-Kayode delivers triplets
Before one knew it, the song had become a certified hit that was been sung by masses from the streets of Potiskum to the ghettos in Ajegunle. And soon, the government came calling.
According to several sources, then president Obasanjo was came on TV to say the "artiste that sang that Jagajaga song, na im papa and mama be Jagajaga." This loosely translates to 'the artiste that sang that jagajaga song, its parents that are jagajaga.'
This was the beginning of the war of words between the ex-president and Eedris. Wikipedia even reports that the song was banned from radio on the orders of Obasanjo. Both will later go on to fire several shots at each other.
How could a sane man dare to call his country jagajaga?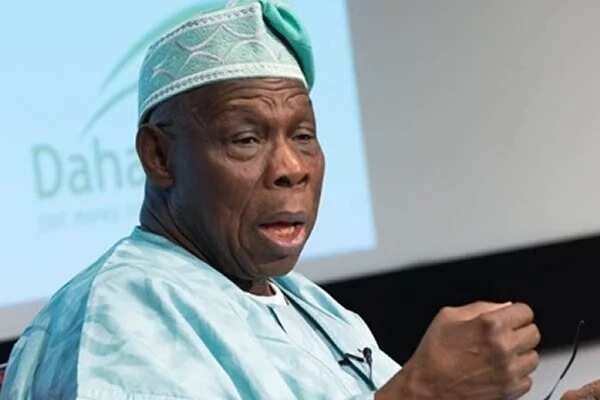 While speaking at a forum organized by Nigeria Leadership Initiative (NLI) on Tuesday, August 28, 2012, former president Olusegun Obasanjo made the following remarks: "One of the worst problems Nigeria is facing is disbelief. Nigerians no longer believe in themselves neither do they believe in their country. That takes me back to that song 'jaga jaga', how could a sane man dare to call his country jagajaga? It is the height of blasphemy. We are grooming our youths for tomorrow's leadership and with such persons I don't think the country can move forward."
Mr President, you are still my mugu
Reacting to the ex-presidents quotes, Eedris took to his Twitter page to write that Chief Obasanjo was still his mugu. He also labelled him a Boko Haram member.
"It's obvious that Obasanjo can't do without me. I'm his joy therapy. Mr ex-president, Nigeria still dey jagajaga. In fact worst pass jagajaga.President Obasanjo if you truly love Goodluck as you claimed, why don't you talk to your fellow Boko Haram members to let Goodluck rule in peace.
Mr ex-president, I heard you were talking about me in your last interview, hahahahahhahah. It's obvious you can't do without me. You are my mugu…"
Eedris comes for Obasanjo, again
A couple of years later, in 2015 to be precise, Eedris came for Obasanjo again, this time asking him to let then President Goodluck Jonathan rule in peace. He explained how OBJ didn't handle his visit to then Boko Haram founder Mohammed Yusuf very well and how the ex-president is trying to embarrass the government of Goodluck Jonathan.
Obasanjo did not ruin my career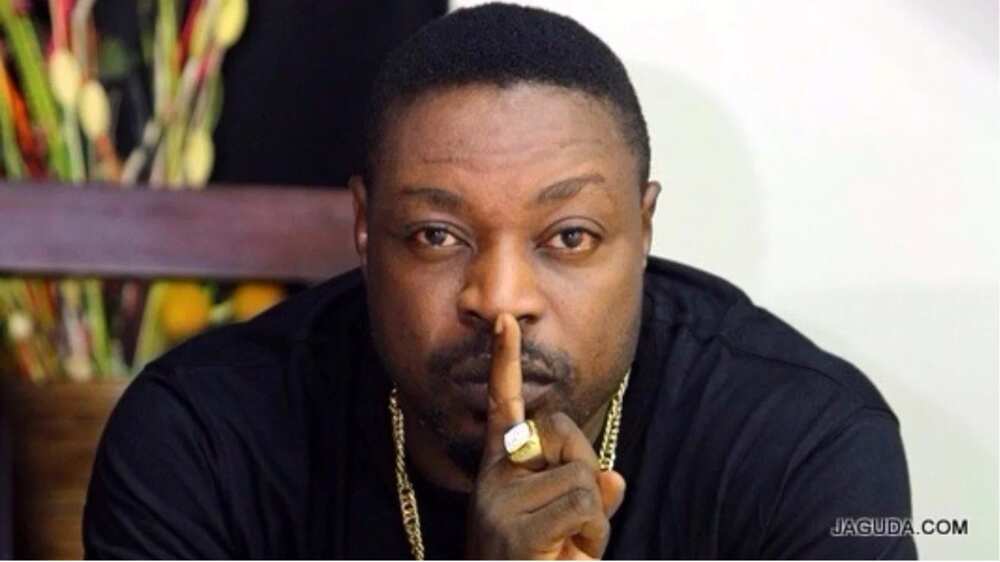 It is said that Eedris' career took a turn for the worse because he dared to criticise a sitting president. However, Abdulkareem rejected that notion in an interview he granted in 2017.
"Ruined my career? That is your own opinion. You don't speak for people. Because I am very fine. I don't know why you say that. In fact that song made me more popular. If the president of a country could basically talk about it, saying: "Na him papa and mama be Jagajaga, it made me more popular. I am doing very well.
And I am still one of the musicians in Nigeria that is very responsible, married to one woman, not many women. And I am teaching those so-called politicians how to do things that they have the responsibility to do but never do.
I don't know where you are coming from; you called me more than a year ago, I did not grant an interview just because I am busy. You can see Abdulkareem is doing very well. He is happy and everything I said is what is happening in the country now. I am being vindicated, so I don't know where you are coming from," he told New Telegraph.
I don't have a problem with Obasanjo
Asked in the same interview if he has tried to reconcile with OBJ, Eedris said he has no problems with the ex-president.
"To reconcile with who? With Obasanjo? I don't have problem with him. The road to his house, you will be shocked up till now, nothing has been done about it. That is not fair. I see it as just wickedness, if he has love for this country that could add value to the lives of the people living around there. Today's century is all about lending helping hand, by adding value to the lives of the people. We are tired of all that."
Since 2017, nothing has been heard about this 'feud.' Perhaps it has even been called off, no one knows for sure.
PAY ATTENTION: Install our latest app for Android and read the best news about Nigeria
Chief Olusegun Obasanjo explains why Nigeria needs to be treated like love on Legit.ng TV.
Source: Legit Nigeria