- The local currency maintains the same rate against Dollar and Euro at parallel market
- - The local currency, however, slipped against Pound
- The Naira closed at N366 to a Dollar, N430 to Euro while the Pound traded at N500
The Nigerian Naira on Friday, May 25, retained its depreciated rate at the parallel market against Dollar.
According to Legit.ng findings, the local currency maintained the same rates of N366 against Dollar and N4308 against Euro as it was yesterday, May 24
Legit.ng earlier reported that the Central Bank of Nigeria (CBN) made available 210 million dollars to meet customers' requests in various segments of the foreign exchange market, Isaac Okorafor, the acting Director, Corporate Communications (CBN) said in a statement.
Okorafor stated in the statement on Wednesday, May 23, in Abuja that CBN offered 100 million dollars to authourised dealers in the wholesale segment of the market.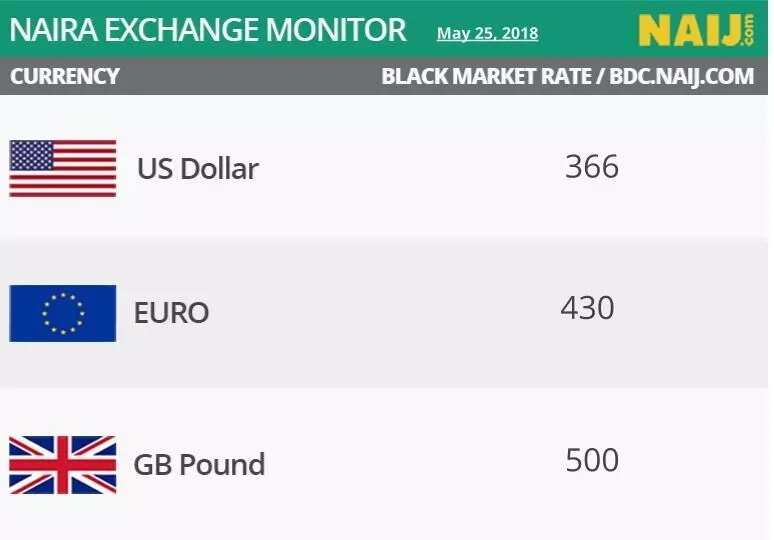 He noted that the Small and Medium Enterprises (SMEs) segment got an allocation of 55 million dollars.
He added that customers needing foreign exchange for invisibles such as tuition fees, medical payments and Basic Travel Allowance (BTA), among others, were also allocated 55 million dollars.
He stated that "CBN has reliably gathered that some banks are turning back customers that come to purchase BTA/PTA and Foriegn Exchange for pilgrimage.
"We hereby appeal to bank customers to go straight to their banks to buy forex as the CBN has supplied enough dollars to banks to meet needs in the invisible segment.
"Customers are hereby enjoined to report any bank that refuses to attend to their legitimate demands within 24 hours. Please call 07002255226," he said.
Okorafor stated that the commitment to continue to intervene in the interbank foreign exchange market was in line with pledge to sustain liquidity in the market and maintain stability.
He said the CBN would sustain its strategic management of the foreign exchange market with a view to reducing the country's import bills and halt depletion of its foreign reserves.
Can 1 Naira ever become 1 US dollar again on the Forex market? - on Legit.ng TV.
Source: Legit.ng