- Kemi Olunloyo's constant attack on Linda Ikeji has gotten the attention of her close friends
- Tonto Dikeh and Bobrisky have spoken up in support of the pregnant blogger
- They both cautioned Kemi, asking her to let Linda be
The news that popular blogger and media entrepreneur Linda Ikeji is pregnant is still eliciting responses from all over the country.
One person who has maintained that she is faking the pregnacy is self-acclaimed journalist Kemi Olunloyo. Her constant attack on Linda has caught the attention of social media personality Bobrisky and actress Tonto Dikeh.
Tonto wrote on how people should let Linda breathe. She also added that whether her baby bump is real or not, she is with her in prayers. See her post below:
READ ALSO: All are rumours - Actress Mimi Orjiekwe reacts to being pregnant for Warri-based billionaire
"All this negativity is the reason I Jejely went extremely private /personal during my pregnancy.. Not even my parents knew until I was 8 months and far away from the world negativity and hate.
Carrying a baby is a very complicated process let alone carrying a baby with so much hate and negativity. Let this lady breathe,She may not deserve your pity on tongue lashing but her baby sure deserves safety.Let them have one.
Worry more about your lives and how to push you forward.. Regardless Linda is a success whether fake bump or real bump,She will always remain a role model to millions even if it's not to you.
Someone needs her,Her baby and they folk she mentors needs her. so those of you who don't need her leave her alone. Children are a gift to mankind, Aunty Kemi I would really love to say a few things to you but nah I don't want to come across as rude As I do not have a rude bone in me for you.
"I will let sleeping dogs lie. But please draw from your motherly instinct and follow this with caution Ma..
@officiallindaikeji I am with you in prayers and as a woman I stand wit you.
Do have and enjoy the best pregnancy You can. Sad and bitter women leave your fellow woman alone. Women another woman isn't your problem. God heal you all of all this Hurt and hatred. Because you sin differently don't make you right. THE REASON SOME WOMAN WILL ALWAYS BE UNDER AND NEVER REACH GREATNESS IS HATE, ENVY AND LACK OF JOY FOR THE NEXT WOMAN.
By the way, Linda I hope you know your BEST friends are behind all the faceless nameless account trolling your pregnancy? 'STAY WOKE'."
Bobrisky on the other hand told Ms Olunloyo that he is not happy about the issue she is having with Linda. Read his post below:
"I'm one of the people who mind my business a lot not because I don't enjoy drama or trouble, but because I want peace in my life with the little change God has given me. Mummy (aunty kemi) I call u mummy because I love u from my heart just because sometimes u defend me wen people write sh*t about me.
But deep down my heart I'm not happy with u ma with the issue u are having with Linda ikeji. I met Linda just once in her office when she invited me over. Trust me wen I met with her I was surprised because she was awesome to me.
I'm not trying to kiss anyone a*s but wen we see the truth we should always speak it. @officiallindaikeji don't deserved all wat u are saying about her. Mum u need to leave Linda alone pls ma let grow love among ourselves not hate. I still love u mum (aunty kemi)."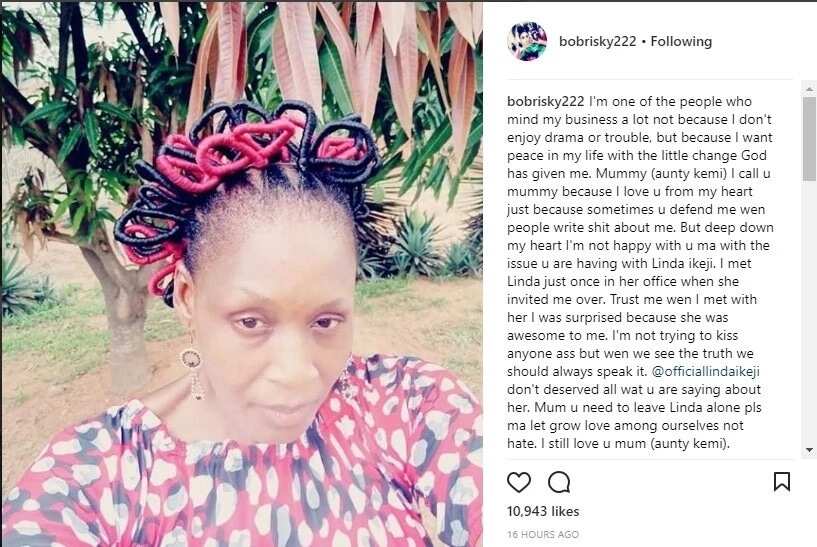 PAY ATTENTION: Install our latest app for Android and read the best news about Nigeria
Bobrisky bares it all on Legit.ng TV.
Source: Legit.ng