- The Kogi state government is investing in the education of young Kogites
- The government gave Fatima Bombom Sani academic scholarship to the tune of N33,573,000
- She emerged the best graduating student at the 2015 Call to Bar examination of the Nigerian Law School
Fatima Bombom Sani, the best graduating student at the 2015 Call to Bar examination of the Nigerian Law School, has been granted academic scholarship to the tune of $93,000 (thirty-three million five hundred seventy-three thousand naira) by the governor of Kogi state, Alhaji Yahaya Bello.
This was made known at the award ceremony at Government House Kogi state over the weekend when the governor received Fatima and her relatives, alongside Barrister Natasha Akpoti.
Speaking at the event, the governor lamented a situation where academic excellence has not been given the requisite reward in Nigeria.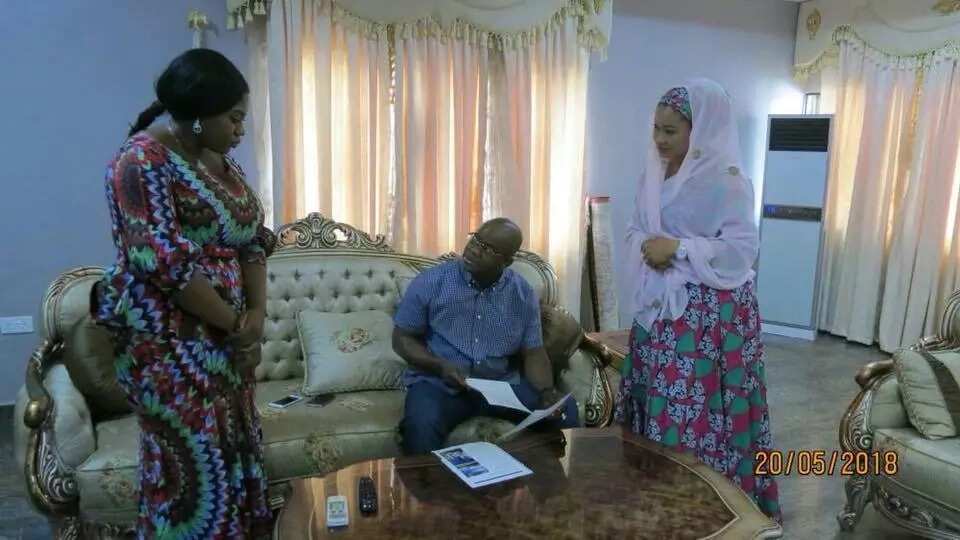 He said: "The case of Fatima Sani reminds me of how academic excellence has not been adequately rewarded in Nigeria. Imagine someone that bagged nine separate awards including Best Student of the Year and Council of Education Star Award, and nothing was done for her since 2015."
The governor also specially thanked Barrister Akpoti for taking up the case of Sani by starting an awareness campaign about her academic feat.
PAY ATTENTION: Read the news on Nigeria's #1 news app
"I thank Barrister Natasha Akpoti for this if not we won't all be gathered here," he said.
Legit.ng gathered that it was Barrsiter Natasha Akpoti, who sought the intervention of the Kogi state governor to acknowledge the academic exploits of Fatima.
The governor was said to be not only surprised but disappointed that Fatima was left unsupported while no information was brought to his office concerning her case.
"I heard about your exceptional performance at the Nigerian Law School in 2015 and assumed you were recognized and sponsored by the administration of the day. It's unacceptable that such brilliance is not celebrated and promoted.
"Nevertheless, now that your genuine self is before me, I shall grant you a personal scholarship to celebrate your exceptionalism and help your career-defining goals," the governor said.
He informed that after some inquiries and validation of Fatima's credentials, he has facilitated a full scholarship for Fatima to study Masters in Finance Law at the Colombian Law School, in the United States of America.
Governor Bello further thanked Barrister Akpoti for her humanitarian efforts in bringing Fatima's issue to his notice while urging Fatima to uphold her academic excellence and make Nigeria proud and return home to serve her fatherland.
In her remarks, Barrister Akpoti thanked the governor for his benevolence and penchant for promoting academic excellence.
"We must celebrate heroes like Fatima in other to motivate young people especially girls towards exceptional educational performances," she said.
She equally advised Fatima to go for her studies and come back to contribute her quota to the development of Kogi state and Nigeria while being a source of inspiration to others.
Barrister Natasha Akpoti had through her social media pages consistently advocated for sponsorship to help Fatima further her academic dreams having emerged as the best graduating student at the 2015 Bar exam where she bagged nine separate awards including "Best Student of the Year and Council of Education Star Award."
READ ALSO: Nigerians react as DSP Michael Nwokolo's numerous qualifications emerge online (photos)
About a month ago, Governor Bello increased the bursary allowance of Kogi state indigenes in tertiary institutions by 300 percent with immediate approval of payment to registered students for the 2017/2018 academic session.
A total of 8,318 students registered for the bursary allowance nationwide, while over N98 million has been approved by the governor for payment of the allowance.
Already, the Kogi state scholarship board had floated a portal (www.kssb.kg.gov.ng) where students registered for the bursary online.
What is working well and what needs improvement in Nigeria? - on Legit.ng TV