- The hike in tariffs of tobacco and beverages by the federal government has continued to attract reactions
- Some NGOs have expressed disappointment over the government's action
- They led a protest to the National Assembly on Tuesday to register their displeasure to the federal lawmakers
A coalition of non governmental organisations, led by Business Renaissance Group (BRG) on Tuesday, May 22, stormed the National Assembly on a peaceful protest against hike in tariffs of tobacco and alcoholic beverages.
According to the group, the astronomical increase in the tariff is counter-productive and "will lead to massive job loss, turn the country into a dump-yard for foreign products, further pauperise Nigerians and stifle growth in an otherwise resilient sector of the economy."
The group also warned that if immediate steps are not taken to review the new excise legislation, the local wines and spirits industry will be prone to massive job loss of about 25,000 direct employees and over 200,000 indirect employees and beneficiaries.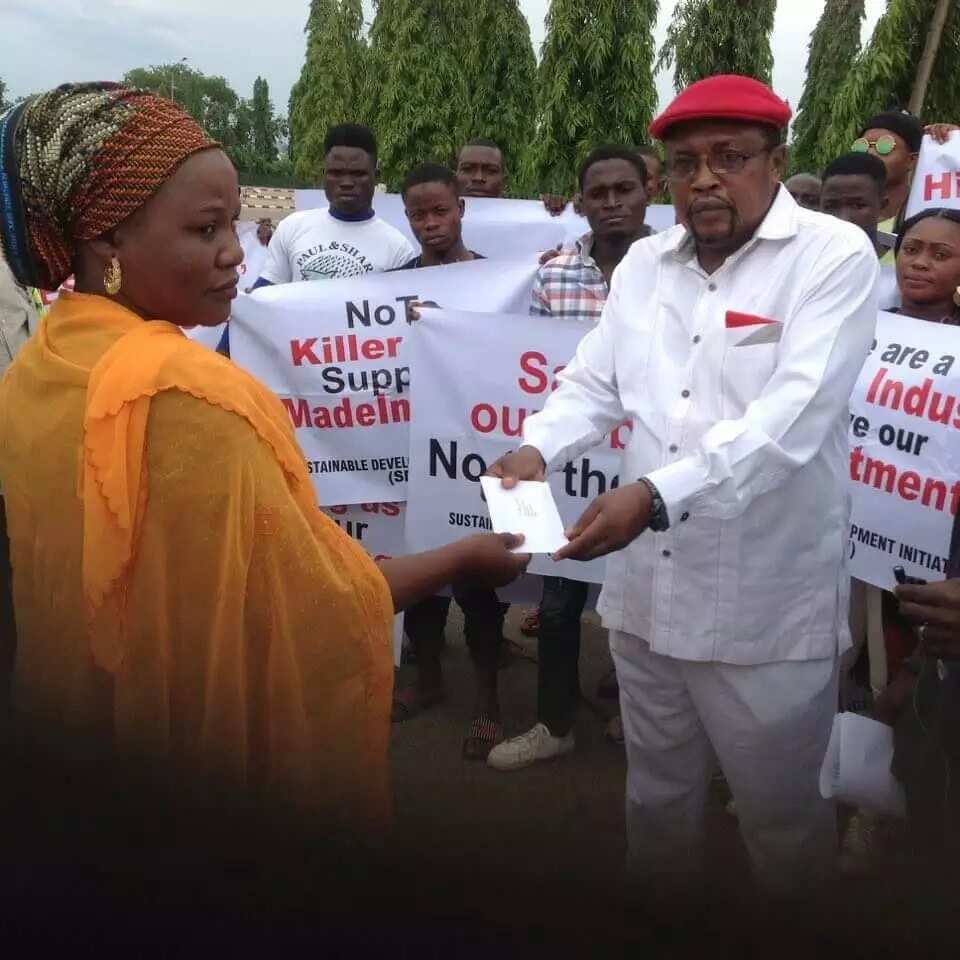 READ ALSO: 2018 Budget: Why NASS included additional funding for Primary Healthcare - Tejuoso
Last month, the BRG had given the federal government an ultimatum of a 30-day period to revert the upward review of excise duty legislation on locally produced alcoholic beverages and tobacco. The government has been quiet and not responded to the ultimatum.
While addressing journalists at the entrance of the National Assembly, president of the Coalition for NGOs, Mazi Omife I. Omife, strongly emphasised that nothing should be done to endanger the wines and spirits sector which presently employs about 250,000 Nigerians with an investment portfolio of about N420 billion.
He added that the wines and spirit industry is one of the few surviving sectors of the Nigerian economy and all patriots and men of good conscience should strive to ensure that the secret flourishes.
Also speaking, the coordinator of the group, Dr. Ike Ikegbunam, while responding to questions from journalists, said "the review is not timely and not in the best interest of the country for now," and called on the government to immediately review the decision.
"This act by the federal government has led to loss of jobs for many Nigerians and has allowed different vices to be emulated by those who are jobless," he added.
PAY ATTENTION: Read the news on Nigeria's #1 news app
Meanwhile, the world's largest brewer, Anheuser-Busch InBev, (AB InBev), has reiterated its commitment to the Nigeria project and pledged to actively support the attainment of the country's developmental aspirations.
The company said after taking into account the country's huge market, a young population, the resilience and entrepreneurial drive of the people as well as the abundant human and natural resources, it has no doubt about the country's huge economic potential.
CEO's Interview: Meet Nigerian Woman Who Quit Banking for Farming on Legit.ng TV