- Nigerian Catholics resident in the Federal Capital Territory, Abuja on Tuesday, May 22, shut down the city
- The Catholic faithful were protesting the killing of two priests and 17 worshippers in Benue state recently by suspected herdsmen
- Those killed were buried earlier today in the north-central state
Thousands of Catholic faithful from the Archdiocese of Abuja today, Tuesday, May 22, joined their counterparts all over the nation to protest the killing of two priests and 17 worshipers in a church in Benue state by suspected herdsmen.
The protest which kicked off from the National Christian Centre began with a holy mass at 10am before the commencement of the procession which shut down major roads in Nigeria's capital.
Led by top Bishops in the Archdiocese, the protesters sang solemn songs and lamented the inability of the federal government to halt the killings.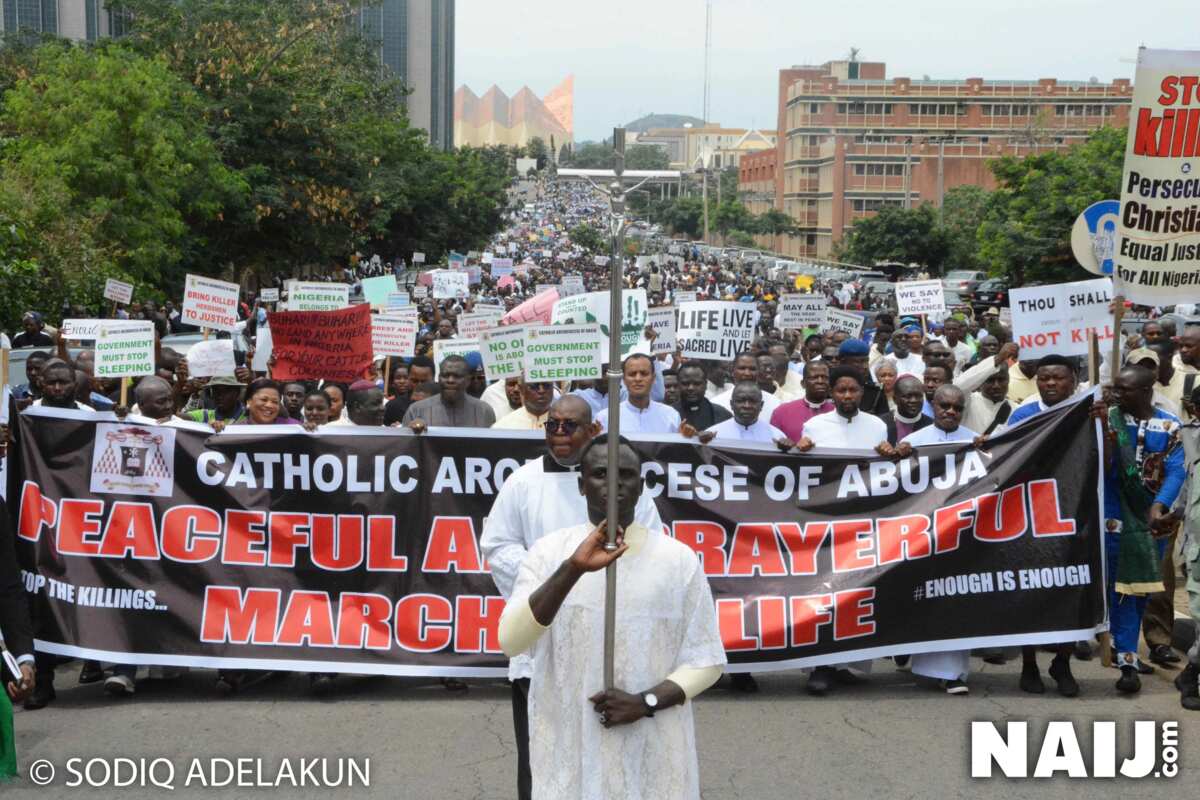 Some of them held banners with descriptions like 'Thou Shall Not Kill,' 'Who Supplies The Guns,' 'FG End The Killings,' and many others.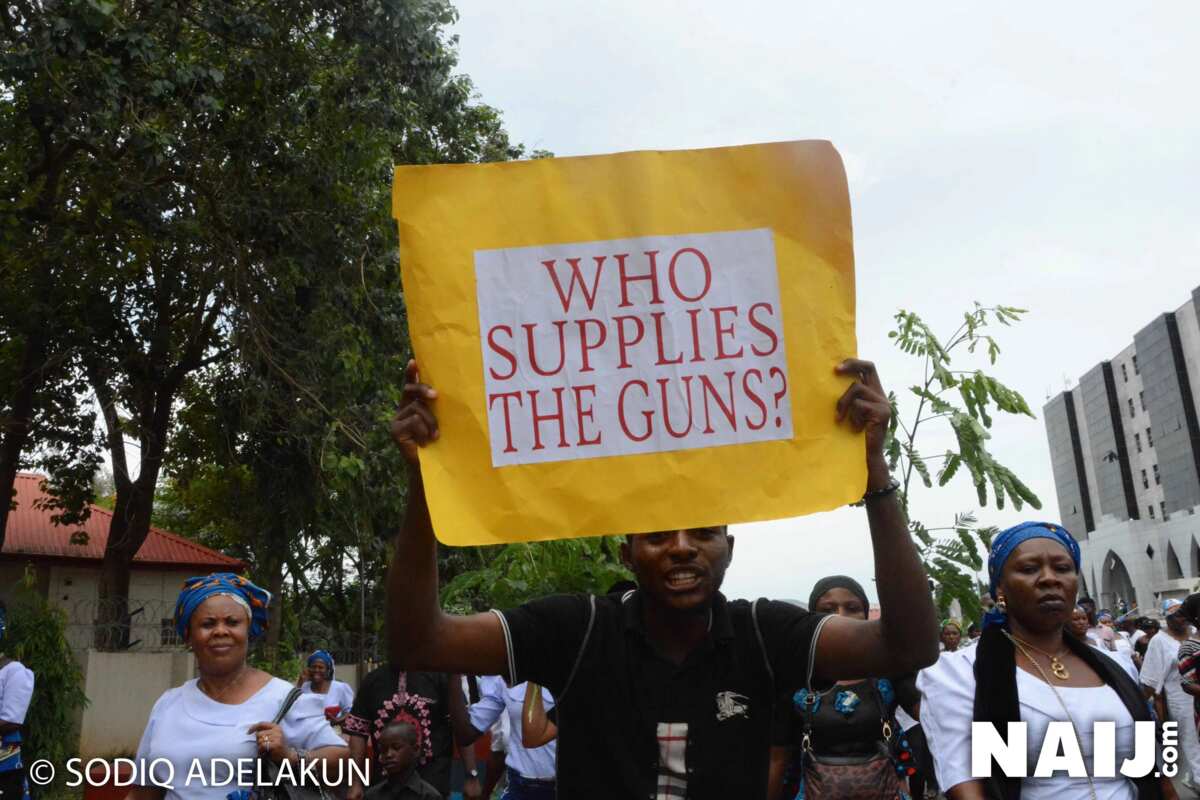 "The primary function of government is to secure the lives and properties of Nigerians, and this government has failed in that aspect," one of the protesters told Legit.ng.
"Our youths are dying, our mothers are dying, our fathers are dying, our babies are dying. Enough is enough. Government must come to our aid," another one thundered as she marched with a banner in her hand.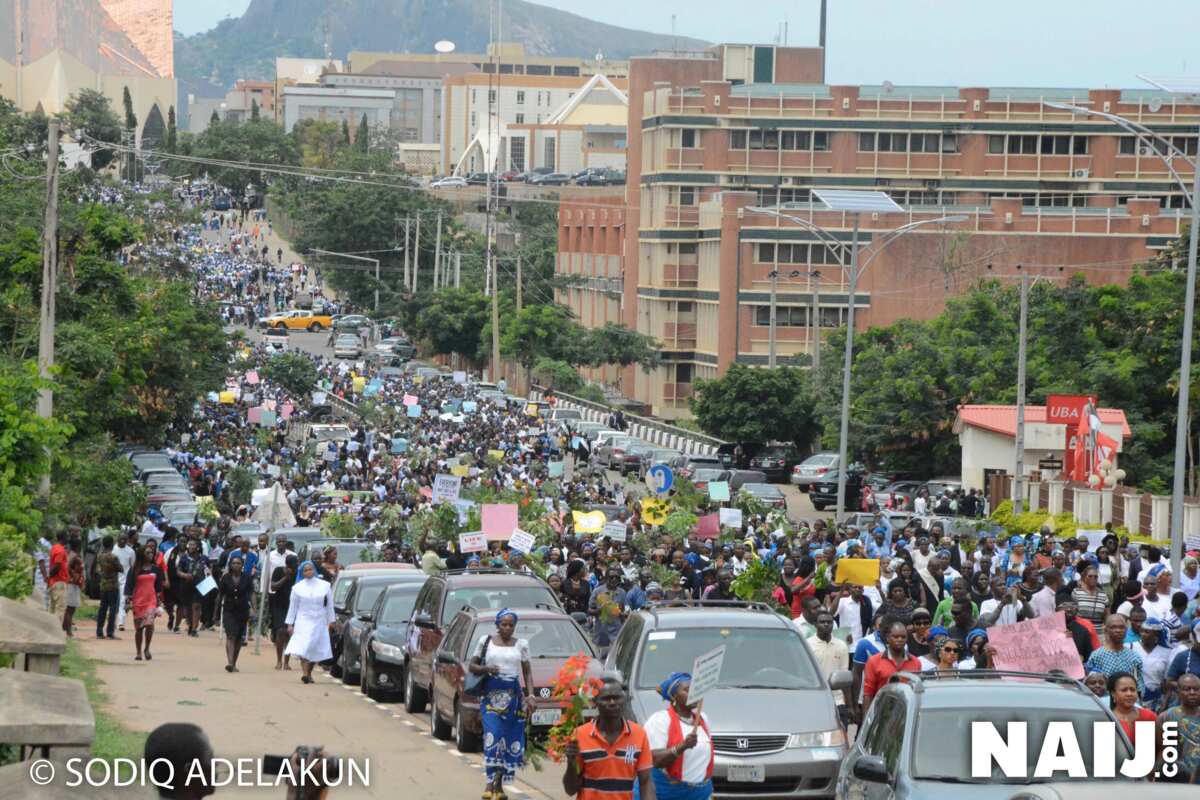 The protest recorded no incident as it was largely peaceful. Nigerian policemen were also on standby to ensure the procession was not hijacked by thugs.
PAY ATTENTION: Read the news on Nigeria's #1 news app
The priests and 17 worshippers were murdered during worship at St Ignatius Quasi Parish by the suspected armed herdsmen around 5.30 am on Tuesday, April 24.
The killings immediately sparked massive protests in the Benue state capital, Makurdi, as youths of the town blocked major roads and created bonfires.
Benue elders fault Federal Government's handling of herdsmen killings on Legit.ng TV