A young teenager named Sofiatou has been forced to discontinue her education after she reportedly got pregnant for a man in her neighborhood.
Sofiatou aged 16 years, recently formed the habit of sleeping in class and it was later discovered that she is pregnant. She was made to move in with the man reportedly responsible for it.
According to the Olorunfunmi Adebajo, director of the Kindle Africa Empowerment Initiative were Sofiatou was enrolled, the teenage girl helps in translating Yoruba to Egun language in their tailoring class.
READ ALSO: Nigerian-American actress Yvonne Orji finds love at 34
The director is sad that the 16-year-old had to leave her tailoring class to become a mother at such a tender age.
See a screenshot of Adebajo's post below.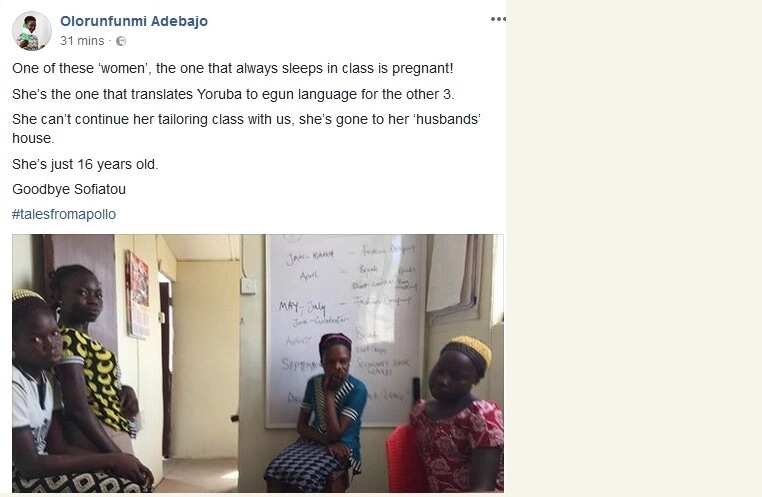 The director also took to her Facebook page to address the issue of teenage girls not getting basic formal education.
Get hottest gist on Naija uncensored Facebook Group
She wrote on how the main objective of the program was focused on helping women, but currently the school has more of teenagers who got married at an early age and in need of empowerment.
"When we started the Center for Women's Integrated education last year, the purpose was to provide WOMEN with vocational and life skills for improved personal income.
In the past 6 months I've had to redefine the term WOMEN as our class has more of never-been-to-school teenagers and teenage mothers. Young women with more children than my grandmother.
PAY ATTENTION: Get best news on Nigeria's #1 news app
There is a need to redefine formal education. What class would you put a 15 year old never-been-to-school?
There is need to provide alternative education.
Whose duty is that?" she wrote.
I got married as teenager when I lost my parents - on Legit.ng TV