- Like the popular saying goes, one man's meat is another man's poison
- Nigerian media personality, Latasha has taken to social media to criticize the dress choice of Meghan Markle
- People on social media don't seem to agree with her on this thought
Following the rave surrounding the royal wedding between Prince Harry and Hollywood actress, Meghan Markle, Nigerians are still gushing over the event and sharing their opinions on everything from the wedding guests to the fashion trends witnessed.
Joining in the conversation is Nigerian media personality, Latasha. She recently took to the social media platform to share her opinion on the Duchess of Sussex's choice of wedding gown. According to her, the dress isn't worth all the hype that it's getting.
In her words, "I HATE to say it cos I hated Kate's dress then but she makes Meghan's dress look like okrika wake up. This is #Metgala vs House fellowship. #Isaidwhatisaid comman beat me . As my friend Mfon said... what she lost in the dress she gained in a fiery sermon, minister"
READ ALSO: Royal wedding: 12 most romantic photos from Prince Harry and Meghan Markle's special day
AND SHE MARRIED A D*MN PRINCE!!! Her tiara and veil were pure fire tho!!!! Fashion lovers over to you! #royalwedding #TeamwedidntlikethedressP.s.Anybody DMing me to insult me over my thoughts on this dress...lolI I laugh in mandarin. I don't follow the crowd with my opinions. Megan did look beautiful because she is in love and she is indeed a pretty girl and we're ecstatic for her but PLEASE NOTE ITS POSSIBLE TO STILL BE BEAUTIFUL IN A DULL DRESS. Not everyone can pull it off so beware!"
See post below:
READ ALSO: Royal wedding: Official photos of Meghan Markle and Prince Harry emerge
Her opinion received a lot of reactions from several people on social media, most of which believed Meghan looked beautiful in her choice of dress and that was just her style.
Here are some reactions to her post: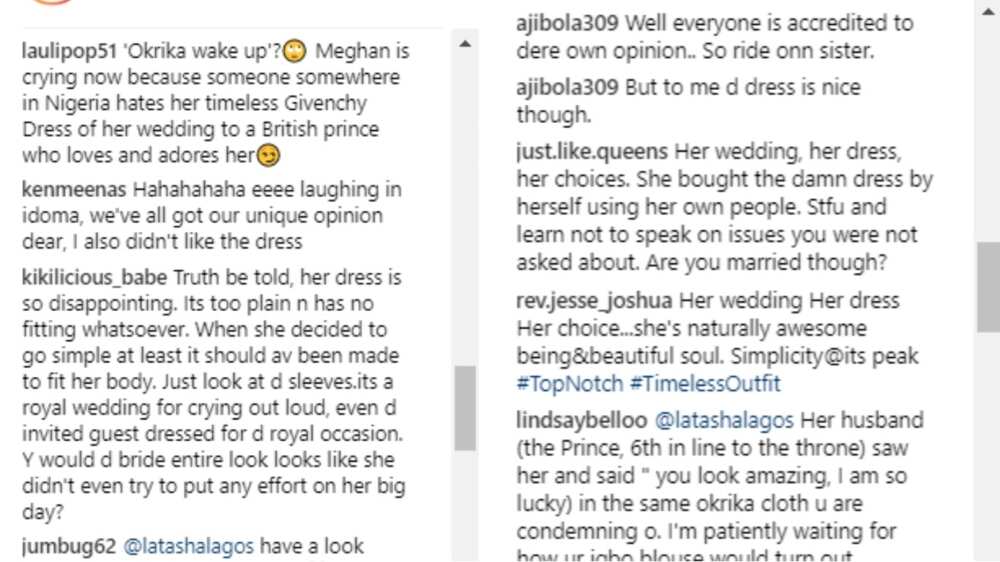 PAY ATTENTION: Get the Latest Nigerian News on Legit.ng News App
Get the hottest gist on Naija Uncensored Facebook Group
What is the first thing to be considered before going into any relationship? on Legit.ng TV: